I love creating free content full of tips for my readers, you. I don't accept paid sponsorships, my opinion is my own, but if you find my recommendations helpful and you end up buying something you like through one of my links, I could earn a commission at no extra cost to you.
Learn more
If you are looking to redesign or renovate your rooftop, you will need a roofing nailer. Whether you are a professional handyman or just prefer to do things your way, you need this tool at your disposal when working on the roof. It is, in many ways, your best friend in this job.
But not all nail guns are built the same way. And you cannot expect each unit to serve you well. There are many small aspects to consider with this tool if you want to make sure you buy the right product. For a beginner, it might not be as easy as going out to the store and picking out a unit.
If you are feeling intimidated by the number of choices you have, you are not the only one. Considering the huge amounts of products available these days, it is natural to feel a bit overwhelmed when looking for the best roofing nailer. But that is where we come in.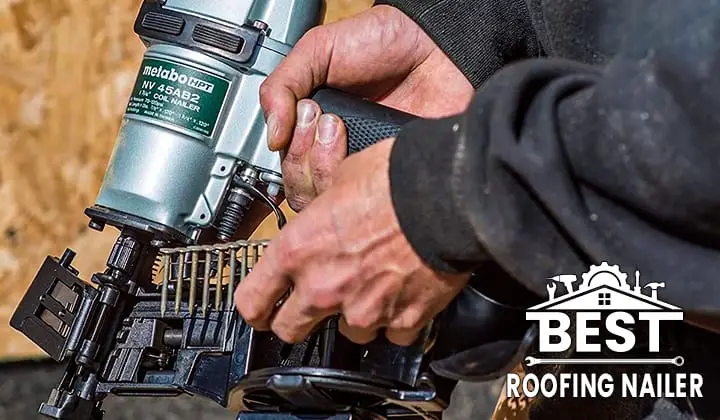 In this article, we will give you a complete guide on the top roofing nail guns on the market and help you figure out which one you need for your project. So, without further ado, let us dive in.
Top 7 Best Roofing Nailer
Figuring out which roofing nailer you need for your project can be tough even for a professional. New products are hitting the market every day, which makes picking the right one all the more difficult.
Just when you think you found the right one, you will notice another unit with even better features. In the following section of the article, we will give you a quick rundown of the 7-best roofing nailers you can buy without any regrets.
BOSTITCH Coil Roofing Nailer, 1-3/4-Inch to 1-3/4-Inch (RN46)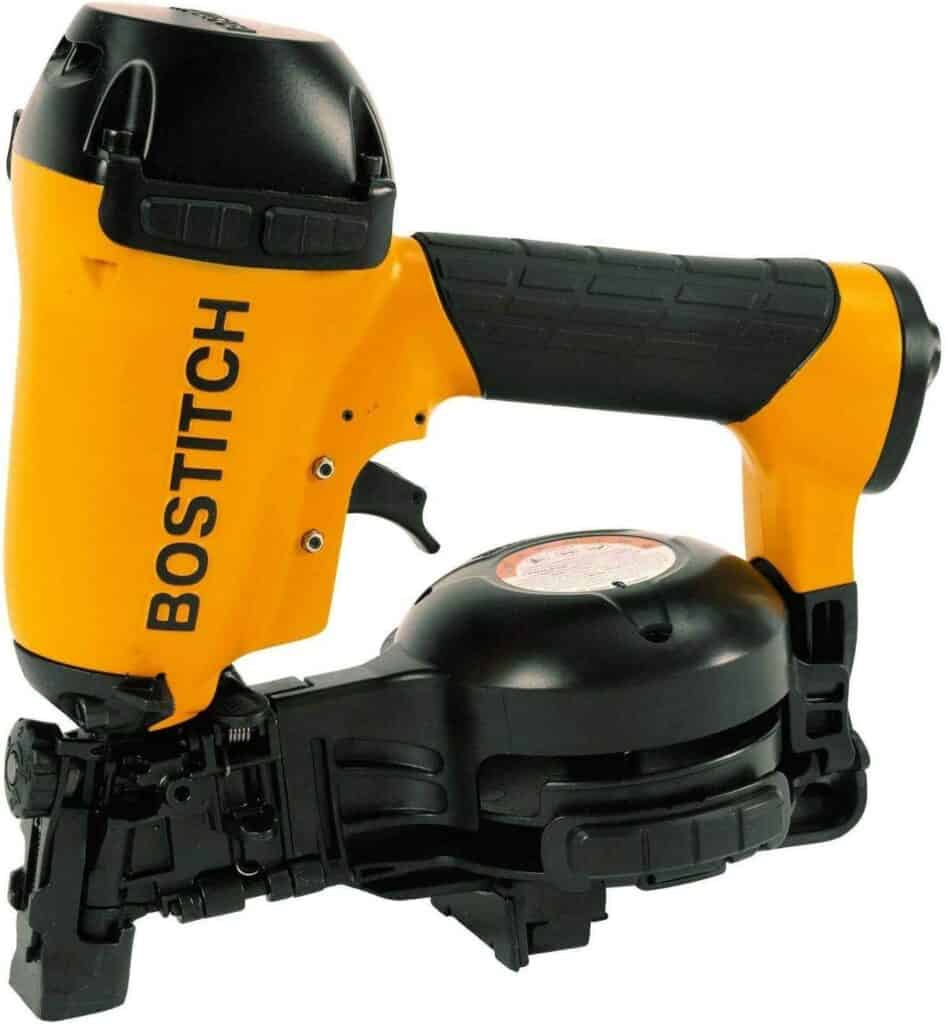 | | |
| --- | --- |
|  Weight | 5.8 pounds |
| Size | UNIT |
| Material | Plastic, steel |
| Power Source | Air-powered |
| Dimensions | 13.38 x 14.38 x 5.12 inches |
| Warranty | 1 Year |
Coming in at number one, we have this excellent roofing nail gun by the brand Bostitch. It is a lightweight unit that is perfect for working on a slanted rooftop without any extra hassle.
The unit boasts a working pressure of 70-120 PSI and works with nails of ¾ to 1¾ inches length. It also comes with a lockout mechanism that essentially locks the trigger when the magazine is empty for additional safety.
The magazine of the device comes with a side-loading design that allows you to quickly swap out and refill the canister. Furthermore, the adjustable depth control gives you complete control over how you are using the nailer.
 Construction-wise, the body is made of lightweight aluminum. You also get carbide tips, which further enhances its durability. Handling the unit is easy, even for a beginner. That is why it is one of the first choices of many users.
Pros:
Easy to load
Affordable price
Powerful unit
Lightweight and easy to handle
Cons:
WEN 61783 3/4-Inch to 1-3/4-Inch Pneumatic Coil Roofing Nailer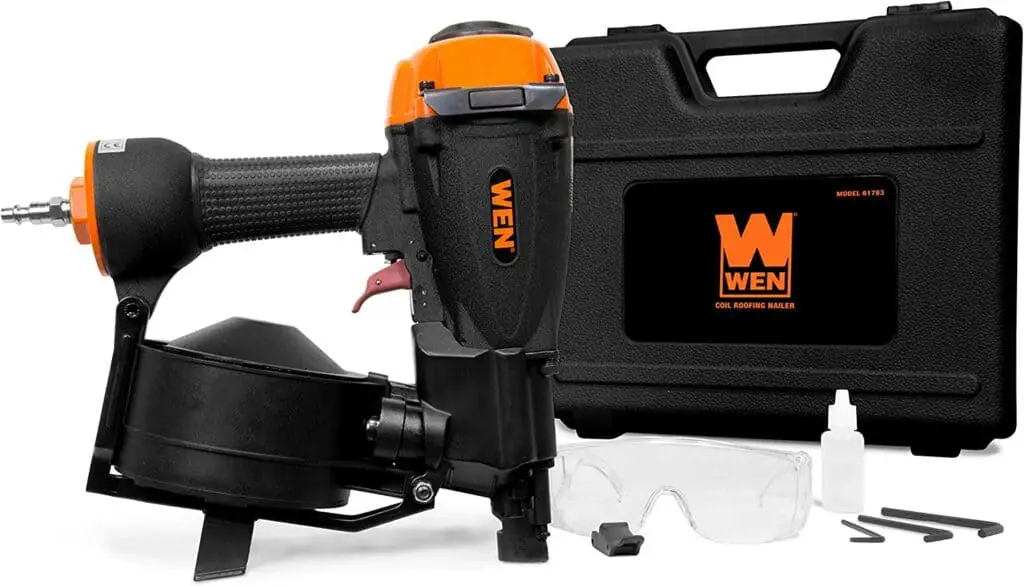 | | |
| --- | --- |
| Weight | 5.95 pounds |
| Measurement | Metric |
| Size | Black Case |
| Dimensions | 5.5 x 17.5 x 16.3 inches |
Wen is a well-known name in the world of power tools. Their pneumatic nail gun is one of the best tools suitable for use in a roofing project. It is lightweight, easy to use, and as an added plus, super stylish.
With a working pressure of 70-120 PSI, this tool is capable of driving nails through any shingles in the roof. The pressure is adjustable, which means you have complete control over your power output.
It also has a large magazine capacity of 120 nails and can work with nails of ¾ to 1¾ inches length. You also have a quick-release feature that comes in handy if the gun gets jammed.
Thanks to the adjustable shingle guide and driving depth, you can easily set the shingle spacing. In addition to the tool itself, you get a sturdy carry case, a couple of hex wrenches, some lubricating oil, and a safety goggle with your purchase.
Pros:
Amazing value for the cost
Easy to use
Comfortable grip
Lightweight
Cons:
Loading the gun is not very smooth.
3PLUS HCN45SP 11 Gauge 15 Degree 3/4″ to 1-3/4″ Coil Roofing Nailer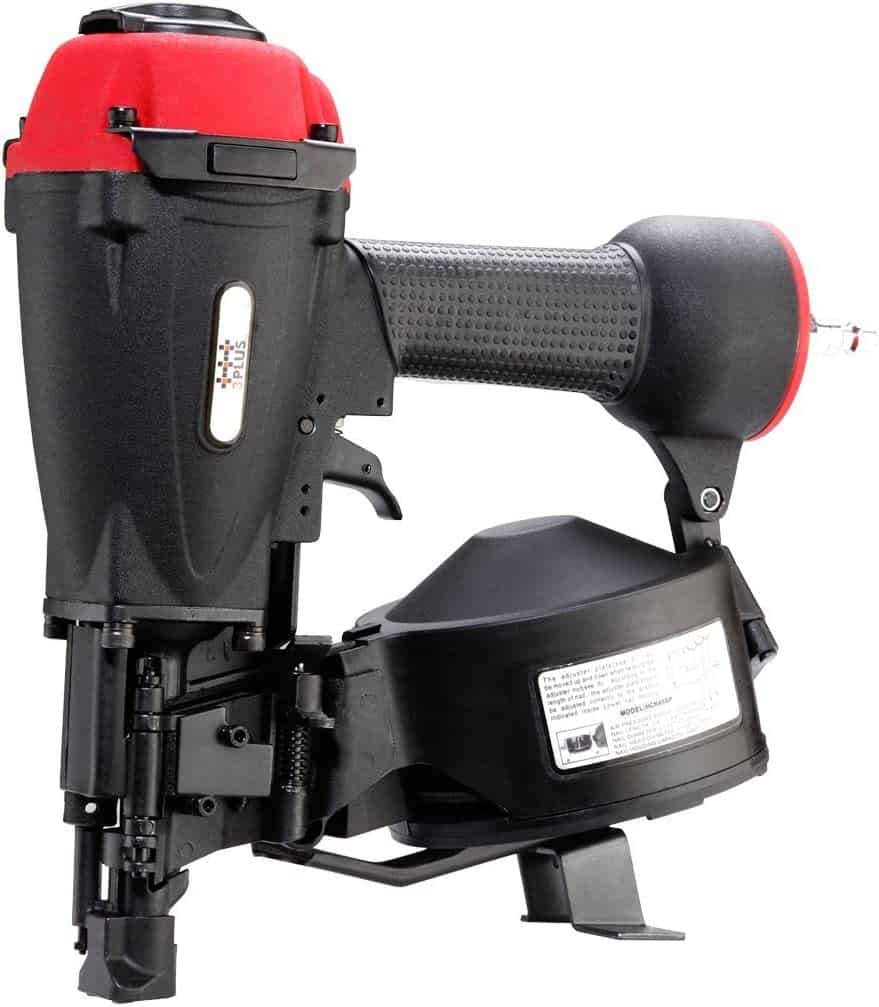 Weight
7.26 pounds
Color
Black and Red
Material
Aluminum,
rubber, steel
Power Source
Air-powered
Dimensions
11.8 x 4.6 x 11.6 inches
Next, we will take a look at an exquisitely designed unit by the brand 3Plus. It comes packed with interesting features like built-in skid pads, and tool-free air exhaust that really enhances its utility.
The machine operates with a working pressure of 70-120 PSI. Thanks to that, you can handle any of your nail-driving requirements without any extra hassles. And while using it, the air exhaust can redirect the air away from your face while working.
It has a large magazine capacity of 120 nails. You can use nails of ¾ to 1¾ inches with the tool, and the adjustable shingle guide lets you adjust the spacing quickly. The trigger can fire either in single shot or bumper fire mode.
In addition, you can adjust the driving depth to ensure you have a consistent experience when using it. The unit also comes with skid pads that allow you to place it on the roof without fear of dropping it.
Pros:
Large magazine capacity
Integrated skid pads
Intelligent trigger function
Adjustable shingle guide
Cons:
Hitachi NV45AB2 7/8-Inch to 1-3/4-Inch Coil Roofing Nailer
| | |
| --- | --- |
| Weight | 7.3 pounds |
| Dimensions | 6.3 x 13 x 13.4 inches |
| Size | .87, 1.75 |
| Power Source | Air-powered |
| Power Source | Air-powered |
| Certification | Certified frustration-free |
| Warranty | 1 year |
Then we have the Hitachi roofing nail, which will give you excellent performance even if you are on a tight budget. And be sure that you will be using it for a long time as the build quality of the unit is fantastic.
The ideal operating pressure of the unit is 70-120 PSI. It is capable of handling any of your work environment and will give you an efficient nail driving experience, no questions asked.
With a large magazine capacity of 120 nails, you can use nails of 7/8 to 1¾ inches length with the device. Additionally, the nose of the gun contains a large carbide insert to further enhance its durability and performance.
This pneumatic nail gun is one of the finest units in the market for DIY lovers. With your purchase, you get a safety glass, and a shingle guide assembly as well as the roofing nail gun.
Pros:
Extremely durable
Affordable price tag
Comes with safety glasses
Large magazine capacity
Cons:
Contains some plastic components that might break if not careful
MAX USA Coil Roofing Nailer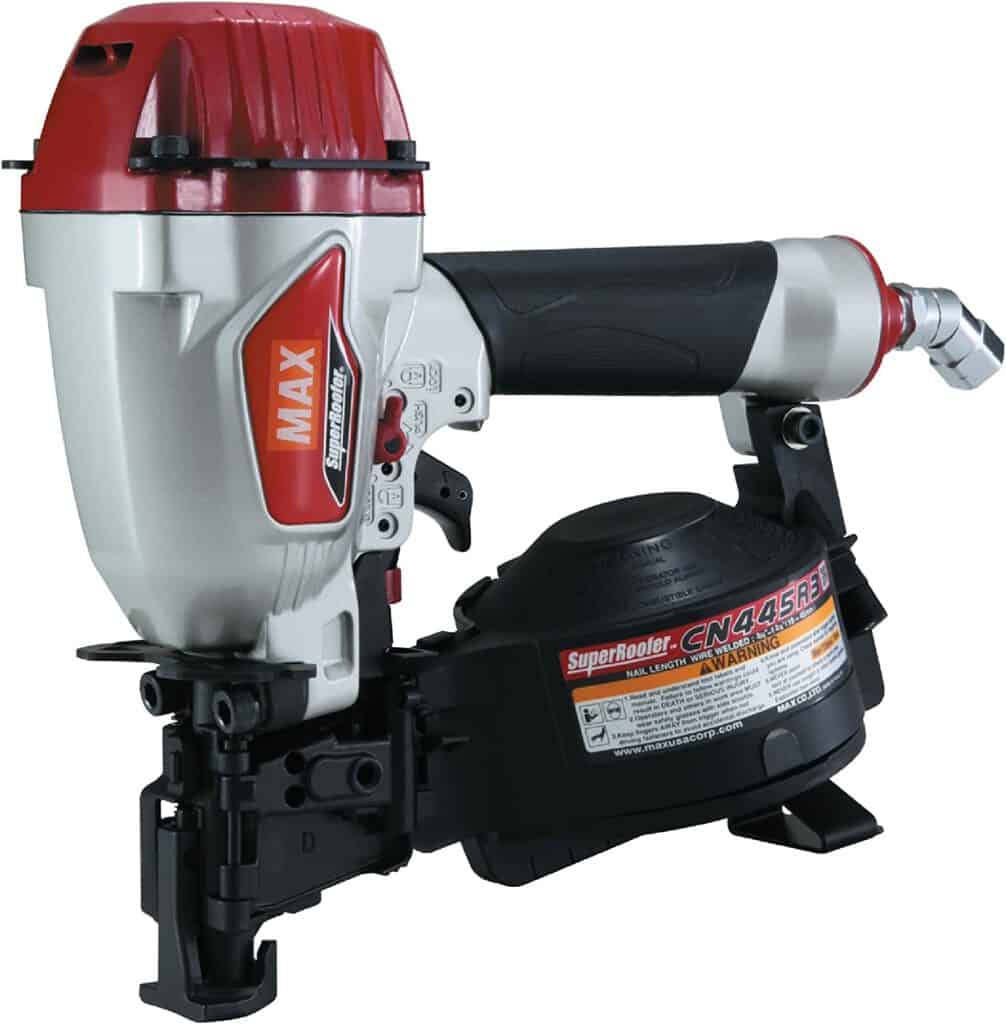 | | |
| --- | --- |
| Weight | 5.5 pounds |
| Dimensions | 12.25 x 4.5 x 10.5 In |
| Material | Metal |
| Power Source | Air-powered |
| Batteries Included? | No |
| Warranty | 5 Year Limited |
If you have the budget to back up your needs, this professional model by the brand Max USA Corp might be right up your alley. Although it might cost a bit more than other models on our list, the impressive list of features makes up for it.
Similar to other products on the list, it has an operating pressure of 70 to 120 PSI and can hold 120 nails in the magazine. However, the last nail in the magazine is locked in the unit to prevent it from jamming.
What makes this product unique is its tar-resistant nose. It essentially prevents any clogging and can resist tar build-up in your tool. You also get a much higher holding power thanks to the full round head driver blade.
Furthermore, you can adjust the tool's driving depth without any other tool giving you a truly on-the-fly experience. The unit requires minimal maintenance and will continue to serve you well for a long time without any signs of wearing.
Pros:
Amazing build quality
Tar-resistant nose.
Adjustable driving depth
Extremely durable
Cons:
Not affordable for most people
DEWALT DW45RN Pneumatic Coil Roofing Nailer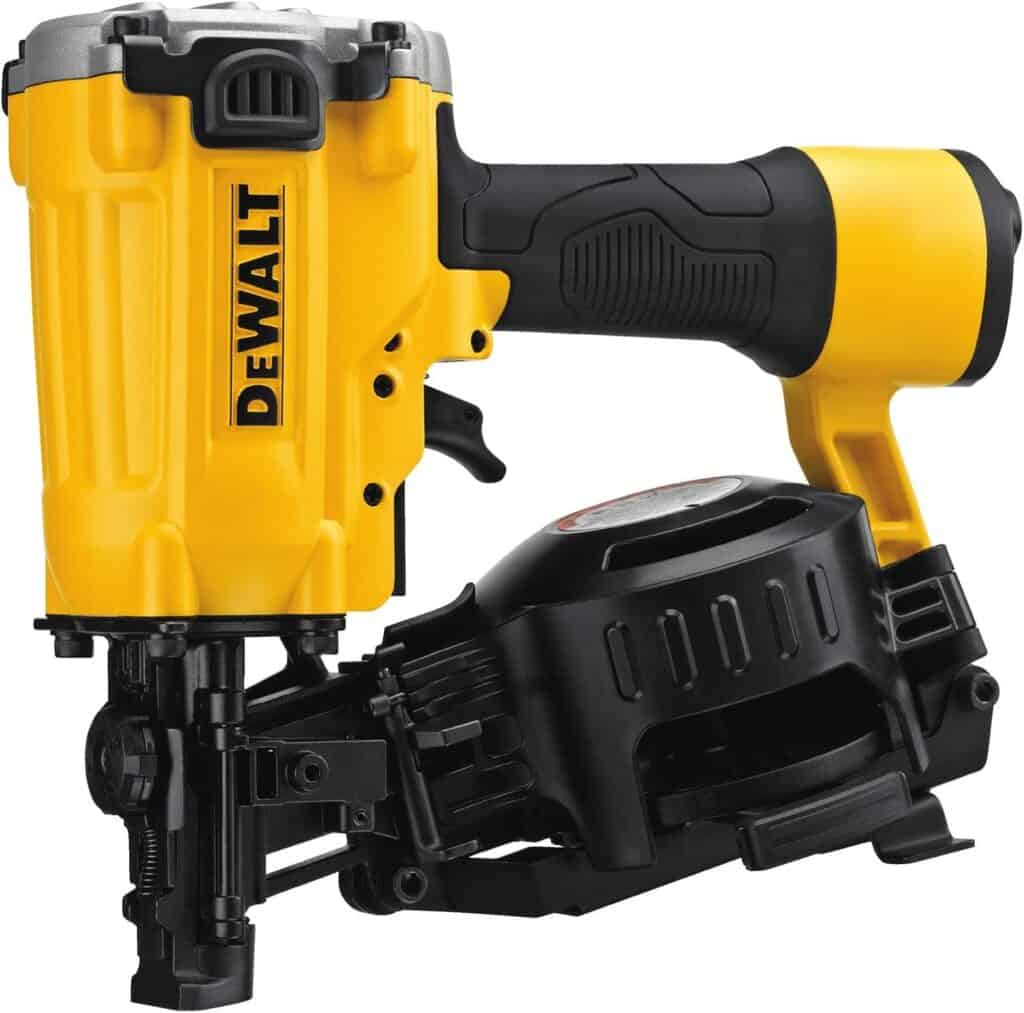 | | |
| --- | --- |
| Weight | 5.2 pounds |
| Dimensions | 11.35 x 5.55 x 10.67 In |
| Material | Plastic |
| Power Source | Pneumatic |
| Certification | unset |
| Batteries Included? | No |
Whenever you are looking for a power tool, you are likely to encounter at least one product by DeWalt. Considering the premium quality of this roofing nailer, it is not surprising why the brand is held in such high regard.
The pneumatic nail gun comes with a high-speed valve technology which allows you to drive around ten nails per second. Thanks to this feature, you can go through your project efficiently in a matter of seconds.
You also get a depth adjustment option with the device that allows you to set the precise nail driving depth. The tool comes with skid plates and does not slide when you place it on the roof.
In addition, the unit is extremely lightweight and comfortable to use. It has an over-molded grip that feels nice on the hand, and the fixed exhaust keeps the exhaust air away from your face.
Pros:
Easy to use
Extremely lightweight
Can drive ten nails per second
Depth adjustment options
Cons:
AeroPro CN45N Professional Roofing Nailer 3/4-Inch to 1-3/4-Inch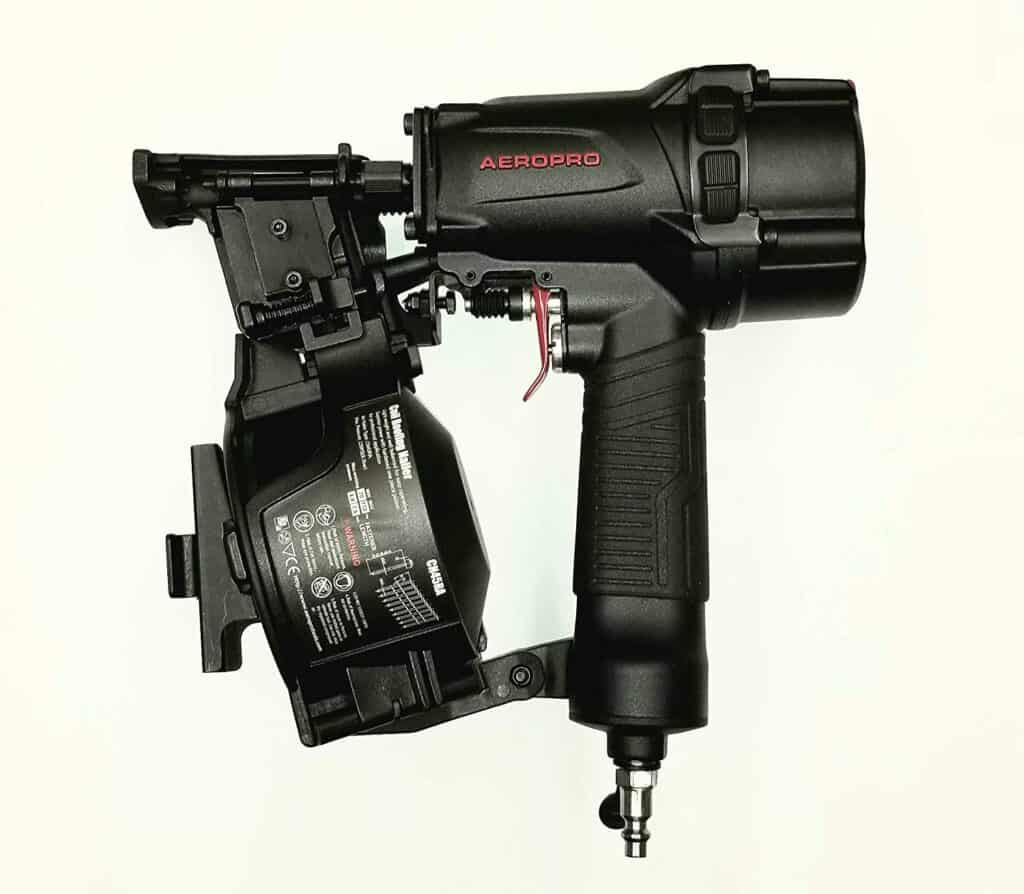 | | |
| --- | --- |
| Weight | 6.3 pounds |
| Dimensions | 11.13 x 5 x 10.63 in |
| Color | Black |
| Material | Heat-Treated |
| Power Source | Air-powered |
Wrapping up our list of reviews, we will take a look at the professional-grade nail gun by the brand AeroPro. It falls at a sweet price range that makes it highly appealing to DIY craftsmen.
With this device, you get a selective actuation switch that lets you switch between sequential or bump firing mode. Thanks to the tool-free adjustable depth, you can precisely control your nail driving depth.
The machine also has a large magazine capacity of 120 nails. So you do not need to worry about replacing the nail every few minutes and can focus solely on your work. You can use ¾ to 1¾ inch nails with the unit.
For all your heavy-duty applications, this unit features a heat-treated aluminum hosing. It has a working pressure of 70 to 120 PSI, which is perfect for any of your roofing activities.
Pros:
Affordable price range
High magazine capacity
Heat-treated aluminum hosing
Great working pressure
Cons:
Things to Consider When Buying the Best Roofing Nailer
When you are looking for the perfect roofing nailer, there are a lot of different elements you must consider. Finding the right unit is not an easy task, and if you do not take it seriously, you might end up with a mediocre product. That is why, you should always be critical in your choice.
Here are a few things that you should consider when you are trying to buy the best roofing nailer.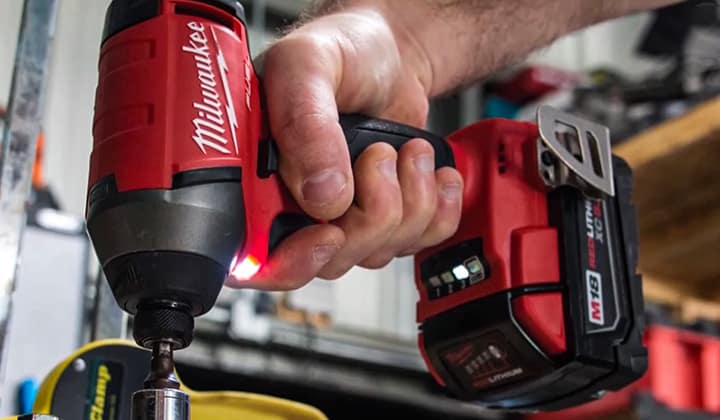 Type of Roofing Nailer
The first thing you need to understand is there are two types of roofing nailers in the market. They are the pneumatic nailer and cordless nailer. Both have their strengths and weaknesses, and you need to choose which one better suit you depending on your requirements.
A pneumatic nailer is an air-driven unit that uses compressed air to drive the nails. So, you need to have these units connected to an air compressor via a hose. The tether might be annoying to some people, but they are usually more powerful than cordless models.
On the other hand, cordless units give you more mobility. Instead of using a hose, these units use batteries and gas canisters. You do not need to worry about any movement restriction, which is extremely useful as you are on the roof. However, you do need to change the batteries and cans occasionally.
Typically, a pneumatic nailer is more useful to a professional because of the driving force. But for a DIY user, a cordless model might be a better option. In the end, it is up to you whether you prioritize mobility or power. When you know the answer to that, you know which unit is better for you.
Pressure
As of any air-driven power tool, pressure is an important factor for a roofing nailer. Whether you are using a pneumatic model or a cordless one, air is a necessary component in the nail gun. With cordless model, the air pressure is supplied from the gas can while for the pneumatic one you use a compressor.
Ideally, you want your roofing nail gun to have a pressure level between 70 to 120 PSI range. Anything lower than that might be too low for the job. Most units also come with adjustable pressure options to let you set the pressure according to your needs.
Versatility
Versatility is an important thing to consider while choosing a roofing nailer. Typically, depending on your region, your choice of shingle material will be different. If your roofing nailer cannot work with different materials, you might get stuck on a future project.
The same goes for the type of nails it can accommodate. There are many different types of nails that you might have to use in your work. Finding a unit that can handle all the variants will help you in the long run. It ensures that you will not have to consider replacing the product any time soon.
Nail Capacity or Magazine
The magazine size is another important element of a nail gun. As it varies from one unit to another, the total nail capacity is also different across the models. Some models come with large magazine size, while other budget-models can only fire a few rounds before reloading.
If you want to make your time easier, go with a unit that has a decent magazine capacity. Roofing requires a lot of nails, and with a large capacity, your project will go smoother. It also takes away the annoyance of having to reload every few minutes.
Weight of the Unit
Most people, when buying a roofing nailer, forget to account for the weight of the unit. Remember that you will be working in a roof, in many cases, even a slanted one. If the product itself is too heavy, it will make it difficult to deal with it in such a hazardous condition.
For roofing jobs, your best bet would be to go with a lightweight model. Regardless of whether you are using a pneumatic or a cordless model, the weight will add an extra hassle to your job. With lightweight units, you will be able to control it more comfortably.
Ergonomics
Speaking of comfort, do not forget about the ergonomics of the unit. By that, we mean the overall handling and design of the unit. Your product must be easy to handle and comfortable to hold for an extended period. Otherwise, you will have to take brakes more frequently, thus hampering your own productivity.
Look for padded grips and other design improvements. It will help you determine whether the unit is comfortable to use even before holding it. If you face any difficulty while using it, you need to understand that it is not for you. Do not go for units that are too big for your hand if you want to have an easy time.
Durability
You also want your roofing nailer to be durable. Keep in mind, since you are working on a rooftop, there is always a risk of dropping the unit. If it breaks with a single fall, you will not be able to enjoy it for long. Not only that, but the internal components must also be of high quality if you want the product to be durable.
Make sure there is no flaw in the build quality of the unit that you are buying. Avoid products that are made using plastic components. You might be able to find inexpensive units out there, but if you buy a product with questionable durability, you will not be able to get much use out of it.
Price Range
A roofing nailer is not known for its low price. It is expensive, and sadly there is no going around that expense if you want to buy a decent unit. However, that does not mean you need to go on an all-out spending spree. If you have a decent budget, you can surely find the perfect unit for your needs.
Our list of products should give you a good idea of the price you should expect to pay on a roofing nailer. As you can see, you have a lot of different options. So it is important to have a good understanding of your budget so that you can find the unit you need in that price range.
Safety Tips when Using a Roofing Nail Gun
Now that you have a basic understanding of the tool, a few safety tips should help you make good use of it. Working with a roofing nailer, or any nailers for that matter can be dangerous. You should always keep your safety and the safety of others around you in check when using this tool.
Here are a few safety tips when you are using a roofing nail gun.
Wear proper safety gears
You must wear all the necessary safety equipment when operating your roofing nailer. This includes safety goggles, gloves, and even ear protection. Furthermore, make sure that the boot you are wearing comes with nice grips so that you will not slip while working.
Thankfully, many roofing nailers come with goggles in the package, so that should take care of your primary needs.
Take care of your surroundings.
Since you are working on the roof, you should be careful about where you step. Make sure you have a strong footing before shifting your body weight. Also, remember to clear the roof and check for any tripping hazards. Something as small as a wet branch is enough to cause you to fall, so always be careful.
Go through the user's manual
We understand the temptation of taking out your roofing nailer and going to work as soon as you get it. However, the first thing that you should do after getting your nailer is to take some time to go through the manual. You might learn new things even if you have a good idea about the device.
Hold the gun properly.
You also need to know the dos and don'ts of holding the nail gun. For instance, you should never hold it against your body. One slip of the trigger, and you might send nails going through your body. Additionally, keep your fingers off the trigger unless you are ready to fire.
Never point it at anybody.
A roofing nailer is not a plaything. As such, you should never point it directly at somebody even as a joke. The last thing you want is to accidentally press the trigger and drive a nail through your friend. In the best case, you might cause a severe injury; in the worst, the damage can be fatal.
Do not rush
It is always a good idea to take things slow when operating a roofing nailer. Any sort of work that requires this tool is tedious and time consuming. So there really is no point in rushing it. You need to relax and take your time to ensure that you can do the job without any risk.
Unplug before maintenance
A roofing nailer, like any other nail gun, requires maintenance from time to time. When you want to clean it up, make sure you unplugged everything and removed the magazine. Additionally, you should ensure that there is adequate lighting when you are performing the cleanup.
Keep it away from children.
Under no circumstances should small children have access to your nail gun. When you are using it, make sure there are no kids playing around in the vicinity. And when you are done, you should lock it up in a safe place, which only you or other authorized individuals can access.
Frequently Asked Questions
Q: Can I use a regular nail gun for roofing?
Ans: Sadly, no. Regular nail guns are not enough to handle the nails that you need to use for roofing. With regular models, you will not have enough power to drive the nails through the rooftop surface. Roofing nailers are much more powerful and sturdy compared to other variants.
Q: What is the difference between a roofing nailer and a siding nailer?
Ans: Although many people think of them as interchangeable, a roofing nailer is quite different from a siding nailer. The primary purpose of a siding nailer is to drive nails through the wood; however, a roof has many other materials. Besides, the design and the nail compatibility of the two nail guns are entirely different.
You know a roofing nailer is an important roofing tool.
Q: What size of the nail is sufficient for roofing?
Ans: In most cases, roofing requires ¾ inch nails. However, if you are driving it through tougher materials such as concrete, you might need to go with longer nails. Your typical roofing nailer should be able to handle nails of up to 1¾ inches of length easily, so you are well covered in that regard.
Q: Is it better to hand nail the roof?
Ans: Although some prefer hand nailing to use a roofing nailer, there is no denying how difficult that job is. With a roofing nailer, you can get through the project a lot faster than you would if you were using a hammer of any weight and manually driving the nails one at a time.
Final Thoughts
A roofing nailer, in the right hands, can be a superb tool that can make your life easier. It takes care of any of your roofing projects easily without any extra hassle on your part.
Our extensive review and buying guide of the best roofing nailers should get rid of all the guess work you might have to do when choosing one for your needs. We wish you all the best in all your future roofing projects.
I'm Joost Nusselder, the founder of Tools Doctor, content marketer, and dad. I love trying out new equipment, and together with my team I've been creating in-depth blog articles since 2016 to help loyal readers with tools & crafting tips.