I love creating free content full of tips for my readers, you. I don't accept paid sponsorships, my opinion is my own, but if you find my recommendations helpful and you end up buying something you like through one of my links, I could earn a commission at no extra cost to you.
Learn more
Any craftsman will agree that a router table is a lifesaver when it comes to working with hard materials like wood. Not only does this piece of equipment enhance the overall versatility of your workbench, but it also saves you the time and effort of keeping the pieces in place while you work on them.
To make sure you get to find the best router table, we've come up with this list after careful consideration of each detail.
Before, you'd need to consider how much you can handle on one hand while using the router with the other. But these tables have turned the game around and lets you present the work to the router instead.
If you're a DIY enthusiast or home woodworker considering an upgrade to your workstation, this might be the right time to make an investment.
So let's get started.
7 Best Router Table Reviews
With the markets bringing out so many different styles of router tables nowadays, it's a common thing to wonder which one is worth it. Your best bet will be to check out some reviews, and that's what we've got here for you. From benchtop ones to the deluxe designs, we've made sure to include variety.
Bosch Benchtop Router Table RA1181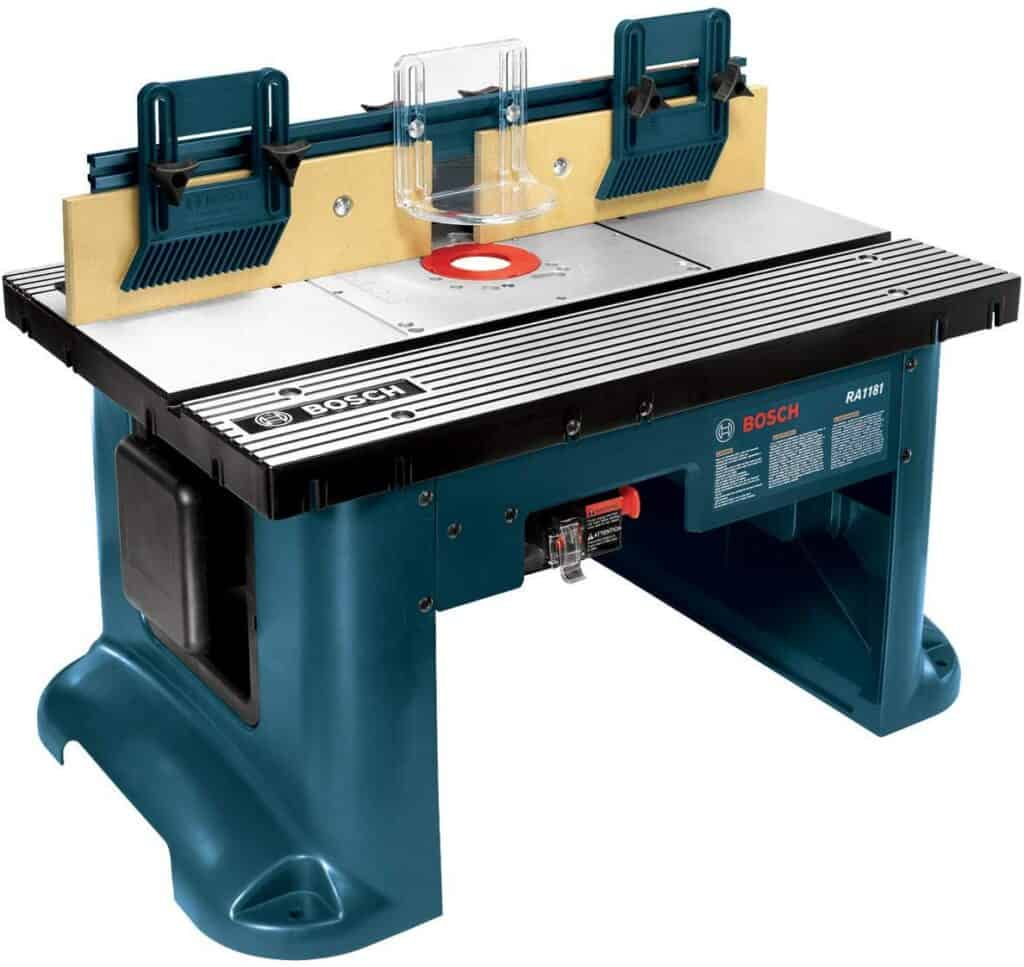 | | |
| --- | --- |
| Weight | 30 pounds |
| Dimensions | 22.75 x 27 x 14.5 inches |
| Material | Aluminum |
| Voltage | 120 volts |
| Warranty  | 30 day money back guarantee |
This benchtop router table from Bosch is one of the best ones in the market today. No doubt that anyone looking for a large work surface and great precision will enjoy the features this one has to offer.
And if you've already got a router, you can bet that this will be a good fit for it because this table has been designed to suit a variety of routers and offer awesome versatility.
The surface area for this bench is 27 by 18 inches with built-in rails. You'll also get an above table height adjustment option for many of the common routers.
Also, the mounting plate in this has been made out of rigid aluminum and has been drilled into place for the sake of compatibility. If you want to adjust the feather boards in this, you can do so as well.
To reduce the stress of cleaning after a hard day's work, they've included the dust collection port of 2 and 1/2 inches. You get an adjustment scale for the fence. The fence is tall with adjustable MDF faceplates. It even comes with two outfeed shims.
One of the coolest details is that there's a power cord lock option to prevent unauthorized use. There's a 2-inch hole at the back to let the cord run to your outlet.
Underneath the bench, you'll find a storage pocket that lets the owner put away their router accessories neatly. And if storage is an issue, the built-in cord wrap will definitely make things portable and easy to tidy up.
You can use a miter gauge with this that's 3/4 inches. Since this is a benchtop product, you can just reach under the table and adjust or even micro-adjust the height from your eye level. It's solidly built and weighs 30 pounds. Thanks to the starter pin and guard, routing curved workpieces is super easy.
Pros
Reasonably priced
Includes a fence adjustment scale
There's a dual outlet with a storage pocket
The work surface is large and made of aluminum
Boasts a dust collection port
Cons
Fine-tuning might be required
Only 110V power is supported by its switch
KREG Precision Router Table System PRS2100
| | |
| --- | --- |
| Weight | 69.9 pounds |
| Dimensions | 37.48 x 25.51 x 36.5 inches |
| Material | Metal |
| Batteries Included? | No |
| Batteries Required? | No |
If you're a fan of things that easily fall into place, then this table from Kreg will be your love. With easy dual locks and a fence that can be adjusted with just one hand, you'll agree that this is the best router table for the money.
This newer version also features a micro-adjustment feature that lets the user get full accuracy.
The one of a kind fence style, which is a T-square shape combined with the steel stand and large surface table, makes it a top-notch item. Also, the big paddle system lock on one end and another one on the outfeed part which locks quarter-way properly prevent fence deflection.
Moreover, due to the fence having an adjustment feature, you can make sure it'll always be parallel to the miter gauge slot.
To provide extra support to the workpieces, they've included independent sliding fence faces that can be positioned precisely wherever you need. You can even turn the fence into a jointer to achieve perfect edges with the jointing rods that are included. Just slide them into place behind the outfeed fence face and voila!
As for the 24×32 inches tabletop, it's got a thick MDF core (one inch) that can absorb vibration and is heavyweight for stability. It's been made from high-pressure laminate.
That means it allows easy gliding of workpieces. And underneath it, you'll get a surprise – reinforcing struts that allow the table to lay perfectly flat.
Just because you're getting a table doesn't rule out the chances of doing freehand operations. You can do them by removing the fence easily with the keyhole slot in the table.
The stand that supports the table can be adjusted from 29 inches to 35 inches in height. If you're worried about uneven flooring, then the levelers at the stand's bottom will fix the issue for you.
Pros
A measuring scale to let you set the adjustments based on the bit you're using is included
Pre-drilled hole in the stand for customization
Large surface with a sturdy build
Includes a removable insert plate and some reducing rings
Equipped with the micro-adjust option for extra precision
Cons
The screws adjusting the fence might require tightening over time
It's expensive
SKIL SRT1039 Benchtop Portable Router Table
| | |
| --- | --- |
| Weight | 21.4 pounds |
| Dimensions | 25.25 x 9.5 x 15.75 inches |
| Certification | Certified frustration-free |
| Batteries Included? | No |
| Warranty  | No |
Looking for something that's going to add more fun to your DIY projects or woodworking schemes? Consider this product from SKIL that comes in color red and black and looks chic in any workshop. It has a storage bag for keeping all your accessories and routing equipment neatly organized.
The laminated MDF top is roomy enough to get all the work done with ease. There are feather boards in this to add accuracy to your projects and help you guide the workpieces.
It includes 4 tool-less clamps and storage containers for protecting the accessories as well. To improve the precision of your cuts, there's the bit height gauge.
Besides those, bit inserts and miter gauge are also included with the table. The legs are foldable and thus save lots of storage space. Due to the design of the table, as you buy, it comes in a preassembled form for a minimal setup procedure.
There's a vacuum port located centrally on the main fence, which lets you attach this to your shop vac and works like a charm.
From an 1840 model belonging to the same company to an 18-volt cordless one, this is supposed to support a variety of router models from the major manufacturers.
But in the off chance it doesn't fully align or fit the one you have, you can always mark off and drill some holes in the mounting plate to have it adjusted. No leveling will be required with this table.
This is overall a great value for money. Weighing 21.4 pounds, you can say that this is a sturdy tool. While this makes it have a tendency to scoot on your supporting table when you load the router fully, it's not a very big issue.
Pros
Budget-friendly and sturdy
Easy to set up
Has the storage container, which allows accessories to be protected
Compatible with many different routers
Included vacuum port lets you connect to shop vacuums
Cons
Jamming of the router mounting ring might occur, and some rework might be needed
Mounting it to another desk might be needed for height
Rockler Trim Router Table
| | |
| --- | --- |
| Weight | 6.72 pounds |
| Dimensions | 17.52 x 12.56 x 3.78 inches |
| Batteries Required? | No |
Don't have much space in your workstation? Well, you don't need much space if you get this router table from Rockler Store. Looking almost like a chopping board, this is a device fit for the occasional woodworker to get routing jobs done, even in the smallest of shops in no time.
This is a table made from durable vinyl wrapped MDF that is meant to last. It's only 15 ½ inches by 11 ½ inches in size, and that makes it perfect to be set up virtually anywhere from a shelf to the tailgate of a truck.
As it weighs only 6.72 pounds, you can easily have this loaded on the back of your ride to work somewhere other than your regular home station. There are pre-drilled holes at the back to let the user customize the mounting.
An insert plate is also included. It's pre-drilled as well and suitable for most trim routers (some great options here!). Setting this beauty up is totally trouble-free and only requires clamping it in place, dropping the insert in place, and securing the motor of the router. There's even a high visibility bit guard included with the table.
You'll get the fence ready to accept the dust port (which is optional), and it has the clamping knobs that are needed for it.
This might be small and portable, but you can perform several common routing tasks with this product. Edge treatments, rabbets, and grooving – all can be done thanks to the gap of up to 3 inches between the bit and the fence.
Freehand tasks are easy as pie with the 1/4 thick acrylic base. Not only does this equipment save space, but it also saves time since you won't need any tools to remove the router from the tabletop. And you can store it in a small space when you don't need it.
Pros
Pre-drilled holes are present to customize mounting and insert plates
Saves space since small
Portable and good for freehand tasks
Dust port capable of sucking up 90% of the debris
Durable as the surface is made of MDF, which is vinyl-wrapped
Cons
Not perfectly built for heavy use
The fence doesn't come with any measurement lines
XtremepowerUS Deluxe Bench Top Aluminum Electric Router Table
| | |
| --- | --- |
| Weight | 18.74 pounds |
| Dimensions | 24 x 19 x 15 inches |
| Material | Aluminium |
| Voltage | 115 volts |
| Color  | Black |
For the ones looking to buy a bigger gear but on the same price range, this might be a catch. We've included this product from XtremepowerUS because it seemed like the perfect fit for the "quality without cost" description.
It's versatile and big enough for people trying to design a garage workstation. The heavy-duty aluminum and steel construction of it is just a cherry on top.
Although a bit and router aren't included with this, you still get a dust port that's 2 to 1/2 inches and can vacuum both dry and wet debris. The base plate is 6 inches in diameter, and it's electric, so there's an on/off switch with a corded power source for convenience.
This is lightweight (18.74 pounds) but strong. So, you'll need a heavy base for stability while using this.
The unique design of this makes it a multifunctional product having a built-in guard. For accurate measuring or quick indexing, they've included a built-in scale too that's accurate and saves time.
To straighten board edges, there's a push out pocket fence, giving the table jointing capabilities. The required voltage to run this is 115 volts.
Table dimensions are 17-3/4 inches in width, 13 inches in length, and 11 inches in height. As the power switch is located in front of the router, it is easy to reach. Holding the router securely, this table will have enough space for you to use both hands on the workpiece. The fence mounts with t-bolts.
A miter gauge is included too. As is the given fact with any product under this price point, this does lack some special features. If you want something that's inexpensive, gets the job done, and is sturdy, then this table won't disappoint you.
Pros
Lightweight and has a built-in scale
Inexpensive price range
Grooved surface keeps dust and debris off the workspace
Has a push-out picket fence and a dust collector
Can be used with almost any router
Cons
Since this isn't very heavy, you'll need base support
Instructions are difficult to read
Grizzly Industrial T10432 – Router Table with Stand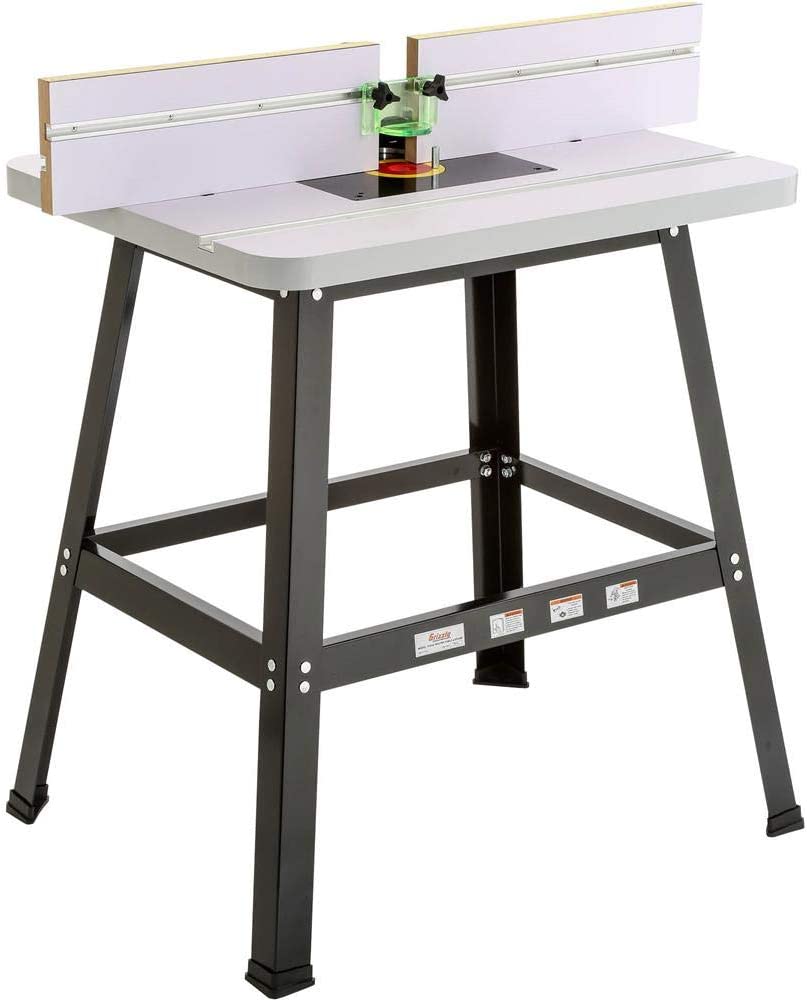 | | |
| --- | --- |
| Weight | 61.7 pounds |
| Dimensions | 37 x 25.5 x 4.75 inches |
| Batteries Included? | No |
| Batteries Required? | No |
Even if you're not a fan of grizzly bears, we're sure you'll love this table from Grizzly, especially if you're looking for one with an A-frame. This is a product that offers a large platform to get any and all router jobs done easily.
Having a universal router mounting plate and a dust port of 2 to 1/2 inches just makes it better. As for the top, it's a stable MDF core with melamine laminate and edges of polyethylene.
Now to get into the specifics, this is a table of 31-1/2 inches length and 24 inches width. The maximum opening size is 3-7/8 inches. You'll get two fence boards and 1 table T-slots for each of them. The size of the T-slot is 3/4 inches into 3/8 inches.
The split fence has a 33 inch long anodized mounting bracket that's made of aluminum. For taking measures, they've included a measuring tape that reads both right and left on the fence.
This package includes two removable inserts and a mounting plate that's suitable to measure up to 12×9 inches. Given the fact it weighs over 60 pounds, it can be used for heavy jobs, no doubt.
This is a sturdy and flat table that's suitable for anyone looking to get some routine work done. You'll notice that it accepts a slightly larger router plate than most other tables. The split fence in this can be shimmed for jointing.
There are enough adjustments in this table to have the user pleasantly surprised. Is it comparable to a high-end one? Not really, but if you consider the price and compare it to benchtop tables, it's a banger for the buck.
Pros
It has an adjustable split fence
Boasts an A-frame which is sturdy
The top has an MDF core with polyethylene edges for durability
One handy dust port and removable inserts are present
Good for heavy and light jobs
Cons
Level adjusting screws are loose and tend to vibrate, so putting something like Loctite on them may be needed
The mounting plate is made of plastic
Kobalt Fixed Corded Router with Table Included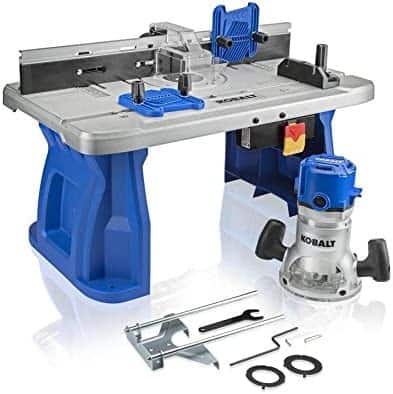 | | |
| --- | --- |
| Weight | 29 pounds |
| Table Size | 15″ x 26″ |
| Material | Plastic |
| Batteries Included? | No |
| Batteries Required? | No |
A lot of the router tables that are in budget price tend to have plastic tabletops but not this one. Even though this isn't the most expensive or high-end product, you'll still get a cast-aluminum tabletop alongside some cool features to get things done. It weighs around 30 pounds and works like a charm.
Once you open the box, you'll get two boxes of hardware inside, the main router, the aluminum table, and two feathers. Interestingly, the power supply has two plugs in it with an On/Off toggle. You get a miter gauge that's snug enough to fit the table saw and not too loose.
And if you want to make it tighter, here's a helpful tip – just put some metal tape on it. Then you'll find three inserts in the box that can reduce sizes. All of those are of the same thickness.
For an edge cut, they've included hardware that can be attached to your router. We all know how much edge guides can come in handy. Putting it all together will be quick and easy.
Although figuring out what the starter pin was for took us a while, one thing we discovered was that it's for outside work and can square up the fence up to a quarter of an inch.
A nice little dust collection hood is there with a clear cover. So, you'll get to see how much it's filled up. And if you're one of those who need something to collect debris for when the router isn't attached, you can use the little dust collection mount instead.
Pros
Comes with three inserts and two feather boards
Boasts dust collection mount and hood, which are transparent
Easy to assemble
Push-button at the bottom of the router to lock inserts in adjusted height
Cast aluminum table makes it worth the price
Cons
Doesn't have speed variation
Micro-adjustment keeps slipping when setting it up
What to Look for in a Router Table?
While getting something that someone recommended or gave a 5-star review on might work out just fine, but most of the cases, one's expectations aren't met precisely.
So, after checking the benchtop router table reviews, you need to know what to look for precisely. Here are some pointers to help you figure out what's going to suit your modus operandi.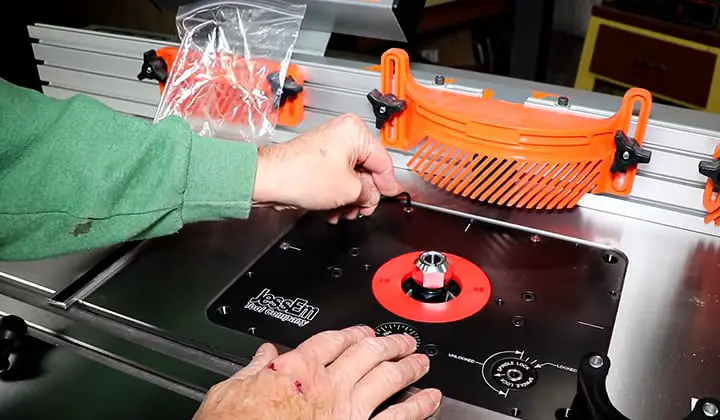 Base But Not Basic
The base that the router will be set up on is as important as the tool itself. That is not to say the base is everything. But from our list of products, you've probably guessed how much variety there is when it comes to them.
Some might be suitable to put on surfaces, while others might need attaching to workbenches as extensions.
You'll come across ones that have their own support systems and stands. Anything that features a secure platform is a big yes. And if you've already got a bench set up, go with something without a stand.
Play by the Project
In the case of DIY projects, you can make do with an average to a good router on a table. The edges don't need to be artisan class, and you shouldn't stress about minute details either.
But the stakes are higher when you take on professional jobs or try making something special like a baby bed or dollhouse for the best of your friend's kid.
So, think about the nature of your work and keep in mind how you might need to work on them. Using a small router for large pieces of wood can lead to a lot of mess that you don't need in your life. Again, a table that's not the right size or big enough can actually be risky.
Weight and Portability
Yes, in this case, the weight of the product does matter. If you're going for something lightweight thinking it'll be portable, consider whether you have a heavy support system or not.
Again, lightweight tables tend to not support heavier gear. So, if you're certain you won't be building a bookshelf or 6 feet cupboard, go on with the smaller ones.
As for the big boys, those are great for heavy-duty usage. But they can't be set up just anywhere, and you'll need enough skill to both assemble and use them. Some require to be attached to heavy benches and don't fit smaller routers, so do check for those options first.
Be Extra
Although minimal seems to be the motto nowadays, sometimes you just need to be a bit extra. And in this case, look for extra, i.e., the accessories and extension parts that the brands offer. Some tables come with extra inserts and adjustments. There are those that include extra feather boards, starting pins, steel bands, and more.
Consider which you already have and what you might need with the table to start off quickly. Accessories like edge guides and locking pins help make work less of a hassle.
Top Material
Just like in the case of the environment, your woodworking tool does not benefit from too much plastic. Products with too many plastic parts don't hold up to the test of time as they fall apart on heavy-duty jobs. So, go for the ones with aluminum or steel table tops. They're not only shiny but also durable.
Brand and Warranty
If buying something for professional use is what you're aiming to do, look for a good warranty. It's important to take the investment you are making on this hardware seriously. A solid warranty will protect you from faulty parts when making the purchase.
Some will say the brand doesn't matter and that brands are for makeup or clothing. But we disagree. The good quality product comes from good brands that actually put in the effort to make the customers satisfied.
Price Range
Are you running on a budget? Don't get disheartened if you are because there are more than enough options in the hardware store today to get the perfect routing equipment while not breaking the bank. Just be smart with the choice.
Nobody likes paying for overpriced things. Some tables cost over 100 bucks yet perform worse than the cheapest. What you need is something that performs good enough to get your projects done and lasts long.
Portable ones usually cost a bit lower. But if you want something like a benchtop or the ones to set up on your workbench, it might cost a bit. If there's quality, the cost seems fair, though.
Why Should You Have a Router Table?
In case you might be having second thoughts about buying one of these tables, here's a list of reasons to clear the air of doubt.
It's well known that having stable workpieces help give them the exact shape you want. So, it's a big help when the surface you are working on is stable and not something that moves.
Routing tasks often require a lot of concentration and precise measurements. When the table and router itself is stable and has a built-in measuring tape, the otherwise scary task of making accurately sized cuts becomes easy.
Another thing that such a table will let you do is actually get to work with both your hands at the same time. When the cutting and shaping tool is attached on the surface, you get to focus on the work and use both hands for other things like shaping the mold and creating a complex design.
Who wants to have an accident while doing a DIY project? Be it for the hobbyist or pros, an actual professionally geared up desk can help reduce the strain on the physique as well as chances of accidents. 
Last but definitely not least is accuracy and precision. These are desks designed specifically to allow users to make complex cuts and curve up shapes in creative ways. Unlike hand operations where you'll need to hold the tool with your hand and be super careful about perfection, these give almost the same output each time.
Where to Use a Router Table?
So now you're pretty sure you'll be getting one of these desks. But what if you have no clue how to use it? For newbies and people still learning the ropes with them, we've included a simple list of the stuff you can get done and the how-tos of this gear.
This is a piece of equipment that has lots of versatility. You can use the bits it includes with the package and add in some store-bought ones and easily transform your table into a jointer.
If you remove the routing gear from the mount, you'll get a surface that lets you work manually. For freehand tasks, all you need to do is pivot the workpiece against the starting pivot block.
This will give you more control and let you keep it attached at the right distance from the bit. Then you can use a handheld gear to do some base molding or even cut as much as a hundred feet of the wood plank.
Narrow and Small Stock Installation
The addition of such a table will allow so many options to open up for your job field, and one such is installing small stock. With these, you'll get to work on those awkward pieces that are so hard to get to with a handheld device.
Although this does take some effort, you can get it done, and there are many tutorials online to help you do so.
These are the machines for cutting edges like butter. This is due to the vertical surface that the router bit leaves and lets you glue wood with the right seam. So, you get a perfect edging on plywood. Of course, make sure to sand the edges so as not to transfer any imperfection into the pattern as you progress.
Is It Worth Buying a More Expensive Router Table?
Instead of wondering this, maybe the question you ought to be asking yourself is – how far do you want to take your woodworking jobs? If the sky is the limit for you, then an expensive table is exactly what you need. But that is not to say expensive is always equivalent to quality.
Instead of looking at the price tags, what you should be looking at are the features, the pros and cons, and durability. You can find ones that are cheap but perform super well and ones that are average grade.
We've made our list very versatile and have included the best router table on a budget for this very reason. So, the price shouldn't be the first thing on your priority list.
What Is the Difference Between a Router Table and a Spindle Molder?
One of the most popular debates in the DIY and crafting world for woodworkers is the differences and similarities between a spindle molder and a router desk. Which one is better? Which one is worse? Everyone seems to have an opinion.
But let's get to the facts.
Expense
It's only been in recent times that the spindle molder has left the professional workstations and has been entering DIY enthusiast's homes. But is paying the extra cash worth it?
Spindle gears are more expensive but give top-notch shop quality output. But for a minimalist looking to create a cute homemade cupboard, this might be unnecessary.
Navigability
To start off, router desks are smaller and are easier to navigate in comparison to spindle molders. And the fact that they're more transformable and adjustment-friendly doesn't help the spindle-supporters either.
Weight
In terms of weight, the heavyweight medal would definitely go to the spindle gear. They're quite tough to master, but the outputs are exceptional.
Power
While a router desk doesn't have as much power, it's also less expensive. The spindle gears pack a big punch. However, the sheer voltage of a spindle molder is probably something a hobbyist or regular woodworker won't need. Both let you create intricate patterns and control cuts of woods.
So, you can check out the reviews for the best router table on the market and compare it to attain a verdict. The choice is really yours.
Frequently Asked Questions
Q: Do I need a workbench to use a router table?
Ans: To put it in brief, you don't. A workbench isn't necessarily a must for getting and using one of these desks since they usually have their own setup that can be placed on a heavy surface. The regular desk you work on can do just fine if you don't have a fancy workbench.
Q: How important are feather boards?
Ans: They are as important as your safety. Because of the pressure that these put on the wood pieces as you cut them, your work process remains safe.
Q: What's the best surface material for the tabletops?
Ans: The best ones are the ones with MDF cover. Laminated ones with specialized edges are also great.
Q: Should I care about the size?
Ans: Ideally, size does matter. If you intend to make grooves or indentation projects with large pieces, you'll need plenty of space. But for small scale woodworkers who just need to do small cutting tasks, it might not matter as much.
Q: What are dust ports for?
Ans: Exactly what they sound like – for clearing up dust and debris. More precisely, the dust ports connect to shop vacuums, and sometimes they come in the form of hoods that collect all the waste that is created from shaping the wood.
For dust management of your shop, you also can build a dust collection system on your own.
Q. Do I need a router lift to work with a router table?
Ans: If you are working on projects that require some dense routing frequently, then I would recommend you to buy a good quality router lift.
Final Words
Still, wondering what to do? Here's a free tip – just go on and get yourself a new router bench. Our list of the best router table is at your service. It's time to hustle your way to the top of the routing game.
I'm Joost Nusselder, the founder of Tools Doctor, content marketer, and dad. I love trying out new equipment, and together with my team I've been creating in-depth blog articles since 2016 to help loyal readers with tools & crafting tips.