I love creating free content full of tips for my readers, you. I don't accept paid sponsorships, my opinion is my own, but if you find my recommendations helpful and you end up buying something you like through one of my links, I could earn a commission at no extra cost to you.
Learn more
One of the most essential power tools for a woodwork enthusiast is a router. With the right routing tool, you can take your woodworking skills to the next level.
The confusion starts when you have to choose between a fixed base router and a plunge router.
Many woodworkers prefer to use the plunge routers when creating a mortise in the center of a piece of hardwood or rounding off the edge of a shelf board.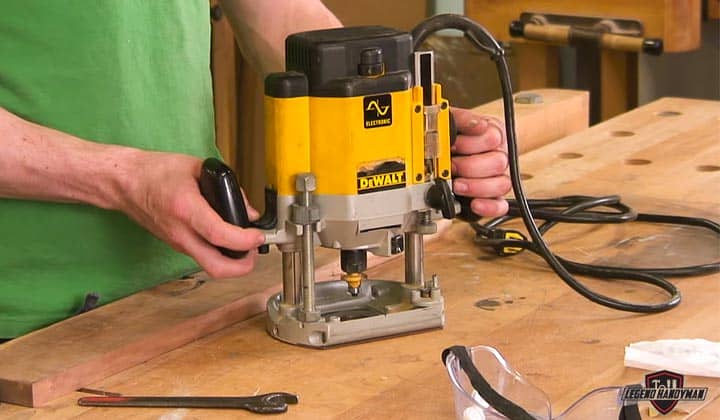 These high-speed and versatile power tools can make tight-fitting joinery and accurate patterns faster than any hand tools.
No matter what your skill level is, this guide will help your find the best plunge router suitable for you.
Our Recommended Best Plunge Routers
Now that I've discussed the points you need to keep in mind before making that final purchase, let's look at some of the top plunge router reviews so that you can make an educated choice.
DEWALT DW618PK 12-AMP 2-1/4 HP Plunge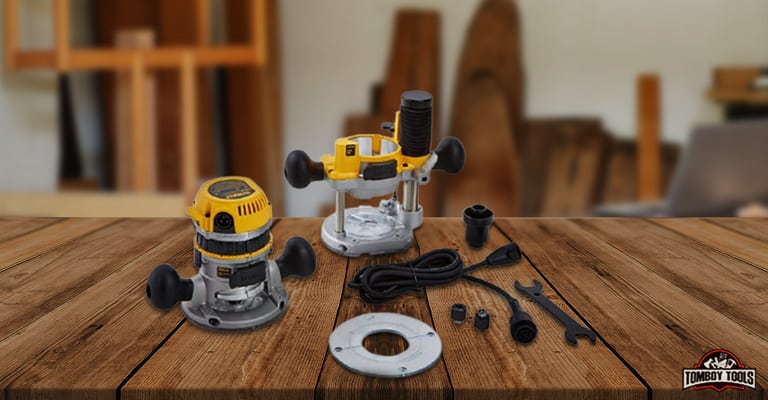 This mid-range variable-speed DeWalt router has a user-friendly design, which is suitable for personal woodworkers as well as professionals. The initial torque of a router can be harmful to a carpenter's wrist.
And that is why this DeWalt router has featured a soft start engineered with an AC electric motor, putting less stress on the wrist and the motor.
You can get better control over it because it has a variable speed range of 8000 to 24000 RPM. You can control the speed with the help of the electronic speed control dial situated at the top of the router.
With its aid, you can have suitable choices between the speeds that you need for the job at hand. It is said to be one of the best plunge routers out there because it has both features of a fixed base and plunge base router.
Changing router bits is also fast and easy. If you can't decide between the two, you can just buy this particular router. It also has two rubber handles on its sides for a comfortable grip, making it easier to work on tricky cuts due to better control.
Pros
This router includes both the fixed and plunge base for convenience.
Cutting is really smooth when used with the fixed plunge base kit.
This DeWalt plunge router features electronic speed control.
Easy to make precise depth adjustments using the depth adjustment ring.
Cons
The centering tool and the edge guide will have to be bought separately.
Bosch 120-Volt 2.3 HP Electronic Plunge Base Router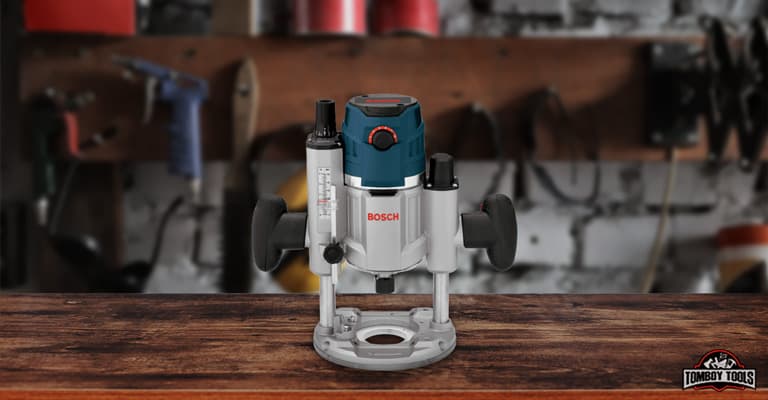 Bosch is a popular brand, and for a good reason. They have a wide range of tools that caters to varying budgets, durability, and design preference. This router from Bosch is no different and is designed in a way to make your woodworking tasks easier. It has handles on the side for an easy and comfortable grip.
The router features an 'After lock micro-fine bit depth adjustment' that helps you lock the router at the measurement you need, eliminating the issue of adjusting it constantly. The 15 AMP motor can produce up to 10000 to 25000 RPM for more power with a horsepower of 2.3.
It also has a speed control dial. You will not have any visibility problems with this tool because it has an in-built LED light illuminating the areas of your work, which may otherwise not have much visibility.
However, the only issue you may have with this router is its dust collection kit because it is not up to the standard. You can buy a separate one, and you'll be good to go!
Pros
It comes with a built-in led light for better visibility
It has a comfortable handle design.
The power switch is located on the handle for convenient control.
Also, the device offers a variable speed dial for accurate cuts.
Cons
It has a sub-standard dust collection kit, and alignment issues have also been reported.
Makita RT0701CX7 1-1/4 HP Compact Router Kit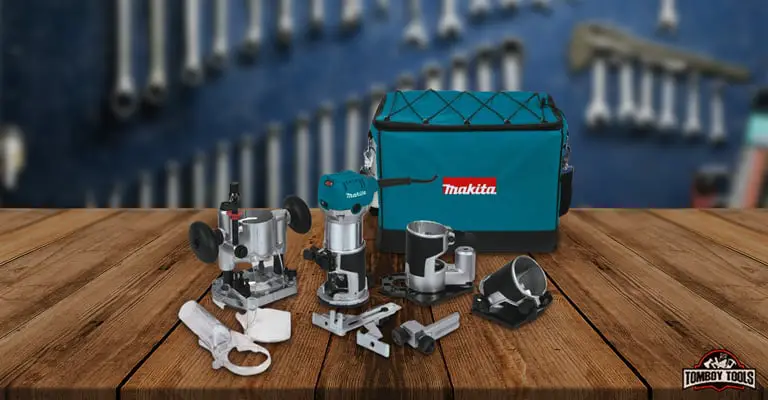 Next on this list is the best small router designed by Makita. This Makita plunge router may seem small and compact, but it can get precise and smooth cuts. Do not be misled by its size; this router has a 1¼ horsepower motor coupled with a 6½ amp.
Coming to its variable speed, while using this router, your speed range will be from 10000 to 30000 RPM. This is helpful for you to adjust the speed as you go along from one cut type to the next.
It does not put sudden pressure on the router motor due to its soft start, meaning it will take a few seconds to get to full power. It must be highlighted here that you must be careful with the lock lever of the router because otherwise, the motor will fall out.
The motor unit and the router base lack friction, and hence it causes the motor to lose its place. If you keep this in mind, you will be able to utilize this compact router at work or at home. Although there is not electric brake on this one, Makita offers another model that does feature that.
Pros
It works well in corners due to its small base size
It features a soft start motor.
Moreover, two wrenches are available in the kit.
The unit has a well-built practical design.
Cons
The motor may fall out if the lock level is not handled properly.
Bosch 1617EVSPK Woodworking Router Combo Kit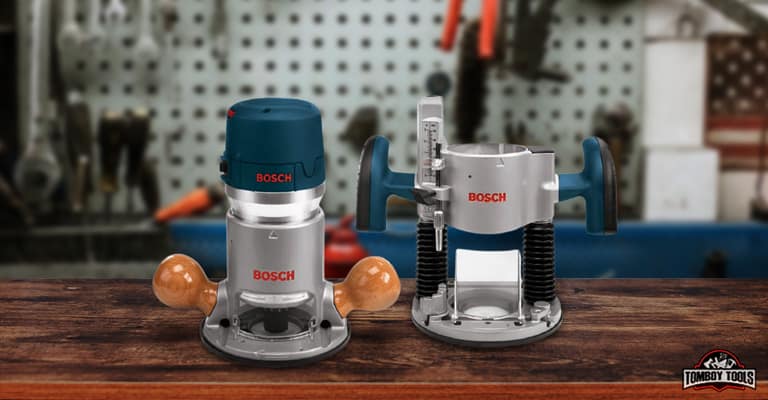 When we think of machines and tools, we think of Bosch. This is because they manufacture durable tools. If you are looking for a router of excellent quality, you can look at the Bosch 1617EVSPK router combo kit. Sturdy aluminum is used to make the motor housing and the base hence sealing its durability.
The brand boasts the built-in Constant Response Circuitry of this router, making sure that the router continues at a constant speed. This way, your cuts will be better. The router's variable speed ranges from 8000 to 25000 RPM, giving you the ease of having better control of your tool.
With a 12amp motor and 2¼horsepower, you will get high-caliber cuts and smooth performance. It also ensures proper depth adjustment with the micro-fine depth adjustment system so you can easily achieve exact cuts that will make your woodworks beautiful and save you from making mistakes.
Pros
The device has a powerful motor.
It has been designed with a dust seal.
The operations are user-friendly.
Also, you'll be getting a good variable speed range.
Cons
There's no arbor lock in the kit, and the unit isn't packaged with templates, unlike similar products.
DEWALT DWP611PK Compact Router Combo Kit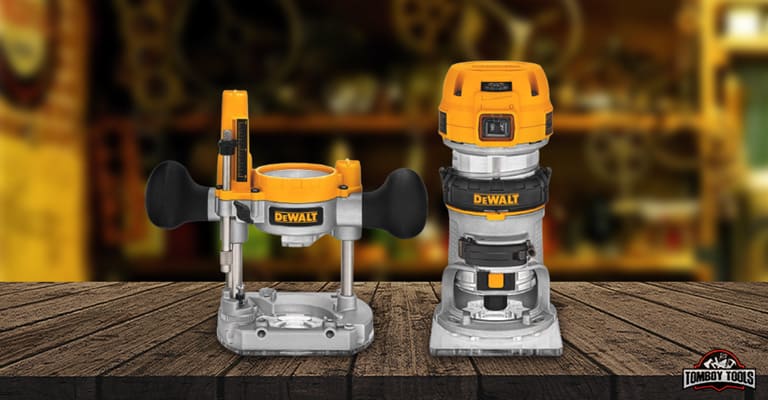 This resourceful router by Dewalt is designed to be multi-faceted since it comprises the benefits of a plunge router and a fixed base router. The word 'compact' in its title may mislead you, but I assure you this compact router is capable of getting a variety of tasks accomplished.
With only 1.25 horsepower, this is one of the smallest yet more useful routers available in the market. The soft-start technology is also incorporated in its design, and because of that, the router motor is put under less pressure. This technology is also a bonus for your wrist because the sudden torque of the tool may hurt you.
A variable speed toggle switch is placed at the top of the tool for ease of adjusting the speed. It ranges from 1 to 6 that can take you from 16000 to 27000 RPM.
It is equipped with electronic control to prevent burning when the machine is under load. This tool, no doubt, will give your woodworks an excellent finish. Since it comes with both plunge and fixed bases, you can use it on a router table (here are some great ones).
Pros
The device is designed with a led light for better visibility
It has comparatively low sound and vibration than other routers.
This thing is not too heavy and is packaged with a dust collector.
Cons
No edge guide is included in the kit, although it can be bought separately. And only the plunge base has a palm grip but no handle.
Makita RP1800 3-1/4 HP Plunge Router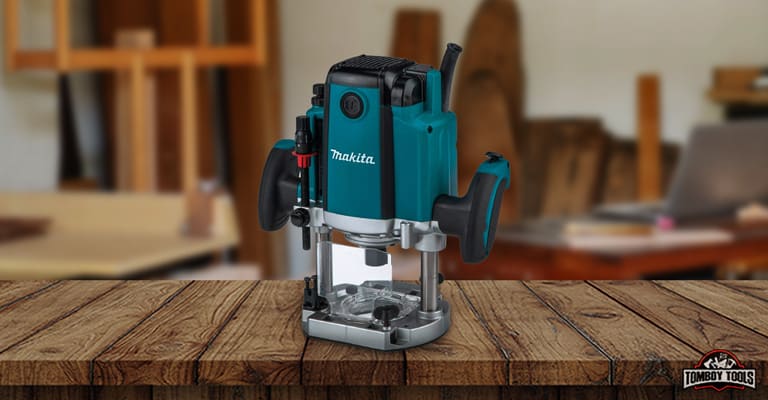 The Makita RP1800 is designed to give its user a smooth and fine cut. Unlike the other routers in the list, this router does not feature a variable speed control. Rather it is a single-speed router, which may not be suitable for all types of wood but can make cuts hassle-free because its speed is 22000 RPM.
This Makita plunge router has a plunge depth of 2¾ inches. The depth adjustment is also easy to use and can also incorporate minor adjustments, including three presets. One amazing feature of this tool is the transparent chip deflector, which shields you from stray wood chips that may fly into your eyes.
Woodworkers are guaranteed to have good control over the tool due to its ergonomic design and over-molded handles for a comfortable grip.
To ensure safety while concentrating on a big task, the right side has a two-finger trigger for you to rest your hand. You will get sufficient power from this one-speed router.
Pros
This router is durable due to the built-in fan
The motor provides sufficient power.
Moreover, the linear ball bearing gives a comfortable grip.
This unit has a transparent chip deflector.
Cons
Not equipped to be used for different materials and does not include a speed control dial.
Metabo KM12VC Plunge Base Router Kit
This router from Metabo is manufactured to produce comparatively less sound than other routers available in the market. That is a plus point for artisans who are disturbed by the sound generally produced by routers. It has a smooth start and can be powered to a nice 2¼ horsepower.
Although some have reported that the adjustment knob has an unnecessary amount of grease, the fine depth adjustment is easy to operate. The thumb release lever is also within easy reach. The motor is placed a bit high if you consider other models, which might make it look like it is lopsided.
The Metabo KM12VC offers good value when you compare it to its price. It is able to take on a variety of tasks as long as you do not put it through different materials.
Pros
The machine has hassle-free speed control,
The design is roomy enough to store the motor & both bases along with other accessories.
It is suitable for people looking for a router within a tight budget.
Cons
The tool looks wobbly and is not comfortable when used on a router table for the positioning of the collet.
Triton TRA001 3-1/4 HP Dual Mode Precision Plunge Router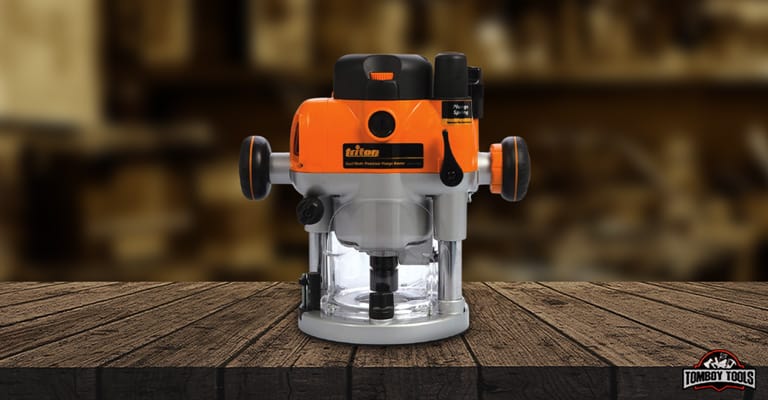 Triton is one of the powerful routers in the market with a 3¼ horsepower and motor of 8000 to 21000 RPM, a speed range that can help you achieve great cuts quickly. This model from Triton has been enhanced with a three-stage turret for its user's ease of cutting, along with a direct reading for comfortable operation.
As a brand, Triton has been in business since the 1970s, and its main concentration has always been accuracy. They have been designing and manufacturing high-quality and user-friendly tools that have also been the recipients of many awards. So, it is safe to say that Triton is a brand to trust. It also one of the best plunge router combo kits on the market.
This router features a soft start and speed control, both of which provide comfort and ease while working. A bonus for woodworkers is the fact that they can shift from the plunge base router to a fixed base using a single switch from the rack and pinion mode. Micro winder ensures continual fine depth adjustment.
Pros
It contains features of both fixed/plunge base routers.
It features a variable speed control dial.
The precision depth adjustment and widening control are unmatched for plunge routing.
The Micro winder allows for continuous fine depth adjustment.
Cons
Some important parts are made of plastic and collect dust easily.
What Is A Plunge Router?
Usually, woodworkers use routers of two kinds: fixed-base routers and plunge base routers. The plunge router is the popular choice since they are utilitarian and can be used for making different cuts.
Plunge routers are designed to keep the router stationed above your work before you switch the router on. Subsequently, the router is slowly placed atop the wood when the motor is lowered. The said motor is positioned on a rod with springs so that you can cut the wood according to your requirement.
How Do Plunge Routers Work?
I will now discuss how a plunge router works for the newbies using this machine for the very first time. If you know the working mechanism of a plunge router, you can easily capture using a plunge router.
This guy gets its name' plunge router' from its ability to plunge due to a plate that is designed to slide on a rail. This actually makes the bit go into the wood you are working with.
On-Off Switch
The operation begins with an on-off switch, which is generally located by the right handle. You have to press it upwards to start and downwards to switch it off. So, to make your cut push the button up, push the button down when you're done.
Two Handles
Another feature of the plunge router is its speed switch, which works according to the size of your bit. You will usually find this switch at the top of the router. Plunge routers also give you the pleasure of having an excellent grip on it due to the two handles situated on its two sides.
Depth Adjustment
A feature that comes in handy for woodworkers is the depth adjustment that you will find on the backside beside the left handle. You may push the router down to your required depth and lock it there.
Installing Bit
Get a wrench to adjust the collet of the router. Slide the shank of the bit into the collet all the way up and then back it up a quarter of an inch. Start tightening it by hand until the shaft begins to turn too. Push the button near the collet that locks the armature of its motor. Use the wrench to tighten it all the way.
Operation
After you're done preparing all the things, you have to plug in the router. Because of the rotation of the bit, you have to work from right to left on the wood.
Choosing The Best Plunge Routers – Buying Guide
Here's a guide for you to use as a checklist while you're in the market shopping for the best plunge router. I will list down the basic things you'll need to consider before you make that final purchase.
Motor Power
This is the most important feature to look out for, so I'll talk about it first. It is highly recommended that you buy a plunge router that has a motor power of 2 HP. You will need it to push a larger bit of wood to push through the stock.
Speed Adjustment
Plunge routers designed with speed adjustments will let you work more smoothly and efficiently when you're working with larger bits of wood.
Diameter Of The Collet
It is preferable to get a router that has a diameter of 1/4in or 1/2in. The 1/2in one is more expensive but works better.
Control And Grip
The proper grip on your router, while you work, is paramount. Hence, buy a router that you can hold properly. This will aid you in working long hours at a time as well as put a lot less strain on your wrist.
For better control and increased productivity, go with the Makita Plunge Router Electric Brake. It has everything you need from micro-adjustable depth control for cutting depth adjustment to electronic variable speed.
Debris Control
We all know how much dust and debris accumulates when we cut wood. So, you should look into the dust control feature of the router you want to buy to see if it comes it a vacuum port. This way, you will save a lot of time cleaning.
Soft Start
A router that features a soft start is a plus point because a router that starts the moment you switch it on can startle you with the sudden sound, and the torque can catch you off guard, hurting your wrist. If you make a soft start, pause for a few seconds when you can prepare yourself.
Spindle Lock
If the router has a spindle lock, you will require only one extra wrench to tighten the router bit into the collet. It helps you when you cannot separate the motor to adjust the bit better.
It is important to remember that spindle locks are not considered safety features. It is essential that you unplug the router every time you change a router bit before you handle it safely.
Size
Sinceplunge routers are usually used as a handheld router. Size is necessary to be considered. Depending on the type of woodworking you'll be doing, you should think of the appropriate router you'll require.
Plunge Router Uses
You may be wondering what you can use this versatile tool for. Well, let me assure you that you can safely invest in this tool and produce beautiful woodwork with a fine finish. It's better to have a router that includes a fixed plunge base kit. The DeWalt router fixed plunge is a good option.
Here are a few things you can do with them, keeping in mind, you can do more than this list covers: template routing, inlay grooves, mortises, comes with specialized bits, allows fine depth adjustment, and can be used with some jigs to cut complicated tasks.
Plunge Router vs. Fixed Base Router
Generally, there are quite a few differences between dedicated plunge routers and fixed routers. Let's have a look at what they are.
Beginning Of Operation
While in a plunge router, the drill bit remains in the unit when you position it over the wood and only comes down when you lower the bit with a pointy bottom; the bit in a fixed router is positioned in a way to stay lowered with a flat bit bottom.
Shallow Indentations
When you have to do shallow indentations, plunge routers are the better option because fixed base routers are steady depth cutting.
Even though there are some differences between these two routers, you will find the plunge router attachment that you can use whenever you need a fixed base router.
Certainly, this router can carry out all the functions of fixed routers, but it may be less accurate. It's easier to precisely adjust a fixed router since it contains fewer moving parts.
Frequently Asked Questions (FAQs)
Q: Is it okay to use a plunge router on a table?
Ans: Yes, you may use a plunge router on a table depending on the setting of your router.
Q: Can a plunge router be used as a fixed base router?
Ans: Yes, it can be used as a fixed base router since there are available router attachments that you can use to use it as a fixed base router.
Q: What is the advantage of buying a plunge router?
Ans: Woodworking tasks such as mortising, including stopped dados, and inlay pattern work, become easier to do with plunge routers and router tables.
Q: When should I use a plunge router?
Ans: These routers are generally used when you have to place the tool from above.
Q: Can I use a plunge router on a router table?
I'm not aware of any particular dangers associated with using a plunge router in a router table, but it may present some minor difficulties, depending on the router model you are using.
Q: Can a plunge router be used as a fixed router?
Certainly, a plunge router can carry out all the functions of fixed routers, but it may be less accurate. It's easier to precisely adjust a fixed router since it contains fewer moving parts.
Conclusion
Woodworkers have many creative ideas and visions, which cannot be brought to life without the help of useful, efficient, and advanced tools. Plunge routers are such tools that add a lot more value to an artisan's work because they help in realizing difficult designs and give an excellent finish.
Related Articles: Best router bits
I'm Joost Nusselder, the founder of Tools Doctor, content marketer, and dad. I love trying out new equipment, and together with my team I've been creating in-depth blog articles since 2016 to help loyal readers with tools & crafting tips.