I love creating free content full of tips for my readers, you. I don't accept paid sponsorships, my opinion is my own, but if you find my recommendations helpful and you end up buying something you like through one of my links, I could earn a commission at no extra cost to you.
Learn more
I used to find the task of sanding quite difficult and tiresome. That was until I realized I wasn't using the proper sanding machines and tools. So, I decided to do my own research to find a sanding machine that was right for me. If you are struggling with the same thing, this article is just for you!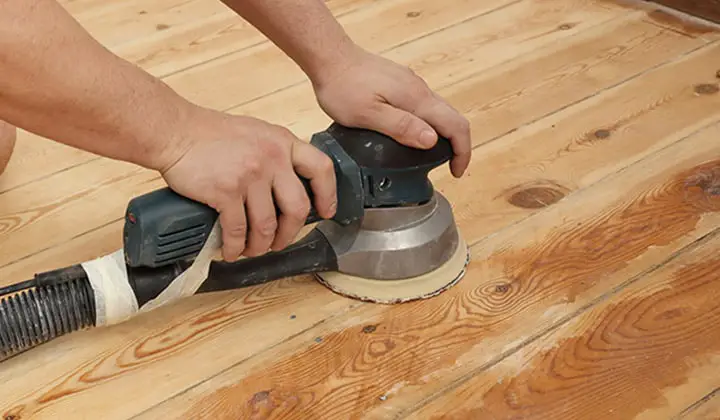 I have prepared a list of some of the finest sanders on the market right now so that you can get the best sander for hardwood floors for yourself. For your convenience, I have also talked about the different types of sanders and answered some questions you may have.
5 Best Sander for Hardwood Floors
Finding the perfect sander to take care of your hardwood floor can be pretty overwhelming, especially considering all the options available. However, no need to worry because I will walk you through the process. Below is a list of 5 sanders that can be just what you need.
1. YATTICH Drywall Sander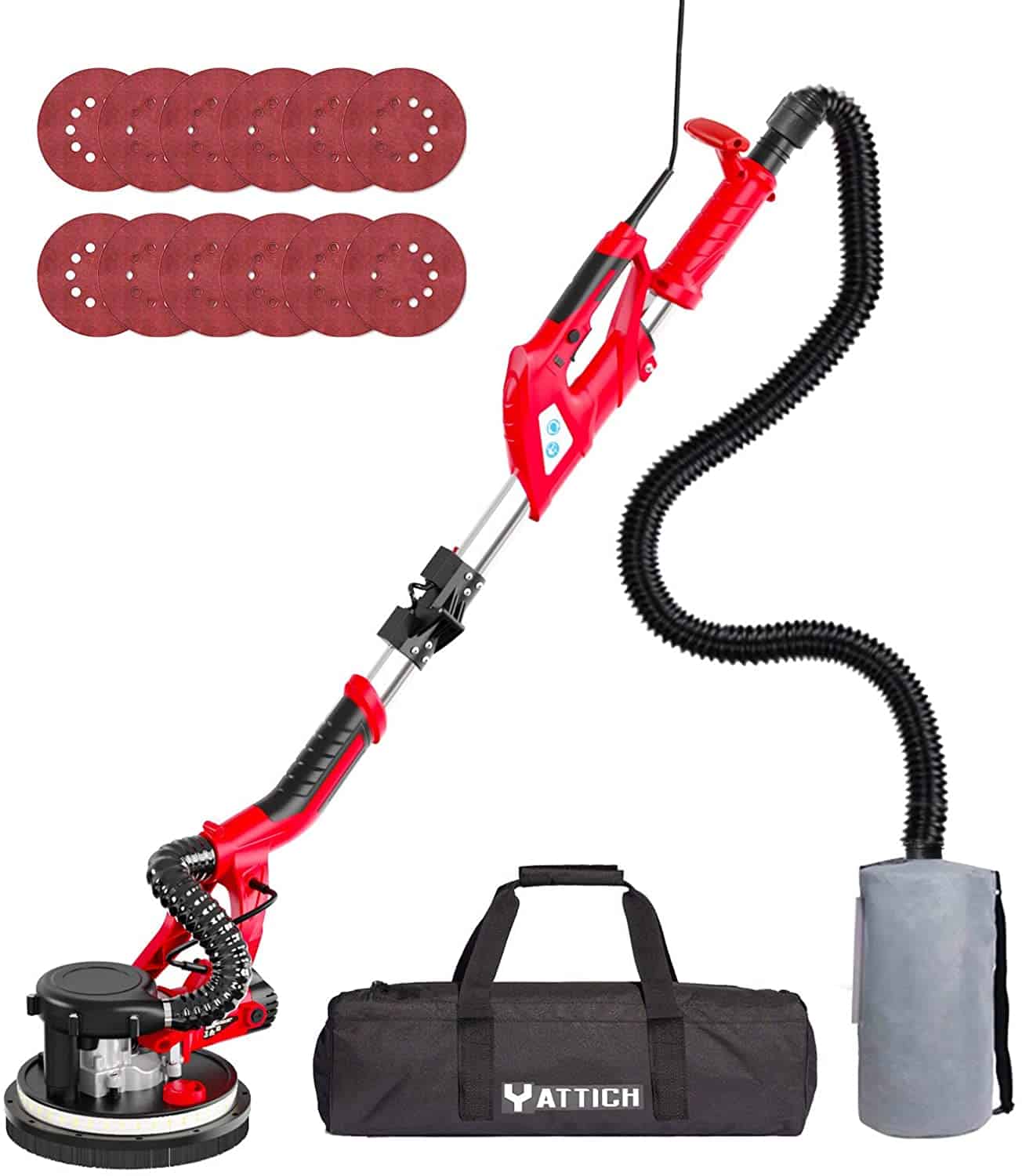 The first product on the list is the YATTICH YT-916 sander, perfect for sanding hardwood floors. Its top-notch quality and sturdy build make it a great option to consider.
With a powerful 750W motor, this thing features 7 level variable speed that you can freely adjust in the range of 800 to 1750RPM, as needed. This sander has a top-notch design and build.
It comes with an aluminum alloy extension rod where you can easily adjust the handle, extending it as high as 5.5 feet. There is a dual hook tension spring at the top of the sander, which does a great job sanding drywall, hardwood floors and taking off any paint coatings or residue.
To ensure there is no debris left behind, this thing also features a vacuum suction system. The sander comes with a 6.5 feet dust hose and a dust bag to store all the dust and debris. It not only keeps your hardwood floors neat and clean but also ensures a healthy environment by preventing the inhalation of dust.
You can even use this sander in dimly lit or even dark places as it features LED light strips to illuminate the path. The light is also soft enough not to strain your eyes while working.
With this package, you also get a carrying bag, 12 sandpapers, a working glove, and a hexagonal wrench, and a screwdriver, along with a user manual.
Pros
Includes extension rod that can be extended to 5.5ft
Powerful motor and 7 levels adjustable speed
Features vacuum suction system for easy cleanup
LED strip lights provide visibility in dark environments
Cons
A bit on the heavier side
Verdict
Overall, this is an excellent sander with everything needed to be the best sander for hardwood floors. It is very well-built and has a wide range of adjustable speeds, making it very easy to get the job done with the best results. Check prices here
2. Oreck Orbiter Multi-Purpose Floor Cleaner Scrubber Sander Buffer and Polisher

If you are looking for a product that is simple to use but gives good results, this Oreck Orbiter Cleaner and Sander can be just what you need. This best sander for hardwood floors is very well built and high quality and can be used for multiple purposes such as scrubbing, polishing, cleaning, and sanding.
The Orbiter is a friend to all hardwood floors everywhere as it sands very efficiently and brings back that shine and luster in old hardwood floors.
This thing does an excellent job not only of sanding hardwood floors but also cleaning them as well. It is also great as a tile cleaner and does a good job removing grout stains and polishing the marble floor to restore its original shine.
Have you ever had to deal with those stubborn stains and dirt on your carpets? Well, you can put your struggles to get rid of them to rest because this machine also does a thorough and deep cleaning on carpets to remove all stains and debris while also reducing allergens.
Its unique design makes it very easy and convenient to use. This thing can cover a wide area with its 13" cleaning path. It comes with a powerful induction motor made of zinc and steel, which makes it very durable.
Pros
High-quality build and easy to use design
Does an excellent job sanding and polishing hardwood floors
Great for deep cleaning floors and carpets
Has a 13" cleaning path for efficiency
Cons
It may be a bit too heavy for some
Verdict
This sander and cleaner tool may exceed your expectations with its performance. It is an excellent product for the money, and it is super convenient to use and gets the work done. It is a great option to consider if you are looking for a quick and easy way to make your hardwood floors look great. Check prices here
3. Clarke Floor Sander Edger Super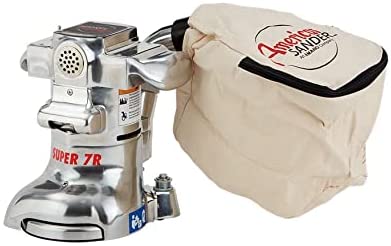 The 07125A floor sander by Clarke is a heavy-duty machine that allows you to handle any sanding tasks with ease. It is a very convenient machine to have with you and does an excellent job sanding different floors, including hardwood.
First of all, this thing has a polished cast aluminum build, making it highly durable and of excellent quality. This circular sander weighs about 54.8 pounds and runs on a 1HP motor to give the best performance.
You will not have to worry about leaving a pile of debris and dust on the floor after sanding. For your convenience, the sander comes with a dust bag that stores all the waste so that you can easily throw it away later on. It also helps to prevent allergies from dust and keeps the environment healthy.
This thing features rotating dust pipes spinning 210 degrees, ensuring easy access to tight corners and spaces. It easily falls into the best sander for hardwood floors category with its excellent and reliable performance.
Pros
Powerful and very reliable
Includes dust bag to keep the environment healthy
Polished cast aluminum casing makes it durable
Offers quick and professional level results
Cons
Verdict
All in all, with this sander, you will get professional-level results. It makes sanding super-fast and easy and can be used on a wide range of floor types, including hardwood floors.
With its durable build, it should last you a pretty long time. However, keep in mind that this product is quite expensive, but this sander is highly recommended if budget is not an issue. Check prices here
4. Mercury L-17E Lo-Boy Floor Machine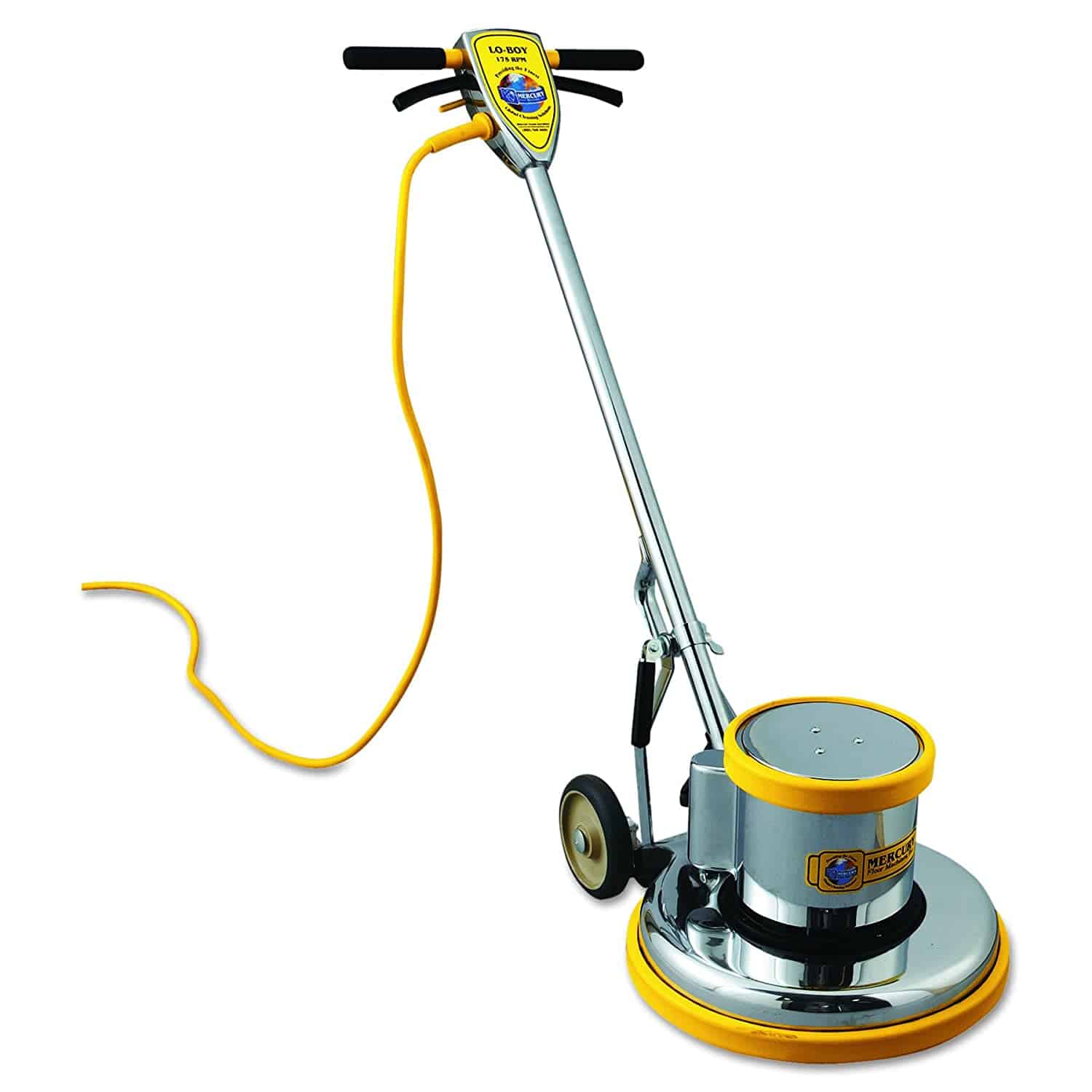 We opt for sanding tools and machines because of convenience. And that is why the Mercury L-17E Lo-Boy Floor Machine is the best sander for hardwood floors to have if you are looking for something that not only gives you great results but is also very easy to use.
First, this sander is very well-built and made of high-quality materials. That makes the machine extra durable, which means it will last you a pretty long time. It uses an electric motor with 1.5hp and brush speed of 175RPM and has the brushes and pad drivers mounted at the bottom of the sander.
There are different brushes available for use for various applications, which makes the product multi-purpose. So, you can not only use it for sanding, but also clean tile, vinyl, and hardwood floors, and also to dry clean carpets.
If you value silence, you will definitely like this product! This machine does not make much noise, so you can work on your project in peace. It weighs about 102 pounds and provides enough weight to sand smoothly.
This item has a 17" metal bell housing that allows greater floor coverage and a 48" handle that can be freely adjusted and locked in place to suit your height.
One complaint some people seemed to have with this sander is that it comes with the cord attached to the handlebar. It makes portability and safety a slight issue for some.
Pros
Great quality and well-built
It does not make noise
An additional use to clean floors and dry clean carpets
48" handle can be adjusted according to height
Cons
The cord is attached to the handlebar
Verdict
It is one of the best heavy-duty sanders on the market. Also, it is very convenient to use and offers excellent performance. Check prices here
5. Clarke Floor Sander Orbital Dust Control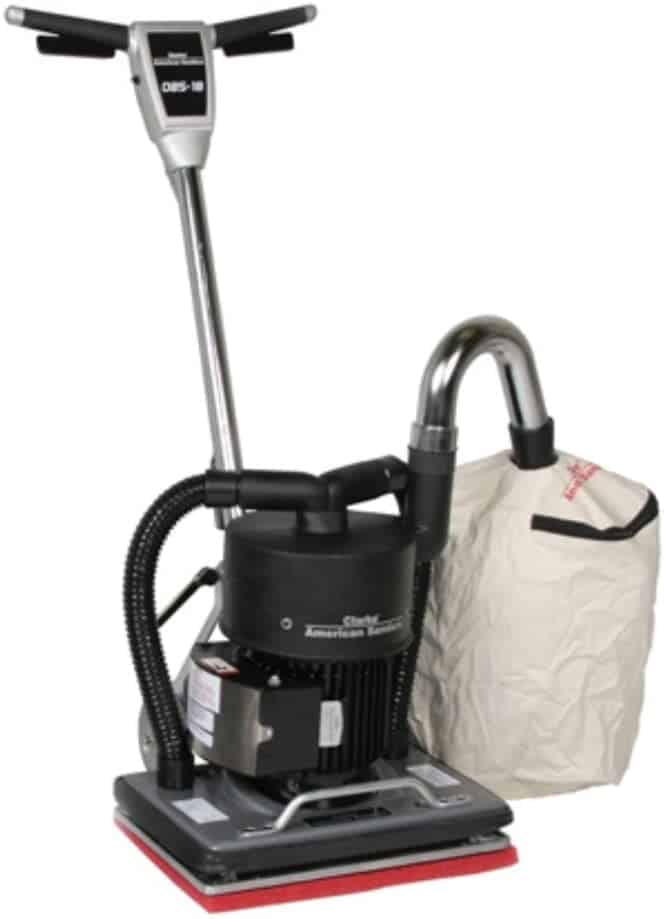 The final product on this list is another Clarke sander, and it is known for its efficiency and top-notch performance.
The sander is relatively lightweight but highly durable with its excellent quality build. It operates with high speed and perfect execution. You can easily use this thing on a wide range of floors, including hardwood floors.
This thing has been designed with user convenience in mind, so you will not get any back pain from using it even for an extended period of time.
The sander also comes with a dust bag that does an excellent job of collecting the dust and debris. That helps keep the environment clean and healthy and reduces dust allergens. It provides very uniform and professional-level results.
However, one thing to keep in mind here is that this product is quite costly. So, if you are on a budget, this might not be the best option for you.
Pros
Highly efficient
Perfect for sanding different floor types
Features a dust collector to keep the environment healthy
Lightweight but durable
Cons
Verdict
Overall, this is an incredible sanding machine that you can use on a wide range of floor types. If the price is not an issue for you, this is the best sander for hardwood floors that you can find on the market right now. Check prices here
Different Types of Floor Sander
Buying the right sander for yourself is quite a simple task. However, if you are not sure about what exactly it is that you are looking for, it can feel quite overwhelming. Here I have prepared a short guide on the different types of floor sanders that you can follow to figure out which one would be right for you. Take a look!
Random Orbital Sander
Random orbital sanders are the most common and popular sanding machines that you can find. They are much easier to use, which makes them an excellent choice for beginners or anyone with little to no sanding experience. As the name suggests, the orbital sanders operate the sanding disks in a circular motion.
These sanders are pretty inexpensive. Besides, replacing the sanding sheets is also very cheap and super easy. Since they get rid of little material while sanding, they can take up a lot of time. However, they are also less likely to do any permanent damage to the floor.
Drum Sander
Drum sanders are giant floor sanders that operate using a belt style. The way it works is a sandpaper belt is fitted over the drum that rotates at a very high speed. This sander stays on the floor and can be pushed and moved around using a handle.
Drum sanders are very powerful, and they provide very smooth and polished finishes. However, all that comes at a price as these machines can be costly and are used mainly by professionals. Since they are so powerful, they can even cause some serious damage to your floor if you are not experienced in using them.
Vibrating Sander
Vibrating sanders are pretty similar to random orbital sanders. These are typically used after using a drum sander to smooth out any unevenness. Even though it can be as massive as a drum sander, it is actually a lot lighter.
These sanders use a vibrating sanding pad and come with a dust bag to collect the debris. They are pretty light on the floor and are less likely to cause any damages to the floor.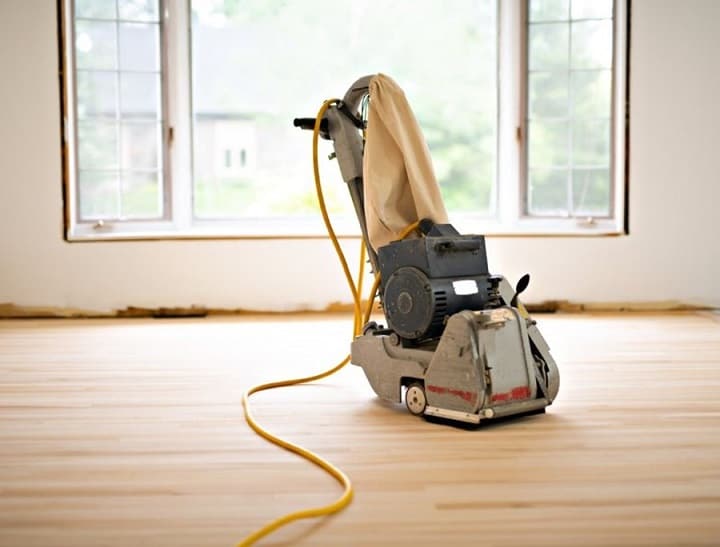 Frequently Asked Questions
Can random orbital sanders be used on hardwood floors?
Random orbital sanders are ideal for a DIY sanding of hardwood floors. They take a bit of time, but they are also straightforward to use, which makes them a good choice for beginners.
How often should you sand a floor?
It mainly depends on the thickness of the top layer of the floor. Usually, after installation, sanding every ten years or so seems just fine.
How much wood is removed by sanding?
Typically, sanding removes about 1/64 to 1/32 of the wooden surface. Sanding it every 10 years or so ensures the longevity of the floor.
How to tell if the hardwood floor can be refurbished?
If you are not sure whether your hardwood floor needs refurbishing, you can carry out a water test to find out. Pour a spoonful of water onto the floor; if the water is steadily absorbed into the wood, the finishing may need some touch-up.
What is the difference between a palm sander and an orbital sander?
Palm sanders and orbital sanders are pretty much the same, except palm sanders are much smaller. They are relatively smaller and lightweight, while orbital sanders are more massive and can be used on larger projects.
Final Words
There you have it! These are the finest sanders available right now that offer the best performance. Before you go and make a purchase, go through the products again to see which one is the right fit for you.
I hope you found this review helpful and that it assists you in finding the best sander for hardwood floors for yourself!
I'm Joost Nusselder, the founder of Tools Doctor, content marketer, and dad. I love trying out new equipment, and together with my team I've been creating in-depth blog articles since 2016 to help loyal readers with tools & crafting tips.