I love creating free content full of tips for my readers, you. I don't accept paid sponsorships, my opinion is my own, but if you find my recommendations helpful and you end up buying something you like through one of my links, I could earn a commission at no extra cost to you.
Learn more
Blades deliver the performance of a saw. The ones of scroll saw were never an exception and never will be. They are paramount to all the tools required for cutting. You can hit the bull's eye if you select the best fit blade for your project.
Blades are needed to be changed from time to time. You need a deep understanding of them to select the best one. Think a bit, what if you are failed to select the most suitable one for the scroll saw? Yes! You will face great hardship and end up with many inefficiencies.
Don't get panicked! All you need to know for getting the best scroll saw blade is piled up here. Just go through the article to discover yours!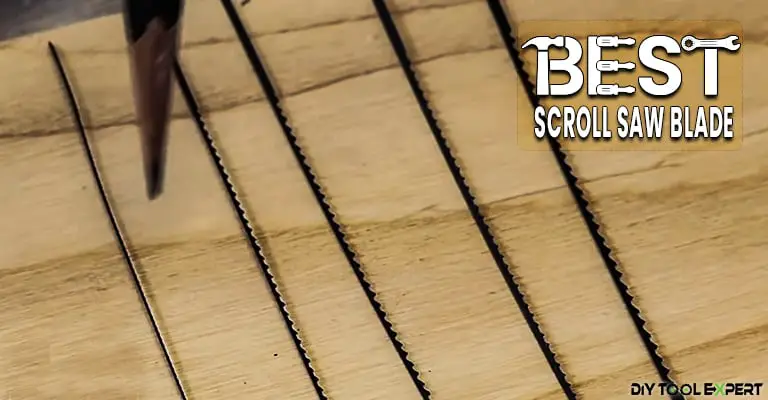 Scroll saw blade buying guide
If you need the best scroll saw blade in the market, you need to inspect some aspects carefully. Let's talk about a few aspects needed to be considered before buying a scroll saw blade.
Pin or Pinless?
Blades of a scroll saw are primarily divided into two categories. Mainly they have a pin or do not have one. The former models of scroll saws preferred pined ones over pin-less. They are easy to remove. But the problem is those pins do not fit in smaller holes. The minimum diameter of the entry hole, in this case, must be 5mm. This site can be pretty larger than the fret you want to cut.
To find the solution, manufacturers introduced a much easier mechanism. The pin-less blades. These blades fit in a comparatively small hole and allow you to do more. You can have more precise and fine cutting by using these blades. But it is a bit difficult to remove the blade from the hole.
If you are new with DIY projects, then you can go for the pinned once. But you need to cut small frets or contours, you should go with the pin-less ones.
Blade Size
The precision in cutting requires perfect blades. Before you pick up blades for your scroll saw, you need to know the accurate size of the blades that are needed for your intended cutting. Actually, there are blades of different sizes to deal with different fret. Let's learn when which blade is needed.
It's clever to use #5 or #7 blade to deal with 19 mm to 25 mm thick medium hardwood (particularly, cherry, walnut or maple wood). Again, you should use a smaller blade for thin woods. But if you cut the regular size of woods, you can go with larger sizes (ranging from #9 to #12). The same knowledge can be applied to other metals or plastic.
Tooth configuration
It's the most important thing you need to consider. Some may like to describe this term as TPI (Teeth per Inch). But you know what, it's a bit deceiving term. As different blades have different orientations, it's almost impossible to guess the exact importance of a blade by its TPI.
So, what's the way out? You should have an understanding of the tooth configuration. Thus, you can judge a blade whether it suits your task or not. Let's begin!
Regular tooth blades: These blades have teeth evenly spread along the blade. It means a tooth starts immediately after the end of another blade. It's not a matter of wonder that it is the most common form. But at present, this configuration is rarely seen.
Skip tooth blades:  Now manufacturers are more likely to use this configuration. But what's the basic difference? Yes! As the name suggests, these blades have teeth at regular intervals. A tooth starts after a gap of a tooth, not immediately after another tooth.
Double tooth blades: these blades are similar to skip tooth blades. But the difference is, in this configuration, two teeth are skipped instead of one.
Reverse tooth blades: These blades are also formed of skip tooth ones, but having a couple of teeth in the opposite direction from the rest. These teeth cuts when the blade travels upwards, where the others splinter the bottom of the blank slightly. This configuration is useful to cut cleaner bottom cuts. But the disadvantage is, it creates more sawdust and so are vulnerable to heat up or break down.
Two-way cut blades: This is similar to reverse tooth one. But in this configuration, every two teeth downward and after that one tooth points upward. These teeth give smoother cuts, but slow down the cutting speed and produce more heat.
Crown tooth blades: These blades have one blade pointing up connected to each tooth pointing down, this gives the blade a crown-like shape. This enables the blade to cut both at the upstroke and down-stroke. But it is the slowest of all configuration.
Spiral blades: These are flat blades twisted into a spiral. These blades can cut along all directions. The kerf of the spiral blade is wider than the kerf of the same size flat blade. This blade is useful for the projects that are too long to spin along with the saw table without hitting the back of the saw arm.
The complexity of the pattern you want to cut
If you are working with a pattern having tight turns and corners, you definitely need a small blade. But you can go with big sized strong blades if you are playing with regular fret. Whatever your need is, note that smaller sized blades are for fine cutting. You cannot use this for regular-sized ones. It will decrease the longevity of the blade.
Compatibility
You need to be sure that your saw is comfortable with the blades you installed. Sometimes, you need to apply more or less tension on the blade. It means you are pressing the blade to its limit often. That's why this blade needs to be strong. You should always prefer the preference of the manufacturer of the saw.
The materials being cut
This point is last but not least. You should consider the materials that are being cut by the blade. It's a matter of great relief that most of the materials are made from durable materials. You can cut a wide range of materials by the blade.
If you are cutting hardwood or ferrous metals, you should go with big sized blades. But if you are cutting soft metals or plastics, small size blades will do. But always prefer smaller ones for fine cutting.
You may like to read – best oscillating tool blades and best jigsaw blades
Best Scroll Saw Blades reviewed
Amongst the thousands of scroll saw blades, these are the few that withstood the storm of criticism of the users.
1. OLSON SAW FR49501 Pin End Scroll Saw Blade
Laudable aspects
OLSON SAW FR49501 Pin End Scroll Saw Blade is a great option for those who want the best value for their money. If you have a scroll saw that uses a pinned blade, it will definitely delight you. It is the best fit for the older ones at a comparatively low price.
As we said before, this blade is a pinned one. You will find it easy to install and remove the pin from your scroll saw. You will also find it easy to use and so it will speed up your projects. These blades are suitable for machines that require 5-inch pinned blades.
But the most interesting feature is yet to come! You will be surprised to know that you are getting three different types of blades in a packet. It enables you to cut different materials with great ease. You not only getting three different types of blades, but also six different blades of each type. This is a feature that gives you the freedom to work with the blades consistently for a long time.
Glitches
Though the blades give you the best value for money and offer a great variety, the pinned blades are inconsistent in their performance. They have flaws in the pins and overall stability.
2. Scroll Saw Blades for Thick Wood, 12-Pack
Laudable aspects
If you want blades that do not have pins attached, Scroll Saw Blades for Thick Wood, 12-Pack is a good option. It comes in a pack that carries 12 blades. It's a good option to save money and use the blades of the same quality for different purposes for a long time.
Your need for cutting thick woods can be fulfilled. You can cut both hard and softwoods ranging from ¾ inch to 2 inches. A multilayer of wooden panels can also be cut with great ease. You can use these blades for smooth cutting and cutting through tough corners. It has 7 teeth per inch to cut efficiently.
The blades are .08 inch wide and their thickness is .018 inch. It's a perfect dimension that is suitable for handling a variety of workpieces. The end of the blades is flat. It means it is pin-less and can be easily fitted in modern scroll saws.
Glitches
It has no pin in the back portion. It means you cannot use it for the saws requiring pinned configuration. You will find it tough to install and remove the blades from the saw.
3. SKIL 80182 Plain End Scroll Saw Blade Set, 36 Piece
Laudable aspects
This is a complete package of different kinds of blades. This blade includes 36 blades of three different kinds. Among them 12 blades have 28 teeth per inch, 12 are of 11.5 TPI and the other 12 are of 9.5 TPI. Isn't it great!
If you are a professional woodworker or someone who does a lot of DIY projects, than SKIL 80182 Plain End Scroll Saw Blade Set, 36 Piece is here to meet your needs. You get three different varieties of blades and these varieties come along with an adequate supply of blades. You can use these blades leaving the tension of running out of blades.
These blades are made of high-quality steel and their built quality is awesome. They are made to be capable of heavy-duty use for a long time. You can do with woods and plastics using these blades.
Glitches
Some users have complained about the durability. In heavy-duty use, the blades have a tendency to break into parts.
4. SE 144-Piece Jeweler's Piercing Saw Blade Set
Laudable aspects
It's a complete set of scroll saw blades. These blades can be fitted into saws having a 6-inch hole. You can have a set of 144 blades of different sizes and usages. The sizes are 4/0, 3/0, 2/0, 1/0, 1,2 ranging from finest to coarsest.
These blades are made from high-quality steel. Its steel body ensures durability and best performance. The overall built quality is good enough to sustain the heavy-duty performance for the long term. You can have a good value for money by these blades. Some people said these blades are good for beginners. These blades can also be used for light usages.
No matter what your need is, the blades are ready to serve you. If you are a professional craftsman, doing heavy projects daily, or an armature DIY project doer, these blades can help you to cut the exact pattern you want. You can even use these blades to complete your tasks in jewelry. These blades are also effective for this field.
Glitches
In heavy use, they show a tendency to break down. Some people questioned the durability of these blades in case of heavy usages.
5. Bosch SS5-20 5-Inch X 20-Tpi Pin End Scroll Saw Blade
Laudable aspects
Bosch is a trusted brand for a long time all over the world. They have mastery over making tools that are essential for easy doing of projects. They also have scroll saw blades of premium quality to serve your cutting purpose.
These 5-inch blades have 20 teeth per inch. The TPI rating of this product is suitable for fine cutting. You can have a clean and smooth cutting by these blades. The most important feature is that the blades have pins at the end. It means you can set it into scroll saws requiring pinned ones. You can easily install and remove it from the machine.
These blades are made from premium-grade steel. This steel ensures durability. You can do the heavy-duty cutting for a long time using these blades. It has precision sharpened for cutting intricate shapes. It means you can cut much easily using these blades compared to others. It is recommended to use it for sawing any kind of wood, plastic or non-ferrous metal.
Glitches  
You will face a hard time to cut metals using these blades. Even you cannot use these blades for strong metals. It also heats up during operation.
6. Pegas SK7 Fret Saw Blades for Knew Concepts Fretsaws
Laudable aspects
Pegas SK7 Fret Saw Blades for Knew Concepts Fretsaws is a set of top-quality blades made in Switzerland. You can have 2 dozens of high-quality blades in the set. These blades feature skip tooth configuration and suitable for cutting tight corners smoothly.
The wide of the blades is .05 inch and the thickness is .015 inch. It's a perfect combination for most machines to get fitted. The blades have 15 teeth in an inch (15 TPI). This configuration is suitable for medium-range cutting along with fine cutting.
These blades are well suited for cleaning up the waste for hand-cut dovetails. It gears up the speed of cutting and ensures less heat up. You can have a pleasant experience while cutting using these blades. Another aspect of these blades is the blades are included with Knew Concepts Fret Saws.
Glitches
Some users have complained that the blades tend to break into parts quite easily. These blades also have heat up issues.
FAQ
Here are some frequently asked questions and their answers.
Which saw blade makes the smoothest cut?
Blades with densely packed teeth make the smoothest cuts. Typically, these blades are limited to cutting hardwoods 1-1/2 inches thick or less. With so many teeth engaged in a cut, there is a lot of friction. In addition, the small gullets of such closely-spaced teeth eject sawdust slowly.
How thick of wood will a scroll saw cut?
2 inches
Thickness/Thinness of Material
A scroll saw is an excellent tool for carving or cutting materials that are fairly thin. Most blades can cut through materials up to 2 inches deep – although use caution. A particularly hard 2 inch material will wreck your blade.
How long do scroll saw blades last?
15-45 minutes
Scroll saw blades tend to last for 15-45 minutes of continual use on most wood types at moderate speeds. Thick or hardwood, high operating speeds, or tension issues (too tight/too loose) all contribute to a short blade lifespan.
Is more teeth on a saw blade better?
The number of teeth on the blade helps determine the speed, type and finish of the cut. Blades with fewer teeth cut faster, but those with more teeth create a finer finish. Gullets between the teeth remove chips from the work pieces.
How tight should a scroll saw blade be?
IF you can move the scroll saw blade with your fingers after installation and tensioning, the blade should be re-tensioned. When properly tensioned, the scroll saw blade should resist any movement when gently twisted or pushed with your fingers. A word of caution at this point is wise.
What is the kerf on a saw blade?
One of the features to look for in a particular saw blade is the blade's kerf — or the width of the material that is removed when cutting. This is determined by the width of the blade's carbide teeth. Certain kerfs are suitable for different projects.
Can a scroll saw cut 2×4?
A scroll saw is a more precise tool that will cut very small and delicate parts or toy car parts out of a 2×4. If your very skilled and take your time you can cut out parts that require little or no sanding. … The number of teeth on the blade helps determine the speed, type and finish of the cut.
Is a scroll saw worth it?
A good scroll saw is invaluable for cutting frames BUT it has to be a good one. Look for one with a lot of mass to dampen vibrations, a fine variable-speed drive and a good blade-clamping system. A used Hegner is a good investment.
Why does my scroll saw blade keep breaking?
Using too much tension or too little tension while you are sawing is a leading cause of scroll saw blades breaking. Whether you are applying too much tension or too little tension, using improper tension is a surefire way to break your scroll saw blades.
Do they make pin end spiral scroll saw blades?
There are no scroll saw blade manufacturers that produce pinned / pin end spiral scroll saw blades. Some factors that would discourage blade manufacturers from producing pin end spiral blades would be lack of demand, usefulness, and quality.
How do I choose a hacksaw blade?
Which blade you choose should depend on which metal you will be cutting. For heavy-duty cutting jobs like steel reinforcing rod or pipe, an 18-teeth per inch blade would be the best choice. For a job that requires medium-duty cutting, like a thin wall electrical conduit, a 24-teeth per inch blade would do a better job.
Are Diablo blades worth it?
The consensus is that Diablo saw blades balance great quality with excellent value, and are a good choice when replacing or upgrading the OEM blades that are often bundled with new saws. … These blades were used and tested with a Dewalt DW745 table saw, and a Makita LS1016L sliding compound miter saw.
Can you rip with a crosscut blade?
The Crosscut blade is used when cutting short grain, while the Ripping blade is for long grain. The Combination blade allows one to cut both crosscut and ripping using the same blade.
Q: What are the most commonly used scroll saw blades generally?
Ans: Scrolls saw are used for various purposes. That's why different blades are needed to ensure the best compatibility. But the most common blade that is used in general is plain or pin-less blades. These blades are easy to remove and can have different teeth arrangements.
Q: What kind of blade should I use for working with Plexiglas and Corian?
Ans:  You can go with any blade except those having reverse teeth. But the polar blades will be the best in this case for you.
Q: When should I change the blade?
Ans: It's better to change the blade when you are not getting the required pattern using the blade. When the blade is more vulnerable to heat up, it's a sign that it is high time to replace the blade.
Final Words
Life will never be easy even when top-class saws are at your hands! If a dilemma still follows you in differentiating among the top picked products, quick suggestions are here to bring your smile back. We preferred these products keeping different parameters in mind to pick up the best scroll saw blades for you.
You can pick SKIL 80182 Plain End Scroll Saw Blade Set, 36 Piece as the top choice if you need different blades for your projects. These blades ensure quality and durability with versatility. Again, if you want blades at a comparatively low price, you can go for OLSON SAW FR49501 Pin End Scroll Saw Blade.
I'm Joost Nusselder, the founder of Tools Doctor, content marketer, and dad. I love trying out new equipment, and together with my team I've been creating in-depth blog articles since 2016 to help loyal readers with tools & crafting tips.