I love creating free content full of tips for my readers, you. I don't accept paid sponsorships, my opinion is my own, but if you find my recommendations helpful and you end up buying something you like through one of my links, I could earn a commission at no extra cost to you.
Learn more
Many gardeners struggle when it comes to watering plants. If only there was an instrument that could tell us when to drain away water from the plants and when to water them.
Fortunately, there is actually a device called the 'soil moisture meter' that helps you do so.
A soil moisture meter will do the guesswork of watering your plants. They are efficient and simple tools that figure out the moisture level in the soil surrounding your plants.
However, not all of them are packed with the same features, which is why I've made this guide to help you.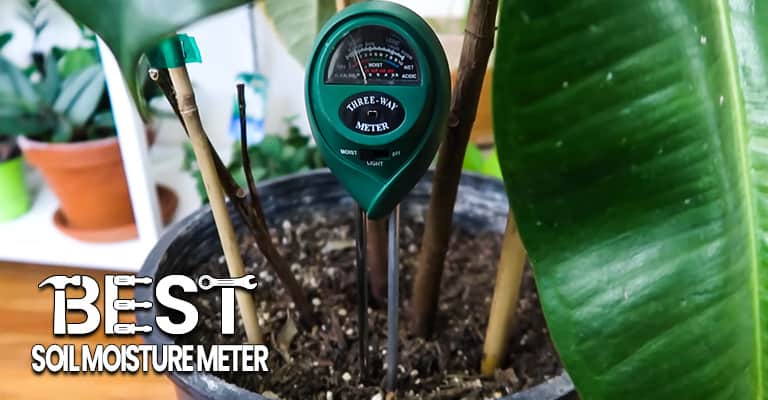 My absolute favorite soil moisture meter is the VIVOSUN Soil Tester. It's easy to use, gives you moisture, light, and pH level ratings and the price is very friendly.
But there are other options, that might be better suited to certain applications, like compositing, or outdoor gardening.
Following is a list of the best soil moisture meters available today.
How to choose the best soil moisture meter?
Before we a look at the best makes and models of available soil moisture meters, we must have a look at the features that make a high-quality soil moisture meter.
Soil moisture meters are equipped with a variety of functions which you may consider according to your requirements.
Apart from measuring soil moisture, these handy meters can measure a variety of other features that can tell you about any potential problem.
To make sure you end up with the right product, the following are the important features to consider:
Moisture
A basic soil moisture meter consists of a sensor that measures the moisture levels.
It uses a percentage value or decimal number to present the moisture level on a scale of 1 to 10. If the reading is on the lower side, it means that the soil is dry and vice versa.
pH value
Some soil moisture meters are also equipped with sensors that can measure the pH level of the soil. This helps in indicating whether the soil is acidic or alkaline.
Ambient temperature
Some moisture meters also feature sensors that measure the ambient temperature. This feature tells the temperature of the surroundings so that you can figure out the right time to grow certain plants.
Light levels
Lighting requirements are different for different plants. There are some moisture meters that can also tell you the light intensity for growing particular plants.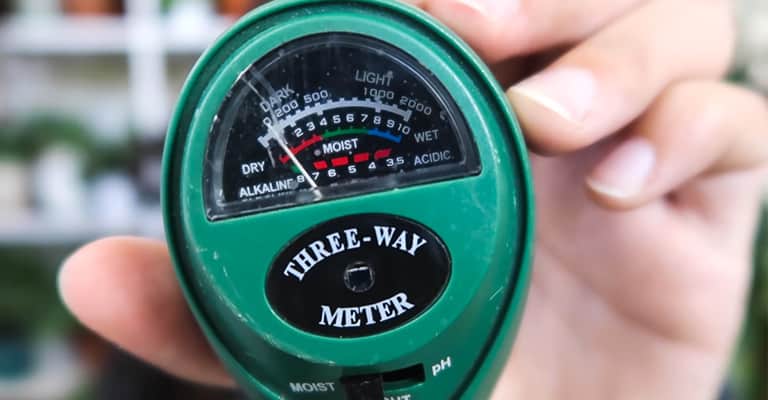 Accuracy
Accuracy is another important feature which you must consider before choosing a soil moisture meter.
The digital moisture meters are the most accurate ones that present the moisture reading in percentage or decimal point as compared to the analog ones that use a scale from 1 to 10.
The calibrated moisture meters also help in giving accurate readings.
For accuracy, you must also consider the length of the probe- the probe needs to be of the right length to reach the area for which the moisture level has to be measured.
Soil texture
The type of soil also influences the choice of a soil moisture meter.
For hard soils like clay soils, you must choose a moisture meter that has a strong probe. Using thinner probes can be problematic for such soils so it is better to go for the ones that have steel or aluminum probes.
Indoor vs. outdoor use
A soil moisture meter is a worthwhile investment for your indoor and outdoor plants- many of these tools are designed for both indoor and outdoor usage but you must consider some factors.
For example, a moisture meter with a smaller probe is more suitable for indoor plants as they are smaller and usually in looser potting soil. Short probes are also compact and easier to store.
For outdoor plants, you must make sure that the soil moisture meter is durable and weatherproof.
A tool with a probe of ¼ inch thickness so that it doesn't bend easily.
A probe with a stainless steel housing is sturdier compared to the plastic one. Longer probes are more suitable for outdoor usage.
Analog vs. digital
Analog soil moisture meters are cost-effective. They have a simple design and they need any batteries.
These meters show the moisture reading on a scale of 1 to 10. Analog soil meters don't show the light intensity or pH levels though.
The digital moisture meters have more ratings. They tell about pH and light intensity too which easily reveal the whole situation of the soil and the surrounding.
The digital soil moisture meters are good for larger setups. These meters are mostly single probed and are corrosion-free too. Keep in mind they'll need batteries for the LCD screen to work.
Watering plants in winter? Check out my review on the best frost-free yard hydrants: drain out, flow control & more
Best soil moisture meters available – my top picks
Now let's dive into my favorites list. What makes these soil meters so good?
Best soil moisture meter overall: VIVOSUN Soil Tester

VIVOSUN Soil Tester ensures a portable design and so, you can use it for indoor and outdoor use. It is suitable for all gardeners, scientists, and planters as it is very easy to use and durable.
VIVOSUN is not only a moisture sensor meter but also a light and pH level tester. It helps you to know accurately when to water your plant, determines the pH level of soil and the amount of light received by plants.
The tester bears a huge range of moisture from 1 to 10, light range from 0 to 2000 and pH range from 3.5 to 8. You will need no electricity or battery as it runs on renewable solar energy.
It shows a quick result and it is easy to use this tool. Firstly, switch moisture/light/pH position and insert the electrode about 2-4 inches. After 10 minutes, note the number and remove the probe.
Note that VIVOSUN is a soil tester, it doesn't work in pure water or any liquid.
Reasons for recommendation
It is a 3-in-1 tool.

No batteries are required. 

It is available at an affordable price. 

It works on renewable solar energy.
Lacking
The soil tester is not useful for dry soil as the probe is too weak.
It doesn't work properly with indoor lights.
There are occasional complaints of pH values being misrepresented.
Best user-friendly soil moisture meter: Sonkir Soil pH Meter

Sonkir is a well-engineered pH meter with double-needle detection technology that can provide super-fast detecting and accurate analysis of the pH level of the soil.
It also measures soil moisture and the sunlight level of plants.
You will require no battery. It runs on solar power and has an advanced toggle switch. So, it can show the result quickly and is totally user-friendly.
You just need to insert the sensor electrode into the soil about 2-4 inches and make accurate measurements of pH and moisture in just a minute.
Besides, this tester is portable and easy to carry as it weighs only 3.2 ounces. According to the manufacturers, users can use Sonkir Soil pH Meter for home plants, gardens, lawns, and farms.
Sonkir is made to inform you about the conditions of your plants. The meter is available at a reasonable price.
Reasons for recommendation
It is very easy to use. 

It is lightweight and portable. 

It gives an accurate analysis of the soil's pH level. 

It can be used indoors and outdoors both.
Lacking
If the soil is too dry, the indicator will not run properly.
Into a very hard soil, the probe may be damaged.
Can't test pH values of water or any other liquid.
Best basic soil moisture meter: Dr. Meter Hygrometer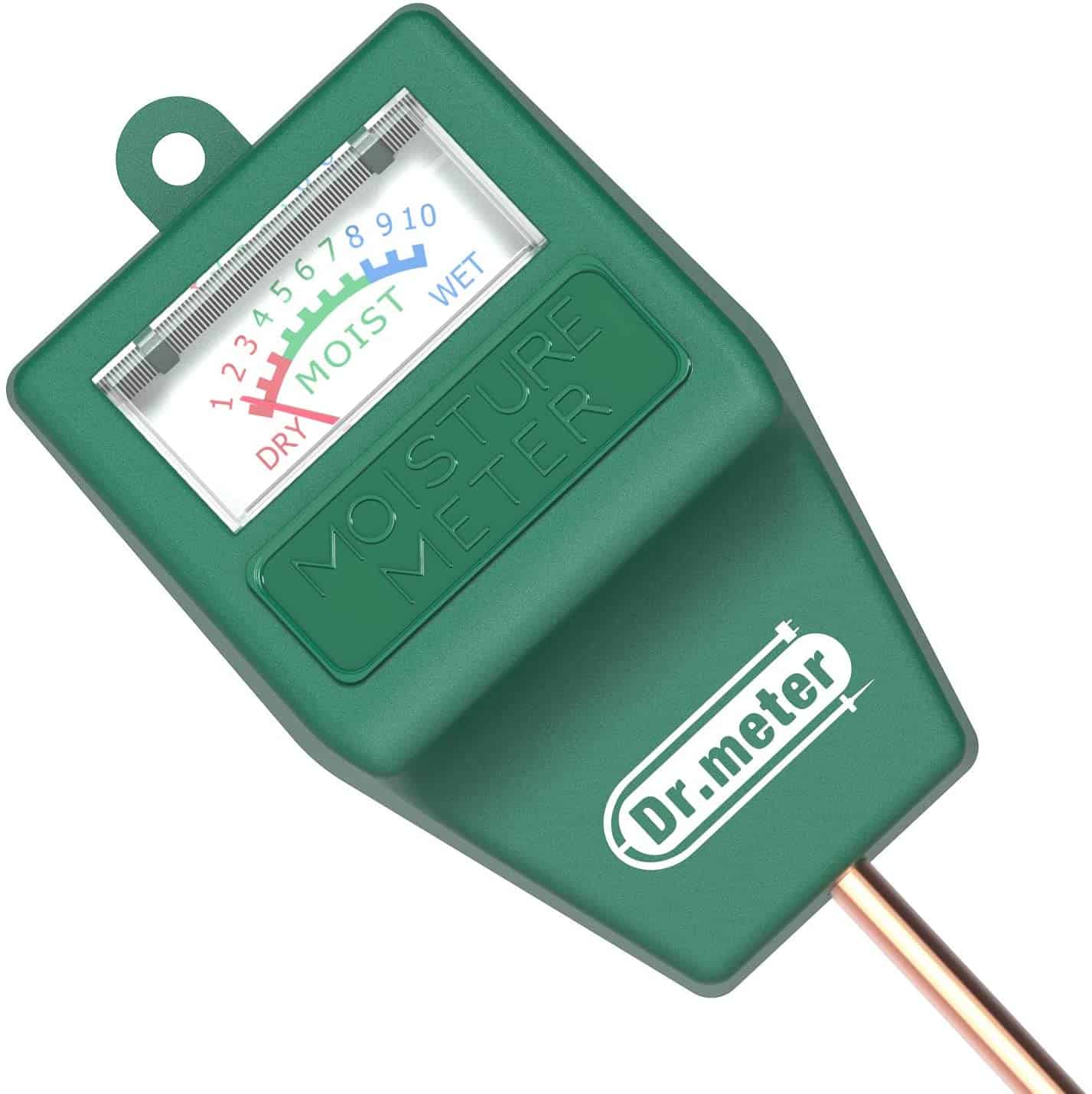 Dr. Meter S10 Soil Moisture Sensor Meter is quite different from other moisture meters as it has a color-coded reading system using red, green, and blue.
So, you will need no previous experience and it can give perfect and straightforward readings without the use of a moisture meter reading chart.
Apart from that, it also uses a 0-10 scale to show an accurate result of moisture.
Dr.Meter S10 is portable and weighs only 2.72 ounces and so, the tool is easy to carry. The moisture meter tells you the perfect time when to water your garden, farm, and home plants.
It has a single prob design and for that, you will not need to dig too much soil and disturb deeper roots of plants. The 8" metal stem measures water at the root level and works well in any kind of soil solution.
No battery or fuel is needed to use it. You need only to just plug it into the soil and get a reading. According to users, it is cheaper than any other meter and is only for soil testing.
Reasons for recommendation
Very simple to use.
Single-probe system won't damage your plant roots.
Suitable for both indoor as outdoor use.
Lacking
It may show some inaccurate results in hard soil.
The connecting rod is quite weak.
Gives no ratings for pH or light levels
Best heavy-duty soil moisture meter: REOTEMP Garden Tool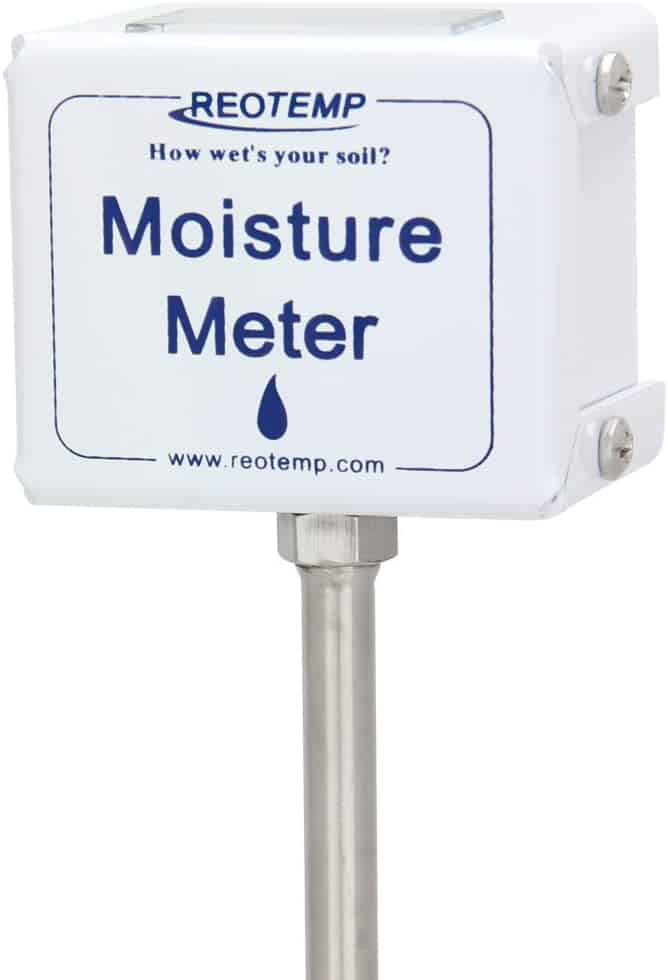 REOTEMP Garden and Compost Moisture Meter has a rugged stainless steel construction with folded steel plate and T-handle. It is used by used by gardeners, composters, farmers, and nurseries, and suitable for many applications.
It has 15" long and 5/16" diameter probe that is suitable to reach the roots of plants and for testing deeper soil, pots, huge compost piles, and non-mineral rich/salty materials.
It is totally easy to operate. It bears a needle meter with a wetness scale numbered from 1(dry) to 10(wet) to make an accurate measurement.
All shafts and probes are made of stainless steel and they are attached to the meter with heavy nuts. This meter will properly help you to figure out overwatering and underwatering.
REOTEMP is powered by one AAA battery that gives a long lifetime and an instant, clear reading. This meter is available at a reasonable price and weighs only 9.9 ounces.
Reasons for recommendation
Made of durable stainless steel.
Extra-long stem (different lengths available).
While not waterproof, its enclosure keeps out dirt and dust.
Lacking
Needs a battery to operate
Gives no pH or light readings
Quite pricey
Best digital soil moisture meter: Luster Leaf

The Luster Leaf Digital Moisture Meter is a good moisture meter designed by the company 'Rapitest'. It is fast and accurate and is equipped with a digital meter to show the readings to the nearest decimal value.
The tool not only measures the moisture in the soil but also the light intensity needed for your plants.
The moisture meter comes with a comprehensive guide of 150 plants for your ease, and a cleaning pad that helps in cleaning the tool. The long stainless steel probe gets inserted into the soil easily and indicates when to water the plants.
Reasons for recommendations
It is lightweight and portable.
There are detailed instructions and guidelines.
It helps in measuring moisture till root level.
The digital output is easy to read.
Lacking
It doesn't work for potted plants.
Due to the electronics, it's not as durable.
Soil moisture meter FAQs
What is the right level of soil moisture?
The moisture level of the soil totally depends on the type of plant.
Some plants can easily thrive in little soil moisture (for example when the moisture level is one or two). While others prefer wet soil, for that the moisture level should be 8 or 10.
Are the soil moisture meters accurate?
Yes, soil moisture meters are very helpful and accurate.
Some gardeners rely on the touch and feel method to determine the soil moisture level which isn't as accurate as the soil moisture meters. The digital moisture meters are the most accurate ones in this regard.
Talking about other features; these meters can also accurately measure light intensity accurately but the pH meters aren't very accurate.
How to measure the moisture of the soil?
Measuring soil moisture is easy; you just have to put the tool (the probe portion) in the soil and the meter will show the moisture level of the soil.
Do the soil moisture meters work without batteries?
Yes, the soil moisture meters work without batteries because they function as batteries themselves.
The moisture in the soil works as an electrode and the anode and cathode portion of the moisture meter makes a battery using the acidic soil.
Bottom line
Hopefully, the reviews of these top 5 soil moisture meters will assist you in making an informed decision according to your needs.
The best multifunction soil moisture meter is the Vivosun moisture meter, it's available at a great price too!
All the products reviewed in this post are easy to use and provide accurate readings of soil moisture levels so that you are well-informed regarding your plants' watering needs.
Keeping track of the perfect soil moisture level for your plants is imperative for their healthy growth. Now that you're armed with all the information to choose the best soil moisture meter, it is time to make the purchase and make your plants happy.
Read next: Best lightweight weed eater | Comfortable garden maintenance with this top 6
I'm Joost Nusselder, the founder of Tools Doctor, content marketer, and dad. I love trying out new equipment, and together with my team I've been creating in-depth blog articles since 2016 to help loyal readers with tools & crafting tips.