I love creating free content full of tips for my readers, you. I don't accept paid sponsorships, my opinion is my own, but if you find my recommendations helpful and you end up buying something you like through one of my links, I could earn a commission at no extra cost to you.
Learn more
We all want our gardens to be our little slice of paradise. Where we can spend some quality time and recharge our body and soul.
But the main thorn on our side is wild and unwanted vegetation known in layman's terms as a weed.
Weed eaters are our main weapon of choice when we take it upon ourselves to eradicate these scrubs. Using lightweight weed eaters means you don't have to strain your body too much while gardening.
Also, lightweight weed eaters can help you trim hard-to-reach places before you set your palm on a bulb auger. It can help you trim more precisely. Lawnmowers won't give you that functionality.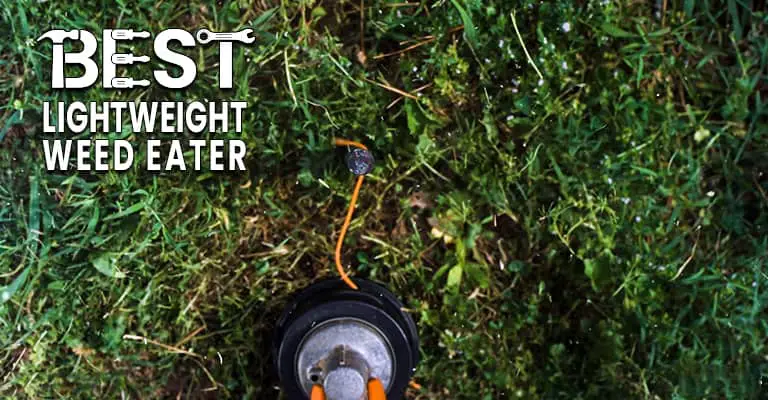 I've assimilated a list of the best light-weight weed eaters for you.
All you have to do is sit back and give our reviews a thorough read. They'll help you pick out the weed eater that's just right for your backyard.
Check out my top list here, and then read on for a weed eaters buyers guide and detailed reviews of every item.
If you have no time for all that, then know that my favorite weed eater and the top choice is this list is the BLACK+DECKER LST300 20-Volt Max. It's a user-friendly but very powerful tool with excellent battery life. This thing is built to last and will outperform most other options out there.
Now with that said, let's dive into the world of weed eaters!
Lightweight weed eaters buyers guide
My article goes into the nitty-gritty of all things related to weed removal and lawn care. Going through the guide hereafter to truly understand what you need is the first step in gardening greatness.
Electric vs. gas
If you prefer low decibels in the noise department and only have an average size yard, you can easily get by with an electric weed eater that's either corded or battery-powered.
But those who have a large property with thick weeds and don't mind the noise of an IC engine in their hands, a gas trimmer is a must.
Similar to wood chippers, they offer you both options.
Corded vs. cordless
For folks with a relatively short backyard like 100 feet or so a corded electric trimmer will suffice. But if you have a larger property then a good battery-powered electric trimmer is a worthwhile investment.
The gas weed eaters are also cordless but are mainly built for the professional landscaping market.
Cutting width
The cutting width available in the market ranges from about 10 to 18 inches. For light yard work about 12 inches will be fine. But for larger properties go for a one with more than 16 inches.
Shaft style
A curved shaft trimmer like the Husqvarna 129C will give you more control. But it isn't good for tight spaces like under trees and bushes.
On the other hand, a straight shaft trimmer will be able to easily reach such places but you'll have to sacrifice some degree of control.
Weight
Gas-powered trimmers tend to be on the heavier side (15-20 lbs.). You need to have substantial strength to operate it properly.
But in general, electric ones are as light as 6 lbs. They are more efficient and easy for a lot more people to use daily.
Start systems
A smart start system means the engine will start in the blink of an eye and require little to no effort. It is especially convenient if you're a beginner.
In the case of a gas trimmer, you must pull the rope with a decent amount of force to initiate the flywheel and start the engine. Which can be a very cumbersome and strenuous process.
Clear fuel tank
With a clear fuel tank, it is easy to keep track of your fuel usage. This can help you plan for refilling rather than running out on the job.
Luckily trimmers such as the Husqvarna 129C can help you do that with ease.
Trigger lock
Your weed eater starting on its own can give rise to a dangerous situation. It can cause bodily harm or destroy property if it turns on while being misplaced.
So it's best practice to get one with a trigger lock. You can find it in most modern weed trimmers.
Battery life
If you have an average-sized yard of 100 feet or so the battery life of 20-45 minutes should be sufficient. The Makita XRU23SM1 provides just that.
But for larger yards weed eaters like the DEWALT DCST970X1 can be considered which has almost 3 hours battery life.
Guard quality
A good guard should be big enough and installed in the correct position to shield you from the debris of the trimming zone. It can even save you from the occasional cut or two.
It's wise to buy a weed eater with a good quality guard like the WORX WG163 GT 3.0.
Warranty
Usually, most well-reputed weed eater brands provide a long warranty period for their products (3-5 years). During this time if any component stops working you can send it back and get a functional one back.
For indoor maintenance and easy-cleaning, read my upright vacuums guide: what to buy & 14 best cleaners for 2021
Best weed eaters reviewed
Now we know what a good weed eater brings along, let's have a look at my favorites.
Best lightweight weed eater overall: BLACK+DECKER LST300 20-Volt Max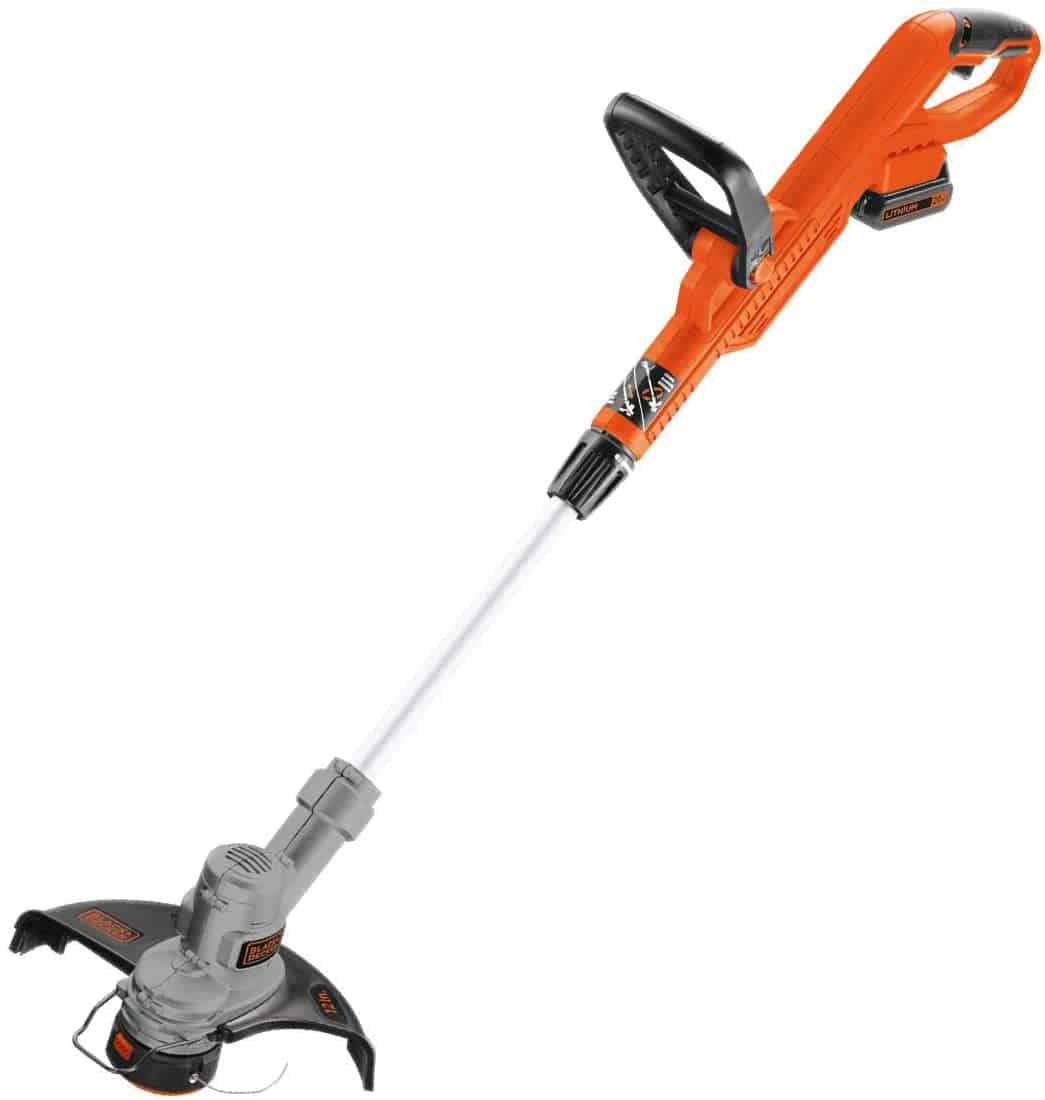 Strengths
The BLACK+DECKER LST300 is an excellent choice owing to its user-friendly construction and good battery life.
Its 20-volt Lithium-Ion battery pack makes sure that it can run about 30 minutes on light to medium stocks. Which is 33% more than other similar weed eaters.
This particular weed eater is more powerful than others in the same category. The prime reason for which being its PowerDrive transmission. This will certainly expedite your weed removal process.
This weed eater is also multifaceted because it can switch from a trimmer to an edger in mere seconds. You can achieve this without fiddling around too much due to its tool-free conversion component.
Assembly is also a breeze, see it unboxed and put together here:
Regular gardening sessions won't leave you exhausted using this weed eater. Because this is one of the most light-weight (about 5.7 lbs.) weed eaters in the market.
This weed eater is also very ergonomic in design due to its pivoting handle. This makes it so you can operate the weed eater with the utmost comfort.
Another quite convenient feature of this weed eater is the automatic feed spool. That'll make your weed trimming go rather smoothly because you won't have to stop in the middle of it.
Weaknesses
It runs out of power relatively quickly
Check prices and availability here
Best lightweight gas weed eater: Husqvarna 129C Gas String Trimmer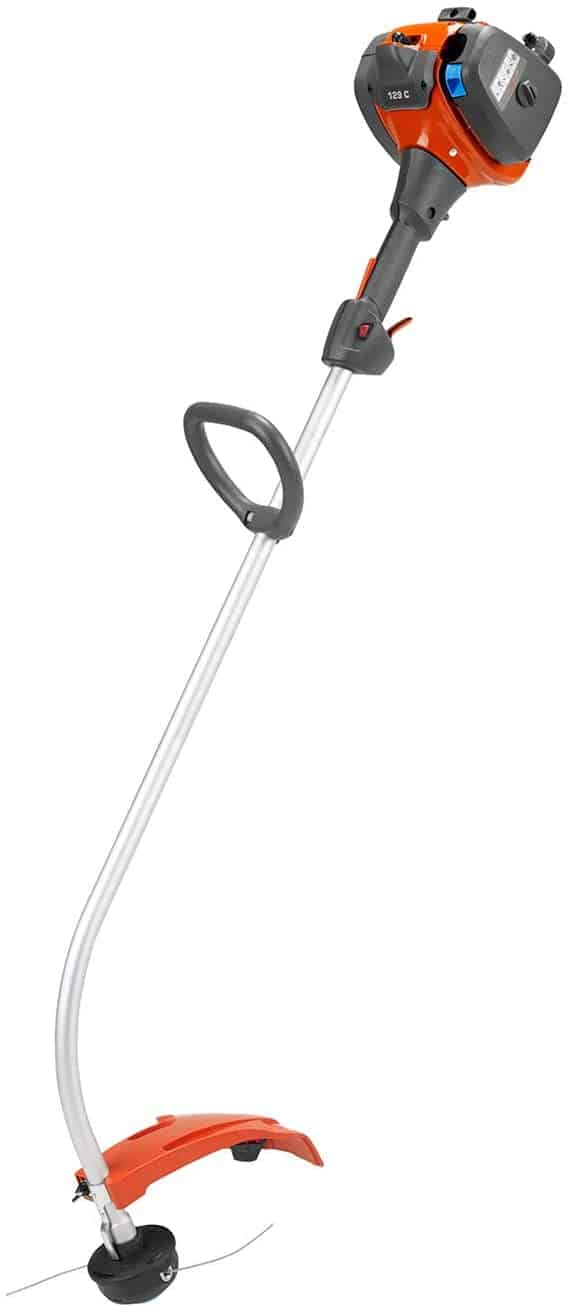 Strenghts
The Husqvarna 129C is a quality string trimmer that just might be the one you're looking for. This trimmer can swiftly clear those pesky weed patches due to its 17-inch cutting swath and 8000 rpm speed.
This trimmer operates on a mixture of gas and oil. But unlike many other trimmers, you won't have to seek out the particular mixing bottle. It saves you the trouble by including the required 2.6oz mixing bottle.
The Tap 'N Go line release feature is another hallmark of its user-friendly design. You can easily activate it and release a new trimmer line while working.
This can be accomplished by tapping the trimmer head against the grass. Even things like trimmer line replacement are trivially simple with the T25 design of these trimmers.
If you ran out of line completely, than here's how you respool the head:
The user-friendly features keep on coming with things like the translucent fuel tank and the air purge primer bulb. With these, you can effortlessly view the fuel levels and remove unwanted air from the carburetor and fuel system.
It also has a very convenient assembly procedure
Weaknesses
Best lightweight weed eater for precision trimming: Makita XRU12SM1 Lithium-Ion kit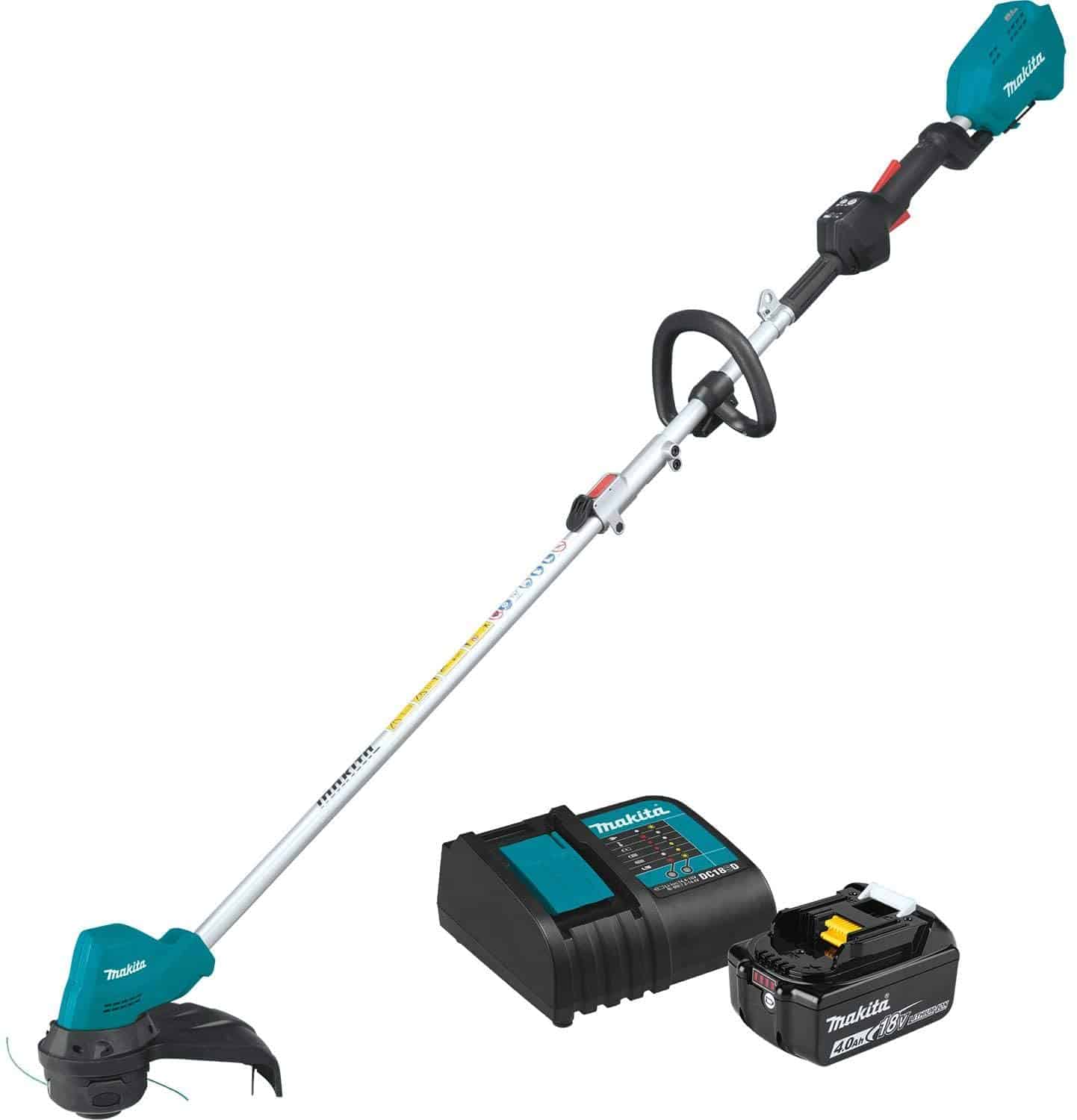 Strenghts
The Makita XRU12SM1 is a lightweight trimmer that you can easily pick up and complete your daily gardening chores with ease. This trimmer features a user-friendly design that is quite comfortable to hold and maneuver for long periods.
Its lightweight construction (about 6.4 lbs.) considerably reduces the strain put on your body. Also, mobility won't be limited at all while using this because of its cordless design.
It's relatively small form factor makes it an ideal choice for trimming those hard-to-reach places so you can get a precise cut.
Another quite nifty feature of this trimmer is the telescoping shaft. With it, you can adjust the length from 48-1/2″ to 56-1/2″ for that extra level of precision.
More cool features can be seen in this extensive review:
The battery life of this trimmer is an estimated 20-45 minutes depending on the load. Which is quite adequate for light gardening sessions.
For great control and also power management, this trimmer offers 3-speed control, from low (4, 000 RPM) to medium (5, 000 RPM), to high (6, 000 RPM).
Weaknesses
Not well suited for heavy gardening loads and thick weed removal
Small line radius makes it hard to reach some places
Check prices and availability here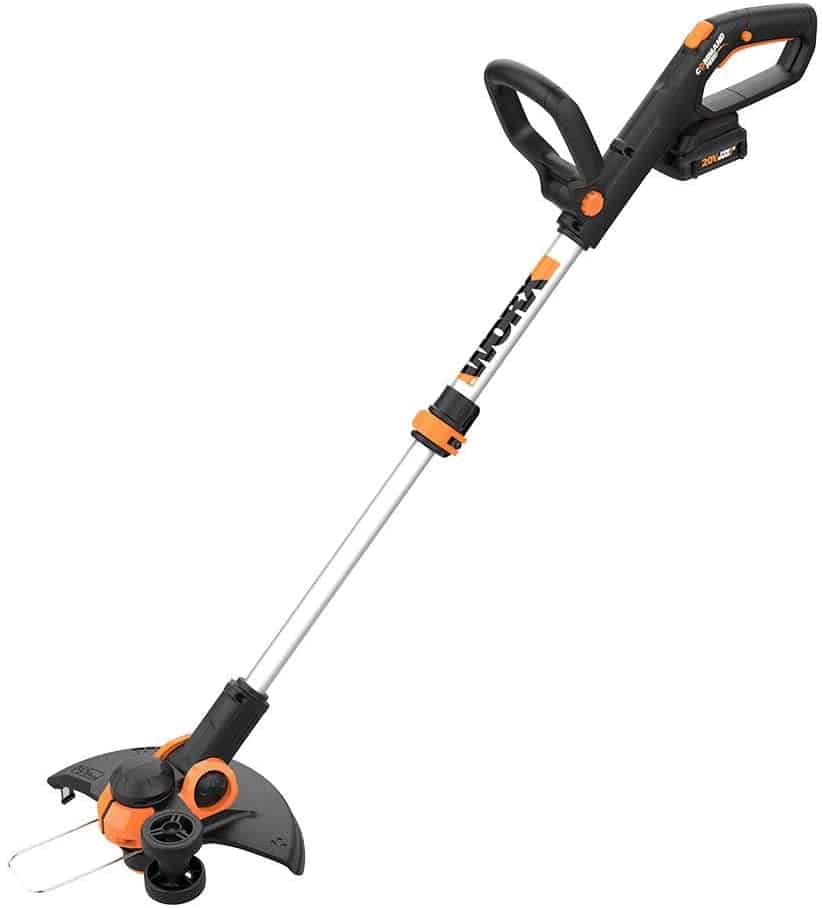 Strenghts
The WORX WG163 GT is a viable alternative to gas trimmers that can make light work of most everyday lawn maintenance tasks.
These light-weight trimmers weigh in at almost 5.3 pounds. Their ergonomic design also adds a new dimension to their superb usability.
Alongside that, the ability to adjust the height to seven preset levels allows for greater usability for people with different heights.
They come with two rechargeable Lithium-Ion batteries. Since each one lasts about 30 minutes or so it gives you plenty of time to finish up.
Alongside these batteries, if you are an avid user of other WORX products you can easily use those batteries as well due to the Worx Power Share System.
Assembly is easy, see it come out of the box and into the field here:
This trimmer has a cutting diameter of 12 inches and has a speed of 7600 rpm. Which is par for the course when it comes to these kinds of cordless trimmers.
A rather unique and useful feature of this trimmer is the spacer guard. This makes sure that while trimming you don't accidentally dismember your precious lawn ornaments and other garden fixtures.
The push-button instant line feed and free spools for life are quite useful indeed.
Since this is not a gas-powered trimmer you'll be saved from dealing with all of the quirks that come with them. No oil mixing or dangerous fumes to worry about.
Weaknesses
Not well suited for large yards
The individual battery life is not up to snuff
Most powerful (corded) lightweight weed eater: BLACK+DECKER BESTA510 String Trimmer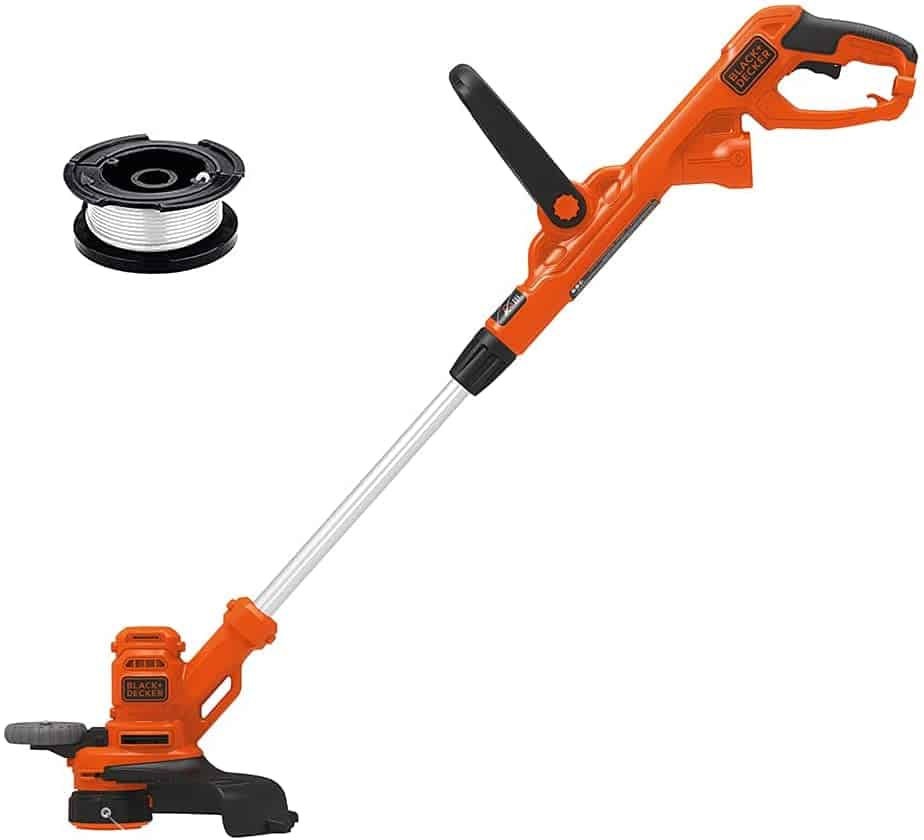 The Black & Decker BESTA510 string trimmer is a solid option for anyone on the market for light-weight trimmers.
This trimmer weighs only about 3.2 lbs. which makes it a real joy to grab and go do your gardening tasks without straining your body too much.
It also has more creature comforts such as a pivoting handle and an adjustable head. This will give you a whole new layer of control and precision. You can reach all the nooks and crannies easily and get the best cut.
It also pulls double duty by functioning as both a trimmer and an edger. It also transitions seamlessly between both modes.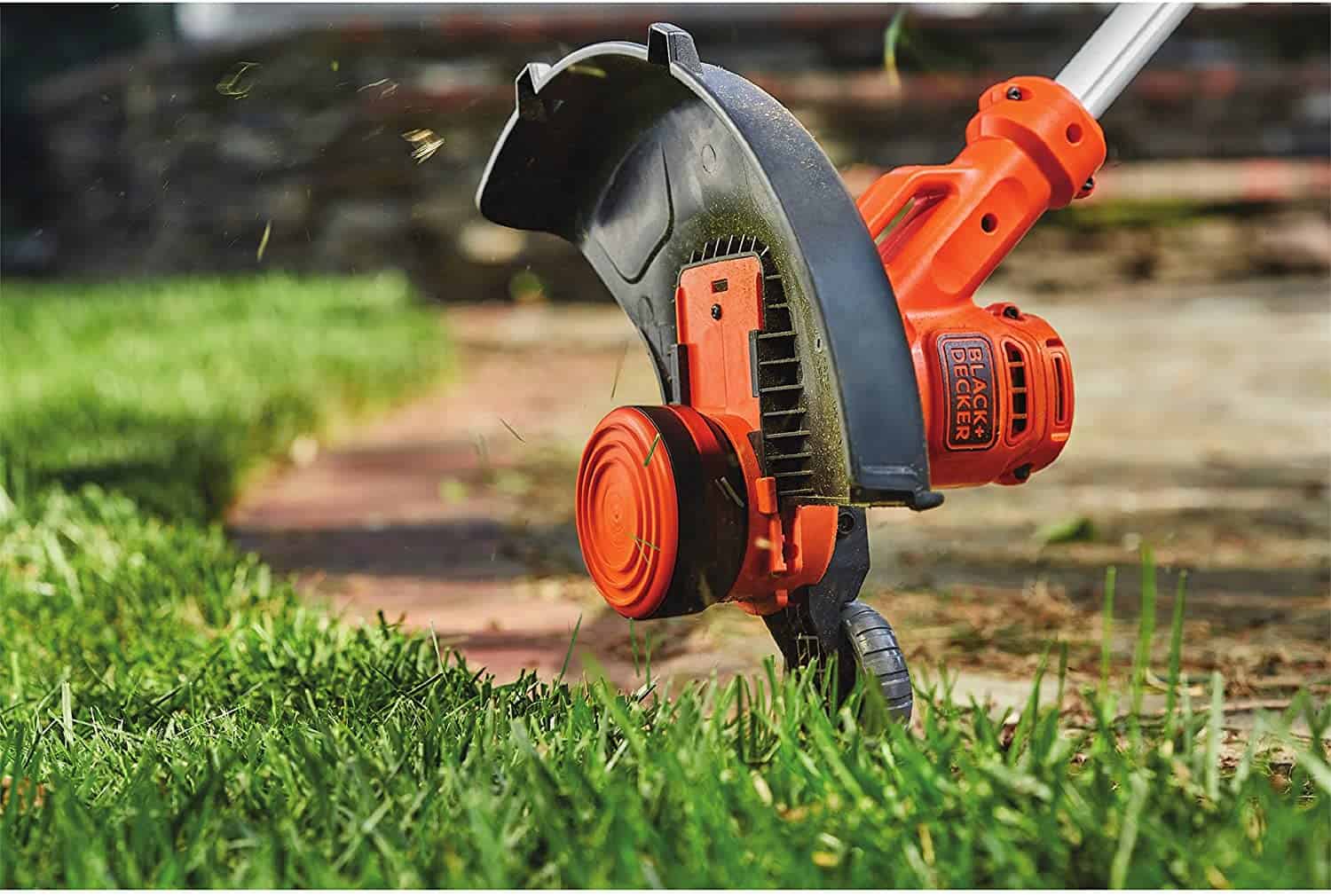 The automatic feed system also saves a lot of human effort. It minimizes unwanted bumps or stopping while on the job.
These trimmers pack quite the punch with a 6.5 Amp motor along with Black and Decker's POWERDRIVE transmission. This is more than enough to power for your average yard.
Know that this is a corded power tool, so you'd need access to an outdoor power plug to operate it.
Weaknesses
The bearings of the motor can wear out quickly
The line finishes relatively quickly due to the powerful motor
The motor might be overheated if the line jams
Check prices and availability here
Best heavy-duty lightweight weed eater: DEWALT FLEXVOLT 60V MAX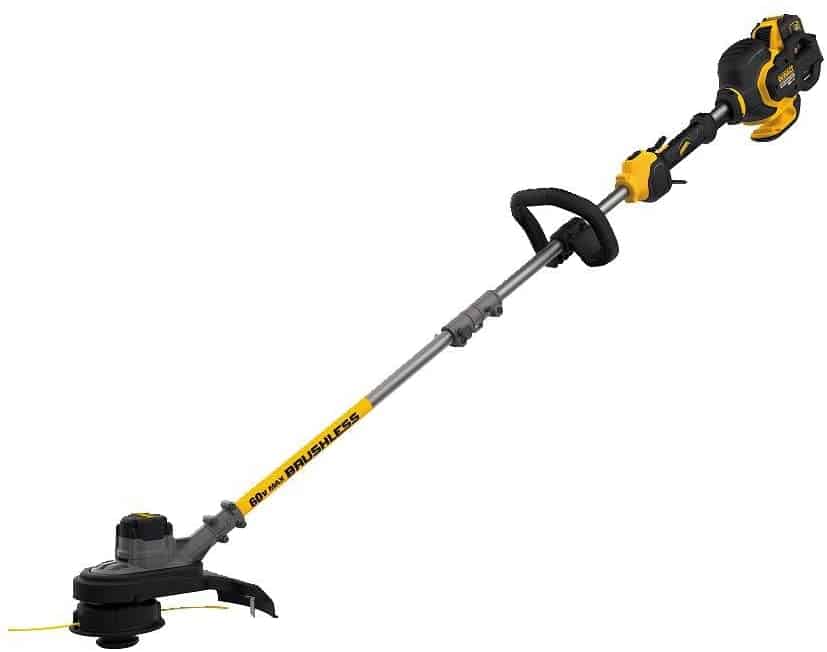 Strengths
The DEWALT FLEXVOLT is a heavy-duty trimmer targeted specifically at the prosumer market. The cutting swath on this trimmer is 15 inches that accept 0.080 inches to 0.095-inch line diameter.
It offers two speeds of 5600 RPM and 6600 RPM. You can mostly get by quite comfortably with the lower speed setting. The higher speed isn't needed unless you're dealing with very high workloads.
Due to its raw power and speed, it can easily make light work of even the most stubborn of weeds and the thickest vegetation.
Even with such high speeds, they've managed to keep vibration down to such a level that it doesn't become a nuisance.
You'll be able to keep using this trimmer for a long time. Because the run time and motor life of this trimmer are prolonged quite a bit due to its high-efficiency brushless motor.
Tool Review Zone is definitely a complete fan of this powerful garden tool:
Its design is very ergonomic which makes using it all the more comfortable. So it's not at all cumbersome to use. Another fact that makes using it a breeze is that it comes pre-assembled.
The bump feed head on this particular trimmer comes with one quick load spool of 0.08 in diameter pre-installed.
Weaknesses
Weighs more than other trimmers
The guard on this trimmer is very small
The long shaft makes it not suitable for shorter people
Weed eater FAQ
Can I keep the fuel for a gas weed eater stored when I'm not using it?
No, you shouldn't do that. Without draining the fuel tanks gum deposit formation occurs.
When and how should I use a fuel-oil mixture?
The fuel-oil mixture has to be used with all two-cycle trimmers, like the Husqvarna 129C  in my list. You must maintain the right fuel-oil ratio for doing so which is generally 40:1.
How does the trimmer line break?
This happens if the trimmer head is close to hard objects such as bricks, rocks, fencing, etc.
What is the main thing to check before using a corded electric trimmer?
First, you should inspect the power-chord if it's plugged in properly. Also, wrap any exposed wires with electrical tape.
Conclusion
Selecting the best lightweight weed eater is paramount if you want to maintain a beautiful well-kept garden. But to obtain the best possible results while doing so you have to factor in many aspects of your backyard.
If you have a relatively large backyard and some rough vegetation to go along with it. Then your best bet will be the DEWALT FLEXVOLT. This weed eater is purpose-built to handle the most stubborn of weeds.
But if you have an average-sized backyard you can easily get away with using lightweight electric ones such as the Makita XRU12SM1.
Picking the right one could well mean the difference between a stunning garden and a disaster. So you should go out back and see what your property truly needs.
Powertools and yard maintenance go together. Also check out my post on the best electric wood chippers out there.
I'm Joost Nusselder, the founder of Tools Doctor, content marketer, and dad. I love trying out new equipment, and together with my team I've been creating in-depth blog articles since 2016 to help loyal readers with tools & crafting tips.