I love creating free content full of tips for my readers, you. I don't accept paid sponsorships, my opinion is my own, but if you find my recommendations helpful and you end up buying something you like through one of my links, I could earn a commission at no extra cost to you.
Learn more
In this era of online marketing, packaging plays a vital role in the expansion of business and user reputation. Here comes the importance of a tape gun: with the best tape gun you can package and seal boxes with accuracy and perfection.
Professional packaging becomes a breeze with a proper tape gun, and it makes sure the product reaches its destination in pristine condition.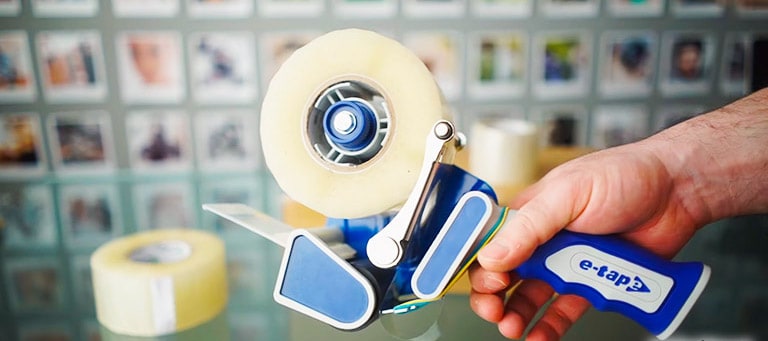 A tape gun is not only perfect for commercial use, but also an extremely handy tool around the house, especially when moving house or boxing up goods for storage.
How do you know which tape gun is the best and what is the best way to use it? I'll help you to choose the right one for your business with handy tips and a list of the best tape guns on the market.
To start off, my recommendation for the best tape gun is the ZITRIOM Packing Tape Dispenser Gun. This strongly-built tape gun has a sharp blade and well-designed tension control to enable quick and easy packaging.
Things to consider before buying a tape gun
For peak packaging performance, you have to choose the best tape gun for your specific needs. Here are some key factors to consider when making your choice.
Dispenser
The dispenser is the part of the gun that releases the tape. A well-designed dispenser makes sure that the tape is released smoothly and efficiently.
The roller of the dispenser needs to be perfectly round and smooth to prevent the tape roll from jamming. Make sure that the dispenser is a standard size to make sure it can be used with any brand of tape.
Standard packing tape measures between 1.88 and 2 inches in width, but you also have extra wide packing tape 3″ or even 4″ wide.
Brake
A sharp and sturdy brake is very important to making a tape gun worth using. The brake should cut the tape at the exact point immediately.
It needs to cut the tape cleanly, without any extra pieces of tape left behind as this can damage the roll and create unsightly bumps under your next strip of tape.
Handle
The handle should be comfortable, easy to hold, and have a good grip. Some handles have a rubber grip to make them more comfortable to hold.
Material
Most importantly, the tape gun should be made of quality material. A plastic dispenser with a stainless steel cutter will increase the durability of the tool.
You also have tape guns make completely out of metal, making them even more sturdy and durable.
Best tape guns available reviewed
Here's my suggestion for the top tape guns on the market with their reviews
Best overall tape gun: ZITRIOM Dispenser Gun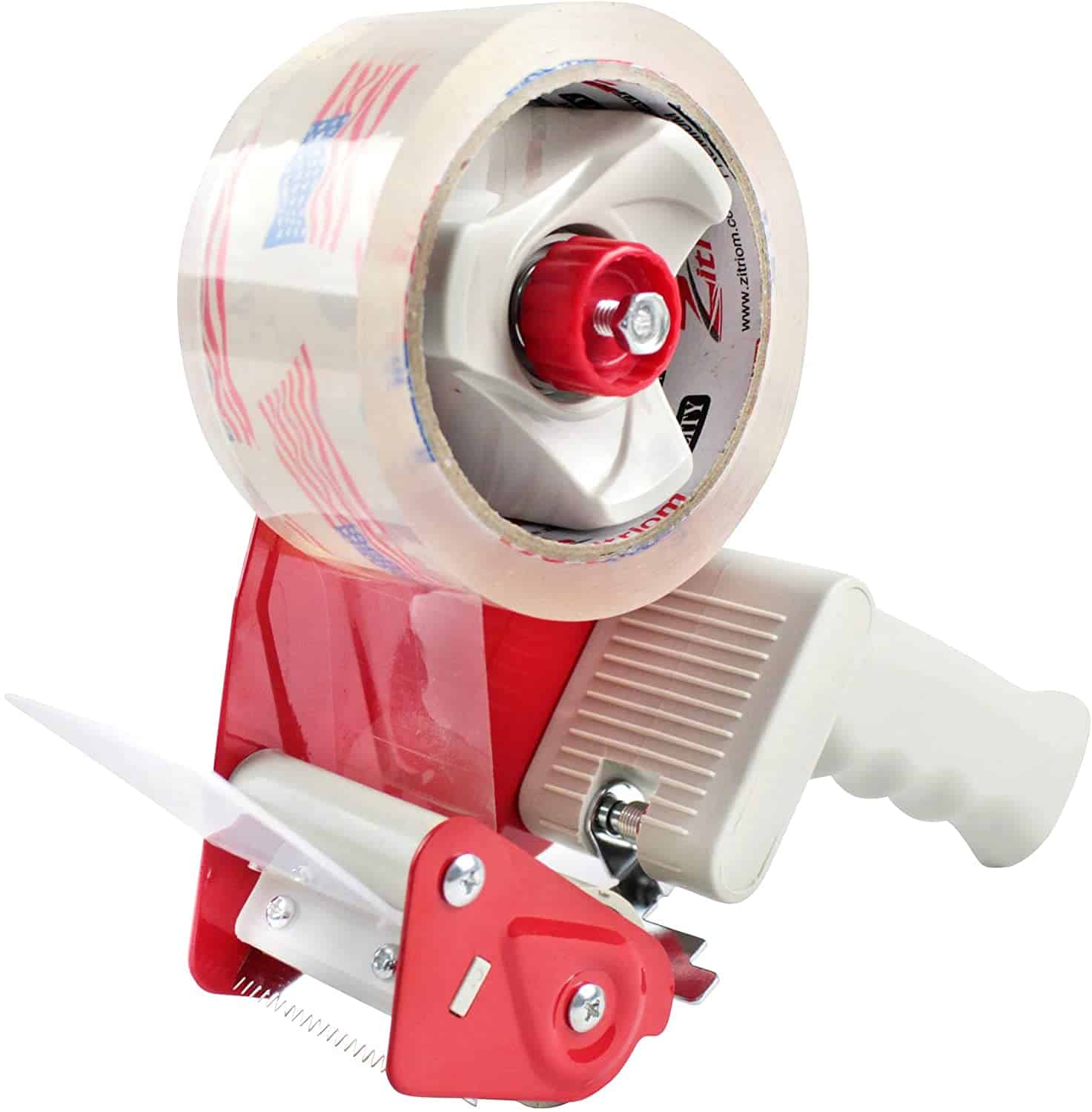 Professional, elegant, and perfectly designed. This packaging gun is well-designed has a tension control system so that the tape will always be dispensed accurately without tape wastage.
The metal flap's design ensures that it will roll and flip-down smoothly. The side-loading design makes the loading of tape safer and easier.
The brake knob will enable you to stop the tape at the exact point you desire. It means no more splitting or tearing of your tape.
The extra-sharp blade and adjustable plate under the roller secure the tape well. Be careful though, as the gun has no blade cover, so make sure to store it safely.
Lastly, I want to mention that this tool has a sturdy construction, which makes it so durable and capable of heavy-duty work.
It comes with two free rolls of 2″ packing tape, so can get started immediately.
Features
Dispenser: sideloading dispenser
Brake: adjustable brake
Handle: ergonomic plastic handle
Material: steel and plastic
Moving house and needing to put in a new floor? These are the best laminate floor cutters reviewed
Best lightweight tape gun: Tape King TX100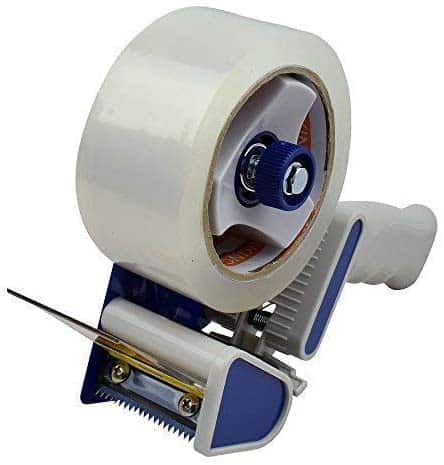 The heavy-duty Tape King tape gun dispenser is perfect for all your taping needs. It makes packaging or sealing boxes a quick and easy task.
The amazing ergonomic grip makes it extremely comfortable to hold and ideal for high-volume packaging. You can easily hold and work it with just one hand, and its light weight won't tire you out.
This large tape gun has the perfect dispenser. The side-loading design makes it easy to load the tape and safe for use for beginners or professionals.
Concerned about durability? The heavy-duty metal housing of this tape gun protects the mechanism from being damaged and makes it strong and sturdy.
Another noteworthy feature of this tool is the adjustable brake which makes sure you can control the tension without the tape slipping. This will make the packaging process faster and more efficient.
Unfortunately, if the diameter of the tape is not the correct size, the tape may fall off the tape gun. This one also does not feature a blade cover.
Features
Dispenser: sideloading dispenser
Brake: adjustable brake
Handle: ergonomic plastic handle
Material: alloy steel and plastic
Best industrial tape gun: Uline H-150 2-Inch Hand-Held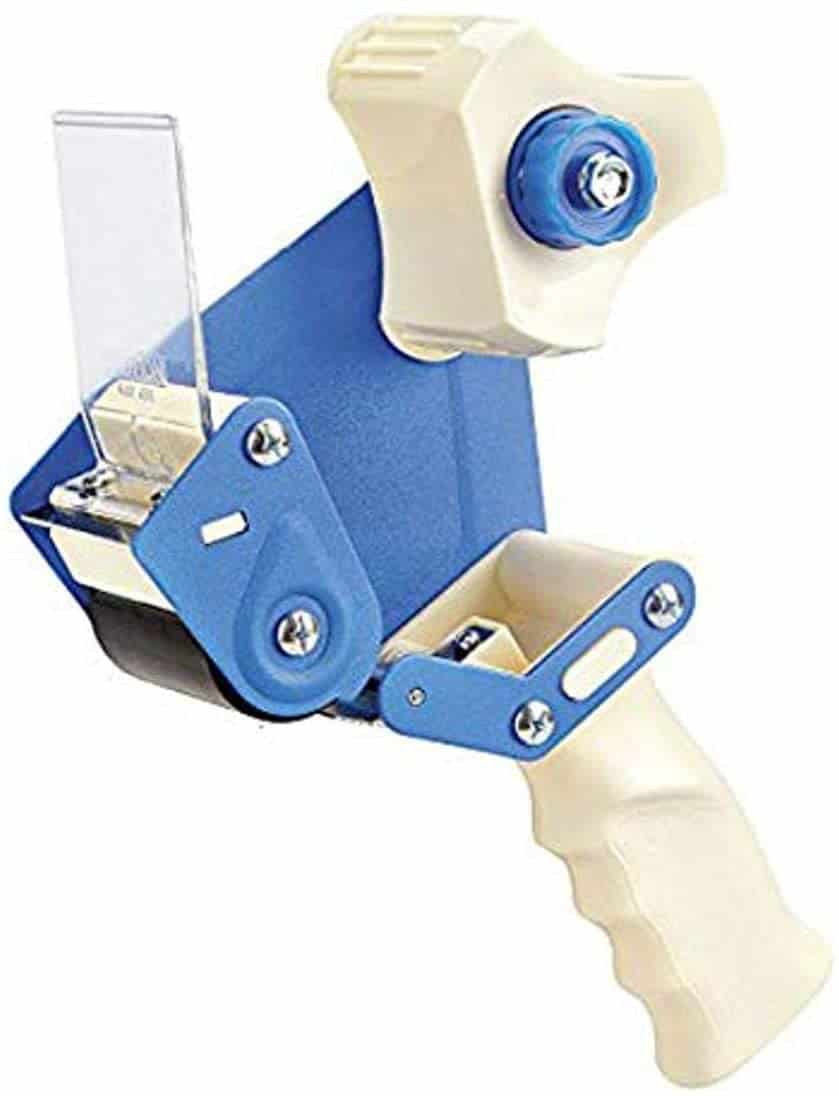 Simple construction with amazing and durable performance? Then the Uline tape gun is just right for you. It is made completely of synthetic material and will give a unique user experience.
The plastic and synthetic construction of this tape gun make it the ideal choice for those looking for an easy to use but sturdy tape gun.
The side-loading dispenser makes it easy to operate for everyone. The dispenser is perfect for standard tape. It holds the tape properly and prevents it from falling off.
Another feature that I want to mention is the adjustable brake system. It is a little bit different from other products. This adjustable feature allows you to control the tension and the sharp blade cuts tape perfectly.
The amazing features of this tape gun ensure peak performance in every aspect, it simply works.
The metal tab that is in front rests against the tape on the front dispenser sometimes sticks to the tape, which makes it slightly less efficient.
Also, the price tag might put some people off, but considering the quality you receive, it is worth the investment.
Features
Dispenser: sideloading dispenser
Brake: adjustable brake
Handle: short plastic handle
Material: plastic
Tape gun with smoothest dispenser: Magnelex Tapexpert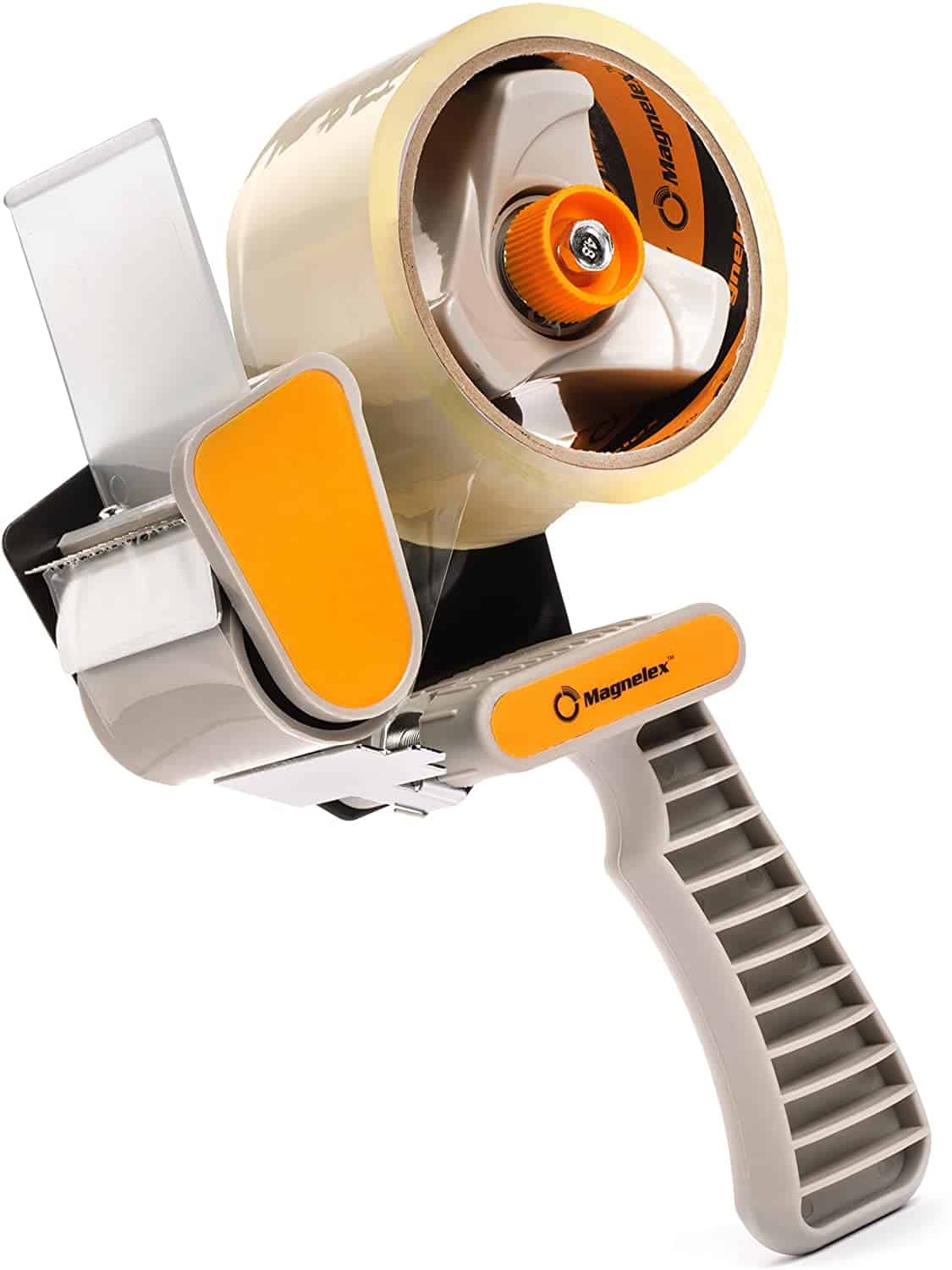 This tape gun from Tapexpert is perfect for professional and home use. It is accurate and perfectly seals boxes and packaging.
Now, let's discuss the features. This tape gun is both durable and lightweight. The comfortable grip on the handle ensures that you can work with less strain on your hands.
The main feature of this tool is its smoothness. It dispenses quickly and smoothly to allow for quick box sealing and packaging.
It has the most effective adjustable brake with perfect tension control. It controls the tension perfectly and cuts the tape at exactly the desired point.
Loading the tape onto the tape gun is very easy. With the clear instructions supplied with the product, it's hard to make a mistake.
The bad thing is that this tape gun blade is not on a spring so cutting requires awkward adjustment of your wrist.
Features
Dispenser: sideloading dispenser
Brake: adjustable brake
Handle: easy to grip plastic handle
Material: plastic and metal
Most versatile tape gun: PROSUN Fast Reload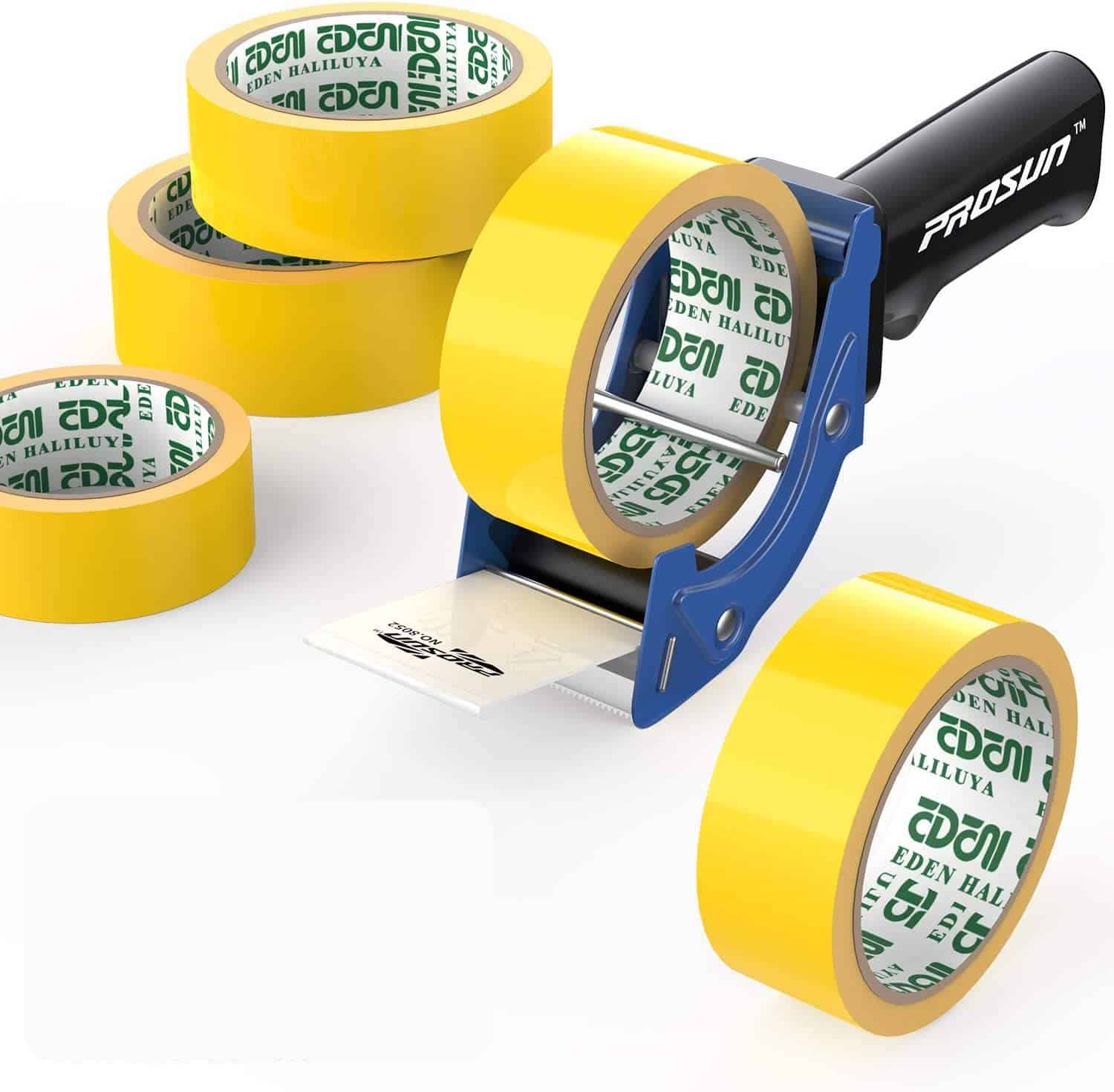 Prosun tape gun is a fast and effective tape gun that will definitely increase your work rate.
The plastic handle with its special design makes it easy to grip. The handle is also comfortable, which reduces strain when you have to work with it for a long time.
As a bonus feature, this tool also comes with an extra blade.
Another astonishing fact is It will ensure you a smooth running of the tape even when the tape is running low. This is possible thanks to the special dual roller design.
Sometimes the clip holds the tape too tight which preventest the tape from being dispensed smoothly.
Features
Dispenser: dual roller dispenser
Brake: adjustable brake
Handle: ergonomic handle
Material: plastic and iron
Best steel frame & most durable tape gun: Tach-It EX2 2" Wide Heavy Duty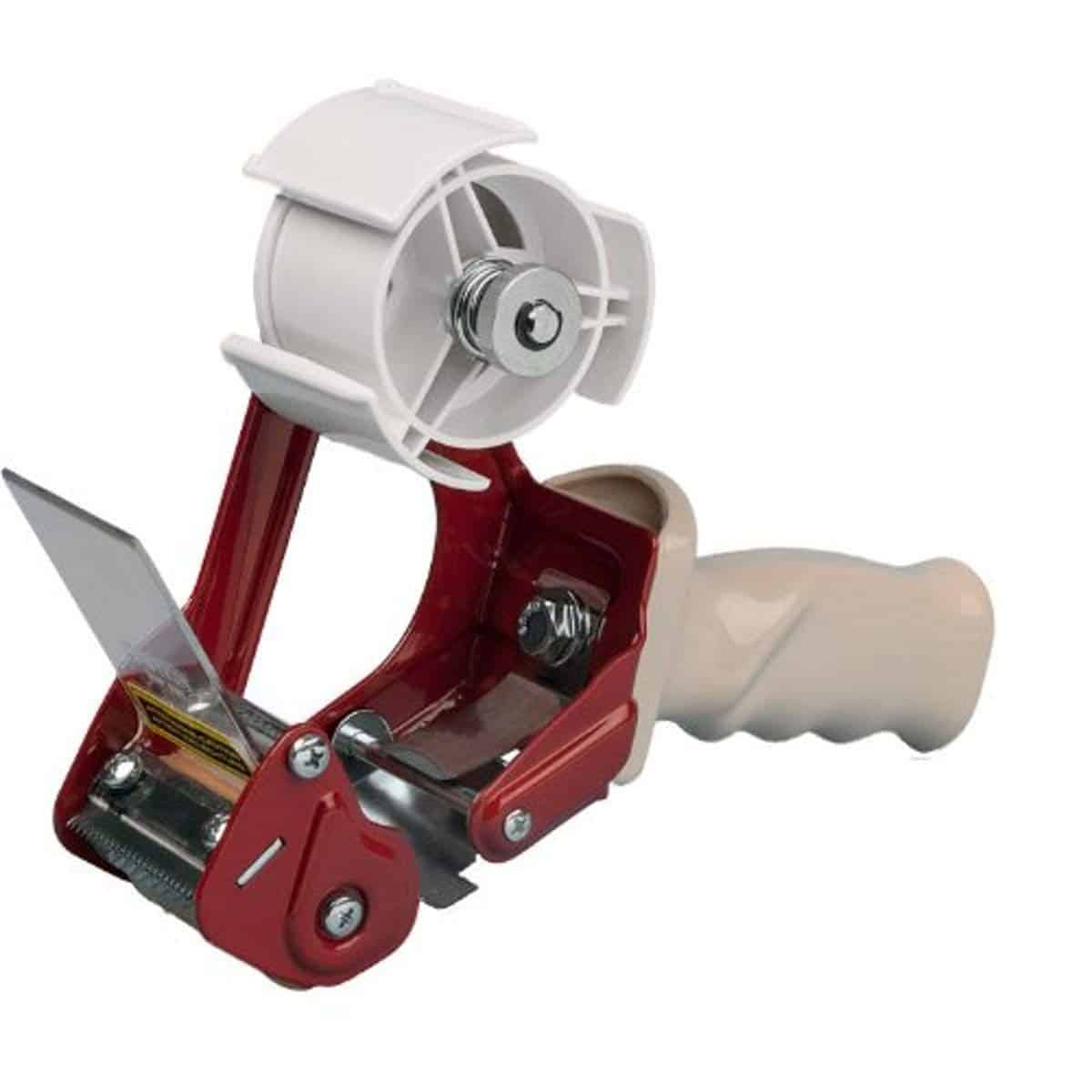 This tape gun from Tach-it is a heavy-duty tool for use in both the home and office. This versatile tool is ideal for both large or small packaging.
It has all the features of a traditional tape gun, but the design is slightly different. The rubber roller is perfectly designed to prevent the tape from snagging.
You need to use the tape widths recommended by the manufacturer to increase the product's durability.
The body is made of steel which makes it strong and durable. It also makes the tool rustproof and durable.
The blade is made of hardened steel that ensures that it will retain its sharpness for a longer time as well as cutting tape accurately.
Unfortunately, the tape tends to get stuck to the metal flap at times.
Features
Dispenser: dual roller dispenser
Brake: adjustable brake
Handle: ergonomic handle
Material: steel and rubber
Tape gun FAQs
Still have more questions? Read on for the answers and more information to consider when choosing a tape gun.
What is a tape gun?
A tape gun is simply a handheld tool that dispenses tape for packaging and sealing purposes. It has a handy and comfortable handle and a smooth roller.
The tape is inserted into the roller. The roller then rolls and releases the tape. The braking system and dispenser ensure that you can stop the tape from being released at exactly the right point.
A tape gun is a perfect and professional solution for quick and easy packing as well as sealing of boxes, packages, cartons, or taping walls before painting.
This can all be done without getting yourself into a sticky mess.
How do you use a tape gun?
Using a tape gun is very easy and you'll get the hang of it quickly.
First, you need to load the tape onto the dispenser. Make sure that the sticky side will face down as the gun is pulled backward.
Next, pull the tape through the slot between the roller and the metal guide. Make sure to pull the tape far enough over the serrated edge.
To tape, press the dispenser down firmly against the surface of the box, while pulling the whole unit across the top of the box.
Pull the tape over the edge of the box that is closest to you, and cut the tape off using the sharp cutting edge on the dispenser.
How do you keep packing tape from sticking to itself?
Cut a piece from an old credit card or hotel room key and use it to keep the end of your roll of packing tape from sticking to itself.
Are tape dispensers recyclable?
Currently, plastic tape dispensers aren't recyclable, even though the plastic they're made of is.
This is because recycling facilities aren't equipped to sort out the tape dispensers due to the small volume that currently gets recycled.
Why can't you use duct tape on packages?
Do not use masking tape, cellophane tape, duct tape, or water-activated paper tapes, because they will not provide a strong enough seal.
What is the strongest tape you can buy?
Gorilla Tape has taken duct tape to a new level. This double-thick adhesive tape surpasses ordinary duct tapes, making the list of uses virtually endless.
Made with double-thick adhesive, strong reinforced backing, and a tough all-weather shell, it's the biggest, strongest and toughest thing ever to happen to duct tape.
How do I stop the tape gun roller?
A tape gun has a braking system that stops the tape from rolling at the exact point.
Can I use any kind of tape with a tape gun?
The manufacturer would recommend you to use their specific tape for optimum performance.
However, as long as the tape is of quality and has the right size (both in width and thickness), you can use any packing tape you like.
Summing up
A tape gun is an essential tool to own for super-fast and effective packaging.
You no longer need to have your hands full with a pair of scissors in one hand and tape in the other. A tap gun secures the tape and cuts it at the same time.
Gone are the days of sticky messes and hunting for the tape end each time you start your task. With this handy tool, packing and boxing will be a breeze.
Also check out my review of the Best Parallel Clamps for Perfect Glue-ups
I'm Joost Nusselder, the founder of Tools Doctor, content marketer, and dad. I love trying out new equipment, and together with my team I've been creating in-depth blog articles since 2016 to help loyal readers with tools & crafting tips.