I love creating free content full of tips for my readers, you. I don't accept paid sponsorships, my opinion is my own, but if you find my recommendations helpful and you end up buying something you like through one of my links, I could earn a commission at no extra cost to you.
Learn more
Suppose you bought an old house or your house became old. What are you gonna do? Demolish the whole building and making it all over? Most probably not, but renovating the house or any particular space within the building can also be a total killjoy. What about the old damaged floors? Can you change those floors with laminate floors?
If yes, then what do you need to make it work?  How do you cut them? The answer is here within the tool named floor cutter. To install any kind of floor you need to cut the floor pieces according to the sizes you need and shapes you want. But you don't cut the floors with scissors! A normal saw will not be able to cut the floors properly, the saw will just break.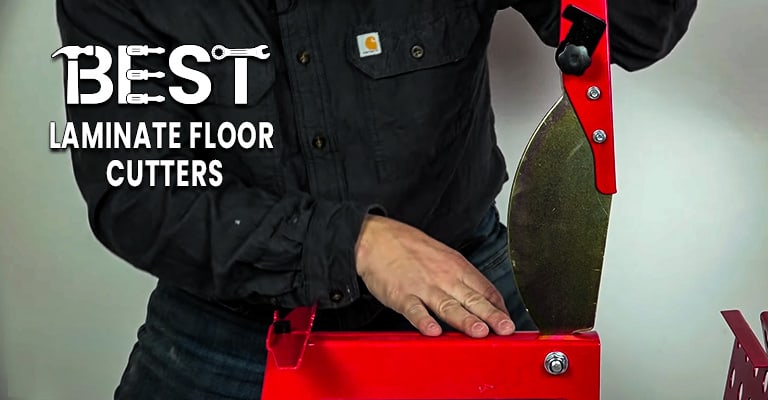 For proper force, precise cuts and all other desired features you need to find the best laminate floor cutters on the market. This article aims to find the best floor cutter for you.
Laminate Floor Cutter buying guide
Regardless of being pro or noob about a floor cutter, a proper buying guide will help you for sure to know a lot known and unknown info about the laminate floor cutter. To help you find the best floor cutter, this section is here to help with the specifications you need to keep in mind before buying.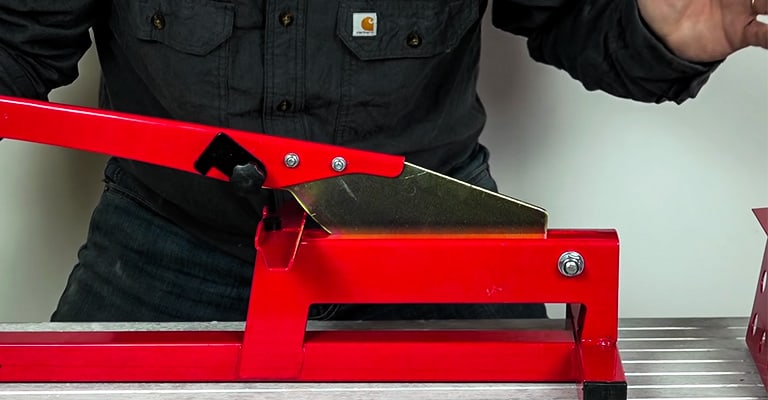 Manual vs Electric
In the market, you will find mainly two types of laminate floor cutters. One of them is the manual cutter, and another one is the electric cutter. Both of the cutters have their merits and demerits. You should choose the one that is good for your work.
For manual cutter, you will have to work with it manually. You don't need any electric power to work with it. As for it needs to apply a force of a significant amount, not everyone can use it. On the other hand, for the electric cutter, you don't need to apply any force, rather you need to provide electric power to work with it. Everyone can use it but it's useless if there is no electric power supply.
Material
Whatever you buy, the feature that you need to look up first is the product quality and the quality depends on the materials of the product. The durability of the product also depends on material quality. In the case of a floor cutter, only a cutter made with high-quality steel is worth your money. A low-quality cutter is going to break while forcing and it will also defect the working object.
So before buying make sure your cutter is made of better materials. The floor cutter needs to be durable and lightweight at the same time.
Portability
The portability of any tool depends on the weight of any product. The heavier the floor cutter will be, the tougher it would be to carry around to places and work with.
Though cheap materials may be weightless, they are not good to work with. It's not as small as a glass bottle cutter and is ought to be cumbersome. For this reason, you need to choose carefully a perfect floor cutter that is made with strong materials and lightweight at the same time.
Dust and Chipping
If you normally cut through laminate floors, woods or any other material, there will be material dust and chipping while the working surface will not be smooth and clean. If a tool gives you cleaner surface and dust-free work, then it is a better product to work with.
Before cutting a floor, you need to put it on the board upside down, because in this way the tool cuts the material more perfectly leaving a lesser amount of dust and chipping.
Noise
No one wants to work with a noisy instrument. You should try to find a tool as quite as you can find. In the case of laminate floor cutter, your working time won't be 100% noiseless since every hard workpiece makes sounds while breaking apart. The sound can be continuous or just at the time the piece breaks.
When you will buy an electric floor cutter, the cutting sound will be the continuous one, but for the manual cutter, there will be only one sound when the floor breaks. So electric or manual, which one you should buy entirely depends on your choice.
Instruction
You may think that you don't need any instruction for every tool. But that's the wrong idea, no matter a tool is a simple one or a complex one, you should have instruction around so that you don't use the tool in the wrong way. Of course, you don't wanna break the product and through away all the money, do you?
Before buying a complex device, you should make sure the manufacturer provides instructions with the product. There may be an instruction guide book given with the product or instruction video on the website. Make sure you know how to use the tool properly before you start working with the tool.
Warranty
If the provider gives you a guarantee for its product, that would be better for you, right? No one wants to buy a tool and through it away if there is any fault with it. This is why, before you buy any floor cutter, make sure you buy a tool with a warranty.
Though some manufacturers provide a warranty, the period of the warranty varies. The warranty period varies from months to years and some company provides a lifetime warranty. You should go for the product with a more warranty period than others.
Best Laminate Floor Cutters reviewed
Trying to find your required floor cutter from the huge list of cutters is nothing but trouble. As your time is precious to us, we've sorted out some best cutters you can find in the market. This following section can surely help you to skip the time-consuming search and to find the best floor cutter as you desire.
1. EAB Tool Laminate Flooring Cutter
Positive Aspects
The manufacturer EAB Tool offers you floor cutter that can cut up to 9 inches in width just at an average price. You can also buy 2,3 or 4 packs of them. This floor cutter can cut not only laminate but also vinyl, solid wood and engineered flooring up to 15mm or 5/8 inch. Along with these things, this cutter can also cut fiber-cement siding such as the hardier plank.
For additional leverage, you can extend the cutter handle. You won't get any chipping but working with less expensive laminate may make dust sometimes. This tool is made of steel and plastic and weight is 12 pounds. You will get a one-year warranty too. You can also find instruction videos on the website.
You don't need any power like electricity as it is a manual tool and the operation is dust-free and quiet too. This cutter has an angle gauge that allows you to cut up to 45 degrees. You can replace the blade by disconnecting the screws if the blade becomes dull. You can resharpen that dull blade with the sharpening stone provided with the tool.
Negative Aspects
No warranty will be given with this floor cutter. The cheap quality screw and material are the reasons for less durability.
2. SKIL Flooring Saw with Contractor Blade
Positive Aspects
Skil manufacturer offers you flooring saw just at an average price. You can buy two types of blades from this provider where one blade has 36 teeth and another blade has 40 teeth. This flooring saw can cut cross, rip and miter cut on any laminate, solid and engineered floors easily.
With this product die-cast aluminum miter and rip fence are equipped where miter detents at 0°, 22.5°, and 45°. You will also get a dust bag and vertical workpiece clamp. This flooring saw is an electric tool where the current and voltage capacities are 7A and 120V.
The power source of the tool is a corded electric one that requires 1 horsepower. The provided blade rotates 11000 revolutions per minute when no load is given to the cutter. The material of this tool is steel and the total weight is 30 pounds. You will get an instruction guide for understanding how to use the saw.
Negative Aspects
You won't get any warranty with this floor cutter. This product is hard to carry around since the weight is 30 pounds.
3. Norske Tools Laminate Flooring and Siding Cutter
Positive Aspects
Norske Tools manufacturer offers you two types of floor cutter, one is the standard version and the other one is the extended version. In the extended cutter, you will get some bonus accessories such as a pull bar, tapping block, 16 PVC inserts, and a mallet. Lightweight makes this tool easy to carry around.
Angle cuts are made easy with laser-etched table miter gauge for 15°, 30°, and 45° cuts and include a 13-inch wide high-speed steel blade. For quick repetitive cutting, an adjustable measuring gauge is provided while the 22-inch heavy-duty aluminum fence and reinforced tabletop provide extra strength and durability.
For increased leverage, an extended handle is provided with it. This floor cutter can cut a variety of materials such as laminate flooring, fiber cement board, engineered wood, and vinyl siding up to 13" wide and 19/32 inch thick. This high-quality steel aluminum construction is compact and easy to use while it produces clean precision cuts with no splintering.
Negative Aspects
No warranty is provided with this tool. The table of the cutter is plastic made which is not that durable.
4. Bullet Tools Siding and Laminate Flooring Cutter
Positive Aspects
Bullet Tools provider introduces a laminate floor cutter that is made in the USA hence you don't need to worry about buying a cheap, imported junk tool. You don't need electricity as it's a manual tool, so u can cut laminate flooring, wood, vinyl, rubber tile anytime, anywhere.
Being a versatile product, this sharpshooter is a light-duty cutter for materials up to 9 inches wide and 14mm thick. This floor cutters functional design prevents airborne dust in your workspace as well as noise. This tool has one shear blade that outlasts over 20 saw blades. The total weight of this instrument is less than 18 pounds.
No assembly is required as this cutter is always ready to use. You will be offered a year's warranty for this product. In the case of angle cuts, this floor cutter can cut up to 45° on its 6-inch board. 2-position aluminum fence is provided with it. You can also buy this product as 3 packs, 4 packs, and 5 packs if you need more.
Negative Aspects
No instruction is provided with this product to let u know how to use the cutter.
5. MantisTol Flooring Cutter
Positive Aspects
MANTISTOL manufacturer presents a laminate floor cutter that can cut laminate, multi-floor, bamboo flooring, parquet, solid wood, fiber-cement siding, vinyl flooring and more. This tool is made of high-quality steel and heavy-duty aluminum that has 4mm thick tungsten steel sharp blade and a 600 grit oilstone to keep the blade sharp.
With this tool, you will get installation kit gifts. This tool can cut up to 13 inches wide and 16mm thick materials. The item weight is around 18 pounds and has increased handle for more leverage. Though it offers a maximum 450 Nm torque to work with. An instruction video is provided on the website.
No electricity is required as it is a manual tool. Also, this cutter offers you dust-free, quiet and quick work and leaves you with flawless, straight and clean cutting edge. You can cut your materials straight or angle cut up to 45°. This tool is installed with screws so you cut replace some accessories.
Negative Aspects
You won't get any warranty with this floor cutter. The deck is made of thin plastic and frames from aluminum that make it less durable.
6. Roberts Multi-Floor Cutter
Positive Aspects
You can get two different floor cutters with different width, one can cut up to 9 inches and another one can cut up to 13 inches. Both of the guillotine-style cutters can cut up to 16mm thick working materials. These cutters from the Roberts company are ideal for cutting laminate, engineered wood, LVT and WPC flooring.
Provided long handle with the cutter gives you extra leverage at less effort to cut with more power. The equipped tungsten steel blade provides a long-lasting working life of the cutter and also clean and sharp cutting edges. Extruded aluminum base and a solid plastic surface of the floor cutter work as a comfortable working area.
You can do 45° angle cuts with the movable guide of the floor cutter while it locks into place for accurate angle cuts and even after years, it can give you perfectly square cuts. The cutter is not electric so you don't need to worry about power supply or cords.
Negative Aspects
Expensive than all other floor cutters on this list. Around 30 pounds of weight makes the cutter hard to carry around for everyone.
7. Goplus Laminate Flooring Cutter
Positive Aspects
Goplus manufacturer offers you the cheapest laminate floor cutter on the list that is made of heavy metal steel. this cutter is sturdy and durable to use for a long time while it's not only easy to use but also hard to turn over. The ergonomic design of the handle reduces user fatigue and offers comfort.
For increasing leverage, the extended handle is equipped with the cutter. This tool has a movable V support that can be used to keep the board level and cut at the same time. This steel tool can cut floors up to 8" and 12" wide and 0.5" thick while it can also cut four types of cuts, L cut, lengthwise cut, free-angle cut and straight cut.
As the product comes with instructions, you can easily install the cutter. Being less than 12 pounds, this tool is easy to carry around as well as you can store it anywhere because of its small size. The smooth surface of this orange color product is easy to clean and maintain.
Negative Aspects
No warranty is provided with the tool. This cutter has a thick blade that damages the floor. Not everyone can use it since you need much strength to use the cutter.
FAQs
Here are some frequently asked questions and their answers.
What do you cut laminate with?
You can use several tools to cut laminates, including a table saw or handheld power saw, a utility knife, a router or a hand slitter. The best cutting approach depends on whether you're rough cutting or finishing edges.
What is the easiest way to remove laminate flooring?
How can I cut laminate flooring without a saw?
Can I cut laminate flooring with a utility knife?
A regular utility knife blade can be used to cut flexible, self-adhering laminate strip material. The caveat is that you must change the blades frequently so the knife cuts properly — a dull blade will not cut effectively.
Can you cut laminate flooring with a Dremel?
The Dremel 561 cuts hard wood up to 3/8″ and soft wood up to 5/8″. Also cuts plastics, fiberglass, drywall, laminate, aluminum and vinyl siding.
Do I need a special blade to cut laminate?
Q. Do I need a special blade to cut laminate? … Look for thin kerf blades that have between 80 and 100 carbide-tipped teeth, or consider using one with just a few diamond teeth that make quick work of hard materials like fiber cement and the wear layer of laminates.
How can I cut laminate without chipping?
Can I cut laminate countertop with a jigsaw?
Plastic laminate is surprisingly easy to cut. You can do it with a circular saw, a jigsaw, a router or even some hand tools. Cutting a sheet laminate by itself is best done with tin snips or aviation snips, provided you're cutting it oversize and will trim it later.
Can laminate flooring be removed and reinstalled?
Newer generation laminate flooring is not attached to the subfloor and can be reused if removed carefully. … It's possible that some damage could occur when unlocking pieces from the tongue-and-groove assembly, so be careful if you are reusing laminate flooring and work slowly to reduce the number of spoiled planks.
Do you need to remove baseboards when installing laminate flooring?
Do I need to remove my baseboards when installing flooring? When you install your laminate flooring, you must make sure to leave an expansion gap between it and your walls to allow for expansion and contraction (please see manufacture's recommend expansion gap size).
Can you lay laminate flooring without removing skirting boards?
Though it is definitely possible to achieve a professional-looking finish without removing your skirting boards, and by fitting laminate beading, it is distinctly more difficult to create a perfectly smooth transition from wall to the floor.
How do you cut laminate flooring by hand?
Q: Is it difficult to install the floor cutters?
Ans: No, they are not difficult to install. Most of the cutters are pre-installed so you don't need to do anything. Though for some cutters, some parts need to be attached they are easy to install.
Q: Can these floor cutters cut vertically?
Ans: No, none of the floor cutters can cut your floor vertically. All these floor cutters can cut all kinds of cuts just horizontally.
Q: Is there any dust collection bag provided with the cutters.
Ans: Some floor cutters are equipped with a dust collection bag and some do not have anything to collect the dust.
Conclusion
If you didn't skip the buying guide and product review section above, then you already know which are the best laminate floor cutters on the list whether you are a pro or noob. But if you haven't read those sections or in a hurry and need a quick suggestion, we are here to help you out to find the best cutter.
Among all the bars on this list, we wanna recommend you buy the floor cutter from the Skil manufacturer. The tool from this provider boon you with the safe and quick cutting of floors just at an average price! And the cuts are precise and the blade used in this cutter doesn't dull so fast as it is well guarded.
Aside from that floor cutter, we recommend you more two cutters, one is from the Bullet Tools manufacturer and another one is from the Roberts. The cutters from both of the providers are manual and expensive than others. Apart from that, both of the cutters bless you with smooth and precise cuts.
I'm Joost Nusselder, the founder of Tools Doctor, content marketer, and dad. I love trying out new equipment, and together with my team I've been creating in-depth blog articles since 2016 to help loyal readers with tools & crafting tips.