I love creating free content full of tips for my readers, you. I don't accept paid sponsorships, my opinion is my own, but if you find my recommendations helpful and you end up buying something you like through one of my links, I could earn a commission at no extra cost to you.
Learn more
Hammers are one of those tools that have been used throughout every age. Any sort of forming task, your name it & hammers will be there to help you do the job. They have become an irreplaceable tool in our day to day life.
But for any serious job, you need a serious tool that will work for you in any situation. Titanium hammers are the way to go if you are looking for a hammer that can do all sorts of carpentry, molding or forming.
They are way more efficient as a material than steel.
The competition around the market is not as easy as every manufacturer has come up with so many features. It's okay to hit your head over this decision.
That's why we are here with our intensive research to help you make a decision on choosing the best titanium hammer.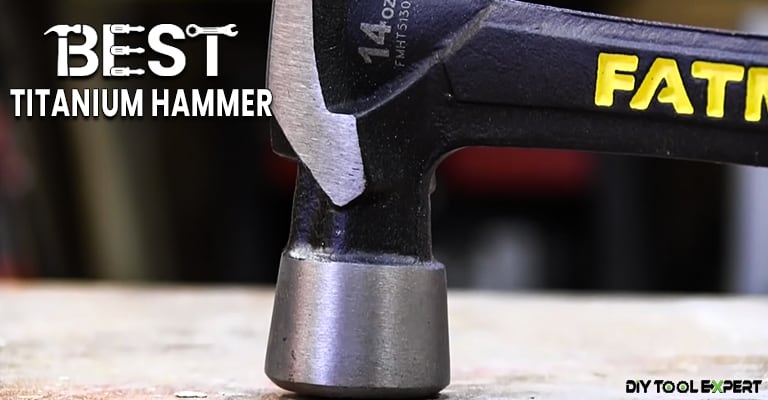 If you're looking for a multi-functional titanium hammer to use around the house, this Stiletto Tools TI14SC is one of the most versatile ones I've seen and very comfortable to use, even for beginners, because of its curved wooden handle. With 14 ounces it's just about enough to handle most tasks without wearing you down.
Of course, there are some more to consider, heavier ones or with different types of hammer styles, so let's look at your top titanium choices real quick:
Titanium Hammer buying guide
Before purchasing anything it is best to know all the attributes of the product first. The same goes for Titanium Hammers. To help you further make this decision, here are some we prepared for you to focus on.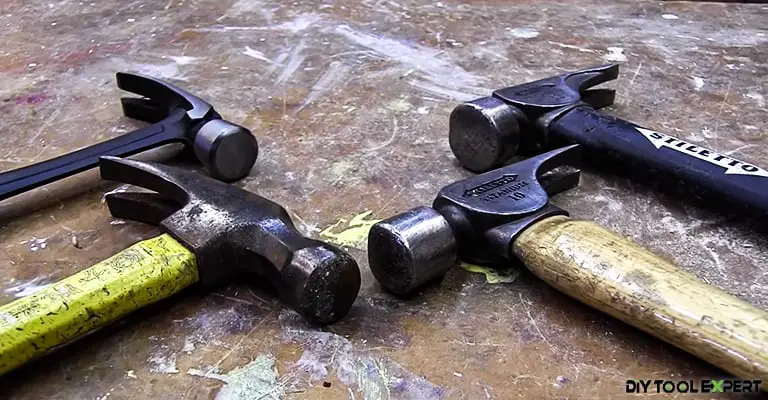 Why Choose Titanium?
You might wonder why I am looking through Titanium Hammers. Why not the steel ones that are available everywhere. At first Let's clear this confusion.
Titanium will last way longer than steel hammers. They have incredible resistibility & would stand up to about anything. The vibration absorption ability would also make your tasks easier.
It is known that Titanium is almost 45% lighter than steel. So, the driving force of Titanium is also greater than that of steel hammers.
 Weight
This is one of the most important factors you need to consider before purchasing any hammer. This solely depends on the amount of work you are doing. But if you can't handle a heavier hammer, this might cause you injuries.
Luckily Titanium hammers do have a greater impact than steal ones. So if you are thinking of working hours of carpentry work than it is better to choose a weight that is suitable for your hands.
Using heavier hammers will cause fatigue to your hands.
A 10-ounce hammer with a 16-ounce worth of driving force will be enough for doing any kind of work. But if you are planning for more heavy work, then you can go for heavier ones.
Handle
The handle is directly related to your comfort. As a result, you have to choose the right handle hammer carefully or else it will cause you discomfort.
Most people like working with wooden handles. If you are working under slippery conditions, then you opt to choose rubber grips.
This will prevent the hammer from slipping away from your hands.
There are also straight handles & also curvy handles which give you better leverage. There are also one-piece constructions but they are heavy. At the end of the day, it comes down to your personal preference.
Purpose of Use
You have to first identify what kind of task you are performing with the hammer. If it's for only domestic use then any titanium hammer will do the trick.
But if you are going for heavy-duty tasks then you need to look for heavier hammer especially one-piece construction one.
Magnetic Nail Starter
You should keep in mind that this feature is extremely handy in carpentry. They will keep your nails right in place in tough spaces where your hands can't adjust. Having one with your hammer is very helpful.
Warranty
Having a warranty on your hammer is being on the safe side. You might never know when you strike hard & break that wooden handle. So if you have a warranty, it's a good thing to have while working heavily.
Best Titanium Hammers Reviewed
Here we have combined some of the top Titanium hammers. The review section is organized by advantages & disadvantages. Let's get to the main part then.
Overall best titanium hammer: Stiletto Tools TI14SC Curved Handle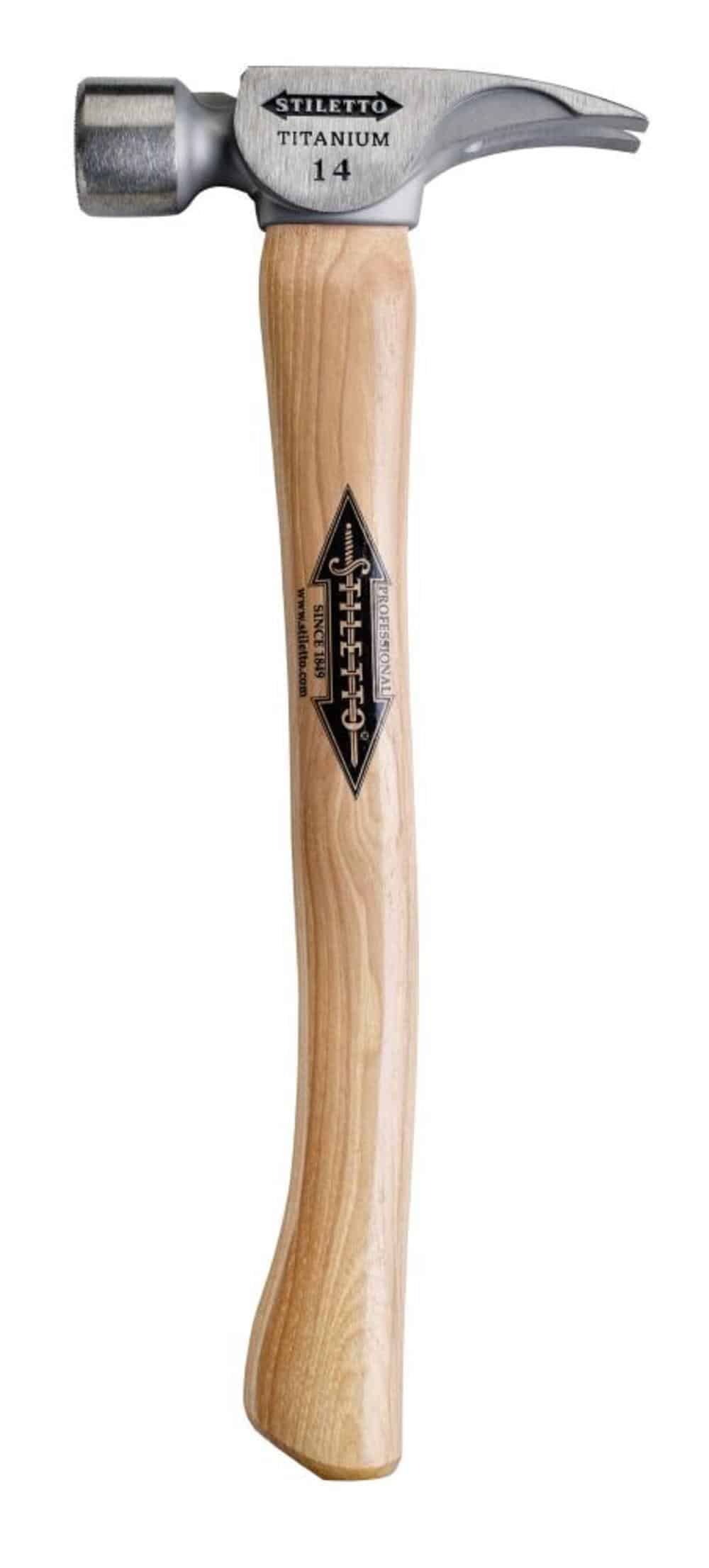 Attributes
This hammer is very much similar to the previous TI14MC model that you have explored. The hammer has a similar frame with a Titanium head to give you company.
This 14-ounce lightweight hammer has the ability to strike hard as much as a 24-ounce steel hammer would put on.
It has an ergonomic axe style hickory handle that will give you extra leverage to hit harder to the target.
The magnetic nail starter on the nose of the hammer holds the head of the nail while you adjust the position. This way your hand & finger are protected.
Shock absorption & recoil is way less for this hammer. Though it has a smooth face, the nails slip off on very few occasions.
You can easily experience an all-around performance from this hammer if you are into carpentry & have to carry a hammer all the time.
Drawbacks
Stiletto should really work on the handles of their hammers. This tool has a slick handle & the head eventually slips off. The durability of the handles is the main issue you have to keep in mind.
Check prices and availability here
Best cheap budget titanium hammer: Stiletto FH10C Claw

Attributes
This stiletto claw hammer has a construction of a Titanium Head with a Curved Axe handle. The weight of the hammer has a 10 ounces' head but it has a driving force of almost a 16 ounces' steel hammer.
Due to the Titanium construction, it will serve you more power than steel hammers.
The overall length of the hammer is 14-1/2 in overall length & has a weight of 16.6 ounces total.
Stiletto has introduced a tight radius claw design that allows you to easily pull nails without leaving marks in your work. Line and components have a secure connection between them.
With lesser recoil shock than steel, your elbows are guaranteed with protection while engaging in continuous movements. The hickory handle gives the hammer a reliable & long-lasting attribute.
This lightweight may be the company you are looking for while going carpentry.
Drawbacks
This hammer is not suited for heavy usage or any continuous work. It will eventually wear out if you use it continuously against steel.
Best wooden handle: Boss Hammers BH16TIHI18S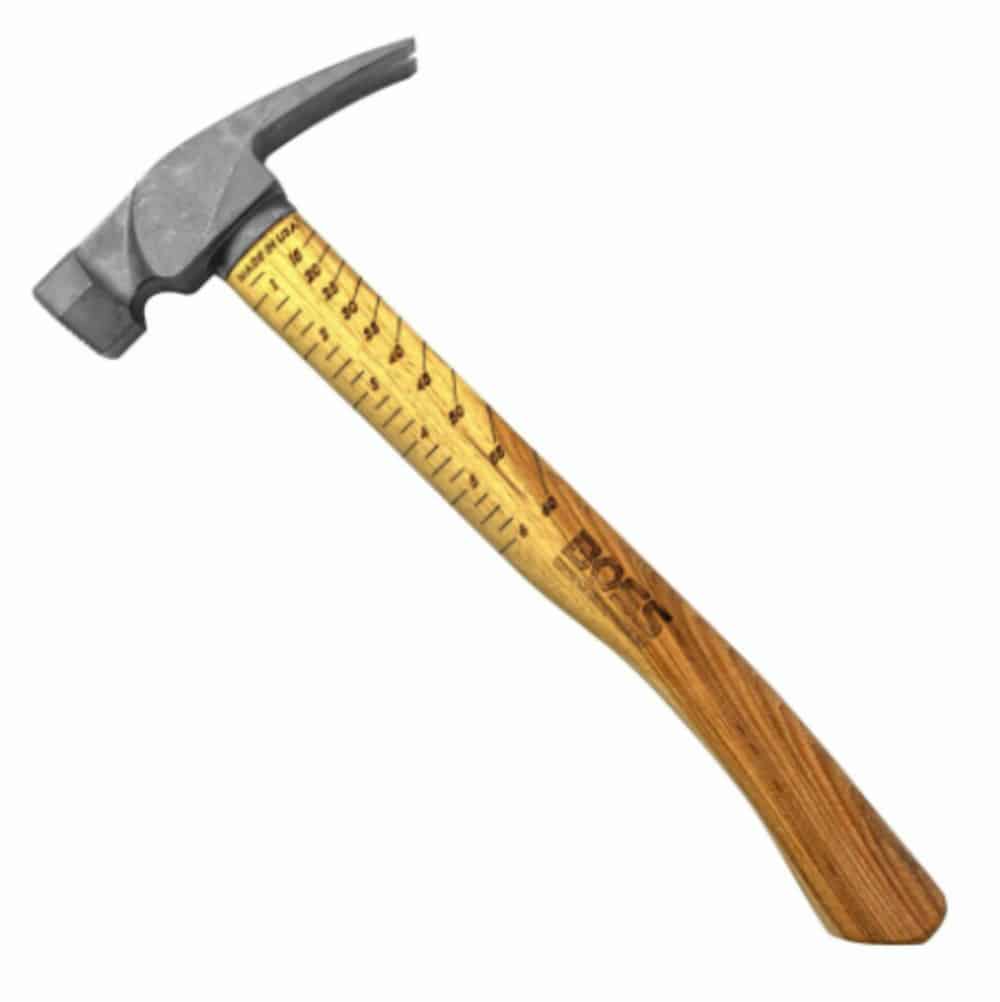 Attributes
This 16-ounce Titanium head hammer is bound to draw your attention with its professional attributes. It has an overall length of 17 inches.
The material of the head is titanium with a hickory handle. The head to handle ratio of the hammer is perfect to give you precise balance.
With a textured face on the 1 & 3/8-inch head, the hammer slips very few times. The best feature of the hammer maybe the dead center accuracy & immense power it delivers to the target.
There is a Nail Magnetic Nail holder allowing the consumers to easily hold both standard & Duplex Nails.
Side Nail Puller provides extra leverage for pulling out nails with lesser effort. There is Reinforced Claws to give you extra-strength with the side Nail puller.
Unique Overstrike Guard & ergonomic grip will provide you extra handle protection with better nail driving & lesser strain on the hand.
Drawbacks
The head and handle are extremely durable, but it is quite on the heavy side for most work, plus it's on the expensive side.
Best titanium hammer for beginners: Stiletto TI14MC

Attributes
Stiletto Tool Company has been in this business for over a hundred years making tools. This 14-ounce Titanium head hammer is an ideal company if you are working in carpentry.
The most astonishing aspect of this tool is that thought it weighs 14 ounces, it will strike with the same power just like a 24-ounce steel hammer.
Titanium has almost 45% lesser weight then Steel or iron. Ergonomic designed American hickory handle gives users great leverage in the hand.
Magnetic nail starter will give you a one-handed functionality in overhead works.
The hammer will produce a heavy-duty performance as well as it has ten times less recoil & shock absorption than steel ones. Straight claw design improves the nail pulling experience to another level.
You will be able to do your works with greater velocity, less effort & less strength.
Drawbacks
The durability issue of this hammer has really been reported. It has a possibility of snapping in half & sending the head to a distance.
The strain is too much on the hammer to handle, so you need to keep this in mind.
Check prices and availability here
Best titanium hammer for demolition: Stiletto TB15MC TiBone 15-Ounce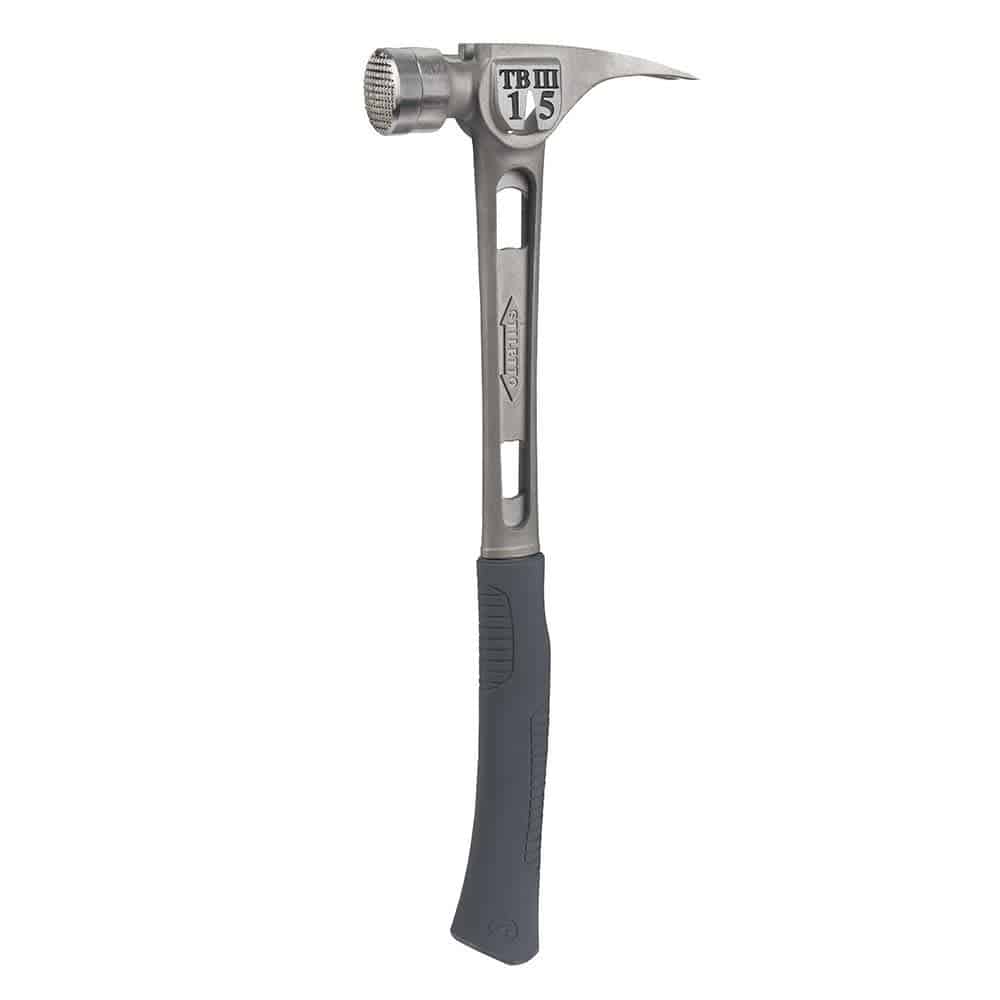 Attributes
The one-piece construction of this hammer has really up the tempo from Stiletto. Stiletto TB15MC has been manufactured with a whole titanium construction from head to handle.
This eliminates the possibility of any sort of dismantle of the handle from the head or the handle is broken.
While Titanium is 45% lighter than steel, this 15-ounce hammer will give you an impact the same as a 28-ounce steel one. You won't feel the weight of this hammer & can easily carry it around, plus that weight is great for demolition work!
This hammer is stronger, lighter & has almost 10 times more recoil than any other steel hammers. Patented side nail puller has been introduced that will allow users to easily extract 16P nails fast.
Magnetic nail starters are also present, so you need to worry about dropping the nails. The textured face of the hammer ensures the nails don't slip & ergonomic handle with a rubber grip ensures comfort as well as leverage.
The head of the hammer is also removable so you could easily use it even after the face is worn out.
Drawbacks
This 18-inch-long hammer may feel a bit off-balanced because of the one-way construction. This quality hammer will give you the best service, but this will cost you much.
Best fiberglass handle: Boss Hammers BH14TIS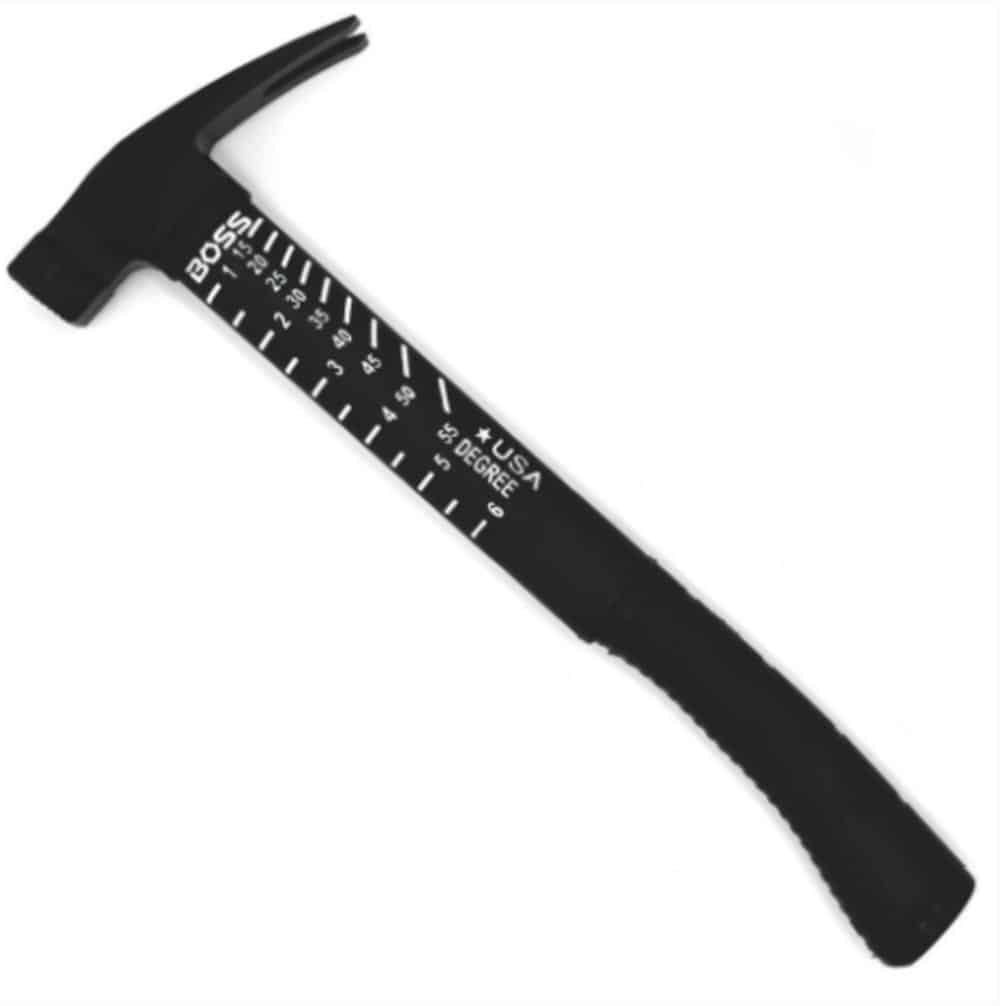 Attributes
This is a hammer that is a bit different than the others that we have discussed here. The Boss hammer has a Titanium head with a fiberglass Handle.
The weight of the head is almost 15 pounds & the overall weight of the hammer is about 2lb.
Due to the fiberglass handle, the hammer has an impressive shock-reducing feature. The textured facing of the hammer allows it to miss nails on rare occasions.
The fiberglass handle of the hammer reduces recoil shock for the comfort of your hands. Handle comes with a covered grip permitting you to use it in any slippery conditions.
The design of the Boss features a nail puller for your assistance. If you're looking for a hammer to make powerful strikes as well as reducing impact, then the Boss fiberglass is the tool for you.
Drawbacks
The Boss is a great hammer but it can be a lot of work for you because of the heavyweight. Your elbows & hand will get tired after a short time. The price tag can also be a concern because of the fiberglass handle.
FAQ
Here are some frequently asked questions and their answers.
Are titanium hammers worth it?
Overall Titanium Wins:
Titanium hammers offer excellent vibration dampening, and the lighter weight metal translates to easier swings with less fatigue and impact on the nerves and tendons in the arm.
What is the most expensive hammer?
While looking for a set of wrenches I stumbled upon what has to be the world's most expensive hammer, $230 at Fleet Farm, a Stiletto TB15SS 15 oz. TiBone TBII-15 Smooth/Straight Framing Hammer with Replaceable Steel Face.
What is a California framing hammer?
OVERVIEW. California framer® style hammer combines features of two of the most popular tools into a rugged, heavy construction hammer. The smoothly swept claws are borrowed from a standard rip hammer, and the extra large striking face, hatchet eye and sturdy handle are a heritage of the rig builder's hatchet.
Are Estwing Hammers any good?
When swinging this hammer, I have to say it does feel nice. As with their nail hammer above, this is also forged from one piece of steel. … If you are looking for a great hammer and one that is still being built in the USA, go with the Estwing. It's quality and will last a lifetime.
Is stainless steel better than titanium?
The key thing to note here is that while stainless steel has more overall strength, titanium has more strength per unit mass. As a result, if overall strength is the primary driver of an application decision stainless steel is generally the best choice. If weight is a major factor, titanium may be a better choice.
How can you tell if Titanium is real?
Another test is called salt water test. Just put your titanium ring in the salt water for a few hours, if it shows any signs of damage then it is unreal otherwise it is a true titanium ring.
What can break titanium?
Titanium metal is brittle when cold and can break apart easily at room temperature. The most common mineral sources of titanium are ilmenite, rutile, and titanite. Titanium is also obtained from iron ore slags. Slag is an earthy material that floats to the top when iron is removed from iron ore.
What is the strongest hammer in the world?
The Creusot steam hammer
The Creusot steam hammer was completed in 1877, and with its ability to deliver a blow of up to 100 tons, eclipsed the previous record set by the German firm Krupp, whose steam hammer "Fritz", with its 50-ton blow, had held the title as the world's most powerful steam hammer since 1861.
Which hammer is the most versatile?
common hammer
Unsurprisingly the most common hammer is the most versatile, though it's primarily for driving nails and light demolition. A small flat head puts all the force of the swing into a small area making it best for driving nails. Opposite the head is a split claw that give it its name.
Why is it bad to hit two hammers together?
Hammers are intended to hit something softer than the hammer. Metals do have some degree of brittleness, and there's a risk that if you hit two of them together bits of metal can break off and fly around – you could blind yourself, or whatever. Most hammers are made of hardened and tempered steel.
What weight hammer should I buy?
Classic hammers are designated by head weight: 16 to 20 oz. is good for DIY use, with 16 oz. good for trim and shop use, 20 oz. better for framing and demo. For DIYers and general pro use, smooth face is best because it won't mar surfaces.
Is Estwing Made in USA?
When an Estwing is seen hanging from a workman's belt you can most likely be sure you are dealing with an experienced professional. And they are all Made in America. Estwing hammers and tools are manufactured in Rockford, Ill., about 90 miles northwest of Chicago.
Q: Are these hammers only uitable for carpentry?
Ans: No, you can use them for multi-variety purposes. Each hammer has been built with different constructions. But they will be able to do any hammering work you want.
Q: What weight should I choose for a hammer?
Ans: This depends fully on the level of work you are doing. If you are working on normal carpentry, then a 10-ounce Titanium hammer will do the job. But if you are working with heavy steel, a heavier hammer will do better.
But always see your hand comfort first.
Q: Are Titanium hammers expensive?
Ans: The material titanium has some amazing attributes that make them more significant than others. It is almost 45% lighter than steel but the force that it applies is way more than that the same weight of steel provides. It is also incredibly resistant. That is why the value of this material also goes up.
A Titanium hammer can even go for a lifetime if you are working domestically. Again you must remember quality always comes at a price.
You may also like to read – the best chipping hammer and best rock hammer
Conclusion
Every manufacturer has a certain aspect that they work on to make their products unique. So, you will have a hard time picking the right hammer for you.
Every hammer featured here will have features that can define them. We are here with our verdict to help you out.
If we have to say only about performance, then the Stiletto TB15MC TiBone is without a doubt the best choice. The all-titanium construction will serve the best strikes for heavy tasks.
Beware of the weight of the head & also the price.
The Stiletto FH10C Claw hammer is a perfect choice if you are looking for a lightweight hammer with an excellent handle.
Ultimately it comes down to your choice for the best titanium hammer you want in your hand or what gives you comfort in doing certain tasks.
I'm Joost Nusselder, the founder of Tools Doctor, content marketer, and dad. I love trying out new equipment, and together with my team I've been creating in-depth blog articles since 2016 to help loyal readers with tools & crafting tips.