I love creating free content full of tips for my readers, you. I don't accept paid sponsorships, my opinion is my own, but if you find my recommendations helpful and you end up buying something you like through one of my links, I could earn a commission at no extra cost to you.
Learn more
Just imagine how it would be to set for a battle with no weapon? That's the situation a woodworker faces if he or she starts working without a hammer. A framing hammer, in general, is a sturdy tool that has a heavy head with a sleek claw. This feature has distinguished this tool from other types of hammers.
It's the most familiar tool that can be easily seen in any toolbox intended for framing. If you are an experienced woodworker, it is redundant to narrate the usage of a framing hammer.  But, even with this vast popularity, it's difficult to choose the right one for a particular purpose.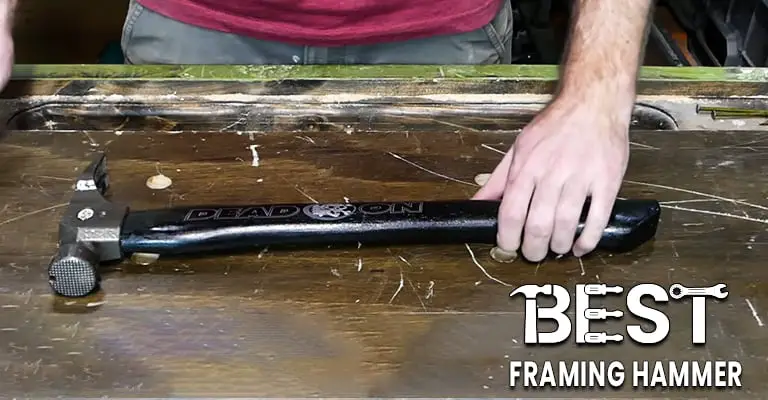 For getting the best framing, you need to choose one hammer that will provide sufficient force to put the nail in position. Besides, it will be portable enough to carry anywhere. But finding it won't be a duck soup! You need to do a lot of research for the perfect result. Even after that, the experience can be a determining factor!
Take the first step towards us and allow us to present some fabulous picks from the market in congestion with a resourceful buying guide and other stuff that will definitely lead you towards the best framing hammer in the market right now.
Framing Hammer buying guide
Riding on the wings of our combined experiences and taking advice from the pros we have figured out some aspects that must be considered for getting the top-notch framing hammer. We have listed them down one by one and discussed them elaborately. Do check these criteria prior to buying any framing hammer.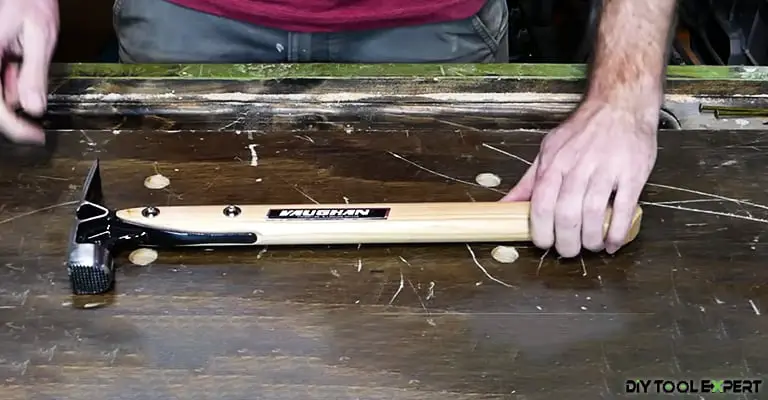 Head
Can you guess what portion of the hammer is responsible for nailing? Yeah, you got right! The head, of course. It is solely responsible for passing the momentum and finishing the entire nailing. This portion carries a large chunk of a mass of the whole hammer.  Now you know the reason, right?
But there are certain problems with a heavy head. Just think about how the hammer will behave if the entire weight is gathered on the head alone? Of course, unpleasant trouble will take place. That's where the weight distribution comes into play. A perfect balance between the weight of the head and the handle must be maintained.
Our experience leads us to insist that the weight of the head section must be something between 16 oz to 22 oz. If you go for more, you may be in trouble balancing the weight. On the contrary, under-weight will make the task of nailing difficult.
Handle
The handle is something that adheres to the head section with the rest of the part. Besides, it gives you comfortable gripping and thus ensuring your control on the overall project. Generating proper momentum largely depends on this section.
Anyways, let's dig a bit deeper into the discussion. The materials used to build the handle plays a vital role. In general, steel, fiberglass or wood is used to build the handle. But, definitely, you won't get the same performance and durability from all of these handles. Below we have jotted down the important characteristics about that distinct handle and thus indicating the usages.
Steel made
The best option for long term use. But, probably, not the best one for comfort. This steel ensures durability but doesn't absorb the shock wave that has been generated by the hit. That's why you can't get a smooth experience. We, along with the experts, have noticed that it can be the best option for amateur DIYers' but not for the pros.
Wooden
Probably, the most familiar in the given alternatives. Wooden handle absorbs shock waves and ensures comfort. But, the irony is, wooden handles can't endure this hardship for long and tend to crack.
Fiberglass: Handles made from this material can be a comparatively better option. It can provide a moderate safety with durability. But, remember that you have to pay more backs to get this type.
Whichever the handle is made from, always notice the rubber covering of the handle. This rubber covering makes the handle suitable for a comfortable grip and thus enables you to work with it for a long time.
Tang
You may wonder why we're talking about the tang here. Probably, you have heard it for the knives. But, surprisingly, this term also works here. Likewise the tang of a knife, a full-tang hammer is made from a sole piece of metal. The head and handle are a distinct part of the same piece. A rubber or plastic made handle is wrapped around the metal.
Full-tang hammers provide you enriched durability. As there are no potential weak points, the hammer has a less tendency to break. But the full-tang hammers are rare and can be less found.
You guessed it right! The most available hammers are not full-tang. Typically, the handle, whether it is made from wood or plastic, is attached with the body through a slot or groove.
Face Type
Last but not least! The last thing to check is the face type. In general, two types dominate the market. Let's check them out!
1. Waffle Face: How would it be if you are striking a nail and it slips again and again? Won't be a pleasant experience, right? That's why a waffle face is introduced. It prevents the nail from slipping and gives you perfect nailing.
2. Flat Face: If you are a pro, then you can handle this type. But if you are not, then better not go for this because it won't provide you any prevention against slipping.
The judgment of the face type should be made keeping the purpose of the hammer and experience of yours rather than price or design.
Best Framing Hammers reviewed
Now it's the time to unwrap the box! We have listed the most hailed framing hammers currently available in the market. We've kept some parameters in mind while choosing. Hopefully, you'll find the perfect one for you from this list!
Dalluge 7180 16 Ounce Titanium Hammer
Solid Slants
Perfect shock-absorbing design in congestion with Titanium features both milled face and smooth face variant. This is a solid combination that puts any nail into place. With the strength of this 16-ounce titanium and benefit of an ergonomic design, you have the accurate force that needs to be applied on the nail.
You get a Nailoc Magnetic Nail Holder which is capable of gluing nails whether it is standard or duplex. That's why you get rid of extra effort to store the nails here 'n there and adrift of the nails. Besides, the holding capacity, it provides you the flexibility to work with different sizes and put them in an accurate position.
The magnetic nail holder provides you a fast working opportunity. But what about the gripping? Don't worry! The idiosyncratic overstrike guard gives you that most needed comfortable gripping experience. Moreover, it also ensures extra safety so that the risk of slipping gets minimized. The Serrated Face and Straight Hickory Handle provides durability.
Ergonomic design provides better leverage and thus ensures more precision with less effort. Besides, the design features reinforced claws. This strengthens the overall hammer and privileges the long run use.
Pitfalls
Some customers didn't like the quality of the hickory used to build the handle. It may not ensure the premium quality you want.
Fiskars IsoCore Framing Hammer
Solid Slants
You do heavy hammering tasks or in deep water finding the massive hammerhead to hit the nail hard through lumber? Good news for you! Fiskars, another big shot in the tools' market, has brought a heavy-duty hammer fit for rigorous hammering and with its 22 oz. head it can hit any object with an enormous force. Your nailing tasks are made easy by this weighty hammerhead!
A milled face is attached to the giant just to prevent nails from slipping off the hammer. This feature ensures a safe hammering and accurate placing of the nail into the assigned place. Moreover, more ergonomics is ensured and results in extra leverage for lifelong service.
An iconic shock control system is featured by this hammer and the design is patented by the manufacturer. This patented IsoCore system absorbs the aftermath of strike shock as well as the vibration produced. It means your body has to face a lot more disgrace! Besides, the insulation sleeve traps the shock and adds much comfort.
Pitfalls
Because of its heavy weighted head, you can't choose the hammer for lighter usages. This tool weighs more than any regular one.
Estwing Hammer
Solid Slants
Estwing, a pioneer in the tool market, has brought another magnificent tool for serving your purpose. You can get any other variant of this same quality just according to your needs. Estwing offers you the exact same quality in 12 oz. 16 oz. 20 oz. variant. The 16 oz. type is also available in 2 and 4's pack type!
The one-piece forged method ensures maximum safety and prolongs the durability. This casting method has made the tool fit to endure heavy tension and face extreme force. The one-piece body tends less to break and can apply appropriate force to nail the nail!
The all-in-one claw design features an extraordinary advancement. You get extra flexibility to pull out the nail, demolish any unwanted, pry boards, split wood and many more! This versatility has made the tool fit for the pros. Regardless of the use, this hammer will show its class.
USA's standard build quality ensures premium quality. Like all other parts, it shows superiority when even it comes down to grip. The colored, soft and comfortable grip has installed to maintain the proper force during the operation. So, whatever the use is, this hammer can take that easy.
Pitfalls
You may not have the premium quality you expect as the variation in the models can cause quality control issues.
Stanley 51-163 16-Ounce FatMax Xtreme AntiVibe Rip Claw Nailing Hammer
Solid Slants
Again the versatility strikes! This Stanly tool also comes in different variants to meet your needs. You can find it in a 16-ounce curved claw, 16-ounce rip claw and also the heavier option- 22-ounce rip claw. That means you have the exact same quality for different purposes!
Feel the obvious difference with the precise balance and cutting-edge ergonomics! Innovative design features ergonomic benefits that are met by the better torsion control grip. Besides, the new Anti-vibe technology adds an extra to the overall control and helps to reduce vibration and shock at the time of impact. That's why you can get the desired result with fewer effects of torque on the wrist and elbows.
One-piece forged construction strengthens this hammer and is backed by the strength of steel. That's why you get a life-long service guarantee from this tool. Performance is tasted and durability is assured and these shortly define the tool.
Don't need to put your finger at risk! The magnet attached at the head is capable of holding nails and to provide you the flexibility to nail quickly without risking your finger, a handy feature, right?
Pitfalls
You simply have to pay more bucks to own this hammer. Besides, the heavier variant can't be used for light usages.
Stiletto TB15MC TiBone 15-Ounce Titanium Milled-Face Hammer
Solid Slants
A light-weighted body that can be as effective as a heavy steel hammer. This tool has a 15 oz. titanium head which may not be heavy in mass but can be useful enough to beat the 28 oz. steel headed hammer. That's the charisma of a titanium hammer!
You'll experience less shock when it recoils. The shock can be minimized up to 10 times as the manufacturer claims. Besides, the construction is strong and the design is more ergonomic. These features provide extra facilities to work with them more comfortably.
One-handed easy nailing is possible because of the magnetic head. It glues up the nails and provides you the flexibility to work with a single hand. It ensures more precise nailing and quick finish of the project. Besides, the overhead working is also made easy with this feature.
Pitfalls
Some user has complained about the grip of the tool. Besides, the cost may be a barrier for your purchase as it's a no cheap product.
Estwing Framing Hammer
Solid Slants
This is another feather in the crown of Estwing. It's the slightly different version of the previously described one from Estwing. But this time the variation is in the weight of the head. This tool features a 22 oz. face along with other larger specifications.
This big brother receives a long handle than the smaller one. Long handle helps to grip the tool more accurately. It also confirms the best ergonomic use of the hammer. The long handle is also covered with a comfortable soft-grip. The grip ensures proper handling of the tool and smoother operation.
Estwing provides you two different options regarding the face. You can have a milled face or a smooth face variant. It means you can do with the tool even you are a noob, no problem! Besides, the high-performance delivery makes it fit for the pros.
70 percent of the recoil shock has been restored easily by the grip. That means, the grip is not just a soft covering around the handle, it's a mechanism to absorb extra impact force that has been generated during the impact. You'll face fewer difficulties to handle the tool during the operation, piece of cake!
The USA standard build quality has made the hammer one of the most iconic tools. This quality ensures long term usages along with greater service and enhanced ergonomics. The finest American steelworks behind the scene.
Pitfalls
You can't use this tool to serve the light-weighted usages. Moreover, it'll cost you more than a lighter version.
Estwing Ultra Series Hammer
Solid Slants
A slightly lighter version of the Estwing hammer family is here! This tool is lighter than the previous ones and the hammerhead weights 19 oz. Some basic specifications may match with other heavier options but the tool is still different in many aspects.
Like the others, the hammer is forged in one piece. This technique has made the hammer more durable and fit for action. More leverage can also be generated by this configuration. It means more power to hit that hard!
Comfortable gripping is ensured! The manufacturer assured that 70 percent of the recoil force will be absorbed by the grip. This ensures a soft gripping with greater comfort. Besides, this grip gives you the flexibility to work with different workpieces with less effort.
Versatile claw ensures proper implementation of force with a minimum effort required. The enhanced ergonomics has powered the tool enormously and that's why this hammer is easy to use and also portable enough.
Pitfalls
You may not find it suitable to work with giant workpieces with this hammer. Nevertheless, you have to pay more bucks to own it.
Estwing Sure Strike California Framing Hammer
Solid Slants
With the genuinely high-quality hickory handle, you get enough strength to hit the nails hard through the wood. The accuracy of hammering and the comfort you get is something mind-blowing! Estwing got another star into their arsenal, no doubt!
Only the head weights 25 oz. and the hammer itself weights 708 g. It means, you not only can have a heavy hammer to do heavy hammering but also you got a portable one to carry along. The manufacturer has paid extra attention to the overall weight distribution. That's why you need not worry about weight while carrying.
Forged head construction has a certain impact on the effectiveness of the hammer and so you get benefits of hammering. Triple wedge built has made the face more functional and the magnet attached with the head gives you the opportunity to hold the nails, hands-free.
The wooden handle has earlier proved its toughness and functionality during any heavy-duty operation. That's why Estwing has made a wise decision to attach this hickory handle and thus ensures durability along with high performance.
Pitfalls
You won't find any grip for a comfortable hammering. The extreme pressure during the operation may not be endured by this wooden handle and you can see cracks after a period of time.
Vaughan & Bushnell CF2HC California Framer
Solid Slants
If you are a pro and looking for a heavy-duty hammer, then this one can serve your purpose delightfully. The USA standard undoubtedly reflects by this tool as it features some extraordinary features that most of the hammers can't! Heavy-duty yet comfortable hammering is the motto of this tool.
22 oz. tool along with 36 oz. overall weight has made the hammer heavy enough to put the nails into position. This also ensures portability with minimal effort. 16-inch overall length has made it easy to handle. That's why it can be an extraordinary addition to your arsenal.
Highly dependable forged construction has made it more fit for heavy-duty hammering. You can beat any nail with a sturdy head. The shock wave can be absorbed as this hammer has a wooden handle. That's why, for heavy use, the wooden handle can be a better option instead of a gripped one.
You need not worry about the durability. American steel with Rockford power is here to ensure durability. Moreover, the enhanced design has made the tool more fit for its task and further increased durability.
Pitfalls
The wooden handle may prove painful when it comes down to gripping. The cracks on the handle are inevitable.
Estwing Hammertooth Hammer
Solid Slants
Estwing has brought another overwhelming tool into their arsenal. This hammer is one that can be easily used for professional usages. Besides, the improved design has made this tool more capable of daily hammering purposes with increased durability.
Forged construction has got the ultimate reliability and the single-piece design has shown cutting-edge performance earlier. This design tends less to break into pieces and reduces the number of points that can affect the strength of the hammer.
The head weighs 24 oz. which is enough to beat the nail into any workpiece. Besides, the milled and smooth face, two separate combinations, have made the daily hammering easier. Nails can be held in place easily for a long time and enables you to put the nails into place.
The rip claw has proved effective earlier and the comfortable grip is beyond expectation. This awesome combination has made the hammer more effective and the enhanced design has a great impact on the weight distribution. The painted hammer tooth has made the hammer double strong to make the nails penetrate any surface.
Pitfalls
Some customers have objections about the long handle that may not fit in every toolbox. Besides, some have to go beyond their budget to own it.
Best Choice Efficere All Steel Rock Pick Hammer with Pointed Tip
We are talking about a hammer that has an impressively long body. But, this isn't all this product is about. There are many details a beginner might miss when he sees this tool first. For instance, it comes with a 22-ounce steelhead that's spectacular for a hammer to have.
If you are concerned about the build, then let us introduce our guy that has a sturdy steel construction throughout the body. They have done a great job in terms of design. The pointed tip on one end and the square face on the other make it usable for various jobs.
What's more, they have made the handle ergonomic and introduced a shock-absorbing technology in it. Thus, you will feel less vibration during impacts. This feature makes the usage of this hammer more comfortable.
Moreover, it comes with a polished finishing for preventing rust. As a result, the tool becomes more durable. Also, this tool comes with versatility in use. Be it, prospector or constructor, anyone will find use in it. And you won't have to spend much on all these benefits.
Pros
The ergonomic grip is shock absorbent and the pointed tip and square face offers various works. It's also rust resistant.
Cons
It's a bit soft.
Irwin Tools 1954890 Wood California Framing Claw Hammer
The brand has produced quite a few tools so far, and these have been well-reviewed and appreciated by the users. This unit we are talking about is among the best of them. If you need a tool to do your light works, you will certainly benefit from it.
With this tool, the steel construction makes it strong as well as durable. Another praiseworthy feature they have included with the head is the claw framing. What's more, it has got a milled face for preventing slipping of the hammer. There is also a magnetic nail holder in place to make the work seamless.
As for the handle, you are going to like the curved hickory one they have chosen for their product. It's durable, too. But, in terms of strength, I think that there's room for improvement. Nevertheless, by providing proper balance, it will make your work fun. All these benefits don't cost you much, though.
Pros
This thing is lightweight but offers good performance. It's also very affordable.
Cons
They could have done a better job with the handle.
DeWalt DWHT51064 Framing Hammer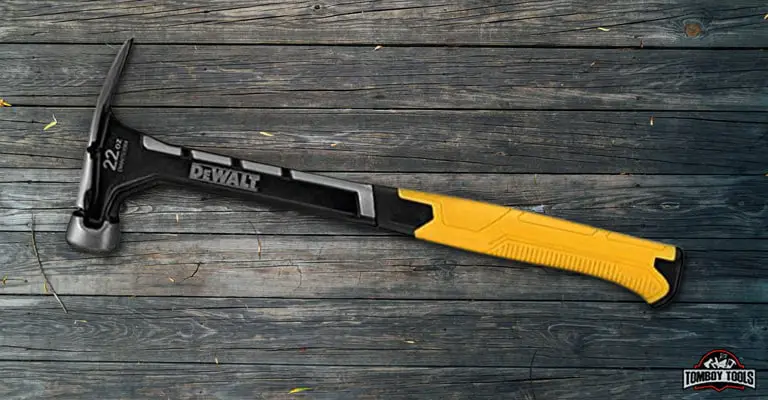 If you want convenience and power both in one tool, you've got to check out this product we are about to review.
We won't be exaggerating at all if we say that DeWalt framing hammeris the most powerful unit you will find out there. For, the strength it has shown is unbelievable. I guess the one-piece steel construction is behind that.
Moreover, to make your swings well balanced and perfectly controlled, they have made sure that the device has proper weight distribution. In case you are worried about the efficiency of nail removal, you will find this hammer more suitable for your needs, thanks to the side nail puller it comes with.
Be it a beginner or professional; everyone will find this tool to be useful. In terms of convenience, you can place the nail single-handedly using this hammer. This is by the magnetized face integrated with it.
And for ensuring safety, it comes with a textured face that will prevent the nail from slipping. There's one thing I found to be a bit disappointing for such an impressive unit. It doesn't absorb vibration like other top units. If only it came with better vibration management, it easily would've been the best out there.
Pros
I love the perfect weight distribution and it offers efficient nail pulling. Also, stainless steel construction ensures durability.
Cons
Not so efficient vibration management.
Framing Hammer vs. Claw Hammer
There are a couple of differences between these two types of hammer. For instance, a framing hammer weighs 20-32 ounces, whereas a claw hammer comes with a weight of 10-16 ounces. Therefore, a framing hammer would take less time in pounding nails. Also, its handle is longer than that of a claw hammer.
Another big difference lies in the face. While the claw hammer has a smooth face, the framing hammer has a waffle-like face for preventing the head from slipping. The framing hammer doesn't have the domed face that some claw hammers come with.
Framing Hammer vs. Rip Hammer
They both are hammers with straight claws. While framing hammers are more used for framing houses, the rip hammer rips things off for you. Therefore, people use a rip hammer when they want to rebuild something. It is used in tearing apart structures, drywall applications, siding, plywood, etc.
For relatively lighter jobs, framing hammers are more efficient. People who usually use these hammers are roofers, framers, geologists, and their likes. These are heavier than claw hammers.   
FAQ
Here are some frequently asked questions and their answers.
What type of hammer is used for rough framing?
Also called a Rip Hammer, a framing hammer is a modified type of claw hammer. The claw is straight instead of curved. It also has a longer handle, is usually heavier. This type of hammer head has a rough or waffled face; it keeps the head from slipping when driving nails.
What is the most expensive hammer?
While looking for a set of wrenches I stumbled upon what has to be the world's most expensive hammer, $230 at Fleet Farm, a Stiletto TB15SS 15 oz. TiBone TBII-15 Smooth/Straight Framing Hammer with Replaceable Steel Face.
Why are Estwing hammers so good?
Estwing hammers succeed because they perfectly deliver everything you could want in a hammer: a comfortable grip, great balance, and a natural-feeling swing with a solid strike. As a a single piece of steel from tip to tail, they're also indestructible.
What is the difference between a framing hammer and regular hammer?
First, weight. A framing hammer is typically 20-32 oz, compared with 10-16 oz for a "normal" household claw hammer. … A regular claw hammer often also has a domed face to allow a skilled hand to sink a nail below the surface with minimal surface damage: that's a feature you won't see on a framing hammer.
What does a framing hammer do?
Framing hammers, used for framing wooden houses, are heavy duty rip hammers with a straight claw. … The raised marks on the head of the hammer grip this grid, which helps to prevent the hammer from sliding off the nail head when striking a nail.
Are heavier hammers better?
But a heavier hammer isn't necessarily a better one, at least as far as framing hammers are concerned. Many hammers today are built from lightweight titanium with a steel face, which saves weight, and a carpenter can swing a lighter hammer faster and more often over the course of a long day's work.
What makes a framing hammer different?
A framing hammer is essentially the same as a regular claw hammer except: Length: It will be a few inches longer than a normal hammer, providing you with more leverage. Weight: Extra ounces in the framing hammer's head give more inertia for driving nails. … Claw: It may have a flatter claw.
What would you use a ball peen hammer for?
Uses. Besides for peening (surface hardening by impact), the ball-peen hammer is useful for many tasks, such as striking punches and chisels (usually performed with the flat face of the hammer). The peening face is useful for rounding off edges of metal pins and fasteners, such as rivets.
What is a California framing hammer?
OVERVIEW. California framer® style hammer combines features of two of the most popular tools into a rugged, heavy construction hammer. The smoothly swept claws are borrowed from a standard rip hammer, and the extra large striking face, hatchet eye and sturdy handle are a heritage of the rig builder's hatchet.
What is the strongest hammer in the world?
The Creusot steam hammer
The Creusot steam hammer was completed in 1877, and with its ability to deliver a blow of up to 100 tons, eclipsed the previous record set by the German firm Krupp, whose steam hammer "Fritz", with its 50-ton blow, had held the title as the world's most powerful steam hammer since 1861.
Which hammer is the most versatile?
common hammer
Unsurprisingly the most common hammer is the most versatile, though it's primarily for driving nails and light demolition. A small flat head puts all the force of the swing into a small area making it best for driving nails. Opposite the head is a split claw that give it its name.
What brand of hammer does Larry Haun use?
Dalluge decking & framing hammer
Larry Haun used the Dalluge decking & framing hammer in his later years, so you know it's worth the money!
Q: How framing hammers differ from an orthodox hammer?
Ans: Framing hammers are characterized and distinguished from regular or household hammer by its handle and head's face. With an extra-large handle like an axe and mostly a waffled or checkered face of the head, this hammer yields nailing without slippage or bending.
Q: Does the framing hammer weight have a preference with respect to the intended job?
Ans: Different tasks ask for different weights of the hammer for better performance. DIYers should not miss a chance if a 16 to 20-ounce framing hammer is near. Well, for trimming works and in shops the lower weight is preferable. For real framing, the 20-ounce ones do not have an alternative.
Q: What is the main factor that determines the choice of a hammer?
Ans: The main factor is the type of work you do. It could be breaking rocks or shaping bricks. The hammer will be chosen based on your requirements.
Q: What are the components used to make a hammer?
Ans: Its handle is made from steel, hardwood, etc. And in making the head, forged and hardened steel are used.
Q: What should be the weight of a quality hammer?
Ans: It usually varies from 16 to 24 pounds. The particular type of work you do will determine the weight.
Q: What would be the ideal price of a hammer?
Ans: It will vary according to quality, features, performance, etc. You should buy the one that fulfills the purpose as well as costs reasonably.
Q: Does a hammer break?
It might break if the construction is weak. However, going for any product on our list will make sure of no such happening.
Q. Is Framing Hammer is available in pink?
Yes, A lot of tool manufacturer are making pink tools, we picked some pink hammer some other post. Please check.
Bottom Line
So far you have seen many of the mind-blowing picks from today's market. it's natural to get confused and be found in a state of hesitancy. It's okay! Let us step in and unwrap our top picks. Hopefully, it'll take a step closer towards the best framing hammer.
You are a hobbyist and do small scale DIY projects, you can choose Stiletto TB15MC TiBone 15-Ounce Titanium Milled-Face Hammer. On the contrary, you are a pro and do regular hammering, you can try Estwing Framing Hammer.
But if you are a master and have to do heavy hammering on a regular basis, you can check out Estwing Sure Strike California Framing Hammer for the immense joy of hammering maintaining towering quality. Recognizing the level of your expertise and intended time to spend with it, get your "prize".
I'm Joost Nusselder, the founder of Tools Doctor, content marketer, and dad. I love trying out new equipment, and together with my team I've been creating in-depth blog articles since 2016 to help loyal readers with tools & crafting tips.