I love creating free content full of tips for my readers, you. I don't accept paid sponsorships, my opinion is my own, but if you find my recommendations helpful and you end up buying something you like through one of my links, I could earn a commission at no extra cost to you.

Learn more

The best tool backpack is a useful product for electricians, carpenters, technicians, etc. These backpacks are specially designed for carrying and organizing tools in one bag. Eliminating the extra hassle of carrying a handbag for tools, this backpack offers you ultimate comfort and productivity. Before buying a random backpack, you must know which one is the best tool backpack for you. Analyzing the advantages and disadvantages will allow you to save some extra bucks and time. Find the best one that is suitable for you.
Tool Backpack buying guide

A tool backpack must have a sturdy construction and provide comfort to carry it. Here some basic features of a tool backpack. A tool bag pack consists of four different parts.
The compartments
Types of straps
Additional features
The hardware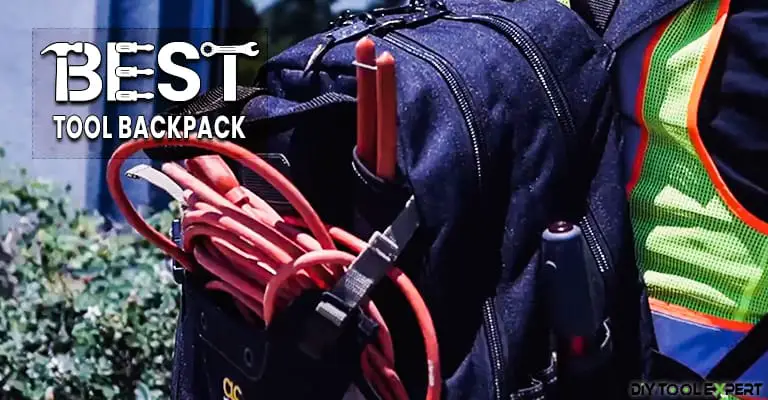 The compartments A tool backpack has compartments made of sturdy hard plastic structure with polyester or other material. Usually, these bags offer two big compartments with many pockets. These pockets have a variety of options to house small and large tools. Types of straps A tool backpack usually has necessary straps to carry the bag while making it more comfortable. A chest strap and shoulder straps are a very common feature for most of the tool backpack. Additional features The best tool backpack can offer you some additional features to make you more comfortable and productive.  Water bottle holder, compression straps, gear loops, etc. are very common in the best tool bag pack. Construction If there is something that is even more important than the material, it would be the construction of the bag. You would obviously want something that is sturdy and durable. Also, you should make sure your bag has a panel at the bottom, that's what makes it sturdy. You wouldn't want to lose some of your tools because your bag tipped over and some of the tools fell out without you noticing. Another thing you should look for when you are looking at the making of the bag is if it has a metal frame or not. If it does, then you will able to unzip the front flap entirely and keep it open. Waterproof This is a feature you might be looking for if you work near liquids. You might be around water very often and that way your backpack will keep getting wet. It is going to be annoying to dry it all the time. The hardware A tool backpack has sturdy and durable zippers and buckles and other hardware. These are the brief basics of tool backpack. These backpacks look similar to the book carrying a backpack but there are differences in the material and internal design. These backpacks are specially made for carrying lots of tools. These are useful to the carpenters, electricians, technicians, etc. who daily needs to carry lots of tools. There are lots of different tool backpacks are available in the store. The manufacturers offer a variety of features with basics. They are available in different qualities at different prices. These backpacks offer good storage capacity with small, medium and large compartments. You must look for a product that is suitable for you. But there are a few features you should consider before buying a backpack. The best one always suits your requirements as well as provides you longer shelf life. Here are the features you must consider before buying. Zippers seem to be a major problem with backpacks, test them out before deciding on one. It would be better if you get one which has zippers on both sides, so if one breaks you can use another. Backpack Size Before buying the backpack you must choose a size that would be best for you. Different technicians require different sizes occasionally. Choose whether you need a small backpack or a large one. Like for short travels, a small-sized backpack is ideal. But for heavy-duty use and if you need to store lots of tools, you will need a large one. Choose the size according to your work and use. Compartments and Internal Pockets After selecting the size, you should look for how you want to organize. Lots of tool backpack have large and small compartments with a variety of pockets. For a small number of tools to store, a backpack with a small compartment will suitable. But if you have an intention to store lots of tools in a backpack with less compartment, it will be no good for you. Look for a backpack with better-organized compartments and pockets. Otherwise, it will create confusion. Several pockets and loops will be useful. look for a bit of variety in the pockets rather than choosing similar ones. The pockets should hold tools firmly. Shelf Life One of the most important things you must consider is the shelf life of the backpack. The best tool backpack made with durable construction material will last for a long time. You should also look for the durability of the stitching.  If the material is not good, the backpack will fall apart after being used for some time. If you are planning to use for heavy-duty use, you must choose the one that is made with heavy fabric and also larger. You should also check the straps whether they are strong or not. If you use the bag often, you must choose a backpack with wear-resistant straps for long time use. Lightweight Try to find a tool backpack, which is lightweight at an empty state. If it is heavy while being empty it will cause you lots of havoc. It will reduce your productivity by inducing pain on your spine. So, before buying, know the weight of the bag at an empty state. Openings and the closure type The manufacturer produces a backpack with a different closure system. Among the variation zip closure system is the most reliable. It will prevent your tools from falling out of the bag. It also keeps items safe and compact. For the interior compartments, zip pockets are essential. You can skip zip pockets outside. Find a durable zipper backpack for keeping your tools safe. Base Another important part of the backpack is it's back part. You must choose a backpack that can stand on its own. While working or for particular cases, you need to place the backpack on the floor to pick a tool from the bag. There are good backpacks available in the market that have stable reinforced bottom and they are also water-resistant. Comfort You must choose a backpack which is comfortable for you. Find one that has a good balance. The design and the height along with the weight of the backpack are also important for determining the comfortability. Buy the backpack that fits you well and makes you comfort while carrying. The best backpack is that eliminates back pain by distributing weight evenly and also has waist and chest straps with padded back.
Best Tool Backpacks reviewed
Rugged Tools Tradesman Tool Backpack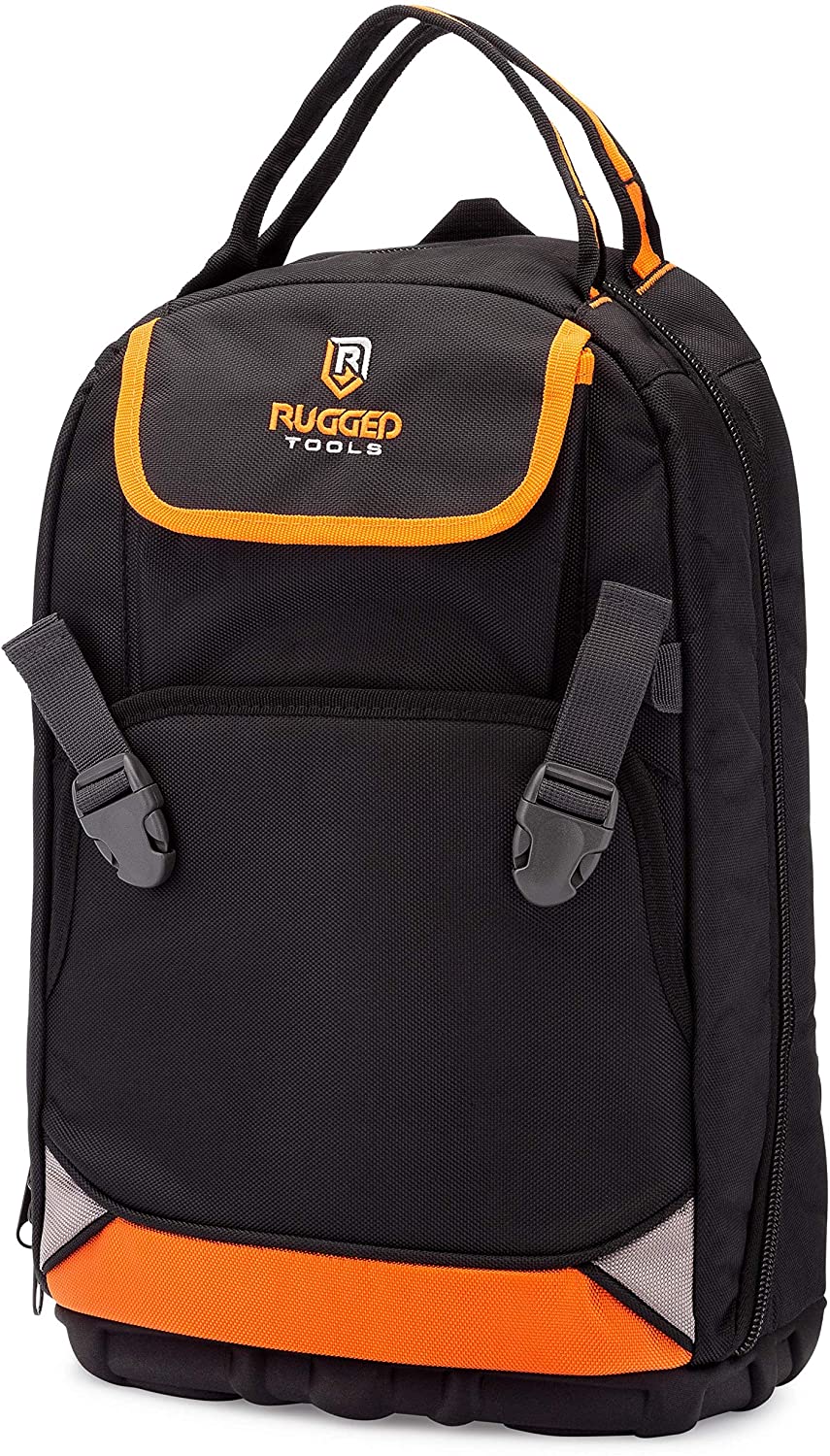 | | |
| --- | --- |
| Weight | 3.97 pounds |
| Dimensions | 8 x 12.5 x 18 |
| Color | Black/Orange |
| Material | Polyester |
| Batteries Required? | No |
This long-lasting and durable tool bag comes from Rugged Tools. The backpack was designed in a way so it would be able to withstand the toughest of abuse and still be able to perform well. Also, the material it has been made with is 1680 Denier Polyester, so it is suitable for all types of situations and setting. All in all, it has 28 different pockets where you will be able to store items, and it helps organize your gears in a nice way. You will see that the placement of the pockets has been made in a way which would bring you the greatest convenience. Every one of the pockets is designed to hold a specific tool, like measuring tape, screwdriver, drill, and so on. Suitable for men in any trade. One of the key points of the bag is the hard bottom it has. The bottom sort of creates a level on which the tool can stand on. Not just that, it also gives better protection against mud, water, and snow. Most people who have used this bag have been very satisfied with its performance, and there are a few reasons for that. First and foremost, the bag is spacious enough to carry many things at the same time. Even though it is big enough to load many items into, but it very comfortable to carry as well. Another reason why people are full of praises about this bag is because of the pockets. As the backpack has so many pockets and allocated space for every single thing there is actually no need to rummage through the bag in search of any of the tools; you can very easily locate the one you need. However, it does happen to have a few faults that some people can't look past. The ripping of the stitches is a problem a few people see after some use. Another thing that is a problem is the plastic shoulder straps. There is a chance that is why it might break if the bag becomes a bit heavier than normal. Pros It is durable and comes with 28 pockets. This thing also has a thick bottom and is comfortable to carry, Cons The stitches come out sometimes and have plastic shoulder straps. This tool backpack with 28 pockets offers you a great service at an affordable price. The durability, functional design with ultimate comfort ness this good backpack is worth your penny. Design and construction Although not a tool chest, this backpack is made of polyester fabric and a hard plastic shell. The compact design of the bag offers to hold plenty of tools without damaging. It features chest wrap to keep the backpack balanced. There is also a rubber bottom for preventing damage to the fabric of the backpack. Durability This tool backpacker is very durable. The construction fabric doesn't tear easily. The plastic shell prevents damage of the things you carry. This is a heavy-duty backpack that you can use for carrying plenty of tools without worrying. Comfortability This durable backpack is also comfortable. The soft padding it used will let you carry the bag with things easily. The chest wrap keeps them in balance. The only thing you might dislike being slightly small in size. Overall a real tool carrying a backpack that's make work easier and organized. Check on Amazon
2. AmazonBasics Tool Bag Backpack Pouch Front

This 51 pocket backpack is pretty great to buy for carrying your tools along as well as making it more organized. The best part is you can buy it at an affordable price. Construction and design This tool backpack is made of good construction fabric that makes it heavy duty. It is kind of similar to a heavy-duty school backpack. The backpack is designed with around 51 pockets. You can organize your tools without any havoc. It also offers flexible velcro mounts for tools. Durability The thick polyester fabric makes it a reliable heavy-duty backpack. It protects the stored items you will carry. For additional strength, there is also a PVC-coated polyester interior lining. The interior is also made with an orange color that will help you to find stored items. Comfortability It ensures maximum comfortability with proper balance. The added back support and shoulder straps with an adjustable chest strap to make you comfortable to carry your tools in it. The only thing may seem annoying to you is that though the bag carries lots of pockets, there is little variety. Most of the pockets are similar. Overall a very good tool carrying a backpack at an affordable price. Check on Amazon
CLC Custom Leathercraft 1134 Carpenter's Tool Backpack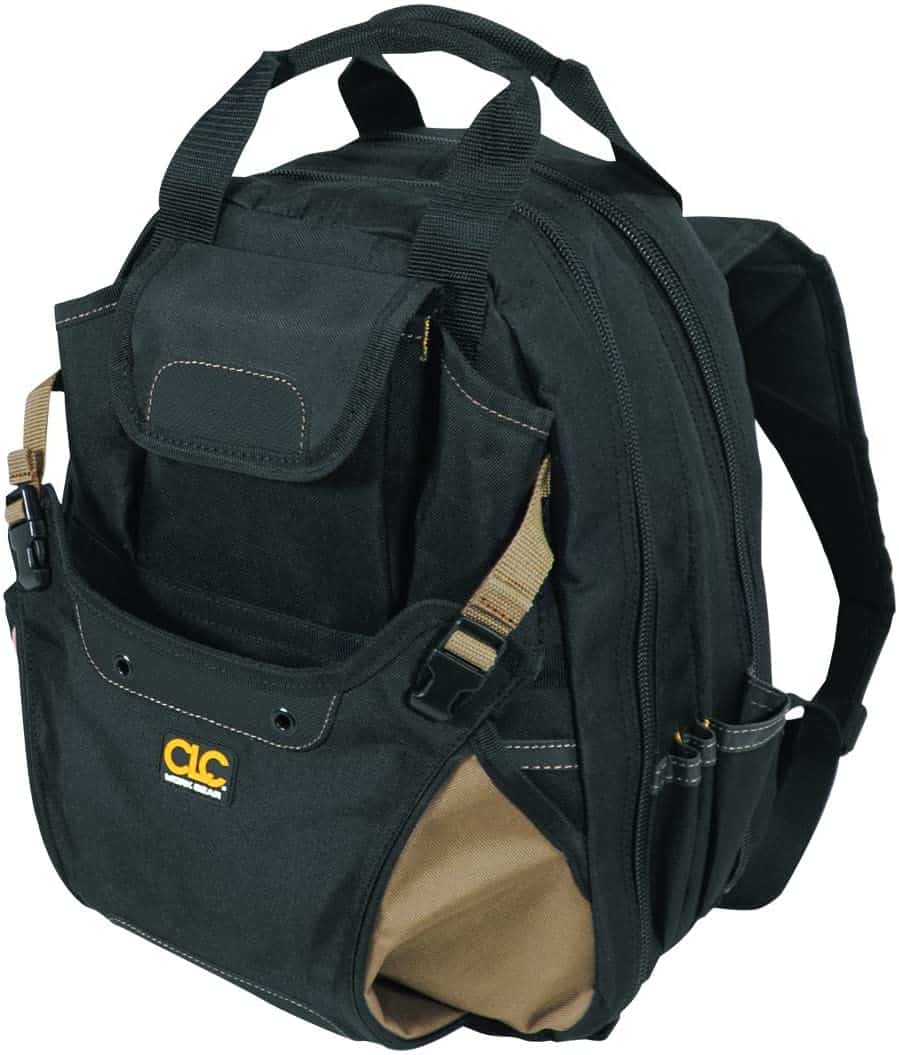 | | |
| --- | --- |
| Weight | 0.32 ounces |
| Dimensions | 13.27 x 8.5 x 16 |
| Color | Black |
| Material | Other |
| Warranty | One Year |
The heavy-duty backpack from Custom Leathercraft has only one size, and that has 44 pockets in it. So, it is able to accommodate many tools and devices that might be needed while on the job. The pockets are not only able to accommodate, but they can also be adjusted to fit tools of all sizes into them. Custom Leathercraft designed a bag which would be comfortable to use. They did so by adding in the padding in the shoulder and the back. This padding is needed as the bags are usually very heavy. Also, because of the weight put into the bag, two extra handles have been added to the top to it can be easily moved from one place to the other. Furthermore, the bag is great to use because the fabric is very durable and strong; it does not break or tear. So, you will most likely have it for a very long time if you use it well. It can also withhold a lot of weight without any problem. So it is a very good option for people. You will also be very happy to hear that people are impressed by how it does not get as dirty as some others do. This happens because the bottom is wide and thick, so it is not easy to tip the bag over. Another good thing is that, at times, the back feels bottomless with how many things can be fit inside without it looking stuffed. The straps of the bag seem to be a problem for a lot of people. Some have complained that the shoulder straps tear off if the bag becomes too heavy. But not just that, some have also reported that the straps are not made for long use and they fray after a few months. Pros It comes with 44 pockets and back padding. This guy also has a lot of space inside and cannot be tipped over. Cons It has Shoulder straps that may tear off This ideal backpack can carry house all kinds of items in any weather condition. Good design with durability it offers at a good price. It increases your productivity in work. Design and Construction It offers two compartments. One can accommodate the small size tools while another can heavier tools. This tool backpack has a number of pockets to store your all kind of items. Durability The bag is made with durable material that makes it suitable for heavy-duty use. Comfortability The backpack is provided with padded back with shoulder straps that ensure maximum user comfort. It also has chest straps that also gives user proper balance. The only thing you may dislike is the little variety in the pockets. Most of the pockets are pretty similar. Overall, it's a very good tool backpack where you can invest. It will help you to carry and organize your tools at an affordable price. Check on Amazon
DEWALT DGL523 Lighted Tool Backpack Bag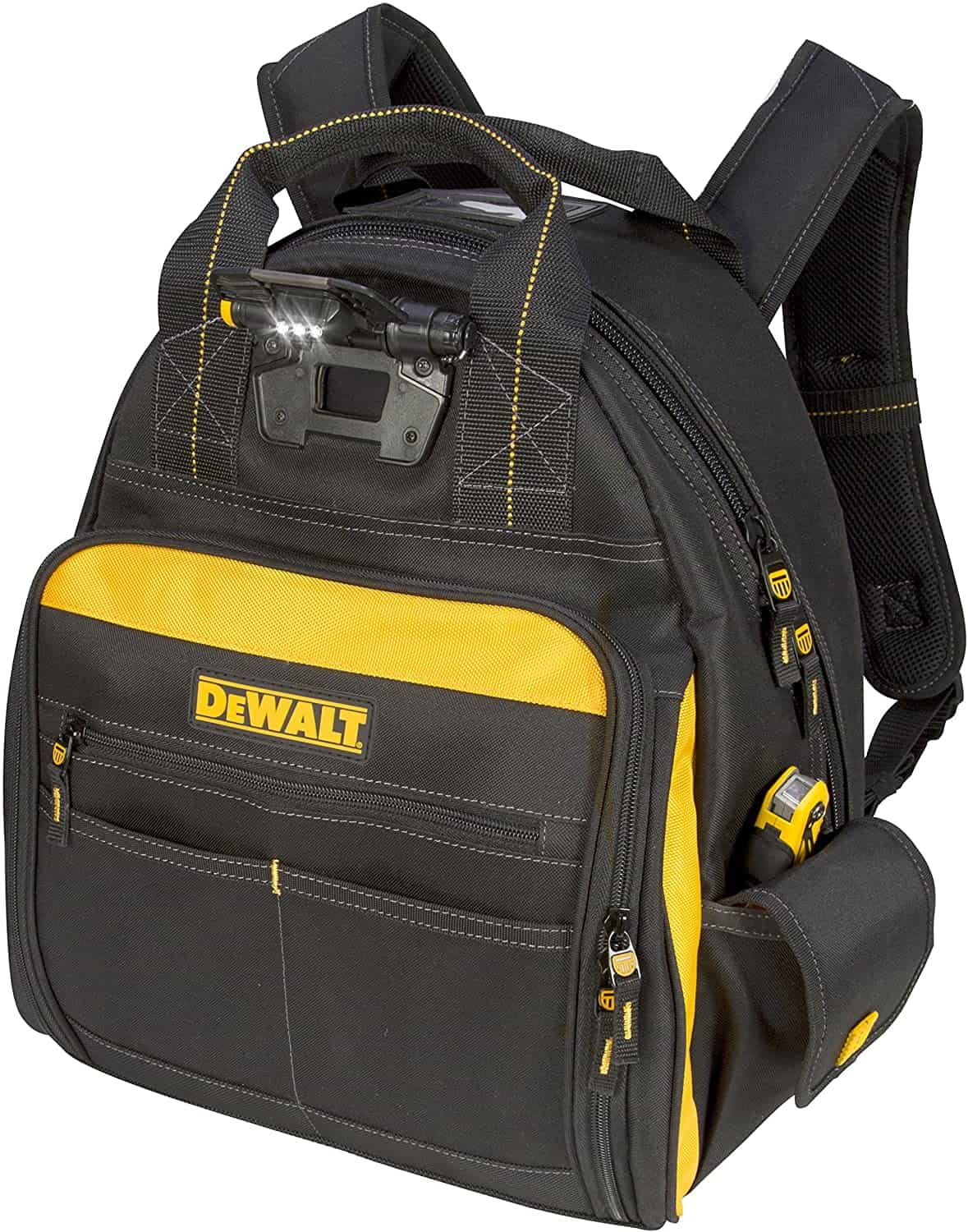 | | |
| --- | --- |
| Weight | 4.6 pounds |
| Dimensions | 8.5 x 7.4 x 4.45 |
| Color | Multi |
| Batteries Included? | No |
| Batteries Required? | No |
The lighted tool backpack made by Dewalt is a popular option amongst many because of the lighting option it has to offer to its users. Making this a very good option in case you often work in places with very limited lighting and are unable to get your tools easily and have to carry an additional flashlight. The lighting is not just for inside the bag, rather the LED light can be directed toward the work area in case of limited lighting, this might not be an ideal situation or solutions, but the feature is there for use if the such a need arises in the workplace. This bag comes with 57 different pockets, so many tools can be fit into it at the same time without having to squeeze anything inside. Of the 57 pockets, 48 of them are inside, while the rest are located outside so that you have an easier time organizing everything. A feature people really seem to love in the lighted bag are the two handles at the top, which make carrying the bag much easier when they become too heavy to have on the back. Now, the zipper of the bag is also something that adds to the appeal of the bag. As the zipper can be moved from one end of the bag to the other, so one side lays flat. This makes everything inside easily accessible, and people feel that it helps save their time. The build of the bag is light, so this means that people don't have to carry the weight of the tool and the added weight of the bag. This making much more comfortable for the users of the bag. One big problem with this bag is the zipper. It seems to break very easily and is causing a lot of problems for people. Many have complained that some of their tools have fallen off without them noticing and they had to go out and replace those tools. Along with the zipper, people see to be having problems with the shoulder straps as they end up breaking or tearing after a few months of use. Given the price of the bag, this is not something people are okay with. PROS: It comes with 57 pockets and the front flap opens all the way. CONS: The zipper breaks too easily. This DEWALT durable tool backpack is a good quality product at a very good price. It will eliminate your hassle of carrying many tools as it houses a large number of pockets in both inside and outside. This heavy-duty tool backpack you can buy for multiple reasons as it worth the money. Design and Construction This tool backpack houses about 57 pockets in both interior and exterior. This product is made of heavy-duty material as well as the pockets are stitched well. So, you can take your tools to worry-free. The inner structure construction material is also very good in quality. It features a bright led light which along with the black and yellow fabric allow finding any tool easily. Durability The strong and heavy-duty construction material of this backpack makes it a long-lasting product. The water-resistant body of the backpack and durable material prevents it from wearing easily while protecting it from adverse weather. Comfortability This product provides proper user comfort. The back padding helps the user to be free from spinal pain. The toughen fastening gives proper balance. The more of it is not bulky. Though it offers many pockets, you may find it being small for some tools. Overall a great product to buy. Check on Amazon
Milwaukee Low Profile Jobsite Backpack
| | |
| --- | --- |
| Weight | 5.19 pounds |
| Dimensions | 19.7 x 14.5 x 6 |
| Color | Black&Red |
| Material | Ballistic |
The tool backpack from Milwaukee, a very convenient option for people in the market for a good tool bag. It is a popular option among people for a few reasons and one the reasons being its durability and the overall look of the bag. This is actually a better-looking option comrade to many of the other ones in the market. Zippers seem to be a bit of a problem for many of the other bags. However, the zippers on this one are actually made of 1680D ballistic material reinforced base rugged material. Making it much more sustainable and a more trustworthy option. Another good thing about the Milwaukee low profile backpack is the double padding. This added feature of the bag is plus for many people because of the comfort of carrying this bag around. Especially when people have to load these up with 40 pounds of tools and lug them around everywhere they go. People who have used this backpack have all good things to say about it. The compartments have been nicely placed, which makes organizing the tools inside much easier. The size of the pockets or compartments is also very satisfactory. It is less time consuming to get to the tool while on the job. Users of the bag have also been very satisfied with the overall size of the bag. It is not too big, nor is it too small, just the right size to carry around at work with all the necessary tools inside. So, it is not too hard to carry around. Now, this does not come without flaws, one of them being the number of pockets the bag has. With only 22 pockets the bag might prove to be a bit small from many people, especially who have to carry numerous tools at the same time. PROS: It has good quality zipper and has double padding in the back. CONS: It has less number of pockets. This backpack offers enough space for storage with enough toughness and a good balance. This lightweight and a good quality product are suitable for carrying your laptop and tools at a job site. It is an ideal product for electricians and constructors. Design and Construction This tool backpack features about 35 pockets to house all your tools. The new feature it introduces in its design is a laptop sleeve which is regarded as a good addition. The external part features two big compartments while all other pockets found their place inside the backpack. Durability This backpack has very sturdy construction. The base of this product is impact-resistant, padded and it can bear the load you will put. It has a good shelf life. Comfortability This backpack is enough lightweight to make you feel comfortable. The straps provide a good balance. Please note that this backpack is not water-resistant. Pockets may seem a bit small to you. Otherwise, this is a great backpack at an affordable price. Check on Amazon
Revco Industries Revco GB100 BSX Extreme Gear Pack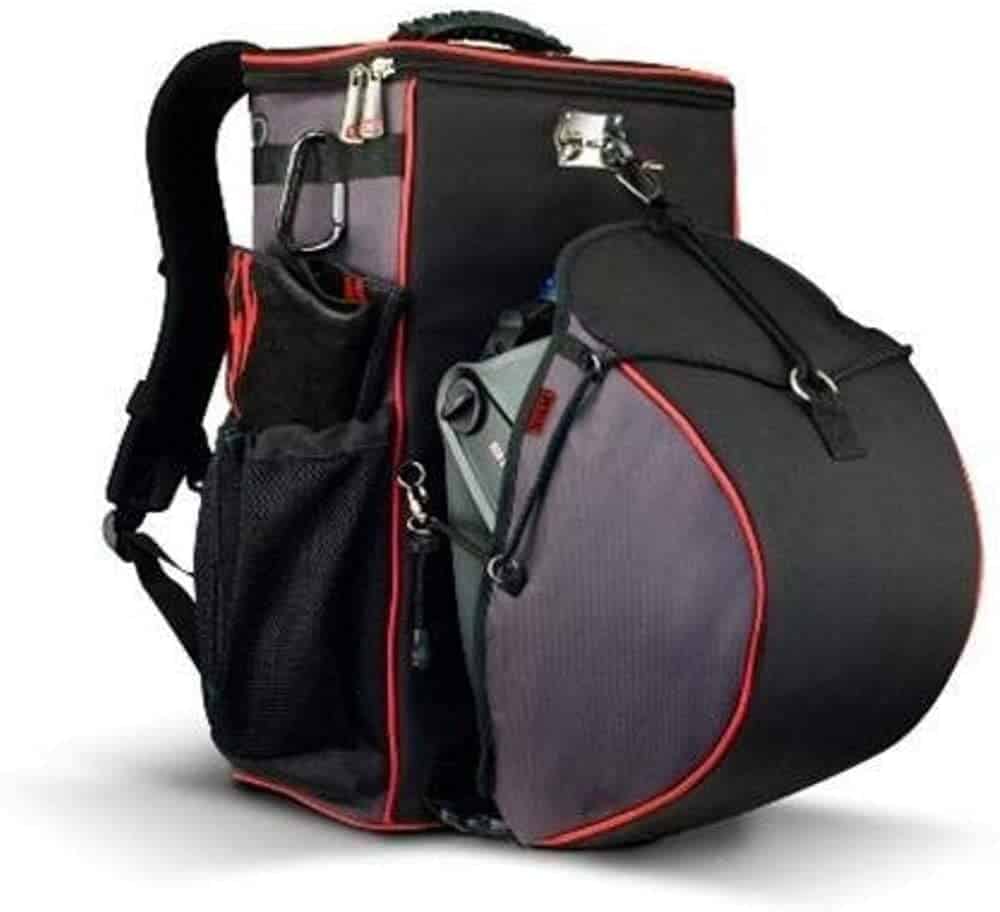 | | |
| --- | --- |
| Weight | 1.4 pounds |
| Dimensions | 19 x 12 x 9 |
| Color | Black&Red |
| Material | NYLON |
| Batteries Included? | No |
This tool backpack from Revco Industries comes in 5 different options, 2-pack, 3-pack, 4-pack, 5-pack, and full size. The full size is one single bag while the others come in two, three, four, and five. This bag comes with side pockets, which makes it very convenient to use and access the tools with ease and without any type of hassle while at work. The features just don't end there; the bag had a good amount of padding in the back for the comfort of the user. People who have bought it have been very surprised by how much space this backpack has, as they were able to fit all their necessary tools inside without having to break a sweat. People can carry a lot of weight inside the bag without damaging the shoulder straps with the weight. It can hold about 40 pounds of weight inside, and because of the padding in the back, the person carrying the bag won't be in much discomfort. Also, the helmet pouch of the bag is a very big plus point amongst welders as they have to carry helmets with them. The bag allows with to easily latch it on, so the welders don't have to separately carry around their helmet. However, the zipper of the bag seems to be an issue as it might tear off after a few months of use. Another problem is the strap holding the tools in, at times it has broken off cause a bit of trouble for the users of the bag. PROS: It comes with various options and has a helmet catch and a lot of space inside. CONS: The zipper comes off at times, and the strap holding the tools is weak. This backpack is a suitable one for the construction workers as it contains some special features like the helmet catch. These features also make it distinguished from others. It offers you all the facilities at an affordable price. Design and Construction This backpack has a lightweight design but still can carry a jacket, a grinder, and gloves among many others. It houses multiple pockets inside the backpack while the external reinforced pockets deliver strength. It features padded back. The helmet catch feature works well. It houses a large space for storing items. It also offers padded shoulder straps. Durability Though it is lightweight, the construction is very strong and durable. Comfortability The padded back and the lightweight design offers good user comfort while providing proper balance and stability. The only thing you may dislike is that it doesn't have a variety of pockets like other backpacks. But it has a large compartment and other interior small pockets to house all your tools. Overall a good tool backpack for the construction workers. Check on Amazon
VETO PRO PAC TECH-MCT Tool Bag
| | |
| --- | --- |
| Weight | 5.47 pounds |
| Dimensions | 10 x 8 x 14 |
| Color | BLACK |
| Measurement | Metric |
| Batteries Included? | No |
Veto Pro Pac has made a tool backpack which is highly durable and can last for a long time. Durability is especially important when it comes to items such as this because they might have to go through a few tough spots and endure some rough situations. If they are unable to withstand those, then the users will not be satisfied. The top strap of the bag has a molding, which makes it easier to carry. This is needed specifically for situations when the bag is too heavy to carry on the back for too long. The molding also makes it comfortable to hold on to the bag for a longer duration of time. Another feature of the bag is the extra shoulder padding this had. As the bag is likely of being very heavy, the extra padding of the shoulder- where most of the weight is a carrier- can actually make a huge difference in people's satisfaction. Many people are convinced that this the best tool bag because how easily it can fit every single tool inside without have to squeeze anything in. Not only that, people can actually very easily customize it to their liking. There are many videos available on YouTube which have step by step tutorials. Even though the number of dissatisfied people is very low, but some have complained about the zippers breaking or coming off after a year of use. When is deemed at unacceptable given the amount they are charging for the bag. PROS: It is highly durable and long lasting and has double shoulder padding and molding on top strap for comfort. CONS: It is pricier compared to others. This highly durable backpack is functionally designed and offers its all good quality features at a good price. More of it is that this tool backpack is the ultimate productive way to carry power tools without worry. This is an ideal product for service technicians that can hold a large number of tools. Design and Construction It is designed with two main compartments that house a number of pockets to store tools. The front compartment contains 30 pockets to store hand tools and drill bits. The 10 most larger pockets can hold even a 12V impact drill. There are also some shallow pockets for use. Durability This is a real heavy-duty tool backpack that is made of ballistic nylon. It can last longer even throughout your life. It features a waterproof base for better carrying. Comfortability This tool backpack offers comfort even though it has heavyweight. The sturdy plastic handle, as well as hidden metal hanging hook, offers a comfortable way to use for relocating and hanging the bag when you are not wearing a backpack on your back. The adjustable straps will provide you a good balance. The only thing may complain of is the heavyweight of this backpack. Overall, this industrial-grade backpack is ideal for any service technicians. Check on Amazon  
8. Rugged Tools Pro Tool Backpack
This lightweight, tough and durable tool backpack is a good quality product that is worth to buy. It provides all facilities at an affordable price. Design and Construction It is designed with two main compartments that house a number of pockets to store tools. The front compartment contains 30 pockets to store hand tools and drill bits. The 10 most larger pockets can hold even a 12V impact drill. There are also some shallow pockets for use. This tool backpack is uniquely made for all types of technicians including contractor, carpenter, HVAC repairman, plumber, etc. It houses about 40 pockets to store all of your Durability This backpack is polyester made that can withstand the toughest environment and sharp toos say a fencing pliers. It is a real heavy-duty product that also lasts for a longer time. It can sustain in different weather and keeps your tools safe and dry. Comfortability It features molded hard bottom that keeps your tools safe as well as the flat surface provides you the facility to stand the bag. The only thing you may dislike about this product is the shallow pockets that you may not find any use of it. Overall a very good product to organize your tools. Check on Amazon  
9. Backpack, Electrician Tool Bag
This tool backpack is specially designed for electricians. It will organize electric tools in its spacious 39 pockets and suitable for any electricians. Design and Construction This tool backpack has a lightweight and portable design that any electrician will need to move with it. The stitching and construction are sturdy. The ballistic fabric with reinforced stitching makes a sturdy construction with an attractive color. Durability This ballistic made backpack offers maximum durability. It will not tear easily while carrying lots of tools. The strong zippers used in this backpack makes it usable roughly. Comfortability This tool backpack offers padded shoulder straps and its lightweight makes it comfortable to use. It also comes with handles that are featured for easy lifting. The thing you may not like is the plastic molded bottom but it is tough to keep your tools safe and also provides the bag stability. Overall, a good quality product. Check on Amazon
WORKPRO Tool Backpack Bag Water Proof Rubber Base Jobsite Tote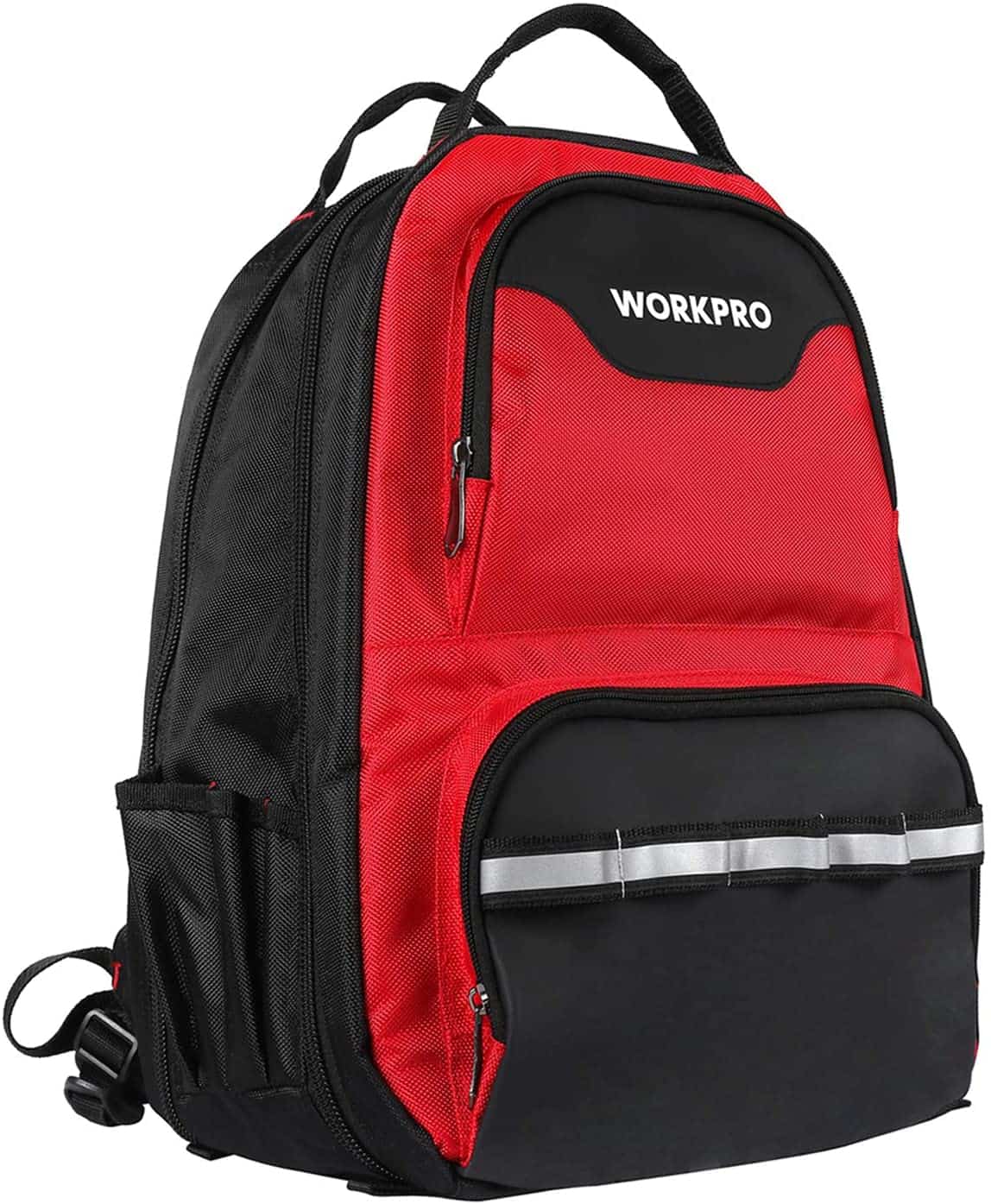 | | |
| --- | --- |
| Weight | 4.74 pounds |
| Dimensions | 13.78 x 7.87 x 17.72 |
| Color | Black & Red |
The tool backpack from WORKPRO has 60 pockets, making this an ideal option for many people who work in repair and construction. They will easily be able to fit the tools they need on a daily basis inside the bag. Not will they only fit perfectly, but they will stay organized in their designated spot. This bag itself is very lightweight and comfortable to carry. It is mainly comfortable because of the extra padding added to the shoulder and the back. This was done so that people do not feel too much stress in their back from carrying the bag around for too long. The hard plastic bottom of the bag is a fan favorite. This feature is not available in all the toolbags in the market, so those who buy bags without these are sure to be jealous. The molding stops the bags from falling over completely. Also, because of the molding, the bottom is waterproof. In case it is left of a wet floor, the inside will not get wet. As the bag is compartmentalized so nice, it is easier for people to keep things in the right place. This also cuts work time as all the tools can be reached very quickly. However, a problem this bag has is the stitching. Many people have actually complained about this as this is a serious problem. The seams come loose after a few months of use if too many tools are stuffed inside of it at the same time. This would not last for a whole year. PROS: This thing has whopping 60 pockets and is lightweight and comfortable. Also, it comes with a hard plastic bottom. CONS: The Stitches come off after a while. This tough and durable tool backpack comes with 60 pockets both in the inside and outside to organize your products. Design and Construction This tool backpack has a lightweight design that any service technician will need to move with it. The waterproof rubber base makes it more suitable to use it roughly. Durability It has a sturdy construction and the material used for making it is also good and durable. The rubber base protects it from wearing and rusting easily. Comfortability It features padded shoulders with sternum strap and large pads on the back. This feature offers maximum comfort. This lightweight tool backpack is comfortable. The only thing you may dislike about this product is small in size. Overall, a very good product to organize your tools. Check on Amazon
Who Needs a Tool Backpack?

People who need to carry lots of tools such as any service technician including electricians, plumbers, contractors, carpenter, HVAC repairman, etc need the tool backpack most. This tool backpack makes it easier for them to carry the tools and also keep it safe.
Frequently Asked Questions
What to look for in a tool backpack?
Ans: There are a few things that have to be looked into when in the market for a good tool bag. First, you have to see how much space is inside the bag and how many tools it can hold. Secondly, you have to check the making of the bag to determine how long the bag will last.
Is padding on the shoulder and back important for a tool bag?
Ans: No, they are not important factors while buying a tool bag; however, for the most comfortable, it is a good option.
Also, if your back easily gets tired from carrying a backpack, padding can help make it less stressful or you can buy rolling tool box instead of a tool bag.
Is the molding at the bottom a deciding factor?
Ans: It depends on the kind of work you do. If you work in areas with water, snow, mud, or dirt, then I would say that it better to opt for bags with thick molding at the bottom. It will stop the bag from tipping over and getting dirty. If it gets dirty too often, you'll get annoyed of the constant cleanup. For example, plumbers would be better off buying backpacks with molding.
What pays more HVAC or electrician?

When it comes to income, both trades pay above average- more than $45,000 annually for each of the professions. Electricians come out on top here, the median pay was $54,110 per year in 2017 (BLS). HVAC Techs, on the other hand, earned a little less, $47,080 per year (BLS).
Is HVAC a fun job?

Besides being a rewarding and challenging, a career in air conditioning and heater repair means a change of pace. Every day. If you're not the type to be trapped in a building all day, a career in HVAC makes a lot of sense. Service calls make everyday different.
Question: What kind of backpacks are issued to Navy SEAL teams? Answer: It depends on the Team and mission but recently they are issued ALICE packs and Granite Tactical Gear Chief Patrol Pack . During BUDS the SEAL candidates use ALICE packs.
What backpack do the Marines use?

Marine Corps Issue ILBE Rucksack with Used Hip Belt Designed by Arc'teryx, manufactured by Proper, the Improved Load Bearing Equipment (ILBE) main backpack featuring the USMC digital Woodland Marine Pattern (MARPAT) camouflage is designed with 4500 cubic Inch of space to carry a load of 120 pounds.
Which type of electrician makes the most money?

Licensed Master Electrician If we were to go by career level tier, then a Licensed Master Electrician makes the most. A masters license usually requires around 12,000 hours of experience and / or a degree (or a combination thereof). A Licensed Journeyman makes a little less.
Can you make 6 figures in HVAC?

Anyone can make 6 figures with overtime. 10 years in the field as a top level commercial tech and you should be bumping real close to 100k a year with a little OT. You're not making it right out of school. … At about 85000 right now this yr with a lot of overtime.
Are HVAC techs happy?

HVAC technicians are below average when it comes to happiness. At CareerExplorer, we conduct an ongoing survey with millions of people and ask them how satisfied they are with their careers. As it turns out, HVAC technicians rate their career happiness 3.0 out of 5 stars which puts them in the bottom 29% of careers.
Is HVAC a stressful job?

You might not expect to see the HVAC trade listed as one of the most stressful professions. But the work is physically demanding, and working in tight, dark, and dirty spaces can pose a variety of mental and physical challenges.
Are Husky tool bags good?

Personally, I've used and seen a number of different Husky tool bags that I'd describe as being quite good and even excellent. … When we had refrigerator issues last year and needed a new compressor, the tech had a Husky tool bag, kitted with Milwaukee tools, a Milwaukee RedLithium USB LED light, and Ryobi bit case.
Where are Husky tool bags made?

Husky hand tools were formerly manufactured exclusively in the United States but are now largely made in China and Taiwan. All Husky hand tools have a lifetime warranty.
Is knipex better than Klein?

Both have a set of crimping options, however the Klein has more of them, but the Knipex do a better job with the wider surface area crimper. They both have the shape of a needle-nose pleirs mixed with a lineman's pliers, but the larger surface area of the Knipex proves to be far more useful.
Are Klein Tools good?

Klein Tools are great. I have a Pair of Klein Bell System Needle nose and they are awesome. I also have a few other various styles from klien. Most of them are small, meant for lighter electrical work, although klein does make some pretty serious tools for Bigger jobs. Q: Can the best tool backpack cause spinal pain? Ans: If you have a fear of spinal pain, you can buy a lightweight tool backpack that also available in the market. Q: Do all the tool backpack features chest straps? Ans: Not all the tool backpacks feature chest strap. But most of the tool backpacks feature chest strap.
Conclusion

The best tool backpack is an ideal product to organize tools for electricians, carpenters, plumbers, etc. For heavy-duty and lifetime use, VETO PRO PAC TECH-MCT and CLC will be perfect one while for lightweight and comfort Rugged and DEWALT Tool backpack is very good.
I'm Joost Nusselder, the founder of Tools Doctor, content marketer, and dad. I love trying out new equipment, and together with my team I've been creating in-depth blog articles since 2016 to help loyal readers with tools & crafting tips.