I love creating free content full of tips for my readers, you. I don't accept paid sponsorships, my opinion is my own, but if you find my recommendations helpful and you end up buying something you like through one of my links, I could earn a commission at no extra cost to you.
Learn more
A tool carrier is a must when you intend to do your building or plumbing-related tasks with efficiency and swiftness. But carrying a tool bag (even these top choices) on the shoulder to the worksites may result in pain and discomfort.
To get rid of this inconvenience, there is a rolling toolbox with enough space to organize your tools accurately.
The ample availability and numerous models of rolling toolboxes make it challenging to choose one. Hence, we are here to provide an in-depth review of the best rolling toolboxwith a buying guide.
This article will assist you in deciding which rolling toolbox is worth the purchase and investment. Let's not waste more time.
Best Rolling Tool Box Review
Now we will try to provide you information related to the variation of rolling toolbox available in the market. Let's go through the best rolling toolbox reviews so that you can easily choose one to purchase.
Keter 241008 Masterloader Plastic Portable Rolling Organizer Tool Box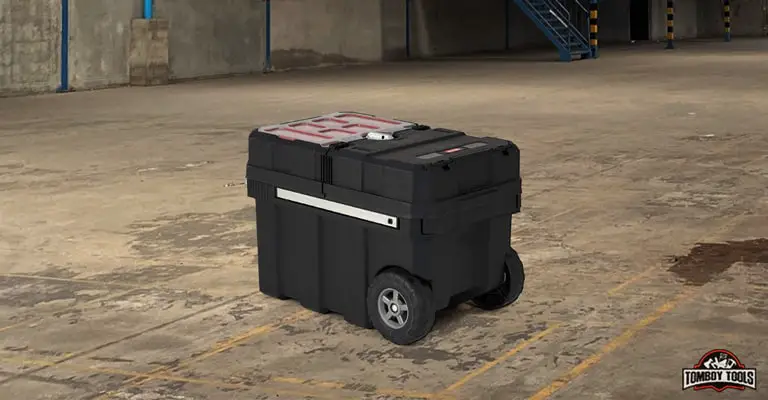 Being the world market dominator, Keter introduces us with a "master loader" tool chest. Featuring high mobility and satisfying price tag, this product hardly fails anyone's demand.
Due to its compartment feature, it becomes the right choice for the workers or plumbers. Compartmentalized boxes make it too easy to find the right tool. You do not need to waste much time in searching for tools when all are organized. With it, the workshop or homebound jobs will be so convenient and precise.
The mechanism of the central lock maximizes its security and steadiness while being transferred. And the interior design is so well-made to use most of its space. The hinge-folded system offers more to the organization of tools. It has a dual-storage system too.
This means you can slide the upper part and open the central portion of it. You can also use the top portion to keep your most helpful tools. The part underneath is barely used, and heavy kits can be placed. This is the main storage place. It is quite spacious and can take in a good amount of tools.
Moreover, the handle of this box is extendable to make it easy to roll. There is a ball bearing slider so that one can quickly get into the part underneath. Both the handle and the wheels are sturdy. Though it is made of plastic, it's well made.
If you are looking for something with a budget, do consider it. This black chest is the best rolling toolbox for the money.
Pros
Serves well in a both domestic and professional purpose
Easily portable
Lightweight
Great price
Well made
Cons
Unsteady latch spring
Not suitable to roll in stairs
Erie Tools Rolling Tool Box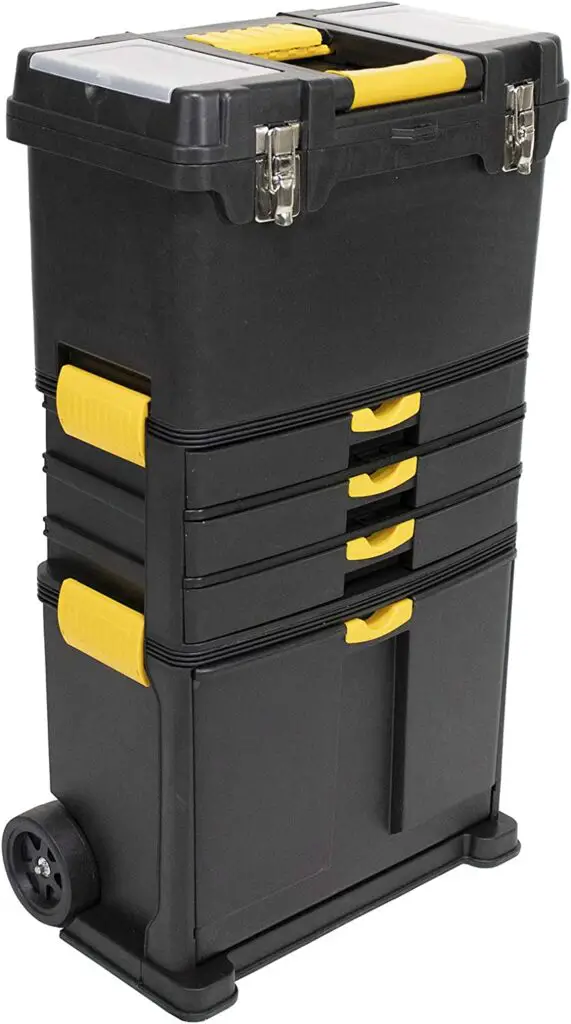 From home users to mechanics, this product is a nice choice to keep all the tools arranged and together.
The incredible thing about this product is paying for one, but you are getting two. That is to say, it has dual storage systems. These two parts can be split up and used individually. It ensures a quick arrangement of the tools, which is suitable for attending two different tasks on the same day.
Also, the upper part of this box is designed to keep or store handy and smaller tools. This part has a drawer with ball bearing slides. The moving ball bearing feature adds extra convenience to you. By using the slide latches, you can easily detach this top unit.
On the other hand, the other part is best suited for storing rarely used or hefty tools. Another outstanding feature to about is its separate handle for all the parts. Thus, it is easy to carry even if you split the box. The price is pretty affordable too. 
Furthermore, the pulling or rolling off becomes simple as it has 7 inches rubber wheels. It does not look too robust but serves well for intensive daily usage or in harsh working places.
And it is featured with a loading capacity of 70 pounds, which is quite good. The storage capacity is 10 gallons. So space is more than enough for both hand tools and other technical or nontechnical items.
You can make it a versatile box. Apart from storing the hefty and large tools like drills and saws, reviewers state of using this as an audio or video recording tool. You can also use it for other purposes like storing hairdressing apparatus. Therefore, this stands out the standard use of being a toolbox only.
Pros
Rubber wheels of 7″
Easy maneuvering
Great loading capacity
Dual parts system
Removable parts
Multipurpose
Rolling slide mechanism
Cons
Poorly made
Drawer may stuck
Flimsy plastic body
Klein Tools 55473RTB Tool Box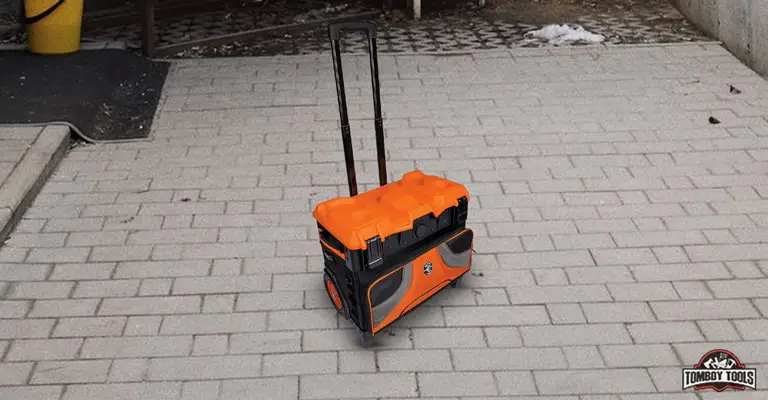 Providing the best loading capacity, this toolbox features 8-inch wheels to make the rollover easy. You will not feel any difficulty to roll it over hard or rough areas. The quality and quality of it are amazing.
You will be delighted to see the easy maneuvering of it throughout your job site. Since it's handle has pulled out system which is of high clearance and heavy-duty. This handle helps to transport tools that can even weigh up to 250 pounds. The interior of this box is extensively spacious.
Altogether it has nineteen pockets to make the organization easy for both large and smaller tools. These also maximize sorting chances. The company has used ballistic weave material to manufacture all these pockets. This material is highly durable and water-resistant as well.
As the top part is durable with several compartments, you will not face any problem in stacking up tools on top of it. The units are well constructed with quality zippers. Not only tools, but you can also use those pockets to keep your beverages or cell phone.
There are an exterior webbing and D-rings that can allow you to add bungee wire connection and other accompaniment. To keep the lid closed, it features metal latches too. The chances of missing any tool from it are rare due to double lock hasp. If desired, you can add a wireless speaker or LED light on the front mount of it.
Pros
Durable
Super sturdy
Large, strong wheels
Sufficient storage space
Roll easily on rough pavement
Cons
Heavy and expensive
Barely meet the need for heavy travel
DeWalt DWST20800 Mobile Work Center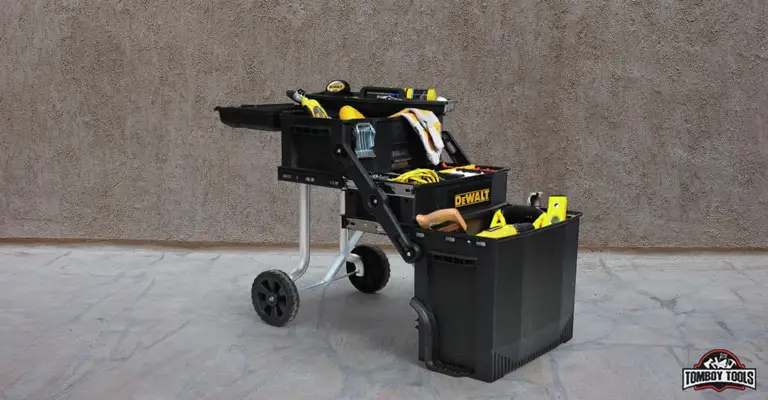 Providing four levels of design or storage options. You can guess the space. It has enough space for not only tools but also snacks or accessories. Place and arrange all of them neatly. They will not mess up as there are separate lids. Heavy tools like a circular saw and stuff can be carried easily in the bottom part.
The latch comes up with a pull-up design. It is strong and trustworthy that makes the opening and closing way too easy. You do not need to waste your time digging for the required tool in the work workplace. Since the design keeps the tools settled. Even if you need something from the bottom part, we do not need to disassemble it. This time consuming disassembling is so common for other toolboxes except here.
Another feature to talk about is its ball bearing drawers. These can be pulled out so smoothly. No matter how much your tool weighs, you will not face any jamming or stuck-in problem with the drawers. It is best rated for storage capacity. This can be considered as the best rolling toolbox system.
If you do not intend to overflow this box with tools, then it is much reliable. It will make your transit to the job site simple and hassle-free with its telescopic handle. It will serve you well when you take it easy.
Pros
Trouble-free drawer due to rolling sliders
Ergonomic adjustable handle
Great design
Good for heavier tools
Convenient side handle
Cons
Less sturdy handle
Average quality
Wow Direct 8 Drawer Rolling Tool Cabinet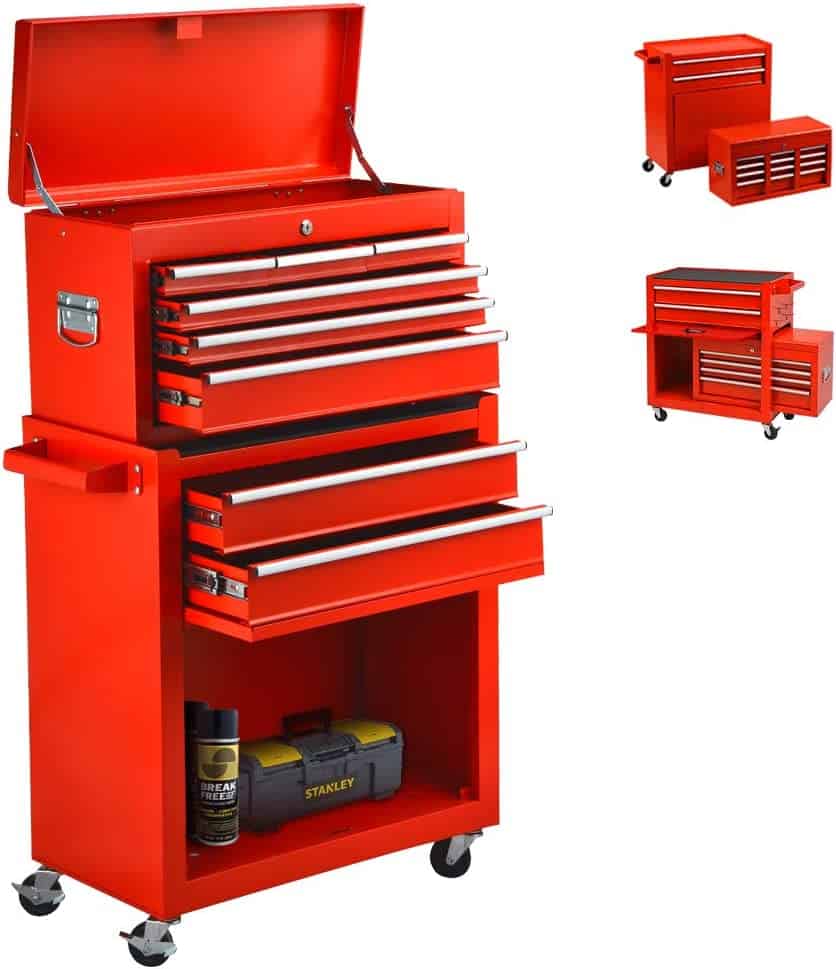 The word "mini" used in its name is deceiving. It provides quite a good space for storing your tools. Even if it looks too heavy as a carrier, impressively, its top box is separable with handle.
Designed with several drawers and a large cabinet, you will never be short of space. The handle on top ensures easiness in carrying it. If you remove the upper lid, you will also get some space over there. As for safety, it will provide you with two locks.
This four-wheeled chest saves your time and energy in moving it. The casters are flexible, too, and have locks. So whenever you need to make it stable, you can easily do that. For convenient search, the chest door has six hooks to hang some of the important tools separately.
There are three removable drawers. Drawers can be pushed in and pulled out easily. All the screws and pins come with code numbers. The assembling of this product is also very easy to understand. Just follow the few steps to set it up.
Moreover, the storage cabinet at the bottom has a two-tier storage for different sized tools. One side has six hooks for hangable tools. Also, it is convenient for moving the tool cabinet. Dimensions of the storage cabinet are 17.9″ x 11″ X 22.8″. The finish is coated with powder to prevent rust.
Furthermore, the overall design and outlook of this tool chest are quite impressive. The combination of red and black color looks pretty, as well. You can keep it in the office, in the home warehouse, or the garage if you are not carrying it anywhere.
Pros
Inexpensive
Upright chest set
Flexible casters
Impressive design
Cons
Goplus 6-Drawer Rolling Tool Chest Removable Tool Storage Cabinet with Sliding Drawers
Well, you know an organizer makes your room look tidier. But isn't it better if it is easier to move around freely? In that case, you will be able to keep it at any corner where you feel suitable. This black colored organizer is known for its easy moveable features.
Also, this particular product has a dimension of 13Lx24.5Wx43.5H inches. It is good enough to store different types of tools along with other miscellaneous objects. Physically, this product is of strong build with cold-rolled steel of good quality.
It comes with six drawers that can be smoothly drawn out because of ball-bearing rails. They have four small drawers and two large drawers with dual trays. At the bottom, there is a large cabinet with spacious storage.
Interestingly, the cabinet and the tool chest can be used separately or together; however, you want to use it. They come in two pieces. You don't need to worry about storing other tools. This organizer will help you in keeping your workspace neat and clean.
Goplus organizer is highly portable, as said earlier. They are designed with four-wheelers. As additional features, two of the wheels have brake systems. Moreover, they also have a one-sided handle for moving it easily. Therefore, you can use it in your office, home, or any building or work site.
Pros
Lock system drawers
Handle to control rolling cabinet
Well-made and stable design
Highly portable
Cons
A bit smaller than other brands
Milwaukee 48-22-8426 Packout, 22'', Rolling Tool Box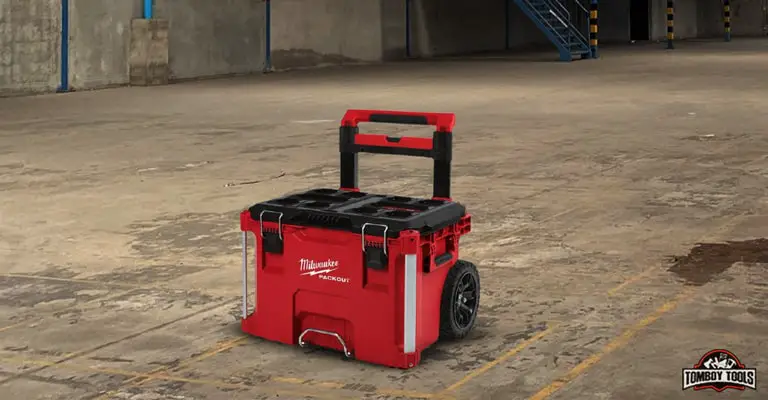 This product is a rolling electrical toolbox of 22 inches. It is made up of solid construction with a dimension of 22.1 x 18.9 x 25.6 inches. This red-colored toolbox is built-in with resin material. And it is said to be one of the most durable toolboxes with a versatile system of storage in the industry.
It is very much durable because of its resistant polymers and metal cornered construction. In that case, these can be used in any rough or harsh surroundings. The weight capacity of this toolbox is 250lbs. And the interesting handle systems of industrial-grade with 9″ terrain wheels allow you to move it anywhere.
You can even move your tools from home or car to worksite through this. Moreover, its tough compacted design will allow taking more like 80 pounds of instruments. This toolbox also has a weather seal protector that protects the tools from rain or dust.
In the inner part, manufacturers made trays for organizing your accessories according to your needs. Not only this, they come with metal built lockers with good quality latches.
All in all, this Milwaukee toolbox comes in a full package with all the necessary options. Their pack out system allows customization. That means it is applicable for organizing your tools, and you can make up your storing system.
Pros
Awesome design
Well pack out system
Strong and compact built-in
Comes with all necessary options
Cons
Base inner wheel is not strong
Things to Consider before Buying
In job sites or for repairs, a rolling toolbox is extremely helpful. But, you should know which box is worth the investment. To serve this purpose, we have listed some of the significant features of a rolling tool chest. Have a look at these points before you purchase the best rolling toolbox.
Brand
A little research will be useful to know the leading brands for a rolling toolbox. Klein, DeWalt, and Keter are few well-known manufacturers. If you like their product designs and if they meet your requirements, you can check those toolboxes.
Material
Material is also an important feature in buying a rolling toolbox. Several types of material are used in manufacturing these boxes. Highly durable plastic is one of the materials; it enhances the level of protection.
Some models are made of polyester and canvas. If your tools are not fragile or sensitive, you can go for such materials. They are lightweight, durable, and sometimes water-resistant too.
Storage Capacity
Your toolbox should have the best storage capacity. But it is also your choice how much storage you need depending on your number of equipment. An ordinary box with average capacity will be fine. Go for a bigger one if you are a professional plumber or electrician.
Better storage capacity means to take all of your implements together when you have several tasks in a day.
Handle Quality
As we are talking about the rolling toolbox, the quality of the handle becomes prominent here. A sturdy telescopic handle would be the best choice. To pull along and carry a full load of your tools, the handle needs to be durable enough.
Also, check the adjustability of the handle. You may need to mount stairs with the toolbox. In that case, you can roll it over, so the adjustable handle is necessary as well.
Compartment and Pockets
The prime reason for buying a rolling toolbox is to organize your tools properly. It is necessary to keep them organized in an easily accessible way. When your toolbox has several compartments and pockets, things become easier. So, the number of outer and inner pockets is important.
Also, check the spacious compartment and other small parts. If the other parts are not removable due to the large compartment, you can easily carry some of your handy items. Therefore, having a large wide compartment in your toolbox is highly useful.
Zippers
This feature should not be avoided. Try to make sure you get the heavy-duty and strong zippered toolbox. It is better if the material of the zipper matches the materials of the box. Your implements can be exposed and unsaved if you get the toolbox with low-quality zippers.
Poorly made zippers will not sustain for long. Not all models have zippers, but if you purchase one with zippers, choose the thick zippers. Metal made zippers are better than that of the plastic one. To elevate the security, you can look for a double-pull zipper.
Locks
Tool chest keeps the implements safe. Without a lock, the tool chest is not secure enough. Tubular designs are common as locks, but padlocks are used too. Whatever lock type you use, it is good to choose one that is more secure.
Weight Capacity
You should consider this feature too. The box may be built with certain ingenuity, but it should not fail to transport all your tool load. Try to know the total weight of your tool and then check out the chest's loading capacity. Thus you will be all set to carry your items without worrying about any failure.
Waterproofing
Waterproofing is another significant feature. It will keep your tools intact and damage-free. Working indoors or outdoors, your tool will remain safe. Having this feature also withstands rain and an occasional spill.
Exterior
Look for the hardshell exterior to have exceptionally better protection of your expensive tools. This type of box is more dependable. All your fragile and handheld tools will get adequate safety and prevention from damage.
Wheel
As you are searching for a rolling tool, wheels are of prominent importance. Wheels vary from models to manufacturers. Do not forget to get the toolbox with the best wheels. It will ensure the rolling performance in your job sites. Small and hard caster wheels will be great for your toolbox over smooth surfaces.
Whereas, working outdoors and rolling your box through uneven and rough terrains needs robust wheels to drag it easily.
Considering the features mentioned above, will you find the best rolling toolbox to match your demand.
Frequently Asked Questions
Below are some of the most commonly asked queries regarding rolling toolboxes:
Q: How to maintain and clean the rolling toolbox?
Ans: It is quite easy to keep your box in its earlier condition. The wheels should be lubricated annually. The compartments or pockets can be cleaned by using wet towels. If there is any spill of oil or grease, you can use detergent solutions. In general, you can vacuum or wipe out the dust weekly.
Q: Do all of them have a lock system?
Ans: Some models come with a locking system, only the upper part, though.
Q: Are rolling tool boxes waterproof?
Ans: It depends on the material with which the boxes are made. Not all of them are waterproof. Most of the plastic boxes can sustain water at a certain level.
Q: How do I choose the desired size?
Ans: It also depends on you and your number of tools. If you only carry lightweight and handy tools like screwdrivers or wrench to your work station, go for the small boxes.
On the other hand, if you need to carry a power tool, we will advise you to have a wide storage rolling box. It will offer you enough space.
Q: How long the warranty period lasts for?
Ans: Warranty varies from manufacturer to manufacturer. Some companies offer limited warranties. This means you can get a replacement as long as any users do not deteriorate the product. Even, you can send it over to get fixed or refurbished. It is free of cost.
Also read – Best Tool Backpacks
Final Words
We hope our best rolling toolbox review and other information regarding the rolling toolbox will serve your purpose. With this idea and knowledge now, you will be able to purchase the best one for you.
Our comment section is open for your valuable comments and queries. We appreciate your time for reading us.
Also read: these are the best rolling tool bags to get to where you're going
I'm Joost Nusselder, the founder of Tools Doctor, content marketer, and dad. I love trying out new equipment, and together with my team I've been creating in-depth blog articles since 2016 to help loyal readers with tools & crafting tips.