I love creating free content full of tips for my readers, you. I don't accept paid sponsorships, my opinion is my own, but if you find my recommendations helpful and you end up buying something you like through one of my links, I could earn a commission at no extra cost to you.
Learn more
Having trouble with your traditional screwdriver? Is it ruining the screws?
Instead of going through internal complaints about how too tight or too loose a screw is, why not use the tool that calls for in the right situation?
Typical screwdrivers are liable to come with several disadvantages. Using a twisting method at times tends to damage both the tool and the device.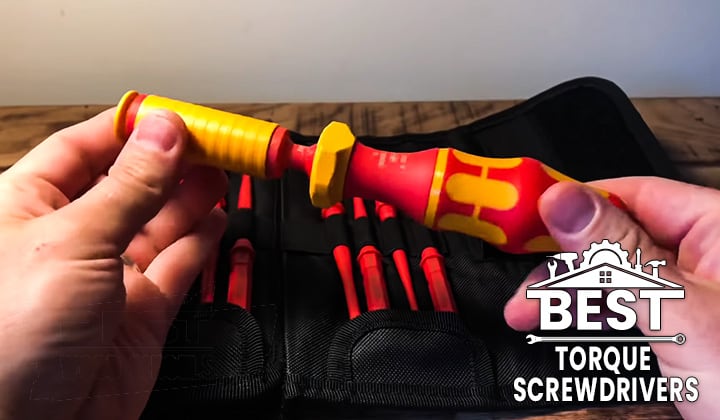 Some projects need detailed and high-quality precision. There are some functions that only a torque driver can achieve.
What could be so special about it that normal ones do not? The best Torque screwdrivers can have a specific power set in advance to fasten or tighten certain things.
This is a must-have tool in a toolbox of every professional or home-based DIY-ers. And every job requires its essential instrument for better performance.
Top Best Torque Screwdrivers
Let us read further ahead to see which torque screwdriver is fit to get your job done!
Wheeler Firearms Accurizing Torque Wrench and Tipton Best Gun Vise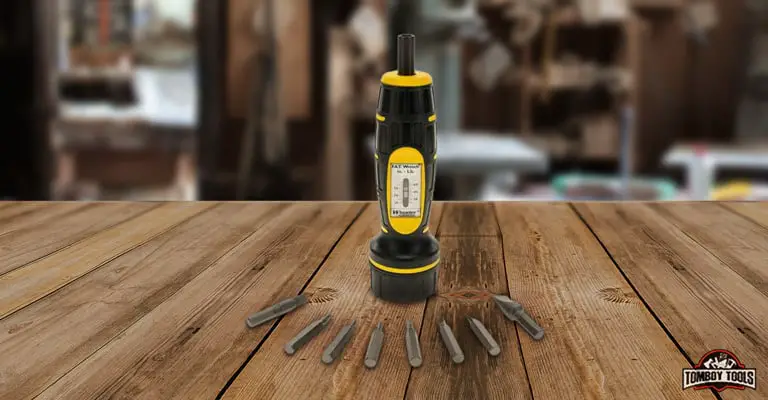 Trying to adjust screws on delicate objects with minimum damage? Wheeler is the answer. It falls in the category of those torque wrenches that ideally aid in accurate fixtures.
The wrench is a simple hand driven with a click clutch system. This product turns out to be quite useful in firearms or firearm accessory fastening applications.
It ensures precise tightening of almost all screws on any gun in the collection with the help of a 1/4-inch hex drive. Always be sure to follow the advised settings if you do not wish to ruin smaller screws.
The FAT wrench has the torque modification from 10- to 65-inch pounds. You can use it to install base, action, or trigger guard screws. Besides, why not go beyond?
With the accuracy of plus/minus 2-inch pound, this device brings consistency and precision to each screw of any object, not just firearms!
The wrench provides outstanding torque in repeated applications with accurate setups. Wheeler torque driver comes in a molded case where ten most utilized bits are also included.
These bits are pretty popular in gunsmith markets. They are made from durable S2 tool steel that has been hardened to 56-58 Rockwell C. 
Its ergonomic design enables all sized hands to grip the tool with ease. This decreases the chance of slipping off.
Highlighted Features
Torque accuracy range up to 40-inch/pound is +/- 2-inch/pounds; 40 to 65-inch/pound is +/- 5-inch/pounds
Accurate torque settings make an easy and repeatable application on various delicate projects
Ergonomic handle for anybody to work with
Includes ten driver bits for convenient firearm accessory tightening
Comes with a standard plastic case
Wheeler 710909 Digital Firearms Accurizing Torque Wrench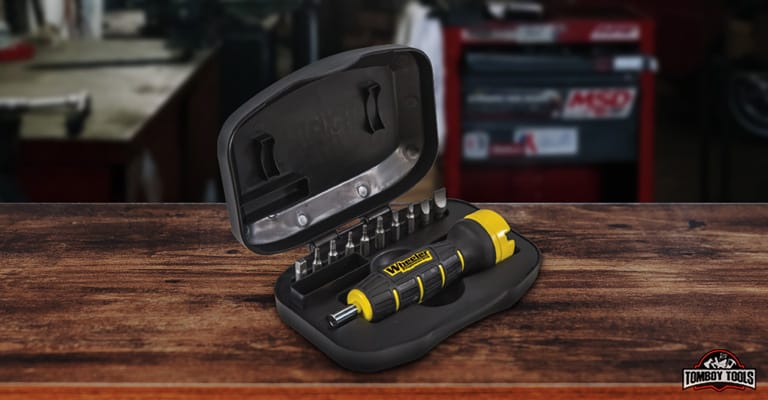 By now, you can have a fair guess that Wheeler F.A.T Wrenches is quite something to have on our guide twice! This model supports digital display, though.
This means no matter how inexperienced you may be; you can handle the tool properly! It is a superb choice to avid gunsmiths as well.
Wheeler 710909 has the torque specification of 15-inch pounds to 100-inch pounds! This is the best when mounting pressure-sensitive items on smaller gadgets or firearms.
It is even more defined in tightening or loosening of screws with the accuracy increment of 2 percent. Every time the torque value reaches the intended number, you will be able to view it clearly.
You can see the highest torque value as number and peak mode live on display. The audible indicator shall alert you beforehand to change batteries in advance when it runs low.
Moreover, the buttons that come along are soft to touch and simple to operate. Its ergonomic grip structure speaks comfort all over in molded form. This means you would love to use it more often than expected.
What is more, you will get 10 bits constructed from S2 Tool Steel and 56-56 hardened Rockwell C., This product by Wheeler, surely deserves to be in your toolbox.
Do not forget the molded storage case that comes along to protect the device from any damage.
Highlighted Features
Big LCD digital screen to display torque values
Audible indicator to warn low battery
Accuracy level of +/- 2% with 15/100-in/lb. range
Comfortable over-molded design
Includes storage of injected mold case
Neiko 10573B Torque Screwdriver Set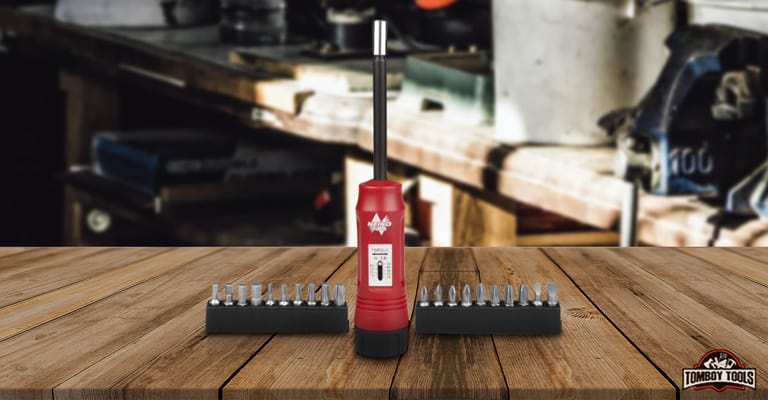 The product's compatible drive head of quarter-inch socket offers multiple uses on repairs. So, restoration is not limited to firearms accurizing and electronic repairs; it can be utilized in instrument compilation too.
Neik0 10573B window scale shows the range of 10-inch/pound to 50-inch/pound torque grade. It can be modifiable in an increment of 5-inch/pound. Whatever change you make will be clearly visible in the window.
Unlike other regular drivers, Neiko torque wrench has an extra-long shank that measures in at 4.5″. This allows ultimate access to tighter or narrower fasteners quite easily. 
The wrench is pretty simple to use. You just have to pull the handle, turn it as you set torque limit, then push it back down to lock the adjustment. This design devises a solution to accurate torque tensions.
More importantly, special limiting of torque aids in the prevention of damage to the fasteners. However, the added length to the shank along with driver adapter could have a slight change in calibration.
At any rate, the product also presents 20 several sized bits in different heads. Each bit has engraved size to identify them quickly.
The set is protected by a heavy-duty hard shell when not being used. The case is professionally blow-molded for superior durability. It is a great compact size to transport in numerous worksites.
Highlighted Features
A high-grade tool with the versatile drive head of quarter-inch
Torque ranges from ten up to fifty-inch/pound with five-inch/pound increment
Longer shank to reach inaccessible areas
Includes twenty versatile head bits with engraved sizes
Sturdy blow molded case for protection and easy carry
Torque Wrench Mounting Kit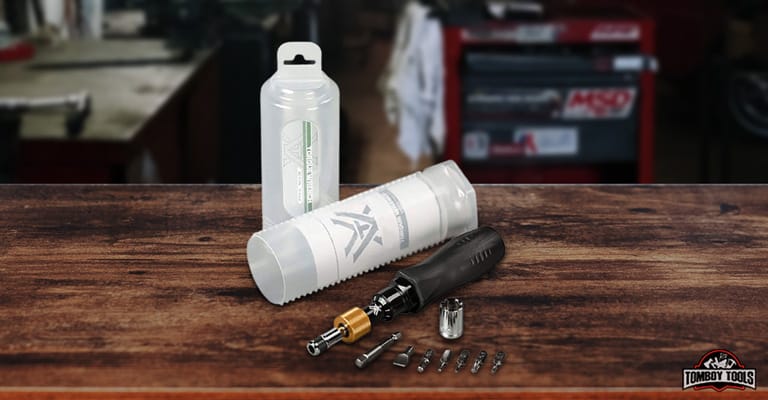 This product is surprisingly well qualified for all the firearms accessories owners. Especially when mounting riflescope on a firearm. Aside from it, the tool can be used in various operations, including fixing your favorite instrument!
Vortex wrench features a very ergonomic handle to work with. The rubber grip naturally fits and relieves discomfort when held.
It comes in a compact tube that is translucent. You can simply hang it or place it in your toolbox. The kit barely requires extra space and will not open accidentally.
What counts is the quality of the wrench that will stay with you in the long term. Therefore, Vortex torque wrench comprises of 10 inches/pound range up to 50 inches/pound.
Adjustments can be made per inch/pound a time, which is not always found in other wrenches.
It works just like a simple screwdriver, except you have to adjust the wrench by pulling down the gold ring, rotate till wanted set is reached, and release the ring to lock the position.
You will literally feel the smooth torque tension as you work your way with fasteners. It has the subtle transitional shut off the system when the torque reaches its limit.
The kit contains a long-lasting set of few bits in metric and standard sizes, though there is not a specific region to keep them in the container.
Highlighted Features
The tool is operated and set up easily with accurate power
Provided with 1-inch/pound increments that ensure precise tightening
Torque power ranges from 10- to 50-in/lbs
Includes bits commonly used in firearms accessory fixtures
Comes in a compact transparent plastic tube that is easy to carry
Calibration certificate included
Capri Tools CP21075 Certified Limiting Torque Screwdriver Set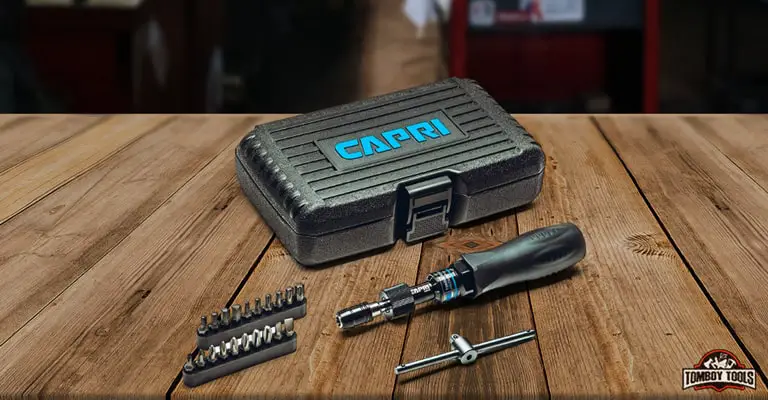 Capri Tools Torque Screwdriver is known for its efficient performance and quality. Many who have used it previously have spoken highly in favor of this product.
That being said, it provides an increment of 1-inch/pound per adjustment. This allows absolute precision over-torque power with a measured level. Any handyman in the manufacture, electrical, automotive, or aerospace would love this tool.
The range starts from 10 in/lbs to 50 in/lbs along with a hex drive of a quarter-inch, which is universally common. Its accuracy level is of a standard six percent with the ability to surpass traditional torque driver settings in precision. 
And when the adjustment is set, it will automatically self-lock for a better outcome. Once it reaches the torque limit, the feature lets the screwdriver slip so that no damage is caused to the screw.
All these qualities can be enjoyed further with the tool's ergonomic feel. The soft-grip handle offers pure comfort while working. Thus, allowing more power in handling the device.
There is an optional T-bar slot for further leverage when required. Everything, including most commonly used bits, is easily fit into a sturdy case that accompanies it.
The CP21075 includes a calibration certificate as a proof of the product's accuracy along with a serial number to trace back to Capri Tool's laboratory.
Highlighted Features
Ergonomic torque ranging from 10- to 50-in/lbs
One in/lbs increment with an accuracy level of 6%
Self-lock torque adjustment ring
Calibration certificate included
T-bar slot is available for extra leverage and control
Performance Tool M194 Micro 3-15 in/lbs Micro Torque Screwdriver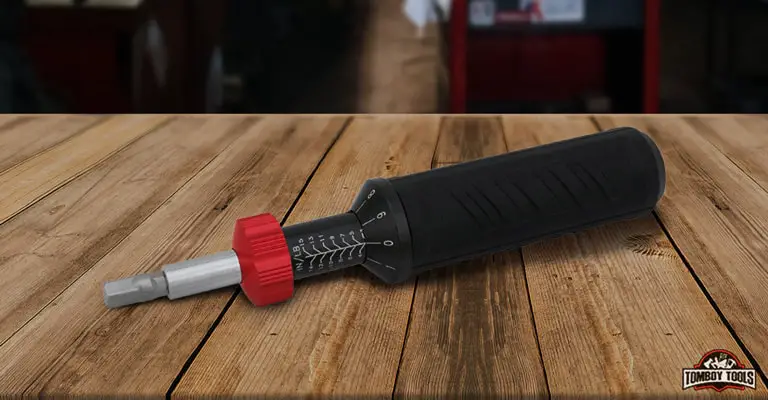 This manual torque driver focuses on handling complex twists without causing any damage. Every owner of a torque driver only wishes to possess tools that can make life easier instead of complicating them.
Performance Tool M194, despite having the ranges of only 3-in/lbs to 15-in/lbs., can provide standard performance on equipment. It is not bound to only firearms and electronic apparatus.
The tool is compatible to fix any sensitive gear, including instruments, valve cores, and so on. All you have to do is use the torque collar for easy adjustment according to the settings you desire.
It composes a number of robust and long-lasting materials in order to develop a swift mechanism. Due to which many around the world have chosen it as their go-to torque tool.
The screwdriver has a torque accuracy of 5%. It helps in the elimination of over forcing on the components. Hence, it reduces the risk of ruining your sensitive equipment.
Whether you utilize it to tighten or loosen the screws, the product can cover the job efficiently. It also features a 1/4 inch hex bit holder accompanied with a 1/4 inch measured drive socket adapter.
This standard heavy-duty torque is great to have in your toolbox. Besides, its rubber gripped handle ensures the right amount of comfort to work smoothly.
Highlighted Features
Torque power ranges from 3- up to 15-inch/pound
Hex bit holder is 1/4-inch which is universally used
Driver socket adapter is 1/4-inch
Torque collar is adjustable to desired setting when released
Torque accuracy is of +/- 5 percent
Wera 05074710001 Kfratform 7445 Hexagon Torque Screwdriver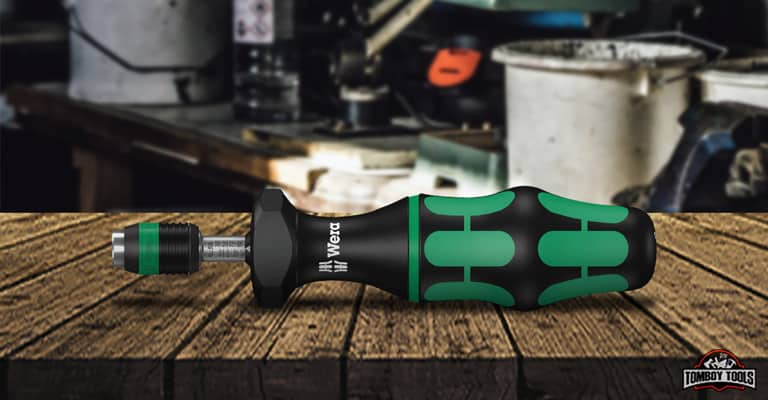 Are you in search of a torque screwdriver that delivers both comfort and effective results at the same time? Needless to say, you have stepped into the right place!
This is an apt device for various arrays of applications. You can alter torque value within given measurements. Any specific range you choose will operate on the project with a precise note.
The adjustable ranges vary from 2.5-in/lbs to 11.5-in/lbs, whereas granting the accuracy of six percent more or less. Moreover, Wera includes a calibration certificate as proof of the product's high performance.
It offers a Rapidapter function for easy insertion and extraction of screw bits. This also allows preset torque since many applications depend on same repeated torque accuracy.
Another reason why you should have this in your collection is its exceptional design of the handle. The unique Kraftform handle enables a perfect grip that reduces stress and helps speed up the work procession. 
It includes hard and soft zones in various parts of the handle to be easy on the hand while working on a project.
Even though the torque driver is made from durable and tough components, you will lose its worth if the set values are not handled correctly. Therefore, always remember to store your torque tool with care to prevent torque value distortion.
Highlighted Features
Unique ergonomic handle design
Torque ranges from 2.5- up to 11.5-in/lbs with +/- 6% accuracy
Fast-changing of bits with Rapidapter technology
Calibration certificate is included
Torque adjustment is easy and requires no other tool
Choosing The Best Torque Screwdrivers
It is good to obtain little information in the criteria of torque drivers before buying. This will save you a lot of time. Below are some essential features to consider while purchasing.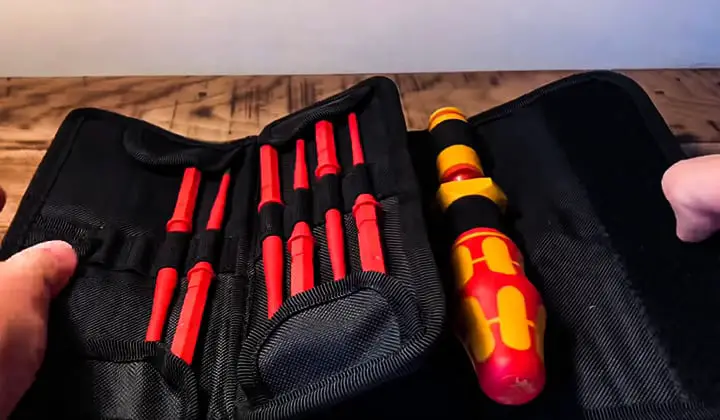 Range
The selection of range is an essential factor of a torque screwdriver. There are varieties of exerting ranges available in the market.
We recommend you to get the ones according to the work you have in mind. Each screwdriver has different arrays of torque starting from 0.01 Nm to 30 Nm, in another term from 1.4-inch ounce to 265-inch pounds.
This is why it is difficult at times to discover a particular driver fit to perform on several ranges. Keep in mind what your job requires. Does it involve higher torque or lower?
Look for a driver that can comprehend broader options than the one with limited expectations.
Durability
Any tool you purchase must have the durability of lasting for years, or else it is pointless. Tools could break, rust over a certain period of time, or get damaged.
It is similar to torque drivers as well. The most sensible thing to do is investing in a product after methodical research. Check the driver's construction quality.
Make sure the tool you choose is built well enough to prevent corrosion and breakage or not. If possible, go with renowned brands that offer a good warranty.
A tough torque driver will assure safety. It will make certain to execute calibrated operation as required without spoiling either the tool or the project.
Ergonomics
Fatigue could win over effort if the driver does not have a steady and comfortable grip.
When you get the right torque tool for your specific job, you have to consider that all the weight, shape, and balance will be of no use if unable to handle for a long time.
And during these moments, any incident could take place. That is why once you settle on which driver to go for, check its grip. See if it feels good when holding.
Ergonomic torque tools will not only ensure extended working periods; it will prevent dangerous accidental occurrence too.
Chuck Size
Chuck size is important because it is where a bit is to be attached. It is natural that both chuck and screwdriver are to have comparable size.
So, choose a versatile screwdriver that can perform on different projects using more than one kind of bit size. This can be achieved if the clutch is the typical 1/4-inch bit user.
Torque Limit Clutch
This component is located in the central part of the wrench. A limit clutch indicates how much force is to be applied on a screw.
As mentioned earlier, each torque driver's force amount varies on account of its manufacturer and model. The settings of a clutch are usually marked in Nm or Newton-meter.
You should know that there are three types of main clutches.
A cushion clutch can be found in electronic and pneumatic drivers. Cam clutches are commonly found on manual drivers, whereas electric torque drivers come with an auto-shutoff clutch.
Once the tool reaches the intended torque, the cushion clutch slips to prevent any harm to the screw until the throttle is released. This is why it is also known as a slip clutch.
Cam clutch announces its achieved driver force by a click. An auto-shutoff clutch is good when a précised job is involved. It automatically shuts off the tool once it reaches the maximum torque limit.
Calibration Certificate
Many find this less important when buying a mere torque driver. But, it is like having an insurance policy that will provide you refund and protection if anything occurs.
The certificate ensures that the product you purchase has been tested beforehand to avoid torque damages.
This means, no matter how insignificant it might look, we suggest getting a torque driver that includes a calibration certificate.
Frequently Asked Questions
Q: How often does my torque screwdriver need to be calibrated?
Ans: When you notice that the screws are either very tight or very loose over time, at this point, we suggest calibrating the wrench.
Regular calibration should take place every 12 months. Or depending on how often it is used, after every 5000 cycles.
Q: What is the difference between torque and normal screwdrivers?
Ans: Even though both tools comprises of the same purpose, a typical screwdriver requires your force to operate on. When you apply force, it is either limited or too much to ruin the screw.
In a torque driver, although it is manual, you can set its clutch mechanism to perform under a certain quantity of force. Thus, you will benefit from a balanced fastening. 
Q: How many types of torque screwdrivers are there?
Ans: There are three types; manual, electric, and pneumatic. Manual is considered the simplest to operate with.
Q: Does the screw drivers comes with an extra screw driver bit set?
Ans: Most of them come with a default bit set, but there there is also some extra screwdriver bit set.
Torque drivers can be divided into two groups upon their functionality. First, being preset and second is adjustable.
Q: How do I convert Nm to feet-pounds?
Ans: Newton meter (Nm) can be converted by any conversion chart found online. If the internet is difficult to get to, simply remember that 1 Nm is 0.74 ft.-pound.
Final Thoughts  
We have compiled this list after comprehensive research to provide you with the Best Torque Screwdrivers for the long run. Do not hesitate to test and try.
Every torque drivers have their own distinctive features. That is why aim for a driver that is designed specifically for the particular task.
Even though our list comes with the best review of the mentioned products, it has got to be you who need to choose the right one for the job.
Just remember to follow this guide and narrow down to the requirements in order to find the chosen one. Piece of cake!
I'm Joost Nusselder, the founder of Tools Doctor, content marketer, and dad. I love trying out new equipment, and together with my team I've been creating in-depth blog articles since 2016 to help loyal readers with tools & crafting tips.