I love creating free content full of tips for my readers, you. I don't accept paid sponsorships, my opinion is my own, but if you find my recommendations helpful and you end up buying something you like through one of my links, I could earn a commission at no extra cost to you.
Learn more
It does feel great when you accomplish fixing something all on your own. That means with your hidden knack, comes the great responsibility to choose the right kind of tools.
There comes a time when we all need to face this moment. The crucial moment of selection. Especially if it is relevant to screwdrivers, the thought of puzzling anxiety amidst an ocean of variables is honestly terrifying!
This is where we step in to rescue you from countless choices. After all, we cannot let you down in a matter of pride, which is possible if your bit set helps with a successful repair.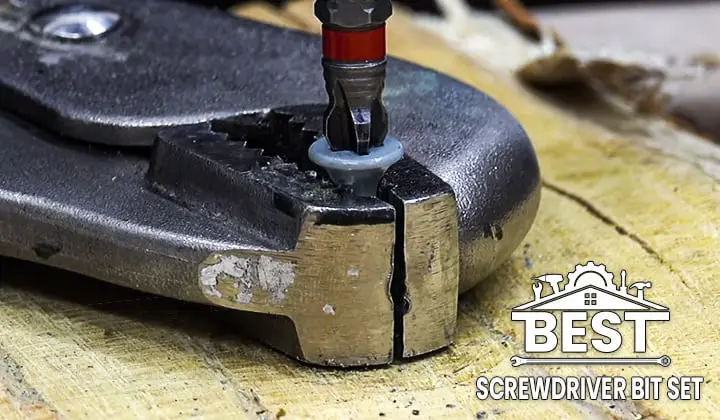 Hence, we present you the Best Screwdriver bit Set review with important features to consider about. Because, despite being amazing at fixtures, you will still require more than just a screwdriver or drill.
Top 7 Best Screwdriver Bit Sets
So, let us not linger any more. Everything you need is right here for you to pick!
DEWALT Screwdriver Bit Set with Tough Case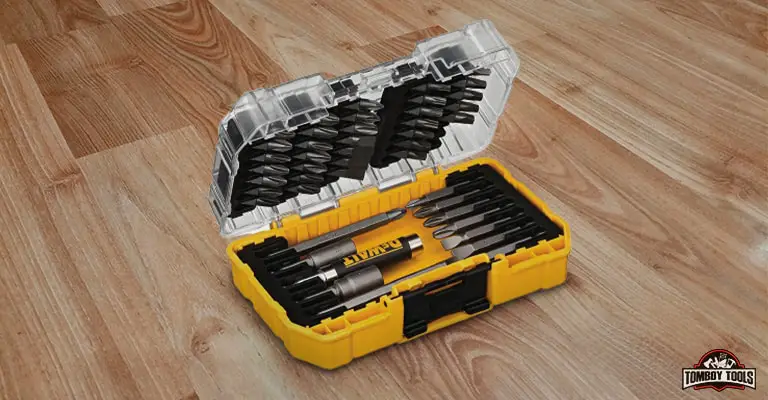 This bit set is more than just a satisfactory money value. Its ABS case container is super sturdy and compact, which keeps the bits protected under any circumstance. Also, the retention arrangement safe keeps every item in the case. No matter how you carry it, the bits stay held in their places.
The whole set can be easily organized. Moreover, smaller storage box has the advantages of swift portability. The item weighs only about 1.28 pounds. Furthermore, the wide ranges of heads with upfront shapes are exactly what the professionals seek. No more nuisance or struggle!
DW2166 comes with 45 different pieces of Phillips, slotted, square, and double-ended bits. Working on a task will no longer face challenges as these heads are most commonly used in diverse projects.
The tough magnetic drive guide enables a secure grip to a screwdriver. This prevents constant tremble or wobbling when drilling. Some bit heads often loosen the clasp after several attempts. This will not happen in case of DEWALT because the drive guide also fights against frequent abrupt removal.
On the other hand, the bits are most durable and resilient to last many years. They are constructed from hardened steel. This is exactly how it would be like when your expectation turns to reality.
Highlighted Features
Contains 40 wide ranges of drill bits
The case is designed portable with ABS industrial strength
Includes a clip latch for secure closing
Hardened steel is used in its construction
Heavy magnetic drive guide promises firm and accurate hold in place
Syntus 63 in 1 Precision Screwdriver Set with 57 Bit Magnetic Screwdriver Kit
Precision Screwdriver Set is useful when you need to unscrew complex objects. What does it not include! The main feature of this package is its 57 bits with a flexible shaft.
These tons of intricated bits are more than enough to repair any gaming consoles, gadgets, smartphones, PCs tablets, and many more. The kit is what every tech solution member should own!
There are a triangle plectrum and a plastic stick that are useful in prying open or slide and separating. A special 2.5 bit has been included specifically to disassemble inner plate of iPhone devices.
Having a flexible shaft extension features easy reach in regions that most straight shafts are unable to perform. Most electronic devices need such tools when repairing. 
The kit is crafted with S2 tool steel, which is much more solid than usual chrome vanadium steel. The material averts any vibration or shock while operating. Hence, it carries out excellent results under any circumstance.
Of course, the magnetic force provided in the heads keeps the bits in bay. The force multiplied in strength can pull any screw out. Thus, lesser chances of losing smaller bolt parts.
From Phillips, nut driver, flatheads, spanner to pentalobe, Torx, hex, etc., everything you need can be found in one compact toolkit. Let no obstacle stop you from exercising your fixing skills.
Highlighted Features
Contains 57 different bits to repair electronic and smart devices.
Includes an aluminum driver and a flexible shaft extension
Includes prying open kits along with iPhone disassembling bit
Very strong magnetic force to pull out screws
Hassle free push and pull structure to take out the bits from
BLACK+DECKER Screwdriver Bit Set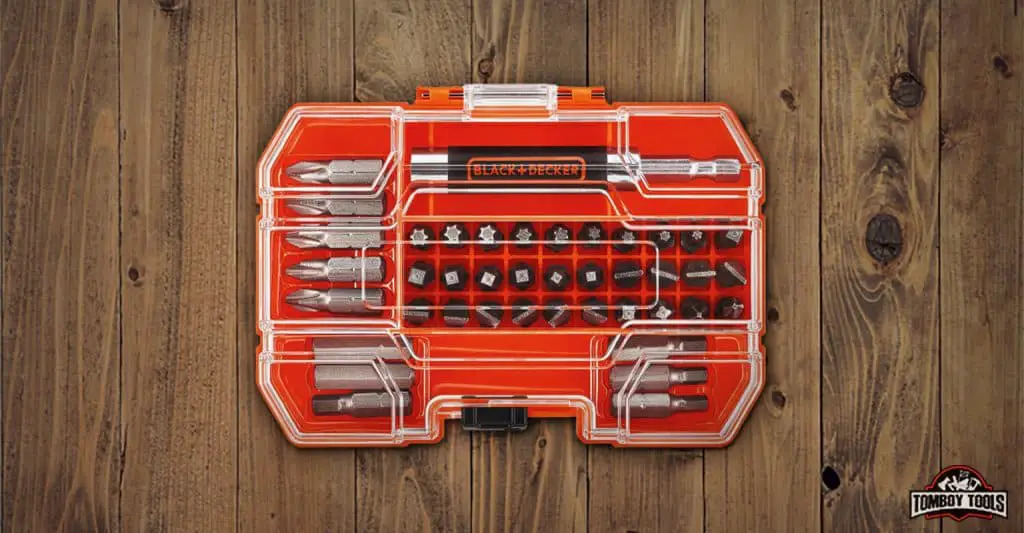 Looking for something within an affordable budget? Then Black & Decker bit set is the ideal kit for you. This 42-piece set is something you would want to hang on to while working on home projects.
Each of the 41 bits has been geometrically formed to deliver excellent installation. The selection of Phillips and slotted bits vary in sizes. A number of Torx, hex, and square pieces complete the toolkit.
One magnetic drive guide is added to make the work easier. This adapter is essential in attachment of bit to a driver. Black & Decker ensures strong magnetic elements for a better grip of heads.
Although we do not recommend it to exploit professionally, the set is pretty decent to have around in the house. It might not be able to endure heavy industrial use.
Nevertheless, the whole package is acknowledged as more than satisfactory for housing tasks. From assembling, installing to drilling things, it is as powerful as required.
It could be a great drill bit set for a starter to exercise on improving skills. Moreover, the magnetic adapter aids better where ordinary ones have chances of sliding off.
The storage case is compact with a see-through plastic lid. This gives you the leverage to bring it along to various working areas.
Highlighted Features
Includes 41 various pieces of 1 in. bit tips
Contains Phillips, hex, slotted, torx, squares in diverse proportions
Contains a magnetic drive guide for easy retrieve
The compact case and the lid feature clear plastic guise
The set is best in use of household projects
Sunex Ultimate Screwdriver Bit Set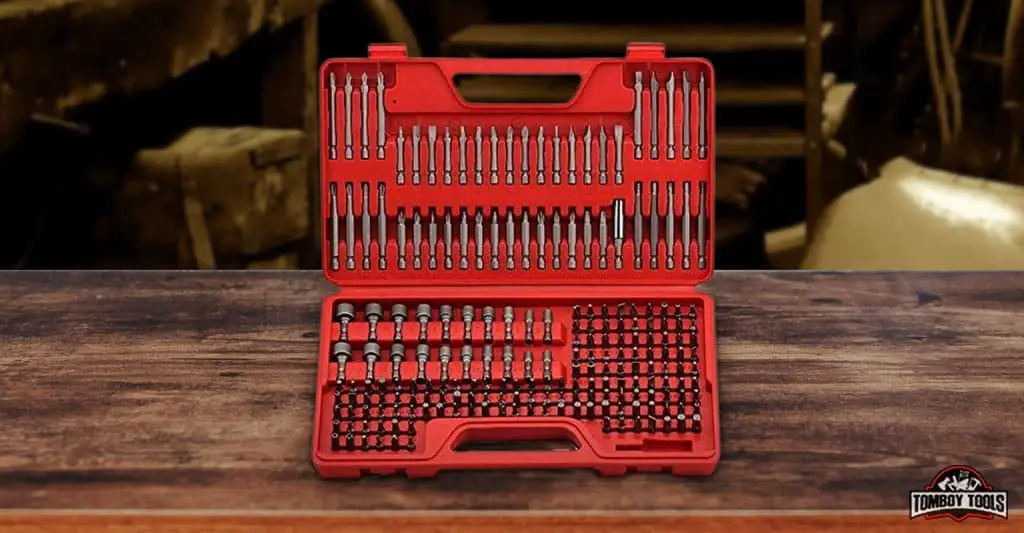 It is called Ultimate for a reason. The set comes with not 50 or 100, but 208 pieces of majestic screwdriver bits! Sunex screwdriver bit set meets all demands, whether it is a DIY initiative or professional work.
You will find a huge collection of Phillips, slotted, Torx, specialty, security, and hex heads in countless of various sizes. Any difficult job becomes easy to tackle with these many shapes.
There are many other heads added to assist in infrequent occupations. In short, everything is in one case within reach. Thus, the set is substantially compatible with drills or cordless screwdrivers.
Each slot is clearly labeled for ease of use purpose. Hence, more time in concentrating on task at hand, and less time with figuring out bits' configuration set up.
The material used for meticulously built of each bit is of alloy steel. Simple or complicated, either is successfully attained due to the reliability and durability of each unit.
You will gain unlimited repairing to meet widespread calls with this bit set that comes with a molded carrying case. It is portable and can be carried along for easy handling toward heavy-duty tasks. Lastly, a magnetic holder is included in the package that changes the entirety of speedy procession.
Highlighted Features
Contains 208-piece bits ranging from all shapes and sizes
Each slot of the bits is labeled to organize better and quicker
A storage box is molded for comfort carry around jobs
Bits made from alloyed steel for greater durability
Affordable invest for both home tasks and workshops
Baker and Bolt Phillips Screwdriver Drill Bit Set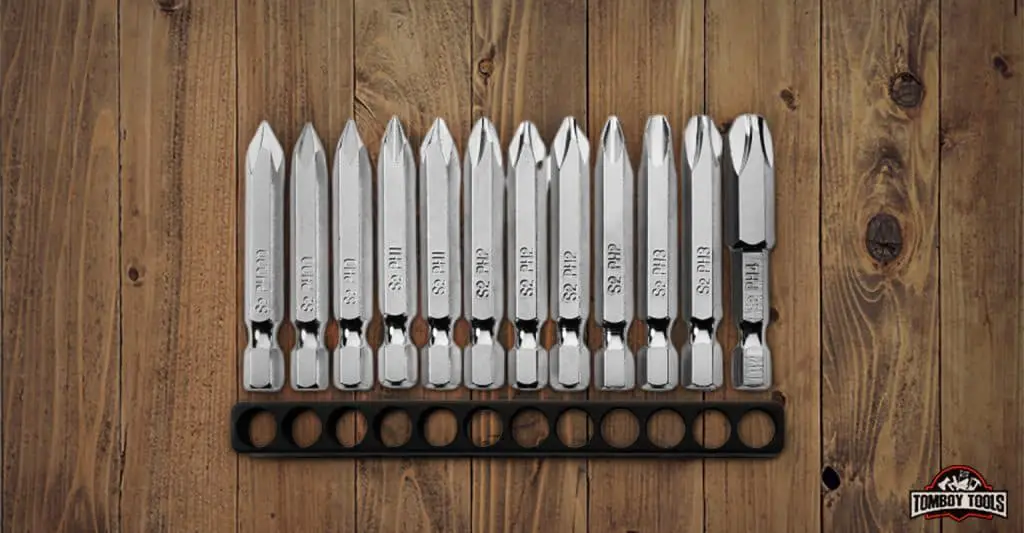 What is awesome about this bit set is that it does not matter what the task entitles. The drill bit set finishes the job effectively. This group of heavy-duty Phillips driver bits will never disappoint you.
Are you a professional perfectionist? Or an enthusiast hobbyist? Even if you are a tradesman or mechanic, this is the one and only product perfectly suitable for all. No more stressing over quality as everything here has gone through meticulous tests.
Whatever problems you face can be solved when this set is involved. Several sizes of GIFD PH (Phillips) are included, from PH #000 to PH #4. A complete SAE 12-piece is presented with four PH #2 and two PH #3.
It would be foolish not to own this little beast because all the bits have been made from insanely tough S2 steel, which means efficient outcome whenever the bits are utilized.
The impact Phillip bits are useful in almost every workplace. Furniture, gunsmithing, plumbing, construction, AC kits, RC cars, and even garbage disposals, dirt bikes, etc. You would be surprised how handlers make use of it in day to day endeavors.  
And the set is organized in a durable plastic case, which you can fit anywhere effortlessly—the rubber bit holder inside safeguards every single unit separately. This time you will begin taking care of things you never thought would be possible to fruitful restoration.
Highlighted Features
Contains 12-piece SAE PH from #000 to #4 sizes
Ideal for all kinds of projects
Bits material is S2 Steel, very durable and strong
Includes a rubber bit holder in the tough plastic case
Compatible to any impact drivers
Bosch T4047 Multi-Size Screwdriver Bit Set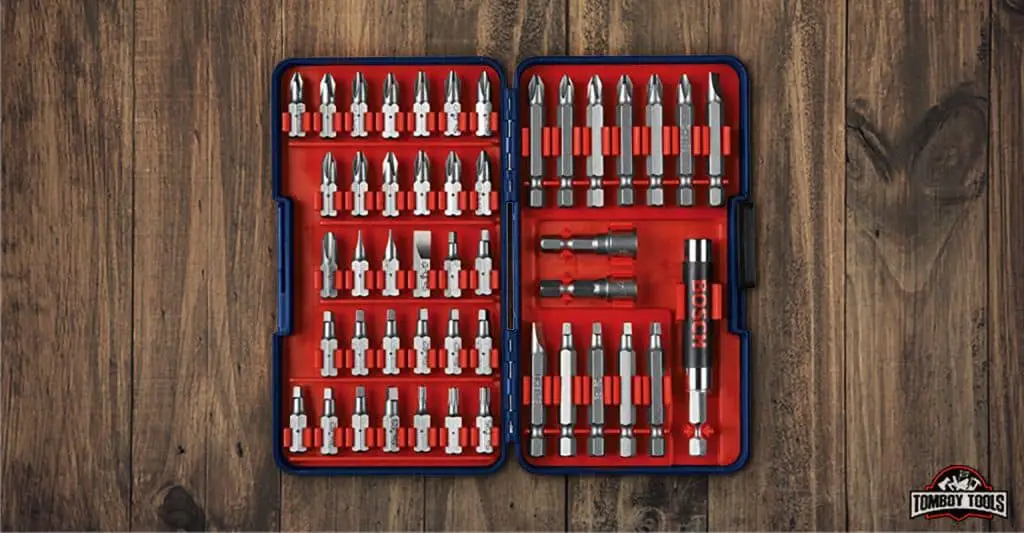 T4047 may not be one of those pricey and all-inclusive screwdriver bit sets. It does, however, come with essential ones to cover overall necessities. You could not be more excited with a bit set that can bury lengthy screws through metallic components or lumbers. A total of 47 pieces of bits and other parts are accessible in the kit.
There are, of course, the basic flatheads, Phillips, and Torx in great ranges of shapes and sizes. You will also find numerous hex and square heads too. Most of them are insert bits.
Other than the insert bits, there are twelve heavy-duty power bits that can be operated with any brand drill. This small box also contains two magnetic nut setters that support all drivers.
Do not forget the box has a finder driver too! Everything that is featured here is just as useful as a large cased heavy screwdriver bit set. The case itself is sufficiently compact for an easy store in one of your toolboxes. It is made from hard plastic with sliding lock lever including a retention system inside to keep bits secured.
Never doubt the quality of these bit heads, for they are nothing like other ductile materials. S2 tool steel ensures maximum quality and long-lasting performance in spite of constant practice. Bosch T4047 bit set promises unfailing strength and sturdiness when torque is applied properly.
Highlighted Features
Includes 32 insert bits and 12 power bits
Comes with two magnetic nut setters and one finder driver
Can be applied on any driver or fastener
Bits constructed from S2 tool steel
Case is hard plastic with a sliding lock
Titan Tools 16061 61-Piece Screwdriver and Security Bit Set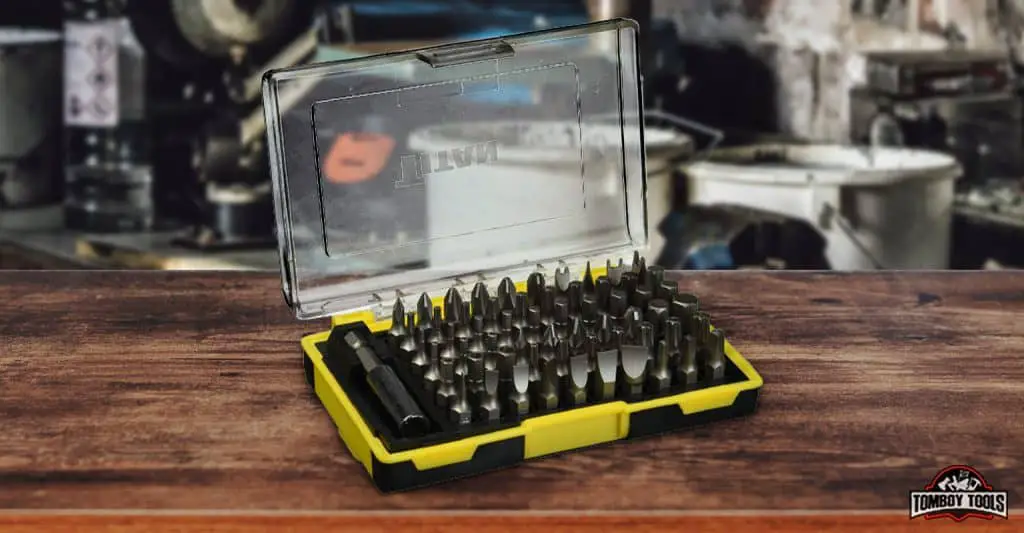 Every handyman and repairing mechanic's dreams are to have the best bit set for their fasteners or drivers. So, look no further as such a perfect set truly exists. 
Sometimes components can be found fastened with security screws. Usually, these particular bit heads are absent in most screwdriver sets. However, this 61-pieces comprises of both screwdriver and security bits for multi-purpose.
The set is reputable to professionals and hobbyists alike. It contains a two-and-a-half-inch magnetic bit holder. Although the magnetic force is slighter than usual, it is still a great addition for those who do not own one.
You will get quite a lot of Phillips, slotted, stars, Pozi drives, and hex. There is the number of tamper-resistant stars and hex, spanners, square bits as well. Each bit holds up well against any impact without a scratch.
Unlike other cheap materials, Titan 16061 does not wear down after a couple of uses. It is certainly a cool selection to own. There are plenty of bits than one needs.
The storage box is rectangular and made with robust plastic. Its lid is transparent that allows you to see through. There is enough space between each bit place holder for a simple extraction and reinsertion
We strongly recommend this Titan set that can be bought at a reasonable price. And it will still deliver an utmost performance, which is often achieved in overpriced and first-class screwdriver sets.
Highlighted Features
Includes 60 screwdriver and security bits
Tough material ensures long-lasting quality
Sturdy plastic storage offers organized bits
Clear lid offers see-through visibility for quick selection
Suitable for all kinds of users and various tasks
Choosing the Best Screwdriver Bit Set
Driver bit sets come in various shapes and sizes, as you can see in the list above. Which is the reason you must know a few things before going out there to get one.
Here are some important keys for you to remember as you walk into the isle of many possibilities.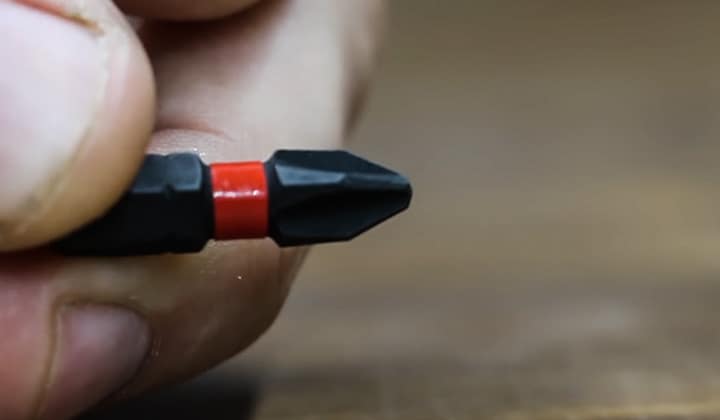 Types of Bit Tips
What happens if the tip does not agree with the screw? Do you blame the bit tip? Or the screwdriver you are holding?
Therefore, the size and shape of the tip must assemble with the driver to avoid damaging the screw. You should also know a little about different types of bits for better knowledge in execution.
Some of them are named below.
1. Flat Blade
Flat blades are commonly known as slotted and wedged-shaped on the tip. They are not in favor due to their prone to slide around when speed picks up.
2. Phillips and Pozidrive
Many mistake Phillips and Pozidrive as same, which is absolutely wrong! Phillips bits are shaped like a cross while Pozidrive is two cross-shaped, one of them at an angle of 45 degrees.
Both are pretty impressive when a certain amount of torque needed. Almost all sets include multiple of these bits.
3. Torx or Star
Best used for security purposes. Though, this particular bit is gaining popularity in manufacture of appliances. It is advantageous to own one of these in a set.
4. Hex
Hex bits are mostly useful to carpenters or furniture companies. They are beneficial to maintaining bikes as well. Hex is just as essential to every driver set as any Phillips or Torx.
5. Six and Twelve Pointer Nut Setter
These are not widely shared in screwdriver bit sets. They are still valuable additions to the toolbox for solid construction reasons.
6. Other Types
There are several other drives added to a set beside the basics, such as Tamperproof Tox, square recess, triangular, nut setters, torq, spanner, drywall, etc.
Bit Materials
Since there are many kinds of bits, you should obviously consider several categories of materials to choose from.
Most demanding used material for bits is steel. Each manufacture, however, provides different density and hardness of steel. It is still reasonably price valued as long as the bits are utilized accordingly.
Bits that are coated with titanium tend to last longer than steel. Be certain of getting the authentic ones as some use low-quality steel underneath titanium coating! We do not wish you to be deceived by cheaply built nonsense.
Diamond particle coating over the tip is also vastly acceptable though quite steep. The coat offers a better grip on the bits and functionality. It is known to facilitate extensive durability than other material coats.
Best Length for The Driver
Have you ever wondered if the length of a bit makes any difference? Especially to the effort, you would like to carry out?
Yes! As a matter of fact, shorter bits distribute a supreme amount of torque, whereas longer bits fail to achieve a firm grip on the screws.
We advise you to carefully choose the right sized set that is best compatible with your drill or screwdrivers.
Even a premium bit set will be of no use if the torque and speed do not correspond to one another once modified.
Quality of Bits
Always aim for high-end screwdriver bits even if they are a tad overpriced. You do not want spoiled goods halfway through a job, do you? So, it's okay to spend a little.
When using an electric screwdriver, make sure to adjust the speed level. It allows protection to both screw and the bit from damage.
Adjustments are similarly important to acquire top quality results.
Frequently Asked Questions
Q: Can you use a screwdriver bit in a drill?
Ans: Yes. Place the bit at the front part of the drill, known as chuck. Tighten the bit with a chuck key, but do not overdo it. Just enough to securely stay put.
Q: How do I choose a screwdriver bit?
Ans: Choose the right sized bit configuration that matches screw head properly. Too small or too big will not fit well. Check carefully before application.
Discharge appropriate amount of speed and pressure to the drill. This helps avoiding stripped screws or split bits. Saves your work surface from major damage.
Q: Is it safe to use a magnetic screwdriver bit on PCs?
Ans: Yes, it is completely safe. Magnets are not strong enough to cause any damage to pc components.
If you still feel unsure, keep the magnetic bits away from hard drives and motherboard.
Q: What kind of bit heads works well on hard steel or titanium?
Ans: Cobalt is a great choice if your work involves a lot of steel, aluminum, etc. They can be penetrated with slow speed and high torque, as well as the high speed with maximum torque.
Q: How long does a screwdriver stay magnetized?
Ans: The magnetized force should be able to last at least three months. However, accidental drops may weaken the magnetic elements faster.
Final Thoughts
All set for the challenge? Remember, buying the perfect sized bit heads will completely change the working atmosphere. You will gain more support in creating self-made projects.
Our job to compile a comprehensive list after tested by experts is accomplished. But it is you who now has to trust our guide and your skills as a means to receive full potential of a product.
You will clearly say that how this is exactly what you had been looking for once done with this review article! Yes, we are that confident in your choice.
Why should we not? After all, this Best Screwdriver bit Set guide is specifically researched for your purpose alone!
I'm Joost Nusselder, the founder of Tools Doctor, content marketer, and dad. I love trying out new equipment, and together with my team I've been creating in-depth blog articles since 2016 to help loyal readers with tools & crafting tips.