I love creating free content full of tips for my readers, you. I don't accept paid sponsorships, my opinion is my own, but if you find my recommendations helpful and you end up buying something you like through one of my links, I could earn a commission at no extra cost to you.
Learn more
You know kids nowadays are addicted to screen and the addiction to the screen is dangerous for the mental and physical health of your kids.  Since our life is highly dependent on smart gadgets it is very difficult to keep the kids away from smart gadgets or screens.
To keep your kids away from the internet, smartphones, tab or other smart gadgets indulging them in outdoor activities is an effective idea. If you construct a colorful playhouse with several fun facilities you can easily indulge them in outdoor activities.
10 Elevated Playhouse Ideas for a Joyful Childhood
Idea 1: Two-Storeyed Playhouse
This is a two-storeyed playhouse with wonderful fun facilities for your loving kid. You can keep some furniture on the open porch and it can be a nice place for arranging a family tea-party.
To ensure the safety of your kid there is a railing in the front part of the playhouse. The climbing wall, ladder, and the slider have been added as the sources of endless fun for your children.
Idea 2: Angled Playhouse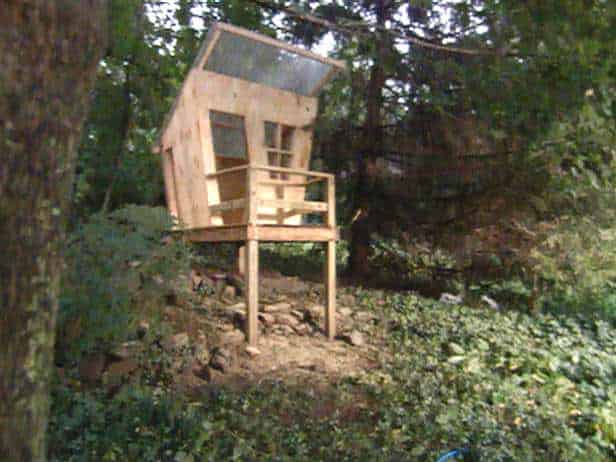 This playhouse is not straight like a traditional playhouse. Its roof is made of glass that gave it a modern contrast. The structure is made strong enough so that it does not buckle due to rough use.
Idea 3:  Colourful Playhouse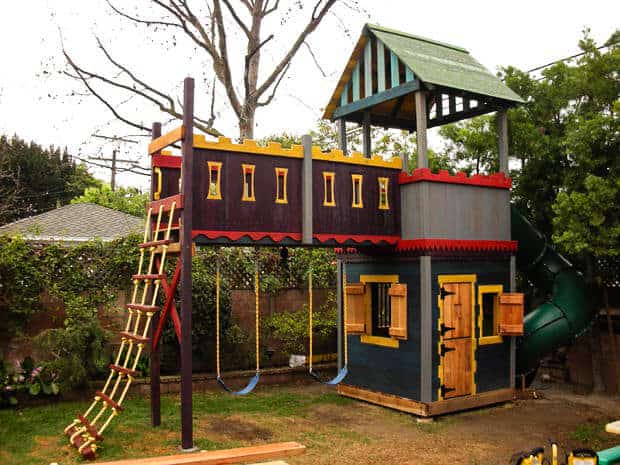 Your kids will love this colorful double-storeyed playhouse. You can change the look of the playhouse by painting it in the favorite color of your kid.
The decoration is important to make the playhouse a perfect fun place for your kids. I will recommend you not to keep so many toys and furniture inside the playhouse that there remains less space for the movement of your kid.
Kids love to run, jump and play. So you should decorate the playhouse in such a way so that your kids get enough space for movement.
Idea 4: Pirate Playhouse
This playhouse looks like a pirate ship. So, we have named it as a pirate playhouse. You know during childhood kids have an attraction to the job of police, army, pirate, knight and so on.
This pirate playhouse includes a spiral staircase, a swing set, a gangplank, and a place for slides. The fun of playing as a pirate remains incomplete if there is no scope of making adventure. So, this playhouse includes a secret entrance so that your kid can get the thrill of adventure.
Idea 5: Log Cabin Playhouse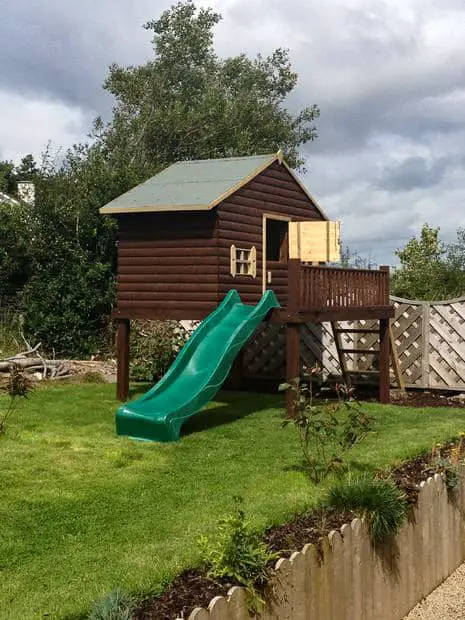 This log cabin playhouse includes a porch in the front part. To ensure the safety of your kid there is a railing around the porch. There is a ladder to climb on the playhouse and there is also a slider so that your kids can play the sliding game. You can increase its beauty by placing one or two DIY plant stand.
Idea 6: Adventurous Playhouse
The playhouse in the image includes the rope net, bridge, and the slider. So, there are enough facilities for your adventure lover kids to make the adventure.
He can spend a lot of time with amusement by climbing the rope net, crossing the bridge and sliding down the slider back to the ground. There is also a tire swing hanging below the fort to add extra fun.
Idea 7: Pine Playhouse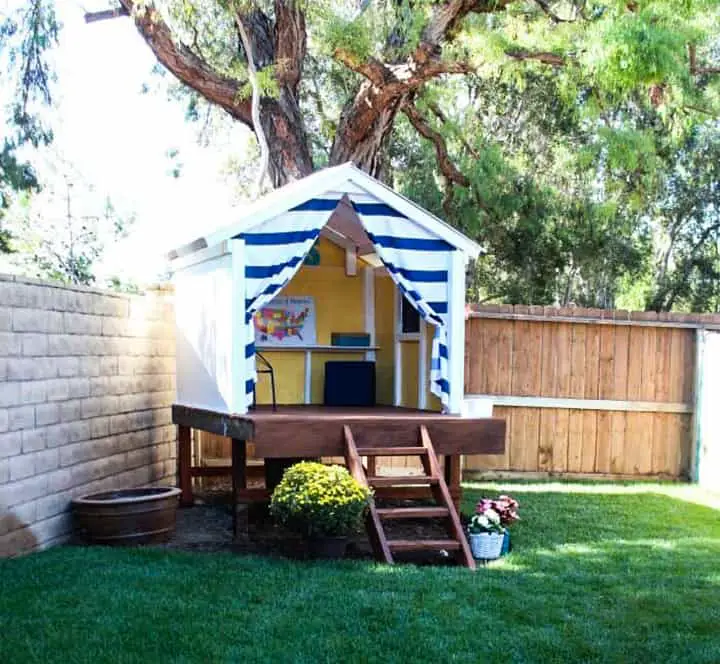 This playhouse is made of recycled pine wood. It does not cost much but looks elegant. The white and blue curtain has brought a flavor of serenity in the design.
It is a simply designed elevated playhouse that you can decorate with the toys and other fun making things. You can also keep a little chair so that your kid can sit there.
Idea 8: Plywood and Cedar Playhouse
The main structure of this playhouse is made of plywood and cedarwood. Plexiglass has been used to construct the window. It also includes a solar light, a doorbell, a bench, a table, and shelving.  A railing has been added around the porch so that you do not have to worry about any accident of your kid.
Idea 9:  Athletic Playhouse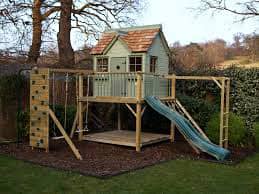 If you want your kids to develop some athletic skills you can choose this playhouse plan. It includes a rope ladder, rock climbing walls, pulleys, and slides. You can also dig a small pond as a moat so that your kid can get some more opportunities to overcome challenges.
Idea 10: Clubhouse Playhouse
This playhouse is a perfect clubroom for your kids and their friends. It includes a high deck with railings and there is a pair of swing. You can notice that the swing set is made attached to the playhouse. Since it is attached to the playhouse it is quite challenging to construct.
You can decorate it with flower plants and keep some cushions inside for the comfort of your kid. The upper part of this playhouse is open but if you want you can add a roof there.
Final Thought
The playhouse is a kind of tiny house for your kid. It is the place for nourishing the imaginary power of your children. If you cannot afford to add fun facilities like adding a slider, swing set, rope ladder, etc. in the playhouse but a simple room that is also helpful for nourishing the imaginary power of your kid.
This article includes both the expensive and cheap playhouse plans. You can choose one according to your capacity and taste.
I'm Joost Nusselder, the founder of Tools Doctor, content marketer, and dad. I love trying out new equipment, and together with my team I've been creating in-depth blog articles since 2016 to help loyal readers with tools & crafting tips.