I love creating free content full of tips for my readers, you. I don't accept paid sponsorships, my opinion is my own, but if you find my recommendations helpful and you end up buying something you like through one of my links, I could earn a commission at no extra cost to you.
Learn more
For just about any typical household or business, using a vacuum cleaner to keep the place tidy is the norm.
While many of us know how to use a vacuum cleaner – hit 'On' and roll forward/backward – the idea of how it works can be beyond many of us.
To help you make the right call on not just how the hardware works, but why, here is a list of useful and reliable vacuum cleaner glossary terms you need to know.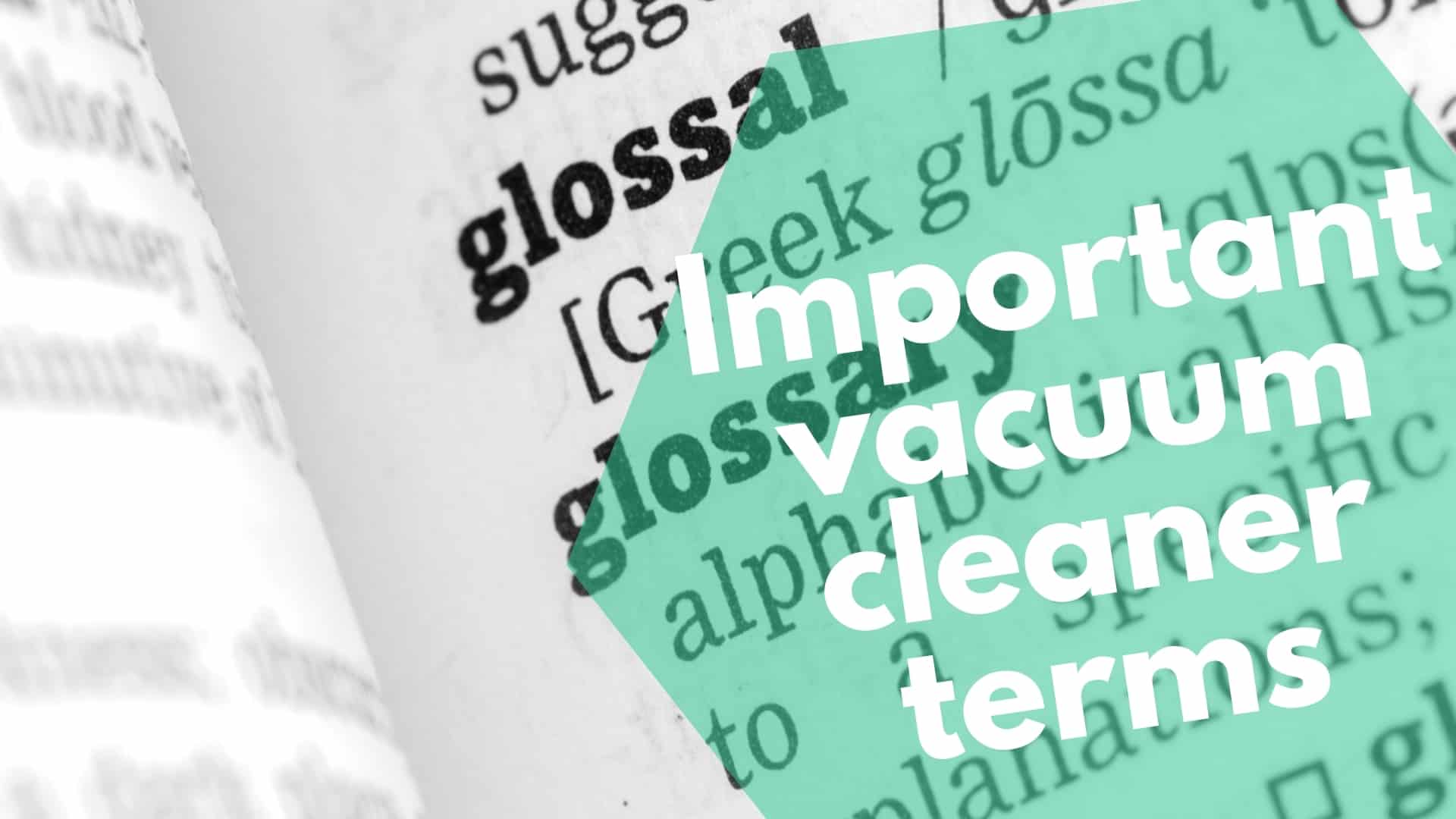 With these, you'll find it a whole lot easier to actually make the most of your vacuum!
A
Amperage – Otherwise known as the Amps, this is the general means of being able to measure the electrical current flow. This allows you to easily indicate how much power the motor of the unit takes up when it is in use. The more amps a system uses, the more power it is using, so the more powerful it is likely to be. However, airflow plays a more critical role in determining how powerful the hardware actually is. The higher the airflow, the more powerful it is.
Airflow – The measurement that is used to determine just how much air can move through the hardware when it is being used. Measured in cubic feet per minute (CFM), this allows you to determine just how powerful the hardware is generally. Airflow matters as it helps you to know how powerful the vacuum cleaner is. The level of resistance that the filtration system offers will also play a leading role in determining the power. Generally, though, higher airflow – better performance.
B
Bags – Most vacuum cleaners today come with a bag, and tend to be sold separately should you find that you need a replacement for your old bag. Most can use the official or other third-party replacement bags – the choice is yours but the options are pretty open for a bag. Bagged vacuum cleaners tend to have a greater capacity for dust collection in one sitting than their bagless alternatives – closer to 4l than the 2-2.5l that most bagless editions offer
Bagless – The bagless equivalent of the above, these are essentially emptied upon finish. They tend to be a little harder to clean out due to the baglessness making it easy for dust to go everywhere, and usually have lesser capacity than the above.
Beater Bar – This is usually a long, wide accessory that can be used to help push the carpet away as you roll, beating the carpet to help facilitate a wider and more satisfactory clean.
Brush Rolls – Similar to a Beater Bar, these work to help make sure that you can get even more dust and dirt up from a carpet or other fabric-based surface.
C
Canister – Typically square or rectangular, these particular kinds of old-school vacuums tend to offer a chance for a 'clean-air' system and are utilized to help produce even greater suction – usually comes on wheels.
Capacity – The amount of dust and debris that the vacuum cleaner can hold before it becomes full and has to be emptied out. When capacity is reached, suction capacity and efficiency drop through the floor.
CFM – The cubic-feet-per-minute rating of the vacuum cleaner – basically how much air is running through the vacuum cleaner when it is active.
Cord/cordless – Whether or not the cleaner itself has a chord or if it runs on a cordless system. They are usually better without a cord for getting into small crevices, while a corded vacuum cleaner is greater for doing wider rooms as they tend to have more power and aren't keen on running out of battery mid-job. Corded vacuum cleaners tend to come with a cord rewind feature, too, making it easy to bunch up and store without taking up too much room.
Crevice equipment – The little accurate and mini-tools that most vacuum cleaners come with to help you get into those nooks and crannies to get the dust from even the smallest of spots.
D
Dust – The main enemy of your vacuum cleaner, the level of dust that can be picked up by your vacuum cleaner will determine and change depending on the answers to the questions above.
E
Electrostatic Bagging – A bag for your vacuum that is made from the finest and most specific synthetic fibers to ensure that electric charge build up through the bag as the air filters through. This draws out the allergens and harmful particles from the dust, retaining them and helping to filter and free the air.
Electric Hosing – This is a very particular form of vacuum cleaner, and one that offers a consistently powerful means of powering the vacuum. Uses a 120V electrical current to power up the hardware and ensure it maintains efficiency.
Efficiency – The level of energy output used by your vacuum itself. It's very important to get a vacuum cleaner that offers the most consistent methods of energy efficiency to help cap the cost of hoovering your property.
F
Fan – Usually helps to create the suction from within the vacuum, giving it the power to lift, clean and consume debris in a matter of moments.
Filter – One of the most powerful elements of a good vacuum cleaner is its ability to help manage debris without getting clogged up. Even the best filters, though, will need to be emptied out or purchased if the filter becomes damaged, clogged or broken during a cleaning job.
Filtration – The power of the vacuum itself to lift particles from the air and to make the air in the room cleaner and healthier to take in.
Furniture Accessories – Usually used for helping to clean upholstery without damaging it or sucking away on the surface too much, these help to brush down everything from suede sofas to a keyboard.
H
Handheld vacuum – These are small vacuums that can be used for getting in and around furniture and fittings a well as offering a smaller, less sizeable cleaning option to store. Balanced out by lesser battery power and overall suction strength.
HEPA – A HEPA filter is a tool within a vacuum that maintains negative particle within the system and then replaces it with air that has had allergens and damaging particles removed from it. You also get HEPA filter bags that provide a very impressive function, helping to further seal in negative particles in the air.
I
Intensive Clean – This is a particular form of dust retention that can help to manage a much higher level of filtration. Helps to reduce allergens within the air and is far more effective than the traditional paper vacuum bags.
M
Microns – The measurement that is used in vacuums (mostly) – it works out at one millionth of a meter per micron.
Motor Brush – In a particular vacuum cleaner motor, the brushes – small carbon robs – work alongside the commutator to make the electrical current carry to the armature. Also known as a carbon brush in some circles.
Mini Tools – These are usually minimally sized tools perfect for those who are trying to clean up after their pets. The perfect choice for those who need to remove hair and tiny animal particles in areas that a normal vacuum head cannot reach.
N
Nozzle – Usually the main part of the vacuum used, the nozzle is where the debris and mess are taken into using the suction method to pull everything in through the nozzle. Power nozzles exist which provide extra power at the cost of electrical output.
P
Paper bag – Used within a vacuum cleaner, these paper bags collect the dust, dirt and debris picked up by a vacuum. Helps to maintain the filtering process and to retain as much of the mess in the air as possible for a cleaner, healthier living.
Power – The general strength and output of the vacuum itself. The power is transferred from the mains (if corded) and then moves into the brush fan to give the vacuum the power level needed.
Polycarbonate – Hugely durable plastic, it can maintain its look and shape even when put under huge pressure – what many vacuum cleaners are made of today.
R
Reach – How far a vacuum cleaner can reach without suffering from cord pull-back or a loss of strength in suction. The longer the cord, the more likely it is that you can get a location cleared that is low on power sockets to pick from.
S
Suction – How powerful the vacuum cleaner itself is – how well it can lift dirt from its 'home' and make the cleaning of your property easier. The greater the suction, the greater the overall power and strength of the equipment.
Storage – How the actual vacuum cleaner itself is stored. Does it have extra clipping to keep accessories and utilities in the one place? Is it hand-held? How easy is the vacuum itself to store out of sight?
S-Class Filtration – This is a European Union solution that is used to make sure the quality of the filtration in the vacuum system is up to the German norm. Very similar to the HEPA system mentioned beforehand, allowing for 0.03% of microns to escape – S-Class filtration meets the same performance norms.
T
Turbine Nozzles – These are specific forms of vacuum nozzles which excel at tidying up and cleaning carpets of small to medium thickness. Makes the most of a revolving roller similar to an old-school upright vacuum cleaner.
Turbo Brushing – Reduces the level of hair and dust that is left over after a clean. More powerful than your bog-standard solution and offers a very strong and effective vacuum cleaning solution. Not always needed, though: a high-power standard nozzle can be just enough.
Telescopic Tubing – These are used to help improve the cleaning tube, making sure you can reach into even the most specific of areas in a property to get them cleaned up quickly.
U
Upright Vacuum – A standards type of vacuum, they are usually stand-alone and maintains itself relatively easy, giving you access to a vacuum that utilizes a handle which extends out vertically from the original casing. Very useful for making sure you can get into more challenging spots, but usually lacks the brute force in suction that other models can provide.
V
Vacuum – A vacuum itself if something that absent of all elements – air included. While a vacuum cleaner isn't a vacuum literally, it creates a semi-vacuum effect that can reduce air pressure extensively as the air moves outward.
Voltage – The power level of the vacuum cleaner, with most common vacuums hitting around 110-120V in power.
Volume – How much debris and mess the vacuum itself can actually hold in the first place. The volume is usually measured in liters, and tends to be quite a bit different in terms of capacity compared to the actual space advertised.
W
Watts – Typically a major advertisement point, the high wattage means that you 'can' get a more powerful vacuum cleaner at the expense of energy consumption. However, there is nothing to say that more power usage equals more power output, per se: research a vacuums actual output, not just the Wattage.
I'm Joost Nusselder, the founder of Tools Doctor, content marketer, and dad. I love trying out new equipment, and together with my team I've been creating in-depth blog articles since 2016 to help loyal readers with tools & crafting tips.