I love creating free content full of tips for my readers, you. I don't accept paid sponsorships, my opinion is my own, but if you find my recommendations helpful and you end up buying something you like through one of my links, I could earn a commission at no extra cost to you.
Learn more
Dust, pet hair, and other particles can easily gather on your drapes. If left unchecked, they can make your drapes look dull and drab.
Also, dust can trigger health issues like allergies, asthma, and other respiratory problems, so it is best to always keep your drapes dust-free.
In this post, I will give you a few quick tips on how to dust drapes effectively.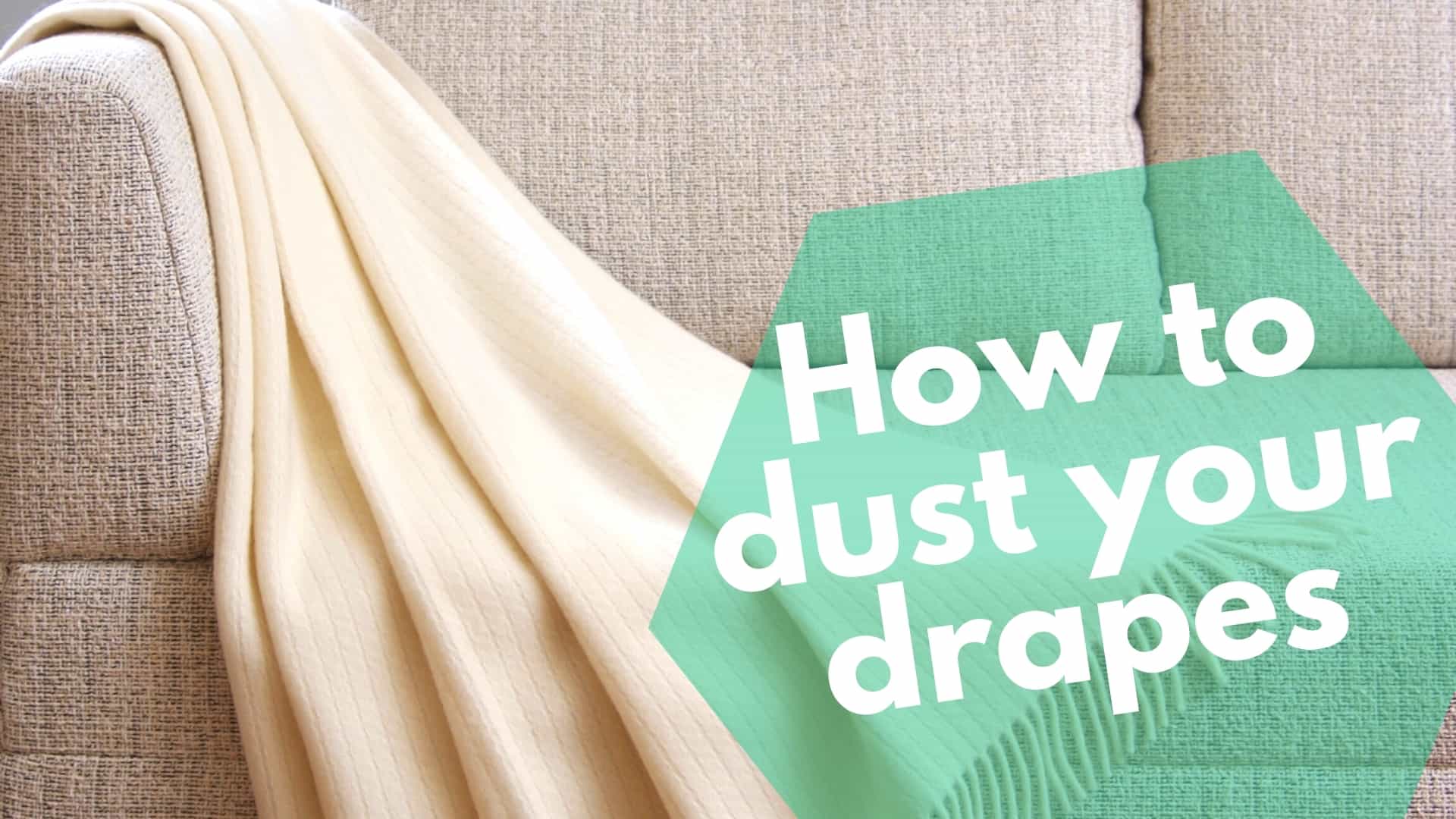 Ways on How to Dust Drapes
There are two major ways to remove dust from your drapes: by dry cleaning or by deep cleaning.
If you do not know which cleaning method best suits your drapes, make sure to do the following:
Check the care label on your drapes. Manufacturers always put cleaning recommendations there.
Know what fabric your drapes are made of. Note that draperies made from special fabric or are covered in embroideries tend to require special cleaning and handling.
These are two important steps, so make sure to do them, to avoid damaging your draperies.
Now, let us move on to the dusting and cleaning process.
Deep Cleaning Drapes
Deep cleaning is recommended for drapes made from washable fabric. Again, do not forget to check the label before washing your drapes.
Here is a quick step-by-step guide to deep cleaning your drapes.
Before You Start
If your drapes are super dusty, open your window before taking them down. This will help minimize the amount of dust and other particles that would come flying inside your house.
Place your drapes on a flat surface and remove all hardware attached to it.
To remove excess dust and small debris from your drapes, use a vacuum like the BLACK+DECKER Dustbuster Handheld Vacuum.
Use the crevice nozzle that comes with your vacuum to get into your drapes' hard to reach areas.
Only use mild liquid detergent or dissolve your powdered detergent in water before adding it to your drapes.
Machine Washing Your Drapes
Place your drapes in your washing machine and use cold water. Program your washer based on the kind of fabric your drapes are made of.
Quickly remove your drapes from the machine after washing them, to avoid too much wrinkling.
It is also best to iron your drapes while they are damp. Then, hang them, so they drop to the right length.
Handwashing Your Drapes
Fill your basin or bucket with cold water and then put your drapes.
Add your detergent and swirl the drapes.
Do not rub or wring your drapes to avoid wrinkling.
Drain the dirty water and replace it with clean water. Swirl and repeat the process until the soap is gone.
Air dry your drapes.
Now that you know how to dust drapes through deep cleaning, let us move on to dry cleaning.
Dry Cleaning Drapes
If your drape's care label says that it should be hand-washed only, never attempt to machine wash it. Otherwise, you might end up ruining your drape.
Dry cleaning is usually recommended for drapes that are covered in embroideries or made from water- or heat-sensitive materials like wool, cashmere, velvet, brocade, and velour.
Unfortunately, dry cleaning is best done by professionals. Doing this on your own can be quite risky.
If you are dealing with expensive drapes, I suggest that you leave the cleaning to professionals.
Unlike deep cleaning that uses detergent and water, dry cleaning utilizes a special kind of liquid solvent for cleaning drapes.
This liquid solvent contains little to no water at all and it evaporates more quickly than water, thus the name "dry cleaning."
Also, professional dry cleaners use computer-controlled machines to clean drapes and other dry clean-only fabric.
The solvent they use is far superior to water and detergent when it comes to removing dust, dirt, oil, and other residues from your drapes.
Once your drapes have been dry-cleaned, they will be steamed and pressed to remove all wrinkles.
Dry cleaning is usually done at least once a year, depending on your drape manufacturer's recommendation.
Steam Cleaning: an Alternative to Deep and Dry Cleaning Your Drapes
Now, if you find deep cleaning a bit labor-intensive or time-consuming to do and dry cleaning too expensive, you can always try steam cleaning.
Again, before you proceed with this method, make sure that you check the label of your drapes to know if you can steam clean them.
Steam cleaning is relatively easy to do. All you need is a powerful steam cleaner, like the PurSteam Garment Steamer, and water:
Quick step-by-step-guide for steam cleaning your drapes:
Hold your steamer's jet nozzle around 6 inches from your drape.
Spray your drape with steam from the top going down.
When you are working on the seam lines, move your steamer nozzle closer.
After spraying the entire surface of your drape with steam, replace the jet nozzle with the fabric or upholstery tool.
Hold your steamer hose upright and start running the cleaning tool gently on your drape, from the top going down.
Once you are done, repeat the process on the back side of your drape then let it air dry.
While steam cleaning is something that you can do regularly to ensure that your drapes are dust-free, it is still advisable to deep clean or have your drapes dry-cleaned every once in a while.
Read on for a simple guide to keeping your glass spotless
I'm Joost Nusselder, the founder of Tools Doctor, content marketer, and dad. I love trying out new equipment, and together with my team I've been creating in-depth blog articles since 2016 to help loyal readers with tools & crafting tips.