I love creating free content full of tips for my readers, you. I don't accept paid sponsorships, my opinion is my own, but if you find my recommendations helpful and you end up buying something you like through one of my links, I could earn a commission at no extra cost to you.
Learn more
What is The Best Dustbuster? A dustbuster makes for a great way to clean the house.
When small piles of dirt and dust appear, instead of lugging out a heavy vacuum, you can just grab the dustbuster.
These small, lightweight vacuums make it easy to clean small messes and they often have a holder that allows them to be hung on the wall, so they are easily accessible.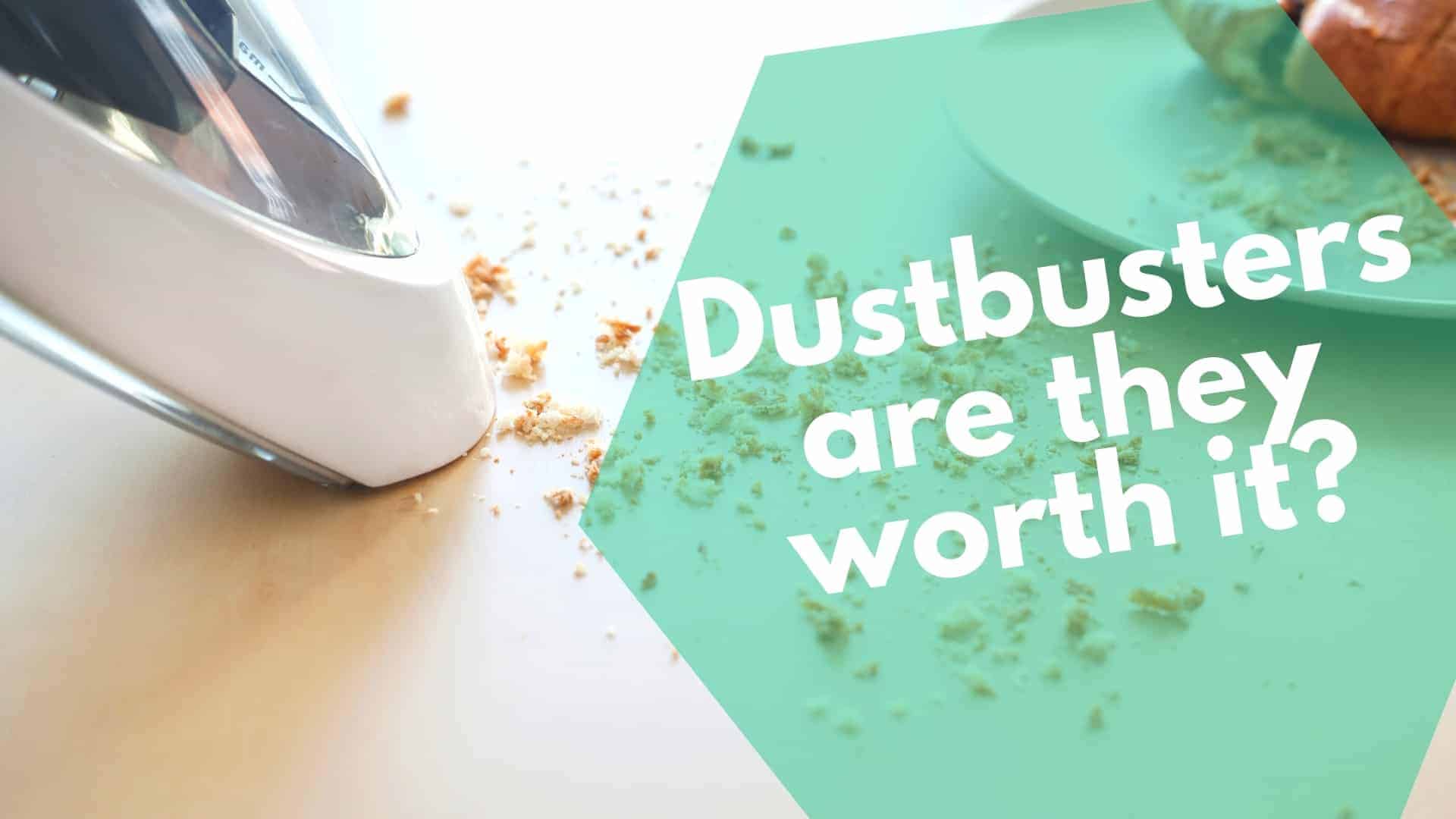 If you would like to get a dust buster to help you with your household activities, you will want one that is as effective as possible.
What is the best dustbuster out there?
The best depends on what you're using it for, but since charging is one of the biggest issues with a dustbuster, I would look into this Black & Decker 16V CHV1410L to get the most use out of a great product.
This article will review various dustbusters so can determine which one is right for you.
Let's take a quick look at all of the top choices:
What to Look for in a Dust Buster
If you are looking for a dust buster for your home, here are some things you will want to consider.
Run Time: Many dust busters are cordless, but they will take a while to charge and they will only run for a limited amount of time. Most dust busters will run for 20 to 30 minutes per charge but they can take 5 – 20 hours to recharge.
Dust Capacity: The dust capacity refers to how much dirt and dust the dustbuster can hold. If you rely on your dust buster to clean big messes, look for one with a larger dust bin (around 15 oz.). If you only use your dustbuster for smaller messes, you can go with a smaller dust bin. Manufacturers don't always post their dust bin capacity, but in general, the larger the unit, the more it will hold.
Hardwood or Carpet: Most dust busters will work on hardwood floors. In fact, they are ideal for this application because, unlike vacuums, they don't need to touch the floor. This reduces the chance of scratching. Most will also work well with carpets but you will need a more powerful dust buster to do an effective job. If you plan to use your dustbuster on your carpet, make sure you get one that's up to the task.
Weight: Most people like a lightweight vacuum, and believe me, when you're holding your vacuums for long periods of time, every ounce counts. However, lighter weight vacuums also tend to be less powerful. Therefore, it's a good idea to find one that runs that delicate balance between being high quality and lightweight.
Filters: Most dust busters have filters that need to be changed once a season. These filters are expensive and costs can add up. Therefore, it is advisable to find a dustbuster with a washable filter. These will only need to be replaced when they wear out.
Extensions: Just like a vacuum, many dust busters come with extensions. The extensions can make your dustbuster more versatile allowing it to take on a larger range of tasks. Brush extensions will be helpful in cleaning the carpet while tubes and hoses can help you get into those hard to reach places. Think of your needs and purchase a dust buster with extensions that work for you.
The 11 Best Dust Busters reviewed
Now that we have outlined what to look for in a dust buster, let's take a look at which models are recommended.
Best Cordless Dustbuster: Black & Decker 16V CHV1410L
While cordless dustbusters provide a wireless experience, they also need to be charged often. If you opt for wireless, the Black & Decker Cordless is recommended.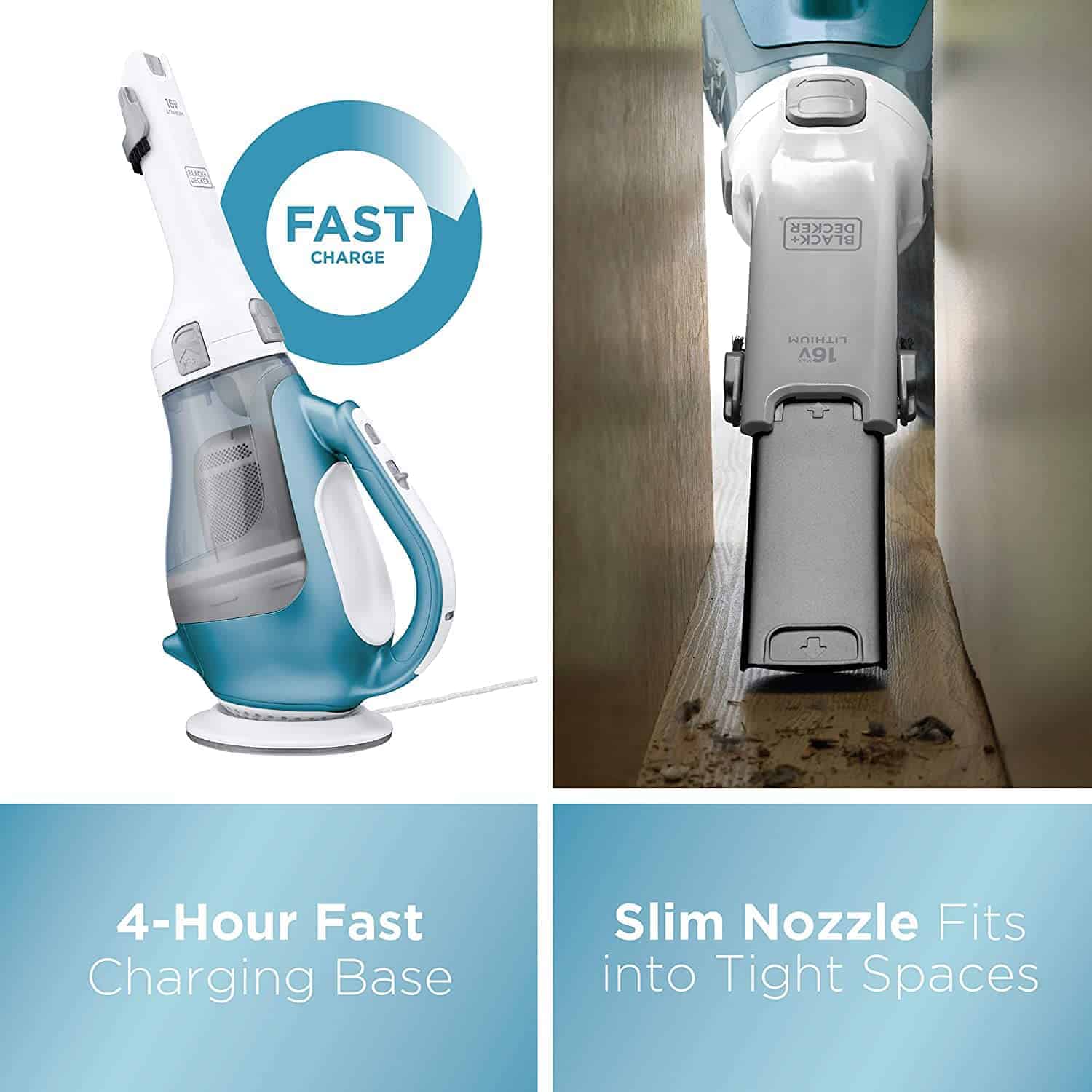 This vacuum has a lithium battery with a long life. It can keep a charge for 18 months when not in use. It is lightweight.
It has a suction power of 15.2 AW and a dustbowl capacity of 20.6 oz. It features smart charge technology that uses 50% less energy.
Its cyclonic action helps keep the filter clean and the power strong. The bagless dirt bowl lets you see how much dirt has accumulated so you know when it's time to empty it.
The rotating, slim nozzle is ideal for a variety of applications and the unit has a removable bowl and filter that can be cleaned.
It comes with a pull-out crevice tool that is ideal for hard to reach places and a flip-up brush that is great for dusting and cleaning upholstery.
Here's Princeton Products looking at this model:
Pros:
Lightweight
Energy efficient
Comes with attachments for hard to reach places and cleaning upholstery
Slim, versatile nozzle
Washable filter
Good suction power
Long-lasting battery
Cons:
Battery does not last long as advertised
Check the latest prices and availability here
Best Dustbuster for a Quick Clean: Eufy by Anker HomeVac H11
If you need to clean a small mess quickly, check out the Eufy by Anker HomeVac H11 Cordless Vacuum.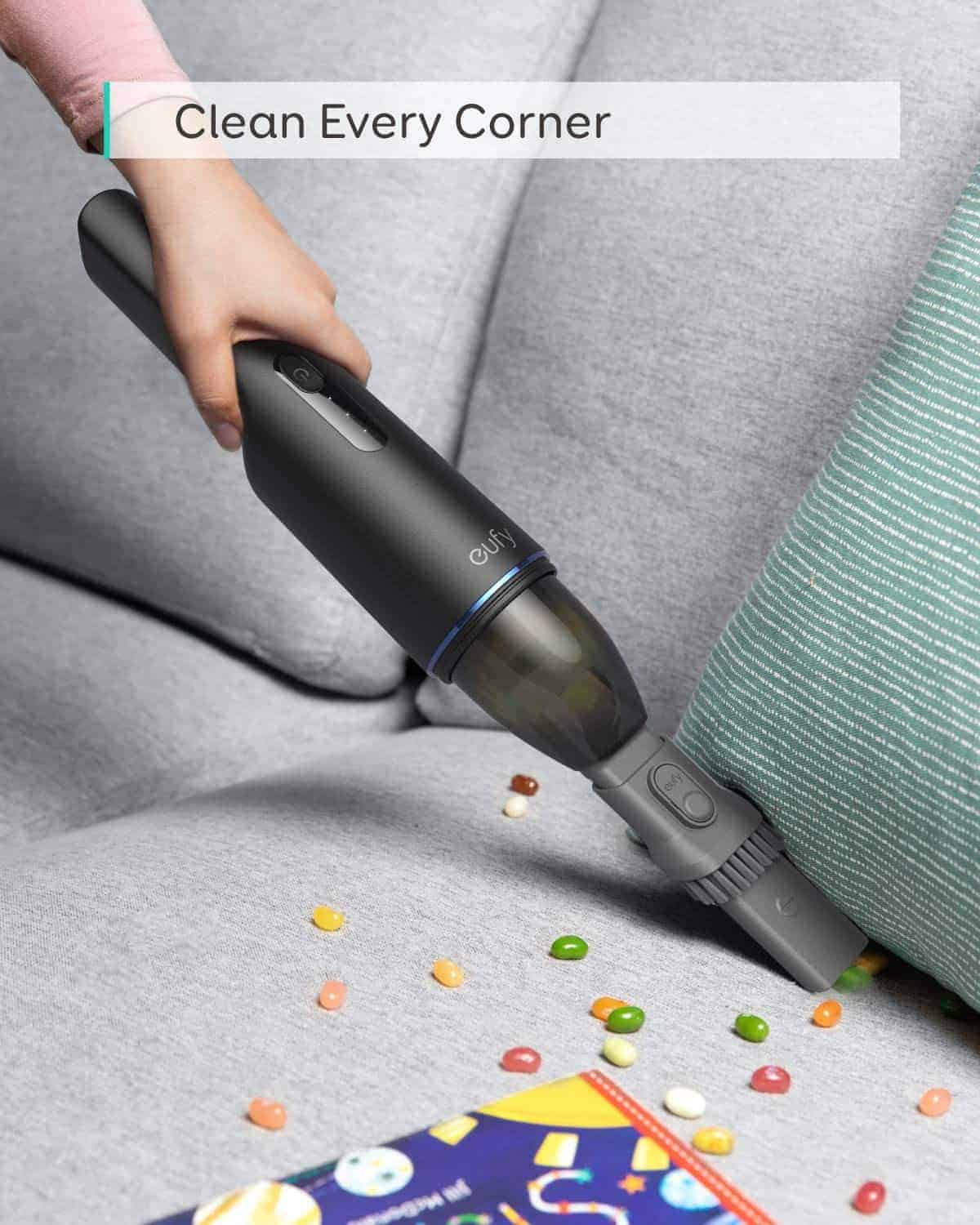 We picked this as the best dustbuster for a quick clean because it is so lightweight. It weighs only 1.2 lbs. It is long and narrow so it's very easy to store.
It has 5000Pa of power so its suction is remarkable. It has a 2 in 1 crevice tool that is great for getting into corners.
It also has a USB charger that allows you to charge it from any empty port.
Here's Mark from TheGeekChurch talking about its size and power:
Pros:
Lightweight
Easy to store
Powerful
2 in 1 crevice tool for getting into corners
Convenient USB charger
Cons:
Has barely any suction power
Battery dies quickly
Best Dustbuster for the Car: Hotor Corded Car Vacuum
If you have a small mess in your car, make sure you have a Hotor on hand.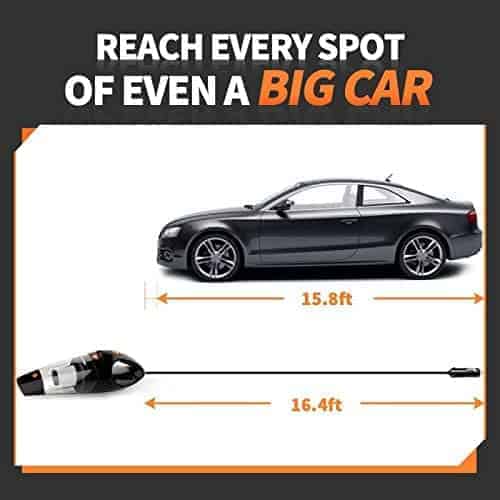 A car is a great place for a dust buster, especially if you eat in your car and/or you have kids. This dustbuster is powerful and long-lasting.
It has a bright LED light that allows you to see what you're doing.
The filter is covered with a filter wrap that keeps suction stable and prevents clogging so it extends the life of your filter. Its detachable dust cup makes it easy to clean.
It has three different nozzles that provide versatility and it comes with a case that makes it easy to store and carry.
Here you can see Maso using it in his car:
Pros:
Powerful
Long-lasting
LED light
Filter wrap to prevent clogs
Dust cup for easy cleaning
Different nozzles for versatility
Storage bag
Cons:
Poor suction
Really only suitable for car use
Best Dustbuster for Pet Hair: Bissell Pet Hair Eraser 33A1
Pet hair tends to stick to furniture and carpeting. You will need a powerful vacuum like the Bissell Pet Hair Eraser 33A1 to do the trick.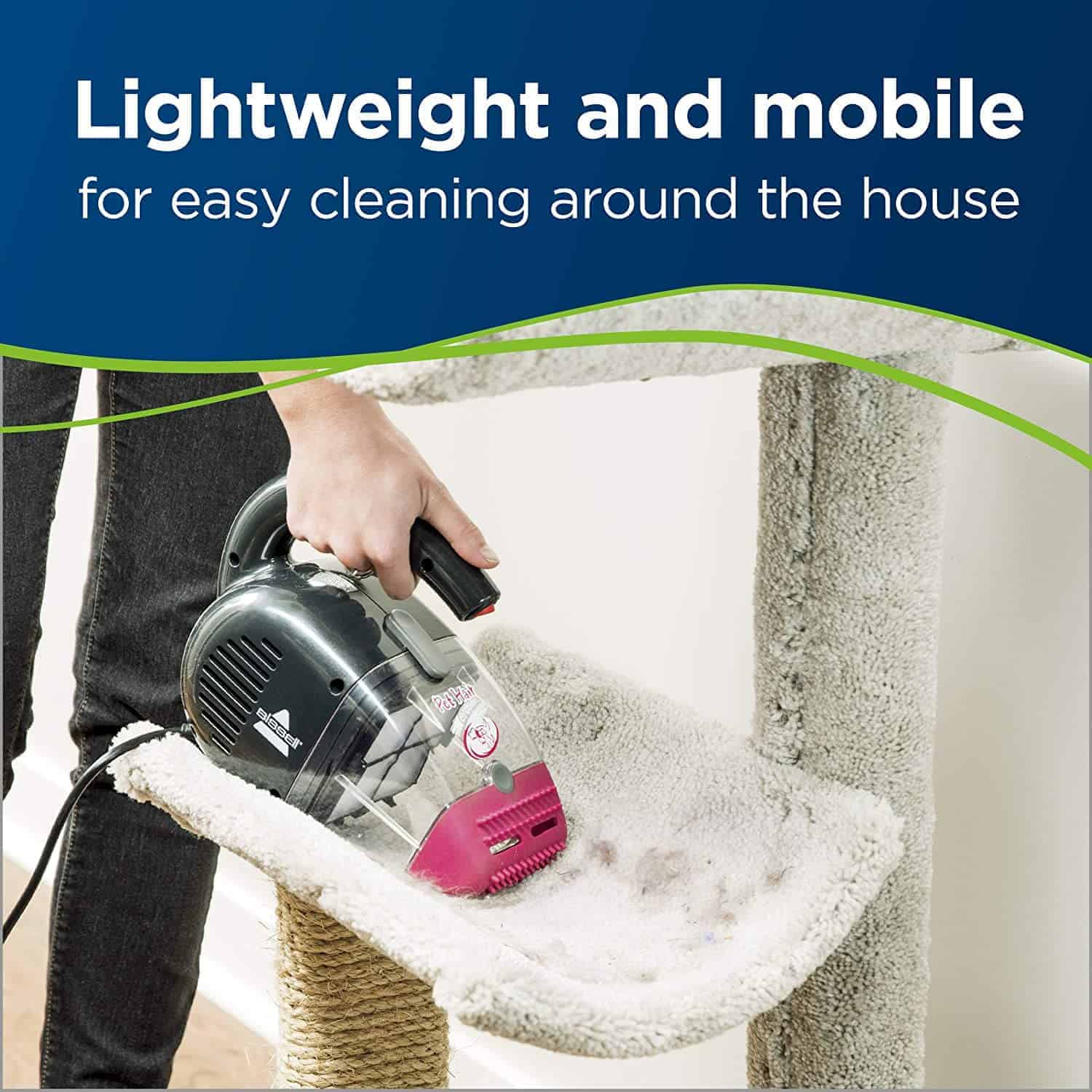 This vacuum is recommended for cleaning upholstery, vehicles, and stairs. It has a 4 amperes power rating. It has multi-layer filtration and it uses a cyclonic cleaning system.
It has a 16-foot cord and a dirt cup capacity of .78 liters. The rubber nozzle is perfect for attracting hair and dirt. It has two specially designed nozzles and it is bagless.
Let's see if Jamie here can get all of the dog hairs off from her couch:
Pros:
Powerful
Long cord
Big dirt cup capacity
Special nozzle for cleaning pet hair and dirt
Bagless
Cons:
Best Dustbuster with a Wall Mount: Ryobi P714K One plus
Wall mounts are handy because you always know where your vacuum is. Hanging your dustbuster on a wall mount also means it won't take up a lot of storage space.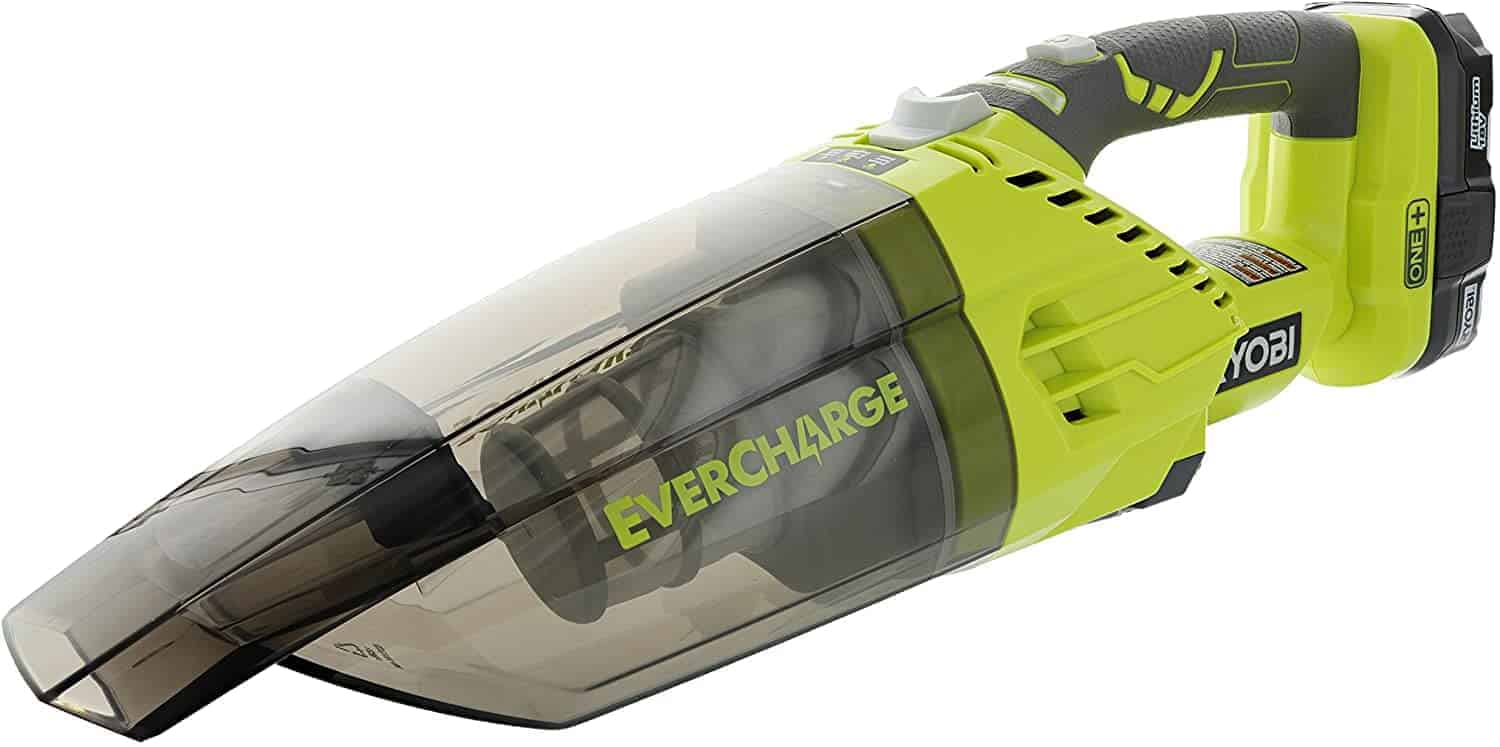 The Ryobi P714K One plus is a wall-mounted dustbuster you can trust.
This vacuum has fuel status LEDs that let you know exactly when you need to recharge. It has a unique shaped nose that allows you to get into tight spaces.
It is compatible with many Ryobi 18V power tools and Ryobi 18V batteries. The wall mount makes the vacuum easy to find and easy to charge.
It comes with a lightweight and powerful 1.3-amp hour compact battery.
Here are a few pros and cons of this Ryobi model:
Pros:
Wall mount for easy storage and charging
Strong, lightweight battery
LED lights that keep you up to date on fuel status
Easy to clean tight spaces
Compatible with Ryobi tools and batteries
Cons:
Sometimes it doesn't last and difficult to return
Best Dust Buster with a Long Handle: Black & Decker Max Flex
Long handles are great for getting into hard to reach places. The Black & Decker Max Flex is a long reach dustbuster you can count on.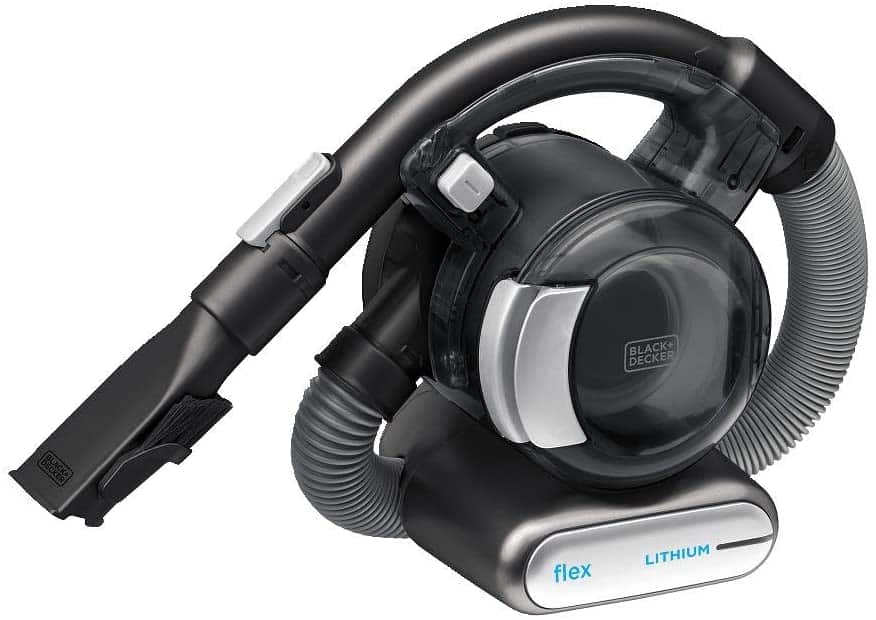 This dustbuster has a dustbowl capacity of 20.6 ounces and a strong suction power of 24 AW. The pet hair brush removes pet hair easily.
It is easy to empty and it has a washable filter and a 17 oz. washable bowl. Its 3-stage filtration system keeps dust and debris from escaping.
It weighs 3.2 lbs. and it has a 4 ft. extendable hose.
Here you can see Howie Roll use it in his RV:
Pros:
Strong suction
Large dustbowl capacity
Pet hair removal brush
Washable filter and bowl
3 stage filtration system to keep in dust and debris
Lightweight
4 ft. extendable hose for long reach
Cons:
Low suction
Does not last long
Dustbuster with best Attachments: Fujiway 7500PA
A dustbuster with a lot of attachments will give you the versatility to tackle several cleaning jobs around the home. The Fujiway is a quality dustbuster with several attachment features.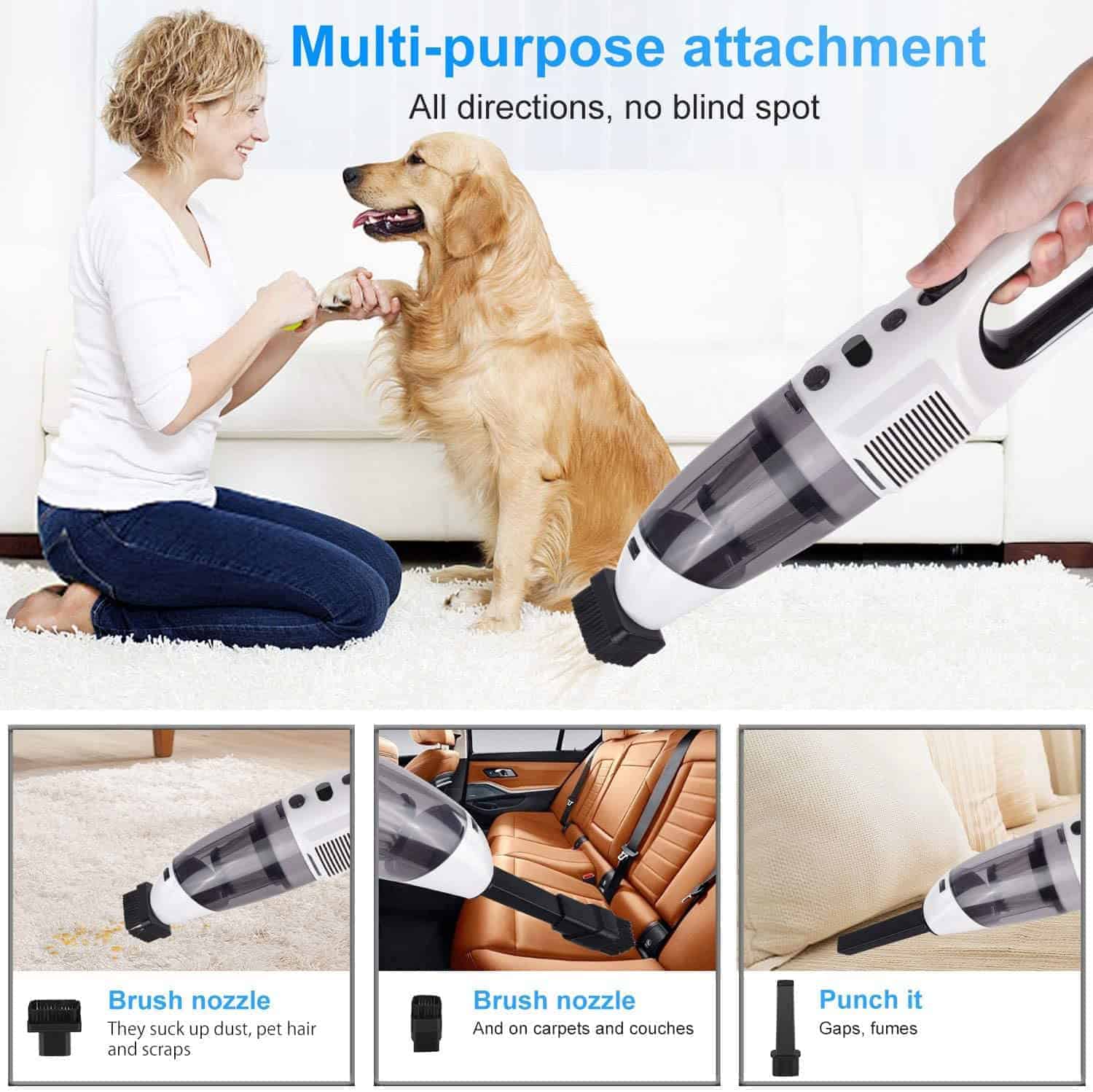 The Fujiway 7500 PA is a handheld, cordless vacuum that is perfect for pet hair and wet/dry use.
It has 120W cyclonic power. It has a lithium-ion battery that can charge 500 times and is fully charged after 3 to 4 hours and good for 25 -30 minutes of vacuuming.
It has a washable and durable HEPA filter. It has three nozzles that will meet any of your cleaning needs. It has LED lights that let you see what you are doing in dark corners.
It also has an LCD screen that lets you see the battery life. It is only 1.5 lbs. but it has a large-cap dustbin that can hold 550 mL of debris.
Pros:
Powerful
Multiple nozzles for different cleaning applications
LED lights so you can see what you are doing
LCD screen for battery life
Lightweight
Large dirt storage capacity
Powerful battery
Washable filter
Cons:
Poor suction
Does not last long
Check prices and availability here
Best Dustbuster for Wet and Dry Surfaces: Karcher TV 1 Indoor Vacuum
The last thing you want is a dustbuster that will fry if you're vacuuming over wet surfaces. The Karcher TV 1 Indoor Wet/Dry Vacuum does a great job on both wet and dry surface areas.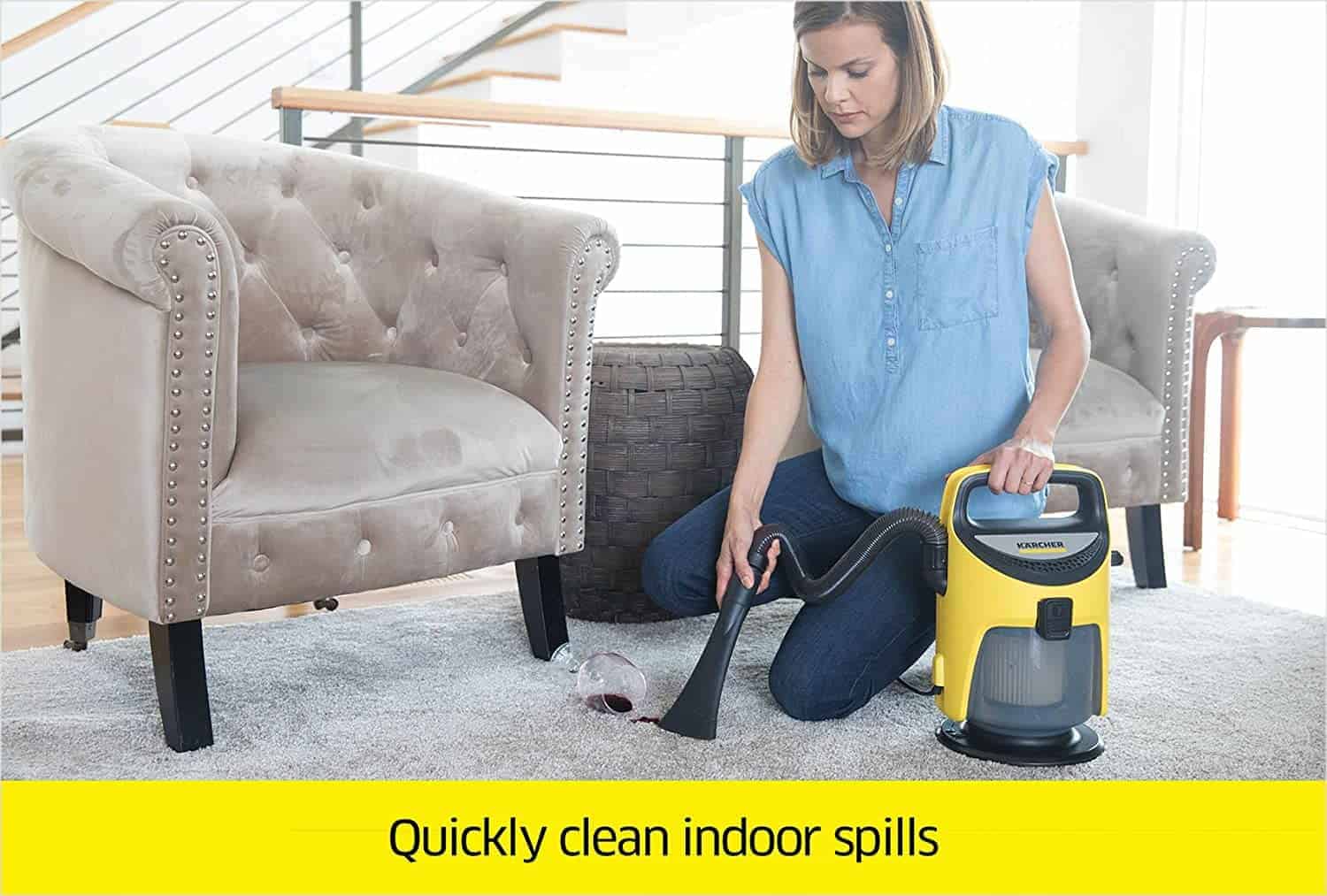 The Karcher wet/dry vacuum is made for whole-house cleaning. It has a compact, lightweight design and it is great for upholstery, floors, stairs, and automobiles.
It is also good at cleaning up pet hair. It comes with a wide variety of tools and attachments that can be used on standard and wide crevices.
It also has a dusting brush, extension wands, a floor tool, a turbo pet tool, and a storage bag.
Here is HSNtv looking at this model from Karcher:
Pros:
Powerful
Cleans wet and dry surfaces
Versatile
Comes with many tools and attachments
Good for cleaning pet hair
Lightweight
Compact design
Cons:
Not as powerful as advertised
Not long-lasting
Best Dustbuster for Cat Litter: Black & Decker Max Handheld Cordless
A dustbuster's ability to get into crevices makes it perfect for cleaning cat litter.
However, you need a dustbuster that is powerful enough to pick up the cat litter and that won't clog easily when larger pieces are suctioned.
The Black & Decker Max Handheld Cordless is recommended.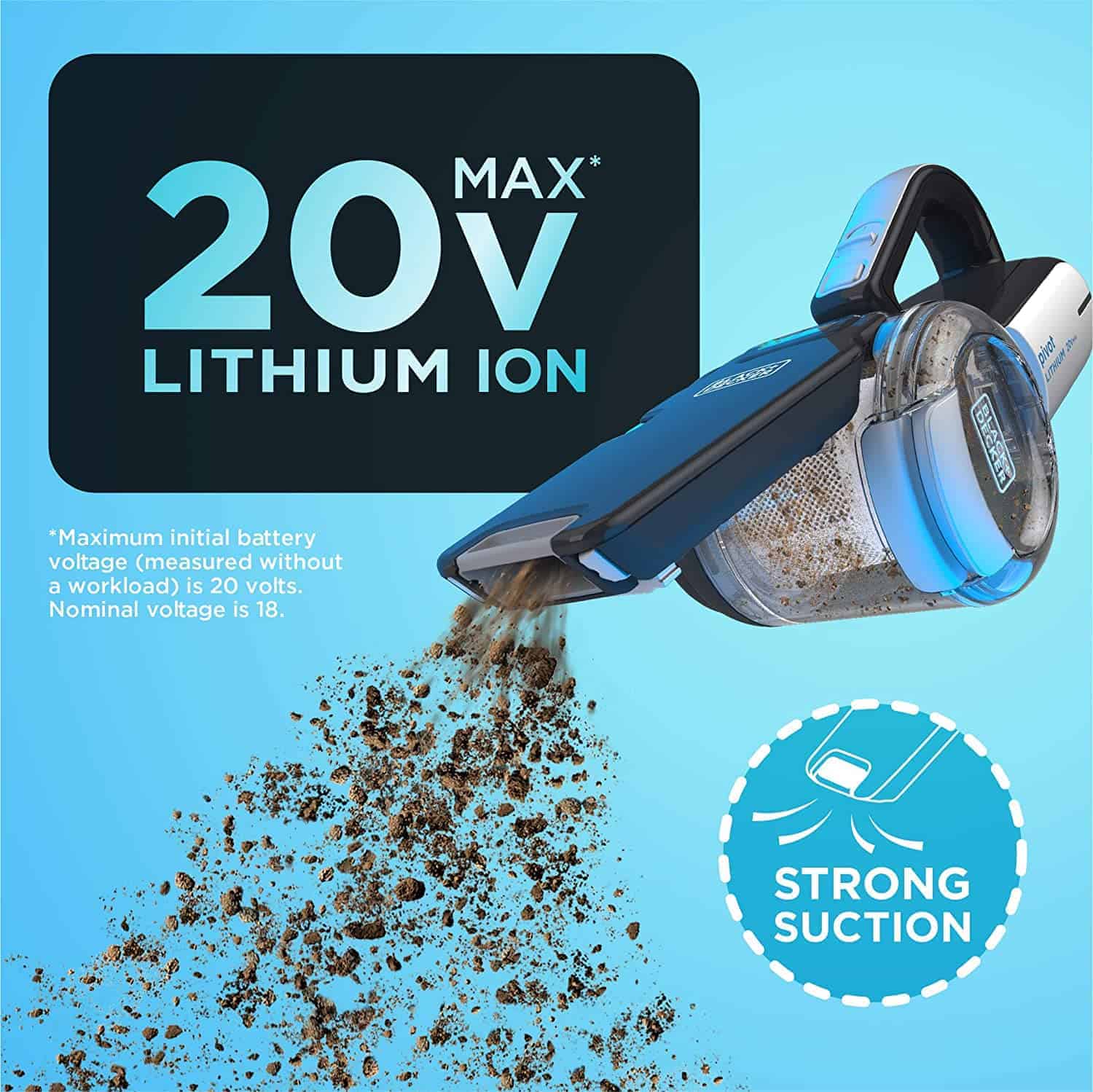 This vacuum has a large dustbowl capacity, wide-mouth design, and strong suction so it is perfect for picking up large cat litter messes.
Its pivoting head means it can get into tight corners where cat litter hides. Its cyclonic action spins dust and dirt away from the filter to keep the power strong.
It has a flip-up brush, an extendable crevice tool, an easy to empty dust bowl, and a washable filter. It also has a 3-stage filtration system.
Here's Modern Castle looking at this model:
Pros:
Easy to clean
Powerful
Pivoting head helps it clean up dirt in tight spaces
3 stage filtration system
Several attachments
Wide mouth design makes it ideal for picking up cat litter
Cons:
Works great at first but quickly begins to break down
Best Dustbuster with a Cord: Eureka 71C
While some people enjoy the freedom of a wireless cleaning experience, wireless units do have to charge often. That's why some prefer the convenience of a corded unit.
If you would rather go corded the Eureka 71C is worth checking out.
This vacuum provides strong suction that can clean carpet, upholstery and automobile interiors. Its stretch hose allows it to get into hard to reach places.
It has an onboard crevice tool and a Riser Visor for stairs. The 20 ft. cord makes cleaning easy and it wraps around the unit for storage.
It has two motors, one that controls the revolving brush and another for suction. At 4.8 lbs., it is conveniently lightweight.
Here you can see it in use:
Pros:
Lightweight
Long cord
Two motors for extra power
Gets into hard to reach places
Riser Visor makes it easy to clean stairs
Cons:
Stops working quickly for some people
Best Dustbuster with a Hose: Shark Rocket Ultra-Light
A hose is a dustbuster attachment that has the flexibility to get into hard to reach places.
The Shark Rocket Ultra-Light has a hose as well as other features that make it stand out from the competition.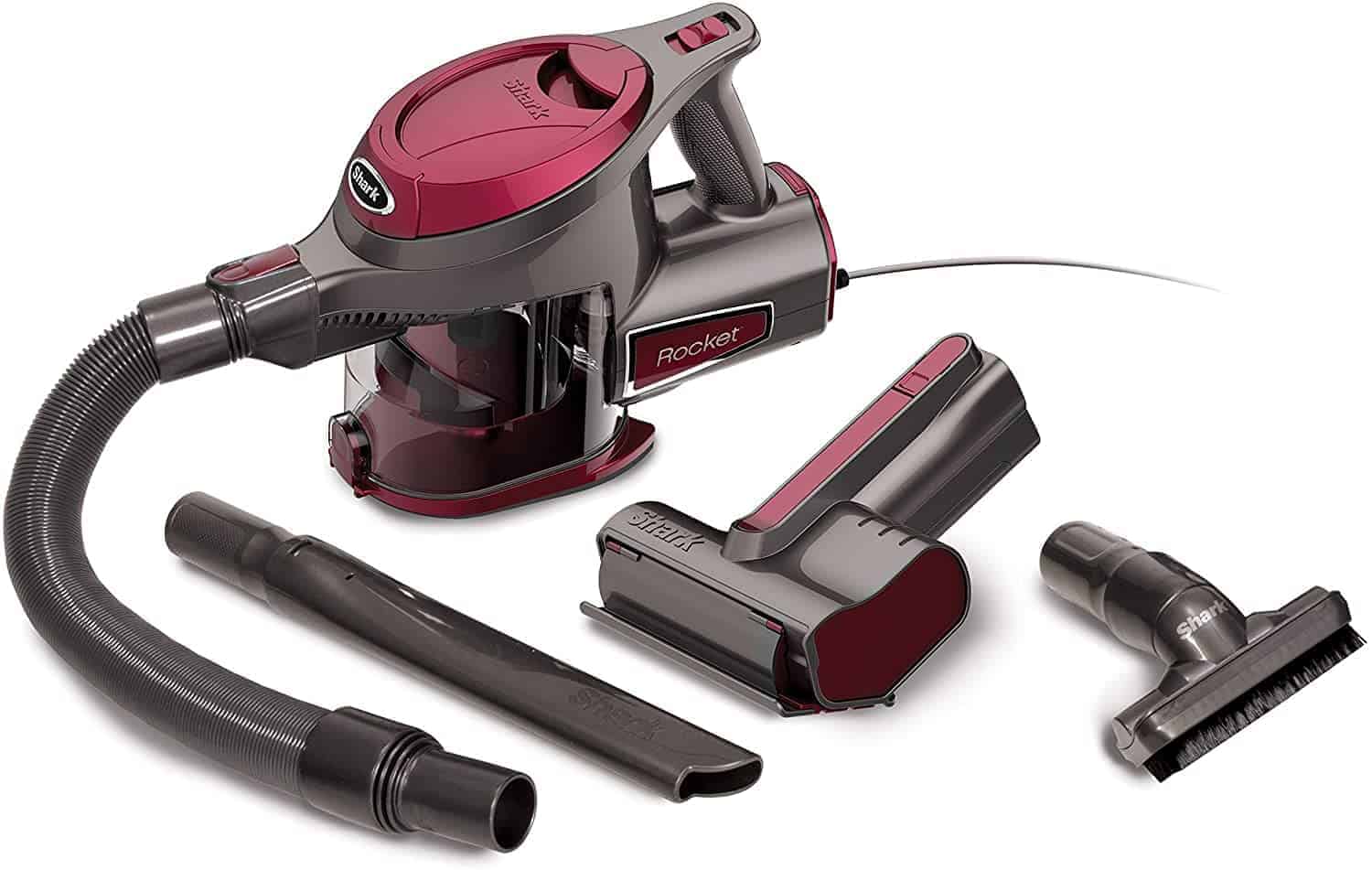 The Shark Rocket is recommended because, at less than four pounds, its super light and portable. The pet motorized brush provides handheld deep cleaning.
It comes with an easy to empty dust cup so there is no need for bags. The 15 ft power cord means you can clean the whole room without having to stop to recharge.
It has an amperage of 3.4 so it supplies plenty of power. It has an extendable attachment and washable filters.
Pros:
Powerful
Lightweight
Long cord
Motorized brush for deep cleaning
Easy to empty dust cup
Extendable attachment
Cons:
Brush may stop working and is not covered by a warranty
Dustbuster FAQ's
Now you know what to look for in a dustbuster and you also have some recommendations regarding the ones that will best suit your needs.
But in order to leave no stone unturned, we are also including an FAQ section that will answer any remaining questions.
Also read: are robot vacuums worth the extra spend?
Are cordless vacuums worth it?
While people might enjoy the freedom a cordless vacuum provides while cleaning, they also need to be recharged often.
In most cases, they will need to be charged for several hours to provide about 30 minutes' worth of cleaning time.
Additionally, as the charge starts to wear down, the suction will get weaker. It is for these reasons that a vacuum with a cord may be a better choice.
Is Shark better than Dyson?
Both Shark and Dyson are well-known vacuum brands. When comparing their products, one may find that Dysons are more expensive, heavier, and provide better suction.
Shark vacuums, on the other hand, are cheaper, lighter weight, and tend to offer suction that is not as powerful.
How Long do Dustbusters Last?
A dustbuster's longevity will be due to several factors. This includes its construction and how well it is maintained. But the reason why most dustbusters last around 3 to 4 years, is that the battery will die out.
How Long Does a Dustbuster's Battery Last?
Most dustbusters have a battery that can operate for 15 to 30 minutes. They will keep that charging time for around 3 -4 years. After it dies, it is pretty easy to replace it with a new one. But most people will buy a newer model at that time.
Why Does My Dustbuster Not Hold a Charge?
Some dustbusters charge by plugging into a charging case while others must be plugged into the socket to restore the charge. In either case, you will need to make sure that the vacuum is fully installed in the charging base or that the plug is fully plugged into the vacuum. The indicator light will light to let you know the unit is charging.
If you are sure the unit is plugged in properly and it is still not charging, check your outlet. If your outlet is working, the problem may lie in the device itself.
It may be that the wire is frayed, it may be that the battery is dead or it may be that the unit just wasn't made well.
If this is the case, contact the manufacturer to find out about your options.
Why Does My Vacuum Keep Shutting Off?
If your vacuum is shutting off, it may be due to overheating or it may be an electrical issue. If the vacuum is overheating, it may be because a hose is clogged. Cleaning can solve the issue.
If the shutting off is due to an electrical problem, you may need to bring it into a repair shop for a repair.
How powerful should be dustbuster be?
You need to be able to suction dust from carpets but also larger spills like cat litter or spilled cereal or bread crumbs. That's why a good small dustbuster should have at least 200 watts while larger vacuums are usually 1000-2000 watts.
Does higher wattage mean better suction?
While many people believe the answer to this question is yes, the truth is, a vacuum with higher wattage only means it will use more electricity. What really needs to be looked at is suction and airflow. Suction can be measured by a suckometer gauge (yes, believe it or not, there is such a thing).
Airflow determines how the air moves in the vacuum once dirt and debris are picked up. Obviously, you want it to move smoothly and easily through the vacuum to allow it to work as effectively as possible.
Is it okay to vacuum hardwood floors?
Yes, in fact, vacuuming may be the best way to clean dust and dirt off a hardwood floor. Be sure to find a vacuum with extensions that will let you get into corners and crevices.
Note, a dustbuster may be preferred over an actual vacuum because it does not come into contact with the floor's surface. This makes it ideal for minimizing scratches.
Conclusion
Now that you have all the information you could ever need regarding dustbusters, you are ready to make an informed decision concerning which you should choose for your home.
Which do you think will be best?
I'm Joost Nusselder, the founder of Tools Doctor, content marketer, and dad. I love trying out new equipment, and together with my team I've been creating in-depth blog articles since 2016 to help loyal readers with tools & crafting tips.