I love creating free content full of tips for my readers, you. I don't accept paid sponsorships, my opinion is my own, but if you find my recommendations helpful and you end up buying something you like through one of my links, I could earn a commission at no extra cost to you.
Learn more
If you own a bike, you probably won't want to store it in your house or apartment.
Not only will the bike take up room, it will also bring in dirt resulting in a major cleaning project every time you take it out and put it away.
Outdoor options may make for less of a mess, but you run a risk with security.
Any bike stored in an outdoor location is likely to get stolen, even if it's locked up.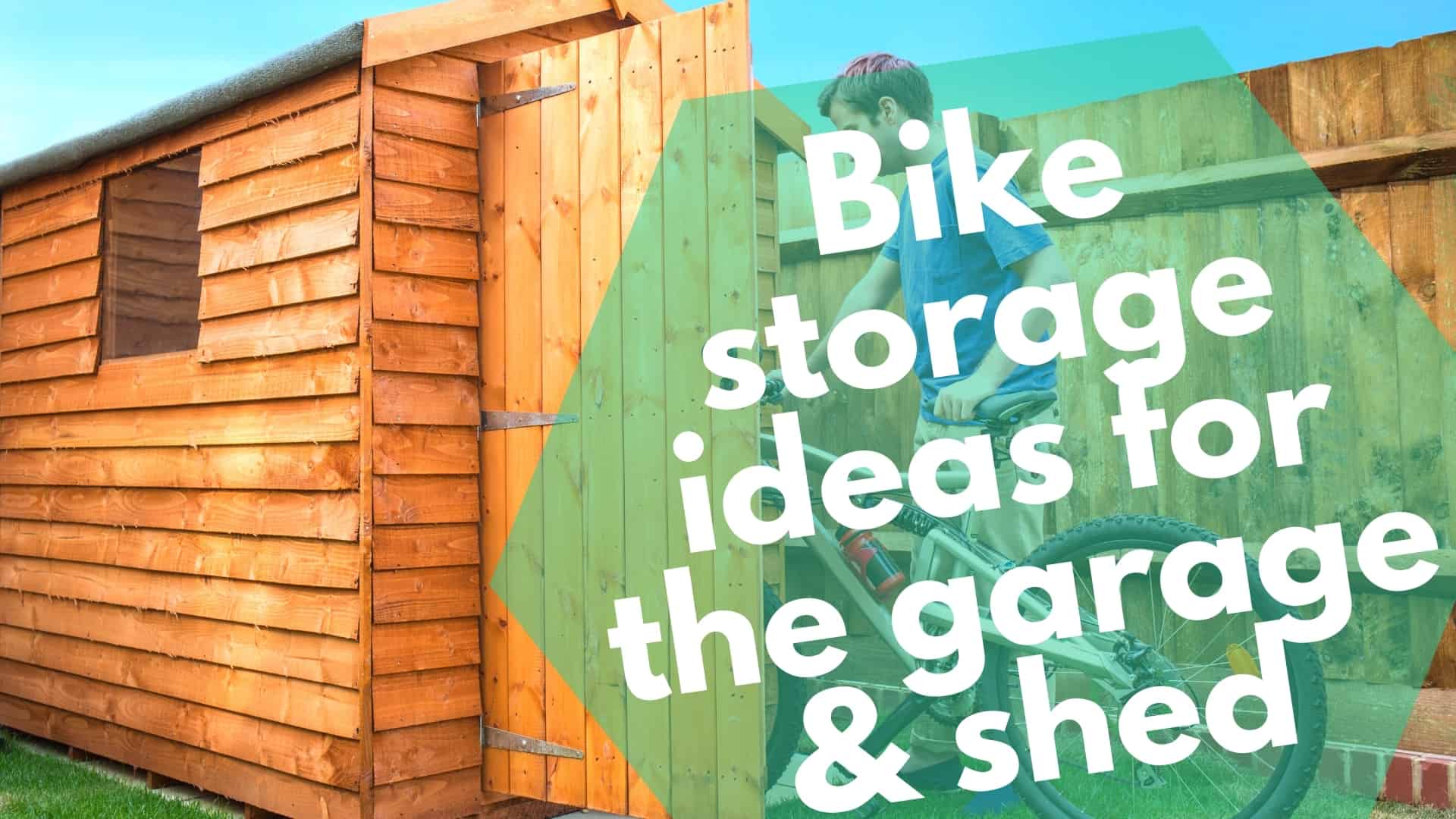 Therefore, the best option may be storing the bike in a garage or shed.
However, even with these options, you need to think of the best way to store your bike.
You may want to store it so that it is not taking up a lot of room in the garage. You may also want to provide extra security as sheds and garages are more likely to get broken into than a home or apartment.
Fortunately, there are many options when it comes to bike storage in a garage or shed.
This article will review those options to help you decide the best solution for your bike.
If you're looking for a sturdy wall mount, which I think is the best way to store a bike, this Koova Wall Mount Bike Storage Rack is a great buy.
There are many options for storing your bike inside a garage or shed, but a wall mount is ideal because it is an easy way to store your bike and it will not take up a lot of room.
The Koova Wall Mount is recommended because it can hold up to six bikes of all sizes and it even stores helmets.
It is made of durable steel material and it's easy to install.
Of course, there are many other storage solutions that can work including other wall mount options.
We will be providing more info on the Koova and reviewing more choices further down in the article.
In the meantime, let's look at the top choices real quick.
After that, we'll have a full review of each giving you everything you need to know about deciding which storage options are best for you.
Best Solutions For Bike Storage in Garage and Shed
Here's a quick overview of our top choices for bike storage in your garage or shed.
Considerations to Make When Storing Your Bike
There are many considerations to make when storing your bike.
These are as follows:
Size: You need to make sure the bike will fit in the storage space. Measure your bike carefully before making a purchase and get the measurements of the space so you can be certain it won't be too small.
Weight: In some circumstances, the weight of the bike will come into play. For instance, if you are thinking of using a hook to hang the bike off of, you must make sure the hook will be sturdy enough to support the bike.
Security: Bikes are pretty easy to steal so you need to make sure they are locked up securely. You may consider putting a lock on the bike, putting a lock on the shed or garage or using both methods for extra security.
Landlord Restrictions: If you live in an apartment and you are considering storing your bike in the building's garage, make sure this is okay with your landlord. If you are thinking of buying a shed that you want to place on outdoor property, you will also have to get your landlord's permission. You will also have to figure out the best location for the shed according to building regulations.
Cold Weather: It may be cold in a shed or garage. Cold temperatures will not hurt your bike but it may reduce the life of the batteries in your electronic devices. Consider removing them before storing your bike.
Best Bike Storage Options for a Shed or Garage
Now, let's take a look at options that will work best if you're storing your bike in a shed or garage.
Best Storage Wall Mount for Multiple Bikes: Koova Wall Mount Bike Storage Rack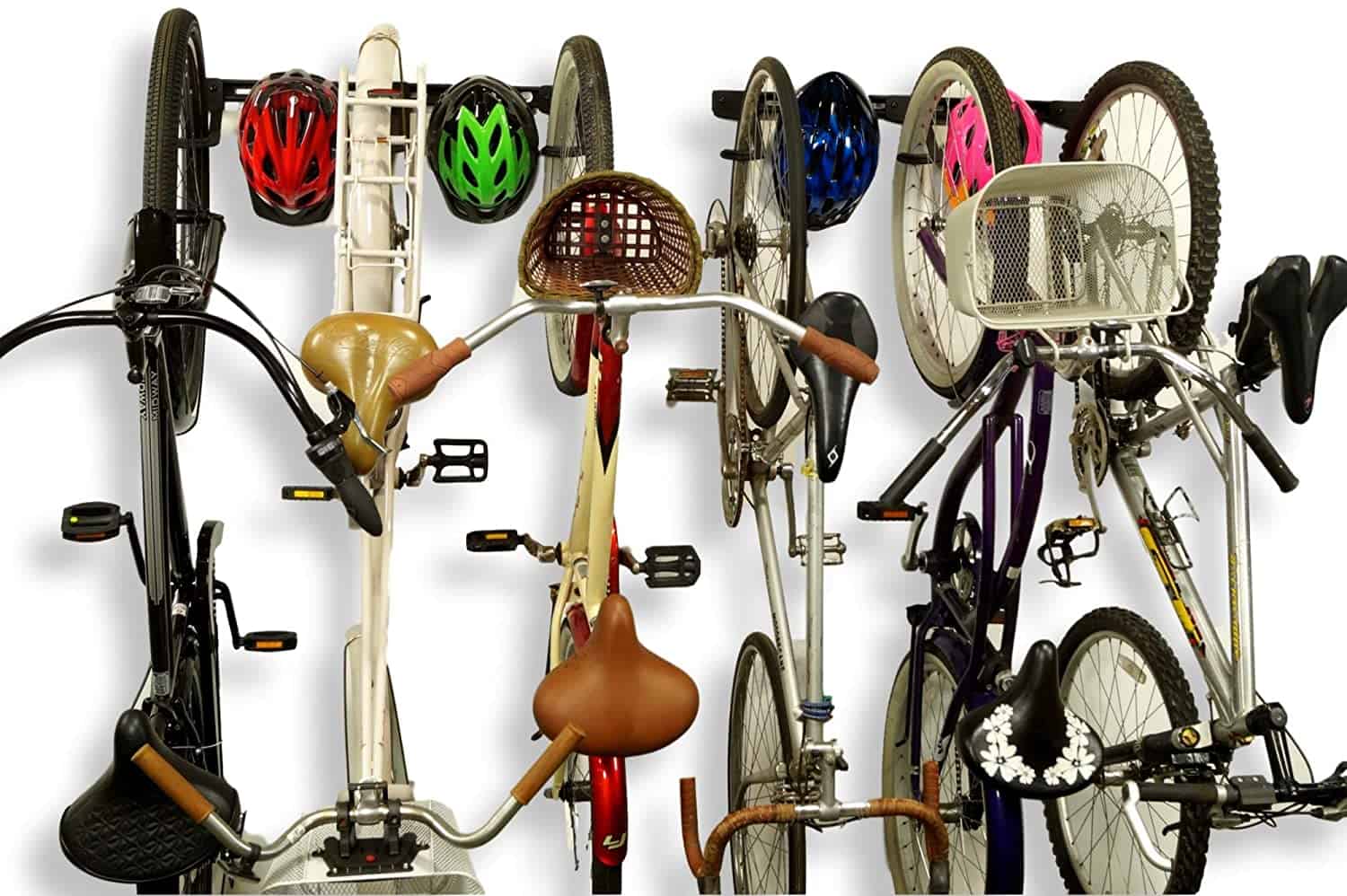 Wall mounts are ideal solutions because they make for easy bike hanging. Being that they position bikes off the floor, they are terrific for saving space.
The Koova Wall Mount is recommended for those who have crowded garages and may not have the room to store multiple bikes.
With a capacity for up to six bikes, it is perfect for large, active families.
The mount is made of heavy gauge steel. Every component is carefully formed in the factory it's manufactured in.
It fits all types of bikes including large cruisers and mountain bikes. It has bike hooks that offer optimal support for each bike and angle to accommodate bikes perfectly.
It is easy to install and can be hung in just minutes using everyday tools.
The unique mounting system means you can place the bike holders anywhere you want in the channel and they will not come off. Smaller hooks are also available to hold helmets and accessories.
Messy garage with hardly space for a bike? Read How to Organize a Garage on a Tight Budget.
Best Wall Mount for One Bike: Wallmaster Bike Rack Garage Wall Mount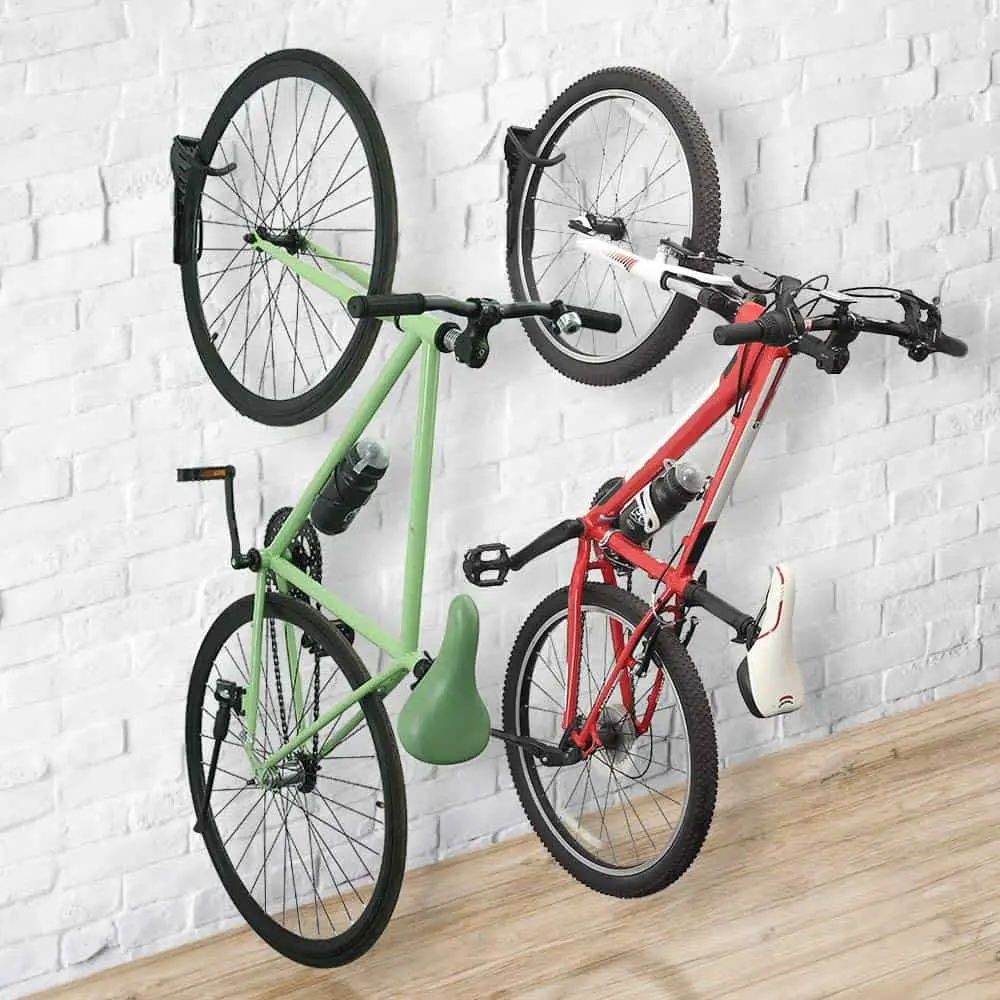 If you don't have the need to hang so many bikes, you can save money by buying a wall mount made for a single bike. It will still offer secure storage as well as space-saving options.
The Wallmaster bike rack includes a set of two making it perfect for those who own one or two bikes. The racks hang bikes vertically so they won't take up a lot of room in a garage or shed.
This bike rack is easy to install. It only takes four screws and it will be fastened securely to the wall.
The rubber-coated hooks keep the bike from getting scratched. Its heavy-duty construction means it can hold up to 50 lbs of weight making it ideal for most kinds of bikes.
The fixed hook design prevents accidental release to keep your bike secure. It is 3.3" in diameter to accommodate fat tires. It is made of durable steel material.
Check prices and availability here
Best Bike Hanger: Ibera Horizontal Bicycle Wall Mount Hanger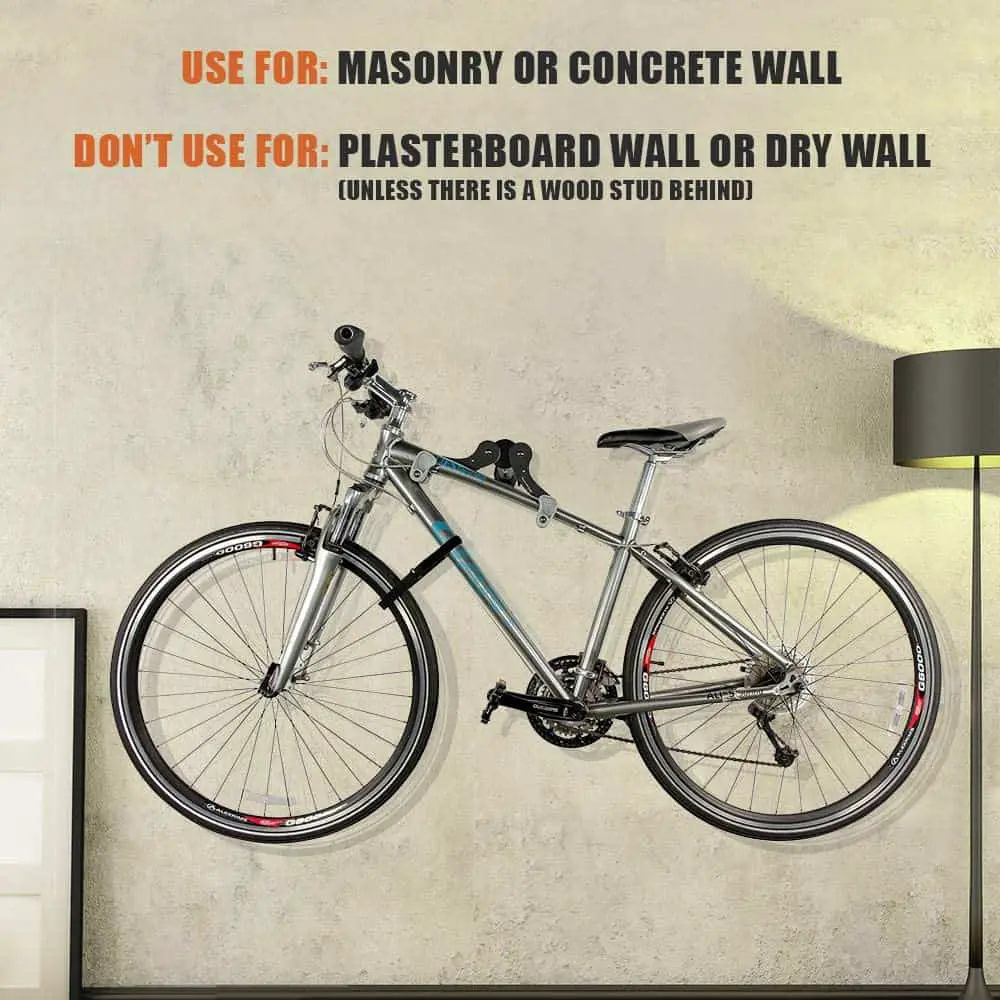 A bike hanger is similar to a wall mount in that it hangs the bike from the wall to save space.
Rather than a full rack, its hooks work to keep the bike mounted. A hanger may not be as sturdy in holding your bike, but it can be easier to install and use.
The Ibera Horizontal Bicycle Wall Mount Hanger is perfect for someone looking to store just one bike. It lifts the bike off the ground giving you more floor space in your shed or garage.
The hanger is at a 45-degree angle and it can be adjusted to accommodate your bike.
It is made of sturdy and durable aluminum and it is ideal for hanging on walls.
It has padded ABS arms to keep it safe and protect it from scratches. It is suitable for conventional bike frames but it can be adjusted to fit wider frames.
It works on masonry and concrete walls. It comes with everything you need for easy installation.
Best Monkey Bar Bike Hanger: Ultrawall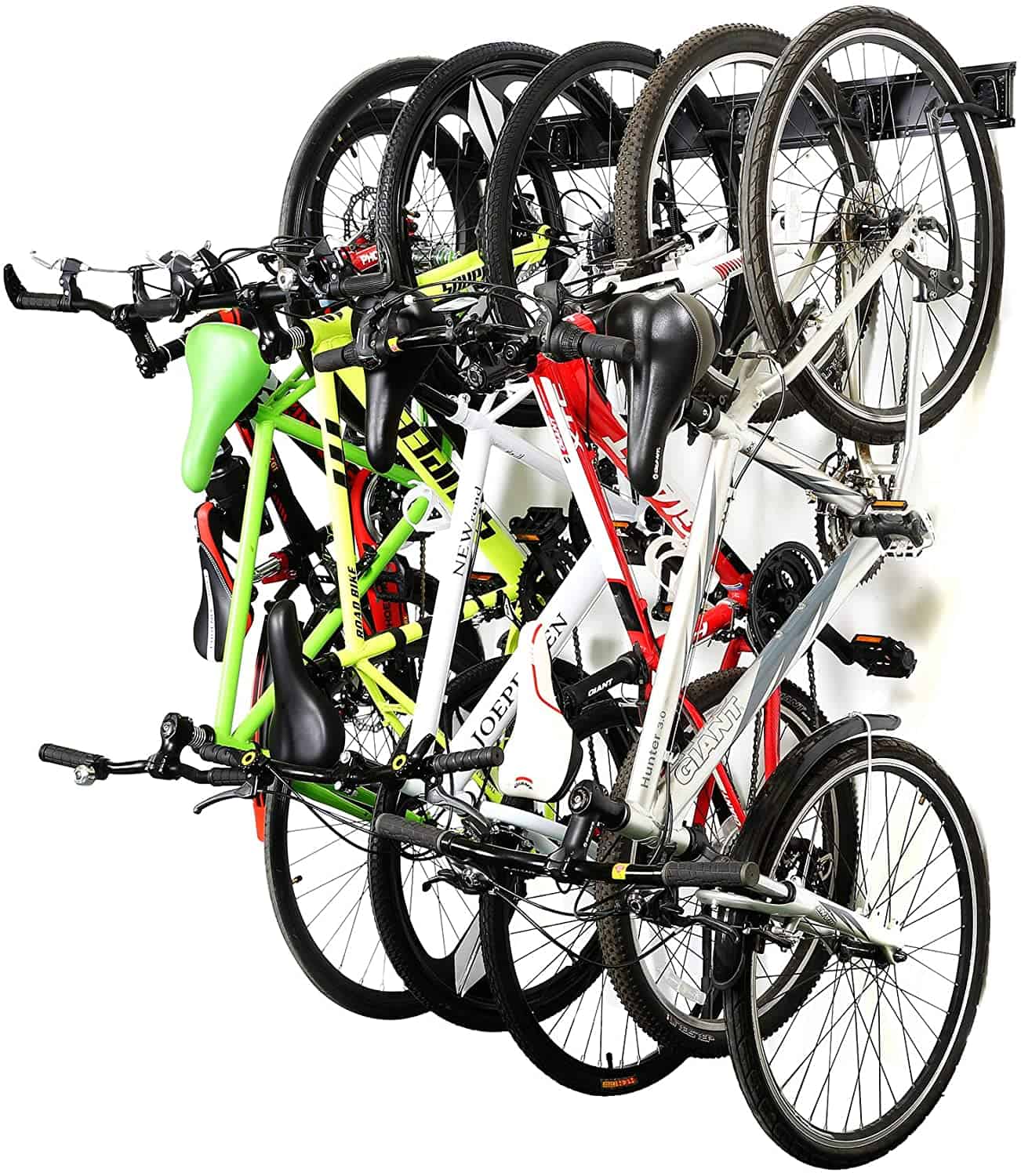 Monkey bar bike storage is similar to a hanger in that the bike essentially hangs from a hook, only its bar-like structure allows you to hold multiple bikes at once.
This bike rack is ideal for people who have multiple bikes. It holds up to six bikes.
Its ability to store bikes above ground level makes it perfect for people who need to conserve space in their garages or sheds.
This product is a four-foot bar that holds up to 6 bikes and 300 lbs. The hooks can be adjusted from side to side but they never disconnect from the bar.
The hangers are rubber coated and designed to reduce torque on the rims and spokes. The rubber coating also allows them to move smoothly through the bar for adjustability.
The rack can be easily installed in 15 minutes with the use of basic tools.
Check these out here on Amazon
Best Bike Rack for Multiple Bikes: Cycling Deal Bicycle Floor Stand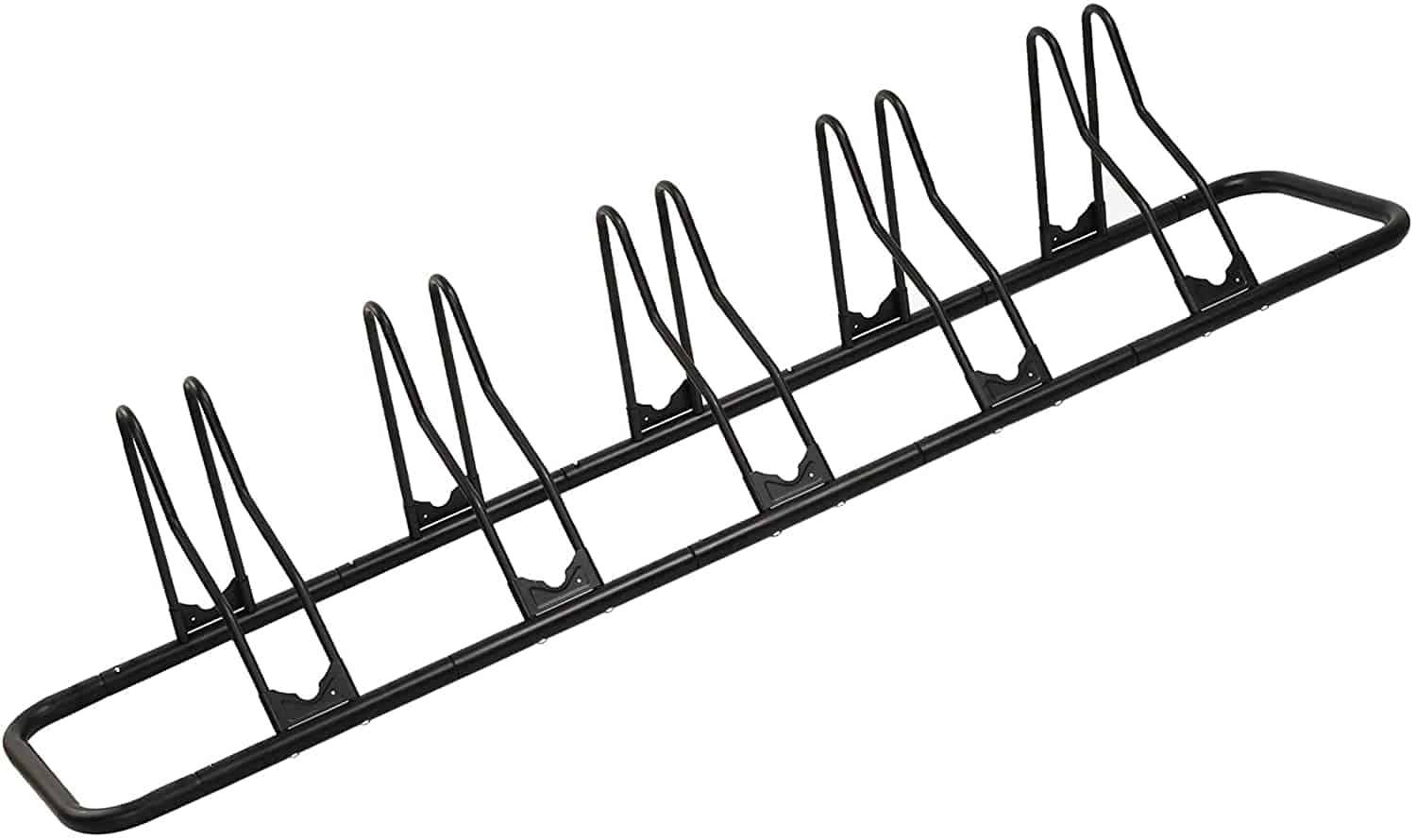 A floor rack will work well if you have extra space in your shed or garage to park your bike.
Just like a bike rack you might find at a school or in a park, all you need to do is roll your bike in and it will stand on its own. You can lock it in if necessary.
This stand is great for people who have multiple bikes and have enough floor space in their garage or shed to store them.
It can fit up to five bikes as long as they are turned so that one has its rear wheel in and the next has its front wheel in.
The Cycling Deal Bicycle Floor Stand offers the ultimate stability.
It has two holding plates with tire grooves that hold the bikes at an optimal angle.
The front and back flats prevent the holding areas from getting wider and becoming unable to hold the bikes securely.
The rack is made of high-quality steel and its powder-coated finish adds to its durability. Its bigger size makes it more stable than a single bike stand.
It fits a variety of bikes. Because the rack sits on the floor, you never have to worry about assembly or installation.
Best Bike Floor Stand for a Single Bike: Bikehand Bicycle Floor Parking Rack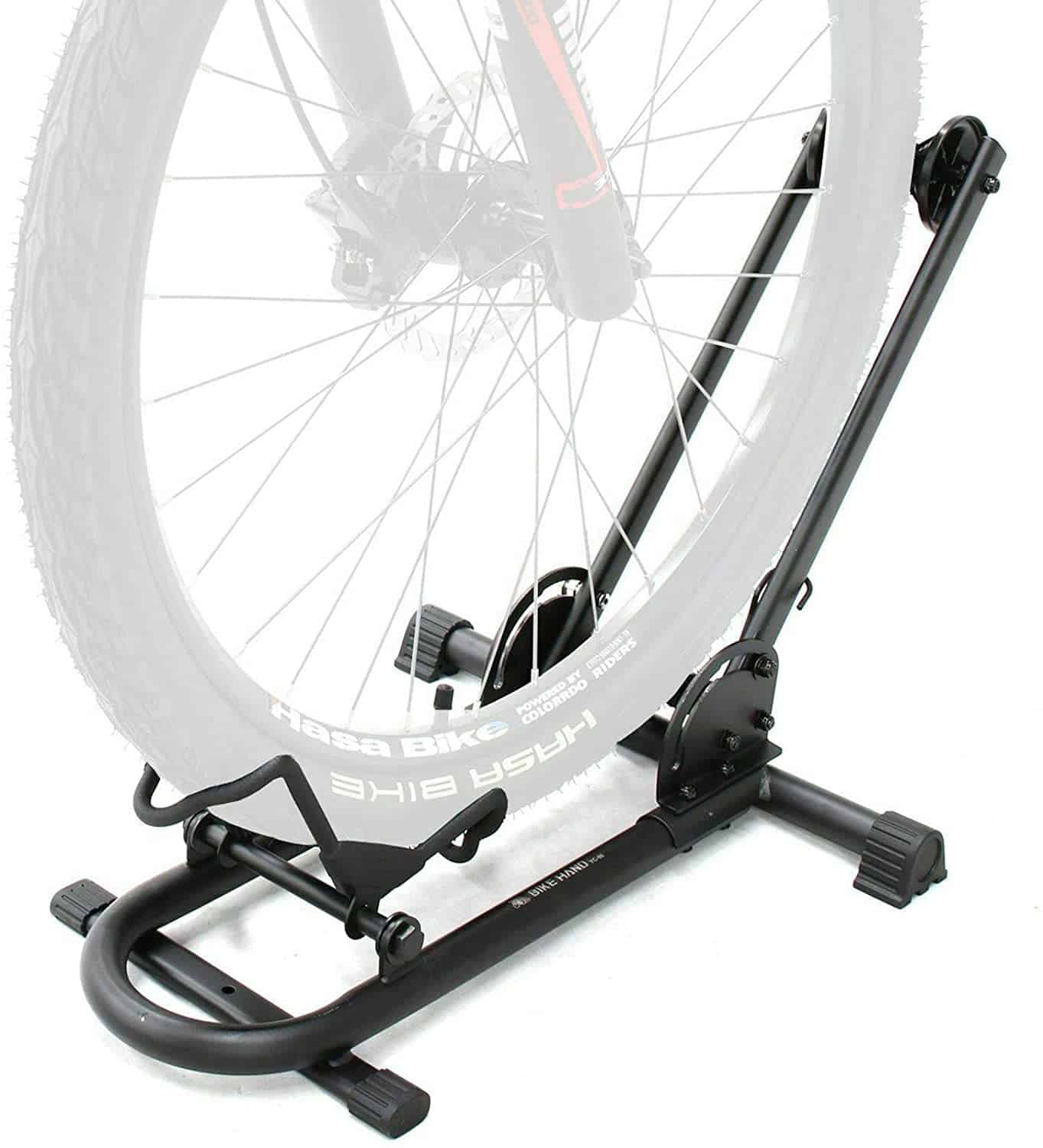 If you only need to store one bike, there's really no need to get a large bike rack for multiple bikes. A bike stand for a single bike will do the trick.
If you are looking to store just one bike, this bike rack will be all you need to keep your bike stable and it will not take up a lot of space in your garage or shed.
The rack has a simple push-in design. Unlike other racks that require you to lift the bike, all you need to do is push it into the rack.
This is great if you have a heavier bike.
There are three points holding the wheel in place for added stability. The front-wheel sinks into the holder to keep it steady.
It is also very difficult to push, no matter how hard you try. It is foldable and portable.
All you need to do is push a knob and it will fold down so you can take it with you everywhere you go.
It is made of high-quality steel and the powder-coated finish adds to the durability.
It fits almost any bike. Being that this is a single bike stand, you don't have to worry about assembly or installation.
Check prices and availability here
Best Stacked Floor Stand for Multiple Bikes: Delta Cycle Michelangelo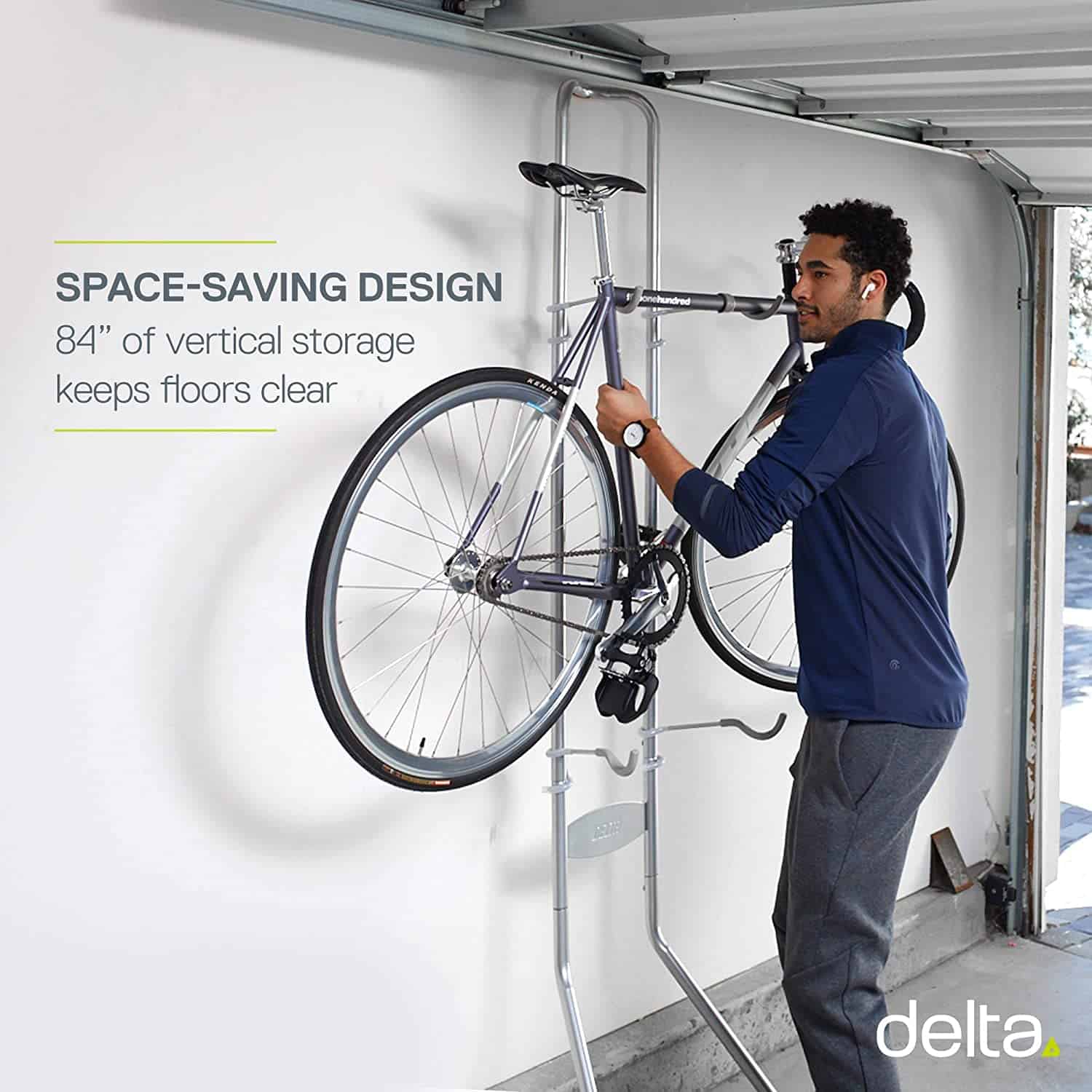 While a floor stand may take up some room, getting one that holds two bikes vertically will take up less room than if they were to be stored side by side.
This stand is perfect for those with multiple bikes.
It comes in two different models, one that fits two and one that fits four bikes.
While you must have some amount of floor room to accommodate the bikes, it is a space-saving solution as compared to storing the bikes side by side.
The rack leans against the wall and uses gravity to hold the bikes.
It has an elegant design that looks great in any room. It is made of an industrial-grade powder-coated steel that ensures the utmost in durability and will not scratch your bike.
Its independent arms make it easy to adjust to fit any style bike. It is easy to assemble using a regular screwdriver (no drilling) and it can hold a maximum of 200 lbs.
Best Bike Ceiling Mount: RAD Cycle Products Rail Mount Bike and Ladder Lift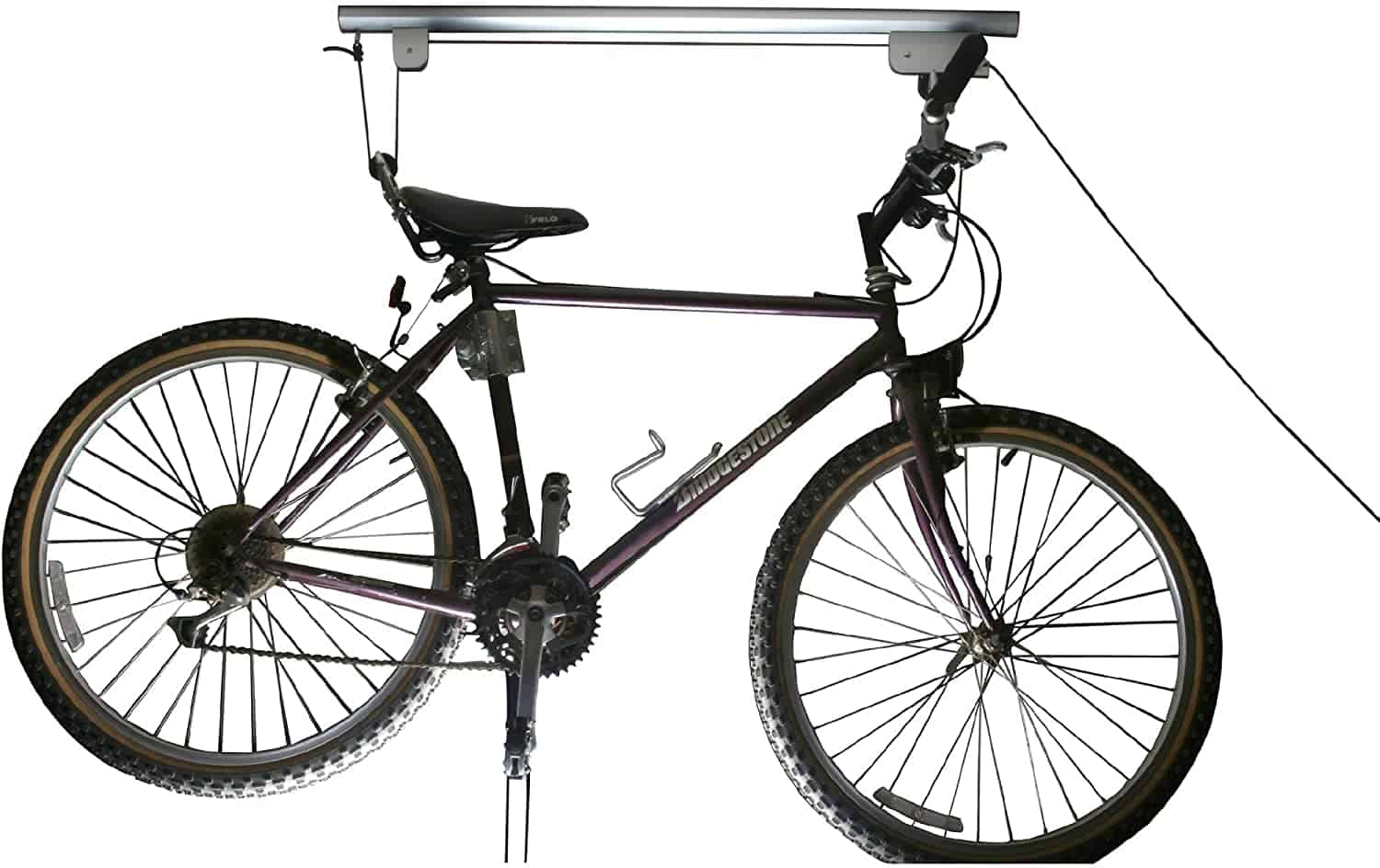 Another way to save space when storing your bike is to get a mount that allows it to hang from the ceiling.
This may not be the easiest way to go as it can be difficult to get the bike up and down for everyday use.
However, it can be an ideal solution if you are storing your bike long term. Also, many ceiling mounts have pulleys that help you get your bikes up and down easily.
This ceiling mount is perfect for people with limited space in their garages and are looking to store one bike.
The mount has rubber-coated hooks that are ideal for protecting the bike from scratches. It can hold bikes or ladders up to 75 lbs.
It installs easily by fastening on to the ceiling joist or joists. No mounting boards are needed.
It is ideal for ceilings up to 12 ft. high.
It has a locking mechanism to ensure your bike will stay in place. The pulley system allows you to raise and lower the bike with ease.
Best Bike Hooks for Ceiling: Stout Max Heavy Duty Bike Storage Hooks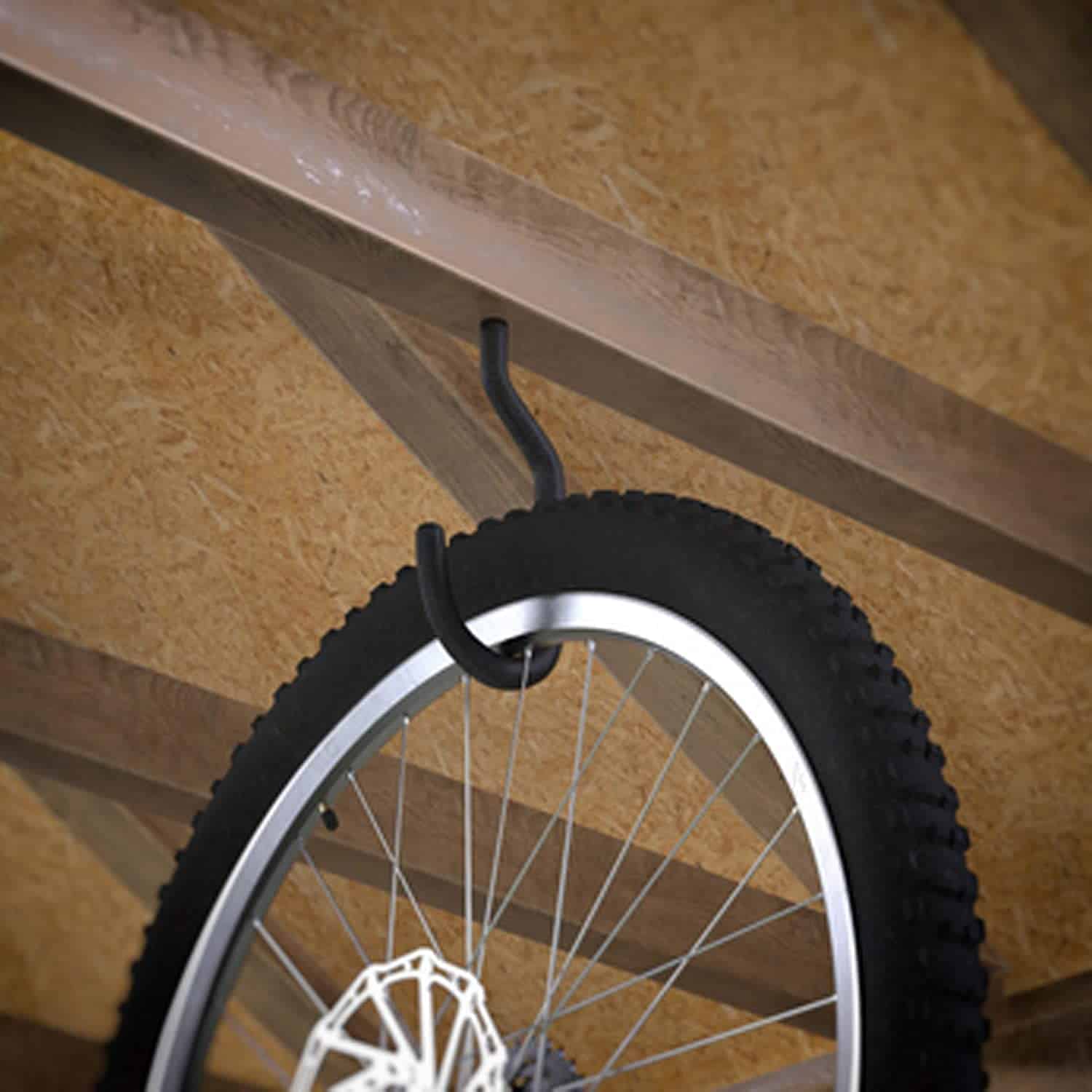 Another option for hanging a bike from the ceiling is to use hooks. Hooks can be screwed directly into the ceiling to keep the bike secure.
If you have limited space in your garage or shed, these hooks will be ideal as they hold the bike on the ceiling leaving you with maximum floor space.
The hooks are available in a set of eight. With each one advertised as having the ability to hold one bike by its wheel, it's a great solution for those with multiple bikes.
The hooks have a graphite finish that ensures the ultimate in durability. The finish also keeps your bike from slipping or becoming scratched.
The hooks are constructed with heavy-duty galvanized steel. They can hold bikes and a variety of other equipment.
They screw directly into the ceiling making installation a breeze.
Best Bike Cover: Szblnsm Waterproof Outdoor Bike Cover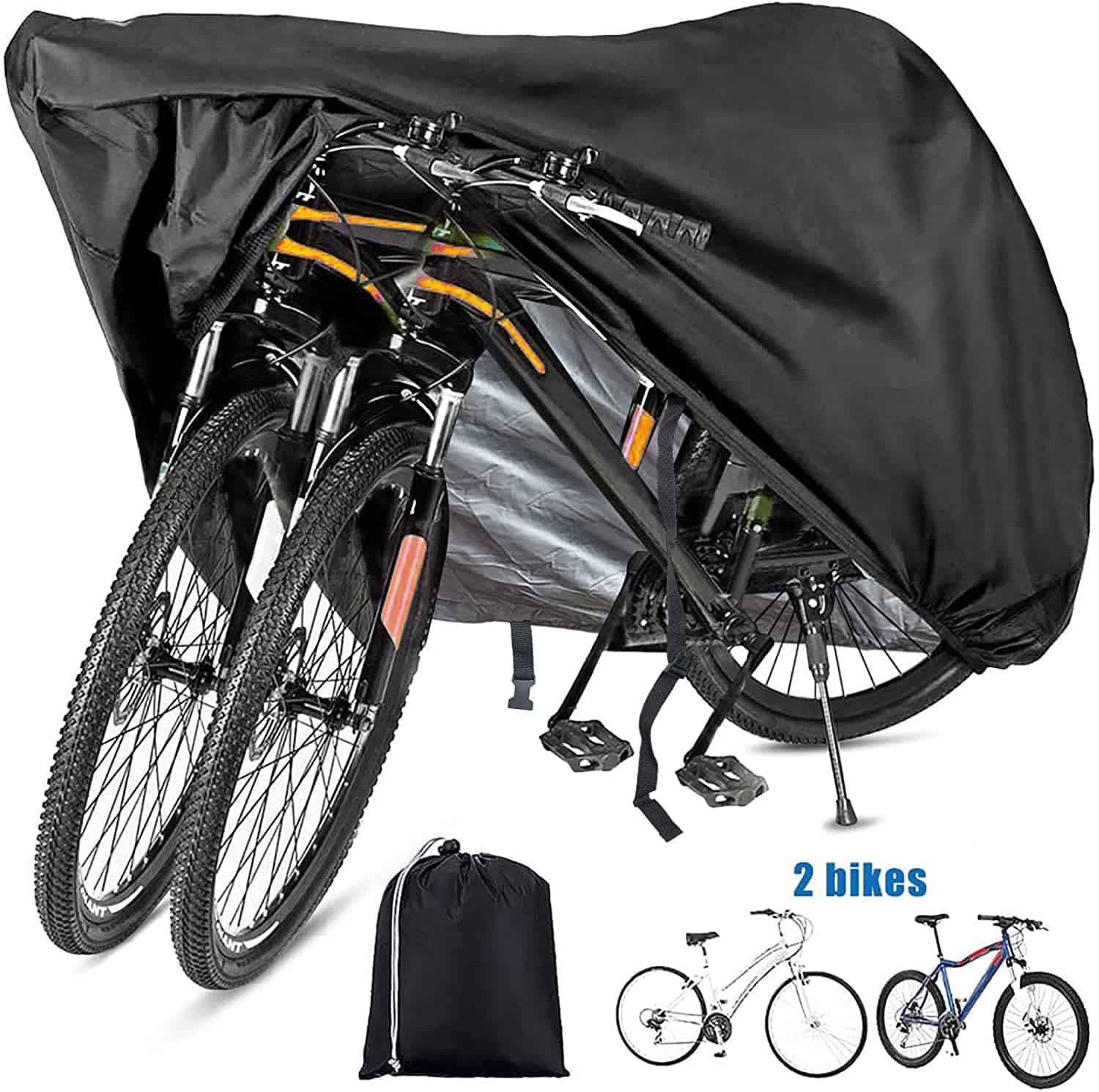 Even though you are storing your bike indoors, you may want to add a bike cover.
This will protect it from the elements that may get into the shed or garage as well as any drips or leaks that may occur.
This bike cover is great for people who want extra protection for their bike.
It can protect bikes being stored in sheds, garages or outdoor areas. It fits one or two bikes.
The cover is made of a durable material that protects the bike against rain, dust, snow, and UV rays. It is made of a 420D Oxford polyester fabric with a PU waterproof coating.
It has a double stitched elastic hem and a buckle that will keep it secure on a windy day.
There are two lock holes by the wheel area that can be used as added protection from inclement weather and from theft.
Questions About Storing Your Bike In Garage Or Shed
Now you know what products we recommend when it comes to bike storage at home, here are some more pointers.
Is it okay to store my bike in a garage?
Yes.
A garage is a great place to store a bike because it offers protection from theft and from the elements.
Also, you don't have to worry about getting the floor dirty as you would in a house or apartment.
It is recommended to use a cover when storing your bike in a garage to give it added protection.
Your bike will hold up well to hot and cold temperatures.
However, if there are rapid changes in temperatures in the garage, the frame may warp.
You should also make sure the bike is not stored anywhere that is so cold that the frame will freeze. This will cause permanent damage as well.
Before storing your bike in the garage, do what you can to ensure the temperature will be somewhat consistent.
Will my bike rust in a shed?
There is a possibility that a bike might rust in a shed or garage if it's exposed to constant moisture.
Applying WD-40 to the frame before storing it will cut down on the rust.
How should I prepare my bike for storage for the winter?
If you are planning to store your bike for the winter, here are some steps you will want to take.
Wash the bike: Make sure the bike is clean before storing it. Dirt can contribute to rust. Follow up with a coat of WD-40.
Make sure the tires are inflated: Tires should be inflated before storing and you should continue to inflate the tires throughout the winter. This will help keep the rims from getting damaged.
Get a tune-up: Before you are ready to start using your bike again in the spring, bring it to a professional for a tune-up. They will lubricate your chain, pump your tires, and make sure your bike is in good shape for riding.
Is it okay to ride my bike in the rain?
Bikes can take some amount of moisture so it's likely if you ride in the rain your bike won't sustain any damage, especially if you dry it off quickly.
What you really have to be careful about is getting yourself injured.
However, some experts recommend riding in the rain as it improves riding skills and will get you prepared if you ever get stuck in a downpour.
Garage or Shed: Great Place to Store Your Bike
A garage or shed makes a terrific storage solution.
If you have a shed or garage available for storage, the Koova Wall Mount Bike Storage Rack is the best option when it comes to keeping your bike safe and stable.
It provides easy access to the bike and it will take up a minimal amount of room in your garage.
However, if you don't think Koova is right for you, there are plenty of other options you can choose from.
Which do you think will work best for your bike storage situation?
Rather have your precious bike inside, but you live in a small apartment? No worries! Here are 17 Tips for Bike Storage in a Small Apartment.
I'm Joost Nusselder, the founder of Tools Doctor, content marketer, and dad. I love trying out new equipment, and together with my team I've been creating in-depth blog articles since 2016 to help loyal readers with tools & crafting tips.