I love creating free content full of tips for my readers, you. I don't accept paid sponsorships, my opinion is my own, but if you find my recommendations helpful and you end up buying something you like through one of my links, I could earn a commission at no extra cost to you.
Learn more
Milwaukee and Makita are the two most reliable and popular power tool manufacturing companies across the world. These companies have created their own standard of power tools among the professionals. So which brand to choose while buying an impact wrench has been a very common question to ask for so many professional mechanics.
Milwaukee and Makita both have their distinct features to make the screwing job more effortless and precise. But still, there are factors considering which professionals choose one brand over the other.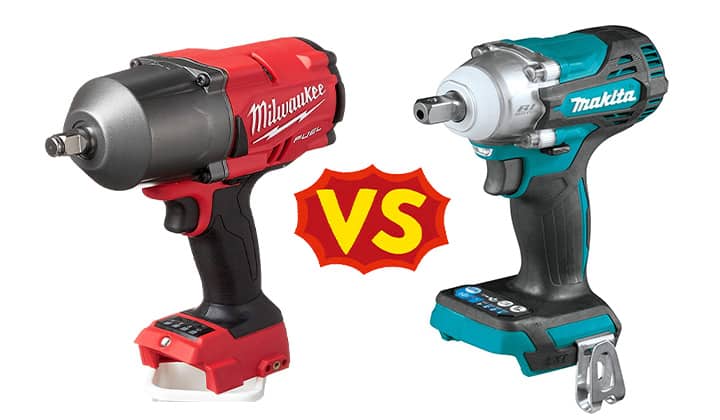 This article is all about the discussion of Milwaukee vs Makita impact wrench, basically, the slightest difference that they have.
History At A Glance: Milwaukee
The journey of Milwaukee started when Henry Ford approached A.H Peterson for producing a hole shooter which was invented by the automobile tycoon Henry Ford himself in 1918. The company was then operated under the name Wisconsin Manufacturer. But due to the recession in 1923, the company was not performing at its best and a destructive fire in the same year in the facility destroyed almost half of the company's assets. After that incident, the company was bound to shut down. The name Milwaukee was adopted when the remaining company assets were bought by A.F Seibert.
Milwaukee became a household name for heavy-duty power tools after World War II when the US navy used all Milwaukee made tools during the war. Since then Milwaukee has extended its product line to a larger extent maintaining its good old reputation as a heavy-duty tool to date.
History At A Glance: Makita
Makita is a Japanese company that was started by Mosaburo Makita in 1915. When the company started its journey, it was a repairing company that used to overhaul old generators and engines. Later in 1958, it started producing power tools and in 1978 it made history by launching the world's first cordless power tool in their product line. Makita became a household name because it has a comprehensive collection of power tools that comes at a competitive price range. Just name a tool, Makita will provide you.
Impact Wrench: Milwaukee vs Makita
Both Milwaukee and Makita have their own range of impact wrenches of different varieties. But here we will look at the smallest and the most powerful impact wrenches of both brands to make a comparative analysis of different form factors. We hope it will give you a clear understanding of what the least and highest you can expect from either brand.
Power
Milwaukee
Milwaukee is basically renowned for its heavy-duty power tools. It's a go-to choice brand for any professionals or hobbyists who seek power over everything else. The smaller model of the Milwaukee impact wrench has a torque force of 12.5-150 ft-lbs with +/-2% torque accuracy and 100 revolutions per minute (RPM).
But if you need more power, then M18 FUEL™ w/ ONE-KEY™ High Torque Impact Wrench can be your ultimate option. Everything about this power tool is phenomenal. It is equipped with an industry-leading POWERSTATE brushless motor that delivers 1200 ft-lbs of tightening force and an unprecedented 1500 ft-lbs nut-busting torque that makes the torque most repeatable.
The highest torque repeatability of this tool will allow you to work faster and more comfortably. Therefore spending money on one of such tools can vanish your tension away for a lifetime.
Makita
Makita is the most innovative brand in terms of innovation in its power tool. The smallest impact wrenches of Matika come with 240 ft-lbs of fastening torque and 460   torque. In comparison with Milwaukee's smaller version impact wrench, Matika provides a high-powered option. But the 1600 ft-lbs brushless motor power of Makita XDT16Z 18V Cordless impact wrench is way behind Milwaukee's M18 FUEL™ w/ ONE-KEY™ High Torque Impact Wrench. If Milwaukee's power seems too high for the project, Matika is the best option to consider in plain sight.
Battery Life
Milwaukee
When you decide to buy a power tool, the battery life of the tool should be a prerequisite. The range of impact wrenches that Milwaukee offers have high voltage battery power. If you are worried about the battery power consumption of a Milwaukee impact wrench for its heavy-duty performance, let us give you the relief. The 18V Cordless Milwaukee impact drivers have REDLITHIUM batteries that last longer than any other battery in a single charge. It is also equipped with REDLINK PLUS intelligence that protects the battery from overheating or overcharging. Thus it ensures the longevity of the battery.
Makita
Matika also offers 18V lithium-ion batteries in its cordless impact wrench range. The battery provides the ultimate performance you need to work outdoors. In many cases, this affordable and powerful machine from Matika surpasses the battery performance of Milwaukee. As Milwaukee is more powerful than Matika, it obviously consumes more battery power. That's why, when you use a Matika impact wrench you can feel the difference. When Milwaukee runs out of juice, Matika resists.
Price
Milwaukee
From the very beginning, Milwaukee has been providing high-quality impact wrenches with top-notch features. Therefore, the price is considerably high. If you want to buy an impact range for your daily utility driver, the price of the Milwaukee impact wrench must be a pullback.
Makita
In the case of Matika, the price of the impact wrenches is affordable for anyone. Matika offers decent quality products at a budget-friendly price. A high-power Matika impact wrench will cost half of a Milwaukee impact wrench. So if you have a tight budget, an impact wrench from Matika can save you.
Durability and Speed
Milwaukee
In terms of durability and speed, there is no comparison with the Milwaukee impact wrench. The highest 1800 RPM made the M18 FUEL™ w/ ONE-KEY™ High Torque Impact Wrench one of the most desirable tools for professional mechanics. And its 8.59″ in length design makes it a compact impact wrench that ensures durability and ease of operation for its lightweight. Milwaukee is a historical brand led by innovation and improvements which is quite impressive to make you believe in its durability.
Makita
If you keep both Makita and Milwaukee impact wrench side by side for comparison, Makita will hardly reach the speed level of Milwaukee. But in terms of durability Makita was always on the top of the mind of its user. It never compromises on the long-lasting user experience of any of its tools. Impact wrench range from Makita is a heavy machine that looks durable and feels durable too. Makita has a better design of its internal components that reduces the chances of any internal failure of the tool.
Frequently Asked Questions (FAQs)
Are Milwaukee impact wrenches worth the money?
Milwaukee has different types of impact wrenches with distinguishable functionality. But in terms of overall power production, speed, durability, and battery backup, its cordless tool is slightly better than actually validating the extra money the company is charging for the products.
What is the key factor that distinguishes Milwaukee and Makita?
The main difference between Milwaukee and Makita is the hardiness. In this race of making robust and hardy products, Milwaukee always gets a competitive advantage. Milwaukee always chooses to be the most durable tool manufacturer which keeps them ahead of their competitors.
Bottom Line Recommendation
If you have no hesitation in spending extra or spare money, our recommendation will be to purchase an impact wrench from Milwaukee. Milwaukee charges high prices, but in terms of power and efficiency, it is unbeatable as the best cordless impact wrench.
However, if you want the most powerful impact wrench at a decent price point with top-notch specs, Makita will never disappoint you. The battery backup of any Makita-made tool is undeniably better. The decent power production of the tool is also impressive for hobbyists as daily drivers.
Final Words
Milwaukee and Makita are both great tools that are jam-packed with useful features. Both of the brands have their own history of being the best in the industry. But to give you a holistic idea about some core features of the brands' impact wrenches, we have discussed a few significant areas that most users consider. Hope this write-up will help you to conclude your decision.
I'm Joost Nusselder, the founder of Tools Doctor, content marketer, and dad. I love trying out new equipment, and together with my team I've been creating in-depth blog articles since 2016 to help loyal readers with tools & crafting tips.