I love creating free content full of tips for my readers, you. I don't accept paid sponsorships, my opinion is my own, but if you find my recommendations helpful and you end up buying something you like through one of my links, I could earn a commission at no extra cost to you.
Learn more
Painting glass doesn't have to be that difficult. The most important thing is good preparation, in which thorough degreasing plays the main role.
I will explain to you what else you should pay attention to and how you proceed to paint glass with an opaque latex paint.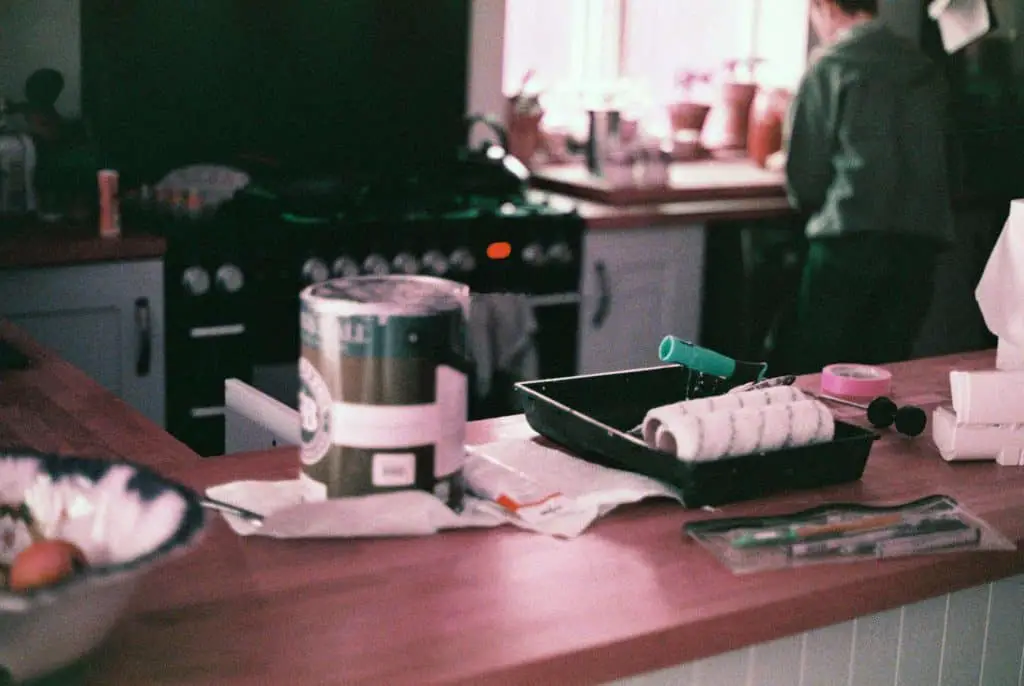 Make sure you are well prepared
We paint glass in connection with weather influences only on the inside. It is best to use a paint that is as matte as possible. Gloss and high-gloss paint contain additives that are at the expense of adhesion.
Painting glass requires preparation. First, when painting smooth surfaces such as glass, you should always degrease well. Proper cleaning is a must if you are going to paint glass.
There are various products in circulation for this:
B-clean is a biological all-purpose cleaner or. degreaser that does not require rinsing. With the other products you have to rinse and that takes more time. Both are possible.
When you have finished degreasing, you can immediately apply a latex paint. For good adhesion, put some sharp sand through it so that the latex adheres well to the glass.
It depends on the quality of the latex paint how many layers you have to apply. With a cheap paint you will soon need some extra coats.
It is also an option to apply a primer or primer first. Then you start painting a latex on your primer. You do not have to add sharp sand here.
For extra protection, spray a layer of lacquer over it, also to soften visible paint streaks.
Make sure there is no moisture near the glass. This can cause loosening.
Painting glass: what do you need?
Before you get started, it is useful to have all the supplies ready. So you can get to work right away.
To nicely apply an opaque latex paint to glass, you need the following:
B-clean/Degreaser
Bucket
Cloth
stirring stick
Handful of fine/sharp sand
Sanding pad 240/Waterproof sanding paper 360 (or higher)
tack cloth
Matt latex, Acrylic paint, (Quartz) wall paint and/or Multiprimer/Prime paint
Clear coat in aerosol
Fur roller 10 centimeters
Felt roller 10 cm
Synthetic or natural brushes
paint tray
Masking tape/painter's tape
Painting glass: this is how you work
Fill a bucket with water
Add 1 cap of paint cleaner/degreaser
Stir the mixture
Dampen the cloth
Clean the glass with the cloth
Dry the glass
Mix the latex with sharp sand
Stir this well
Pour this mixture into a paint tray
Paint the glass with a fur roller
Why should you paint glass?
Painting glass, why would you want to do that? You have to ask yourself this question. Glass is there to keep heat in and cold out, but at the same time offer a view of the outside world.
In addition, it brings in a lot of light, which has a broadening effect. The more light inside, the more spacious it becomes. Daylight creates cosiness and atmosphere.
Then why would you paint glass? There can be several reasons for this.
Painting glass against a view
Painting glass against the eye was already done in the past. It can shield a window from which one looks in from the outside.
You can also have a door that largely consists of glass offer more privacy.
Painting glass as decoration
You can create the illusion of stained glass with paint or glass, which is of course very beautiful. For this you do not use an opaque latex, but colored transparent glass paint.
But you can also create a completely different atmosphere in the room with a solid color. Or you can turn it into a chalkboard for the kids!
Painting glass with a water-based paint
The same applies here: degrease well. You can very gently roughen the glass. Just make sure you don't want to remove the paint later. You will continue to see scratches afterwards.
Roughen with a 240 grit or higher sanding pad. Then make sure the glass is completely dry and apply an acrylic primer.
Allow to cure and very gently sand with waterproof grit 360 or higher or to soften paint streaks.
Then make it dust-free and after that you can apply any paint in the color you want: alkyd paint or acrylic paint.
Glass painting is always done indoors and cannot be done outside!
Think carefully in advance whether you want to paint glass, because once painted glass is difficult to get back to its original state.
Still regret? This is how you can remove paint from glass, stone & tiles with 3 household items
I'm Joost Nusselder, the founder of Tools Doctor, content marketer, and dad. I love trying out new equipment, and together with my team I've been creating in-depth blog articles since 2016 to help loyal readers with tools & crafting tips.