I love creating free content full of tips for my readers, you. I don't accept paid sponsorships, my opinion is my own, but if you find my recommendations helpful and you end up buying something you like through one of my links, I could earn a commission at no extra cost to you.
Learn more
Imagine all the people living in peace, just as John Lennon asked you to. Although, how can you find peace, if you cannot find a proper power toolkit to help you with the house improvement projects. It is as if the world has conspired to eradicate your peace altogether. The Porter-Cable PCCK619L8 Review brings you a ray of hope in your life.
What if this article exhibits a model that not only ensures user's satisfaction but also maintains superior quality. Would you not like to indulge in that product and see for yourself what the big deal is? Reminder, you will be astonished and, just maybe, finally, find peace.
To get your basic home tasks done, you need something lightweight and compact for utter convenience, and this particular option gives you just that. The surprising part is, this miniature product evidently exhibits powerful execution and unmitigated operation. Nothing ever comes in comparison with this combo kit, when it comes to managing projects properly.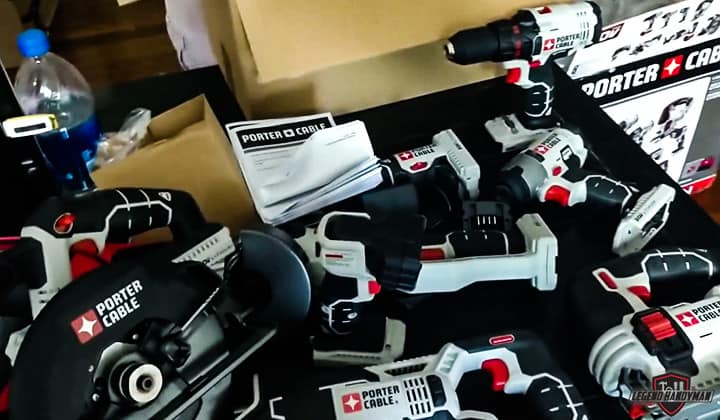 Portal Cable PCCK619L8 Review
| | |
| --- | --- |
| Weight | 14.19 pounds |
| Dimensions | 22.83 x 11.25 x 20.75 |
| Batteries | 2 Lithium ion batteries |
| Voltage | 20 Volts |
| Warranty  | 3 year |
You must all be aware by now that opting for a Porter-Cable combo kit, eliminates unnecessary effort to get the job done. Most importantly, the power toolkit gives you the liberty to work on light to medium range projects. No matter what, effectiveness and efficiency are never lost in this specific model.
Before you get into the details, please get ready to be bombarded with numerous features that will leave you stunned. However, one must remain extra cautious about the attributes before making the purchase, since you never know what happens.
Let us get familiar with a few of the exceptional characteristics of this product.
Powerful Motor
Just like the world has fallen prey to Porter-Cable's invention, you will too once you understand the dynamics of its powerful operation. The cordless drill maintains a smooth functionality that helps you efficiently drive screws as well as dig holes in places.
It is unlike any other models, as the power toolkit ensures maximum accuracy and precision during the task. Additionally, the combo kit comes with a speed of 1600 revolutions per second, which means it is ready to work at a significantly rapid speed.
For your convenience, this model also includes a two-speed gearbox, which is 0-350 RPM and 0-1500 RPM, respectively. With that being said, the motor also generates 283 Max Watt Out of power. You can very easily drill through wood, plastic as well as metal.
Battery
Bid goodbye to those days, where you had to handle heavy and toxic NiCad batteries. The era of lithium-ion batteries has fully emerged and ready to take control. As for this toolbox, you are in safe hands, since it also includes two 20V lithium-ion batteries with a charger.
Lithium-ion batteries are comparatively lighter and compact, which is the perfect combination of power tools. Moreover, these batteries display eco-friendly properties. Not only that, lithium-ion batteries demonstrate low maintenance as well as a low self-discharge rate.
23 Clutch Setting
Guess what; this combo kit features tools, which includes half-inch keyless chuck. That means you no longer have to worry about fastening your chuck in place. By simply using your hands, you can place or remove the screws and bits properly. Porter-Cable cuts down on several complex features just for your satisfaction.
Talk about versatility; the device calls attention to its 23 clutch-setting feature, which not only provides you with more control but also lets you settle the screws in without stripping. This toolkit offers you a safe working environment, along with zero chances to inflict damage upon your project.
LED light
You all are well aware of the importance of a perfectly lit working place. However, sometimes there are hard to reach places, which is usually dark or dimly lit. And that my friend can create severe inconveniences for you. To eliminate this issue, Porter-Cable features LED light.
LED lights are big on being energy-efficient, and that means you do not have to be concerned about them draining your battery. Furthermore, in comparison to other forms of illumination, LED lights flaunts little to no heat emission, which makes your working environment much safer.
Reliable & Lightweight
The overall weight of the toolkit is about 14.19 pounds. Well, you may think that's too much, but the fact is, the entire toolkit consists of 8 different tools, including impact driver, drill driver, grinder, circular saw, tiger saw, jigsaw, multi-tool and last but not the least, flashlight. Now it is up to you to decide whether the toolbox is heavy or light.
Customers will always look for reliability when it comes to purchasing any product. Since power tools are prone to damage and harm, it is quite important to ensure reliability. As for this combo kit, it comes with a three-year limited warranty.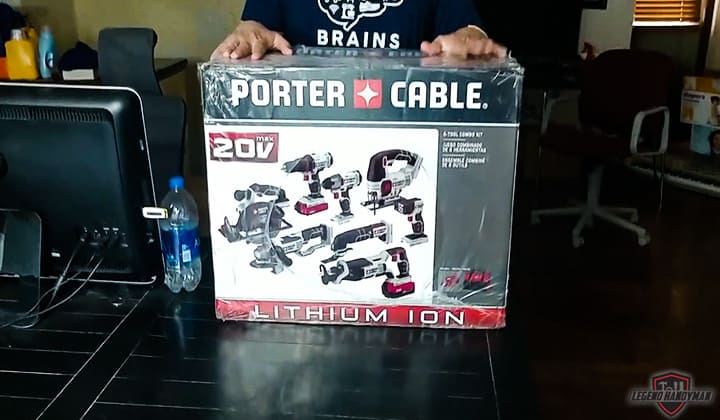 Pros
Includes two-speed setting
Features 23 clutch setting
Contains half-inch keyless chuck
Lightweight and compact
Consists of LED light
Cons
Only equipped for light and medium-range projects
Battery not powerful enough
Frequently Asked Questions
Let us jump into a few of the most frequently asked questions that need to be answered.
Q; What should I do if my power tool becomes defective within the warranty period?
Ans: Immediately contact the dealer you have purchased your product from, there is no alternative to it. However, always remember you are eligible for a replacement only if the defects are inflicted during manufacturing.
Q: How can I maintain my drill?
Ans: It is very simple; the first step is to clean the tools properly and keep them away from dirt and debris. Since these tools are full of places where dirt can be lodged in, you may get a blowgun to successfully get rid of all dust and debris.
Q: How do I ensure I do not overload my drill?
Ans: It is a concern for most tradesmen. To prevent that, you simply need to cut down on the load of the tool. Maintain a minimum speed and do not force extra exertion on the power tools.
Q: Should I just get a heavy-duty hammer to do all the tasks?
Ans: Well, a heavy-duty tool can more or less perform all tasks, but it also has its weaknesses. Heavy-duty tools are comparatively heavier and hard to control, which means your holes and drills will not be precise or accurate enough.
Q: Within what temperature range should I use my batteries?
Ans: As for Lithium-ion batteries, the temperature range is -10% to 55%.
Final Words
Alas, we are at the end of our journey. This Porter-Cable PCCK619L8 Review intended to provide you with the necessary information to help you reach your decision. With so many competitors at loose, one may encounter confusion before the purchase. However, with the exceptional features and superior quality, this power toolkit will surely satisfy you.
Related Post DEWALT DCK940D2 Combo Kit Review
I'm Joost Nusselder, the founder of Tools Doctor, content marketer, and dad. I love trying out new equipment, and together with my team I've been creating in-depth blog articles since 2016 to help loyal readers with tools & crafting tips.