I love creating free content full of tips for my readers, you. I don't accept paid sponsorships, my opinion is my own, but if you find my recommendations helpful and you end up buying something you like through one of my links, I could earn a commission at no extra cost to you.
Learn more
Those who work in the world of wood only know the importance of owning power tools that offer not only premium performance but also of utmost reliability. If you are a beginner, then these compact and special tools will help you with your project at all costs.
Moreover, they ensure precision and accuracy in your task with astounding results. In the case of a circular saw, one must remain particularly cautious while making the purchase.
Who wants a gigantic machine when you can get your job done with a compact yet potent product? Regarding this specific circular saw by Rockwell, you will not be disappointed, since it allows you to generate enough power with maximum working capacity.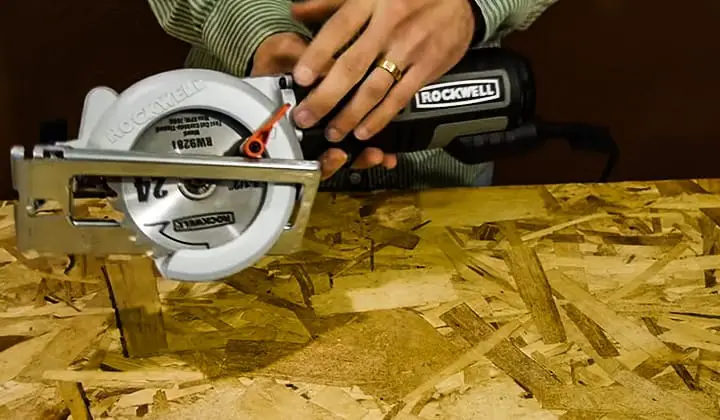 Investing in this compact circular saw is a piece of cake as the product is quite affordable. Furthermore, the cutting tasks are done both efficiently and effectively without any hassle whatsoever. Rockwell does not compromise in both quality and authenticity, which in turn satisfies the customers substantially.
Rockwell RK3441K Review
While it is usual to encounter confusion while making the buy-in, since there are a variety of products available in the market, although this particular circular saw will not let you down. However, it is always convenient to be extra careful; you never know what you end up with.
At times like this, you must rifle through the features that set the product apart from the rest of the models. Bear in mind, the features of the product in question will leave you mesmerized and satisfied.
Without further ado, let us jump to the details.
| | |
| --- | --- |
| Weight | 5 pounds |
| Dimensions | 18.2 x 4.2 x 6.9 |
| Size | Pack of 1 |
| Color | Black |
| Style | Circular saw |
| Voltage | 120 Volts |
| Wattage | 600 watts |
Power
For such a compact and basic circular saw, it sure as hell got a lot of power in its motor. With a higher amp motor, you can safely operate your device without having to worry about overheating, since the higher the amp, the greater its ability to cool down and function properly.
As far as this model is concerned, the manufacturer blesses its motor with 5 amp of electric current. Not only that, but the circular saw also generates 3,500 revolutions per second to run its blades. This factor concludes that the product is capable of smoothly cutting through your designated object.
Weight
Compact & lightweight is the motto of this product. Just like that, you will find this circular saw to be one of the smallest saw available in the market. Abandon all your woes about storage issues, and rejoice this powerful yet compact model, which does not compromise in its cutting abilities.
Most of you assume a lighter model will perform less effectively than the rest. While in most cases, this might be the fact, but with this 6.8 pounds of the full potential device, you will get your misconceptions erased.
Compared to the regular circular saw, this one happens to be 50 percent more lightweight. Moreover, the size of the device also bodes well with the compactness of it. With a single pass, the blades of the circular saw are capable of cutting through 2×4's practice board without any effort.
Ergonomic Design
There may be several options available that deliver greater power with smooth functionality. However, almost all of these models tend to overlook a significant aspect of circular saw, which is the comfort zone provided by the device for better performance.
The weight of this certain circular saw is scattered in such a manner, which ensures proper balance and greater comfort. It is like, you are holding on to nothing. Additionally, the maker constructed the circular saw with the inclusion of an inline grip design that not only increases your comfort zone but also grants you exceptional control.
The ergonomics of the handling situation is constructed to ensure your physical ease and well-being. This circular saw can help you reach cramped and rigid spaces and get your job done effortlessly.
Blades
What is a circular saw without blades? This is a no brainer as blades are the fundamental aspect of the device. It is obvious to have additional concerns about the functionality of the blades. Fret not; this specific product has it all under control.
The compact device introduces the blades of size 4 ½ inch, with an added benefit of thinner blades. That means you no longer have to worry about precise cuts and overheating issues. Besides, the incorporation of left-handed blade design also bestows exceptional cut-line visibility.
When it comes to the replacement or changing of the blades, the manufacturer makes sure you have no complications by including an arbor-lock button. With greater maneuverability and a high-performance blade, you will achieve a superior circular saw, which is unique from the rest of the swarm.
Pros
Lightweight & compact
Ergonomic design ensures comfort and balance
Powerful motor
Precise and smooth cutting ability
Cons
It does not work well on hard objects
The blade is flimsy
Frequently Asked Questions
Let us rummage through the most asked questions and help you garner further knowledge on your desired product.
Q: What is a circular saw used for?
Ans: Well, to be precise, a circular saw is used for cutting wood. This handheld electric device helps you with woodwork.
Q: Why should you choose a circular saw?
Ans: To be honest, no device can provide you with as much fast cutting abilities as a circular saw. For those who are looking for rapid action, a circular saw is a right product for you.
Q: Can circular saw cut through stainless steel?
Ans: Unfortunately, this product is not capable of cutting through stainless steel. Cutting different platforms requires different blades.
Q: What are the precautions before using a circular saw?
Ans: First of all, make sure you are wearing goggles or some sort of face shield. To protect yourself from the dust, make sure you have a respiratory protection mask. And always stay alert while using the device, do not be haste while using a circular saw.
Q: How often should you change a circular saw blade?
Ans: Depends, if you work regularly, you might need a regular change of blades. However, if you only work on weekends, you can use the blades for a longer period. Just check the cutting performance, and you will know when to replace it.
Final Words
We have arrived at our destination. So far, you must be well versed in the many attributes of the circular saw by Rockwell. By ensuring complete productivity and reliability, this device proves itself the best among all. Let us hope this review helped you plenty in making your final decision.
Also read – Scroll saw vs Band saw
I'm Joost Nusselder, the founder of Tools Doctor, content marketer, and dad. I love trying out new equipment, and together with my team I've been creating in-depth blog articles since 2016 to help loyal readers with tools & crafting tips.