I love creating free content full of tips for my readers, you. I don't accept paid sponsorships, my opinion is my own, but if you find my recommendations helpful and you end up buying something you like through one of my links, I could earn a commission at no extra cost to you.
Learn more
Construction business means lots of materials, power tools and debris, lots, and lots of debris. Unfortunately, this debris can also be from one of your costly power tool or wooden panel.
So, unless you want to be careless and let your materials fall to pieces, you should read our Rockwell RK9034 Support Review. As we know, there are many heavy tools, metals, and woods, a construction site holds, and you cannot carry all of them by hand. Some need support, and that is what we are bringing to the table today.
So, if you are interested to know more about this helping hand, then keep following.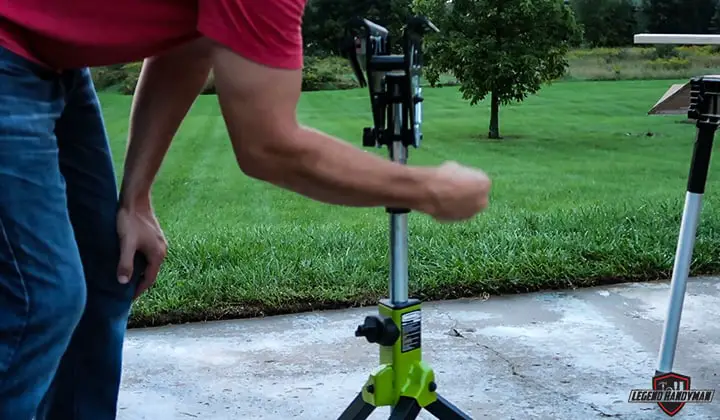 Highlighted Features
Sliding bars for easy height adjustments
Multiple clamps that can secure the device in place
Three wide spreading legs for maximum support and strength
Levels with scales for accurate measurements
Excellent for people who work solo
Rubber padded foot for secure gripping action
A 90-degree tilting clamp head for easy maneuverability
Collapsable features for easy storage
Rockwell RK9034 Support Stand Review
There is always more than meets the eye. Hence you also need to know more about this supporting tool before you conclude that you need this tool. Although we can say with absolute certainty that the device is worth the price.
Adjustable Length
When you attach your camera to the tripod, you never know at which height the camera needs to be. It depends on what you have to focus on and how far that object is. Similarly, with every construction project, you will have to work on different heights.
That is why the RK9034 has an easy gliding pipe that opens and closes on command. These pipes are also excellent at deterring friction produced from a heavy-duty machine such as saws and rollerblades.
The glides are narrow and silver but can easily hold over 200 pounds. So, you can easily do one-person cabinet, drawer, or wardrobe jobs with this stand.
Strong and Portable
As this tool is a support tool, it has to be super strong. Otherwise, it will break apart from the weight of the substance you are building or your power tool. Hence Rockwell made sure to use the best quality products to preserve the integrity of the tools.
As we already mentioned, this tool can easily hold more than 200 pounds, but itself weighs only 17 pounds. That means it is portable and you can carry it easily. The clamps and other non-metal parts are of industrial-grade plastic. So, the higher density makes it more sturdy but keeps the product lightweight.
Secure Footing
Just like a tripod, this helping device also has three legs. They carefully arranged the legs at the same distance, so that we achieve maximum support. You cannot increase the size of the legs, but you can pull them apart or bring them closer to get the desired height.
The legs have the most weight to them and are rectangular. So, the foot is also rectangular. Another small detail that makes a big difference is the soft padding of the rubber at the bottom of each foot.
It makes sure that the does not accidentally move. You can also place this tool directly over your wooden boards. The rubber padding will not create any marring or stretch marks on the panel.
Easy Measurements
You cannot just set the support stand by just eye-balling as you would with a camera tripod. A camera tripod can have a similar height and still capture beautiful pictures. But the support stand needs to be consistent with every adjustment.
You need to observe to which length you are increasing or decreasing the measurement. So, you do your work easy, Rockwell included scaled glides and even a circular scale. So, you can mark and know the exact position of adjustment.
So, now you do not have to carry a scale and a pen to achieve accurate measurements. All of that is available on the tool itself!
Strong Hold
If the question of the glides sliding or the legs collapsing came to your mind, then we need to stop you, because there are strong clamps on every location of the tool. You will find separate clamps on the glides, the legs, and the head as well.
After you adjust to your desired length, close the clamps, and it will not budge unless you loosen it. The head also has a big tight jaw that can hold the entire wood by its side. So, it will not go anywhere. It is very secure but will not leave any marks on the surface.
Easy to Use
The Rockwell jaw support tool is extremely easy to use. As we already mentioned, it is lightweight, so it will not take more than one person for the set-up. You can unscrew the jaw so that placing the board becomes easy. Once you mount it correctly, the screw can go back on.
You can even tilt the head-bevel to a full 90 degrees so that it can get it a better position. Adjusting the other pieces is not rocket science, either. So, you have all the work cut out for you.
Storage
As every component glides or slides, the whole tool becomes collapsable. The clamps are there to keep it up-right. But when you unhinge the clamp, you can fold the tool and make it short too. So, it becomes easy to store.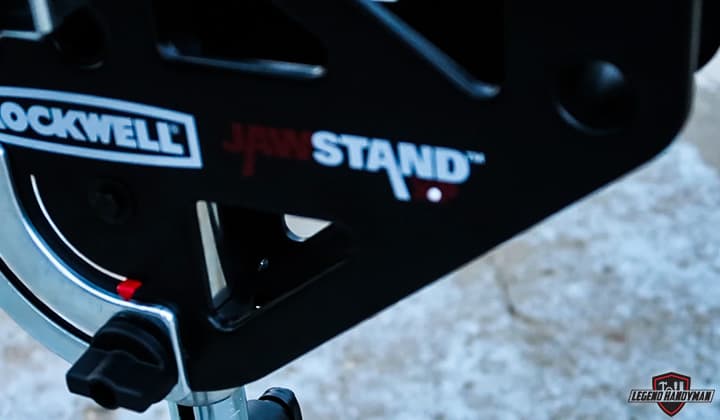 Pros
Can hold more than 200 pounds
Solo-project friendly
Weighs less and is portable
Strong clamps
Non-marring rubber foot
Big jaw head for holding boards
Gliding bars with measurements
Durable
Cons
The measurement can be off by an inch or half
Final Word
If you are a one-person construction worker, or just needed a stand for holding the heavy planks, then there is no other alternative to this tool. We hope that this Rockwell RK9034 Support Review was helpful enough, and you can finally settle on whether you want to splurge a little and make your life easier.
Also read – Best Saw Horses
I'm Joost Nusselder, the founder of Tools Doctor, content marketer, and dad. I love trying out new equipment, and together with my team I've been creating in-depth blog articles since 2016 to help loyal readers with tools & crafting tips.