I love creating free content full of tips for my readers, you. I don't accept paid sponsorships, my opinion is my own, but if you find my recommendations helpful and you end up buying something you like through one of my links, I could earn a commission at no extra cost to you.
Learn more
Facing a shaking frequency all over your body while dealing with a drill machine? Or maybe you are in a construction/ extracting job and having difficulty in controlling your power tools or heavy machinery?
Are you in search of the best anti-vibration gloves that absorb impacts and vibrations with a synthetic leather palm? Do you want to handle your smartphone while doing these heavy jobs?
Then you are in the right place. We provide you with the products from commendable brands with the best features and an extensive buying guide to help out. Go through the pros and cons of the described ones. Let's observe them, question them, find out the best fit for you.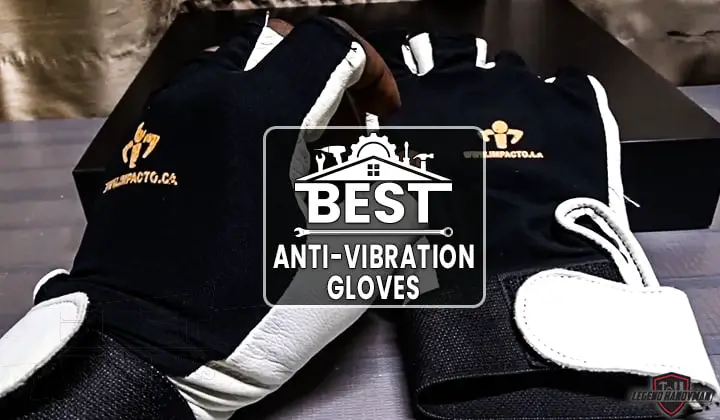 Best Anti-Vibration Gloves – The Best Substitutes
Have a taste of what we have got for you to ease you in your heavy machinery jobs.
Vgo 3Pairs High Dexterity Heavy Duty Mechanic Glove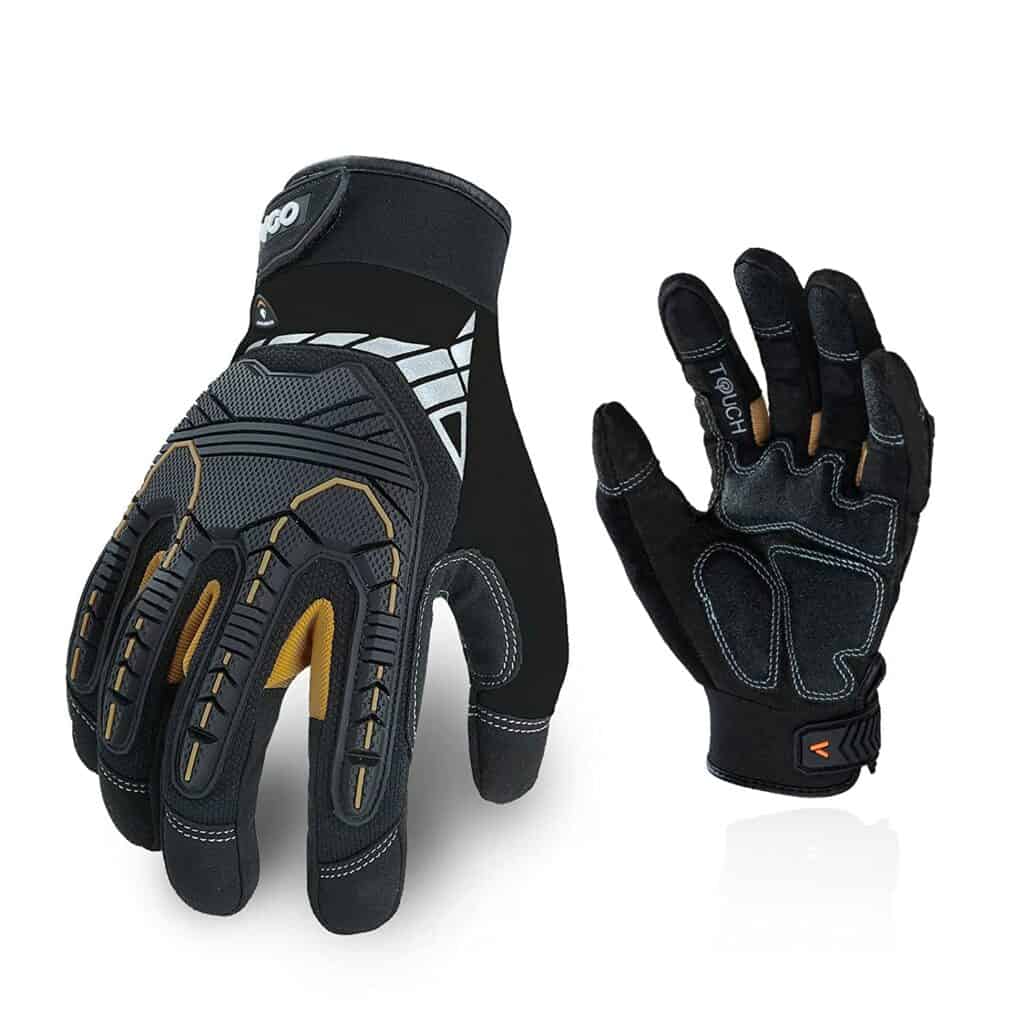 | | |
| --- | --- |
| Weight | 1.06 pounds |
| Dimensions | 9.96 x 4.69 x 3.35 |
| Color | Black |
| Material | Synthetic Leather |
| Size | X-Large |
Grand Peculiarity
This Vgo product will give you tremendous comfort while you are in shipbuilding or in a construction job. Whether you are dealing with power tools or heavy-duty works, it is going to please you with its synthetic leather palm and extraordinary features.
Padding with EVA has made the product more durable by absorbing vibrations and impacts. This product is anti-abrasion, and touchscreen sensitive for coherent technology on its thumb. You can easily control your smartphone with its index fingerprints.
Your fingers and knuckles are perfectly guarded with a Flexible Thermal Plastic Design (TPR). This CA65 approved product comes with a commendable three-dimensional hand modeling. Vgo is offering 3 pairs of this ' High Dexterity Heavy Duty Mechanic Glove' at a very adorable price.
Scams
Try to order a larger size than you in need. The size that had been provided by their size-guide may appear compact to you. So, it's better to order a larger size.
MECHANIX WEAR MPT-58-010 Anti-Vibration Gloves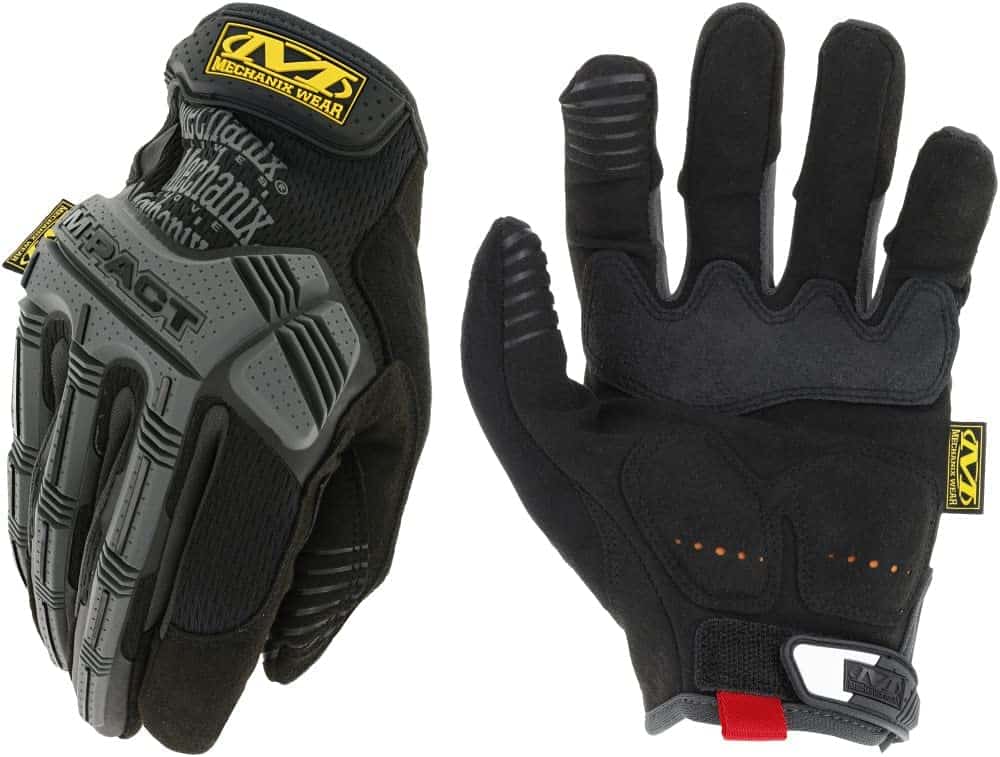 | | |
| --- | --- |
| Weight | 4.9 ounces |
| Dimensions | 12.2 x 5.12 x 1.18 |
| Color | Black / Gray |
| Material | Synthetic Leather, Rubber |
| Warranty  | Manufacturer |
Grand Peculiarity
Mechanics Wear is offering you this extraordinary product with tremendous features that not only amaze you but also make you a fan of its performance. This anti-vibration glove has got synthetic leather palm with a D3O palm padding that squanders away and absorbs high-impact forces through the palm.
You are getting a Thermoplastic Rubber(TPR) knuckle guard and a fingertip safeguard in full length. So, you don't have to worry about all kinds of galling injuries and impact risks. Made of synthetic leather and rubber that makes these gloves more durable. This product is also machine washable.
Internal fingertip includes a dual-layer construction that fortifies the thumb and index finger to develop abrasion resistance. The size and dimensions of the product are absolutely fine. It doesn't weigh too much. This Mechanix product comes in the market in two colors- black & gray with an adorable price.
Scams
You may encounter some crazy smell from in the beginning. A little gasoline can be found on them and the smell may continue for at least two weeks.
Superior S10VIB  Anti Vibration Glove
| | |
| --- | --- |
| Dimensions | 9.5 x 4.5 x 1 |
| Color | Black |
| Material | Nylon |
| Size | Large |
Grand Peculiarity
This anti-vibration full finger string knit glove provides you a comfortable fit with its elastic waist. The padding is composed of a vibration-dampening chloroprene polymer. This seamless lined gloves are abrasion resistive, specially compounded and formed.
This chloroprene coated product meets the EN ISO/ANSI standard for vibration retrenchment. The product is made of nylon, can withstand repetitive impacts and please you with a smooth experience while you are dealing with pneumatic vibrating tools.
This large-sized 'Superior Glove' product comes in black color with a single pair. No batteries are included because it doesn't need any power backup. The gloves have got a 7-gauge thickness, proper dimensions, and comfortable weight.
Scams
The top of the gloves or the tips of the fingers is made of thin nylon-cloth which may tear up for regular use and reveal the fingertips which are unexpected.
Ergodyne ProFlex 9000 Anti-Vibration Work Glove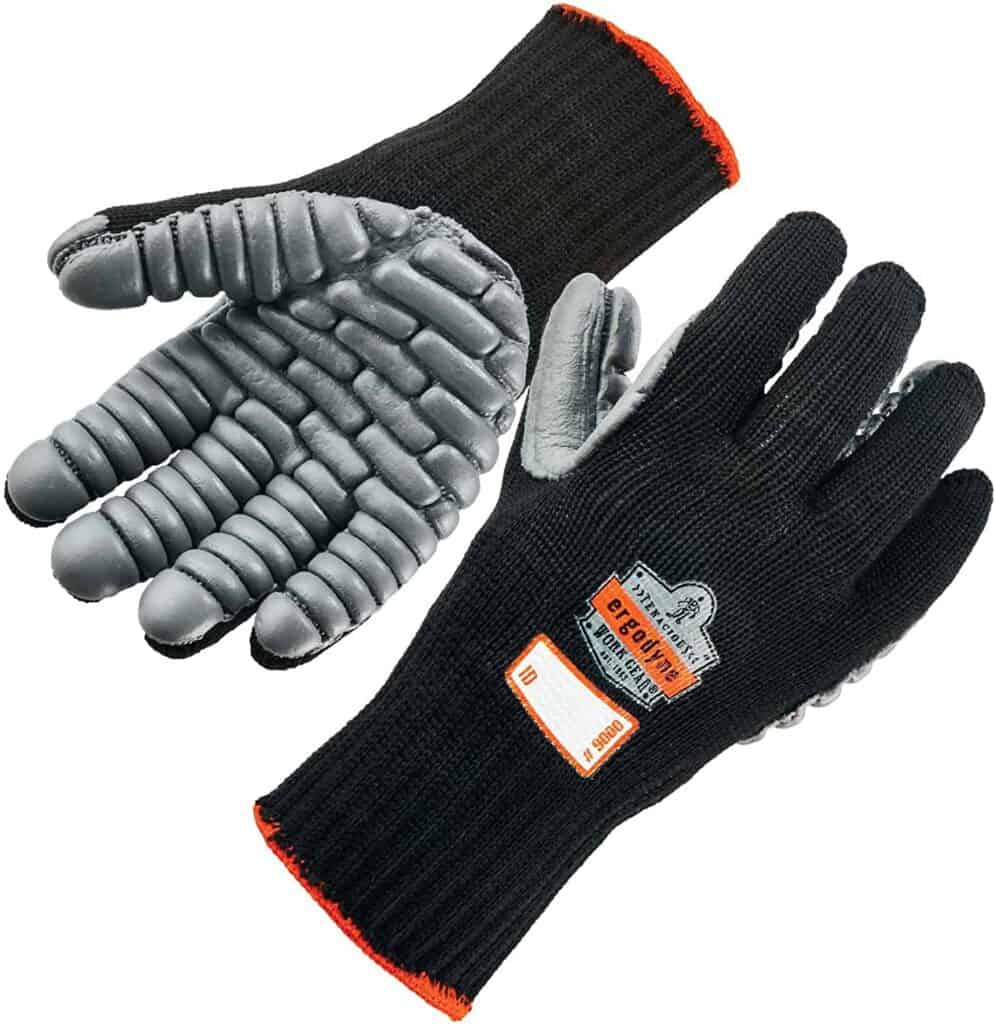 | | |
| --- | --- |
| Weight | 5.6 ounces |
| Dimensions | 5.5 x 3.5 x 14 |
| Color | Black |
| Material | Rubber |
| Size | Large |
Grand Peculiarity
Ergodyne is offering you this product with a mind-blowing pre-curved design with more dexterity, more comfort, and more flexibility. You are getting a unique chloroprene rubber palm pad with this. The elastic cuff gives you the best fitness experience.
You remain free from any kind of shock-hazards for its precise construction, hackly pigskin and patented polymer technology. This Proflex anti-vibration gloves are ANSI certified and provide you with the maximum protection from vibrations, impacts, and abrasions.
The weight of the product is very light, constructed with breathable 7 gauge cotton/nylon knit construction. You are getting the product in a large size. These black-colored gloves can be used for both residential and commercial uses.
Scams
If you are using a machine or tool that includes a trigger then you are going to face some troubles. There are not sufficient gaps between individual pad strips on the index finger. So you cannot comfortably pull a trigger for a long time.
HANDLANDY Anti Vibration Gloves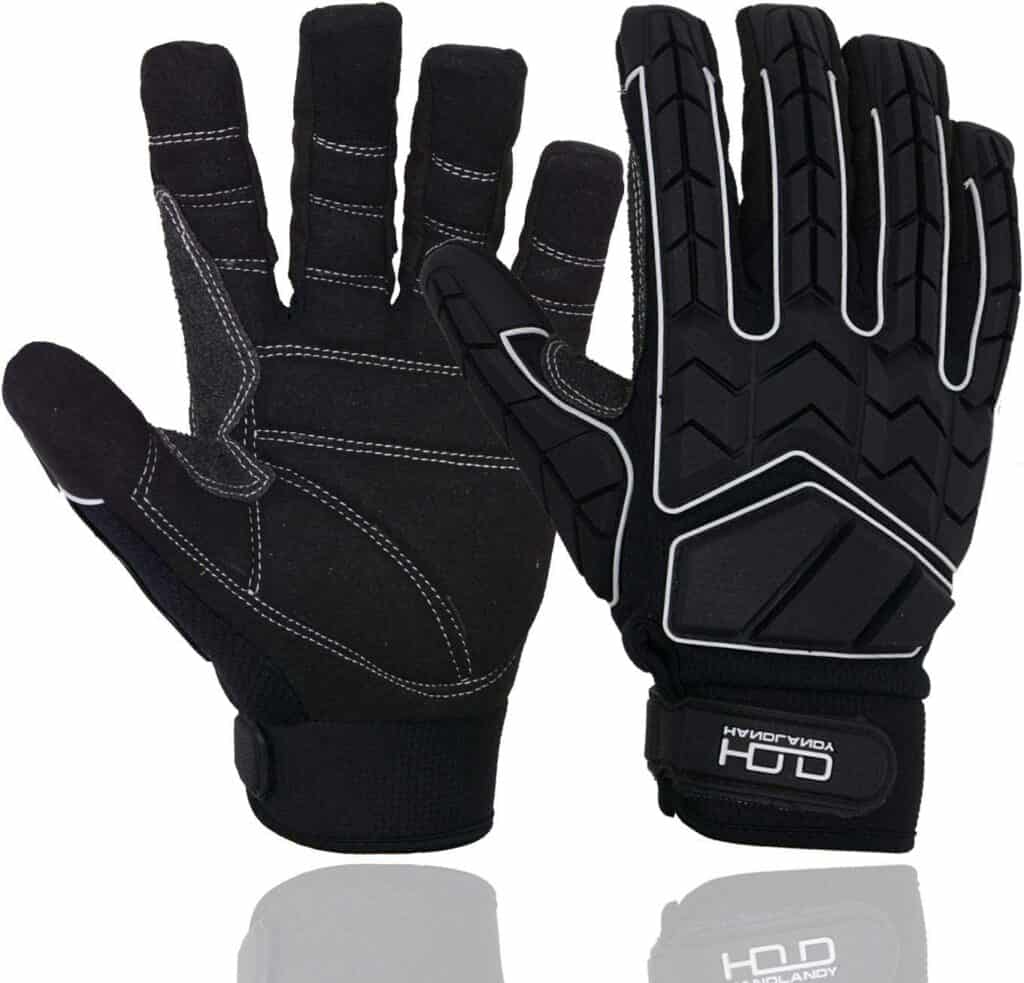 | | |
| --- | --- |
| Weight | 4.2 ounces |
| Dimensions | 8.9 x 5.3 x 1.3 |
| Color | Red |
| Material | Synthetic, spandex |
| Size | Large |
Grand Peculiarity
Handlandy has always focused on durable & high-quality work gloves. This product frees you from mechanical risks with its Thermo Plastic Rubber (TPR) knuckle guards. It has got full-length fingertip protection. So, you don't have to worry about from repetitive impacts and pinching harms.
Heavy construction, oil and gas refining, fracking, mining, extracting, barrel drum handling, drilling, search, and rescue – you can use these anti-impact mechanical gloves. This anti-vibration glove includes an upgraded 5mm Thermo Plastic Rubber(TPR) protector.
This Handlandy product has got a knitting mesh back. So, it's giving you a far better defense with a more flexible and softer fit to the back of the hand. Your every finger and palm is getting extra protection with a 5mm SBR inner padded patch and synthetic palm.
The adjustable wrist strap makes the product a better fit for you. This feature enables you to remove and put in this glove easily between tasks. These gloves are certified by EN ISO 10819:2013. You are receiving additional protection between your thumb and forefinger with a reinforcement saddle.
Scams
This product may appear more thick and bulky than you anticipated. So, you will feel less the tool you are working with. This can make you unhappy while using these gloves.
FAQ
Q: Why use anti-vibration gloves?
Ans: If you are a worker in industry and are dealing with pneumatic tools like rivet guns or jackhammers then you must wear anti-vibration gloves. Because of the vibration caused by these machines can bring about very harmful health issues. These anti-vibration gloves absorb vibrations, repetitive impacts and keep you safe.
Q: How can I choose the best anti-vibration gloves?
Ans: A good anti-vibration glove should have a Thermo Plastic Rubber (TPR) knuckle guard, a full-length fingertip safeguard and a padded layer of vibration-reducing polymer. The wrist of the gloves must be easily adjustable. The flexibility of the gloves while working should also be checked.
Q: Is vibration a problem?
Ans: Yes of course vibration is a serious problem for you in this kind of works. Your health and quality of life can be affected in an enormous way. You can lose your ability to work and have a problem while holding things.
Q: Do these gloves reduce all the harms while dealing with heavy machinery?
Ans: Anti-vibration gloves obviously reduce or absorb vibration and impacts but extra care should be taken before operating heavy machinery like hand-held breakers. In this case, anti-vibration gloves cannot be the only solution.
Q. Can I use woodworking gloves instead of anti-vibration gloves?
Ans: If you are dealing with vibration of heavy machinery at your workplace you must use anti-vibration gloves, not the woodworking gloves. Even if you use the best woodworking gloves it won't protect your hands from the damage of vibration.
Conclusion
We have gone through real scrutiny over the market to find out the best anti-vibration gloves for you. We checked every brand, their best products and every feature that may convey you the best service you need.
Every glove has a uniqueness of its own. But if to choose, in my eyes, you can go with the heavy-duty mechanic glove by VGO and the TPR protector impact gloves by Handlandy. Vgo is offering you 3 pairs of gloves at a very suitable price along with all the features you need. So, you get the best performance and bulk value both with this product.
The Handlandy one has some unique features like SBR padding, reinforced saddle, adjustable wrist strap at an affordable price. But you may go through the whole buying guide and choose what is the best fit for you.
I'm Joost Nusselder, the founder of Tools Doctor, content marketer, and dad. I love trying out new equipment, and together with my team I've been creating in-depth blog articles since 2016 to help loyal readers with tools & crafting tips.