I love creating free content full of tips for my readers, you. I don't accept paid sponsorships, my opinion is my own, but if you find my recommendations helpful and you end up buying something you like through one of my links, I could earn a commission at no extra cost to you.
Learn more
Ever missed the mark when drilling and ended up having to start your project from scratch? An automatic center punch is a nifty little tool that will solve this problem and make sure you hit the mark every time.
An automatic center punch is not only a handy tool but also easy to use. It can be operated by one hand as opposed to the traditional center punch that needed a hammer to tap on the punch.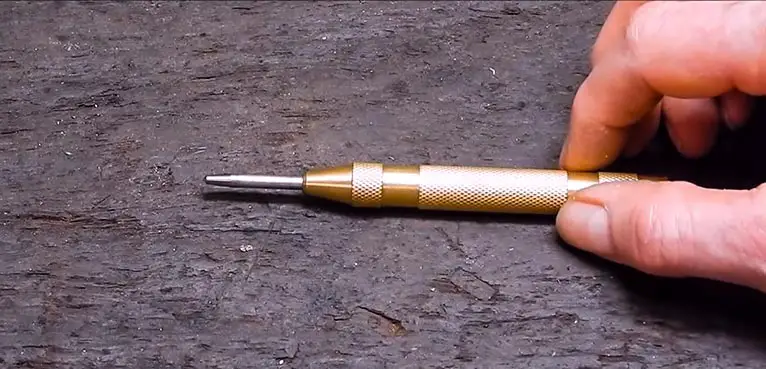 What is the best automatic center punch? Read on for the answer and a list of the best options on the market.
My favorite automatic center punch is the very affordable NEIKO 02638A 5″ Automatic Center Hole Punch. The rust-resistant chrome-plated body is durable and extremely efficient. It is suitable for a variety of surfaces, like metal, wood, glass, plastic, and leather, making it ideal for everyday home use. Also, you can easily adjust the spring-loaded action to the depth of the hole that you would like to punch for optimal performance.
But before I get into more detail, let me show you the other great options and explain what makes a good automatic center punch to begin with.
How do I choose the best automatic center punch?
There are a number of features to consider when deciding which punch is best for your specific needs.
Tip
The tip is the front portion of the center punch, the part that makes contact with the surface and creates the mark. For this reason, this part of the punch needs to be very strong and durable.
A hardened steel alloy tip is generally the most durable. The size and the sharpness also need to be up to standard to ensure accuracy.
A good automatic center punch features a removable tip, so it can be taken out for sharpening or simply replaced with a new one.
Spring
The spring-loaded action is the reason that it is called an automatic center punch.
This spring should be powerful enough to exert enough pressure on the tip, and at the same time, the spring tension should reset easily after firing.
Adjustability
There may be an adjustable knob by which you can easily adjust the spring tension so that you can vary the applied force according to your need.
Once set to a certain tightness, you'd want every punch to be the same as the previous, leaving you with uniform indentations for consistent work.
Grip
There must be a good texturized or rubber grip on the body so that you can hold the tool properly. A knurled surface is usually best, which still provides good grip even if it is wet.
At the same time, the body size and shape should be such that it feels comfortable and handy while working with.
Some automatic center punches can be quite small and harder to hold if your hands are on the larger size or if you are wearing gloves.
Like a little DIY challenge? Here's How to Make a DIY Floor Lamp With a Drill and a Jigsaw
Best automatic center punch
Here is a list of automatic center punches that will give you superb performance and meet all your expectations, starting with my favorite center punch overall.
Best overall & most ergonomic automatic center punch: Neiko 02638A 5"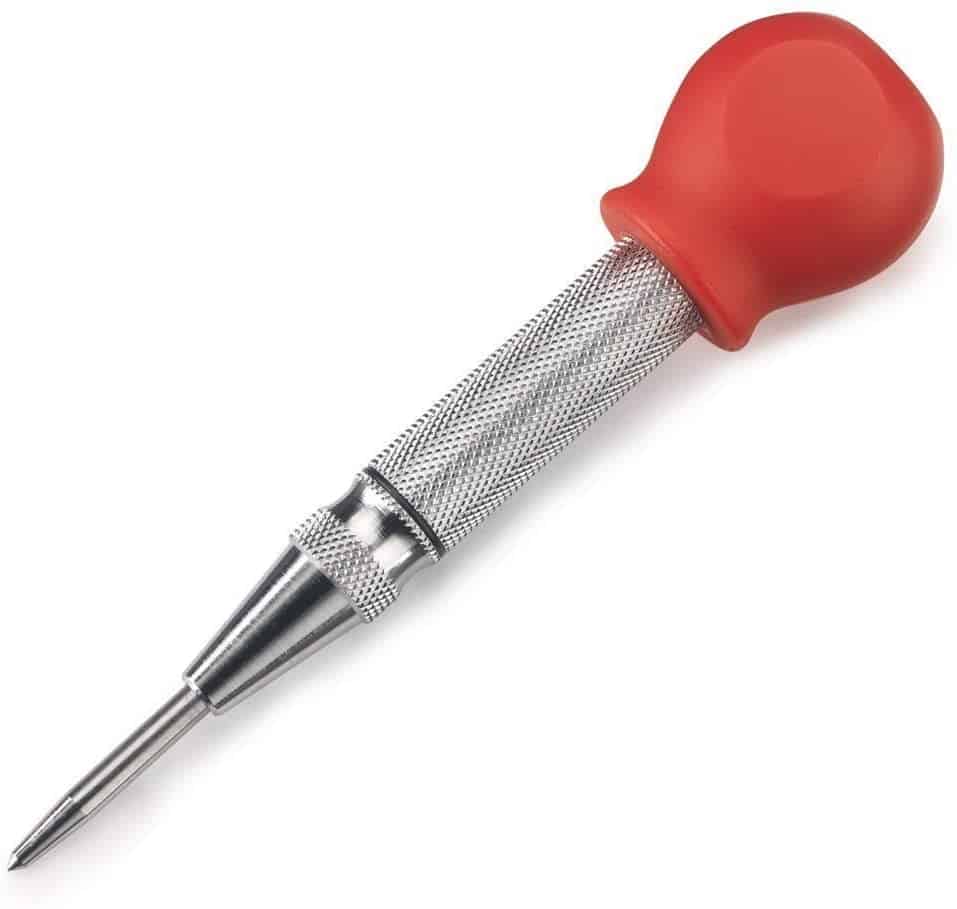 This automatic center punch from Neiko is perfect in both design and comfort.
This tool is spring-loaded with an adjustable cap, which means you can easily adjust the amount of force by turning the knob clockwise or anticlockwise.
This is an especially useful feature when you are working with metal or hardwood as you can increase the depth of the hole that is being made. It's not only suited for application to wood and metal though but also plastic, glass, and leather.
The tip is made of premium steel, which makes it extra durable and ensures that it retains its sharpness.
The textured body provides a non-slip surface that makes it easy to hold and ensures precision every time you punch with it.
The unique red ball on top gives you extra leverage and makes the tool easy to spot in your tool box or on your toolbelt.
Features
Tip: reinforced steel tip
Spring: spring-loaded action
Adjustability: easy adjustment
Grip: diamond knurled textured grip
Most durable automatic center punch: Starrett 18A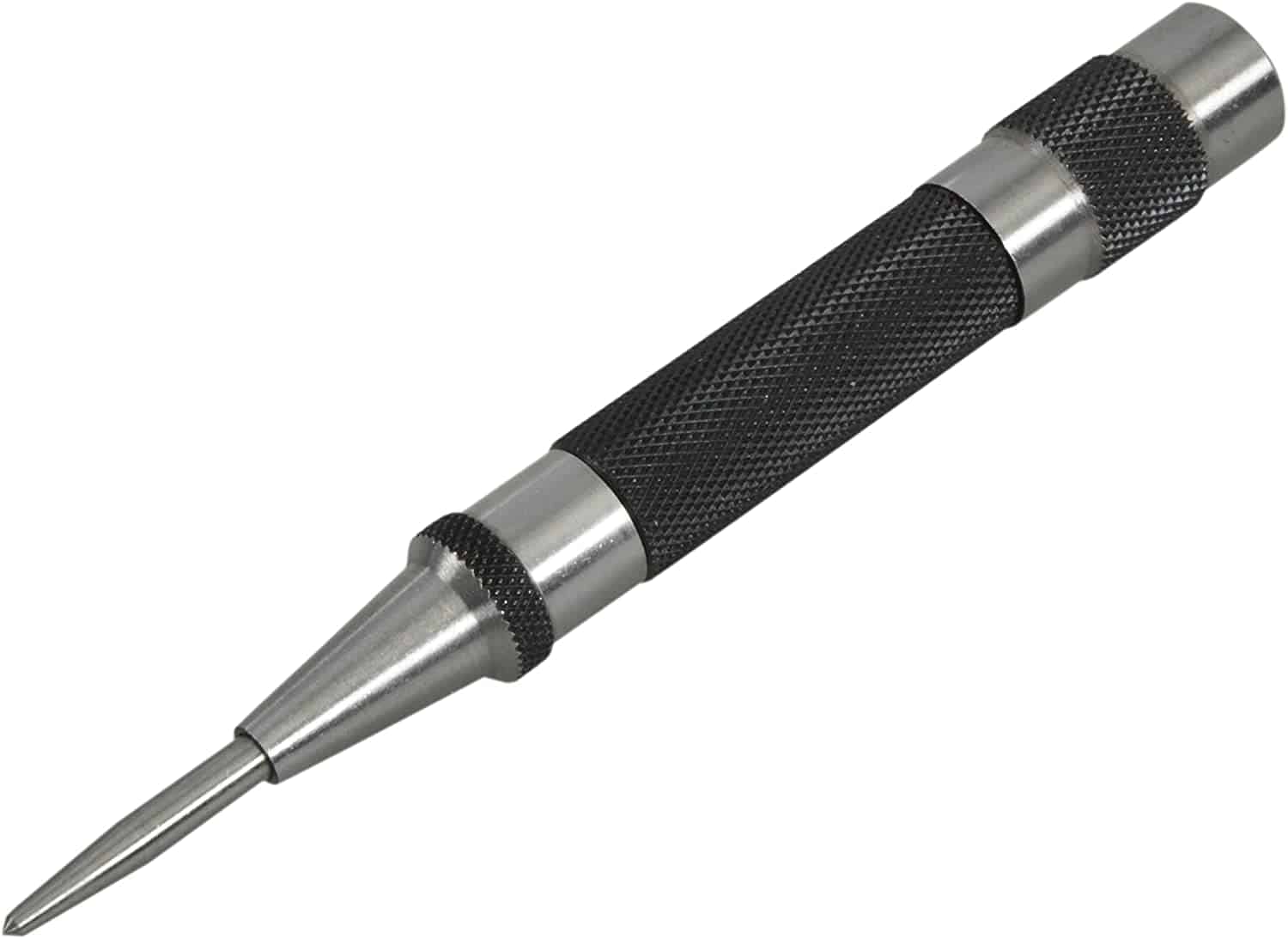 Starrett is a trusted manufacturer of precision tools, and their premium 18A automatic center punch upholds this reputation for excellence. This well-machined tool will last a lifetime.
The steel body of this punch is well balanced and the tool is well-proportioned as a whole. This punch is slightly longer than some of the other Starrett punch models, which makes it ideal for work in narrow spaces.
The knurled handle allows for easy handling and gives you a firm grasp when making an indentation. The spring-loaded action is easily adjusted by twisting the cap and is known to never skip a beat.
The only downside of the Starrett 18A is perhaps the price, about twice as high as the other center punches on my list. However, in return for shelling out a bit more, you'll get a tool that will last and can withstand some force.
Features
Tip: steel tip
Spring: spring-loaded action
Adjustability: easy adjustment
Grip: knurled textured grip
Most versatile automatic center punch: General Tools 89 Stainless Steel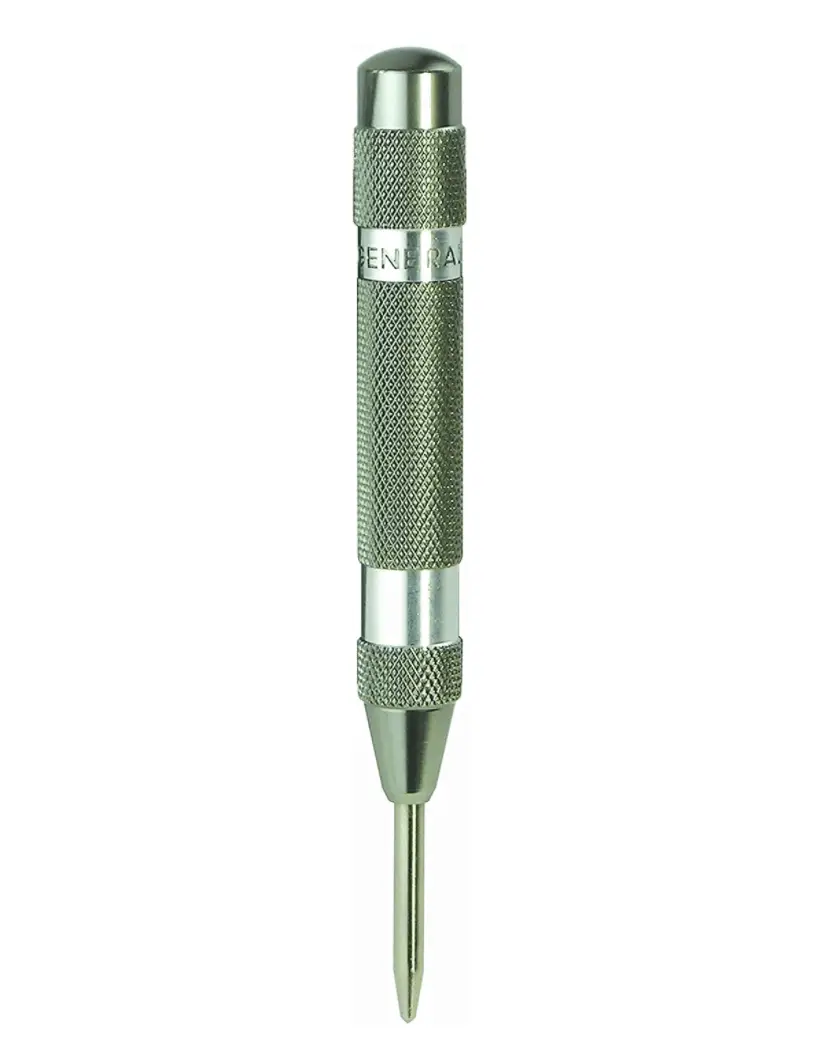 The General Tools center punch's main feature is its simple one-handed operation. It is easy to use and the high-quality spring ensures that you will not need to apply much force to operate it.
The spring tension can easily be adjusted for different surfaces by turning the knurled cap anticlockwise or clockwise, you can adjust the force of impact when working on different surfaces or materials.
You can increase or decrease the impact of force as you need. This means this tool is a perfect one for different kinds of operations like marking, punching, or even staking.
The stainless steel body and hardened steel tip make it strong and durable as well as resistant to rust, which ensures durability.
The knurled body makes it easy to hold, which ensures precision. This punch can also be used for emergencies to break the side window of any vehicle.
Unfortunately, some users have reported issues with the spring action. You may not have the desired output every time, which means you may need to press several times for the punch to release.
Features
Tip: hardened steel tip
Spring: spring-loaded action
Adjustability: easy adjustment
Grip: knurled textured grip
Best value for money automatic center hole punch: HORUSDY Super Strong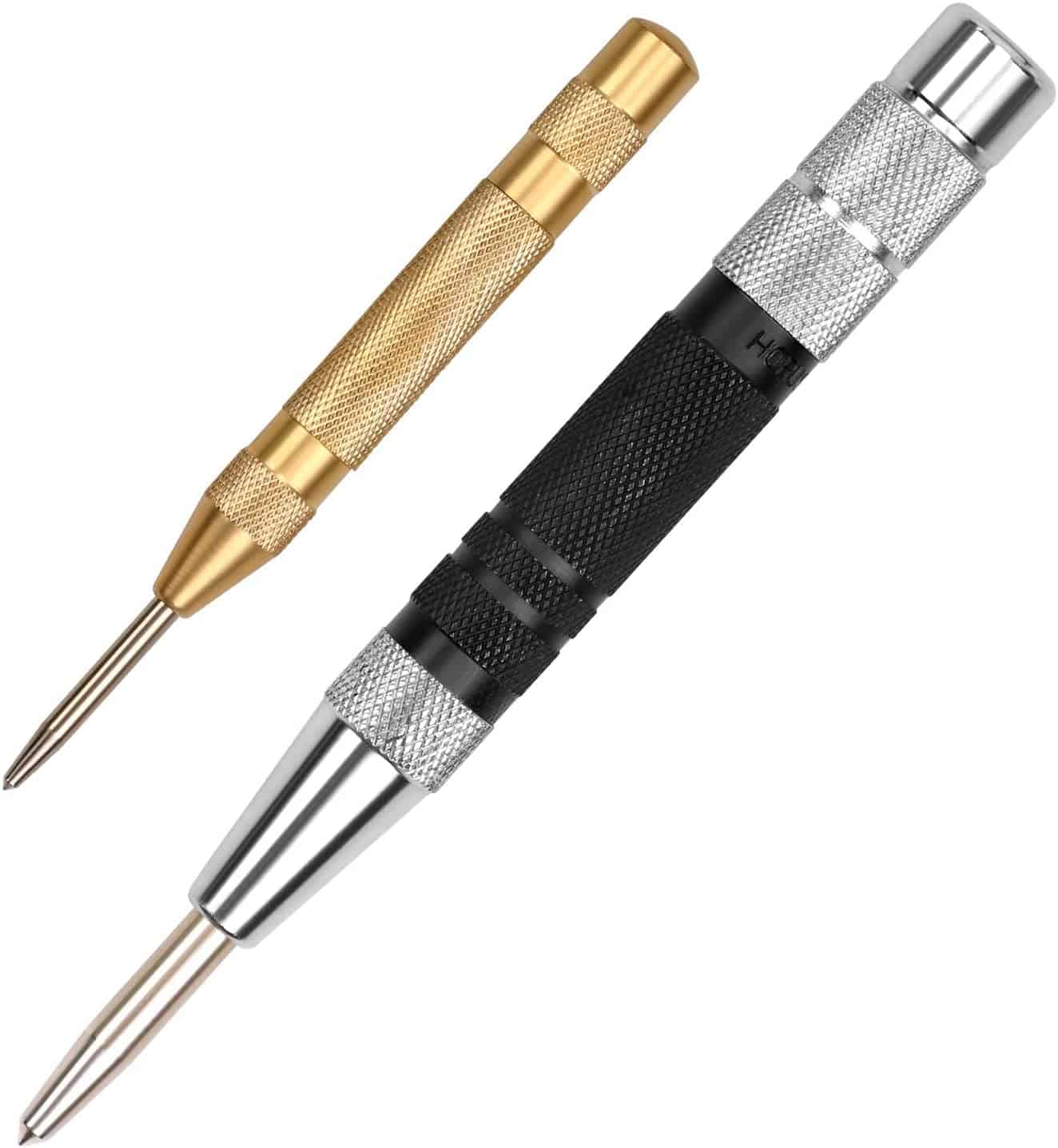 As opposed to the other punches on the list, with this choice, you get two tools for the price of one, definite value for money.
The smaller punch has a single spring-loaded action that makes it perfect for softer surfaces such as wood. The larger punch has a unique double spring-loaded action for harder surfaces like steel.
You just need to adjust the spring to get the desired tension for the surfaces you are working on. The adjustable pressure ensures that you won't damage more delicate surfaces.
The textured grip on the body is perfect so you can hold the tool comfortably and it won't slip out of your hand easily.
The tip can be removed for resharpening or replacement, and the body can be disassembled for cleaning.
Features
Tip: chrome vanadium steel tip
Spring: both single and double spring-loaded action
Adjustability: easy adjustment
Grip: knurled textured grip
Best lightweight & portable center punch: Lisle 30280

This center punch from Lisle looks quite like a pen but definitely isn't.
Unlike other punches, this one has a nifty clip that enables you to clip it to your pocket and free up your hands as you work. This, and its small size, make it ideal to take it everywhere with you.
It has an attractive red color on the body that gives it an elegant look, it doesn't look amiss in your toolbelt or breast pocket.
This tool has a tapered tip made of hardened steel that makes it super strong, durable, and capable of withstanding any kind of force. The tip is also replaceable which is an added benefit.
You can adjust the impact produced by the tool by simply turning a knob. This lets you use the tool on a number of different surfaces like metal, plastic, or wood.
This lightweight spring-loaded punch has a knurled handle which makes it easy to grip and prevents slipping.
The main concern is that the spring sometimes does not reset automatically.
Of course, it's best to get a product that works flawlessly out of the box, but if you don't mind some tinkering, here is how you adjust a center punch spring that is not quite performing:
Features
Tip: hardened steel tip
Spring: spring-loaded action
Adjustability: easy adjustment
Grip: knurled textured grip
Best heavy-duty center punch: Fowler 52-500-290 Hardened Steel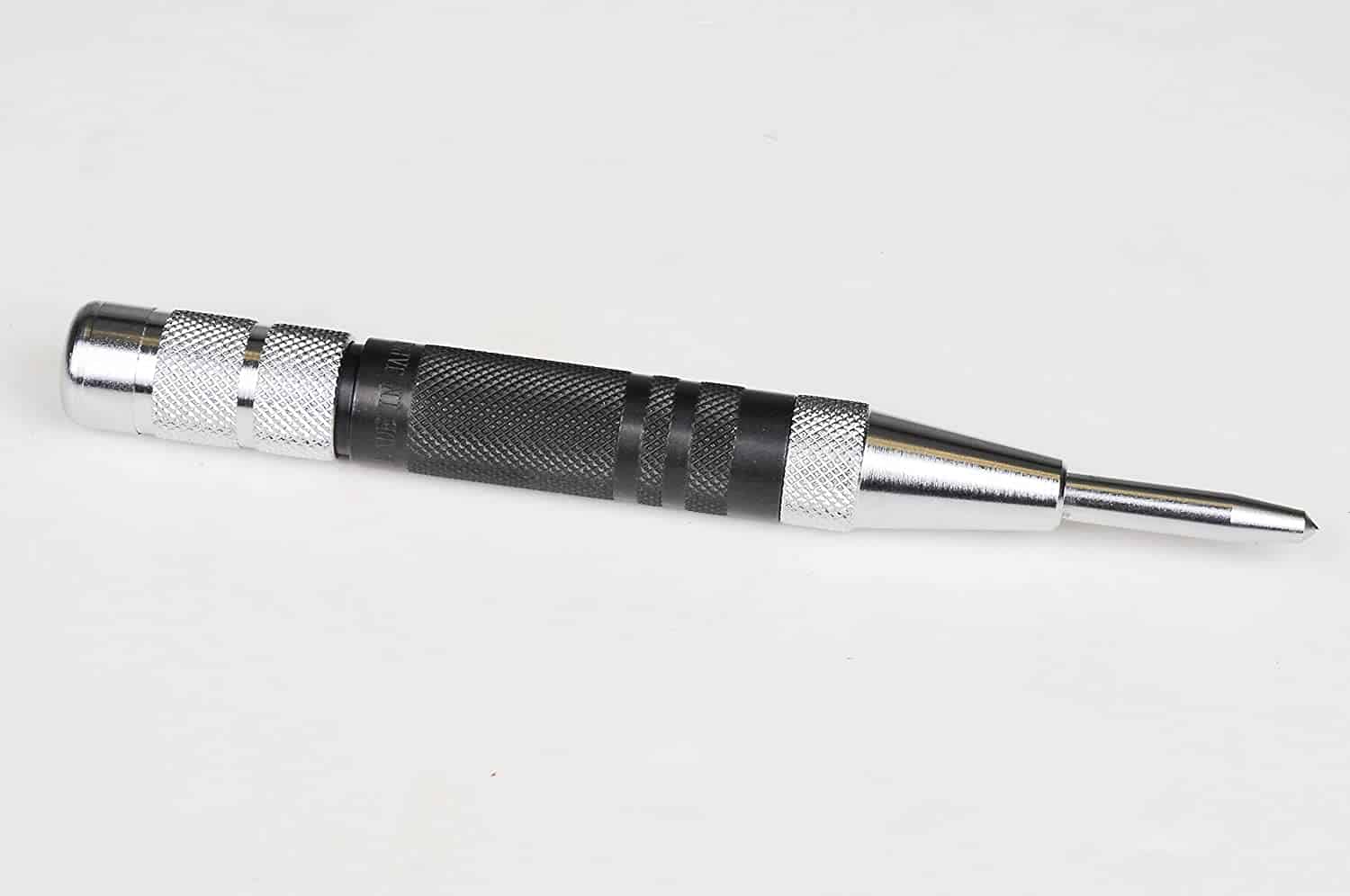 The Fowler center punch is the perfect choice from this list for super heavy-duty jobs. It is made of hardened steel for durability and can easily handle the huge amount of force acting on it.
The body is slightly longer than some other punches which makes this one easier to hold and the knurled grip prevents it from slipping out of your hand.
It features a unique Ultima Bore Gauging System that allows for extreme precision. It enables accuracy of up to 0.00006″.
This spring-loaded punch can be used on any kind of surface as you can adjust the acting force produced by the tool.
Some users have reported that the spring does not always reset itself automatically.
Features
Tip: hardened steel tip
Spring: spring-loaded action
Adjustability: easy adjustment
Grip: knurled textured grip
Automatic center punch FAQ
Here are some frequently asked questions and their answers.
What is an automatic center punch?
An automatic center punch is a small, one-handed tool that is used to make a mark or small hole in any kind of surface like wood, metal or plastic, etc.
This mark is helpful when drilling because it ensures that your drill bit starts on the exact spot and enables accuracy and precision.
It is a cylindrical shape and has a spring-loaded inside. When you press down, the spring will produce enough pressure on the tip to make the hole or mark.
You can also adjust the impact pressure, which gives you more flexibility.
What is an automatic center punch used for?
An automatic center punch is a hand tool used to produce a dimple in a workpiece (for example, a piece of metal). It performs the same function as an ordinary center punch but without the need for a hammer.
Can a center punch be used to break a window?
A center punch can be used in an emergency to break a window or glass.
Can you sharpen the tip of an automatic center punch?
Yes, you can. The tip is removable, so you can remove it and sharpen it on a bench grinder or replace it.
Also read: How to Use A Drill Bit Sharpener
Why do I need an automatic center punch?
This one-handed tool allows you to make indentations without injuring your hands and with accuracy. It makes uniform and accurate dents on the surface you're working on.
How do you maintain an automatic center punch?
You should oil the internal components regularly and store the tool in a cool, dry place.
The bottom line
The Neiko's automatic center punch is the best performing automatic punch with a reasonable price to match. For a punch that can create holes of different sizes and will last a lifetime then you should opt for the Starret 18A.
On the other hand, the punch from General Tool is very versatile and suited to a number of different surfaces. The Fowler punch is a good choice for heavy-duty punching.
An automatic center punch is a handy addition that will save you tons of time and frustration.
Not only can you operate it easily with one hand and without the use of a hammer, but it will ensure that you can make precise markings every time.
Drilling in a movable object? Get a drill press vise, I've reviewed the best top 7 here
I'm Joost Nusselder, the founder of Tools Doctor, content marketer, and dad. I love trying out new equipment, and together with my team I've been creating in-depth blog articles since 2016 to help loyal readers with tools & crafting tips.