I love creating free content full of tips for my readers, you. I don't accept paid sponsorships, my opinion is my own, but if you find my recommendations helpful and you end up buying something you like through one of my links, I could earn a commission at no extra cost to you.
Learn more
Imagine you want to make a small hole on your working object but when you try to drill it, it slips away all the time. Maybe you don't need to imagine that, you have already experienced it.
We appreciate that you didn't lose hope and are searching for what you need to get the best working experience.
The answer you are looking for is the tool named a drill press vise. It is a manual tool that you can attach to the drill press machine, and it holds your objects tightly, so you don't need to worry about drilling in the wrong places.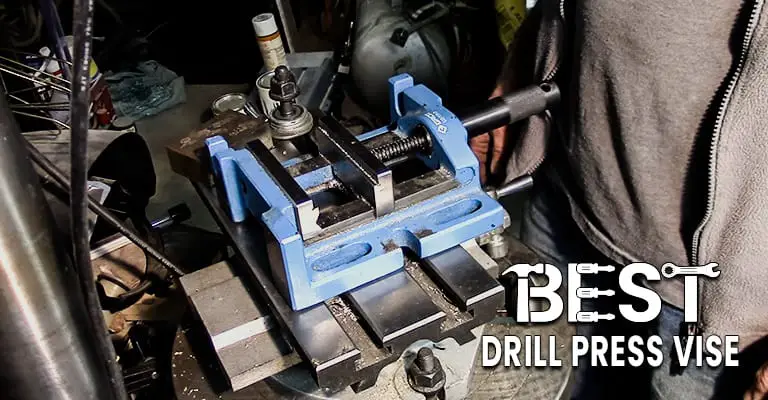 To embrace your workpieces firmly, you need to find the best drill press vise. This article aims to help you find the right vise for you.
Here are some of our top recommendations for the best drill press vise. A detailed review of each one is listed below.
Best drill press vise buyer's guide
Whether you are a total noob or a pro on vises, a proper buying guide can help you to know and revise the specification you need to keep in mind before buying a vise.
The following section is here to help you out with the specs.
Vise jaws
Vise jaws are the two parallel iron plates to hold the workpiece properly. They are one of the most important parts of the drill press vises, because they are the things that hold down the workpiece properly.
Before buying the product, you need to know what you should keep in mind about the jaws.
Those several factors include the following points:
Jaw width
You can find many types of jaw width, from 3 inches to 6 inches especially. The more the width, the better it is, cause bigger jaws can hold your workpieces properly and can apply more force for clamping.
Jaw opening
Jaw opening means the perpendicular distance between two jaws when the jaws are not attached.
The opening varies with the jaw width, sometimes the opening length is the same as the width, sometimes not, but the opening length is almost the same, such as if the jaw width is 4 inches, the jaw opening is 3.75 inches in some vises.
The jaw opening is the indicator that tells you about the max size materials that the vise can hold onto. The bigger the opening, the larger the materials it can hold.
Jaw texture
Not every vise has textured jaws, some jaws just have plain surfaces.
The benefit of the textured jaws is, they can hold your workpiece firmly so that the piece won't be able to slide as a result of friction between the workpiece and the jaw surface.
The benefit of a plain jaw surface is that it is less likely to damage the piece you are working on if it is made from a softer material.
Working axis
There are two types of drill press vises, one is the normal vise that only works and moves your working object on the horizontal axis.
The other one is the cross sliding vise, that can work and move your workpiece on both horizontal and vertical axis.
And of course, the cross sliding vise is a better choice as you will be able to do more work with it.
Clamping force
The clamping force of the vise is also a major factor. It is the force that is required to hold a part against the locators.
The more clamping force a vise can provide, the more accurate your work is going to be, cause more force can hold the working object more precisely without tilting.
There are vises with low clamping force, like only 1000 lb force while there are vises with more force, ranges from 15kN to 29kN force.
For your information, the 1000 lb force is compared to 4.4kN force.
Vise base
You can find mainly two types of bases with press vises. One of them is the normal base, and the other one is the swiveling base.
Both of the bases must be solid and have smooth bottom surfaces to be able to attach properly with the drill press. Both of the bases have slots for attaching with nut and bolts.
A swiveling object means that it joins two parts in a way that allows one part to turn without turning the other part. So, unlike the normal vise base, a swiveling vise base lets your vise move 360°.
Usually, a precise circular 360° scale is provided with the swiveling base for better work experience and accurate work.
Vise handle
Vise handles or vise screws are provided with the vise to move the parts attached to them. In every vise, there is at least one handle screw attached with the inside jaw to control the opening.
In cross slide vise, there are two more screws are given to move the workpiece in the vertical and horizontal directions.
Materials
Usually, all the vises are made of solid iron or steel for durability.
But sometimes cheap producers use other materials like plastic that make the vise vulnerable.
And iron tools tend to have erosion after a while, so they need to be coated with other materials like nickel, otherwise, you are going to waste your money.
Weight
The weight of the vise depends on the materials and size. Less weight makes your vise an easily portable item.
But the negative side of a lighter vise is that they will not be able to provide more clamping force for better results.
Also, a heavy vise can withstand the operational vibration and pressure more than a lighter vise.
Adjustable parts
Most of the time the vises come with a fixed body. But in some cases, the tool parts are not attached, so you need to attach them properly.
And to attach the vise to the drill press, you need to use nut and bolts through the base slots. Some manufacturer provides the screws but most of the time they don't.
Throat Depth
The throat depth determines the distance of jaws to the base and the amount of strength a vise can offer. It is a highly essential feature if you are working with long and narrow pieces. However, it may not be that important when you are working with regular-sized pieces.
Accuracy
No tool can bless you with 100% accuracy, but you can choose a tool that can give you more accurate results than others.
Accuracy on the vise depends on the fact that if the vise can hold your workpiece properly while working, it gives you more accurate results.
So you can say that the jaw width, jaw texture, materials, and clamping force decide the accuracy of a vise as changes in these factors can change the firm placement of a workpiece inside the jaws.
Instruction
Instructions are like guidebooks for any tool. You may be able to figure out urself how a simple tool works, but it would be hard to figure out for a complicated tool.
Anyone will spoil a machine if he tries to do things on his own, this is why it is important to have any instruction guide with the product.
Some producers provide instruction with the product written in papers, some add videos with the product link about how the product work. But sometimes they don't provide any instruction at all.
Types
If you are purchasing drill press vise then you need to learn the classifications of it so that you know exactly what you are looking for. There are many types but we are going to discuss the most common types here…what we really need. 
Wood Vise
You should buy wood vise if you are working with wooden objects. They are highly fitting for mounting tables. However, this type of vise is not very sturdy and comes in a softer texture. Also, the jaws are not as hardened as other vises.
Metal Vise
A metal vise is most commonly used as a drill press vise. They are highly effective to be used on metal works and very sturdy. At the same time, they can be used to work with other materials like wood or plastic. Also, the jaws are firm enough to hold any piece tightly but you should not use it for delicate material.
Machine Vise
Machine vise is easiest to work with. You don't need to use your hands throughout the drilling process as it automatically attaches to your mounting table. Such a vise uses a mechanized gripping mechanism to tightly grip your piece during the drilling or milling process.
Cross Sided Drill Press Vise
Cross Sided Drill Press Vise is best suited where the object must be centered accurately. If your milling or drilling process is associated with a variable angle, then it might be highly suited for you. Not to mention, it comes with two axes for better functionality.
Others
There are few other common types like a self-centering, pin drill, high precision, and any angle precision vise. Self-centering press vise is ideal where you need to tilt it to 90 degrees for angled drilling or milling.
On the other hand, any angle precision vise can tilt up to 45 degrees in various directions. You may want high precision vise for grinding applications and pin vise drill for lighter yet powerful drilling applications for simple DIY projects.
Warranty
Although most of the companies offer warranty features with their items, some manufacturers don't provide the service.
Do you wanna buy a product with defects? Of course not!
So when you buy a product that provides a warranty, you can send the product to the company, they will fix the product or change with a new one.
The best drill press vises available reviewed
We have sorted out some best drill press vises that can be found in the market so that you don't have to do the time-consuming searching as we care for your valuable time.
Thus the following section can help you to find the perfect vise that matches most of your desired criteria.
Irwin Tools Drill Press Vise 4″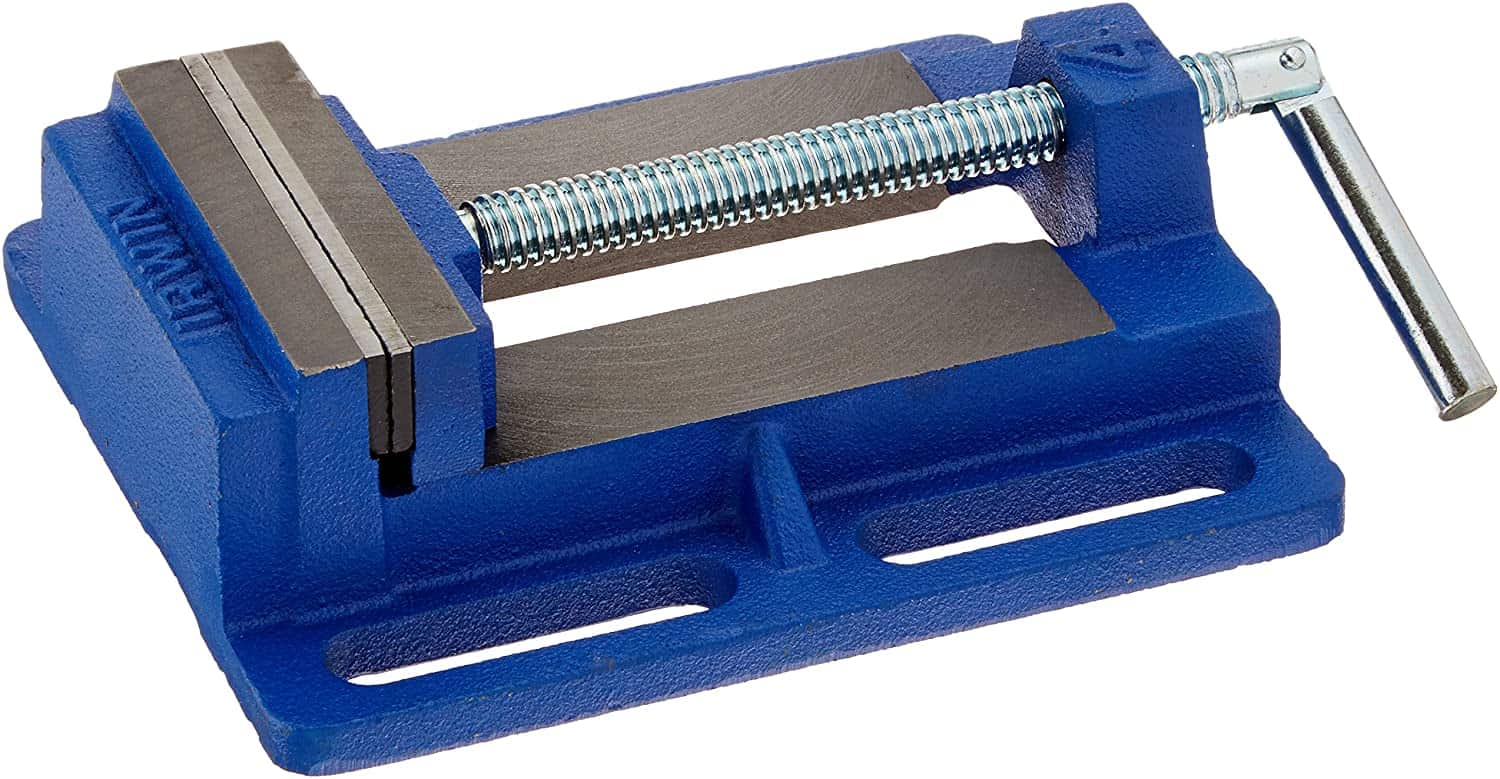 Favorable factors
IRWIN producer offers a lightweight drill press vise of only 7 pounds that makes it a portable vise. Just like most other vises, this vise is made of forged iron, making it durable.
The 4-inch jaws' capacity is 4.5 inches, and for secured gripping, the jaws are made textured.
For easy positioning and installation, the base of the product is made slotted. This blue colored drill vise has a clamping pressure of 1000 pounds.
The scale or measurement system is in inch, and as it is a manual tool, you don't need any extra power supply like batteries to operate it.
A handle attached to the interior jaw helps you to control the jaw opening.
In the case of prices, this tool is pretty cheap even though it blesses you with perfect light-duty tasks.
Total dimensions of this vise are 7 inches in width, 9.4 inches in length and only 2.6 inches in height. as the vise is smaller in size, it is easy to store anywhere and easy to place on the working table.
Negative factors
There is no instruction or warranty provided with this product. And the price is quite higher than other vises that give almost the same result.
Wilton CS4 4″ Cross-Slide Drill Press Vise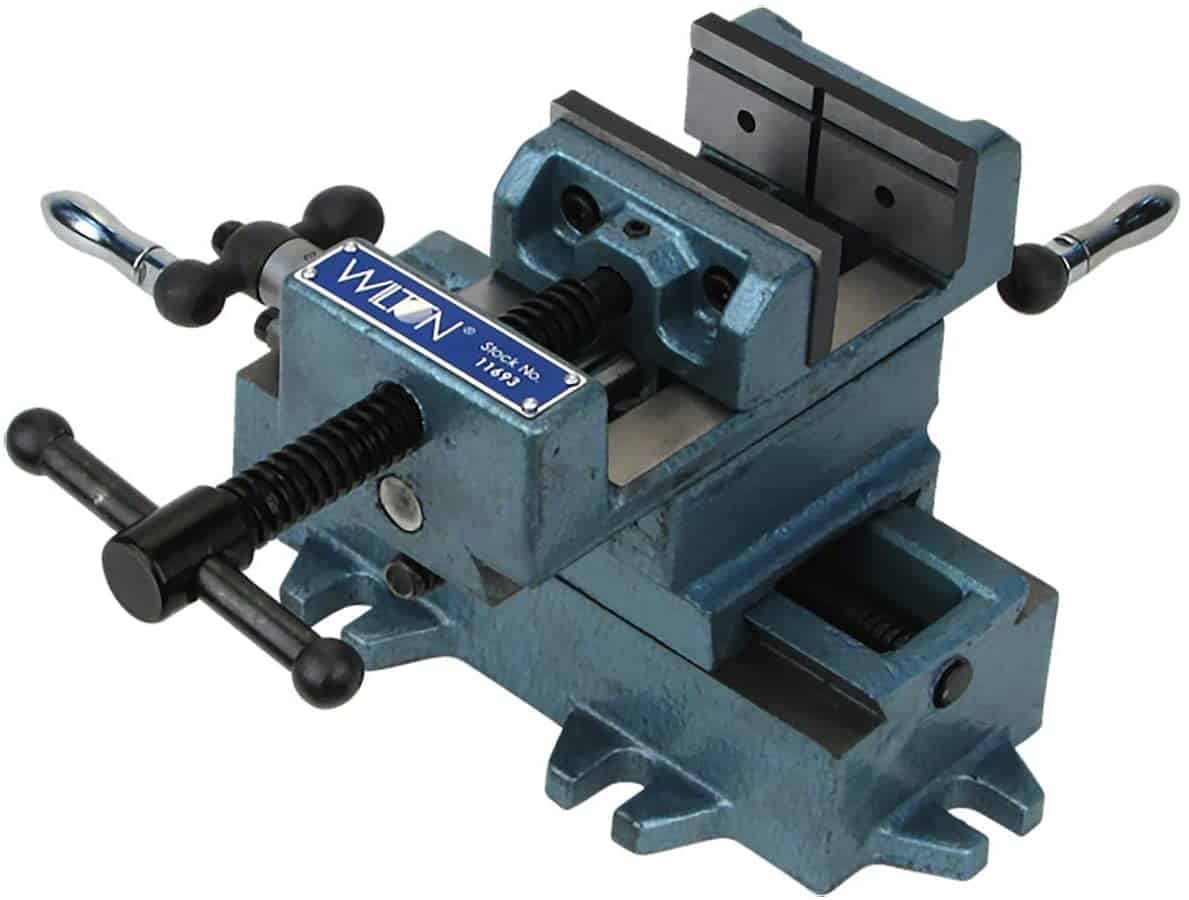 Favorable factors
Manufacturer Wilton introduces you to a cross slide drill press vise which can move your workpiece not only in the horizontal surface but also in the vertical surface!
But the product is not that big, only 7 inches width, 10.5 inches length and 5.8 inches height vise.
The vise is made with fine grain cast iron castings that make it durable. The hardened and grooved jaws can hold round shaped objects too in both X and Y directions.
Three handles or screws are provided in this vise to help you slide the jaws and plate in different directions.
Cast side knob of this cross slide vise can accurately dial in 0.1mm increments. The vise has 5 mounting slots to attach with the drill press firmly.
Being only 20 pounds makes it a portable tool and in case of storage or placing on the working table, the vise covers up less area.
Negative factors
Precise information about clamping force and warranty is not provided. There is no instruction given either. Moreover, its price is high comparing the normal horizontal working drill press vises.
Check prices and availability here
Shop Fox D4082 4-Inch Cross-Sliding Vise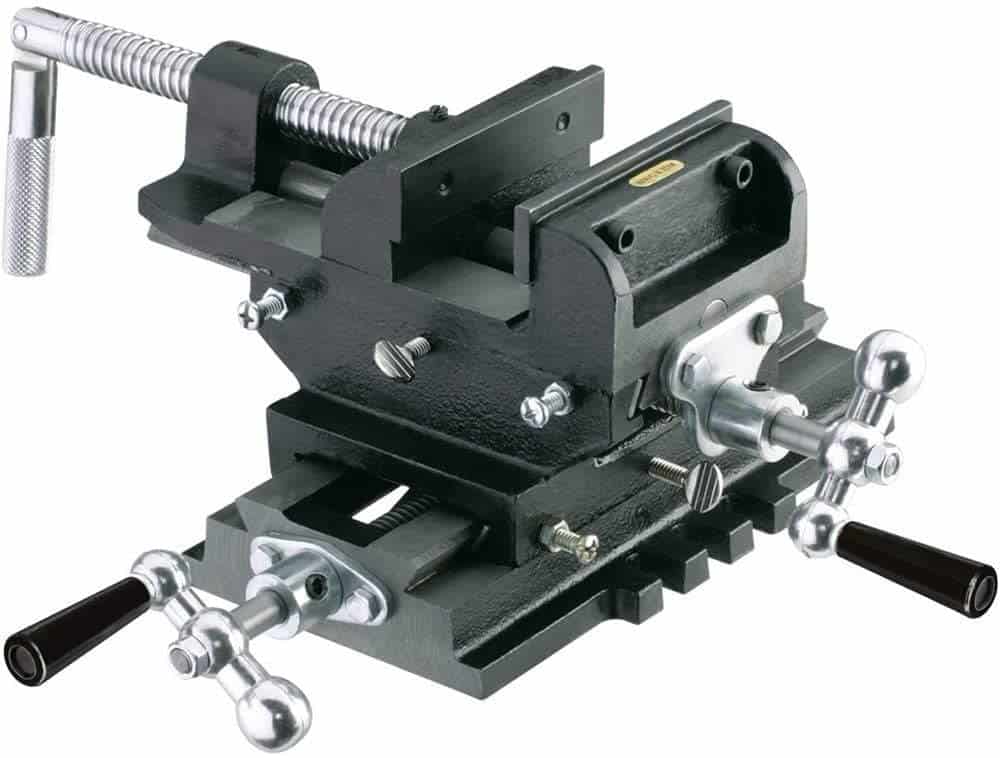 Favorable factors
Just like the previous company, Shop Fox also provides a cross sliding drill press vise.
One unique part of this vise is, it has an exclusive slide bar that prevents jaws from tilting up or sideways when tightening. And the adjustable gibs help if there is any slack on top and bottom slides.
Jaw with and capacity are both 4 inches in this vise while both top and bottom slides can travel 4 inches. The jaw opening of the vise is 3.75 inches and overall 5.25 inches height.
It is a portable tool as the approximate weight is 22 pounds and it is also easy to store and place for the small-sized body.
Unlike others on the list, this manufacturer provides a 1-year warranty for the product. There is also an instruction video added in the product link to help you to understand how it is supposed to work.
The measurement scale in this vise is in inch scale. This durable helps you with both light milling and drilling works at an average price.
Negative factors
Exact information about the tool material is not provided. The jaws are not textured to hold the workpiece properly.
Happybuy 5 Inch ACCU Lock Down Vise
Favorable factors
Unlike the other vises on this list, this vise has a unique swiveling base.
The Happybuy manufacturer offers you steel vises with four different jaw openings, 3 inches, 4 inches, 5 inches, and 6 inches jaws. You can buy these vises with or without that swiveling base!
Weight and maximum clamping force vary with the jaw width. In the case of weights, the values range from 10 pounds to 40 pounds, where the weights differ significantly for the base in the same size vises.
But the base doesn't play any role to differ the clamping force for same-sized vises. For 3 inch vise, the max clamp force is 15 kN, and 19 kN, 24 kN, 29 kN are for 4 inches, 5 inches, 6 inches respectively.
The swiveling base comes with perfectly aligned precision jaws, precise 360-degree scale, and acme screws. So, the vise is suitable for milling, drilling, and precision parts finishing.
This accurate and durable vise is made of high-quality ductile iron of 80k PSI to achieve minimum bending.
Negative factors
No warranty or instruction is provided with the product. And this vise expensive comparing to other vises on the list.
Check prices and availability here
HHIP 3900-0186 Pro-Series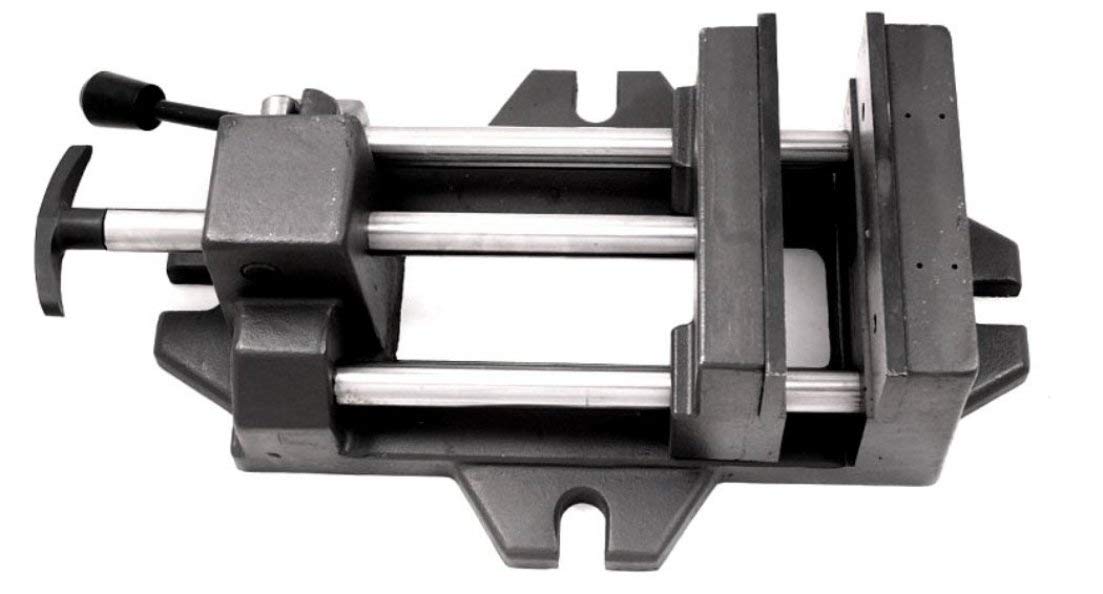 Favorable factors
The manufacturer HHIP offers you drill press vises in three different jaw widths, 3 inches, 4 inches, and 6 inches where their jaw openings are 3.5 inches, 4.75 inches, and 6.25 inches respectively.
These iron vises are well built, durable and their weights vary from around 8 pounds to 30 pounds.
The throat depths of these vises are between are 1 to 2 inches and they are made of high-grade strong stress relieved solid iron castings.
Two handles or screws are provided with the vise to hold the working object properly and firmly while precision ground helps you to attach the vise to the drill press.
The measurement scale in the vise is an inch scale. With the product link, three instruction videos are provided for three different size vises, so you can easily use the product after watching how to use it.
As the name says, the vise can slide quickly that makes it comfy to use.
Negative factors
The vise is expensive comparing to other horizontal drill vises and there is no warranty and clamping force info provided with the product either. The jaws of these vises are not etched to hold the workpiece properly.
WEN 424DPV 4-Inch Cast Iron Drill Press Vise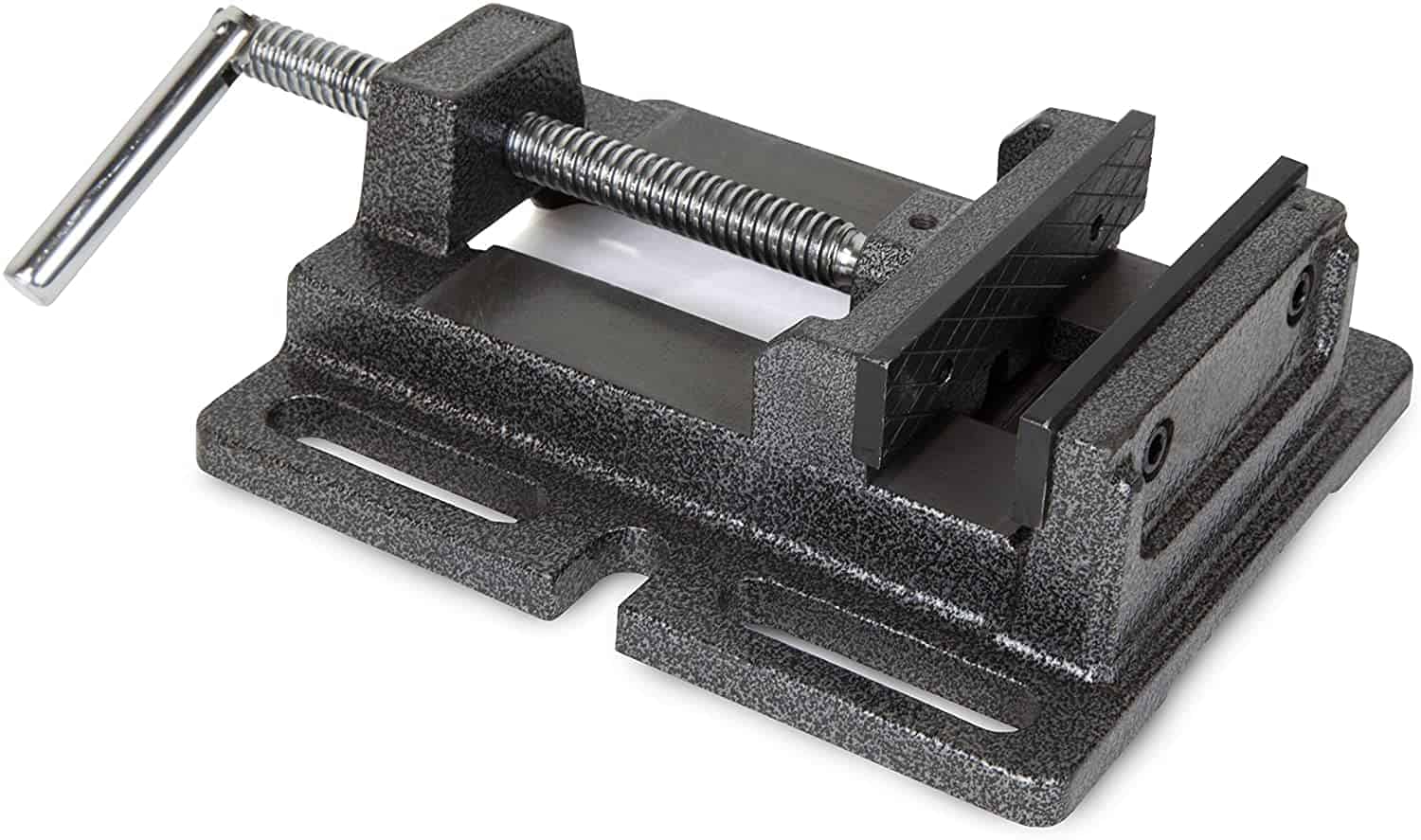 Favorable factors
The cheapest portable vise on this list is here, offering you 3 inches wide jaws with 3.1 inches jaw opening and 1-inch throat depth.
The vice is only 8 pounds, so you can carry it around anywhere. The product is small in sizes too, the length and widths are within 6 inches and the height is not more than 2 inches.
Like most of the vises, this vise is also made of cast iron that provides stability during operation.
Along with the drill press vise, the producer WEN offers you two other types of vises, one of them is bench vise, and another one is tilting vise for various works.
The design of the vise is universal, so it is compatible with the majority of drill presses that can be found on the market. On the base, there are four onboard mounting slots to securely fasten the vise with the drill press.
And the textured jaw can firmly grip wood, metal or any working object.
Negative factors
Neither warranty nor any instruction to use the product is not provided. Also, there is no information about the clamping force, but we can tell the force is not that much by its size and weight.
Check prices and availability here
Performance Tool W3939 Hammer Tough 2-1/2″ Drill Press Vise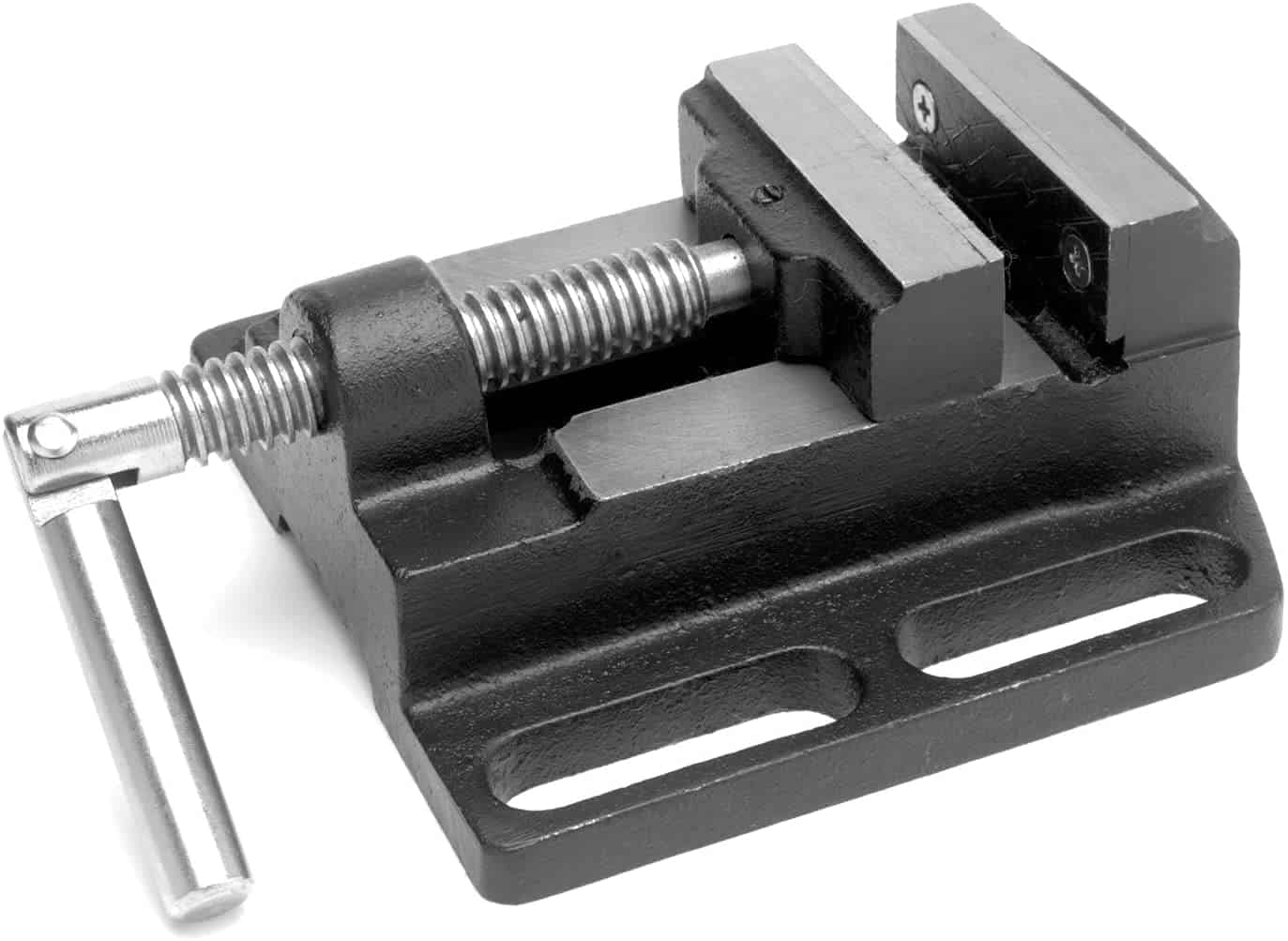 Favorable factors
The manufacturer Performance Tool provides many types of vises, amongst the list, you can find drill press vises of two different sizes, 2.5 inches, and 4 inches.
The weight of the smaller one is less than three pounds and the bigger vise is around 7 pounds.
To prevent slipping, the jaws of the vises are built textured or etched. The dimensions of the vises are really small, so you can easily store them anywhere and they will take less space on the working table.
This smaller-sized vise is good for working with any wooden workpiece, while the bigger vise can work on wood, plastic, steel, or anything.
Jaw opening of these two vises is the same as their jaw width and both have almost the same throat depth, around 1 inch.
The base of the product has mounting slots for easy installation on the drill press and it has a precision machined surface for flat shaping.
Negative factors
No warranty, instruction, and clamping force information is provided with the product.
From other producers, you can find the same sized product at less price that gives almost the same working results. This thin vise can't be able to give you perfect results.
How to Attach a Vise to a Drill Press?
Attaching a drill press to your vase requires few steps but you don't need to worry as they are relatively simple. You just need to follow these so that you can successfully place your workpiece which will prevent slipping while working. 
Determine the Table
If you are attaching a vise to your drill table, it is important to think of attaching a drill press table as well. Using a rotary table rather than a fixed table is the most efficient as it comes with premade holes in many different angles.
Choose a Right Position
Once you have decided what type of table you want, it is time to find the best placement of your vise. If you are using a rotary table, then you can place it right above the holes. Otherwise, place it under the chuck.
Place the Vise and Attach it
As soon as you're done with the spot, you need to place the vise and attach them with bolts. Firstly place the vise directly over the pre-drilled holes in the drill press table. Then place a bolt underneath the table and tighten it with a nut.
Do this step for every piece of holes. Make sure to tighten them with two wrenches from two directions. One is on the top bolt and the other one on the nut as there's no basis otherwise.
Testing
You will never know if it works until you test it. Thus simply grab a piece of wood and mark where you want to drill a hole. Place the wood in the vise and position it with the drill. Make sure to tighten the vise to avoid any error in positioning. You can also adjust the object if you want. A gentle hole would mark the end of the procedure.
Drill press vise FAQs
Here are some frequently asked questions and their answers.
How do you secure a drill press vise?
How do I choose a drill press for woodworking?
The drill press should have a selection of speeds for drilling wood, metal, plastic, glass and ceramics.
Some drills feature a triple pulley arrangement for easy selection of 12 different speeds, ranging from a low of 250 rpm to a high of 3,000 rpm.
What is a cross slide vise used for?
The cross slide vice can gradually slide a workpiece along the machine's cutter, whilst keeping it secure and steady. Due to this, it is an extremely useful tool for cutting keyways on a milling machine.
It is also commonly used within specialist trades, such as knife making, where products are often made by hand.
How do you build a drill press?
What is a machinist vise?
An engineer's vise, also known as a metalworking vise or machinist's vise, is used to clamp metal instead of wood. It is used to hold metal when filing or cutting.
It is sometimes made of cast steel or malleable cast iron, but most are made of cast iron. Most engineer's vises have a swivel base.
What is hand vise?
A small clamp or vise on a handle designed for holding small objects while they are being worked usually by hand.
What are twist drills used for?
Twist drills are rotary cutting tools that normally have two cutting edges and two flutes which are grooves formed in the body to provide cutting lips, to permit the removal of chips and to allow coolant or cutting fluid to reach the cutting action.
What are the slots in a drill press base for?
The slots in a drill press base are called t-slots and they are there for fastening longer workpieces that won't fit between the table and the quill.
The table swings out of the way and you mount your work to the base (you can mount a vice or jig to hold the work).
How do you make a drill press clamp?
How do you use a drill press clamp?
Does DEWALT make a drill press?
It's not one of the cheaper ones, but its a good one. Find it here on Amazon.
What determines the size of a drill press?
The size of a drill press is measured in terms of "swing," which is defined as twice the throat distance (the distance from the center of the spindle to the closest edge of the column or post).
For example, a 16-inch drill press will have an 8-inch throat distance.
Can you mill with a drill press?
It's entirely possible to convert a drill press into a mill, but it takes a fair bit of work and will never be as rigid as a real mill.
Can I use a normal bench vise for a drill press?
You can, but it is the best choice to use a machine vise for any drill operations.
How can I attach a vise to a drill press?
You can find mounting slots at the base of your vise. You can install it via the mounting holes using bolts through the holes.
But if the vise is a large one, its weight is enough to withstand the drilling pressure without installing it to the drill.
Do I need safety to use a drill press vise?
Of course, you do! You need to wear eye protection when using the machine. You better not forget to check if all the parts are adjusted properly before an operation begins.
And never touch your workpiece while the drilling operation is still running.
How much power is enough for your drilling jobs?
If you are buying a drill press vise, make sure it comes with at least 1/3 hp motor. However, if you are doing bigger projects, then you should use a vise with more horsepower.
What is the difference between clamp and vise?
A clamp comes with a brace or band while a vise consists of two jaws to hold objects together,
How does a drill press vise work?
A drill press vise works as a clamping machine. It is installed on the worktable and the object is clamped firmly between jaws during the drilling or milling process.
Final statements
You shouldn't have any problem finding the best drill press vise that matches your requirements after reading the product review and buying guide section regardless of being a newbie or a pro.
But if you still want advice from us, we are here to help you with this.
First of all, we recommend you to buy the Shop Fox cross-sliding vise. This tool boons you with two working axes for a better result, and holds the workpiece tightly just at an average price!
But if you want a vise for light workings, you should buy WEN drill press vise as it is the cheapest vise on the list though it can't offer you heavy duty.
Lastly, if you are okay with spending more money on precise work experience, you should go for the Happybuy drill press vise since it got a swiveling base with a 360° round scale along with high clamping forces.
Also read my guide on How to Build Free Standing Wooden Steps in 6 Simple Steps
I'm Joost Nusselder, the founder of Tools Doctor, content marketer, and dad. I love trying out new equipment, and together with my team I've been creating in-depth blog articles since 2016 to help loyal readers with tools & crafting tips.