I love creating free content full of tips for my readers, you. I don't accept paid sponsorships, my opinion is my own, but if you find my recommendations helpful and you end up buying something you like through one of my links, I could earn a commission at no extra cost to you.
Learn more
If there is one thing that all woodworkers know, it is the importance of a good miter gauge for the table saw. Even though all table saws come with a miter gauge, they may not be of excellent quality. If you want to make very precise and clean cuts, you need to have a miter gauge that is up for the task.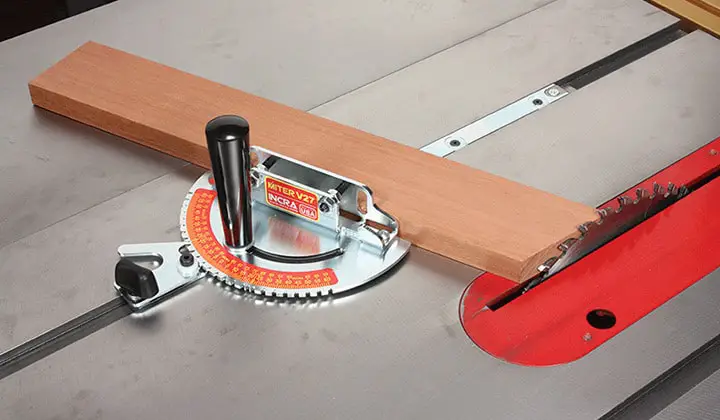 That is why after hours of research, we have put together a list of the 5 best table saw miter gauge that can be just what you need. We have also prepared a short guide on how to use a miter gauge that you can use if you are a beginner.
5 Best Table Saw Miter Gauge Reviews
There are a lot of great options out there for these instruments. So, if you are not sure about where to look or what to look for, don't worry because we've got your back. Here is a list of our top 5 picks that are some of the finest in the market.
1. KREG KMS7102 Table Saw Precision Miter Gauge System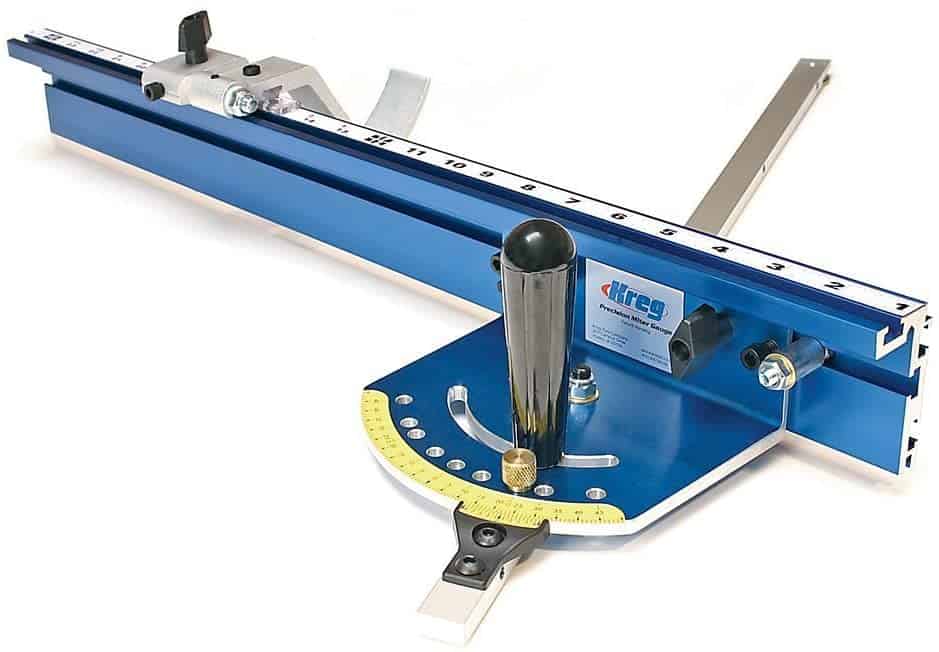 If you are looking for a factory-calibrated miter gauge, the KREG KMS7102 can be an excellent option for you. It offers exact measurements to help you make the most accurate and clean cuts.
This thing is made of high-quality aluminum, which makes it highly durable to last you a long time. The aluminum fence bar is about 24 inches long and comes with a Swing-Stop with a lens that has high visibility red line for the user to get better reading and make accurate measurements.
The instrument features a vernier scale that allows you to make quick adjustments by selecting up to 1/10o of an angle. Not just that, it also comes with a micro-adjuster to make some extra adjustments up to 1/100th of an angle.
However, the thing that makes this product stand out is the double scale featured by the protractor with angle calibrations in degrees. There are positive stops at 0o, 10o, 22.5o, 30o, and 45o.
The only thing that might be an issue for some is the bulky design. Other than that, this device is a very convenient one. It is super easy to set up and use, and it fits very well into the standard miter slots. You can rest assured that this thing will not let you down.
Pros
Factory calibrated and highly accurate
Very easy to set up and use
Features vernier scale to allow quick adjustments to 1/10th degrees
Allows fast repeated cuts
Cons
Verdict
Overall, this is an excellent instrument to have if you want your table saw to make accurate and precise cuts. It offers a lot of functionalities at a very affordable price which easily makes it one of the best table saw miter gauge. Check the latest prices here
2. Fulton Precision Miter Gauge with Aluminum Miter Fence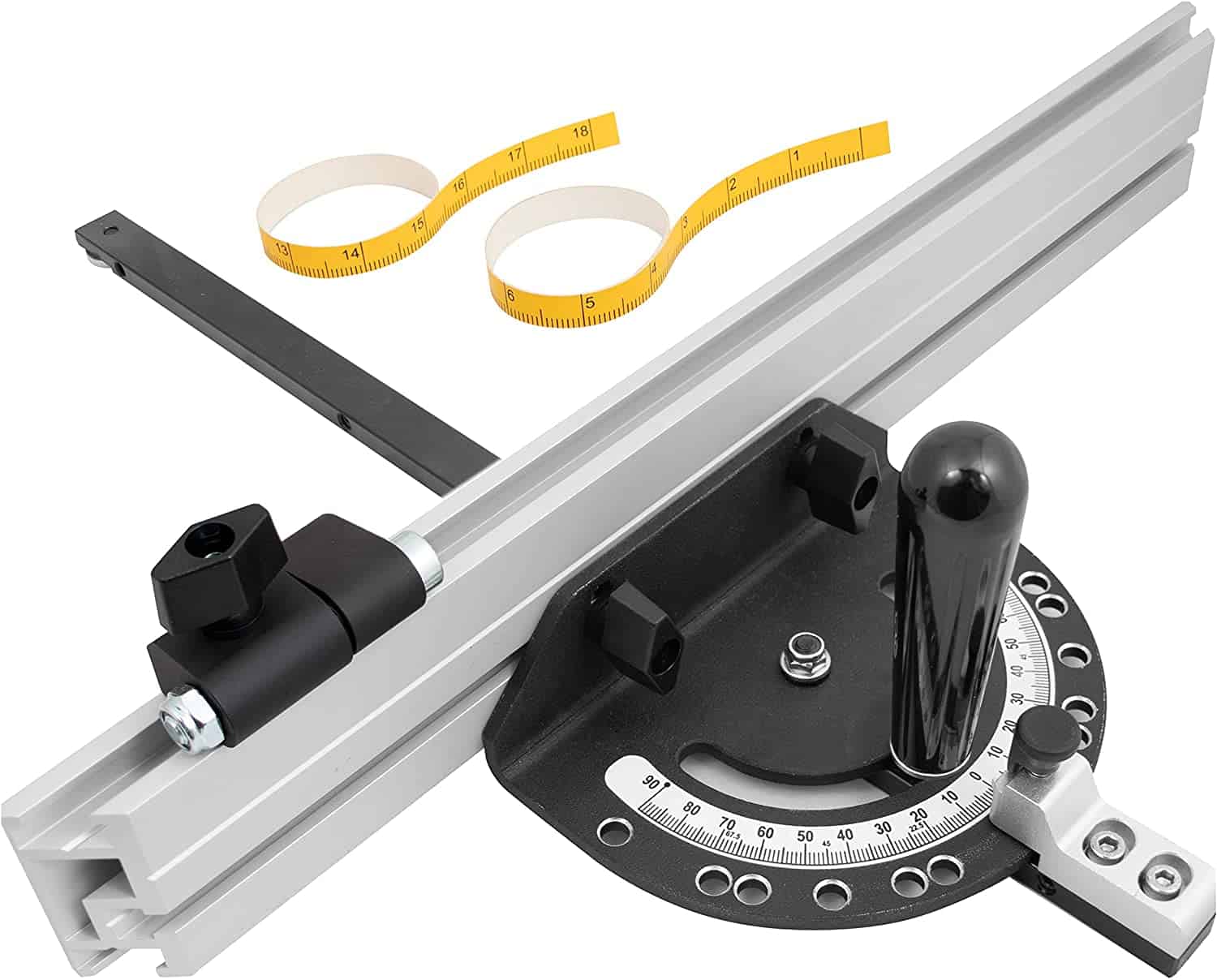 The following product that we have for you is one of excellent quality. It is known for being reliable and providing top-notch performance.
First of all, this thing has an aluminum construction and a solid build, which makes it highly durable. The 200" thick aluminum head houses 13 positive stop holes where one is at 90o, and the other 5 at 22.5o, 30o, 45o, 60o, 67.5o.
These angles are very commonly used, making them ideal for most woodworking projects.
It is also effortless to set up and use; you can adjust the head by loosening the knob handle, pulling the spring-loaded pin outward, rotating the head to the position you need it to be, and finally, releasing the pin and locking it in place.
Since both the ends of the fence have a cut at precisely 45 degrees, it lets you position closer to the blade so that you have better control when woodworking. There is a flip stop on the fence, which makes it super easy to make repeated cuts.
The best part is that you get all these incredible functionalities and features at a very affordable price. You need to keep in mind that it only fits the standard miter slots, so you might look for another option if you think that will not work for you.
Pros
Relatively lightweight and solid build
Angle is straightforward to adjust
Quite affordable
Offers great control
Cons
Only compatible with the standard miter slot size
Verdict
This product is very reliable and will provide you with a solid performance. It is the best table saw miter gauge you will find for standard slots at this reasonable price. Check prices here
3. INCRA MITER1000SE Miter Gauge Special Edition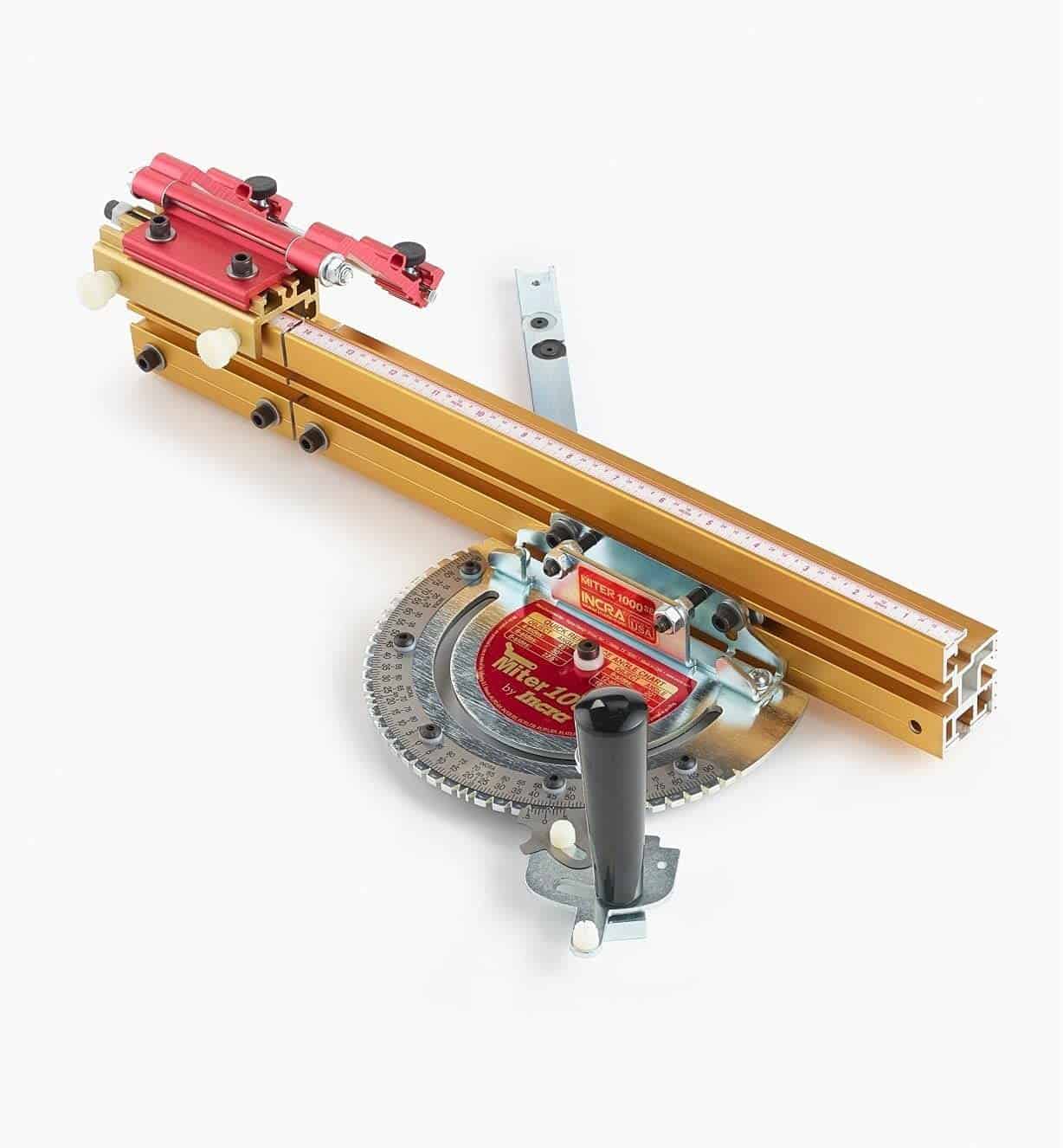 INCRA is well-known for its reliable and high-quality products, and this particular tool is no exception. This thing comes with a ton of functionalities and offers the best performance. It is the best table saw miter gauge for professionals.
You can tell that this instrument is heavy-duty and features laser-cut components with one look. It has high quality and sturdy build, and it is resistant to wear and tear, which means it will serve you a pretty long time. This thing features 41 laser-cut V stops that ensure the most precise cuts for the commonly used angles.
The handle is very comfortable, making it very convenient to use. This thing is also effortless to set up, which means you can start work soon after you get it.
The product also comes with 180 angle lock indexing features allowing you to make adjustments easily. You will notice a glide lock miter bar expansion disk on the gauge that ensures the disks are the perfect fit for the gauge.
Unlike many other options, this one can handle long workpieces, all thanks to the telescoping IncraLOCK fence system. Since this thing supports segmented turning, it allows the user to shape the workpiece as desired by making some adjustments.
Pros
Very easy to set up and use
Solid construction and highly durable
Easy to make quick repeated cuts
Features a high-resolution protractor
Cons
It may be a bit advanced for beginners
Verdict
If you are looking for something reliable and will provide you with good results, this thing can be an excellent option for you. Although it may be a bit too complicated for beginners, a bit of experience with these tools will allow you to understand better how to use them. Check prices and availability here
4. POWERTEC 71391 Table Saw Precision Miter Gauge System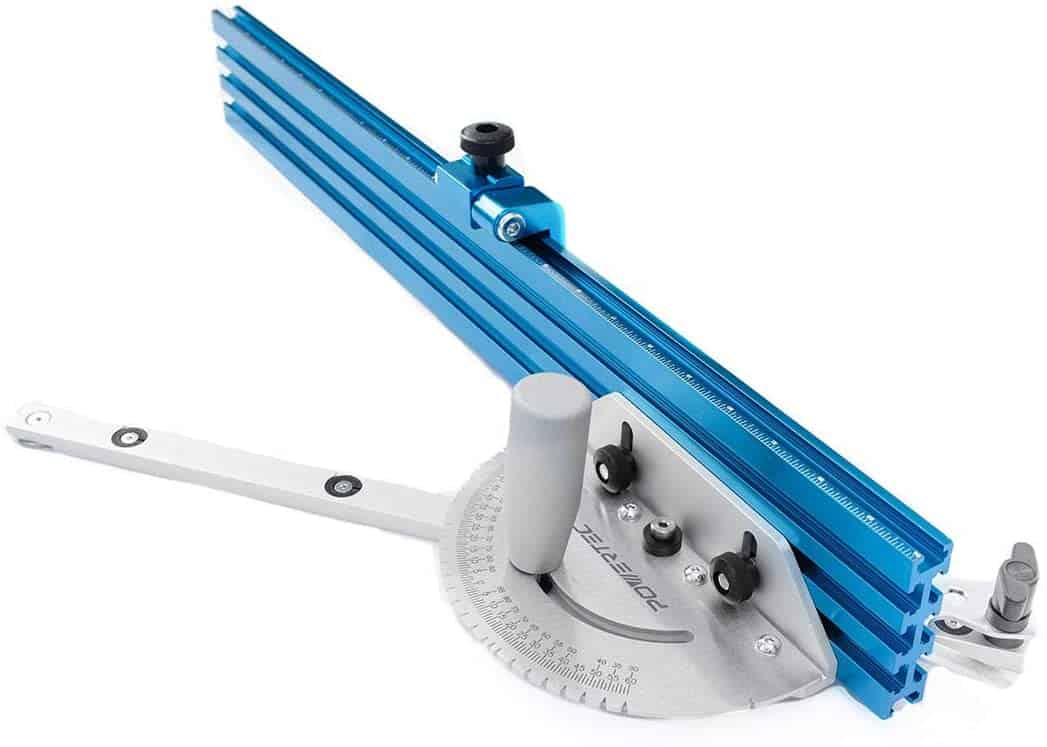 The POWERTEC 71391 is a high-precision miter gauge packed with features but at a reasonably affordable price. If that is what you are looking for, this can be the perfect option for you.
There is no doubt the instrument is sturdy and very well constructed—excellent quality for the price. The meter gauge is incredibly precise and features 27 angle indexing stops having 1-degree step spacing and positive stops at 0, 10, 22.5, 30, and 45 degrees with nine others on the right and left.
The package is very cost-effective as it includes: 1 table saw miter gauge, one multi-track miter fence, and 1 t-track flip stop. All 3 of these instruments are great for making very precise cuts on your workpiece.
You will find that the set-up is straightforward, and it is effortless to square it to the tabletop. It is also super easy to adjust the slide and get to work. The miter saw flip stop provides great cut-length control and comes with a very convenient locking mechanism.
Pros
Very sturdy and well-built
3-in-1 set with all instruments needed to make precise cuts
Highly cost-effective
Miter saw flip stop provides excellent control
Cons
The fence might be a bit heavy
Verdict
This item will give you some of the most accurate results when working on a piece. It has a lot to offer, and its performance and functionalities make it the best table saw miter gauge. Check prices and availability here
5. Incra MITER1000/18T Miter 1000 Table Saw Miter-Gauge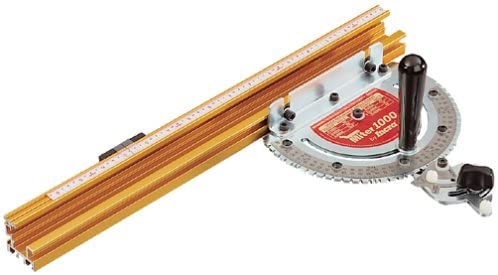 The final product on this list is the Incra MITER1000/18T miter gauge that offers some of the best performances. It is known for delivering the perfect cuts and being everything you need in the best table saw miter gauge.
First things first, this instrument has a steel laser-cut protractor head with a track fence that is gold anodized. It makes the product tough and highly durable, and you can tell that it is made to last.
With this miter gauge, you can make highly precise cuts that make it ideal for both DIYers and professionals. It fit very well into the standard miter slot, and you can adjust it quite easily. This thing has a 1 angle stop and indexed stops at every 5 degrees.
Thanks to the 6 expansion points, adjustments can be made easily on both sides of the bar so that there is zero side play. You can trim out the play and calibrate the miter later on.
Pros
Suitable for both DIYers as well as professionals
Made to last a long time
Very affordable
Delivers great performance
Cons
Verdict
Overall, this is an excellent instrument for precision and ease of use. If you are looking for a suitable budget-friendly option, you should check this one out. Check the latest prices here
How Do You Use a Miter Gauge on a Table Saw?
That is all about these 5 products. However, getting the right product is not enough; you also need to know how to correctly use a miter gauge on a saw table for the best results. So, we have prepared this short guide that you can follow to start working on your project.
So, to make square cuts, you need to begin by setting the gauge to 0o or 90o, depending on the markings on your instrument.
Step 2: Disconnect the Cord
Next, you should unplug the table saw cord from the power source and raise the blade as high as possible. Keep sliding the gauge forward until it is in line with the front edge of the blade.
Step 3: Position the Miter Gauge
Position a square edge of a 6-inch combination square against the blade and the other edge against the forward edge of the gauge. If it does not align perfectly and you find gaps, you should adjust the angle until it does.
Next, to make a cross-cut, you need to slide the miter gauge towards your body and to the front edge of the saw. Then like before, place a board against the miter gauge's flat edge.
Step 5: Make the Cross-Cut
Mark the workpiece where the cross-cut will be with a pencil and align that mark with the blade. Then all you have to do is plug in the table saw, turn it on, and then slide the gauge forward and past the edge to finish making the cross-cut.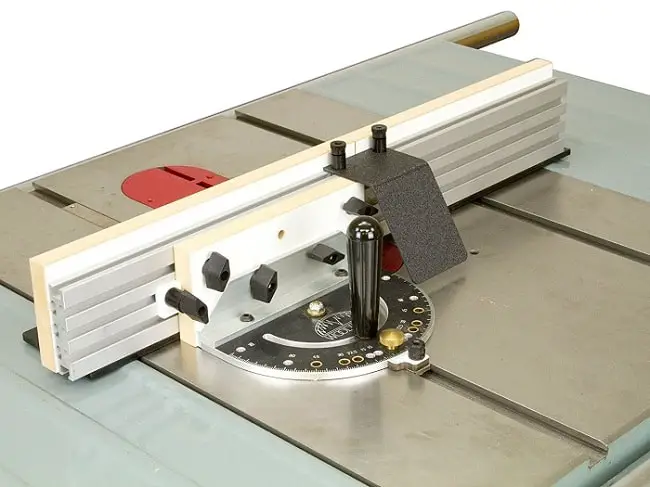 Frequently Asked Questions
What is a miter gauge used for on a saw table?
A miter gauge is used to hold the work or wood piece in position at a set angle while cutting on table saws. It allows much better accuracy when working on a project.
What are the three main parts that make up a miter gauge?
The primary three parts of a miter gauge are the miter bar, miter head, and last but not least, the fence.
What sort of cuts is a miter gauge best suited for?
The miter gauge is typically used for cross-cuts, which go against the wood grain. Many miter saws can be stationary saws as well since here you push the mounted blade downward instead of running it horizontally along with the wood piece.
Can I calibrate my miter gauge?
Yes, you can. It is easy for you to recalibrate the gauge on most miter gauges to your preferred point. With this, you can mark and then cut the wood piece at a pre-set angle.
Are miter gauges universal?
No, they are not. Miter gauges come at many different sizes from the slot in your saw, so make sure to measure the slot before purchasing. However, there are some miter gauges with a bit of a universal design that suits some of the most standard slot sizes.
Final Words
Finding the correct miter gauge can seem overwhelming with so many options out there, but it does not have to be. All the products mentioned on this list have a lot to offer.
Before making a purchase, make sure that it ticks all the boxes for your requirements. We hope this guide will help you find the best table saw miter gauge.
Also read: these are the best miter saw blades you can get for the money
I'm Joost Nusselder, the founder of Tools Doctor, content marketer, and dad. I love trying out new equipment, and together with my team I've been creating in-depth blog articles since 2016 to help loyal readers with tools & crafting tips.