I love creating free content full of tips for my readers, you. I don't accept paid sponsorships, my opinion is my own, but if you find my recommendations helpful and you end up buying something you like through one of my links, I could earn a commission at no extra cost to you.

Learn more

As those of us who work with power tools know, the biggest limitation of a circular saw is that it is not precise. A guide rail is as essential to a circular saw as shoelaces are to your shoes. If you don't have one, the saw blade follows the path of your hand, which is prone to wandering and shaking!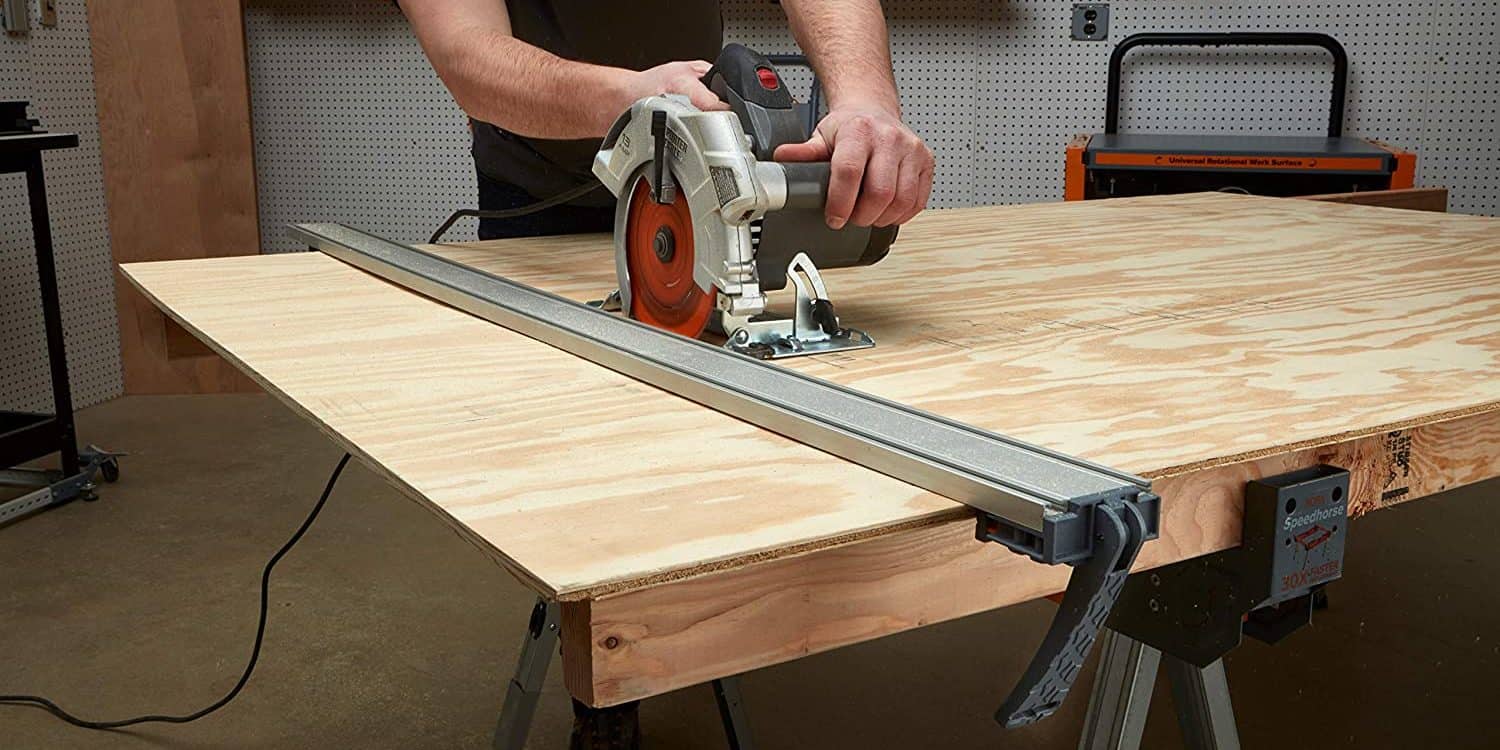 When it comes to purchasing a circular saw guide rail, it is important to do some homework and inform yourself about the various products available and the features that each one offers. I have done some research for you and the following is a shortlist of circular saw guides that I feel I can recommend. My top choice for the best circular saw guide is the Makita 194368-5 55″ Guide Rail, because of its competitive price. It is very versatile, and a great option for both home use and more heavy-duty use. This high-quality precision tool will make your Makita circular saw glide smoothly from end to end. If you don't have a Makita circular saw, or you'd like something more affordable or portable, I also have some great choices for you. Any project you make requires super intense accuracy, especially if it is to sell in the markets. Why take risks with freehand saw guiding? Hence, aim for the best circular saw track system to protect the panels and maybe diminish damages to the maximum!
Also read my review of the best circular saw blades for the cleanest cut
Circular saw guide rails buyer's guide

Before buying a circular saw guide rail, it is very important to inform yourself about the various features that you should look for in this tool. This will help you make the right decision for your needs, and ultimately, for your safety.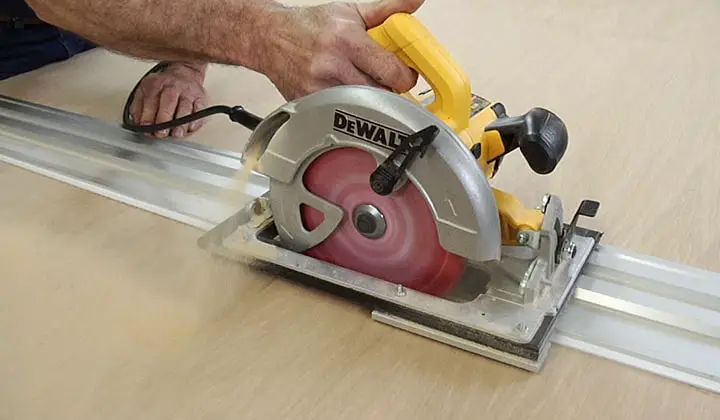 Here are some of the key features you need to check before making your final choice:
Length

Size does matter in this case! You can work on any piece of wood if you have a long enough guide rail. Most guide rails are around 50 inches long, but some can be shorter – between 20 and 24 inches. Whatever the manufacturers say about being able to use the shorter rails on large workpieces, it is much easier to work with a longer-length rail. So before purchasing a guide rail, consider which size suits your specific needs.
Stability

Precision is a key feature to consider when sawing. If your tool is not stable, then you may not have a precise cut. Some manufacturers have produced add-on adapters to ensure stability, but not all saws come with adapters.
Weight

The weight of the guide rail often depends on the build quality and the material it is made of. Aluminum guide rails are light, whereas metal guide rails are heavier. A heavy rail is harder to move, so you will have to bring your work to the saw rather than the other way around. However, for industrial work, heavy guide rails are better as they are more durable.
Durability and warranty

Durability is the primary requirement for a lot of users. The durability depends on the build quality and design. The warranty represents the confidence the manufacturer has in their product and reflects the durability of the product.
Compatibility

Not all guide rails are compatible with all circular saws, some are model specific. So before buying, check that the guide rail is compatible with your saws.
Clamp

When working on small tasks, precision and accuracy may be compromised if you don't have clamps to hold the wood in place. With the clamp added, you can cut your wood up to the limit of the saw guide rail. If the clamp is not included, it would pay you to buy a woodworking clamp.
The best circular saw guide rails on the market

Now let's keep all that in mind while I talk you through some of the best circular saw guide rails that I can find.
Best overall circular saw guide rail: Makita 194368-5 55″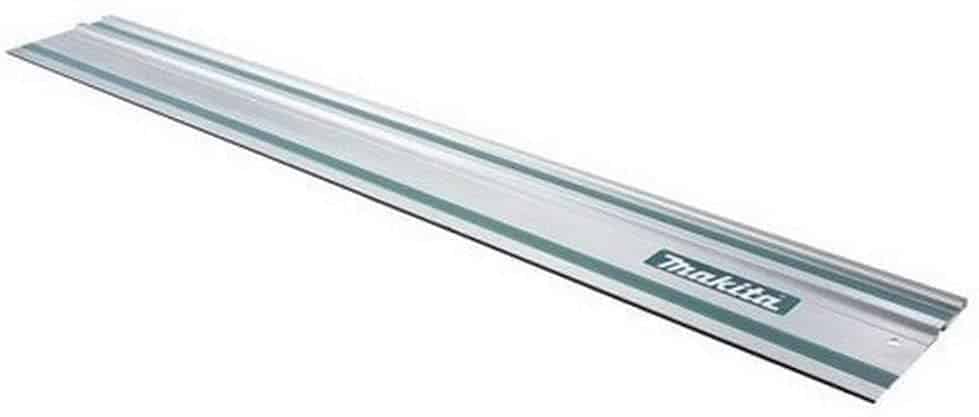 jigsaws, and routers but may require an optional guide rail adapter. If you want to make sure to get the best out of this high-quality precision tool, use it with the matching Makita XPS01PMJ 36V Brushless Cordless 6-1/2″ Plunge Circular Saw in combination with the Makita P-20177 Guide Rail Connector Kit (which can also be bought in a package with the guide rail).
Features
Length: 55 inches in length
Stability: Non-slip foam strips on the underside for stability
Weight: 6.61 pounds
Durability: 90-day warranty
Compatibility: Limited to select circular saws and jig saws
Clamp: Compatible clamps can be purchased separately for extra stability
Check the latest prices here
Rather have the saw and guide rail all in one? That's when you go for a proper table top saw (top 6 reviewed here)
Best portable circular saw guide rail: Bora WTX Clamp Edge and Straight Cut
different saws. It can be fitted to work with circular saws, routers, jigs, and more, making it perfect for a wide range of different contractors' tasks. A standout feature of the Bora WTX clamp edge circular saw guide rail is the adjustable 50-inch clamp. This clamp holds the guide firmly to any surface and slides up and down the saw guide so that it fits any material being cut. The clamp makes it easy to achieve long, straight, precise cuts, especially when cutting sheet material. Extra cutting capacity can be achieved by purchasing the Bora WTX Clamp Edge Extension. Adding this extension to the WTX system is the easiest way to rip or crosscut a full sheet of plywood or MDF. The extension is available in 25-inch or 50-inch sizes. Weighing only two and a half pounds, this aluminum saw guide is lightweight, portable, and easy to use. Designed for use with the Bora WTX Saw Plate (sold separately), it can be paired with your own circular saws, routers, jigsaws, and other power tools.
Features
Length: 50 inches in length. Extensions are available
Stability: The solid clamping mechanism is easy to adjust, place and use
Weight: lightweight, weighs only two and a half pounds
Durability: Made of lightweight aluminum, this tool won't last a lifetime, but you get good quality for your money
Compatibility: compatible with most circular and jig saws, designed for use with WTX saw plate
Clamp: adjustable clamp
Check the latest prices here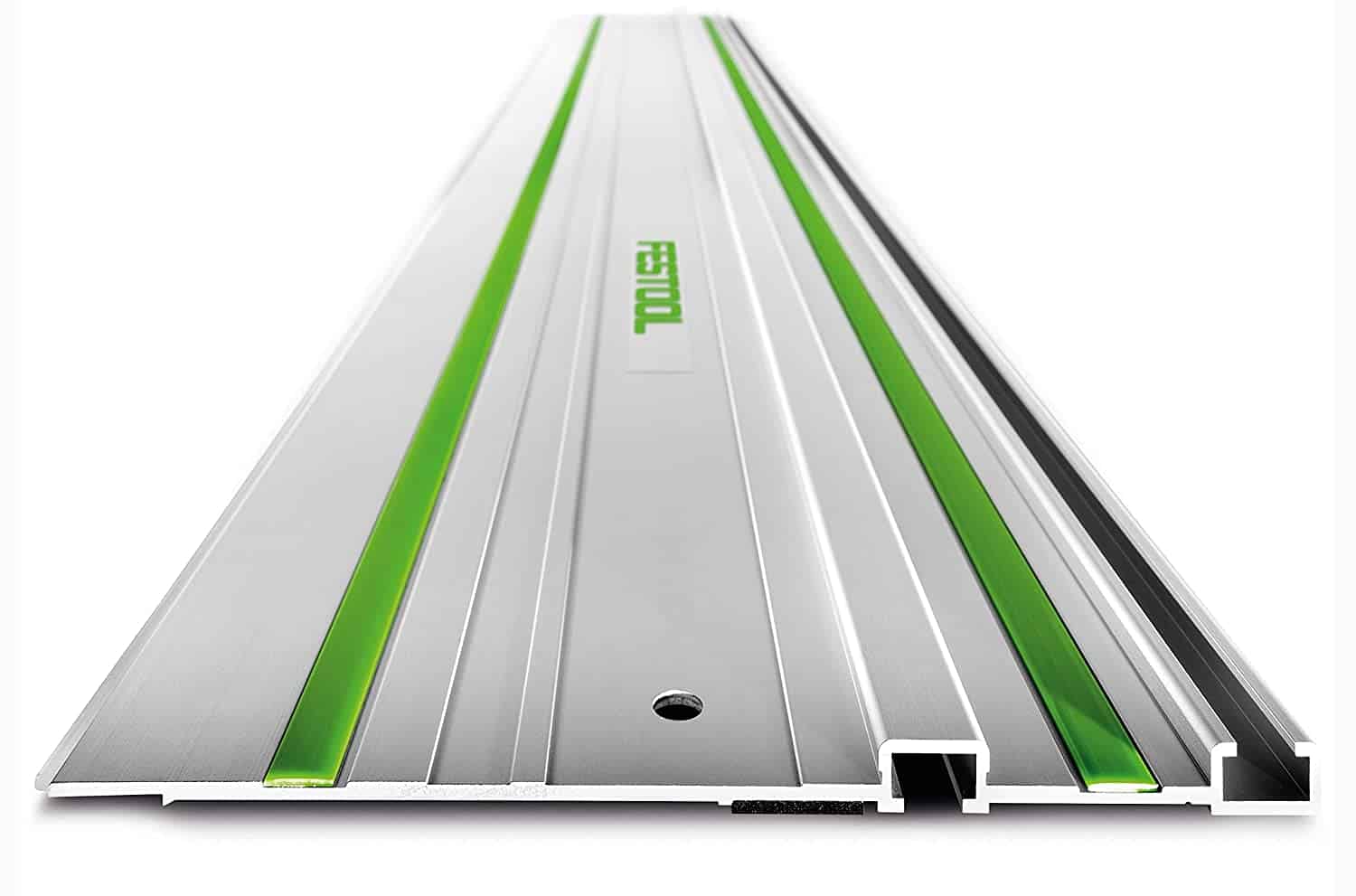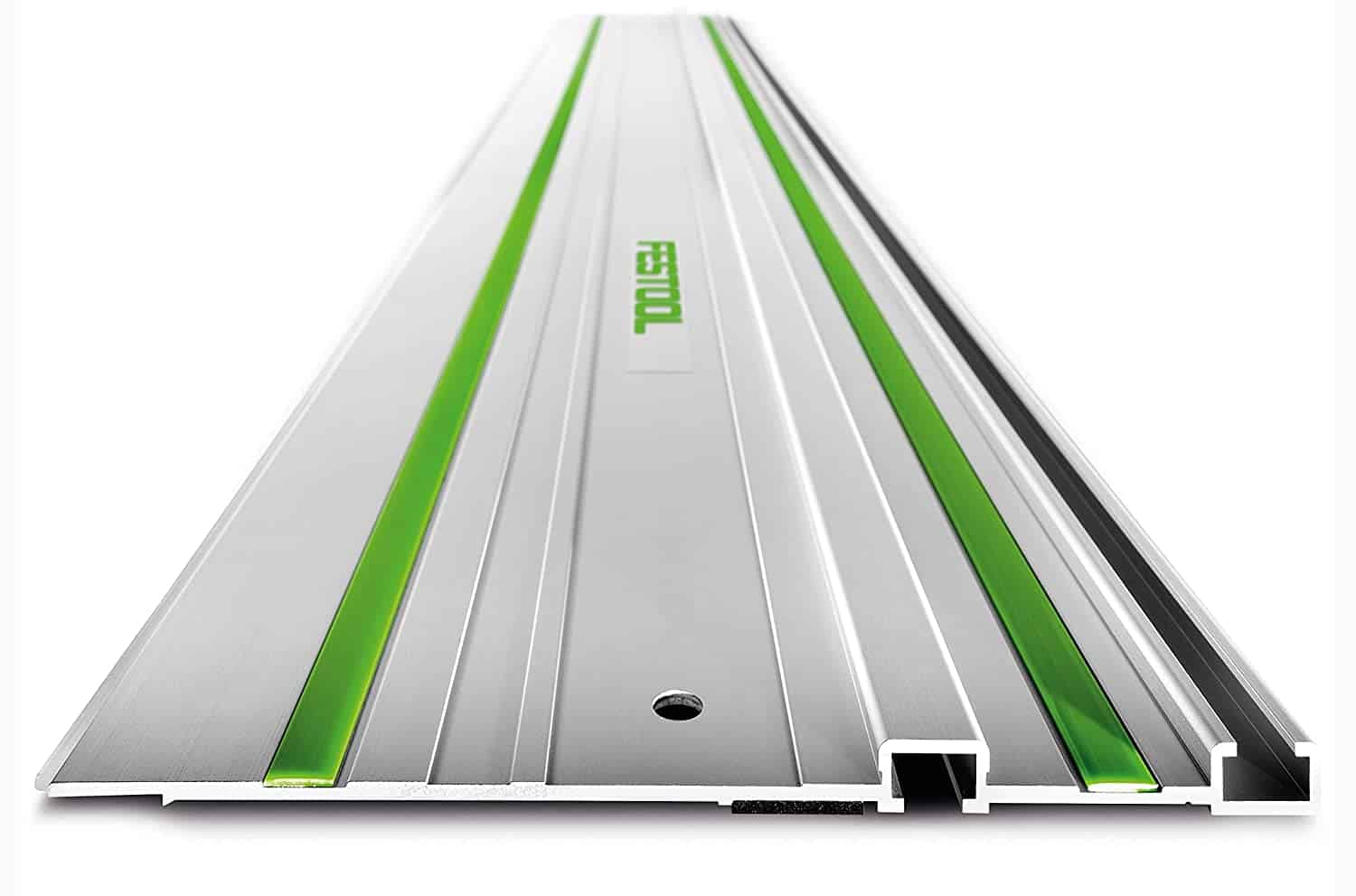 the accessory guide rail connectors for a rigid, secure, and continuous connection. Offering a 3-year warranty, this manufacturer is clearly confident about the performance and durability of its product. However, it does come with a heavier price tag. The Festool guide rail produces excellent results when working with a router, circular saw, or plunge-cut saw. This guide rail, fixed in place with Festool FSZ clamps and a guide stop, adjusted to be free of backlash, provides the basis for ultra-precise work. This aluminum rail is equipped with a splinter guard. A rubber lip pressing onto the workpiece along the scribe line ensures splinter-free cut edges. The backing layer on the rail protects the workpiece from damage and provides additional grip on smooth surfaces.
Features
Length: 55 inches, but ten different lengths are available (32 inches to 197 inches). Rails can be joined using connectors.
Stability: Includes backing layer for additional grip on smooth surfaces
Weight: 5.73 pounds
Durability: This is a strong, well-built tool that should last a long time
Compatibility: Compatible with most circular saws and plunge saws
Clamp: Festool FSZ clamps available
Check prices and availability here
Best circular saw guide rail for small projects: DEWALT DWS5100 Dual-Port Folding Rip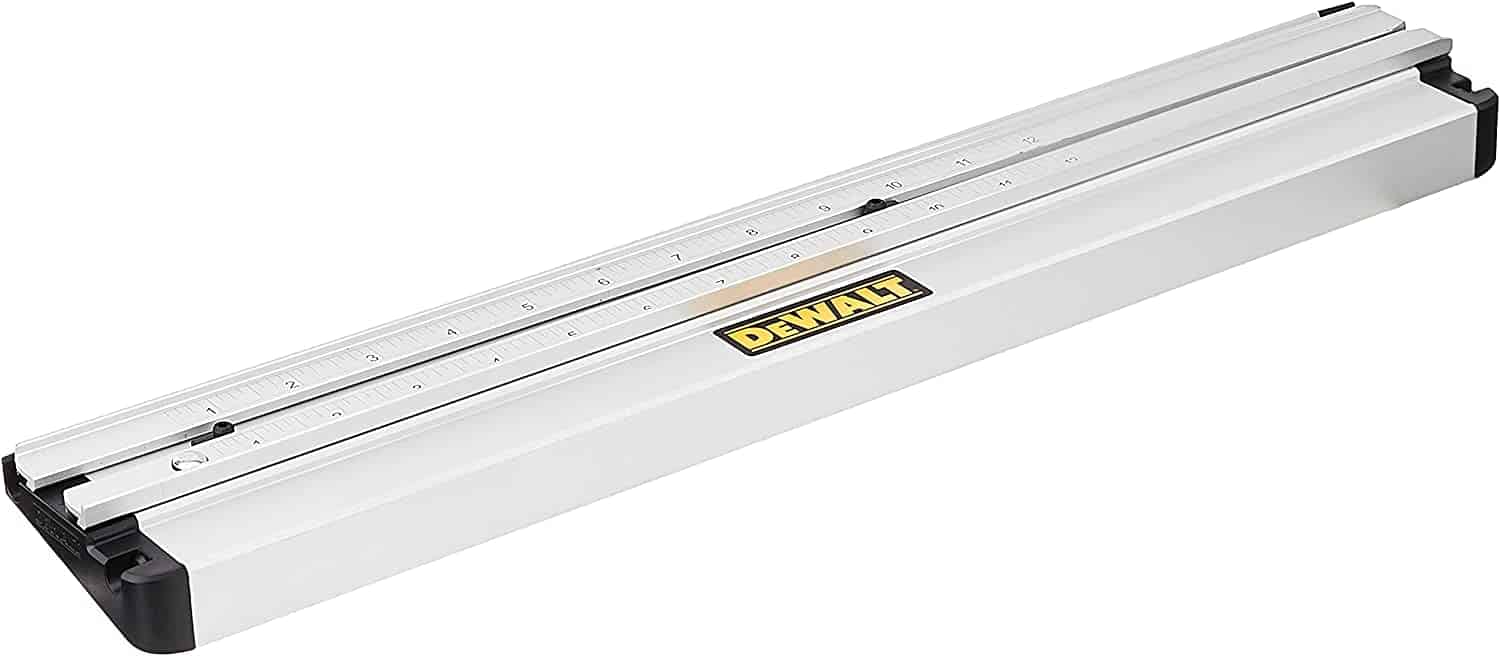 DEWALT model DCS577B and DWS535B saws. Weighing 1.25 pounds and only 12 inches in length, this rail is ideal for smaller workpieces. It offers 12- inch ripping capacity on the left side for common rips like stair treads and risers and up to 14-inch ripping capacity on the right side for maximum width rip cuts. It features permanently laser-etched markings for accurate and fast setting and folds down to 18 inches long by 3 inches wide for easy storage and portability.
Features
Length: 12 inches
Stability: Dual-arm design with two set screws to lock it into place
Weight: 1.25 pounds. Very lightweight.
Durability: Being extremely lightweight and portable, this is not an extremely durable model. However, it is also very affordable for the quality. It comes with a 3-year limited warranty.
Compatibility: only compatible with the DEWALT models DCS577 and DWS535
Clamp: There's no clamp included with this tool.
Check the latest prices here
Best budget-friendly circular saw guide rail: Kreg KMA2685 Rip-Cut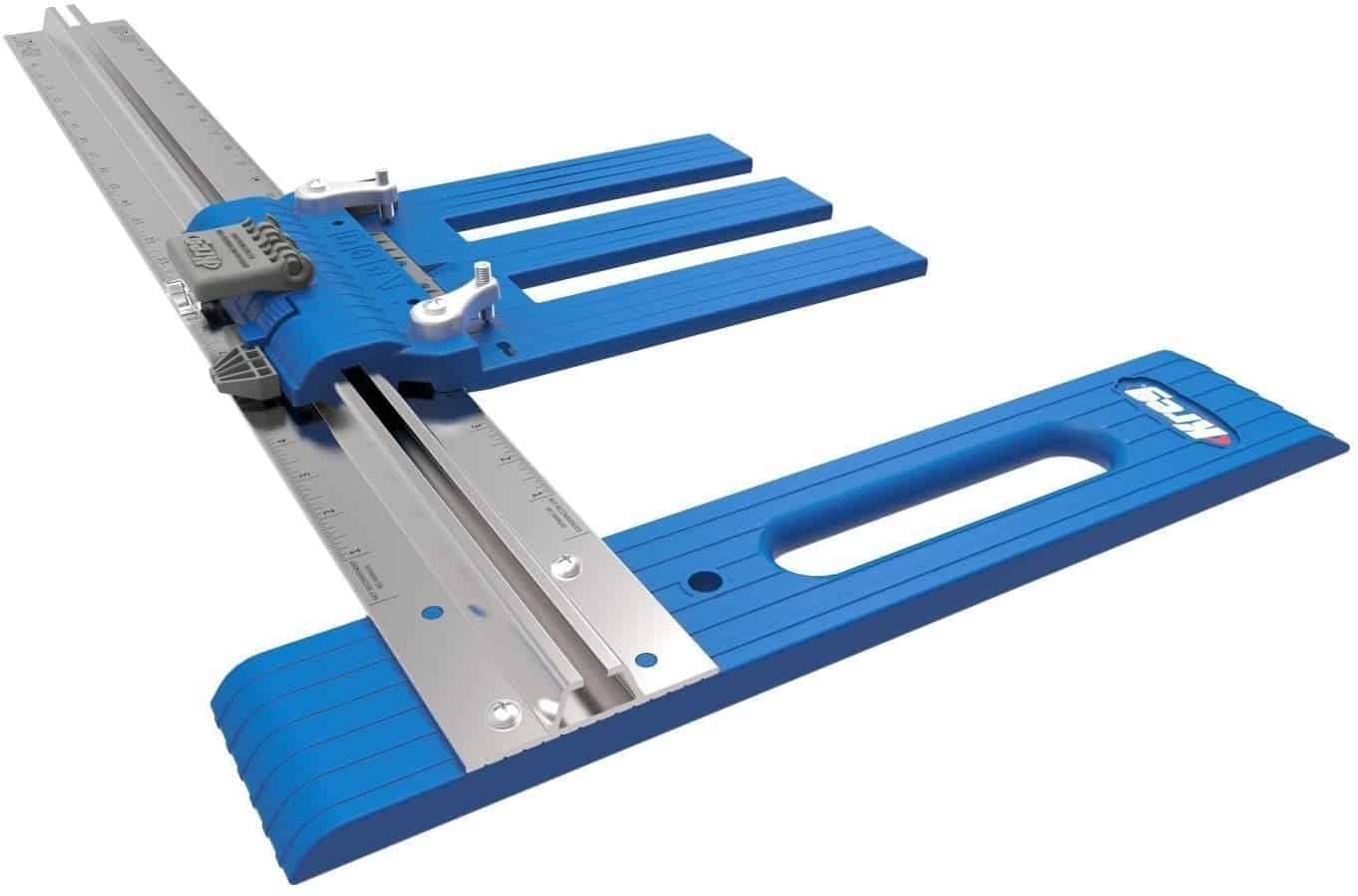 most circular saws. It is versatile and sturdy, making it a good all-purpose piece of equipment. Its only limitation is its length. At 24″, it may not have the capacity to work with many larger workpieces. However, there are many perks that make it a great choice for home use with most circular saws. It comes with a built-in measuring scale, which means you don't need to measure and mark each cut that you make. By locking the saw sled at your desired cut width, you can cut one piece or multiple pieces of the same size. This saw guide is compact and lightweight which makes it easy to use and gives you the option of taking your saw to the material instead of carrying large, bulky material to your saw. The reversible edge guide is a great feature as it allows the guide to be used by both right-handed and left-handed people. The guide holds the saw tightly, allowing the saw to be stopped and started in the middle of a cut with no visible marks in the cut edge. The sturdy build increases the performance of the saw guide, and the oversized edge guide gives precise control while cutting. This precision makes it perfect for small pieces of work.
Features
Length: 24 inches.
Stability: slight play between sled and guide track
Weight: 2.45 pounds
Durability: 90-day warranty
Compatibility: Fits most standard circular saws
Clamp: Can be purchased with compatible clamps for extra stability
Obviously, there are many models for various functions. However, this rip-cut circular saw guide had seized my attention entirely. Ripping is a form of cut that is performed along the grains of a panel or lumber. So, it is kind of an easy yet most crucial cut that necessitates perfect precision. Can you think of anybody buying wide to narrow boards from hardware stores? No, because the initial cuts have got to be super straight to even make it to the markets. DIY and indoor furniture making come afterward. What makes this unit so special to win our hearts? The 24-inch length with 2.45 lbs. weight is excellent for compact workpieces. It means you will no longer have to carry the panels to the guide but take the guide effortlessly to the workstation. You will notice a plastic sled and a measuring scale to the body. Are you into crosscuts and rip cuts without wasting materials? Then, this is the perfect tool for the saw. Pros
Compatible with crosscuts and rip cuts
Lightweight and small
Delivers high precision
Aluminum build for robust durability
Portable
Cons 
Might take some time to figure out
Check the latest prices here
Best combo circular saw track system: Kreg KMA2700 Accu-Cut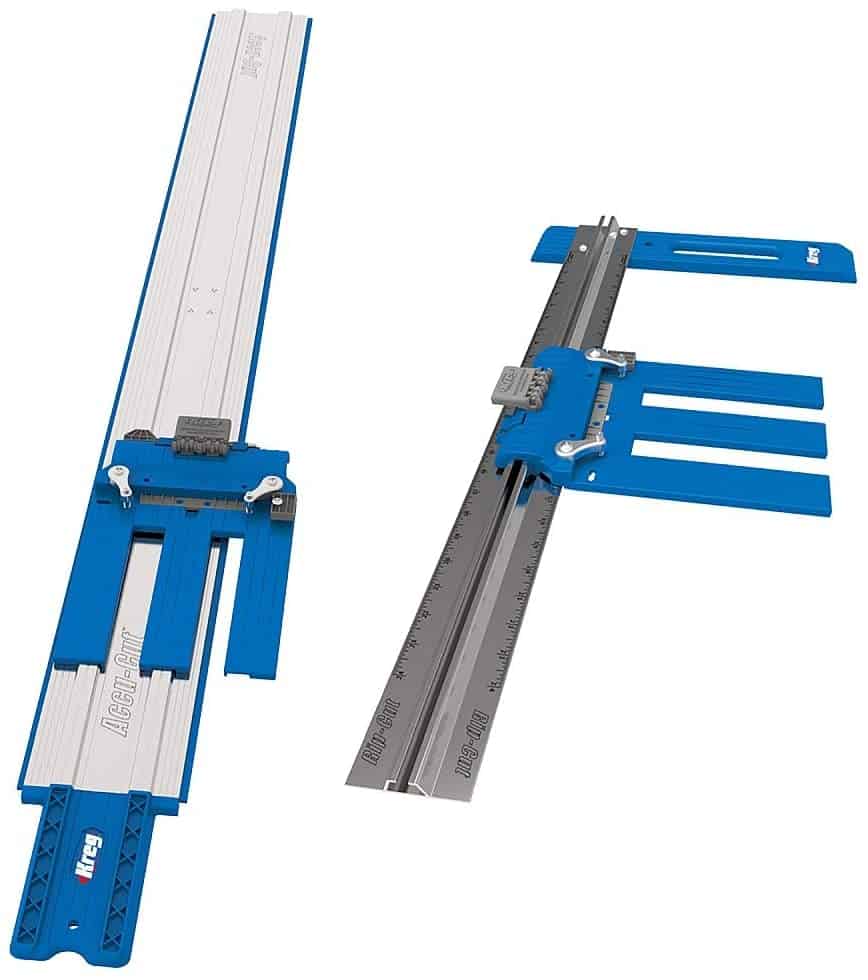 Pros 
Suitable for cross, rip, and angled cuts
Includes two guides
Well-suited with various Kreg items
Solid design
Reasonably priced
Cons  Verdict I would recommend it to anyone who is into woodworking. However, Kreg should use more rigid materials with the sled and employ a locking mechanism for the saw to achieve a better outcome. Check prices here
Best circular saw with track system: Makita SP6000J1 Plunge Kit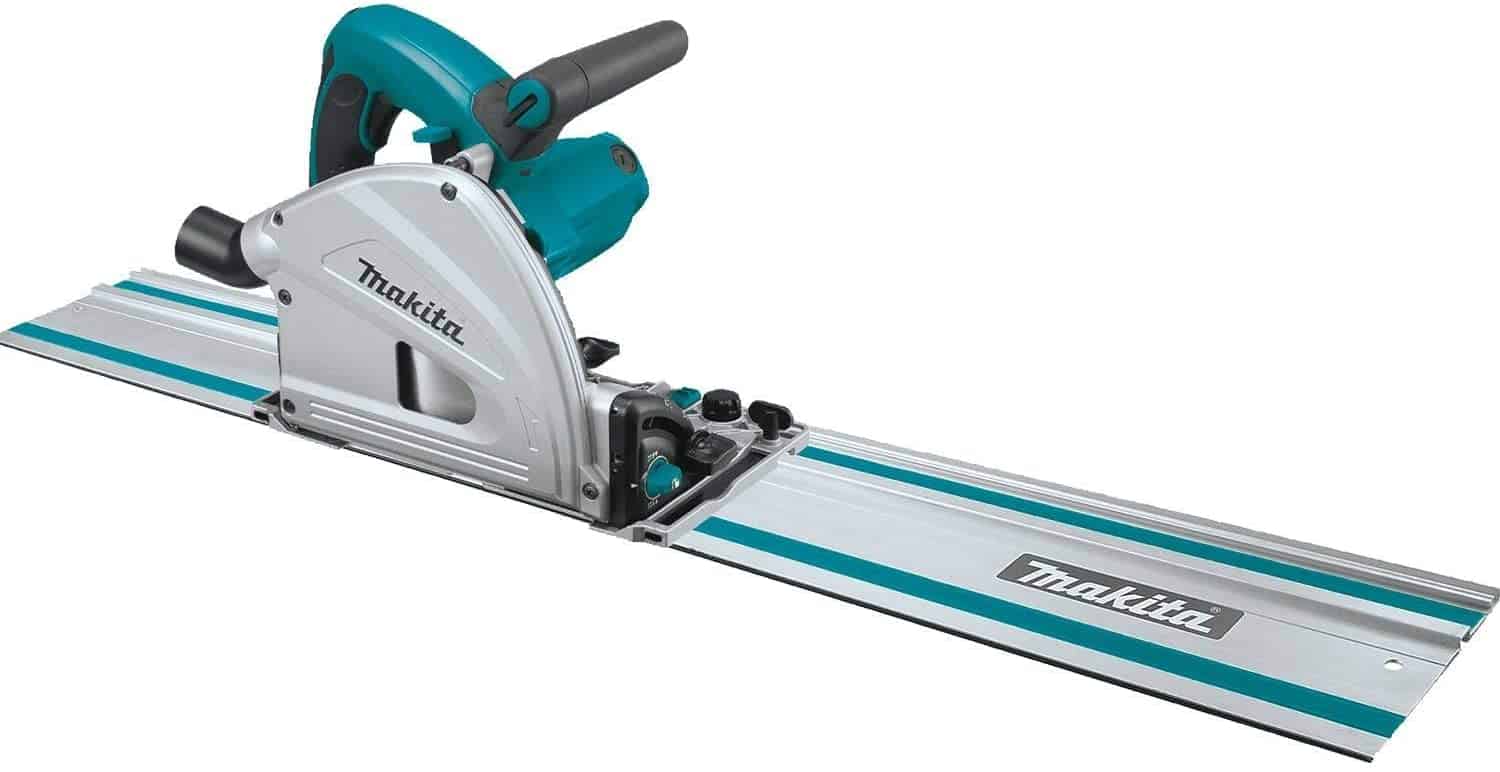 track saw is one of a kind with the accurate application, whereas the track system stays put to prevent friction. Just make sure to follow the safety rules when handling the machine. Pros 
Delivers optimum performance
Variable speed and bevel capabilities
Super sturdy and precise unit with guide rail
Slip-free track with reliable sled
Offers splinter and chip-free cuts
Cons
Slight exposure of the blade to the left side
Verdict If you are looking for a circular saw that comes with a wide guide rail, you are looking at it right now. It has plenty to offer at an affordable price. Check prices here
How to Use a Circular Saw Guide

Let us just say you are professionally capable of handling a circular saw. It does not mean you will feel comfortable using the machine without a guide this time. This is why there are certain rules or tricks one should get acquainted with before attempting big projects. For instance, there are a few tips I have gathered around to help you use a circular saw guide without finding it cumbersome.
Draw a Line

It is the line you draw along the workpiece. Experts usually imagine the line based on the dimensions before the actual cut.
Measure the Panel Thickness

Many beginners overlook this step, which can be a huge mistake. Make sure the circular saw blade settles a tiny bit below the panel thickness. Remember, more blade visibility below is dangerous and susceptible to damage the wood.
Attach the Guide

Attach the track system after measuring everything to your satisfaction. Some woodworkers have excellent control and cutting capability without using a guide. They just keep it as a ruler instead. Just concentrate on the drawn line and fixate the saw on it while operating.
Opt for the Sleds

There are various types of attaching systems and guide designs. The most advantageous ones are with the universal sleds. It provides better accuracy without deviating from the path.
Do Not Remove the Guide

Anyone in this field is well aware of how a single measuring does not fix everything. You might have to add details or make a new line for a different cut. Whatever the case is, do not move the saw guide or the saw as you make these alterations.
Abide by the Safety Rules

Using a saw guide increases the safety of the person wielding it. However, it does not replace the whole list of safety rules under any circumstance. When working with a circular saw, you still have to protect the ears, eyes, hands, etc.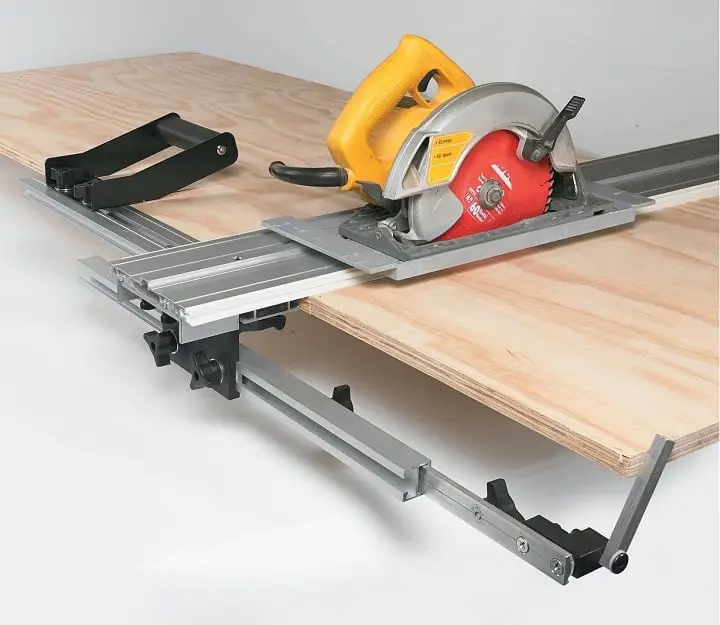 Frequently Asked Questions
How do you benefit from a circular saw track system? 
The only answer that will make sense is precision. Obtaining a track or guide system for a circular saw eliminates path deviation. Of course, you have to calculate the overall measurement correctly for the perfect and straight cuts.
Are the handmade guides reliable? 
It is mostly about material durability since factory-made uses aluminum, whereas homemade ones are generally designed from plywood. Furthermore, the various measuring instructions and adjustments are limited in a self-made guide. You can only utilize it for parallel guidance.
Can you substitute a circular saw guide with anything else?
Yes, a speed square can work wonders in case of an immediate guide solution. However, do not forget to buy a good circular saw track system as a default function.
Do I need a guide rail for a circular saw?

If you want to make accurate cuts when using a circular saw and do it consistently, you need a guide rail. With these rails, you can control the blade far much better than when cutting without one. When cutting hard lumber, the blade can move unexpectedly, which can affect the cut accuracy. When setting the depth of cut, factor in the thickness of the guide rail, too.
Can I use any guide rail with a circular saw?

Obviously, it's important to check that your circular saw is compatible with the guide rail you're using, particularly if you're cutting bevels. The risk you run is cutting into the guide rail itself.
What's the difference between a plunge saw and a circular saw?

While a circular saw will typically need to start its cut from the end of the material, a plunge cut saw will let you start the cut anywhere in the material. This makes it the best tool to use when cutting out worktops for sinks or hobs.
Can a circular saw be used on a track?

If you don't need the ultra-precision of a track saw, then your money will probably be better spent on a quality circular saw. However, a track saw can potentially replace a circular saw, a miter saw, and a table saw! If you're short on space, this is a great option.
Find the best Miter Saw Blades reviewed here
Takeaway

Now that you are aware of the circular saw guide rails available and the features they offer, I'm sure you are in a much stronger position to make the right purchase for your specific needs. Whether you're working with smaller pieces at home, or you're working on-site, there's an ideal tool for you. Make sure to always put safety first when you're using your circular saw!
A circular saw is a must-have DIY tool everyone needs in their toolbox, just like these other 9
I'm Joost Nusselder, the founder of Tools Doctor, content marketer, and dad. I love trying out new equipment, and together with my team I've been creating in-depth blog articles since 2016 to help loyal readers with tools & crafting tips.