I love creating free content full of tips for my readers, you. I don't accept paid sponsorships, my opinion is my own, but if you find my recommendations helpful and you end up buying something you like through one of my links, I could earn a commission at no extra cost to you.
Learn more
Band saws are a bit of a puzzler, especially when it comes down to choosing one for your workshop. A workshop is incomplete without one of these.  
You can have a table saw or just a jigsaw, but, yet, having a workshop without a band saw leaves it insufficient.
It is certified to be able to do a bit of every kind of work and is an absolute necessity if you have to cut out shapes from large wood pieces or if you have to slice up thicker planks into thinner slats.
The best benchtop band saws for your workshop are collected and reviewed here.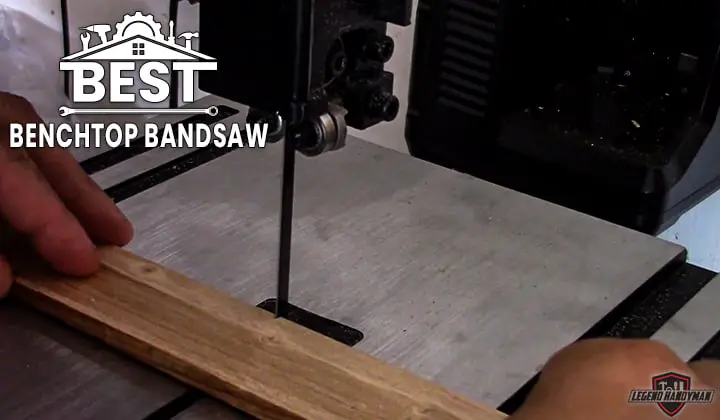 What is a Benchtop Band Saw?
A benchtop band saw is none other than a power tool that is used in workshops to cut wood. They are more feasible for small woodshops, like workshops in your home garage. And they work the same way as that of their larger models of band saws.
They are a better suitable option for smaller frameworks since they are not as powerful as the bigger models of band saws. These saws weigh about 60 pounds to 110 pounds and take up a minimal workspace, which falls between the range of 200 to 400 square centimeters.
Best Bench Top Band Saw Reviews
There are a lot of versions of mini band saws with a variety of multi-featured options. A lot of options makes it hard to choose. That is why we have scavenged around the globe and reviewed the best seven models of benchtop saws.
WEN 3962 Small Benchtop Band saw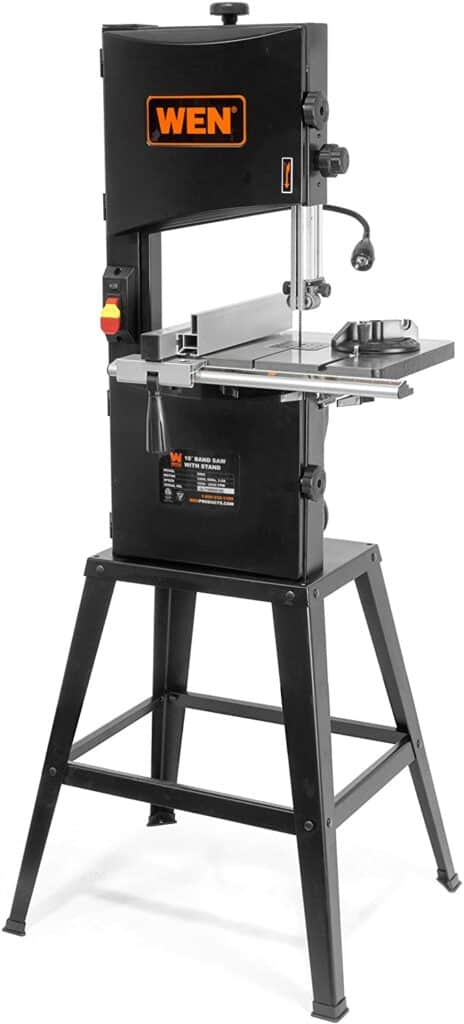 If you are skimming through the reviews, you will see that this saw is difficult to adjust, which is true. Nothing can come out if you don't put the effort. While it may be hard to change, it's finishing will leave your jaw dropped.
Once you have unboxed and set it up and adjusted it to your requirements, you will be glad to find out that this band saw runs and operates very smoothly. You will also be shocked to discover that this tiny machine can do a lot for its size. Don't mistake this band saw for its size.
You will be amazed to see how efficient its motor power is when you are working with 3962. With constant adjustment of the blades – which by the way, are the best blades you will find with band saws – you can work wonders out of this machine.
The motor is qualified for deep cutting. It is 3.5 amperes charged. The maximum depth and width that it can cut up to are 6″ and 9-3/4". Its impressive 72-inch are also adjustable as well. They can be shifted from 1/8 to 1/2 inches in size.
This band saw works at the speed of light speed with two-speed options, 1520 and 2620 FPM, so that you can switch in between work. Also, this workshop tool is also spacious. While it will not take up too much workspace, but it is of the right size to provide excellent work performance and work experience.
It has a very spacious table for working, and it is made from sturdy cast aluminum, which makes it durable. The table can be moved up to 45 degrees. It has a dust port as well, which cleans up the workplace. It's all wrapped up in one band saw!
Pros
Excellent 3/8-inch blade (6 TPI)
Cuts well for its size
Affordable
Compact
Cons
SKIL 3386-01 2.5-Amp 9-Inch Band Saw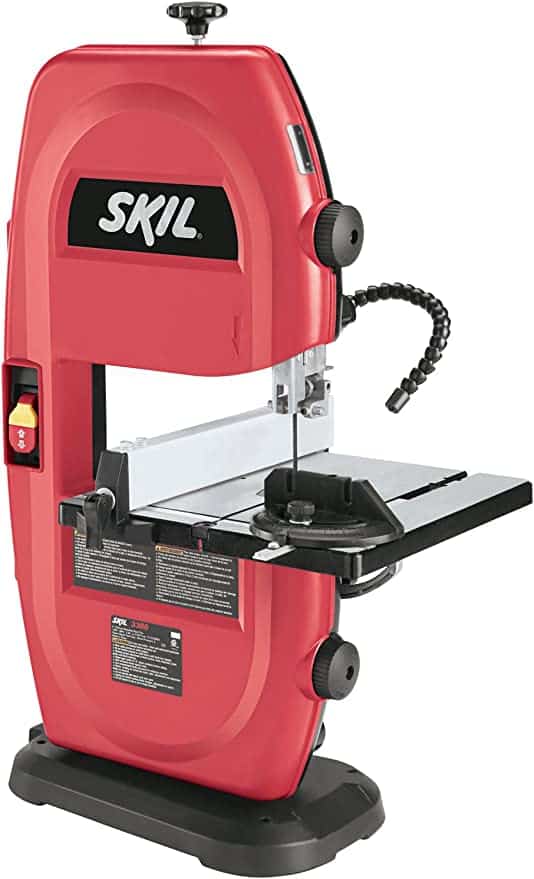 It is a powerful option, in terms of motor power, among all the band saws reviewed here. This product runs on an efficient 2.5- amp powered motor. And this is not only efficient but also durable. Also, it does not heat up quickly. So you can use it for a long saw-ing process.
The 33860 is compatible in size, as it is light in weight, compared to any other benchtop band saws reviewed on this page. It does not take up much room on the work table. And if your work table is small in size, then you can quickly move the band saw to the storage, as it weighs only 35.1 pounds.
Moreover, the blades on this benchtop can work wonders. It can cut up to 3-1/8-inch thick materials. Alongside this, it has many other great features that it comes with. It can rip the fence, for example, which ensures that the cut is straight. The table can also be lifted to up to 45 degrees' angle.
On an additional note, most say it falls on the more affordable price range. Here are some more features of this model. It comes with LED lights on the saw, which lets you have a more unobstructed view and ensures precise cutting. Also, it has a dust port, so you can clean up instantly when it starts getting too messy.
Pros
6 TPI saw blade ensures accurate cuts
Can cut through a variety of wood materials
Articulating LED work light
1-1/2-inch dust port
Rack and pinion table adjustment
Quick angle and height adjustments
Affordable
Cons
Rikon 10-305 Band saw with Fence, 10-Inch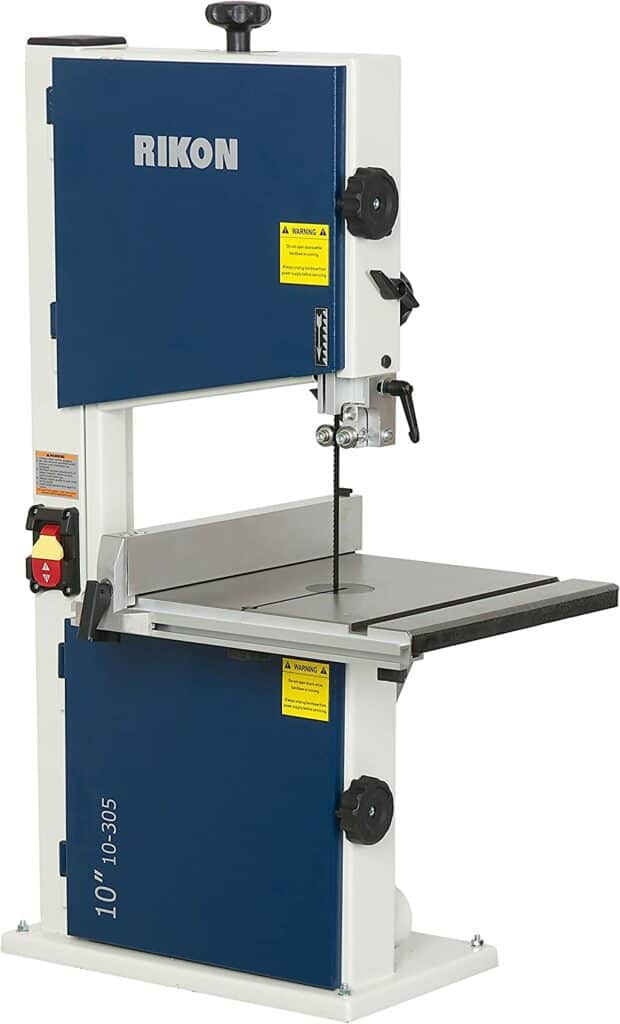 This is a band saw that is affordable, but not "cheap". It falls under the "best value for its money" category. Affordability does not always mean that the machine is average in terms of performance. Some saws are cheaper than Rikon. And some saws perform better than Rikon as well, but you get the best value at their price range.
The motor's definition and precision of working will leave you amazed. It runs on 1/3 HP motor, which provides ample power for cutting bowl and pen blanks with accuracy. And it will always be a sustainable power supply for most jobs. It works great for its value. Also, it's not too fast, nor is it too slow.
Moreover, the body of the model is robust. It is made from steel plates, which gives this brand a competitive edge since many other manufacturers use plastic material to make their frames.
Another feature for their competitive advantage is the size of the table. The table itself is sturdy, as it is made from cast iron, and it is spacious as well. It has a lot of space for a benchtop band saw.
Most models of benchtops don't come with as big of a table like this. It also comes with a rip fence. This was not available with the previous version. The wall can be removed quickly to do some free handwork.
Pros
Strong frame design
Large table
Adjustable guidepost
Cons
Requires a little bit of practice
SWAG Off Road V3.0 Portaband Table with Foot Switch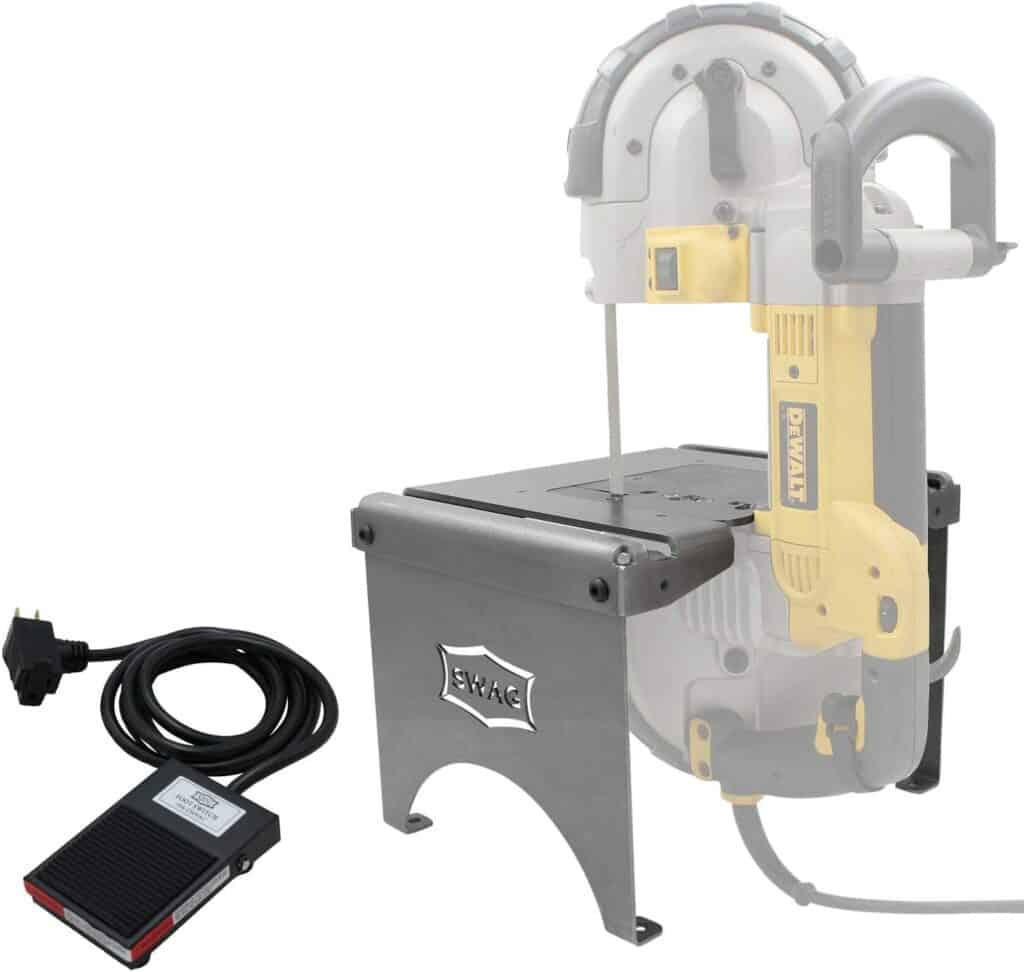 This product is the best of the USA made brands. It proudly wears the "Made in USA" label and comes in various models with a variety of features. These models come with different in-depth cut features. The model we are writing about is the Milwaukee Deep Cut Model 6230.
These tables are for the ones who seek quality. All the parts on this band saw are American made. It is a quality pick for its low ranged price. The model was designed to be compact, and so, those working in a limited space should buy this. It is a machine that maximizes its full potential and outdoes all other handheld band saws.
As the industries have evolved, so did this brand's production. They came up with this model of the band saw that operates on a footswitch and has a table. How convenient is that! This new version comes with embedded dual miter gauge slides and steel legs.
The steel legs are 1/8″ thick, which gives it a good grip of the band saw, and they are fixed on the saw itself. Both of these features significantly add to reducing shipping costs. With the center bolted and a new blade slot, you can cut thick steel plates.
Moreover, the unique blade slot also has a narrower window, which reduces the chances of blade binding. This model is also a convertible; it can change the saw into a vertical one.
Converting is not that much hard work. Installating the vertical band saw is stress-free with this model's mobile foot guard. Move it in the forward position and place the saw, and screw the red knob tightly.
Pros
Can easily convert between a portable band saw and vertical band saw
CNC laser can cut 3/16″ inch thick steel
1/8″ inch steel bolt-on legs
Dual miter gauge slide
Proudly made in the USA
Cons
Sometimes has problems with the powder coating                          
Grizzly G0555LX Deluxe Bandsaw, 14″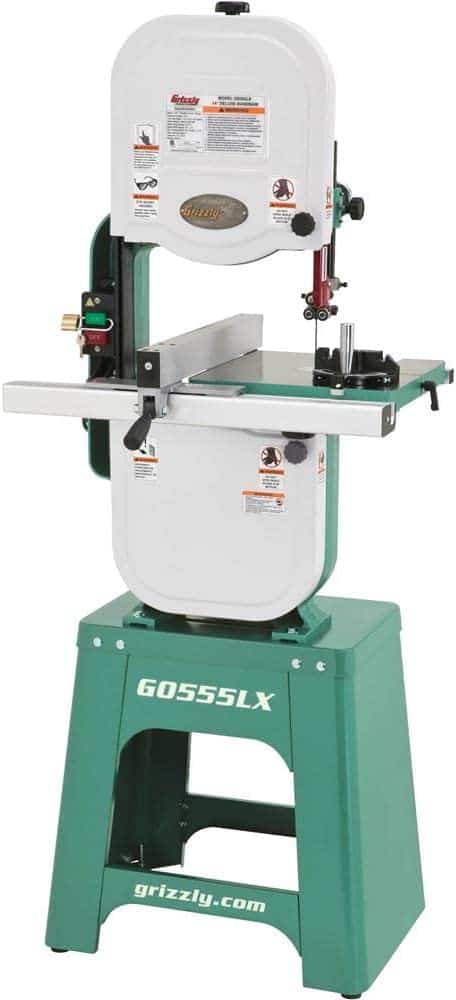 G0555LX is a good sport. It is qualified to be the best performer for its price. And it runs on a 1 HP motor-powered blades that can cut surface through oak like pine. It cuts the sheet of metals within a snap, and it can cut thick planks into thin ones with precision and 100% accuracy- resawing.
Moreover, it can also cut corners with 100% precision too. Its qualification for being the best does not come from just its power alone. This product has also got 6.5 inches of clearance, which gives it a vast range. The material that this machine is made with is of excellent quality, which makes this band saw very, very durable.
However, this band saw is very big and bulky. Excellent performance cannot be doubted for its size. Although, with a few modifications and alters, it can be made into a portable band saw. This brand of band saws is improving day by day.
With every version that it launches, it gets better in terms of performance and efficiency. The Grizzly is CSA certified, meeting under CSA C22, which guarantees and backs up its performance reviews.
Also, the entire band saw is made from computer balanced cast iron wheels with rubber tires, which provides flexibility and durability. For blade guides and thrust bearings, it has an upper and lower ball bearing.
Pros
1 HP motor ensures power
Sturdy
Operates very smoothly
Cons
Delta 28-400 14 in. 1 HP Steel Frame Band Saw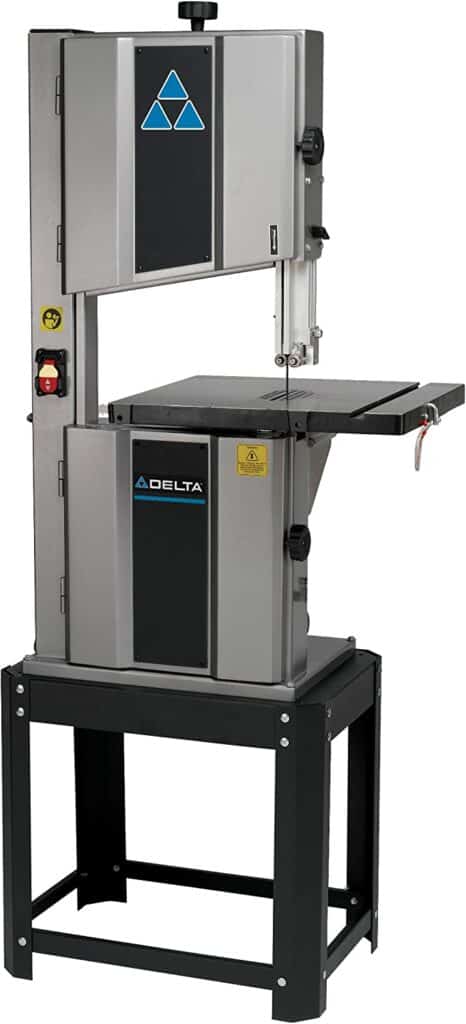 Editors and users have reviewed it a 4.7 out of 5. The band saw weighs 165 lbs, and it is made from a heavy-duty steel frame. And the design of the steel frame decreases the chances of flexing the saw. The aluminum trunnion table is supported by a superior quality finishing and is guaranteed to be long-lasting.
Moreover, the steel cutting band saw runs on 1 HP powered motor at a voltage of 115V/230V. The HP powered motor is running on 1 phased TEFC motor at two different speeds: 1,620 FPM and 3,340 FPM. It can cut both wood and metal. And it can cut wood at 1,620 FPM and cut non-ferrous metal at 3,340 FPM.
The band saw has two-speed pulley. This helps with easing tension while the machine is being used. The wheels on this saw are well balanced. They can make sure that the blade is balanced for blade tracking. Also, they are durable.
Furthermore, the aluminum that they are made of is durable and rubber-coated on the upper and lower spokes of 9 inches. The machine is oversized. And the table of the band saw takes up a good portion of the whole machine. The casted iron table can be slid back and forth because of its t-slot miter capabilities.
It can be repositioned and tilted from left to right, from an angle of 3° left to 45° to the right. It can be repositioned to a neutral stop at a 90° angle.
Pros
Durable
Large capacity
Easy to track
Smooth precision
Cons
Bosch GCB10-5 Deep-Cut Band Saw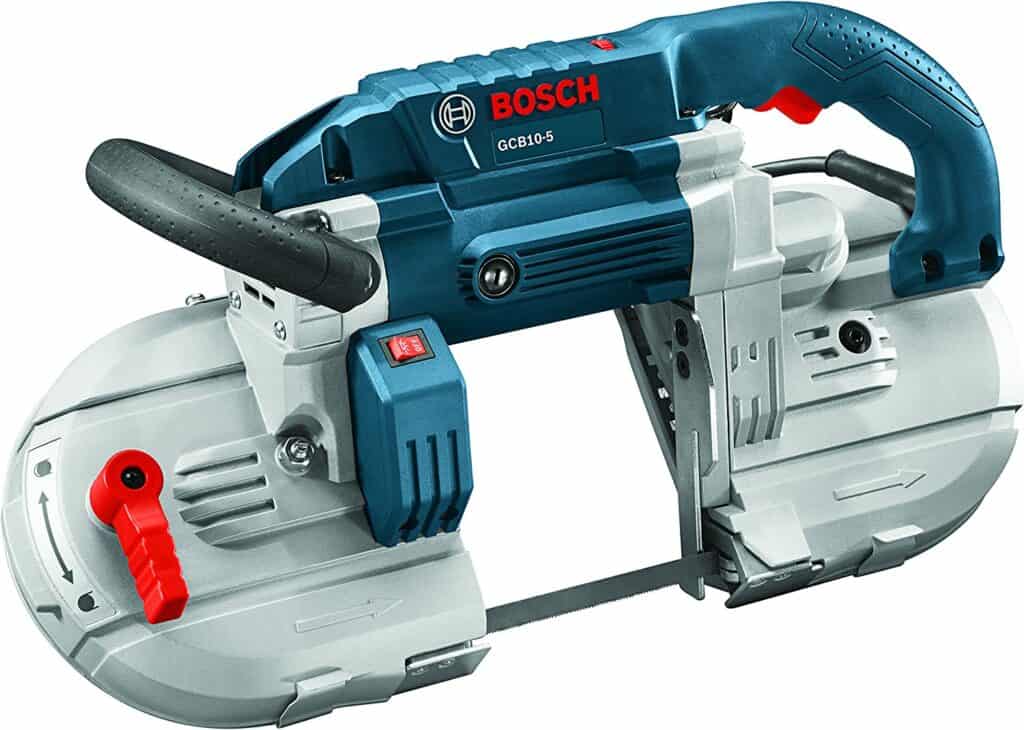 This deep-cutting band saw is embedded with lots of capabilities. The blades on this saw have the ability to cut up to around 4-3/4 inches deep in one cut. Moving around the saw while cutting will not be tough. All heavy-duty features considered, they are very light in weight, so it will be effortless to hover around.
Its compact design also makes this deep-cut band saw unique. This product only weighs 14.5 pounds and has a good handle, so you can get a good grab of the saw and move it around very easily. The speed of cutting can also be changed back and forth.
In this way, you can vary the cutting speed to match with the kind of material you are working with.
The motor speed of this saw is 10 amps. It promises a very precise and clean-cut, ensuring that the thing you are working on will not need any rework for burrs or tempered colors. This, along with the versatility advantage of the variable-speed feature, gives you full control of the device when you are using it.
Another advantage of using this is that it does not produce any sparks while it's in use. It has an almost spark-free operation that creates a safer workplace environment for you, and as we all know, safety must come first before anything else.
A machine that can cut 4-3/4 in with a single pass is the machine that you should be going for. The lightweight feature also adds on to helping to cut tough overhead materials.
Pros
Ensures clean and precise cutting
Very convenient to use
The operations system is very controllable
Very light in weight
The design is compact
Cons
It is not suitable for beginners, requires practice defined precision
Things to Consider before Buying
Before investing your hard-earned money on a benchtop band saw, you need to know how to identify the perfect choice for yourself. There are a bunch of things that you will have consider before buying. Here is a list of all of the things that you have to keep in mind before purchasing a band saw.
Blades
You need to get the right kind of blades, based on the type of material you intend to work on. Blades are the most important part of the buying decision. The blade must be strong enough to cut through a variety of material as it is the essence of any band saw.
And the type of blade you get must depend on the type of material you work with. The materials one might work with are glass, wood, and metal. Also, the limit of depth cut that a blade can perform is important.
Another important factor is, it should be easily adjustable. Make sure that you do not compromise on the quality of the blade if you want to do some quality work.
Cutting Speed
The high-end band saws come with speed adjusters. If you want extra features like this to add comfort to your work, then you must stretch your budget just a little. If you ask professionals, they will suggest you go for a variable speeding blade.
If you can control the speed of the saw, you can easily cut a diverse number of materials, like metal or wood. Moreover, who does not like to have the speed under control? It's a feature that you should look for when you are buying a benchtop band saw.
Motor Power
If you like to be power efficient, then you should get a high-powered band saw. The high-end quality saws usually work at high speed with efficiency at low motor power.
But If you want to opt for a saw at a lower budget, then you should look into the motor power that the band saw has to offer. More power does not necessarily have to mean faster cutting.
Some benchtop saws run on 2.5 amps' power, while many others run on 1/3 HP power. There are efficient power motors that run on 10-amp motor power, as well. A 2.5-amp motor-powered band saw can always perform better than a 10-amp one; the important thing that you need to look for is the efficiency of the motor.
Durability
By now, you must know that band saws run on single blades. Durability is always important. It must be able to perform and last for as many projects as possible. Getting one job done on that band saw takes out a lot of life from it.
If you are looking to work with this particular device for a long time, you must see that the construction and quality of the material that it is made from is durable and of good quality.
Ease of Use
Some models are very hard to use and require a lot of professional years of training to use them. Read the labels to see if they are beginner-friendly. Some quality models come with additional built-in features to make it easier to use. It may be worth it to spend a few extra dollars to work more comfortably.
An easy feature of the top-rated benchtop band saw is the ease at which you can change their blades. They also allow you to reset the blade's height and position very easily. Also, they come with additional safety features as well to minimize the chances of injuries.
Cost
Cost, with no doubt, is the first factor you have to consider for your buying decisions. There are incredibly expensive band saws, but there are also ones available on a lower budget.
Keep in mind that not all expensive things perform well. Do not judge by their price tags. Instead, first, make up your mind how much you are willing and able to spend on this particular product.
Then, find the tabletop band saws that fall in that price range. Compare and contrast between the options and do in-depth research on each of them to buy the best benchtop band saw at the best price.
Table Material
The durable table materials are aluminum alloy, cast iron, and steel. So make sure that you only stick to these options if durability plays a key role in your decision making. Besides, you may also want to look into the tilt angles of the band saw.
If it can tilt up to 45 degrees and is about 1 foot and a half wide and long, then you should be good to go.
Safety
Safety first! Safety should always be a priority on your list. Band saws can go out of control, and they carry major injury potential, and that is why safety issue is a priority in this case.
Attachments and Accessories
The high band saws come with a lot of options for attachments. You can customize and modify the band saw and make it your work tool, which you can use at your comfort. This part is really up to you, whether you want it or not. If you use the band saw very frequently, then you can get it fitted with wheels, for example.
Other accessories could include dust ports that keep the area clean, and miter gauges that help in cross-cutting. Without these, you can still use the saw, there is no doubt, but they help enhance the sawing experience with benchtop saws.
Frequently Asked Questions
Below are some of the most commonly asked queries regarding benchtop band saws:
Q: What is a band saw?
Ans: A band saw is used for resawing, cutting stocks in smaller pieces, and curving different shapes. It has two wheels with a looped blade around it.
Q; What do you do with a band saw?
Ans: It cuts wood, aluminum, and other forms of metals like copper, ferrous, etc. You have to choose the type of band saw design you want based on the kind of material you will be working with.
Q: How safe are band saws?
Ans: They are risky to work with, that is true. However, if you have the proper safety gadgets and some practice, you will be at less risk of injuring yourself. You always have to be alert and careful while working with them.
Q: Do benchtop band saws come with blades?
Ans: Yes, almost all the models come with blades.
Q: Do they bolt to a benchtop?
Ans: Yes, they will bolt to a benchtop. They have holes (at least three holes) for this purpose.
Q; Can they cut metal?
Ans: Yes, benchtop band saws can cut metal. However, not all the models are designed to cut metal precisely. You will have to look for that particular specification when you go shopping.
Final Words
That's about it! We hope we have answered most of your questions on benchtop band saws. Also, we hope that by reading the best benchtop band saws reviews, you can find the perfect suited one for your workshop. Good luck!
Also read: these are the best band saws to buy, benchtop or otherwise
I'm Joost Nusselder, the founder of Tools Doctor, content marketer, and dad. I love trying out new equipment, and together with my team I've been creating in-depth blog articles since 2016 to help loyal readers with tools & crafting tips.