I love creating free content full of tips for my readers, you. I don't accept paid sponsorships, my opinion is my own, but if you find my recommendations helpful and you end up buying something you like through one of my links, I could earn a commission at no extra cost to you.
Learn more
Whenever you are working with wood or metal or maybe with any other material, you will definitely face a moment when you need to hold two workpieces together. It can be two objects that need to be glued or maybe even wood pieces for making a better precision. Since you will need a third hand that can hold them up. Here comes the application of a clamp.
There are many versions of clamps with different parameters in the market. Though all of them almost do the same job, their application is different. So, before you move on to buy any new clamp, we have something to offer you. We have prepared the best Bessey clamps review to guide you through the market efficiently and effectively.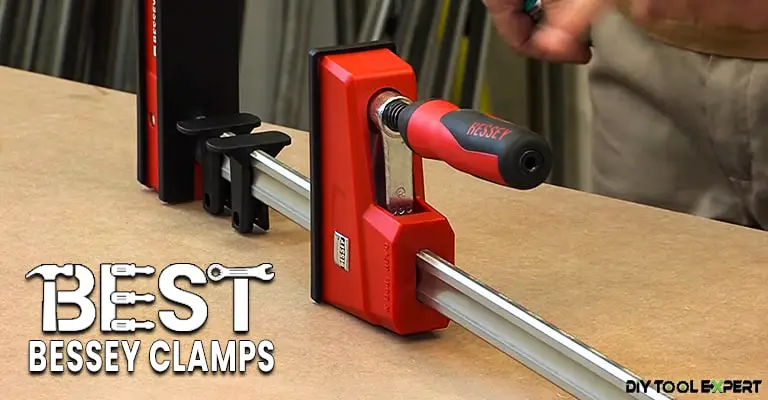 Bessey Clamps buying guide
Clamps bring strength to the workshops, industries and field workstations, so users can accomplish any job quickly and hassle-free. Hence, Bessey has been a very well reputed brand for manufacturing quality clamps that comes handy. Therefore, we have prepared a buying guide to find the best Bessey clamps that meet your standard. However, primarily, you need to consider a few factors.
Any kind of purchase needs some prior knowledge. If you don't know the ins and out of a product, then you obviously can't expect to buy the best one. Since Bessey is one of the most reputed brands of professional clamps you should look for a clamp with high durability, effective force or power, comfortability, and construction material.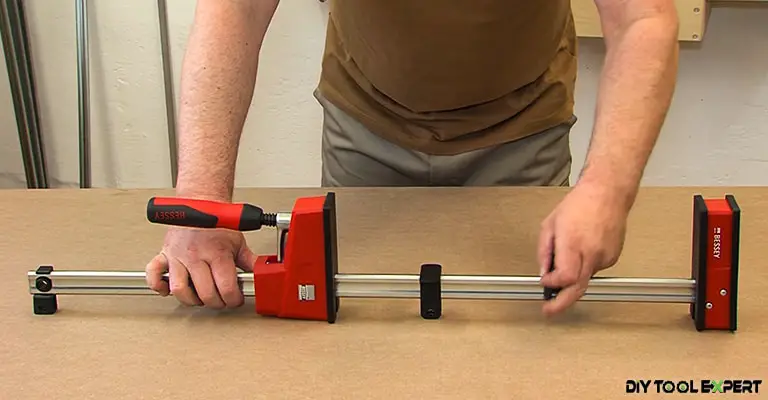 Durability
A clamp can easily bend or even break apart if the applied pressure is too much. You will definitely want a clamp that serves you for a long time without compromising quality. Bessey clamps are famous for their high durability due to their rock-solid construction. Strong construction materials like steel mostly define clamps durability.
Power
Power is a very crucial factor to distinguish between any quality clamp or any inferior clamp. The clamping power of a clamp is the prime requirement for which you need a clamp. Mostly, the larger clamps deliver better force whereas they need more adjustments. Jaw capacity is also very important. Higher jaw capacity offers a stronger and tighter grip with effective force.
Comfortability
Comfortability is definitely a critical factor to be considered. There are some sub-parameters that should be considered in order to judge the comfortability of any clamp. A quick-release working mechanism, non-slide lock along with sufficient clearance for the crank handle for its smooth rotation are some of the primary concerns in case of better comfortability.
Construction Material
Nowadays, most of the clamps are made from steel or in some cases metal alloy. Steel made clamps offer better durability, high power, and performance along with comfortability. So, to get the best combination of durability, power, and comfort with performance, construction material plays a vital role.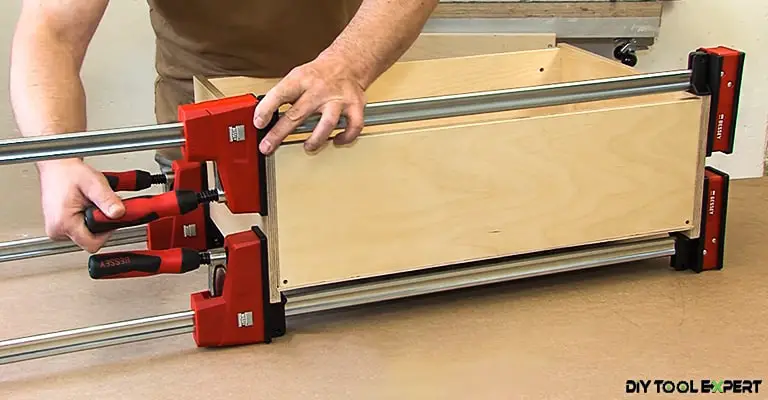 Best Bessey Clamps Reviewed
Have a look at what we've got for you.
1. Bessey BPC-H34 H Style Pipe Clamp
Admirable facts
Bessey is a very well-known brand for manufacturing quality clamps. Bessey BPC-H34 ¾-inch H style pipe clamp is a perfect user-friendly device that eases human effort and fastens any work. Its working experience is pretty amazing because of its work-oriented design.
From all the other models from the Bessey H series pipe clamp, this model is very appreciable due to its durability and stability. H-shaped foot assembly stabilizes this clamp in 2 dimensions providing it dual-axis stability. Cast jaw ensures high durability of this product.
It comes with enough clearance from the surface for extended safety and efficiency. One bonus feature that doesn't come up with other typical clamps is its soft clamping surface. A couple of soft jaw caps are installed to avoid causing damage to any material that is being clamped with it.
This pipe clamp is very easy to operate as it is incredibly stable. Besides, it has adequate clamping force along with extended clamping capacity. It comes at a very affordable price. All of these notable features have made it an outstanding dominator in the market.
Glitches
One notable drawback of this clamp is that it doesn't come up with any anchoring pipe. You will have to get that anchoring pipe separately.
2. Bessey GSCC2.536 Economy Clutch Style Bar Clamp
Admirable facts
Bessey GSCC2.536 economy style bar clamp is a product offering optimum service quality to users. It combines some fantastic features that meet the demands of the user. To start it, it is good to have a look at this 36-inch-long clutch clamp.
It is known as a medium-duty clamp and mostly suitable for people who used to go through a wide range of woodworking and DIY projects. One catchy feature of this clamp is its built quality. It is highly durable because of its powder-coated cast iron made fixed and sliding jaws.
Nickel-plated body frame and the powder-coated finish of this clamp have put a layer of perfection on this product. It comes up with thick jaw caps that make the clamping surface softer. It helps to prevent damage to any clamped material.
It is very easy to operate. According to its reasonable price along with attractive features, this economy clutch style bar clamp is definitely a better choice. Therefore, it will offer you unlimited time service while returning your investment at every moment.
Glitches
It has very few glitches. One key glitch is its stability. It may not remain so stable as per the user's expectation.
3. Bessey KR3.540 REVO Fixed Jaw Parallel Clamp
Admirable facts
Bessey KR3.540 K Body REVO Fixed Jaw Parallel Clamp is a premium quality product that offers 100% user satisfaction. It has got some exciting features to be the best in this field. It has a perfect parallel jaw clamp design for 90-degree clamping of materials along with glue-ups of materials. Moreover, it can be used for general purpose clamping of various materials.
This clamp features 3.75-inch throat depth with 3 removable jaws pads and 2 protector pads. These jaw pads and rail protector pads are designed to protect clamped material from any sort of damage. It has an astonishing clamping force featuring 1500 pounds. It also features a fine grip with ergonomically designed along with a molded grip handle.
Its most attractive feature is its high built quality. It is made from steel alloy rail that has its edges comprising a serrated pattern. Such a construction of the 6 edges it has prevents the clamp from slipping off while in operation. According to its price, it delivers the best possible quality in the market. So, if you want to get a long-lasting clamp then go for it.
Glitches
The only glitch that I found about this product is that it is a tad bit expensive.
4. Bessey Cabinetry Clamp
Admirable facts
Bessey Cabinetry Clamp is a revolutionary product for its lucrative features. Its most attractive feature is supposed to be the face-framing technology. If you want the ease of installation to comfort your clamping, this one here will definitely satisfy you as face-framing helps to merge the steps of installation into a short and easy one which used to be a lengthy process earlier.
Generally, sides of cabinets are handled quite strongly by this clamp which is certainly an advantage. Simultaneously, it helps to tighten face frame stiles as well as aligning and fastening along with being pre-drilled. It is capable of doing all of these kinds of stuff while remaining in its genuine position.
This clamp has an exclusive feature. It is its integrated pilot hole that simplifies drilling. Besides, the construction is robust enough to embed outstanding strength and durability. Moreover, it is equipped with non-marring pads for the safety of the material being clamped with it. Therefore, it has enough potential to be a dominator in the clamp market. So, your investment will not go in vain.
Glitches
It has some notable drawbacks. One of them is its fitting issue. Its design is not fully capable of any large cabinet installation.
5. Bessey LM2.004 LM General Purpose Clamp
Admirable facts
Bessey LM2.004 LM General purpose Clamp is a typical clamp that fulfills all the basic needs of a user. It provides basic services to its users. It has some attractive features. To start with, initially, it replaces c-clamps meaning that it can do a lot better than typical c-clamps.
Its gripping is magnificent as it comes up with a wooden handle for extra secure gripping. Generally, it is a lighter duty clamp to go for accomplishing delicate projects. It can handle most of the day to day work that requires a pretty good amount of clamping.
Whenever a material is clamped with traditional clampers, there is a chance of receiving damage. But for this clamper, the case is different. It is equipped with protective caps that prevent damage to the material. Therefore, as the manufacturer providing lifetime warranty against defects and workmanship, this product will return your investment undoubtedly.
Glitches
Well, it has some major glitches. It doesn't provide enough force for holding any material in a place. Its sliding arm slides all the way down causing trouble for holding objects in a place. Besides, it is a non-returnable item in the market.
6. Bessey TGJ2.512 Bar Clamp
Admirable facts
BesseyTGJ2.512 Regular Duty Tradesman Bar Clamp is a product of supreme quality. It is perhaps the most referred clamp by the users. It has got some dashing features to mesmerize the users. It can equally deal with steel as well as thin metals. Working with wood? That's also in the domain of it including light works. All of these features have made this product an unvoidable option of professionals.
This is a clamp that is greatly user-friendly. Have a look at the installation process: easy and clear. Its durability is beyond any question making it one of the most highly durable clamps in the market. It does not need any clutching action. For fast turning, it comes up with an Acme thread.
This clamp is equipped with patented rail with zinc finishing along with a non-slip locking device. It also features nonmarring pads for preventing damage to any clamped material. With the manufacturer providing a one-year warranty, certainly, you can go for this product.
Glitches
The only one glitch I found in this product is its weight. It is a pretty heavyweight product. So, some people may feel disturbed while working with it.
7. BESSEY TOOLS CM20 C-Clamp
Admirable facts
BESSEY TOOLS CM20 2", Drop Forged, C-Clamp is primarily designed for light general-purpose as well as DIY projects. It comes up in the market with some lucrative features that are supposed to cover all the fundamental needs of a user.
It is equipped with a drop-forged frame with a bright galvanized finishing which prevents it from rusting. This clamp functions on the theory of a swivel pad that moves freely for adapting to various surfaces. So, that feature definitely adds a plus point in this clamp.
This clamp also has a steel made sliding tommy bar for using it in any tight space. Besides, a highly tensile ductile body along with hardened spindles and pads certainly increases its durability. Therefore, this will be the ultimate clamp for you if you are looking for a comparatively cheaper clamp that can cover all the required applications smoothly.
Glitches
I found a pretty negligible drawback of this clamp. It is its fitting issue. Some may find its length no feasible enough to be used for some workings.
What is a Clamp?
A clamp is a device that is used to hold any object in a certain position. They are mostly useful for woodworking. Hence, clamps are some sort of versatile tools that appear with limitless potential for holding workpieces together. Some common types include parallel clamps, C clamps, pipe clamps, and corner clamps.
They act as a helping hand to provide a range where objects can be gripped by closing in the jaws indicating their potential in numerous applications.
A clamp is undoubtedly a much-needed tool for workers who have to deal with several objects at a time. It is, in fact, an effective tool that must fulfill your demands. Clamps are mostly responsible for your quality finishing at work.
Electrically operated clamps are pretty rare as manual clampers offer the best service by their precise clamping range with perfect force.
FAQ's
Here are some frequently asked questions and their answers.
Are Bessey Clamps Any Good?
Best Overall: BESSEY 36 in. Clutch-Style Bar Clamp with Composite Plastic Handle and 3-1/2 in. Throat Depth. … This model from Bessey exerts 1,100 pounds of clamping force and is frequently described as both strong and versatile.
Why Are Bessey Clamps So Expensive?
Wood Clamps are expensive simply because it's made of metal. Also, manufacturers of high-quality wood clamps make sure to give every woodworker the toughest wood clamp possible. In addition to that, woodworkers use wood clamps longer without the need for replacement. So, supply and demand also affect the price.
What Are the Best Clamps?
5 Best F Woodworking Clamps
Yosoo F-bar clamps. Yoosoo F-bar woodworking clamp is made of plastic and Aluminum for sturdy and durable use. …
Yost tools F-clamp. Yost tools F-clamp is a 2.5-inch medium-duty clamp made of iron. …
Wilton 11116 classic series F-clamp kit. …
MAX POWER F-clamps. …
Pony Jorgensen F-Clamp.
How Many Clamps Do You Need?
Bottom line: 4 bar clamps, 4 pipe clamps and a strap clamp. You actually may not ever really need anymore. Of course, if you're like most woodworkers, you will probably accumulate more clamps than the essentials. There are bazillions of different types of clamps, from specialty clamps to gimmicky clamps.
Are Parallel Clamps Worth the Money?
They're expensive, but worth every penny when you are trying to get good square fit-ups in glue joints. I gave up on pipe clamps and switched to the original Bessey clamps about 12 years ago. The switch was very expensive as I have at least 4 of each size up to 60″ and even more of some of the heavily used sizes.
Are Bessey Clamps Made in USA?
Even Bessey makes their clamps in Germany. Revos / Jr. clamps are actually assembled in USA I think from German parts. Not woodworking per se but Kant Twist's and Wright Tool C clamps are also made in USA.
Where Are Ehoma Clamps Made?
Taiwan
Ehoma is based in Taiwan and is gaining an enviable reputation for the design and quality of their range of woodworking clamps.
How Do You Make Clamps at Home?
Q: Why are parallel clamps used for?
Ans: Parallel clamps are used for applications that require the clamping objects to be parallel rather than perpendicular to one another.
Q: Is it necessary to have a soft material on the clamping surface?
Ans: Yes. It is necessary to have a soft material on the clamping surface as it helps to prevent damage to the clamped object.
Q: Can a regular clamp be used for holding wooden objects?
Ans: Yes. Most of the regular clamps are designed in a way that they can be used as woodworking clamps.
Conclusion
While searching for the top-notch Bessey clamp, we found two products pretty amazing as they have sufficient potential to capture "the best Bessey clamp" title. From, the best Bessey clamps review section, still we found "Bessey BPC-H34 H Style Pipe Clamp" and "Bessey KR3.540  Parallel Clamp" to be the best of the best.
Both of these products have higher durability, comfortability and rock-solid construction along with an immense force that helps to get the work done easily. Both of them will serve you for a longer time without compromising with quality.
These two products have shown prominent features to achieve user satisfaction. Hence, it will be a remarkable investment for you if you move on to buy any of these two products. Once you receive sincere service from these products, don't forget to thank us later.
I'm Joost Nusselder, the founder of Tools Doctor, content marketer, and dad. I love trying out new equipment, and together with my team I've been creating in-depth blog articles since 2016 to help loyal readers with tools & crafting tips.