I love creating free content full of tips for my readers, you. I don't accept paid sponsorships, my opinion is my own, but if you find my recommendations helpful and you end up buying something you like through one of my links, I could earn a commission at no extra cost to you.
Learn more
A pipe clamp is not just a clamp. Yes, it does the job of holding the workpieces in place, but what makes a pipe clamp unique is that the jaw gap can be changed and adjusted to any length.
The pipe clamp also offers a lot more stability than other clamps, which makes it particularly suited to edge clamping.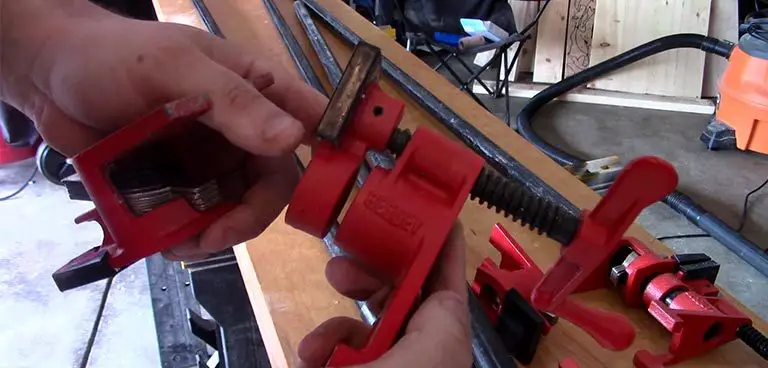 The simple design of the pipe clamp, which consists of only two parts – the adjustable jaw and the threaded pipe through the jaw – makes it strong and durable, and affordable.
That's why my top pick is this BPC-H12 1/2-Inch H Style Pipe Clamp from Bessey – it is versatile, durable, and affordable. They are easy to set up and the H-shape feet make them stable and solid to work with. 
Tips for buying a pipe clamp
Whether you are upgrading, replacing, or perhaps buying a pipe clamp for the first time, it is easy to be confused by the huge range of options available on the market.
After much research and comparison, I have made my decision – the Bessey BPC-H12. But, if you like to shop around, here are some tips that will help you to make an informed decision.
Pipe clamps versus bar clamps
The initial step is making the choice between a pipe clamp and a bar clamp. Both clamps are very similar in design, with one fixed jaw and one mobile jaw.
However, the great advantage of the pipe clamp, is that the jaw gap can be changed to any length – a great time-saver in any workshop environment.
Pipe clamps also allow for much higher clamping pressure.
Learn more about the different types of woodworking clamps here
Pipe clamp buying guide
Now that you have decided on the pipe clamp, your choice of which pipe clamp to buy will be influenced by a number of factors and each of these needs to be carefully considered before making a final decision.
The project you are tackling will dictate what your needs are in terms of ergonomics, power, stability, and durability.
Type of project that you'll be doing
Perhaps most important of all is to consider the specific requirements of your project.
The type of materials you will be working with, the size and weight of these materials, how much power and stability you need, and the depth of reach that you require.
Ergonomics
Ideally, a pipe clamp should be made of strong cast iron material, to make it strong and durable. It needs to have large, easy-to-release clutch plates, which are comfortable to use.
It needs a high base that offers plenty of clearance between the handle and the work surface.
Power & stability
The larger the pipe clamp, the more powerful and stable it is. Stability is brought to the clamp by its foothold and jaws.
The bigger the surface area of the foothold and the jaws, the more stability they provide. The size you select will be determined by finances and the availability of workspace.
Durability
Durability is determined by the quality and thickness of the plating. High-quality chrome plating offers durability.
Thinner coatings will be at a higher risk of developing defects. The threaded pipe should have a black oxide coating and the clutches should be electroplated.
Best pipe clamps reviewed
With these considerations in mind, here is a short review of pipe clamps that meet these requirements to different degrees.
Best overall pipe clamp: Bessey BPC-H12 1/2-Inch H Style
The ideal tools for pro woodworkers or hobbyists to give your workpieces a bit of height and stability. The H-Style makes these clamps very stable thanks to the dual-axis stability.
The Bessey BPC-H12 1/2-Inch H Style Pipe Clamp also creates a bit of space between the table or your working surface and the working piece.
One of the things that I like most about this type of clamp is that it comes with jaw caps. They work well as soft pads, so you won't damage your workpieces.
These clamps are from a well-known brand that has proven themselves over the years. One of the things that these H Style Pipe Clamps are known for is their durability and longevity.
They feature a black oxide-coated spindle, and the threads of the spindle are thicker than other clamps on the market. This significantly reduces the chances of anything snapping.
What I also like is that the screw is an acme thread. This means it needs fewer turns to run from one extreme of the clamp to the other, making it easier to "reset" the clamp face.
The manufacturers have also ensured durability with the powder coat finish which prevents rust and corrosion.
The zinc-plated clutches really set the bar high. This is a weak point on many clamps, but not on the Bessey BPC-H12 1/2-Inch H Style Pipe Clamps.
My only minor concern with these clamps is that they're made out of cast iron and may be slightly less tolerable to immense pressure.
However, they are more than suitable for pro woodworkers and hobbyists.
Features
Type of project suited for: Ideal for pro woodworkers and hobbyists.
Ergonomics: The ergonomic design of this clamp means that the extra high base offers plenty of clearance between the handle and the work surface, so you can clamp down without bumping your work in progress.
Power and stability: Enhanced stability is provided by the "H" shape foot assembly. This stabilizes the clamp in two dimensions, offering dual-axis stability.
Durability: The cast iron jaws are durable but less tolerant of immense pressure. The spindle has a durable black oxide coating, which prevents rusting and corrosion. The clutches are zinc plated. The threads of the spindle are thicker than average, reducing the chance of breaking.
I've reviewed more clamps from Bessey here, really like this brand
Best pipe clamp for wood gluing: Yaetek (4 Pack) 3/4″ Heavy Duty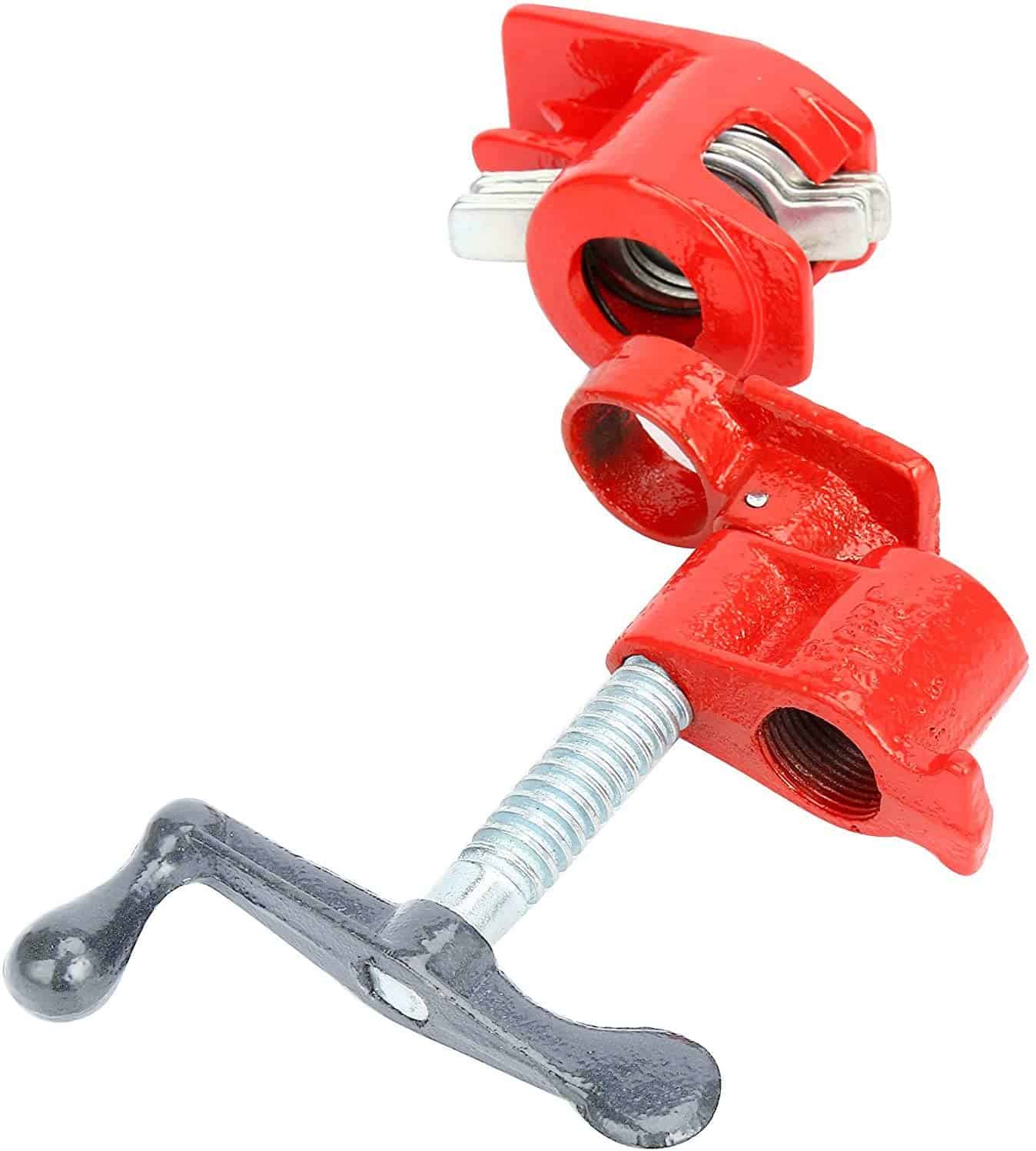 This set of for clamps are a great addition to woodwork workshops as they are made from re-strengthened cast iron. This means that the Yaetek 3/4″ Pipe Clamps are less prone to bending and fracturing.
They can easily hold three-quarters of an inch of a plank – perfect for anyone who is into making boxes, shelves, and even some types of more complex furniture.
One of the things I like most about these is the handy lever control system which allows you to adjust the pressure easily. This helps you reduce the chances of making unwanted dents in the wood.
The length of pipe that you choose determines the jaw of the clamp – but it is recommended that a flaring tool is used to ensure proper grip.
My only concern with this clamp would be managing an anchoring pipe of this size could prove a little challenging at times.
However, the clamps are highly versatile and durable.
Features
Type of project suited for: This clamp is ideal for woodworking projects and other hobbies.
Ergonomics: This clamp has a ¾ inch throat depth and quick release plate clutches. It holds steady when you need it to but releases at the lightest touch.
Power and stability: The handy lever control system allows for pressure adjustment, thus reducing the chance of dents in the wood. It holds steady when necessary but releases at the lightest touch.
Durability: The housing is extremely durable and is designed for a ¾-inch pipe with at least one side threaded to 14 threads per inch (TPI).
Best ergonomic pipe clamp: IRWIN QUICK-GRIP 3/4-Inch (224134)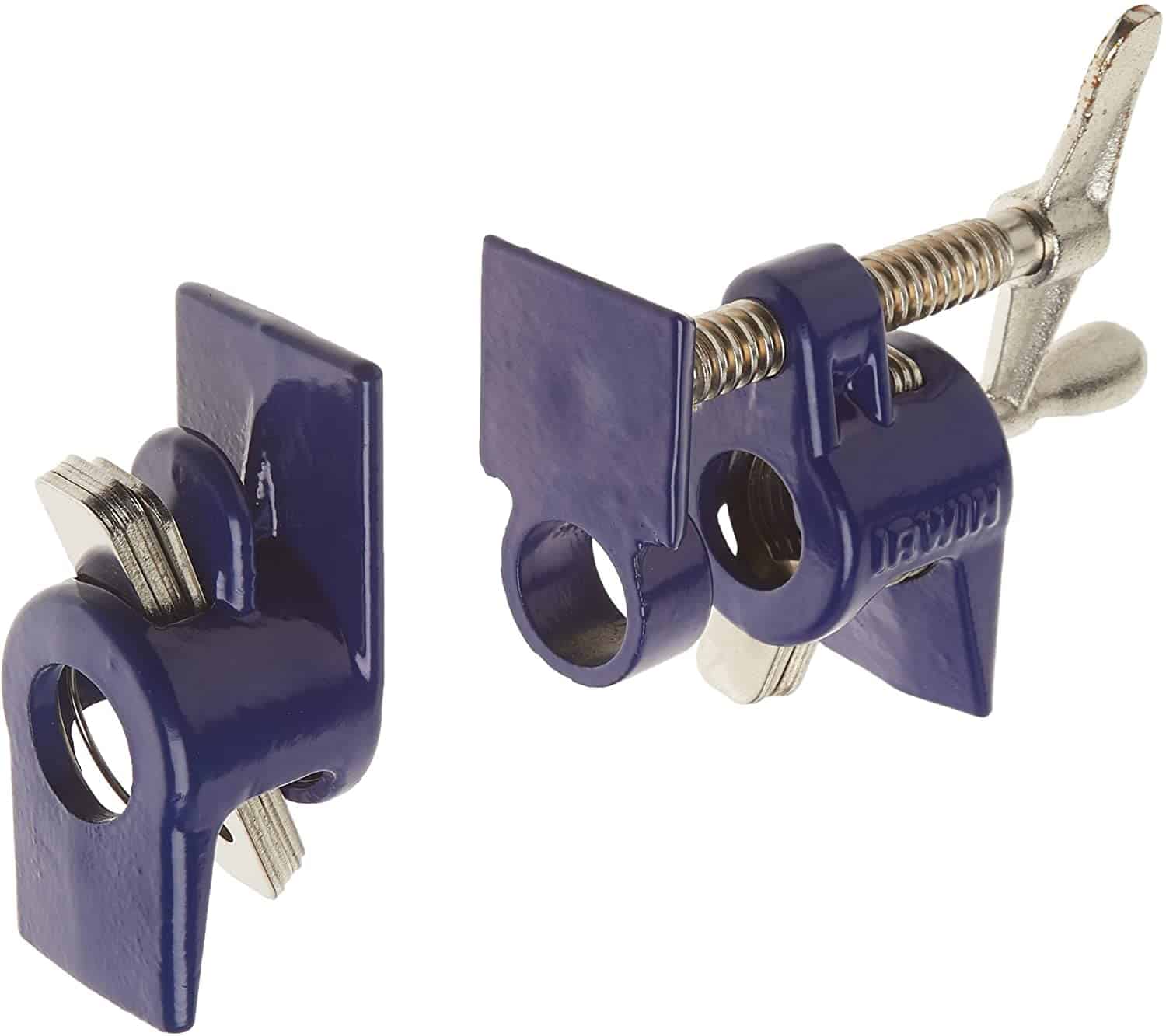 Just a little more expensive than the Yaetek pipe clamp, the IRWIN QUICK-GRIP 3/4″ Pipe Clamp is a great quality product, known for its smart ergonomic design. It is also extremely durable.
The only complaint that I've ever had with this type of clamp is that it sometimes slips off.
However, I'm willing to take the risk with certain projects, as I really enjoy using IRWIN's unique clutch system which makes working with the clamps really simple and efficient.
The enlarged feet also mean that the clamps are very stable. Its innovative clamp also eliminates the need for threaded pipe.
IRWIN really went all-out with the design of this pipe clamp – designing the handle to reduce stress and fatigue on the hands. This is a great feature for those of us who spend hours in our workshops and may suffer from muscle and bone fatigue.
The pressure is also adjustable on this clamp. Its throat dept is 1-7/8 inches and it fits a ¾ inch pipe.
Features
Type of project suited for: This is a very versatile pipe clamp and will come in handy for many uses in a home workshop or in a professional workspace.
Ergonomics: The handles offer easy clamping which reduces hand fatigue and stress.
Stability and power: This clamp has large feet which improve both stability and clearance.
Durability: It is heavy-duty and durable.
Best pipe clamp with a higher jaw: Rockler Sure-Foot Plus 3/4 inch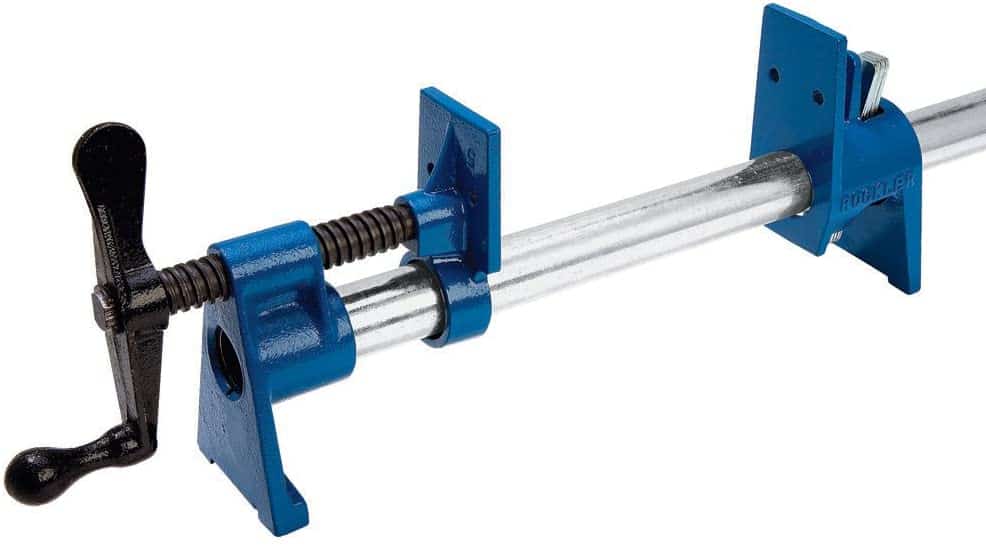 Although one of the more pricey pipe clamps on the market, this Sure-Foot Plus Pipe Clamp from Rockler is on my list due to its durability. This clamp has been color-coated with blue to reduce the chances of rust.
I also like the fact that the threaded pipe attached to the spindle for jaw adjustment has very thick threading – so the risk of damage is low.
The jaw on this clamp is about half an inch higher than usual at 2¼ inches high in total. This clamp takes a ¾ inch BSP pipe – which is widely available at most hardware stores.
The foot stand helps the clamp stay sturdy and keep its balance. The foot, like the jaw, is also a bit taller than usual, so this clamp is great for work that needs a bit of clearance.
While this is not the most popular brand out there, I do believe that it stands up to the quality and durability of the more recognized brands like IRWIN and Bessey clamps.
The only thing that I would say is a negative with this clamp is that it doesn't come with a swivel mechanism which may limit its versatility a bit.
Features
Type of project suited for: This is best suited to projects that may need a bit more clearance or a higher jaw.
Ergonomics: The threaded pipe attached to the spindle for the purpose of jaw adjustment has very thick threading – reducing the chance of the threading being damaged. The jaws are higher than usual.
Stability and strength: The foot stand has enough surface area to keep it stable and the higher base and higher foot offer ample clearance for the handle.
Durability: The clamps are all coated – reducing the chance of rusting or corrosion.
Pipe clamp FAQs
What is a pipe clamp used for?
A common use of pipe clamps in woodworking is for edge gluing; several boards are joined edge to edge to produce a wider surface such as a tabletop or cabinet components.
If you need to glue bigger pieces together, you're usually better off using a parallel clamp.
Do pipe clamps need to be threaded?
The pipe must have a conical thread at one end to fix the part with the clamp head screw. The other part slides free on the pipe by releasing the lever.
What pipe do you use for pipe clamps?
There are two acceptable types of pipe you can use with pipe clamps: galvanized pipe and black steel pipe—the same type traditionally used for gas lines.
Either will work fine, but the black pipe is less expensive, which makes it the preference for woodworkers on a strict budget
How strong are pipe clamps?
In addition to being much cheaper than bar clamps, pipe clamps allow for much higher clamping pressure. A typical parallel clamp can reach about 370 pounds of pressure.
Takeaway
Now that you know all about the pros and cons of the various pipe clamps out there, I am sure you're ready to make the right choice and get the best pipe clamp for your needs.
I'm Joost Nusselder, the founder of Tools Doctor, content marketer, and dad. I love trying out new equipment, and together with my team I've been creating in-depth blog articles since 2016 to help loyal readers with tools & crafting tips.