I love creating free content full of tips for my readers, you. I don't accept paid sponsorships, my opinion is my own, but if you find my recommendations helpful and you end up buying something you like through one of my links, I could earn a commission at no extra cost to you.
Learn more
Professional and amateur woodworkers know how important it is to equip the workshop with a good table saw.
However, our first purchase was not that great. The table saw that we got did not offer enough power to carry out all of the carpentry projects properly. Also, it started wobbling after about four months.
So, we decided to opt for the best cabinet table saw, which was not an easy task.  But after doing loads of testing and getting hands-on experience with the available models, we did manage to find seven worthy options.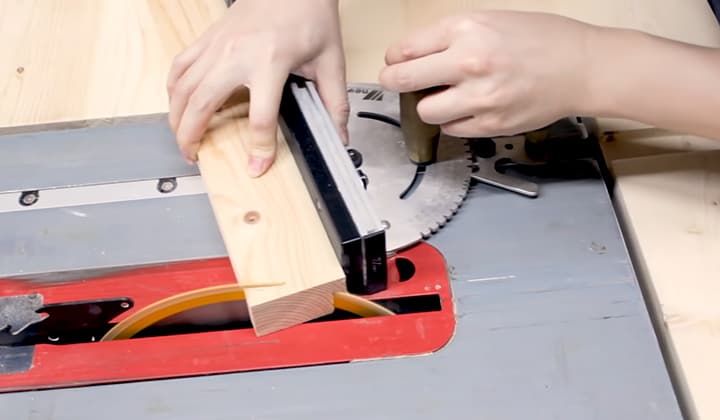 To make the purchase experience hassle-free for you, we will talk all about those options here. So, if you want something that is actually worth the money, read the entire article.
Benefits of Cabinet Table Saw
Before we talk about the models that amazed us, we want to ensure that you know all of the benefits a cabinet table saw has to offer. And they are:
Easy to Operate
The cabinet table saw has induction motors. These motors are usually easy to work with. Also, changing the blades will be an easy task as these have an easy-to-replace insert around the edge. Some of the models even allow the use of zero-clearance inserts.
Lifespan
Usually, cabinet table saws feature the construction of high-quality materials. So, these will have a considerably higher durability level. In other words, you will be able to use them for an extended amount of time.
Power
Due to using competent motors, these are capable of carrying out high duty-cycles. The motor also allows the user to carry out heavy and demanding project remodeling on the saw.
Precision
For the heavier overall construction, these tables can reduce vibrations exceptionally well. And when the vibration level is low, it will be possible to get impeccably accurate cuts on the workpiece. Also, the enclosed base will ensure that you get the highest amount of stability while working on projects.
7 Best Cabinet Table Saw Reviews
We have tested more than 20 table saws ourselves and had hands-on experience with about 40 of them. From all of the tests and comparisons we have made, these seemed worthy of our precious money:
SawStop 10-Inch PCS31230-TGP252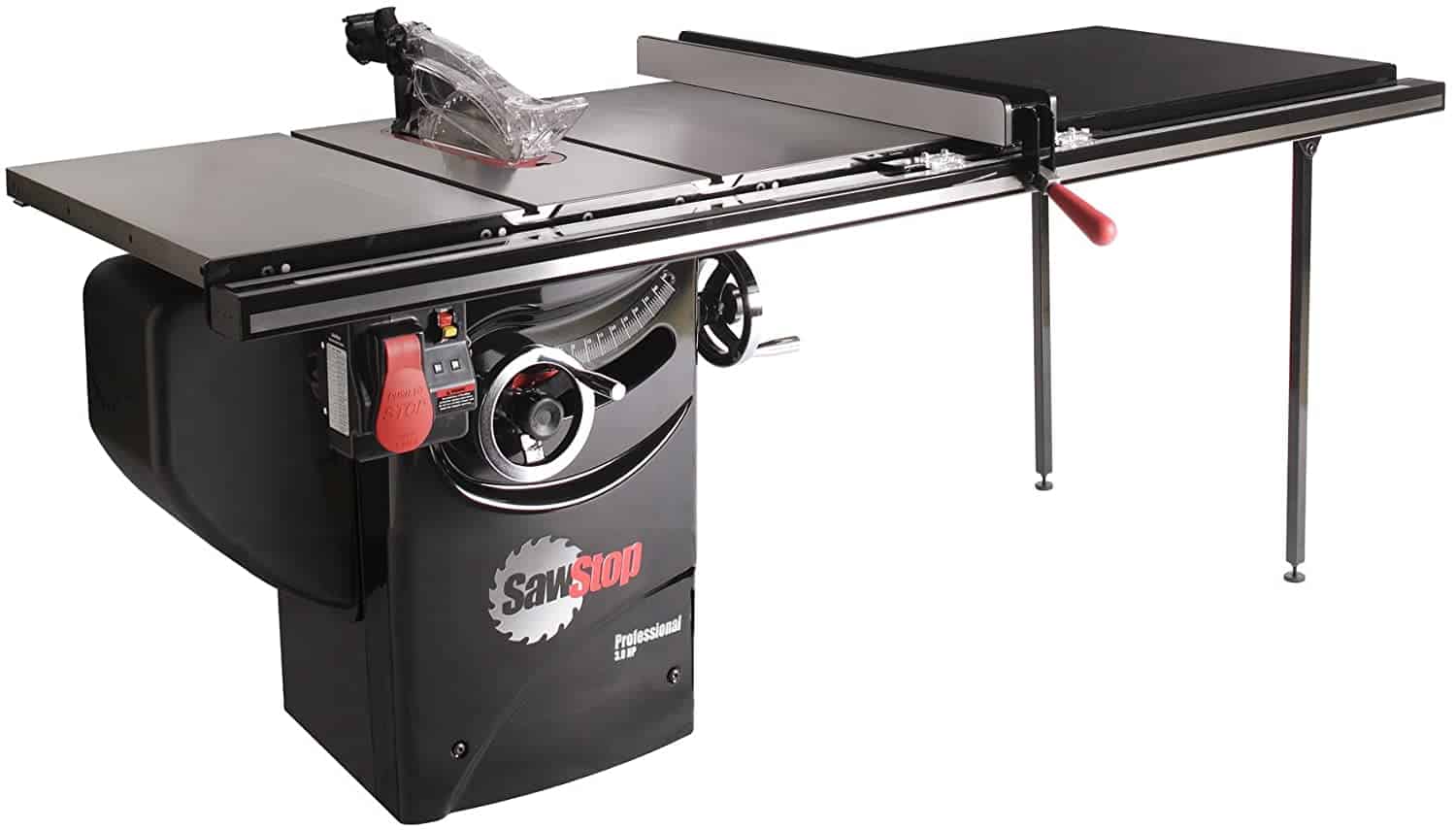 Want to get consistent square cuts? Well, in that case, you should check out what SawStop has to offer here before anything else.
The table saw features a T-Glide fence assembly. This glide is 52 inches and has a rail attached to it. Its heavy-gauge steel construction will ensure that you can properly lock down the workpiece on the table. Also, the heavy construction will offer a higher amount of stability.
This offering even has an impeccable safety system. The motor will stop spinning once it comes into contact with the skin. And the blade will stop within five milliseconds, which means the chances of accidents occurring will be exceptionally low.
All of the crucial parts of the unit are built for precision and stability. The arbor and trunnion both feature a stellar build quality. Adjusting the parts will not be any hassles either. It has a gas piston that elevates and declines smoothly. The upper surface of the table is extremely smooth too.
It even has a dust (very bad for your health!) collector. The advanced shrouding and blade guard will collect all dust and ensure that the working space remains clean. This table also has separate housing for the control box, which has all the buttons appropriately labeled.
Pros
Sports a T-Glide fence
Features a heavy-gauge steel construction
Has a proper safety system
The parts are built for precision
Boasts a dust collector
Cons
The front rail tube is a bit flimsy
It does not include a high-quality blade
The main selling point of the table saw is precision and safety. Its overall construction ensures the highest stability, while the safety mechanism will make sure that no accidents occur while you are working on it. Check prices here
DEWALT DWE7490X 10-Inch
Are you looking for something that is going to make the cutting tasks a bit easy? Well, in that case, you should have a look into what DEWALT is offering here.
This one flaunts an electronic mechanism that offers feedback. It will provide extra guidance throughout the entire operation. As a result, it will be easier to carry out different cutting projects on top of this one. It even has a dust port and an improved airflow mechanism, which will keep the upper surface clean.
The motor that it packs is highly powerful. It has a 15 amp rating and can operate at high torque. The motor can cut through hardwoods and pressure-treated lumber like it's nothing. It will not even throttle one bit when you are handing large-scale projects on the table.
When it comes to the overall construction, it is highly durable. It features the construction of heavy-duty metal. And due to this top-notch overall construction, it will offer a higher amount of stability. It also boasts an exclusive telescoping fence, which will deliver up to 24-1/2 inches of ripping capacity.
Most of the parts of the table retract. Eventually, it becomes compact and highly portable. Also, you will find pinion and rack rails adjustments, which will allow you to make accurate and precise cuts on your workpieces.
Pros
Provides electronic feedback
It has a dust port that offers improved airflow
Boasts a powerful motor
Features a telescoping fence
Portable and easy to adjust
Cons
The bolts are not that high in quality
Does not have a proper locking system on the fence
Just like any other offerings from DEWALT, this one is a top-performer. It offers electronic feedback, has a powerful motor, features a wide dust port, and many more!
SAWSTOP PCS175-TGP236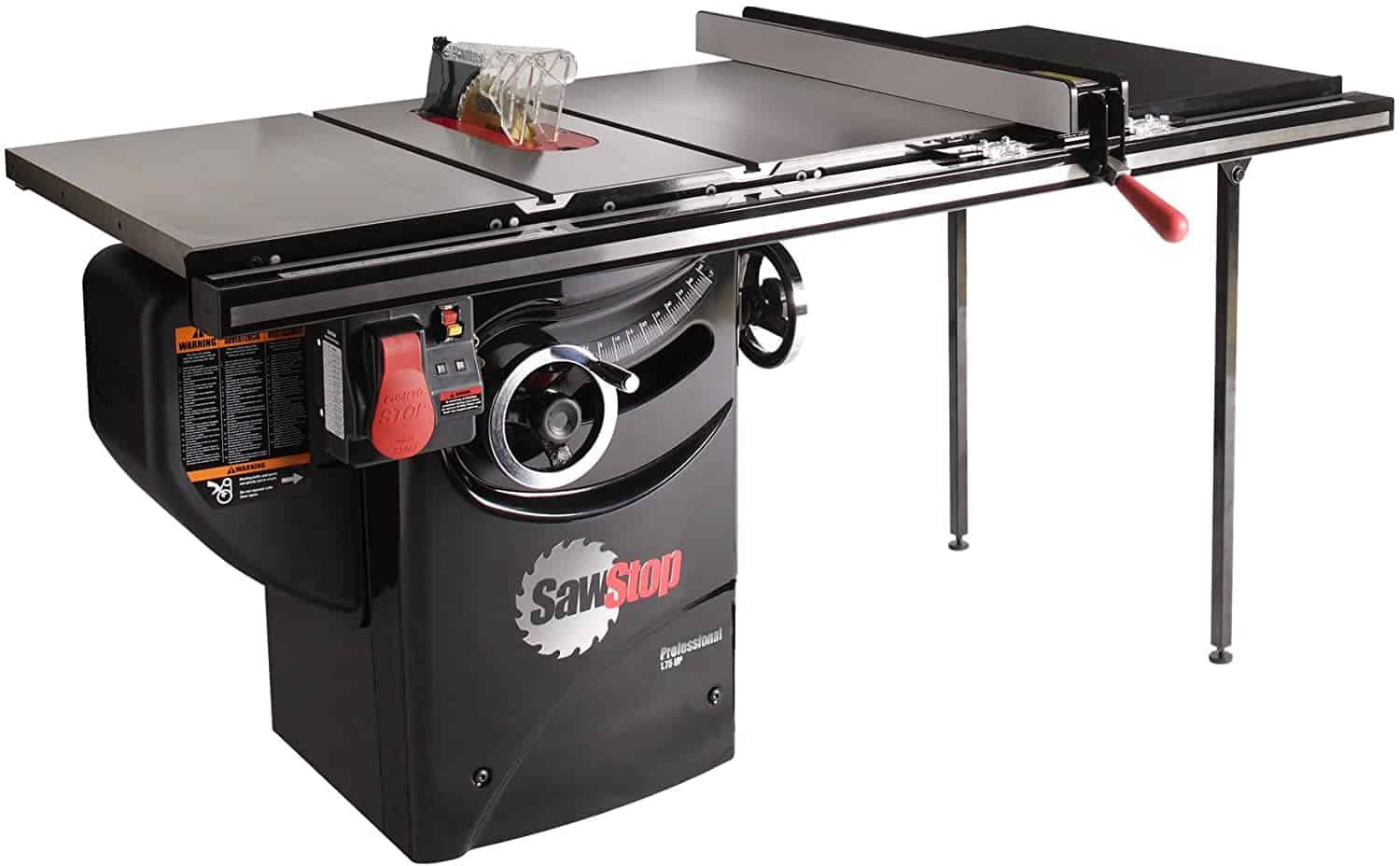 We will now be looking at another stellar table saw that is from SawStop. It is offering loads of things for the price it is asking.
The first thing that makes it stand out the most is the patented safety system. It will ensure that no accidents occur while you are working on the table. The system can make the blade stop just when it makes contact with skin. And the blade stops within five milliseconds.
There is a T-glide fence system too. This glide and rail will ensure that you can properly lock down the workpiece on the table. As a result, it will be possible to get consistent and reliable square cuts on the projects without having to worry about any deflection.
This unit also features a stellar overall build quality. The fence, glide, and rail features the construction of high-quality materials. That increases the overall durability. And due to the heavy build quality, it will offer higher overall stability. It also sports a proper dust collector that can adequately keep the table clean.
Even the control box has separate housing. It contains an on and off switch along with a switch paddle. You will also find an on-bard computer, which will constantly check if all parts are working correctly.
Pros
Sports a patented safety system
It has a T-glide fence mechanism
Boasts a stellar build quality
Highly stable
Flaunts a proper dust collector
Cons
Some units might have alignment issues
The blade is not that high in quality
It sports a patented safety system that can potentially alter a life-altering injury into something that is merely a scratch. Also, the overall build quality is highly praiseworthy. Check prices here
Grizzly G0690
Quality and performance are two things that are generally not found in all of the available offerings. However, if you were looking for one with both of them, consider this unit from Grizzly.
This table saw integrates a 3 HP motor. It offers an adequate amount of power to go through the heaviest of workloads. That means you will be capable of carrying out heavy-duty and demanding tasks without facing any issues at all. It also has a triple belt drive, which will enhance the performance even further.
When it comes to quality, the overall build quality is top-notch. The brand has opted for cast iron as a construction material. This material increases the overall durability and makes the whole thing long-lasting. You can expect to get extended use out of it.
It also features a riving fence and Camlock on the T-fence. The Camlock will make it easier to lock the workpiece on the table. It will ensure that you can easily create precise and accurate cuts on the projects. There is a separate control box as well.
On that note, the motor can make the blade retain an arbor speed of 4300 RPM. You can quickly finish working with large-scale projects with that speed. The maximum depth of cut you can get from the blade is 3-1/8 inches at 90 degrees and 2-3/16 inches at 45 degrees.
Pros
Sports a 3HP motor
The build quality is top-notch
It has a Camlock on the T-fence
Flaunts an arbor speed of 4300 RPM
Boasts a separate control box
Cons
The miter gauge is not correctly aligned
It does not have an easy assembly process
This table saw sports a highly potent motor. It has an arbor speed of 4300 RPM. Also, the build quality is top-notch, which will make it last for an extended time.
Shop Fox W1820
While most of the brands will focus on durability, not many aims at the overall looks. But that is not the case for this offering that is from Shop Fox.
The unit sports a construction of cast iron. Due to that, it achieves a higher durability level. It will last for a prolonged amount of time without showing any issues. The manufacturer has also taken their time and polished the surface properly. This polishing makes the whole thing look proper.
It also features oversized trunnions and wings. Those two will make it easier to work with large-sized projects. They will also enhance the accuracy and allow you to make precise cuts on the workpieces. The blade guard, riving knife, and splitter assembly feature a quick releasing mechanism. So, it will be easy to detach them.
Even the T-slot miter is adjustable. It is paired up with a flip stop and anodized fence extension. They will increase the control over the operation and allow you to carry out the demanding projects easily. There is a Camlock on the top too. That will make the task of locking in the project a piece of cake.
You will also find a magnetic switch. It is easy to turn on and off. There is thermal protection too. It will turn the motor off when the temperature is crossing the limits.
Pros
Constructed of cast iron
The upper surface is polished
Has oversized trunnions and wings
Features quick releasing mechanisms
Flaunts thermal overload safety system
Cons
It might ship with a damaged saw
The fence is not that easy to adjust
The manufacture did not only give all in terms of build quality but also in terms of outlooks. It looks professional and performs exceptionally well at the same time.
Delta 36-L352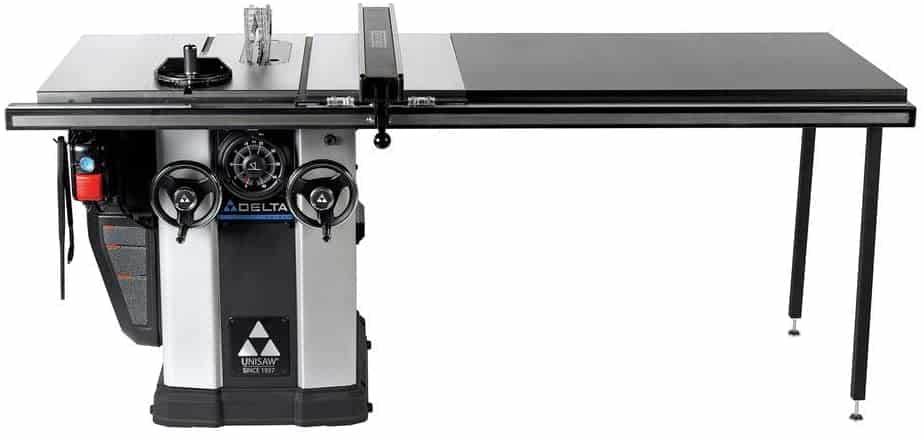 Are you looking for something that provides unrivaled vibration control? Check out what Delta has to offer here!
This table saw sports a single-cast Trunnion mechanism. That results in a higher control over vibration. It will offer optimal stability and ensure you can adequately work on the workpiece without facing any instability issues. The table can also accommodate heavier projects easily.
The fence system on this one is top-notch. It relies on the Legendary Biesemeyer system that increases the overall precision. You can get exceptionally accurate cuts without having to put that much effort into the whole task. The fence also allows you to cut reasonably small pieces off the workpiece.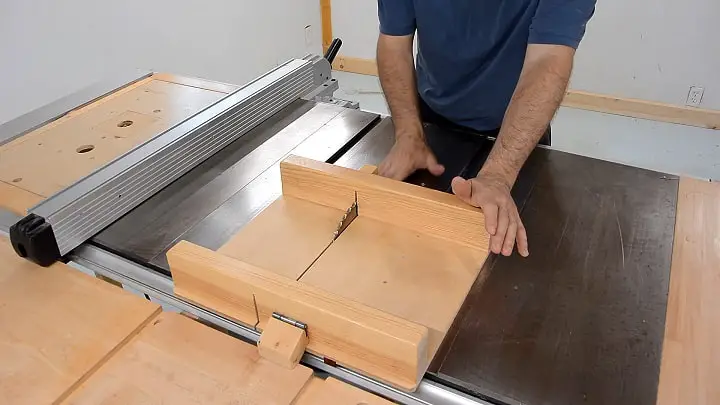 In terms of power, it is up to par with the rest of the top-rated table saws. The motor has a 3 HP power rating, and it operates at 60 HZ in 220 volts. This motor holds the ability to withstand demanding work environments and heavy-weight projects. You are sure to end up with professional-level results.
There is a bevel dial tune. That dial will allow you to quickly change the angle and make irregular cuts on your workpiece. It will also enhance the accuracy a bit further by keeping the blade leveled at the proper position.
Pros
Boasts a single-cast Trunion mechanism
Can control vibration exceptionally well
It has a bevel dial tune
Provides a higher amount of stability
The motor has a 3 HP rating
Cons
It might ship with missing parts
Some of the pieces are a bit flimsy
This table saw holds the ability to control vibration exceptionally well. It provides a high amount of stability too. So, the cuts you will achieve by using this will be accurate and highly precise. Check prices here
Jet 708675PK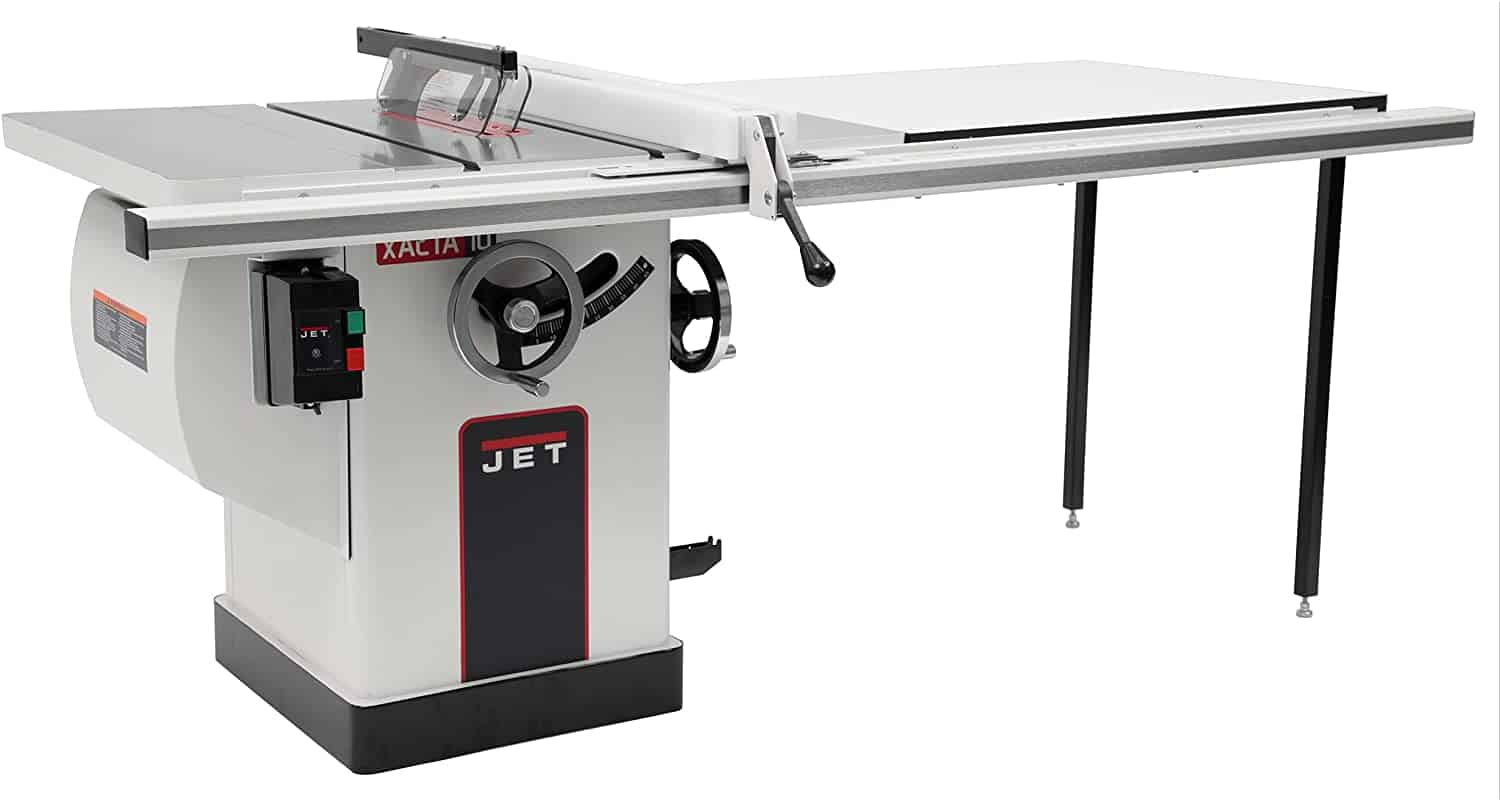 Although there are a couple of well-performing table saws, not that many can offer hassle-free riving knife-changing ability. Well, this one from Jet is one of those few.
As we have mentioned, it sports a quick-releasing mechanism on the riving knife housing. That will offer you the ability to change the riving knife quickly. The mechanism is at the right place as well. So, you will not struggle one bit in terms of reaching it.
It operates at an exceptionally low noise too. Thanks to the poly-v drive belt mechanism, the motor will run at the highest efficiency. When the efficiency is high, the noise level will be naturally low.
There is a sealed storage drawer too. You can keep important elements there and get quick and easy access to them.
The table also has a push-button for locking the arbor. It will offer you the ability to quickly and efficiently change the blades.
There will be no need to go through extra hassles. Also, the arbor lock will ensure that the blade stays at a level when you are working with workpieces.
This table even has a dust port. It is 4 inches in size and can collect emitted wooden dust efficiently. Even the airflow of the dust port is optimal, which will ensure that the working table remains clear and free from debris.
Pros
Boasts a quick-releasing mechanisms
Operates at a low noise
The motor is highly efficient
Features a push-button locking mechanism
It flaunts a 4 inches dust port
Cons
The fence is not that durable
It takes about 4 hours to assemble
The fact that it has a quick-releasing mechanism and a push locking button for the arbor impressed us. Also, the motor is pretty efficient and operates at reasonably low noise. Check prices here
What to Look for Before Buying
You can make versatile cutting using a table saw. We know that the reviews have made it look easier to get one of the well-performing and worthy table saws. But did you know that things can get much more manageable? Well, yes, it indeed can. For that to happen, you need to keep these crucial factors in mind:
Build Quality
The first thing you should consider is the build quality. Ensure that the overall construction is of high-quality material. If the unit is of average quality materials, the durability level will not be that high. And that would eventually mean a lower lifespan, which would dictate that you will not get extended use out of it.
Motor
Along with the build quality, factor in the motor. First, consider the power. The higher the power rating, the more capable the motor will be. With a table saw that has a potent motor, you would be able to carry out demanding and heavy-duty projects.
Secondly, consider the efficiency. If the efficiency level of the motor is not high, it will overheat pretty quickly. Overheating would also mean performance throttle. So, even if the power rating is high, if the motor is not efficient, you will not push it to the limit properly.
Safety System
The safety system is something that most manufacturers will skimp on. But it is pretty vital. Without having a proper safety system, you will put your hands and fingers at significant risk. You might even lose them if the accident is too severe.
For this reason, we would recommend putting proper emphasis on the safety system. The ones that stop the blade instantly as it makes contact with skin would get our preference in this regard.
Furthermore, check whether the motor has safety mechanisms or not. Overload protection, temperature protection, and other protections help extend the lifespan of the table saw.
Adjustability
Without having proper adjustability options, you will not be able to tune the operational mode according to your preference. Things such as angle adjustability and adjustable table come in handy when it comes to making irregular cuts. So, consider whether the unit you are getting has any of the adjustability options or not.
On that note, do ensure that there is a proper locking mechanism. It will be pretty much impossible to place the workpiece on the table without that securely. For that reason, we would highly recommend checking if the locking mechanism is present.
Dust Port
The dust port plays a vital role in terms of keeping the working space clean. However, a dust port that is not efficient will not keep the surface free from dust. You would also need to check whether it is large or not. Also, do consider the airflow it offers.
Precision
You should also consider the accuracy of the table saw. If the unit does not offer that much accuracy, it will be hard to get precise cuts on the workpieces. A higher precision will also allow you to get continuous and consistent cuts on multiple workpieces quickly.
Stability
Having higher stability while working on a table saw is pretty essential. If the stability is low, there will be too much vibration. And when the vibration is not controlled, the table will wobble too much, which will lead to inaccurate cuts. That is something that you do not want, right?
Considering that, we would highly recommend getting something that can offer the highest amount of stability. Those will be able to control the vibration properly, which will eventually increase the overall accuracy and allow you to make precise cuts on the workpiece.
Frequently Asked Questions
Are cabinet table saws worth it?
Absolutely! When compared to other cutting saws, they generally offer a high amount of power, are highly stable, and provide more control over the entire operation. Considering that, we would say that they are 100 percent worth it!
How powerful are the motors of cabinet table saws?
It will depend. The higher-end models will usually boast motors that have a power rating of 3 HP or more. There are a couple of units out there that might utilize motors of low power.
Are cabinet table saws wobbly?
Not at all! One of the advantages of cabinet saws is that they are highly stable. That lowers the chances of your workpieces getting ruined because of vibration or wobbling.
Can I change the blade of a cabinet table saw?
Yes, most of the units will enable you to change the blade quickly. However, some will demand a bit of work in terms of changing the blades. Nonetheless, all of them will offer you the ability to change the blade.
Do the motors of cabinet table saws overheat?
The motor can indeed overheat during intense loads. But most will have safety measures regarding this. The safety system will turn the motor off during overloads.
Final Words
We know that there are other options out there that might offer good overall performance. But the thing is that we aimed to get something that provides a good value proposition and performance at the same time. For that reason, no matter which one you pick from our list, you will end up with the best cabinet table saw.
I'm Joost Nusselder, the founder of Tools Doctor, content marketer, and dad. I love trying out new equipment, and together with my team I've been creating in-depth blog articles since 2016 to help loyal readers with tools & crafting tips.