I love creating free content full of tips for my readers, you. I don't accept paid sponsorships, my opinion is my own, but if you find my recommendations helpful and you end up buying something you like through one of my links, I could earn a commission at no extra cost to you.
Learn more
If you ever worked with any workpiece that has nuts and bolts, requires to be tightened every now 'n then, probably, you have used the channel locks.
Actually, channel locks are 'Tongue-and-groove pliers'. They are commonly known as channel locks, named after the manufacturer who first made it back in the middle of the past century.
If you aren't a creepy head you shouldn't expect a single tool will do all of the tasks. That's why no surprise that the channel locks occupy a greater portion of any toolbox as they are of different usages and sizes.
Though this feature enables you to work more precisely, it creates a bunch of problems regarding the choice of the correct one too.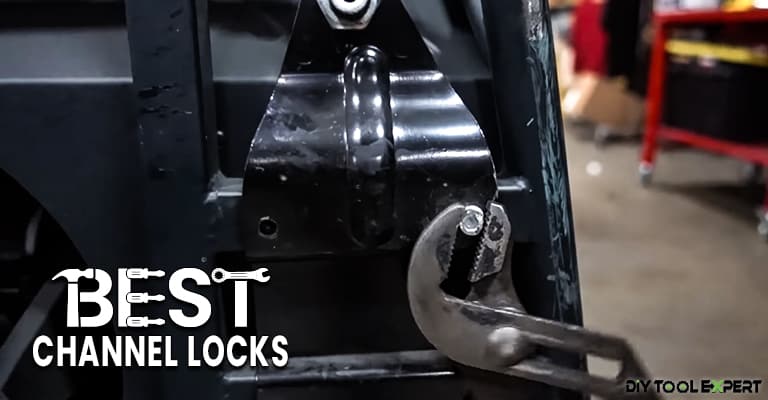 The right decisions are never made easy. But, a single step can determine the possibility of success.
Take the first step rightly and set on a journey towards the best channel locks. Surely, after going through this article you'll be an expert!
The best brand you can find is Channellock, the brand that made the tongue-and-groove pliers synonymous to channel lock pliers. And these Channellock 460 pliers with their 16.5inch width are perfect for almost every situation you'll come across.
There are some more options, like complete sets, so let's look at them real quick and then get some more into what to look for when buying a pair of these.
Channel Locks buying guide
It's obvious that there are some factors that made the best distinct from the ordinaries. We, along with professionals across the globe, have noticed some features in those channel locks that have shown outstanding performance in any test.
Here, we share our experiences regarding channel locks and push you a step closer to the channel locks you want and need.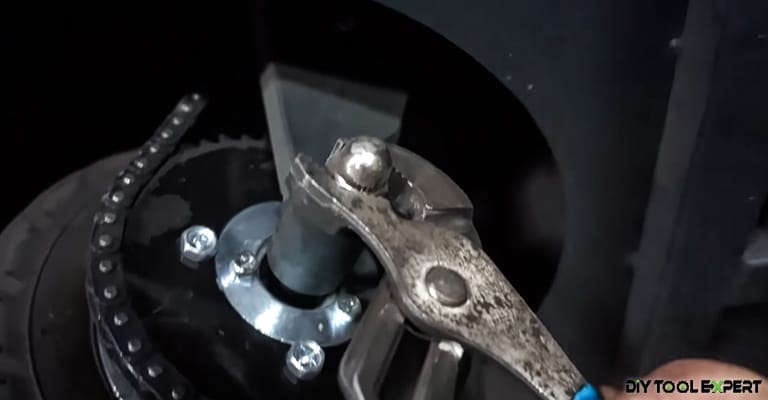 Size
You need to have a perfect sized tool to rotate the nuts and bolts or to grab certain sized objects. If you try to do something with a wrong-sized one, you may end up in a hassle. A bolt extractor may come in help here.
That's why you need to use the perfect sized channel locks. Manufacturers, these days, make different sized tools. For instance, you can get a 6.5, 9.5, or 12-inch tongue and groove.
Sometimes, all of the sizes come in a set. If you are new in this business and trying to build a great tool arsenal, better to go with these sets. This simple investment will be you back in the upcoming future, no doubt!
Grip
Okay, now we are in a section that has a certain impact on your comfort during any operation. If you are not getting enough grip over your tool during the use, then what's the point!
That's why you need to check the grip. The easiest way for that is to check the data or specifications provided by the manufacturers.
The oldest manufacturers feature their trademark blue grip which has a legendary success story over the years. Some comparatively new manufacturers have also included those types of grips into their tools.
Besides, some others have modified those and came up with an improved one. But whichever you choose, ensure that the handles are covered with soft materials.
Handle
The channel locks have a distinctive long handle. That's why they got the advantage in terms of leverage and can prove themselves a handy one when it comes down to holding something or clamping and even in cutting.
That's the reason you need to check the handle is long enough to provide you the required leverage. Again, go to the data provided by the manufacturer and find out the length of the handle, then compare the length with other channel locks.
It'll be wiser to pick up the longest one.
Ergonomics
Better ergonomics results in better leverage along with comfortable working experience. You better check the design of the tool and then compare it with another.
From our reviews below, you can have a clear conception of the ergonomics.
Budget
Okay, we know that you may not be happy to spend tons of money on a channel lock. Don't need to do so, actually!
If you are enthusiastic enough to compare the price of the same tools provided by different manufacturers, you are surely going to save money. So, compare the prices, be smart!
But another point to be noted. Do you think it will be a wise decision to pick up a creepy one and thus cut costs? Surely the answer will be a big No!
If you pick up a cheaper one with not so beneficial aspects, you are definitely going to suffer in the long run. So, consider it as an investment, not an expense and crack a great deal!
Brand
If you are a user with lots of experience, you probably have a weakness for a particular brand. Okay, it's normal. But do check the specifications and features offered by another brand may be in comparative price.
That's how you can have the perfect new one!
Best Channel Locks reviewed
Our team, under the supervision of pros, has chosen some channel locks and tested them rigorously. Throughout our tests, some channel locks have shown extraordinary performance.
Later on, we made a list of them and hereby uphold them. All of the products mentioned here have the potential to be the best choice for you. But the choice is yours!
Overall best groove joint pliers: Channellock 460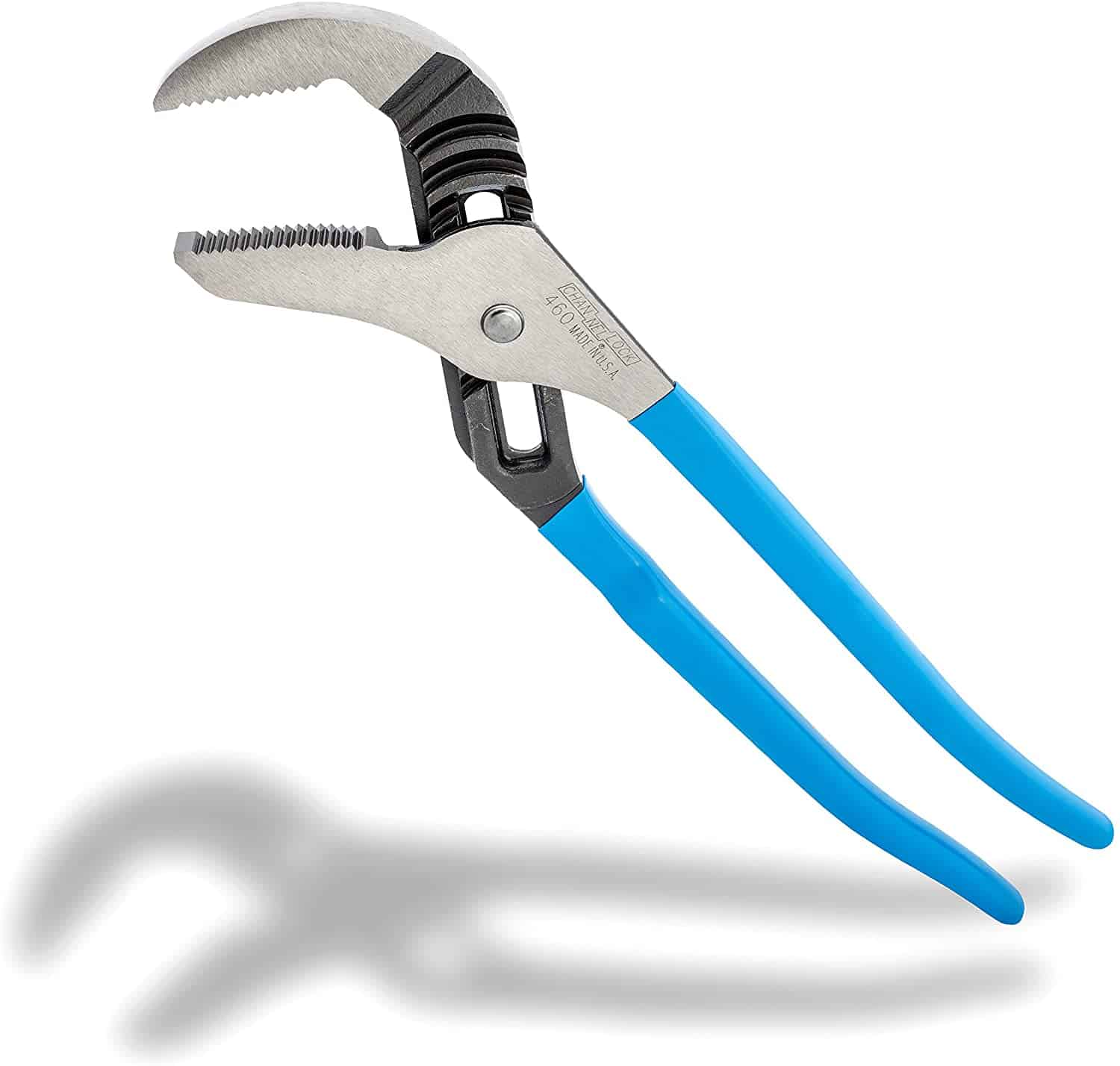 Noteworthy features
Daddy has brought another pro tool to the market! Channel-lock the oldest manufacturer of this tool has a series to offer.
To come down to this particular model, channel lock does offer a bunch of variations just to meet your needs. You can have 1.5, 2, 2.25 jaw-capacity in different overall tool sizes.
As we said earlier, channel lock offers you different features. To begin with, the teeth are something that catches your eyes. They are positioned exactly at the right angle.
But, by going deep, we found they are unique. The teeth are laser heat-treated and that's why they just grip better than others and also last longer.
The manufacturer, with its huge experience, has designed the undercut tongue and groove design that won't slip. That means it reduces the tension of slipping objects when you're in the peak operation.
Moreover, the PERMALOCK fastener eliminates nut and bolt failure and adds an extra to its safety.
The tool obviously matches with the USA standards. Patented reinforcing edge minimizes the stress breakage. Besides, high-carbon steel is used for the best output, and rust protection is introduced for longer life.
Above all, you get the channel lock blue grip for superior comfort.
Glitches
Some users found it hard to get the expected performance from the pivot. They said the pivot is a bit hard to deliver a comfortable working place.
Check prices and availability here
Best tongue and groove pliers set: Channellock GS-3SA
Noteworthy features
Again Channellock strikes! This time they got a set of channel locks to facilitate the needs of users all over the globe.
If you're a pro and need to do heavy-duty cutting, woodworking, etc. different types of tasks that require a sturdy channel lock, you are definitely going to love it.
Actually, this set is considered as the replacement of aged Channellock's GS-3S. That's why you get the improved performance from this set compared to the previous old guy.
Besides, the high-carbon steel construction has made the tool to deliver the best performance.
As we all know, rust is the main obstacle for the long life of any tool. To cope with the issue this tool is specially coated with specialized rust protection.
It means, the manufacturer already ensured the longer life of the tool with this ultimate rust prevention.
Trademark teeth of the Channellock are also used. They are positioned exactly at the right angle to get accurate pressure. The laser heat-treated teeth are meant for heavy-duty long use.
The specialized undercut tongue and groove design is fiddle not to slip. Moreover, the painted reinforcing edge minimizes stress breakage. Above all, you get a 6-in-1 professional screwdriver included in the set.
Glitches
Some experienced slight trouble to get the maximum leverage from the tool.
Best cheap budget set: Workpro Straight Jaw Pliers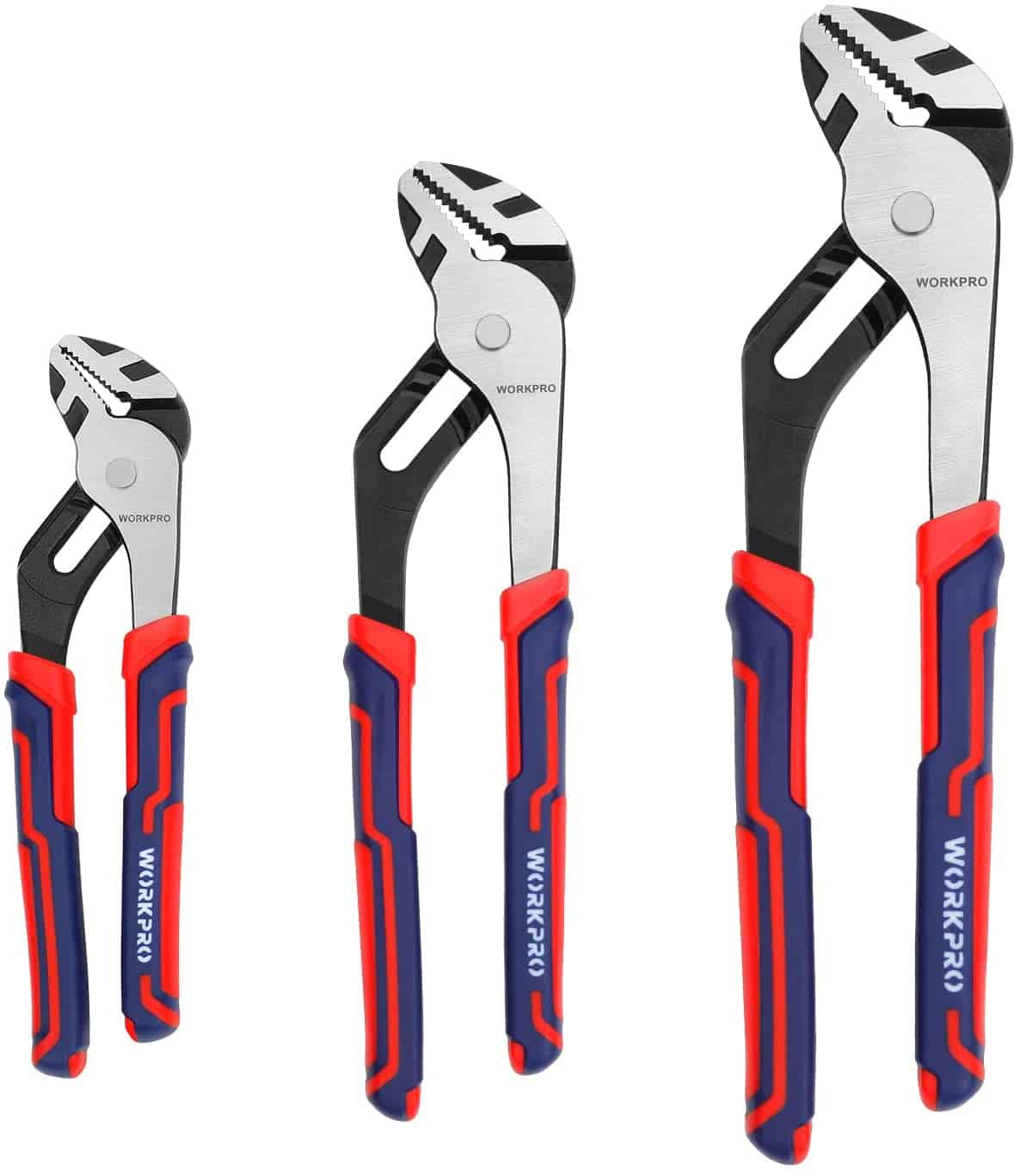 Noteworthy features
Workpro, an experienced manufacturer of tools, has brought an awesome pump plier with superb features. Its improved new design has made the tool a reliable companion for your daily tasks.
It also comes in a 3-piece value pack consisting of 8, 10, 12-inches pliers. These pliers can be an extra feature to your tool kit with all of the features offered!
This plier features an unconventional design, not like your regular pump pliers. This plier has a hidden revert to make sure that the task goes smoothly.
Especially, the plier makes sure that any task in a narrow space can be done easily. This empowers you to do with any tiny shaped objects.
Save bucks by grabbing the pliers inset. You can get three different pliers for dealing with three distinct types of objects. The manufacturer promises to deliver the set in minimal time.
The tool is protected with double-layer surface protection technology. That's why you are free never to worry about rust and corrosion. This feature ensures durability and effectiveness.
The manufacturer treated the teeth of the pliers especially. The hardened carbon steel teeth are meant to deliver maximum grip. Moreover, you can use the tongue and groove pliers to tighten wires, cable, bolts, etc.
Besides, you can hold crooked shaped objects and even can do plumbing works by holding pipes and etc. With minimal requirements, the tool can last for long.
Glitches
You may notice the handles are difficult to operate. They may overlap and thus can cause problems while gripping.
Most durable rubber grips: THANOS Channel Lock Pliers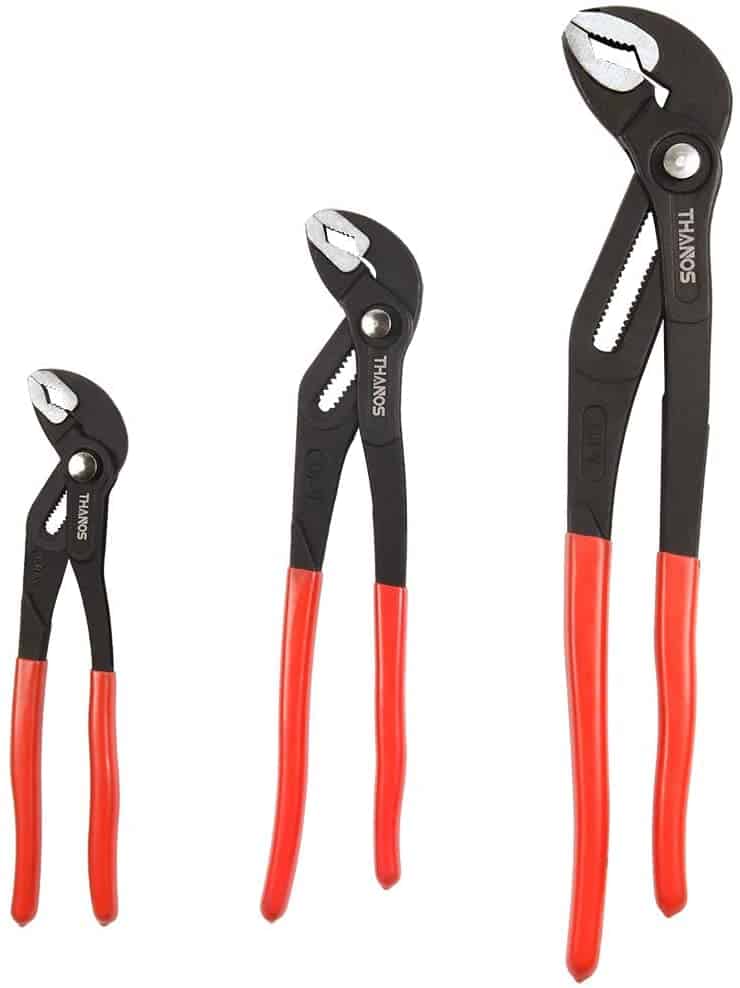 Noteworthy features
This rookie features specially constructed body which is made of chrome vanadium steel. This material has made the tool sturdy and comparatively light.
Besides, the construction material helps to prolong the service life. A chrome layer is put on the top surface to prevent rust and corrosion.
You get a slim profile but with hardened teeth that can hold anything. One-handed wrenching action in tight spaces is now possible. Thanks to its grips and special slim design.
Amazingly, you can adjust the positions of the slip joint pliers. Thus, you can meet the need of holding any sized objects.
Moreover, this adjustment button features self-locking teeth just to avoid slipping of the workpiece.
The handles are worth mentioning. Those handles are covered with PVC rubber-dipped handles. That's why you get a soft grip which is yet strong enough to generate the accurate force.
This grip is made to ensure a secure grip so that it never slips. This arrangement can create more torque with less effort.
You can now work with a vast number of workpieces including stuck or corroded nuts, bolt, and pipes to clamp using pipe clamps, grip and twist various fastener and fitting.
The top-notch V groove pliers can grip objects of any shape and size. You get a lifetime warranty with chances to replace or refund.
Glitches
Some may have issues with the grip. Besides, you may encounter a minor problem to apply pressure on any objects.
Best channel lock pliers for plumbing: KNIPEX Tools Cobra Water Pump Pliers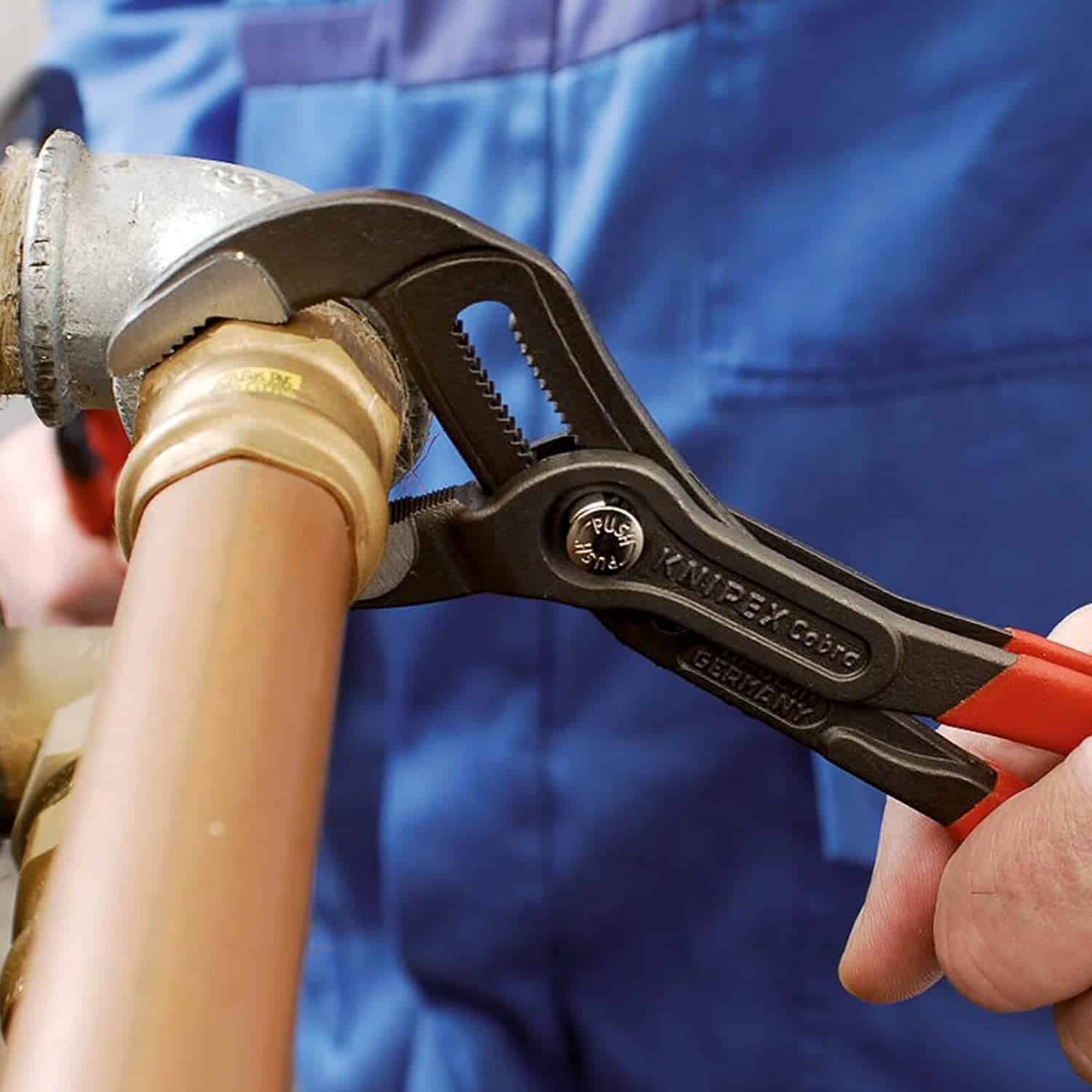 Noteworthy features
You got a 3-piece set that includes 7-inch, 10-inch, and 12-inch groove joint pliers. This set is too handy and can ensure that you can grab any sized object with ease.
That's why you get the opportunity to work with different workpieces at an affordable price.
You fix industrial machinery? Or work with faulty faucets or maintain pipelines? No matter! You can use this set to beneficiate your task and can complete the task in minimal time.
This tool ensures accurate pressure when needed with its balanced leverage and thus can cut down your fatigue!
Don't worry about durability. The premium quality alloy steel with heat-treated technology ensures the longevity of this tool.
Besides, the combination also ensures proper strength in all directions needed. Anti-slip is also ensured by sturdy teeth. The dipped handles provide a secure yet comfortable grip.
That's why you feel less fatigued. Last but not the least, the product comes with a 1-year limited warranty.
Glitches
The warranty period of the product is not as long as many other manufacturers offer. Some said that the groove doesn't run deep to ensure perfect non-slip functioning.
FAQ
Knipex vs Channel Lock – FULL Comparison
What are channel locks actually called?
The multi-groove plier is a type of plier that can have multiple grooves for adjustment of the mouth of the plier. The trade name for such pliers is "channel locks".
Is Knipex better than Klein?
Both have a set of crimping options, however, the Klein has more of them, but the Knipex do a better job with the wider surface area crimper. They both have the shape of needle-nose pliers mixed with a lineman's pliers, but the larger surface area of the Knipex proves to be far more useful.
Is Knipex a good brand?
Knipex is definitely a quality brand. I specifically like their pump pliers. The Linemans are pretty good too, but they are lighter than most others. I used a variety of brands for tools.
Are channel locks pliers?
The CHANNELLOCK Straight Jaw Tongue and Groove Plier is the tool every home and garage needs.
Are Knipex pliers worth it?
Lastly, this tool packs the value of two tools into one by doing the same job as water pump pliers and an adjustable wrench. Add to that the fact that Knipex is a high quality, durable tool and that makes it worth the investment worth it.
Do channel locks have a lifetime warranty?
Built Strong Limited Lifetime Warranty – Channellock, Inc. All CHANNELLOCK® pliers, wrenches, snips and drivers are warranted for material and/or workmanship to the original owner.
Is Vise Grip a brand?
"Mole" and "Vise-Grip" are trade names of different brands of locking pliers, yet mechanics and do-it-yourself hobbyists and craftspeople generically refer to locking pliers as "Vise-Grips" in the US, and "Mole grips" in the UK.
Is Klein a good brand?
Klein linesmans are a staple of the industry. They are solid. You can buy a cheaper set to start out. The kleins are made to last.
Does Home Depot sell Knipex?
KNIPEX – Pliers – Hand Tools – The Home Depot.
What is the difference between Knipex Alligator and Cobra pliers?
The only big difference is that the Knipex Cobra has a quick release button for adjusting the jaw opening on the pliers. Also, Knipex Cobra pliers have 25 adjustable positions whereas the Alligator pliers only have 9 adjustable positions.
Who founded Knipex?
Carl Gustav Putsch
KNIPEX Tools was started in 1882 by Carl Gustav Putsch, a journeyman, who along with two apprentices started up a small forge to craft pliers in Cronenberg, Germany.
What's another name for channel lock pliers?
What is the proper term for channel locks? Tongue-and-groove pliers are a type of slip-joint pliers. They are also known as water pump pliers, adjustable pliers, groove-joint pliers, arc-joint pliers, Multi-Grips, tap or pipe spanners, gland pliers and Channellocks (i.e., Channellock brand pliers).
What kind of pliers are channel locks?
CHANNELLOCK Straight Jaw Tongue and Groove Pliers are made in USA and forged from high carbon steel that is specially coated for ultimate rust prevention. The Crescent Z2 line of pliers is Crescent's most advanced range of professional pliers.
Q: Can I use the channel locks for clamping purposes?
Ans: Of course, you can! The channel locks can provide you a pleasant clamping experience by holding the objects in position.
Q: What precautions should I take?
Ans: Just be careful of the fingers. They may come in line with the working area of the channel lock and so you can be injured. You should use hand gloves to protect your hand from the tool. That's why you should also secure them in a secure dry place.
Q: How can I prolong the lifespan of the channel lock?
Ans: Ensure the daily maintenance of the tool. You should not allow any debris to clog inside the jaws. This debris may cause rust and shorten the lifespan of your tool.
Conclusion
Let us guess your state after seeing so many superb picks. Every product mentioned in the list has the ability to take the crown. Okay, let us step in and reveal our choice for the best channel locks.
Our experts have chosen Channellock GS-3SA Tongue and Groove Plier set as it ensures your tasks with different sized workpieces.
But if you want to try a new brand, you can try THANOS Tongue and Groove Slip Joint Pliers Set. We've upheld our editors' pick here.
But it's you who has full control over the final choice.
I'm Joost Nusselder, the founder of Tools Doctor, content marketer, and dad. I love trying out new equipment, and together with my team I've been creating in-depth blog articles since 2016 to help loyal readers with tools & crafting tips.