I love creating free content full of tips for my readers, you. I don't accept paid sponsorships, my opinion is my own, but if you find my recommendations helpful and you end up buying something you like through one of my links, I could earn a commission at no extra cost to you.
Learn more
No human hand and no other tool in the market can accomplish what a good concrete saw can. It can cut through brick, concrete, stone, and more like butter. These are the toughest materials used in construction work.
Without the invention of the concrete saw, it would not have been possible for us to make the buildings of today with such grandeur and complexity.
The best concrete saw in the market needs to have sharp blades and a strong engine. Blade efficiency is the most essential if you want to complete projects with this tool.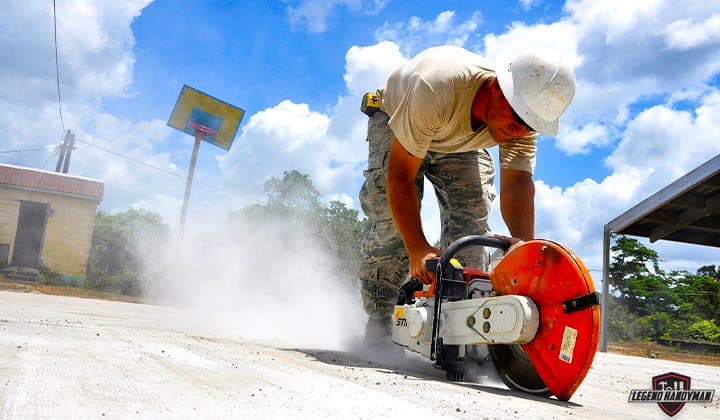 It is a tough machine. And with the right kind of specifications, it can slash through stones, bricks, and many other such rock-solid materials used in construction work with power and precision.
Our Recommended Best Concrete Saws
A concrete saw requires a powerful engine and a blade with great tensile strength. Herein, we have a few suggestions and words of advice for you, which is why we have written this concrete saw review. Hopefully, it will help you in your search for the right tool.
SKIL 7″ Walk Behind Worm Drive Skilsaw for Concrete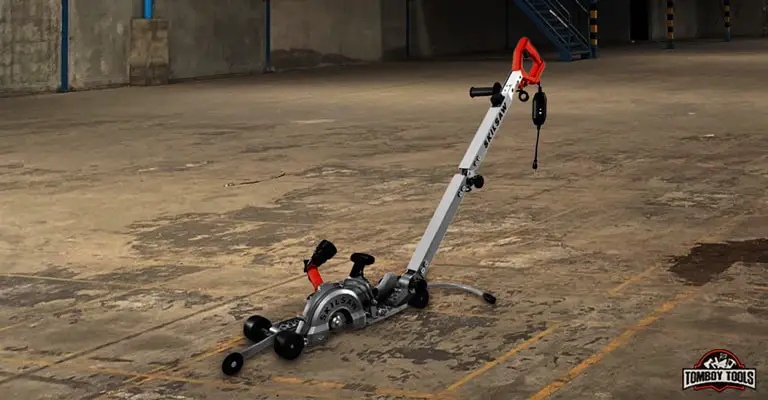 This is a complete concrete cutting system brought to you by SKILSAW. This one is perhaps the only walk behind concrete saw on the market that features worm drive technology. If you want to do decorative concrete on the sidewalk, this machine is the perfect entry-level concrete saw for the job.
SKILSAW concrete saws are designed to cut accurately from a standing position, which means you won't have to bend down. There is a wheeled pointer attached to the saw's front, and it sits on four wheels. As a result, the user can see exactly where and what the blade will be cutting.
The pivoting pointer and the worm drive technology provide unrivaled precision and convenience. You will highly appreciate its wet or dry dust management system. It can efficiently control and prevent dust output resulting in longer tool life and cleaner cuts. It's easy to use, portable, and lightweight enough to carry.
To improve control and reduce fatigue, it has a two-finger trigger. This 7-inch MEDUSAW walk behind concrete saw features all-metal, industrial-grade components such as rust-resistant fasteners and brackets, die-cast aluminum housings, and more.
You can always count on this tool to power through the toughest concrete jobs while standing up. A blade with a width of 7 inches and a motor powered by 15 amps can cut through concrete to a maximum depth of 2 1/4 inches.
Through the built-in water feed assembly, the saw can cut smoothly and easily when connected to a water supply. You can also adjust the cutting depth. This isn't as bulky as a big walk-behind saw. The large foot and the oversized wheels make this saw more stable.
Pros
Powerful worm drive system for maximum cutting power.
OHSA compliant dry and wet dust management system.
It comes factory stresses tested to cut up to 3 miles.
One of the best walk-behind concrete saws on the market.
Cons
Make sure to get a better blade.
Makita 4100NHX1 4-3/8″ Masonry Saw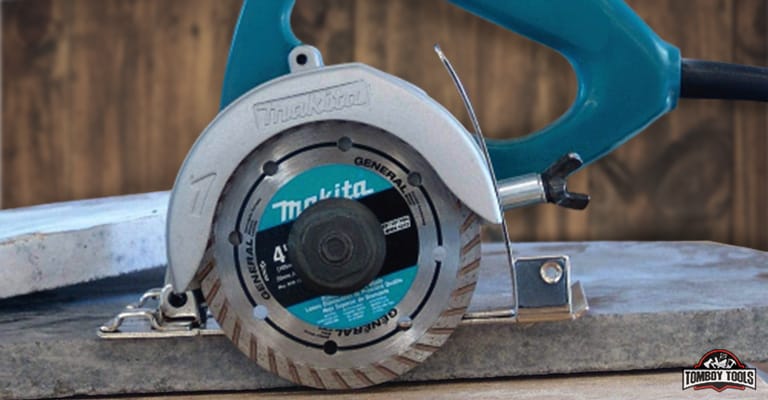 The Makita 4-3/8-inch masonry saw is powerful enough to cut quartz countertop like butter. This saw comes with a 4-inch diamond blade and is powered by a 12 AMP motor. It also has a good dust management system. With this electric concrete saw, you can easily cut concrete, tile, stone, and more.
It is powerful and capable of cutting through pretty much anything. This saw is described by users as a true workhorse, with a lot of power and outstanding performance. Besides cutting, this is an excellent device to use in a range of other applications as well. It has a maximum cutting capacity of 1-3/8″.
The rear side of the motor housing is flat, which allows for easy blade replacement. It also includes a convenient lock-off button. To improve user comfort, Makita managed to keep the weight down of this concrete saw. It only weighs 6.5lbs. Also, this tool comes with two 4-inch diamond blades.
In order to ensure a smoother cut and finish, the blades are engineered to have constant contact with the material. The cutting capacity of this saw is also increased to 1-3/8-Inch. This masonry saw has a compact design that reduces operator fatigue. Even though it's lightweight and small, this tool has plenty of power.
Pros
It comes with 4-inch diamond blades.
It has a cutting capacity of 1-3/8″.
A powerful 15-amp motor capable of generating 13,000 RPM.
A lock-off button for safety.
Cons
Don't use it on porcelain tile.
Metabo HPT Masonry Saw, Dry Cut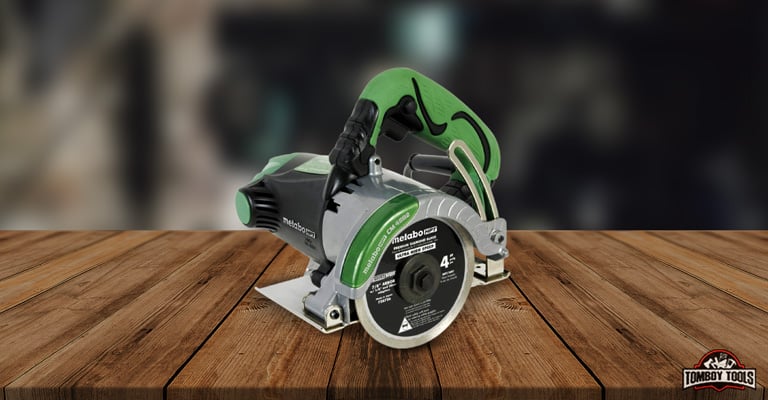 The Metabo HPT is a well-known concrete saw and is also widely used by construction workers. The Metabo HPT, formerly known as Hitachi Power Tools, is a leading brand in the power tools industry. Now, this is a heavy-duty and powerful saw that you can use all day with ease. It weighs only 6.2 lbs. and is also very compact.
This dry cut saw is powered by an 11. 6 Amp motor that can produce 11500 RPM no-load speed. With this much power, you can easily and efficiently cut through even the toughest of construction materials. It comes with a 4″ continuous rim diamond blade and has a maximum cutting depth of 1-3/8″.
This heavy-duty concrete saw is ideal for dry cutting applications, thanks to the sealed armature coil. The sealed design protects the interior from dust and debris. In addition to that, the concrete saw also features metal seated ball bearings. This will ward off any damage to the motor caused by vibrations and high temperatures.
Also, adjusting the cutting depth is quick and easy, thanks to the one-touch lever adjustment. For professionals who need a powerful workhorse tool at a cost-effective price, this dry-cut saw is the ideal option. The piece of machinery feels heavy and solid, and I know that it is high-quality.
Rock-solid construction, no vibration, fast cutting, and best of all, easy to use. You can control it very well, and because of the weight, you do not spend as much time biting into the material.
Pros
One-touch lever adjustment.
Metal seated ball bearing.
A sealed armature coil.
A powerful 11. 6 Amp motor.
It comes with a premium, continuous rim 4-inch diamond blade.
Cons
Nothing to nitpick about.
Evolution DISCCUT1 12″ Disc Cutter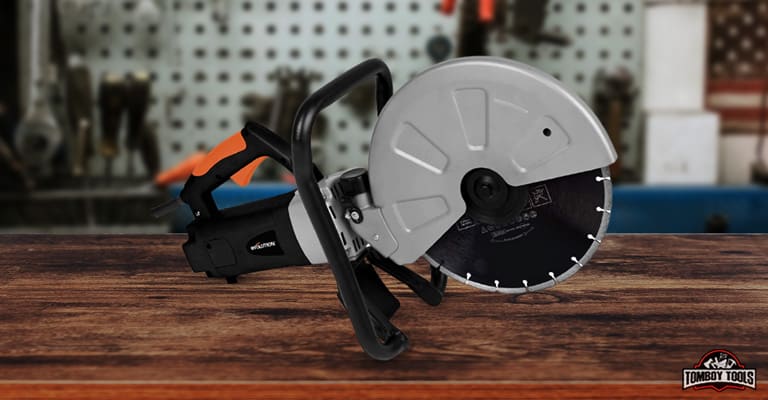 The most important thing about an electric power tool is its ability to sustain the huge amount of pressure it goes through while cutting concrete day in and day out. For this, the Evolution DISCCUT1 is a tool that you can rely on. It is hardcore and robust, plus has a 1800W motor of 15 amps, which gives it a high torque power.
Now, torque power is the power with which the blade rotates in the cutter. The higher the torque power, the more efficient your blade will be at cutting. Many machines in the market are as versatile as this. So that might not impress you. What will, though, is that you will be able to keep this machine dormant for months and still not have it age a day.
This concrete saw runs at a speed of 5000 RPM, which means that it is super fast. You will only need to hold this 21-pound machine for so long before it's done with the deed. The grips on the handles of this machine are very soft and they are placed both at the front and the rear handles of the cutter.
Also, you can skip the hours of maintenance time and money on this. The device runs on petrol, which keeps the internal body of the machine running smoothly without getting jammed up.
Pros
It has a 12-inch diamond blade that can cut to a depth of 4 inches.
The styles of cutting are progressive, incremental.
Also, the spindle lock makes blade replacement easy.
It's a multifunctional device and can be used as a jackhammer, a demotion hammer, and a plate compactor.
This thing also has a high torque power and a powerful motor.
Cons
The screws are not properly tightened, so check before use. It also takes a fair amount of time to cut deeply.
DEWALT DWC860W Masonry Saw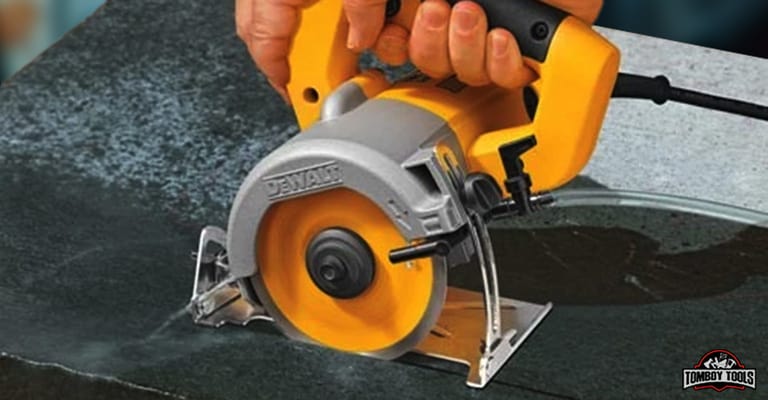 The first thing you might notice about this machine is that it does not have as powerful a motor as the previous two models we discussed. In spite of that, the 10.8A motor housed inside it cannot be considered to be weak by any stretch of measure.
This is one of those small but dynamic motors that can conquer everything, starting from porcelain, granite and moving over to concrete and other hard materials used during construction work.
These blades are robust, and they can cut both in straight lines and in slanted lines. One notable problem with the size of this blade is that it is a fairly uncommon size. So you might have a hard time finding a replacement for this in the market.
However, you need not worry. We have found out that blades of one or two sizes smaller than this can also be used as a replacement.
We think that the buy is worth it because this machine is a pretty powerful tool considering that it only weighs about 9 pounds, which is pretty rare when it comes to such able and versatile electric saws such as this.
The lightweight body can deliver a speed of 13,000 RPM, which will allow you to work very fast. So, putting 1 and 1 together, it is safe to say that you will have great control over this machine, as a result of which you will be able to finish your work with superior efficiency.
Pros
It has a strong motor of 10.8 amp and the machine is very manageable due to its weight.
The diamond blade is 4.25 inches and it is durable.
It has a water line that cleans the saw automatically after use and the depth of cuts is adjustable.
This thing has a very user-friendly grip on the handles.
Cons
It cannot saw through tough materials in a straight line; the machine wobbles.
Husqvarna 967181002 K760 II 14-inch Gas Cut-Off Saw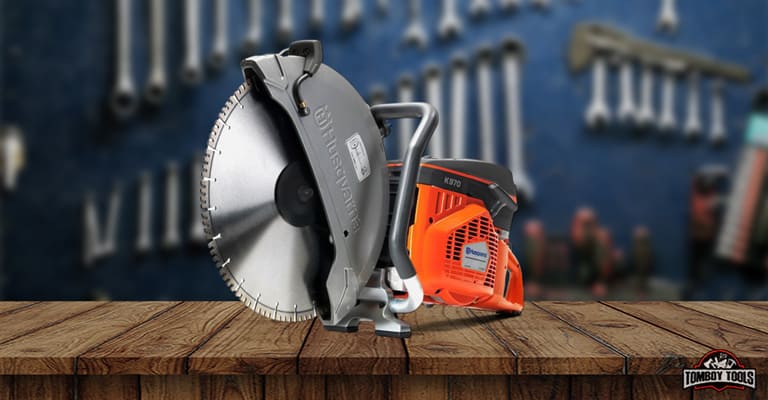 You might not have heard about this one, but this uncommonly named device is also one of the toughest electric saws in the market. It is a gas-powered concrete saw, and so, is by nature stronger than the electric ones. In terms of power, this is one of the best concrete saws on the market.
The greatest asset of an electric saw is its ability to deliver high bursts of power to the work in progress, and this 14-inch saw does not disappoint. One of the complaints prevalent about gas-powered concrete saws is that they are very noisy.
Many people turn away due to the noise that these gas saws are known to make. However, these heavy-duty concrete saws have started to earn their name back in the game by additions such as this Husqvarna saw. Some advanced gas cylinders which deliver more efficient performance have been installed in these.
As a result, these cylinders are very effective at holding and dispensing oil. The motor does not need to exert a full-blown force to get the saw to do its work. As a result, these machines do not have noise problems anymore.
So, as the point stands, here you have a powerful gas-powered device that does not disrupt the peace and quiet of the area, and yet gets the work done with great efficiency and speed. Also, there is a new air filtration system installed into the machine. It reduces the amount of debris in the air as the saw gets to work.
Pros
The system is quiet yet powerful and has a good cutting depth.
It comes with a 14-inch blade that gets the work done fast.
It also has new advanced cylinders that deliver better performance.
An active air-filtration system.
Cons
The device is bulky and heavy and the gas needs to be mixed before feeding into the machine.
Makita EK7651H 14-Inch MM4 4 Stroke Power Cutter
Makita is a very renowned tool company that has been delivering durable machines to buyers since 1915. This stroke power cutter is no exception to that. It upholds the Makita reputation making the customers satisfied on many levels, ranging from efficiency to comfort.
This is a corded electric tool, which means there will be no oil mixtures required to make this tool run. There is a clear primer bulb that transfers the fuel to the carburetor quickly so that there is no delay in starting up the machine.
There is also a choke plate that cuts off excess oil flow into the delivery valve so that it delivers just the perfect amount of fuel.
Another thing that aids in giving the machine a quick start is a valve that decompresses the engine automatically in order to kick up the gear and reduce the force required to start up the machine by 40%.
The air that flows to the engine is cleaned by five stages in a system that uses foam, paper, and nylon. This system thoroughly cleans the air and increases the lifetime of the engine. The machine also keeps the noise levels low while working efficiently at full force.
Pros
It has a great filtration system to ensure that the engine has a long life.
The noise levels are kept low.
This thing uses the fuel very efficiently.
The blade arm of the machine quickly changes position to make cleaner cuts.
It has a replaceable tank fuel filter alongside a quick-release water kit attachment.
Cons
It takes time to start up.
Types Of Concrete Saws
Concrete saws are the only tools that can be used to reshape existing concrete pieces with precision. A concrete saw is usually corded; however, portable models with gas or battery power are available.
Furthermore, concrete saws can range greatly in size and cutting depths, so it is important to determine the type of saw you need for your projects.
For some, a small handheld concrete saw might do the trick. However, for larger projects, you might need big walk-behind concrete saws.
Gas-powered Concrete Saws
These saws create a lot of fumes and exhaust gases. Therefore, they are mainly used for outdoor work. Gas-powered models use gasoline to operate. Because of the high power of a gas saw, you will find gas-powered models on a lot of construction sites.
Electric Concrete Saws
If you are working indoors then an electric concrete saw will be the best choice for you. It uses electricity to drive the blade, and it comes in different ranges of power settings. The best concrete saws are corded.
Walk-Behind Concrete Saw
Unlike handheld concrete saws, you will be able to stand up straight while you use these tools. These are a little more expensive than the average cement saw, but it's completely worth it. These are particularly recommended to you if you have do large-scale work.
Handheld Concrete Saws
If you want a portable device for doing more detailed work like cutting wall openings, then a handheld concrete saw will be ideal for you.
Maximum Cutting Depth
You should consider the depth to which the concrete saw can cut and the blade the saw comes with. Generally, hard material isn't very thick, so a saw with a deep cut isn't needed for paving stones and tile.
It is better to use a deep-cut concrete saw (walk-behind concrete saw) if the saw is to be applied to paved driveways, streets, or sidewalks.
Depending on the project, a combination of massive concrete saw and compact saw will likely provide the best performance, accuracy, and precision.
Cutting across broad areas and cutting angles is simple and fast with this machine. Concrete saws with adjustable depth settings offer better precision and control as you work.
Cutting Methods: Wet or Dry
Generally, concrete saws are used for dry cutting, but some have built-in water feeds for wet cutting so that water is pumped to the area where the saw is operating.
Cuts in concrete, cement, stone, or other materials are made using dry cutting techniques without water as a lubricant. However, wet-cutting concrete saws are better for this job. You will find saws that are capable of both wet and dry cutting.
Dust created by the dry cutting method can cause serious health problems if inhaled or if it gets in the user's eyes. It is also recommended to use the water whenever possible when cutting concrete since dry cutting wears the blade out quicker. When dry cutting, you will need a heavy-duty saw with adjustable depth control.
Using a wet concrete saw is one of the best ways to prolong the life of both the saw and the blade. When you are wet cutting concrete, dust produced by the saw is trapped in water, reducing the potential health hazards associated with inhalation.
The second function of water is to lubricate the blade. Through the use of this method, the blade is cooled down and allowed to move more freely through concrete.
Portability
A long electric cord or an extension cord is commonly used to power concrete saws. It gives consistent power to the saw, which means cuts won't be interrupted, but the cable poses a tripping hazard, so this can be a hassle.
Concrete saws powered by gasoline or batteries are more portable options. While gas concrete saws have exceptional power, they can be a bit slow to start up and emit fumes when in use.
Power output from battery-powered tools is not as high as that of gas concrete saws. Even so, they start instantly at the push of a button, and they can be extremely conveniently handled, managed, and controlled for a more accurate result.
Engine Types: Two-Stroke vs. Four-Stroke
Two-stroke engines have fewer moving parts than four-stroke engines. This means that if your machine has a two-stroke engine, it will start up faster. Also, they can use fuel more efficiently, and so they will produce fewer fumes. You will also be able to save money that would otherwise have gone after fuel purchase.
Four-stroke engines are bigger than 2-stroke engines, and therefore, they require more time to start up. The numerous parts inside the engine also mean that it needs a good amount of maintenance work. However, they will last longer than two-stroke engines if they are being taken proper care of.
Horsepower
The greater the horsepower of your engine, the stronger and faster your concrete saw is. However, the stronger the engine, the higher is the price point for it.
Don't blindly invest in the best saw you can find in the market. Decide if you have use for it because machines with a smaller horsepower will also serve you well if you are working on small-scale projects.
Handles
This is the most overlooked feature. However, considering that you will need to do the sewing by hand, the handles are a pretty important factor to consider. Look for soft and strong grips on the handles. These will give you more control over the machine.
Concrete Saw vs Circular Saw
Circular saws are powerful hand-held saws with a circular blade or an abrasive disc that cuts the materials worked upon. It spins in a rotatory machine around an arbor and can cut materials like plastic, wood, metals, or masonry.
A concrete saw, on the other hand, cuts harder materials like concrete, bricks, and steel. They can come in many different styles, for example, they can be hand-held, they can come as chop-saw models, as large walk-behind models, and so on. You will have many more variations of styles with these saws.
And therefore, they are more versatile than circular saws.
Frequently Asked Questions
Q: Being left-handed, can I use my machine at home which is a right-handed tool?
Ans: Yes, you can. In fact, left-handed tools are designed for right-handed people and vice versa.
Q: Do I need to mix the oil with fuel before putting it into the machine?
Ans: Mixing the oil is necessary because this mixture helps the machine to run smoothly. The oil is there to provide lubrication to all the moving parts of the engine so that they move with zero resistance.
Q: Do I also need to use coolant for my device?
Ans: Yes, if you don't want it to overheat. This chemical will cool the parts of the machine that are getting too heated up. So, using coolant is absolutely vital for your machine to deliver to its full potential.
Q: What happens if the machine gets too heated up?
Ans: You need to put your machine down if it gets too heated up. Prolonging use beyond this point might cause the wires to catch fire. And this will not only damage the machine, but it will also be a hazardous situation for you.
Q: Two-stroke engines and four-stroke engines, which are better?
Ans: If you want a fast tool, then go for the machine that has a 2-stroke engine. If you want to use your tool for many years without a replacement, then go with the one that comes with a 4-stroke engine.
Final Words
In this article, we have packed in all the information on concrete saws that could be of use to you. We hope you won't face any difficulty with choosing the best concrete saw from the options that you have available at hand. Best of luck with your purchase!
you may also like to read – the best scroll saw
I'm Joost Nusselder, the founder of Tools Doctor, content marketer, and dad. I love trying out new equipment, and together with my team I've been creating in-depth blog articles since 2016 to help loyal readers with tools & crafting tips.