I love creating free content full of tips for my readers, you. I don't accept paid sponsorships, my opinion is my own, but if you find my recommendations helpful and you end up buying something you like through one of my links, I could earn a commission at no extra cost to you.
Learn more
Do you have an unnecessary tree in your yard that has become a headache? It is not a coincidence, but a common problem for 60% of Americans.
Whether you are a beginner or a professional, having the best crosscut saw will be a big relief in your many daily problems. It's the perfect tool for getting rid of pesky trees or cutting large wooden pieces.
They cut smoothly and cleanly in a fast and comfortable way, thanks to the special teeth pattern.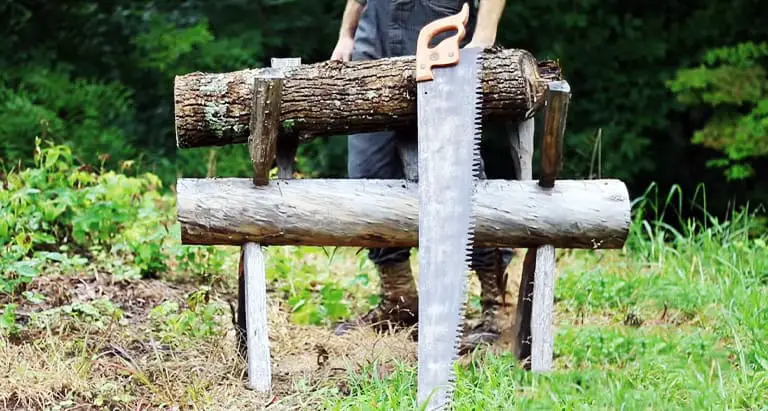 By far, my favorite crosscut saw is the STANLEY 11-TPI 26-Inch (20-065). It is a great generalist that features advanced blade technology for efficient cuts. Its teeth remain sharp longer than most other crosscut saws and I love the authentic look of the wooden handle, which makes it also very comfortable to wield. 
It might be your favorite crosscut saw as well, but the best crosscut saw for you also depends on what you will be mainly using it for.
Before I get into more detail though, check out my other top choices. I'll then give you a quick product guide before we discuss all the choices more in-depth below.
How to recognize the best crosscut saw
Sometimes, you think you have chosen the best product, but it doesn't provide the best performance. Unfortunately, this can be due to inaccurate advertising.
Here are some features to consider when purchasing a crosscut saw to ensure that you buy the best product on the market.
Blade
The main part of the crosscut saw is the blade. The blade should be made of durable metal like stainless steel or titanium that will ensure that it is strong and rust-resistant.
The length of crosscut saw blades vary from 15 to 26 inches (and up to 70 inches for two-man saws!). The longer the blade, the longer strokes you can make, and the faster the cut is done.
However, sometimes a shorter blade is more efficient for the smaller and more precise jobs, and also makes storage easier.
Handle
Next up in importance, is the handle of the crosscut saw.
Its design and shape should fit your hand properly, it should have a good grip and of course, be strong enough to withstand the force that is inflicted on the blade.
Also make sure the handle is big enough to fit your hand comfortably, also when you are wearing gloves.
Crosscut saw handles come in either plastic (often with rubber reinforcements) or wooden versions. Both work fine, it comes down to personal preference which one you favor.
It has to be said that a wooden handle does give the saw an authentic look.
Type
In general, there are two types of crosscut saw:
one man saws
two-man saws
Whether you need one or the other is dependent on the nature of the job.
If you are going to cut trees or large wood pieces of wood, and a lot of manpower is required, then it's better for two people to cut, which means you will need a two-person saw.
For small pieces of wood or more precise cutting jobs, a one-man saw is better and more efficient.
Teeth
The teeth should be sharp and set at a good angle and shape. The height of the teeth must be uniform to ensure fast and clean cutting.
Look for the TPI (teeth per inch) indication to get a sense of the fineness of the teeth, the higher the TPI, the smoother the cut.
With coarse blades, so a low TPI number, you can saw faster though, and it again depends on the jobs you will be doing with the saw.
I have both a fine tooth and a coarse tooth saw in my tool shed.
My recommended best crosscut saws
You might be overwhelmed by the available choices when it comes to choosing the best crosscut saw. Don't despair.
I have reviewed the top crosscut saws on the market to help you make your decision and save you research time.
Best overall crosscut saw: STANLEY 11-TPI 26-Inch (20-065)

My absolute favorite crosscut saw, and the one I also recommend to others, is the Stanley 20-065 26-Inch 12 Points Per Inch ShortCut Saw.
This traditional one-man crosscut saw is very versatile and the ideal tool to cut plastic, pipes, laminate, or any wood.
Slightly larger than some of my other recommendations below, this Stanley saw has a very good shape with a comfortable handle and a sharp blade.
The teeth of the saw are induction hardened, which means it is sharper than any other type of teeth and also ensures that you can use them without re-sharpening for a long time.
Due to the shape of the teeth, it cuts faster and smoother, to save time and improve the level of performance. It especially excels when cutting wood against the grain.
The handle is made of hardwood, and the size and shape are a perfect fit for almost anyone's hand. The color and the design are definitely attractive too.
It comes with a handy protective sleeve to keep you and the saw safe when it's hanging in your tool shed.
Features
Blade: Steel blade, 26 inch
Handle: Hardwood handle
Type: One-man
Teeth: Induction hardened teeth, 11 TPI
Best small lightweight & budget crosscut saw: Stanley 20-526 15-Inch SharpTooth

Stanley is one of the most trusted tool manufacturers, and here's another great crosscut saw from them. The Stanley 20-526 15-Inch 12-Point/Inch Sharp Tooth Saw has a number of appealing features.
First off I like that the blade is only 15 inches long, which makes it the ideal crosscut saw for smaller jobs. The price also makes it easy to buy this next to a longer crosscut saw.
It has a solid and powerful blade with sharp teeth arranged in the perfect pattern and shape. These teeth remain sharp longer than any other tool.
The teeth are induction hardened teeth, which means they are strong, powerful, and durable.
Now let's talk about the handle. It is well designed to provide maximum grip while you are working. The rubber grip provides you with added comfort.
Whenever you use a saw, you should always be safe. The handle is welded to the blade to make sure it will never loosen up while you are working with it, and prevent injury.
Unfortunately, some users have mentioned that the blade is too flexible.
Features
Blade: Steel 15 inch blade
Handle: Ergonomic plastic handle
Type: One-man
Teeth: Induction hardened teeth, 12 TPI
Need an even smaller saw for on the go? Check out these Best Pocket Chain Saws for Survival
Best specialized coarse teeth crosscut saw: Irwin Tools Marathon 2011204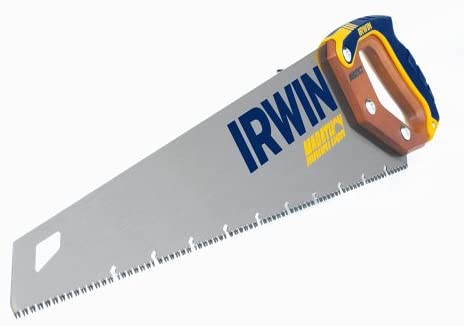 The Irwin saw is a great choice for the rougher woodcutting jobs because of its advanced teeth technology.
The patent-pending M2 tooth technology ensures the smoothest cutting experience. This blade has deep gullets between the teeth that remove the chips rapidly, which also makes cutting faster.
The blade is specially designed for coarse cuts and the tapered nose improves the clearance and stability of the saw. The blade is made of good quality metal and has the perfect thickness for rigidity.
The ergonomic hardwood handle with ProTouch rubberized grip provides comfort and control.
Features
Blade: alloy steel blade, 20 inch
Handle: hardwood handle with ProTouch rubberized grip
Type: one-man
Teeth: patent-pending M2 tooth technology with Tri-Ground Deep Gullet teeth, 9 TPI
Most durable & best fine teeth crosscut saw: GreatNeck N2610 26 Inch 12 TPI
With a high carbon steel blade and hardwood handle, this saw is ideal for both beginners or professionals and will last you for a long time.
GreatNeck has manufactured high-quality tools for over a century so you know this saw will be a trusted and durable choice.
The blade is a masterpiece. It is made of high carbon steel that ensures it will last longer and remain sharper for longer.
The teeth are sharpened and set at a perfect angle to ensure smooth and clean cutting of wood. You can also re-sharpen the teeth to increase the angle and improve the cut.
The handle is attractive and comfortable. It is weather-resistant so you don't need to worry about durability.
This also has some limitations though. It takes a long time to cut compared to other saws so it's not the fastest tool on the market.
Features
Blade: High carbon steel blade, 26 inch
Handle: Hardwood handle
Type: One-man
Teeth: Precision set teeth, 12 TPI
Best two-man crosscut saw: Lynx 4' Two Man Crosscut Saw

For bigger cutting jobs, like a complete tree or thick round logs, a two-man saw is the way to go.
This Lynx two-man crosscut saw has everything you need: two large well-designed handles, a good length, a sharp blade, and perfectly patterned teeth.
The large handles are made of solid beech to ensure not only the proper gripping but also for great comfort.
The blade's tooth pattern is a Peg Tooth formation at 1 TPI and handset. They can be resharpened with a triangular file.
The blade is made of thick steel that ensures that it will preserve its shape and stiffness for superior cutting.
One thing to note is that it is a large tool so you will need more space to store it, and of course, you are not able to use this tool without a cutting partner.
Features
Blade: steel blade, 49 inch
Handle: 2 beech handles
Type: two-man
Teeth: Handset peg tooth formation, 1 TPI
Crosscut saw FAQ
Why is it called a crosscut saw?
If you look at the teeth of the saw, you will find that they are in a cross position, which means they have a ramp angle on both sides.
The ramp shape on both sides will allow you to cut by both pulling and pushing.
What is a crosscut saw used for?
Crosscut saws are mainly used for cutting large trees or big pieces of wood. They are used to cut wood across their grain.
With their thick and large blades, and specially shaped teeth, the blade can withstand a large deal of force. So, they easily cut large pieces smoothly and quickly.
When should you use a crosscut saw?
Crosscut saws may be small or large, with small teeth close together for fine work like woodworking or larger for coarse work like log bucking.
How do you sharpen a crosscut saw?
Once you've had your crosscut saw for a while, you might start to have trouble cutting wood, meaning it might need some sharpening.
Don't worry, you can easily re-sharpen your saw's teeth with a three-square saw file of about 7.8 inches long.
Use a vise to clamp the saw in place, getting the teeth as close to the base of the vise as possible to minimize vibrations.
If the saw is in a really bad shape, you may need to use a mill file to file the tips of each tooth to make sure there are all the same height again.
Then use the triangular file to file between the teeth at a 60-degree angle.
Get more great tips on the process in this video:
What is the difference between a rip saw and a crosscut saw?
With a rip cut, you cut along the grain; while with the crosscut, you cut across the grain.
Cutting across the grain is much harder for the saw (you need to cut a lot through a lot of fibers), and you typically use a saw that has many, smaller teeth.
Can you rip cut with a crosscut blade?
The combination blade of a crosscut saw allows both crosscuts and rip cuts.
How many teeth per inch does a crosscut saw have?
Crosscut saws have between 8 to 15 pointed teeth per inch. Each cutting tooth cuts with one edge and pushes the sawdust out with the other.
How to change the blade of a saw?
To change the blade of the saw, loosen the screws of the blade from the handle and then replace it with the new blade. Then just tighten up the screws again. That's it.
The bottom line
To sum up, crosscut saws are the best tools for large-scale woodcutting projects.
Take your pick from the great options mentioned depending on your needs and be assured your next log or tree cutting job will feel like cutting through butter.
I'm Joost Nusselder, the founder of Tools Doctor, content marketer, and dad. I love trying out new equipment, and together with my team I've been creating in-depth blog articles since 2016 to help loyal readers with tools & crafting tips.