I love creating free content full of tips for my readers, you. I don't accept paid sponsorships, my opinion is my own, but if you find my recommendations helpful and you end up buying something you like through one of my links, I could earn a commission at no extra cost to you.
Learn more
Looking for an awesome nailing tool?
As useful the device is, finding the right one won't be that easy. There are so many products in the market, and a large portion of them are quite good in quality. Singling out one tool among all these units seems impossible at times.
But, we have tried that and narrowed the options down to only eight. Now, it is your turn to take it from here and choose the best flooring nailer available in the market.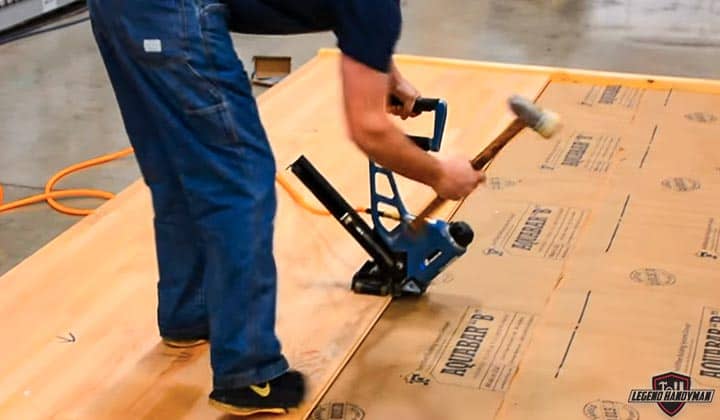 Go through the reviews along with the buyer's guide we have provided to make the smartest purchase.
What is a Flooring Nailer?
This is a tool used to fasten floors by driving nails into them. It works with nail cleat. There are two types of nailers available in the market; pneumatic and manual.
With the manual floor nailer, you have to use your muscle power for inserting the nails. And the pneumatic unit needs an air compressor for fastening. The tool might be used as an alternative for a framing hammer. 
Our Recommended Best Flooring Nailers
These are the products we found to be most remarkable. Go through these flooring nailer reviews to get familiar with the top products you will find out there.
NuMax SFL618 Pneumatic 3-in-1 Flooring Nailer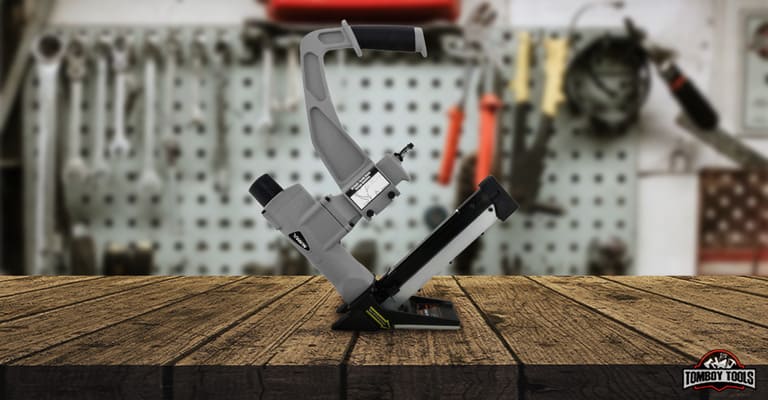 The tool we are talking about offers versatility in use. You can use it with staples, L-cleats, or T-cleats. It provides a large magazine holding a maximum of 120 fasteners. That means you won't have to reload it frequently for working long hours.
They have made the handle long that comes with a comfortable grip so that your hand and back do not hurt. You will find two base plates with the product which you can interchange. They are suitable for both ¾ inch and ½ inch flooring. Also, there are sample staples and cleats available with it.
But, these will not be enough to see the job done. They have introduced these just to offer you an opportunity to try them out.
I liked the sturdy aluminum built unit, which isn't much heavy, but it is very solid. Among the accessories they provide, there are a white rubber mallet, wrenches, and oil. These are pretty much everything you need to take care of the nailer.
However, the drawback of this product is that it doesn't include a case. That's a shame, for, without a case, you will have inconvenience in storing the accessories. Nevertheless, its amazing performance and valuable features make it the best hardwood floor nailer on our list.
Pros
It gets along with three types of fasteners. This thing comes with long handle along with a comfortable grip. It has interchangeable base plates.
Cons
It has no storage case and isn't suitable for industrial work.
Freeman PFL618BR Pneumatic Flooring Nailer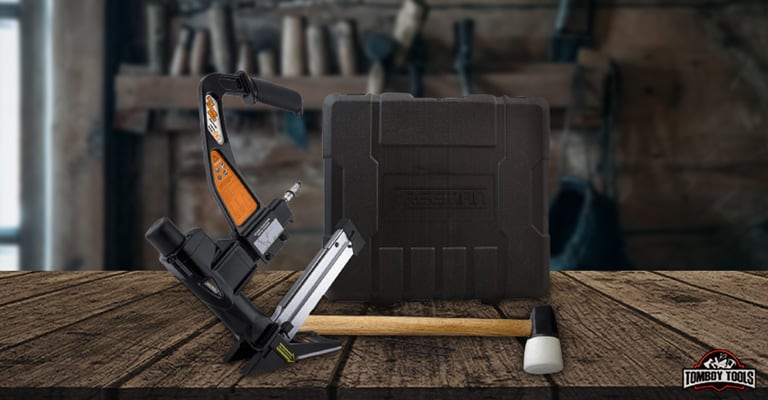 This is a perfect tool for getting small jobs done. It gets along with three types of fasteners: staples, L-cleats, and T-cleats. There is a long handle in place, along with a comfortable grip to make the work convenient.
And with its capability of holding 120 fasteners, you are going to be working for long hours without having to reload much.
There are some valuable accessories provided with the tool. You will find the case useful during travel and storage. Also, there are oil, wrenches, goggles, and a white rubber mallet in place. And they have introduced interchangeable base plates.
However, there is an issue with this tool. Some users complained about it getting jammed when working on long projects. Their customer service is praiseworthy though; you will get help when needed.
But, considering this issue, we wouldn't recommend the unit for professional uses. It is not that consistent as required in professional fields.
Pros
It has a long handle with a comfy grip and works with three types of fasteners the included storage case is great.
Cons
It can get jammed during long projects and an automatic depth control would have been nice.
Freeman PFBC940 Pneumatic 4-in-1 18-Gauge Mini Flooring Nailer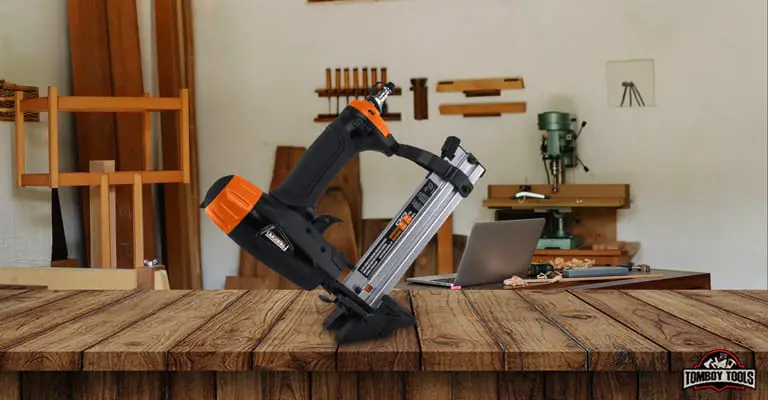 This is a hardwood flooring nailer that features a rear exhaust. We found this to be the best thing about it. For, you won't have to place the hands around the exhaust port anymore. However, you need to do the placement of the exhaust yourself.
The tool comes with 360 degrees fully adjustable exhausting capacity. This way, it allows you to avoid the blowing of particles into the worksite.
Another worth mentioning feature it has is the depth adjustment. With this in place, you won't have to go through the hassles of using hex keys for adjusting the depth of the fasteners.
People sometimes lose their keys. This thing will save you the trouble with an easily accessible and perfectly placed knob. It will make sure that you have placed the staples appropriately.
What I also liked is the lightweight of the unit. The aluminum construction is behind this convenience. Thus, you have an easy to use nailer. But, it could have been better if they made the changing of the nailing base easy as well.
Pros
The 360-degree exhaust system ensures convenience. It has an easy depth adjustment. This thing is lightweight.
Cons
It has complicated nailing base changing and nails might bend at times.
BOSTITCH EHF1838K Engineered Hardwood Flooring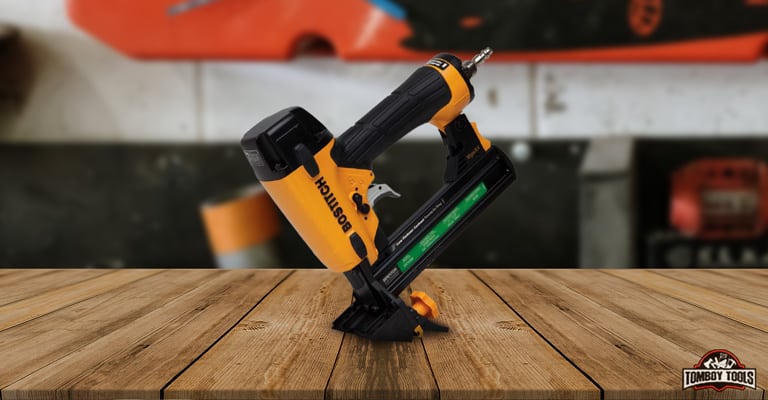 This stapler has marvelous design. There isn't any unit out there to rival it in this aspect. And if you are worried about working long hours, this little beauty will take them away. For, it's as lightweight as you like.
And due to this, you will be able to fasten those areas which were giving you hard times before. Another good thing about this stapler is that its handle is designed in such a way so that it avoids any protrusion outwards. They have introduced a rubber grip along with it.
In terms of depth adjustment, they have also done a great job. They used a knob to do the adjusting for you. The range of adjustment is quite wide, too.
What I also liked is that it's portable. With a lithium battery in place, you can carry it to places with ease. Moreover, with this unit, you won't have to face any trouble with the machine getting jammed.
Pros
It doesn't jam and being lightweight it offers long hours of work without fatigue. The ergonomic design makes it easy to use.
Cons
Height adjustment knobs aren't that strong.
Freeman PF18GLCN 18-Gauge Cleat Flooring Nailer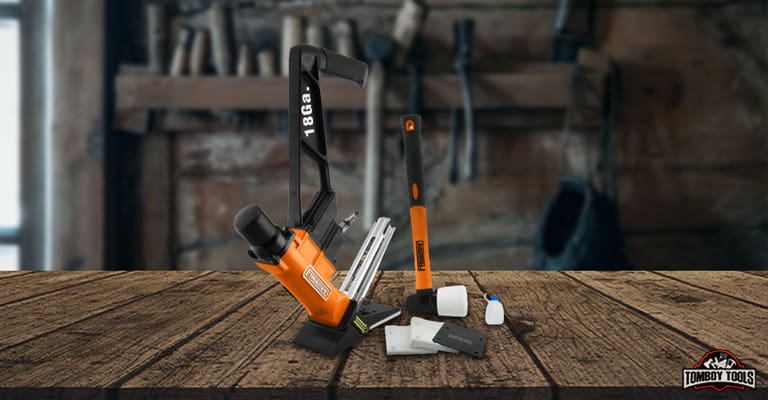 This is a stapler that will provide the ultimate level of comfort while flooring large areas. And it will get it done fast. You don't get to see a stapler with a holding capacity of 120 fasteners much often, do you?
Thanks to this, you won't get fatigued even if the work takes ridiculously long. It is because there won't be any repeated reloading required.
The tool works with L-cleats, which are usually used for thick flooring. And it gets along with cleats of multiple sizes to work with different materials. But, it has limited uses in terms of floor types. There are only a few types of floors it can nail, which are: Brazilian teak, bamboo, and cherry.
Especially if it's an exotic hardwood, the tool will ace the nailing. If you are confused about the compatibility of the device with the floor you have, you should contact the manufacturers beforehand. What I didn't like about it is that it isn't compatible with any fasteners out there, unless they are from the same brand.
Pros
It's easy to use long handle saves you from fatigue. This thing features interchangeable base plates and high fasteners holding capacity.
Cons
It doesn't get along with too many floor types and not compatible with fasteners other than the brand's ones.
BYNFORD HARDWOOD FLOORING STAPLER NAILER
This stapler will save your money by being an efficient backup device. With this, you can do the floor nailing with the utmost simplicity. And in the price range it comes, it will be hard to find such a useful tool. If your floor is 9/16 inches deep, you will have the best performance from it.
The tool comes with an 18-gauge narrow crown staple. What's most impressive is its shoe design. You can adjust it to high thickness for professional work. And the depth control it comes with provides convenience. Additionally, you can carry it around for long hours without getting hand fatigue, for it's lightweight.
Moreover, they have provided a storage case for keeping the tool safe when not working. This device will work best on T and G flooring. Now, for getting the best results in stapling, you have to keep a sharp eye on the groove. Otherwise, there might be mistakes. Also, it requires you to put a little force on it.
Pros
Impressive shoe design makes it suitable for professional jobs and lightweight for offering convenience in long projects. The storage case is included with the unit.
Cons
You have to watch the groove constantly during work.
DEWALT DWFP12569 2-N-1 Flooring Tool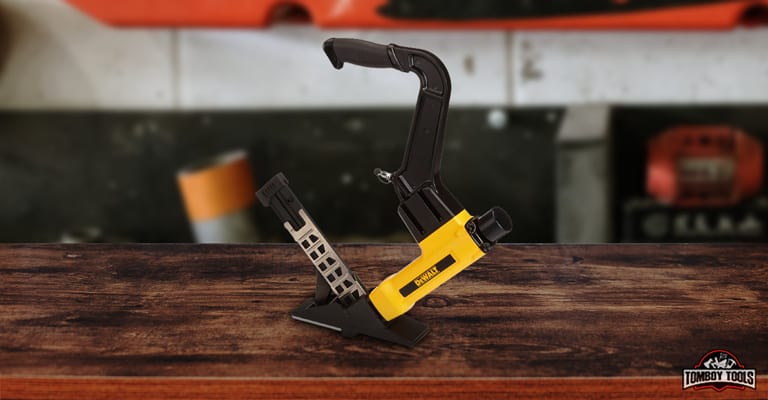 This is another professional-level tool you need to take into consideration. Its strength and durability ought to get your attention, for there are very few units like it in the market. For having good results in-home jobs, you will also find this unit to be useful.
I liked the long handles it has to offer that makes the work comfortable by protecting you from back pain. Also, the grip is ergonomic, providing comfort for the hands.
Now, you will be astonished to find out that this powerful stapler weighs only about 10 pounds. Thus, you won't have to worry at all about carrying and balancing it. Therefore, we highly recommend this unit for long projects.
The tool works with 15.5 gauge staples and 16 gauge cleats. But, in terms of base plate adjustment, it comes with limited options. Therefore, the materials you work on should be the same size as the nailer shoes.
Pros
It works with various types of materials and is suitable for professional jobs. This guy is lightweight with an ergonomic handle and grip.
Cons
Regular maintenance is needed, and it has limitations for the thickness of materials.
BOSTITCH MIIIFN 1-1/2- to 2-Inch Pneumatic Flooring Nailer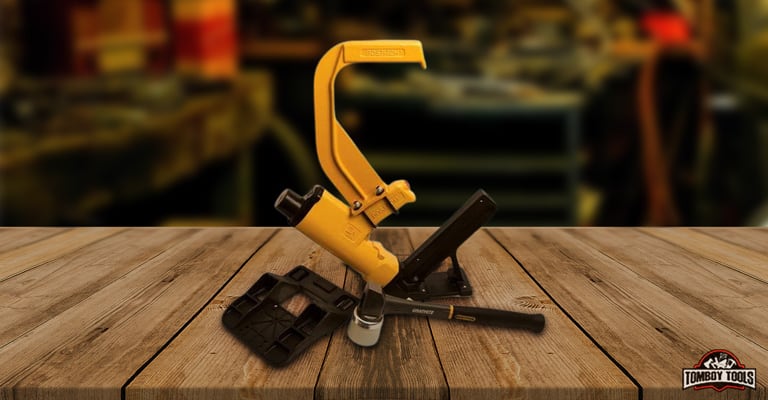 This tool will provide a learning experience for a beginner. The convenience it offers is unbelievable. You won't get to see a tool that makes tricky tasks look so simple like this unit. They have designed it in a way so that your back doesn't hurt during long working hours.
And you can comfortably position yourself, thanks to its ease of use. The device is extremely lightweight, weighing only about 11 pounds. This is because; they have made it with aluminum. In terms of durability, it will run a long time without giving you a hard time.
A device that comes with professional-level usability like this is expected to be durable for sure. Manufacturers usually provide a good warranty for such a device for assuring the users.
I liked the fact that they have given the base plate a bit of extra width. Thus, you will get better control and balance. By providing you with accurate angles every time, it provides you with quick and precise stapling.
The only thing that might concern you is its cost. You will find it a bit expensive. But will it be worth it? I would say, for the convenience and all these impressive features, it would be.
Pros
It has a very simple operation and is highly comfortable to use due to the tool being lightweight. This thing offers consistency along with outstanding control and balance.
Cons
An efficient depth control would have been nice and it's a bit expensive for being a professional-level tool.
Best Flooring Nailer Buying Guide
Multiple factors determine the power of the tool as well as its efficiency. If you go for a manual unit, you will need enough muscle power and a pneumatic device will do the heavy tasks for you without giving your muscle a hard time.
That's why you will see professionals prefer this type of nailer.
You need to assess how hard the floor is, how many hits the nailer will have to do, and how long the cleat is. Then you should go for a tool that will serve the purpose properly. If the wood is thicker, you need a powerful nailer with long cleats for driving the fasteners.
Types of Nailers
Here, we will tell you about the different types of nailers on the market so that it can help you make the decision.
This type of tool is best for using in tight places. They are lightweight and flexible.
For brittle and hardwoods, this would be the type of nailer to go for. It can be pneumatic or manual.
This is the best option for stapling woods that are not brittle. These staplers are electric, pneumatic, and manual.
Types of Fasteners
Here, we'll talk about the different types of fasteners on the market to help you get the ideal device.  
These fasteners will be durable, but they are quite expensive. For adjustment with contraction and expansion of the floor, you will find them to be flexible.
This is the cheaper option between the two. But, they lack the flexibility that the other type offers.
You should find yourself a tool that is compatible with the fasteners. Among other things to watch out for are a warranty, price, and ergonomics. Also, the user's reviews play a vital role in determining the product's quality.
Flooring Nailer vs. Stapler
These two tools cannot be interchanged, as some people seem to think. They might offer a similar type of service, but they are different.
Nailer
This tool does the fastening by using cleat nails. There are two types of nailers available in the market. These are pneumatic and manual. With these tools, the amount of pressure to be applied will depend on the thickness of the flooring.
Stapler
Apart from coming in two different types as nailers, there are also electric units available for flooring staplers. They do the fastening by using staples. The two prongs of the staples fasten the floor into a subfloor.
Frequently Asked Questions
Q: Do I need anything other than a flooring nailer for installing hardwood flooring?
Ans: Apart from a flooring nailer, you might need a finishing nailer (here are some great choices) as well. In installing the first and last rows, it will be useful.
Q: Where should I buy a flooring nailer from?
Ans: You could buy from the manufacturer's website or local dealers. And to get the best replacement policy, you can check out online retailers.
Q: How does a flooring nailer work?
Ans: Once you hit the actuator by using a mallet, the flooring nailer fires nail to fasten the floor.
Q: Should I choose cleat nails or staples?
Ans: It will depend on the nature of the flooring. However, it would be cool to go for a device that comes with both types of fasteners.
Q: What does a warranty cover against when it comes to flooring nailers?
Ans: It covers workmanship and material defects. Sometimes, you temporarily get repairs and replacement when any parts wear out.
Final Words
I hope the article was beneficial in finding you the best flooring nailer the market has to offer. If you liked any particular product, go through the pros and cons it comes with. Then you can decide whether it will be worth it or not.
Just purchasing the best flooring nailer is not enough, you should also know how to use a flooring nailer. Let us know your thoughts on our recommendations in the comment section below.
I'm Joost Nusselder, the founder of Tools Doctor, content marketer, and dad. I love trying out new equipment, and together with my team I've been creating in-depth blog articles since 2016 to help loyal readers with tools & crafting tips.