I love creating free content full of tips for my readers, you. I don't accept paid sponsorships, my opinion is my own, but if you find my recommendations helpful and you end up buying something you like through one of my links, I could earn a commission at no extra cost to you.
Learn more
It's quite irritating and also difficult to carry your hammer everywhere in hand while working. A hammer holder helps in this problem by holding hammers along your belt.
Hammer holders are designed to hold different sized hammers without creating any obstacle while working.
The best hammer holders are designed for last longing use and give you proper comfort. These holders provide less slipping opportunities and keep the hammers swinging free.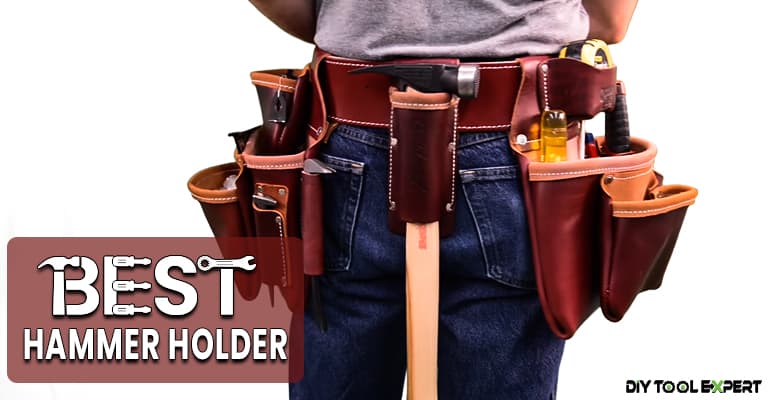 There are different brands in the market for hammer holders. It's quite difficult to find the best one as well as the perfect one for your work.
Here is a considerable buying guide you need to consider before buying one.
Hammer Holder buying guide
While shopping for a hammer holder for carrying hammers, there are a variety of options. However, to be assured that you get the best hammer holder, it is important to consider some issues.
Here is a buying guide providing noticeable features while selecting the best hammer holder for your work.
Material
Most of the hammer holders are made of leather for durability. Most of them are also made of canvas clothes, these are also durable.
Consider the material according to your use. Canvas clothed holders are easy to clean whether leathered holders are quite difficult to clean.
But for durability leather holders are preferable.
Comfort
The most important thing to be considered is the comfort as if you are not comfortable with anything, it's useless to use that thing.
Many holders come with padding facility which is comfortable enough. Check whether the holder is comfortable enough after installing and buy that one.
Installation
This means you need to check which belt width the hammer holder fits. Many holders fit width up to 3" or more whereas many don't fit this range.
Select one according to your belt width for better use, otherwise, the tool may slip out.
Best Hammer Holder Reviews
Here are top 5 best hammer holder reviewed –
1. Occidental Leather High Mount Hammer Holder
This Occidental leather high mount hammer holder is one of the best hammer holders. This sturdy hammer holder is designed as it will sit a little higher on the hip.
This design helps you to wear and carry the hammer easily. This well-designed hammer holder is made of leather which is quite a durable one.
This is a very strong holder with high-quality stitching and riveting to make it long-lasting. This holder works great on wide belts.
This holder is designed to keep the hammer from banging against knees while working which helps a lot in your work and your work gets pace.
This hammer holder is a little bit wider than many thin belts which may be a matter to be concerned. Otherwise, it's a good hammer holder to consider.
2. Dickies Work Gear 57071 2-Compartment Hammer Holder
This 2-compartment hammer holder by Dickies is another best hammer holder to be considered. This holder is made of durable material to make it long-lasting.
It comes with an additional pocket for screwdriver which is a plus point. This holder works so nicely and the canvas made structure makes it a light weighted hammer holder.
The two different compartments allow you to hold big hammers as well as narrow tools and also fit wide belts.
This holder holds your hammers in such a way that it doesn't bother your way while working.
The additional slip pocket may seem a little hard to use it.
3. CLC Custom Leathercraft Steel Loop Hammer Holder
This heavy-duty steel loop hammer holder is one of the best hammer holders in the market. This steel cradle designed hammer holder holds a good value keeping the hammer free from swinging.
This cradle design is made of leather which gives durability for long term use. This hammer holder is enough heavy to hold bigger hammers easily.
It fits 3" wide belts as well as narrow belts and also ships faster than others. This well-built hammer holder costs are cheaper than many others which makes it a preferable one.
But the problem is that the metal holder doesn't curve up very high which causes a problem. It makes the hammer hang low which decreases its workability.
It is a preferable hammer holder in a low budget range.
4. Dewalt Heavy Duty Hammer Holder
This heavy-duty hammer holder by Dewalt is another best hammer holder. This holder is designed with a padded facility which is good for comfortness.
This padded hammer holder helps to hold the tool away from the body and makes you feel comfortable while working wearing this.
This hammer holder is made durable enough to hold bigger hammers easily and also works reliably.
It comes with an extra steel handle for carrying purposes. It works very well by holding the hammer in such a way that the tools don't bother while working.
You can move easily wearing this and won't feel any slipping problem. But the problem is that it can only fit belts of 2 into ¾" width. So you can't hang it with 3" or more wide belts.
5. Occidental 5 in 1 Tool Holder
This 5 in 1 tool holder by Occidental is another best tool holder that holds hammer as well as many other tools without obstackling your work.
This sturdy tool holder provides 5 times the tool capacity in the belt space of one holder holding enough hand tools including different sized hammers.
This holder is made of American leather that ensures years of endurance in the field of your work.
It offers holders for hammer, lumber crayon or screwdriver, pliers, pencil etc. As an addition, it provides oxy tool shield for sharp tools such as chisel or work knife.
This tool holder is mainly designed for professionals and weekend warriors who are serious about their work and need enough space for carrying tools.
It may be worn on any belt up to 3″ wide and it's a problem that you can not use it wider belts.
These are some hammer holders for your better selection.
FAQ
Q: Can these holders be used on a normal-sized belt for shorts/pants?
Ans: It's up to you whether you use this on belts for shorts but just make sure it's a decent belt. A cheap belt tends to break easily if you are lugging around a hammer on it.
Q: Is it possible mounting the metal loop to the wall by removing the rivets?
Ans: This is not recommended for any alterations to the unit as it would void any warranty.
You may also like to read –
Best dead blow hammer and best stiletto hammer
Conclusion
Pick the best hammer holder based on its simplicity, comfort and high-quality structure to ensure you get exactly what you need for your work.
Don't let the price be the only factor unless you don't use your hammer holder very often.
Before buying one follow the buying guide and reviews as well to get the best product for your work.