I love creating free content full of tips for my readers, you. I don't accept paid sponsorships, my opinion is my own, but if you find my recommendations helpful and you end up buying something you like through one of my links, I could earn a commission at no extra cost to you.
Learn more
If you've ever tried hanging pictures around the house, you've realized you need some basic hand tools to do the job properly.
Or, perhaps you've struggled to build some shelves for that hallway cabinet you need for extra storage space. Without the right power tools, then you're going to struggle!
But what about if you want to become a serious DIYer? Then you should know about the must-have tools every DIY lover should have in their tool kit.
It's about having all the essential tools in your home so you can actually finish that DIY project you start.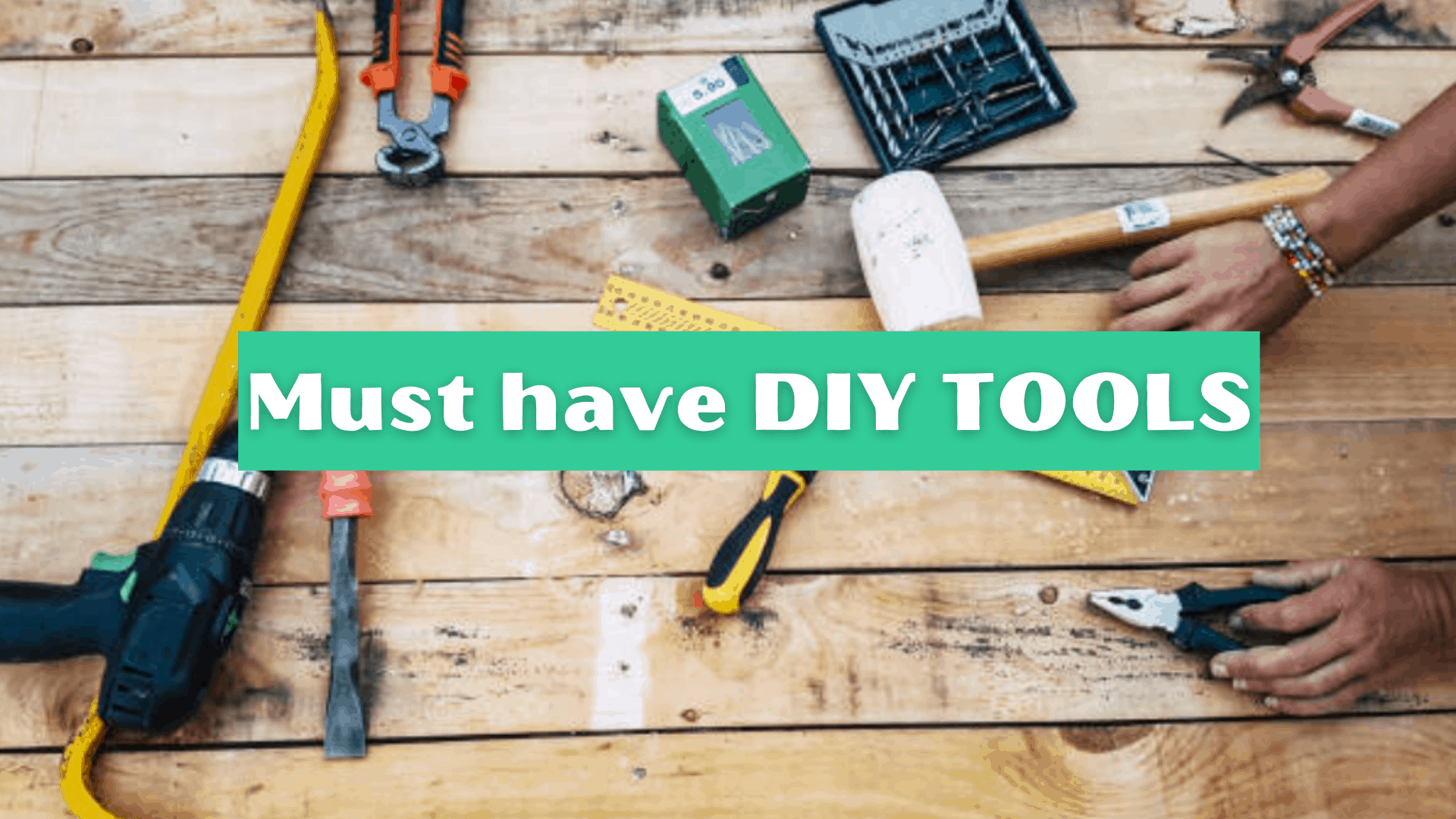 In this post, I'm reviewing the best tools you need for home improvement DIY.
There are 10 categories and these are the most important DIY tools to have for home improvement.
I'm including one tool in each category of must-have tools so you can build a tool kit that covers the most useful tools you can have in your home.
Therefore you can feel a sense of relief about knowing what you need and what you don't.
Simply cross off all the tools you already have and then you can buy the ones you're missing in your tool kit after reading an in-depth review.
The 10 must-have tools for your DIY tool kit
If you're an amateur, creating your own toolbox is one of the fun parts of DIY. Sometimes choosing the tools for the job is just as exciting as actually completing that DIY.
So, what exactly should you buy? Find out here.
Curved claw hammer
When you want to nail together the wood pieces for a DIY dresser, you need a hammer to secure the nails in place or remove them.
You don't need a whole bunch of hammers when one curved claw hammer can perform almost any task.
When you think of a hammer, you're probably thinking of a hammer with a curved top part. Also known as a curved claw hammer, this helps you rip apart any wood pieces that have been nailed together.
It's best suited for demolition tasks like ripping out nails or simply nailing pieces of wood together.
So, if you plan to do any general carpentry work, framing, pulling nails, or assembling furniture, you need a sturdy hammer.
Best curved claw hammer: Estwing 16 oz E3-16C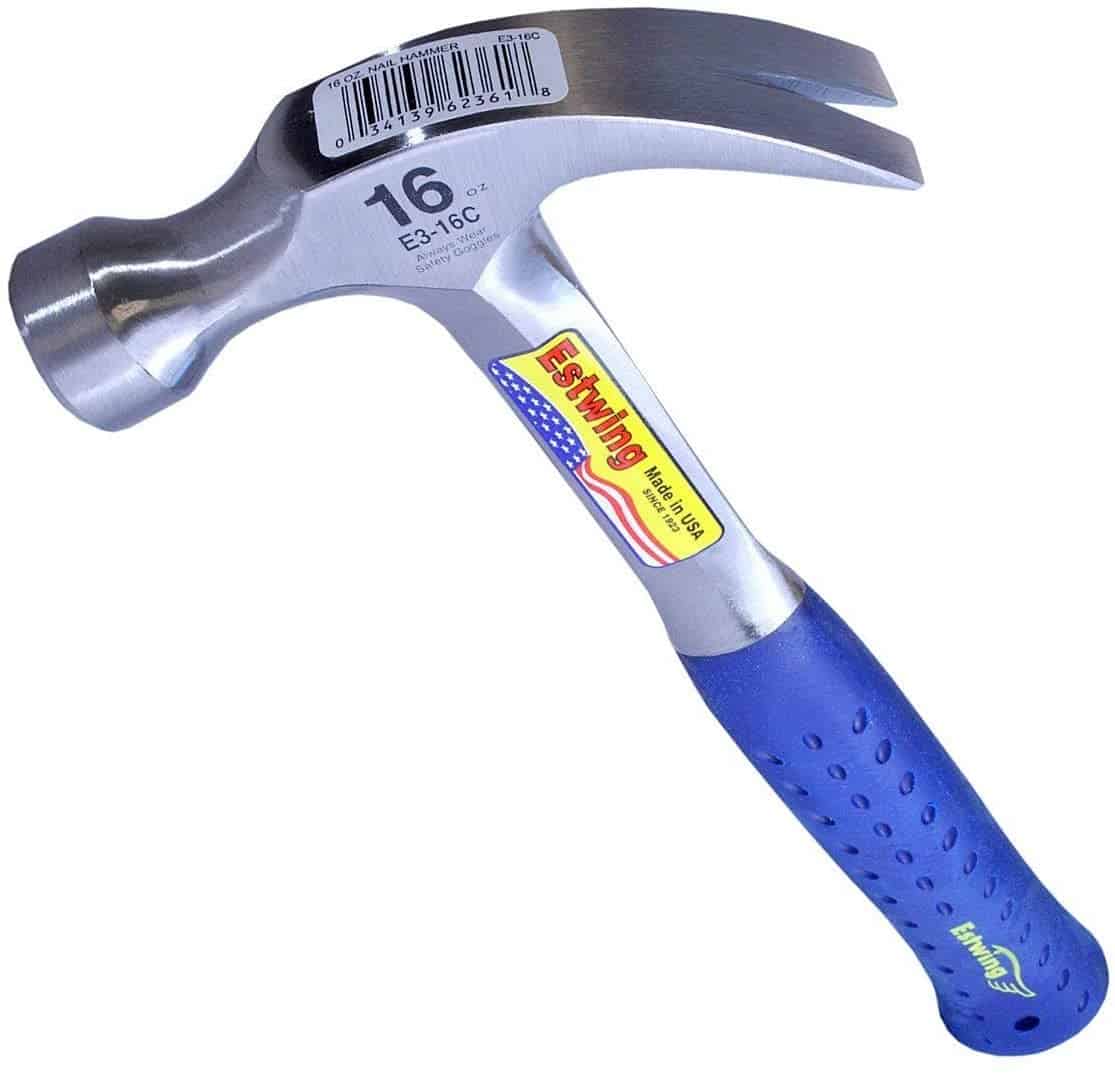 material: steel
size: 16 oz
The 16-ounce Estwing Hammer features a sturdy steel frame with a smooth grip exterior. It delivers a powerful swing and drives nails with ease.
It's a medium-sized hammer so it's more versatile in terms of its size but it still delivers boosted prying power so you can work with it easily, even if you're inexperienced with hammers.
The grip is shock-resistant and dampens vibrations when you drive the nails. Therefore the best feature is this shock-reduction grip because it reduces those annoying vibrations you get with a cheaper hammer.
Also, it's comfy to hold and won't endanger your fingers or slip from your hand.
A curved claw makes it easy to rip nails from wood. With one simple wrist movement, you can pull out even the most stubborn and deformed nails from wood, plywood, or other soft materials.
Since it's forged from one piece, this is the kind of hammer you can strike with easily, without worrying about damaging the hammer. It's durable and well built out of solid steel.
It's designed for tradesmen and people who are serious about DIYs and want a multi-purpose hammer that can do it all.
Screwdriver
For most home renovation projects, you don't need a full set of screwdrivers. That's because a combination screwdriver that works for 2 screw head sizes can usually do the job.
The reason it's one of the must-have tools is that any kind of assembly requires some types of screws and drivers. It's suitable for DIY or simple maintenance and repair.
You need a screwdriver that's easy to use and the drivers and bits must be easily interchangeable.
The last thing you want to do is fidget around trying to configure the screwdriver with the right heads. A detent ball locks the heads in place so they don't fall out.
You also need something portable and lightweight that is also a 2-in-1 product. Finally, don't forget to look for a smooth grip handle that's comfortable to work with.
If, however you want a professional screwdriver set you can always add this one to the collection too.
Best screwdriver: Channellock 61A 6N1

works for 3/6 & 1/4 inch screw heads
The use of poor quality or flimsy screwdrivers can ruin your DIY project.
When searching for a suitable screwdriver, quality should be at the top of the list because if it comes out of the screw head, you'll be wasting precious time struggling to screw or unscrew the nuts.
You're better off with a combination screwdriver like this Channellock one than having a bunch of separate ones for different screw heads.
You can save some space in your tool kit and also have one tool handy that works for 3/16 inch and 1/4 inch heads which are most common. But, you can also use the shaft as a driver for 1/4 inch and 5/6 inch nuts.
This is a well-built screwdriver and the bits are all zinc-coated which makes them corrosion-resistant. The shank has a special black oxide coating that is rust and corrosion-resistant too so you don't end up with a rusty screwdriver in your kit.
Comfort is key when maneuvering a screwdriver and the handle of the Channellock has a high torque acetate handle.
Therefore, you can hold the tool comfortably, even if your hands are dirty and slippery or you're wearing gloves.
Also, I want to mention that the tubes and the bits are easy to pull out reverse so you can configure the device as needed. With the handy detent ball, the heads lock into place so they don't fall out while you're working.
Also read How to Remove Rust from Tools: 15 easy household ways
Tape measure
Every DIY project will start with some planning which might including measuring things. You can't really measure anything properly without a tape measure (these are awesome!).
But, one of the awful things about bad tape measures is that they bend and break in the middle which means you keep having to buy new ones and it's a serious waste of your money.
It's best to choose a tape measure from a brand you can trust like Craftsman or Stanley.
Best tape measure: CRAFTSMAN Self-Lock 25-Foot

length: 25 feet
measurements: inches and fractions
If you have to measure everything by yourself, you don't need to worry about the tape measure bending or sliding back with the Craftsman tape measure.
It has a self-lock feature so when you pull out the metallic measuring tape, it stays in place without retracting back into the shell.
Therefore, you can even move the tape measure around in all directions to make the most precise measurements. Try extending it into the air because it won't bend!
There's even a rubber overgrip on the tape measure to make it easy to hold because there's nothing worse than those old cheap plastic or metal tape measures that always slip and slide between your fingers.
Now, if you're building one of the more complex DIY projects (like these free-standing wooden steps), you might need more markings than just inches.
That's why this tape measure also has fractions and it can actually cut down on the time you spend doing math.
25 feet is the average length you'll need for a basic tape measure if you're not a professional tradesman. So, if you're not going to be doing pro work, you don't need to invest more money on extra long measuring tapes.
Pair of pliers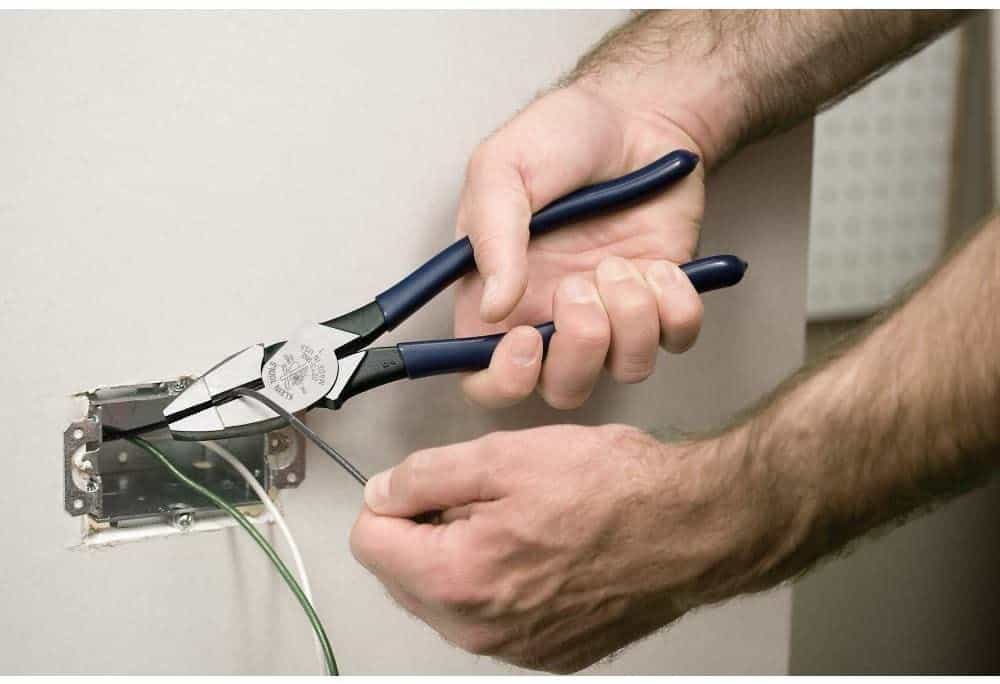 When you do things yourself, you need to have a pair of good pliers around to help remove wall anchors, cut wires for electrical work, and twist wires when needed.
Your pliers should have a nice streamlined design with comfy plastic handles that don't slip from your hands. Locking pliers and long nose pliers are not a necessity and you can get lots done with fixed ones.
But, one of the key features of good pliers is a strong durable material that won't warp.
When pliers don't offer a powerful grip and cutting power, you'll find that you can't grip properly and the work will take twice as long.
The serrated jaws should be quite small for regular fixed pliers. That ensures that you can grip the wire and small screws tightly.
Best pair of pliers: Klein Tools D213-9NE 9-Inch Side Cutters

material: steel
ideal for: soft metals like aluminum and copper, bending wires
When you've got to do some emergency electrical work in the house, you need a pair of sturdy pliers and the Klein Tools is one of the best value options.
It makes cutting wire simple and you'll likely hear the snap as soon as you clamp down on the wires. But, you can also use these pliers for crimping and twisting wires.
The Klein Tools pliers are some of the best in the industry because of their high leverage with a rivet located near the cutting edge design which just means that you get 46% more cutting and gripping power compared to other pliers in a similar price range.
Thus, this is a stronger and better pair and it's a great value product.
Since the pliers are made of hardened steel they are going to last longer than cheaper ones. But a feature that really makes these pliers worth it is the special handles.
They never wobble and the tempering absorbs any tremor or snap when you cut wire.
These 'handform' handles are made from plastic and sort of mold to your hands so you get a secure and comfortable grip and this is important because you don't want them to slip from your hand as you work.
Cordless drill
Something as simple as hanging up pictures or assembling your new patio shed can become hard work without a cordless drill.
Sure, the impact driver can be handy but a cordless drill is even more useful because you can do more with it. You can drill through most materials like wood, metal, and plastic.
The drill doesn't have to be very expensive because a simple one with a set of drill bits will help you accomplish the most important tasks. But the real advantage of a cordless drill compared to a corded one is the convenience.
Imagine that you can take the drill with you all around the house without relying on a power outlet and cord that can twist and get in the way.
These cordless versions charge quite fast and have a pretty good battery life as a result of their lithium-ion batteries.
Best cordless drill: BLACK+DECKER 20V LD120VA

The Black & Decker cordless drill driver is one of the best budget-friendly options on the market. It is the kind of versatile tool that will help you drill through most soft materials and even hardwood or some metals.
Thus, you can hang up paintings and assemble furniture without calling in contractors. Plus, the kit includes 30 accessories that you don't have to pay for separately and it saves you money.
The driver comes with a drill bit collection of 6 various-sized bits and one battery. Once it becomes time to sharpen the drill bits, you can consider using a drill bit sharpener.
The good news is that this drill charges pretty fast and it has a decent battery life so you don't really have to worry about it running out of power mid-work.
When it comes to speed, it's somewhere in the middle with 750 RPM and 300 in. lbs torque but that's enough for most home improvement and DIY tasks.
This driver is lightweight (4.7 pounds) and it doesn't tire you out when using it and it's also a great option for women or people with smaller hands.
Besides, the soft-grip handle makes it comfy to hold. I also want to mention the 24 position clutch that gives you control. It also prevents stripping and overdriving of screws.
Got some more heavy-duty drilling projects? Consider a good drill press vise to make your project lighter
Adjustable wrench
When it comes to must-have hand tools, wrenches are totally necessary. But you can replace a host of different sized wrenches with one good adjustable wrench.
It is very helpful in your DIY projects but also other tasks around the home, especially ones related to plumbing.
Honestly, one adjustable wrench can save you money and then also space since you don't have to buy a heavy set. Eight inches is the ideal size to give you enough torque to do big jobs, but not too large to handle small tasks.
When it comes to material and build, it should be made of a durable steel alloy because you want to make sure it doesn't bend under pressure.
Also, a chrome-plated finish is a nice feature to have because it ensures the wrench doesn't rust and corrode.
Best adjustable wrench: SATA 8-Inch Professional Extra-Wide Jaw

size: 8 inches
material: steel
jaws: hex-shaped
This is not your average wrench because it has a special extra-wide hexed-shaped jaw that grips the bolts much tighter. Therefore, it's got enough torque so as not to strain your hands and wrists when you use the wrench to tighten.
It's a great tool for DIY jobs because it can give you amazing grip and if you're a beginner at DIYs, you need all the help you can get to tighten things up.
You can also use this Sata wrench for basic plumbing tasks like tightening or loosening components under the sink or hold and turn pipes.
So, it not only helps you fix a leaky pipe but can also make it easier to create a cool DIY lamp for your living room.
This wrench is made out of a strong alloy steel body and it has a chrome finish which makes it easy to clean and corrosion-resistant.
The jaw width can be adjusted by turning the knurl. This will allow you to fit a 1-1/2-inch nut.
Although the packaging claims that it can open to 1-1/8 inches, it's not quite as wide opening but for most jobs, you don't even need that as you'd be better off using some channel-lock pliers.
Circular saw
The circular saw is one of those must-have power tools if you plan on any DIY work that involves woodwork, masonry, framing, and carpentry.
It is a handheld tool equipped with powerful circular blades that can make all kinds of cuts. A powerful motor gives this tool enough power and torque to cut through all kinds of hardwood and plywood.
If you plan on building shelves or furniture, this is one of the tools for DIY you can't skip out on.
An essential feature to look for is the material. Your circular saw should include magnesium components because that makes the tool lightweight and that's very important, especially if you're a beginner.
Power is important too and it should have a speed of about 5.500 RPMs because that makes the work quick and a bit easier.
Finally, check out the handle as it should have a soft grip material so you can hold it comfortably.
When you work with a circular saw, you need to hold the tool steadily for safety reasons and you need to be able to have a firm grip so the saw doesn't trepidate or move around.
Best circular saw: CRAFTSMAN CMES510 7-1/4-Inch 15-Amp

This is the perfect circular saw for beginners (because it's comfortable to maneuver) but for pros too because it can really get into those tight nooks and corners.
It's very affordable and well-built with strong metal guards. The body and shoe are made with magnesium which makes this tool very lightweight.
Another great feature is the carbide-tipped blade which contributes to the saw's speed of 5.500 RPMs. That's the kind of speed you need for most woodworking tasks.
Compared to other saws in this price category, this one also has a tool-free beveling shoe. You can adjust it between 0-55 degrees according to your needs.
It can cut through materials 2.5 inches thick at 90 degrees or 1.75 inches at a 45-degree bevel.
Overall, this is quite the powerful saw and users remark that it's super easy to make precise and accurate bevel cuts up to about 55 degrees.
You can also make angle cuts at detents when you need to at 22.5 degrees and 45 degrees – these are common angles for DIY cuts.
Also, it's easy and safe to change blades because the circular saw (like some of these) has a spindle lock that prevents the blade from moving.
Utility knife
If you need to cut through drywall, string, or strip some wire quickly, the small but mighty utility knife comes in handy.
What really makes a good utility knife is the replaceable blade. The handle is also important but not as important as the actual blade.
Nobody wants to start cutting something with a dull blade that snaps.
That's why it's better to invest in a good utility knife that's also foldable and has some bonus features like a gut hook which lets you cut plastic ties and even string without having to actually open the knife.
This sounds handy, right?
Best utility knife: Milwaukee Fastback Flip 2 Piece Set

The Milwaukee folding utility knife set is a multifunctional tool kit that's highly effective at a variety of tasks.
They are not simply banal knives, but rather they're useful when you need to cut drywall, cut up carpeting, cut fiberglass insulation, strip some wire, and cut those pesky plastic ties and strings on your materials.
These knives are made out of really rigid materials so it can last for many years.
One problem with some utility knives is that the blades are hard to replace but not with this one. You can easily add a new blade without taking the whole thing apart with your screwdriver.
The Razor Blade Dispenser with no less than 50 replacement blades is included
Since the flip-back knife folds, it's easy to store anywhere and safe too because you only flip it open with a button when you need to use it.
The Milwaukee is special because it comes with a gut hook near the end of the handle which you can use to cut the string and plastic.
It also has a wire stripper feature so you can multitask. Then there's a tape measure holder too.
Overall, it's a great little tool. The only downside is that there's no protective cover for it but it's not really a significant inconvenience.
Sander
The handheld sander is the kind of power tool that will make it easy to sand furniture or prep your deck for fresh coating. A palm sander (like these top options) is a great tool for amateurs because it's small, easy to hold, and doesn't strain your wrists.
If you've ever sanded something manually with sandpaper, you'll know that it can take so long and your hands get sore. Imagine being able to remove all that old paint and rust in minutes with an electrical tool.
With a 5-inch sander, you can do almost all home renovation jobs.
The orbit sander is the tool you're missing in your collection. It gives a very smooth finish and makes all your sanding jobs easier.
The reason for choosing an orbital sander over a vibrating one is the type of movement. While the sandpaper disc spins around in a circle, the entire pad moves in an oval-shaped loop.
This ensures that no single abrasive particle travels the same way twice, creating a swirl-free finish. This is helpful because it sands smoothly even when sanding across the grain.
Best sander: DEWALT Random Orbit 5-Inch DWE6421K

If you want a durable and amazing orbit sander, you should invest in a high-quality product that is safe to use and easy to maneuver.
Versatility is key and the DeWalt is a great option for sanding metal, plastic, and wood.
Its size (5-inches) is great for removing paint from old cabinets, tables, and chairs. But, you can definitely do more work too, and use it on flooring and decks.
The DEWALT Random Orbit Sander is powered by a 3-Amp motor, which spins pads at speeds of up to 12,000 orbits/minute. It gives surfaces a smooth look even across the grain.
To reduce vibration and hand fatigue, the DeWalt features a rubber over-mold design and counterweight.
In order to make it easier for users to reach their workplace, the palm sander is compact. The dust-sealed switch provides a longer life span and the vacuum locking system can collect dust with the bag attached or connect to other vacs.
An added bonus is that you get a nice carrying case that keeps the tool safe and makes storage simple.
Also read: How To Take Care of Hardwood Floors
Stud finder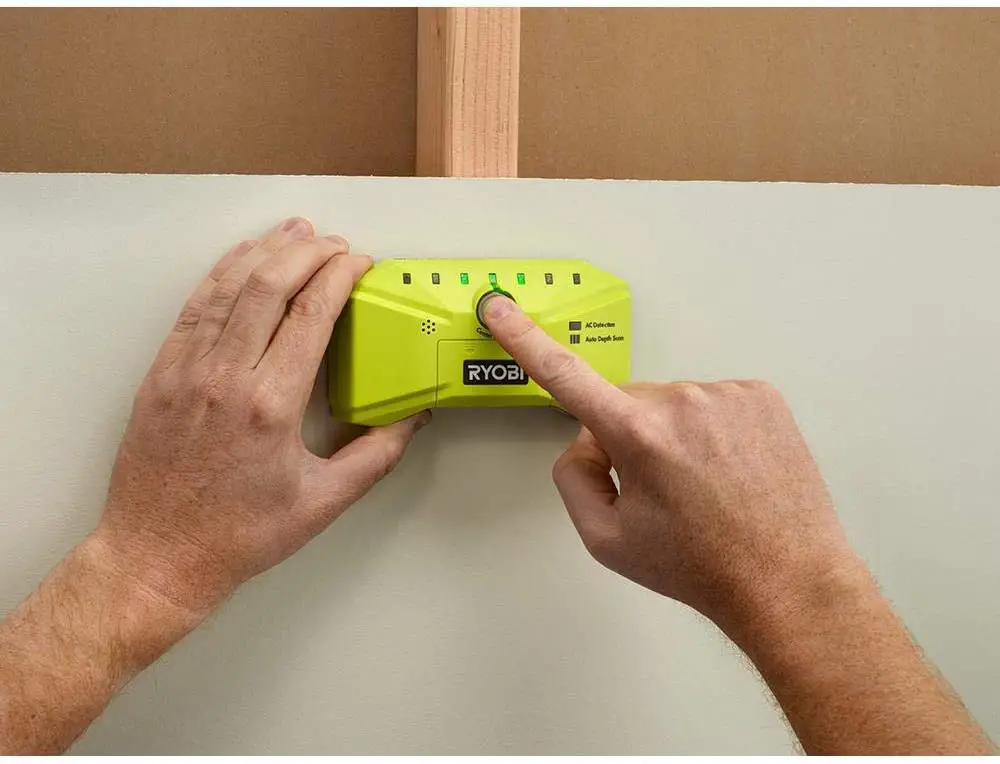 The electric stud finder is a small handheld device that acts as a wall scanner and finds the studs behind the wall. If you plan on making holes in the wall, you need to have a stud finder so you don't drill through something you're not supposed to.
You probably want to hang up some frames to decorate your home, so this is one of the most useful tools to have in your toolbox.
These stud finders give you a clear view of the wall and pinpoint each stud. In a way, these stud finders are like a touch switch on a touch lamp.
To locate the stud, they use capacitance changes and then display it on the screen.
You really don't need a very expensive one but look for one with sensitive detection capabilities so you can be sure the device doesn't miss anything.
Best stud finder: Ryobi Whole Stud Detector ESF5001

If you're a bit clumsy with your tools, you'll appreciate this Ryobi heavy-duty stud detector that's almost indestructible.
The Ryobi uses seven LED lights that do indeed help indicate an entire stud's span as only the lights above the stud illuminate.
The center indicator function, which illuminates a circle of green light at the spot where you hit it, is even more useful. You can clearly see where the stud is exactly.
AC detection is also available. This system uses both a red and a beep signal to alert you when the AC current is near. It's a great feature that's a real lifesaver.
The center punch button can create a small hole in the wall behind your stud finder. This makes it easy to draw or use a pencil to mark the spot.
Although some users complain about the need to use two hands for this stud finder, it can be done with one hand if you are creative.
To operate the two buttons flip it upside down using the index and pinky fingers. Single-button operation is still much easier.
Takeaway
A combination of power tools and hand tools are tool kit must-haves for anyone who is serious about DIY.
A medium-sized toolbox can fit a selection of the most essential hand tools and then you can keep a special cupboard for the power tools.
For serious DIY projects, you need more than a couple of hammers and drills but with the recommendations I shared, you can replace a bunch of tools with just one multifunctional product.
Then, if you want to become fully equipped you can always buy a work table where you can safely do all the work without damaging your floors or the kitchen table.
Now you have all the tools, here's a fun project to get started with: How to Make a DIY Wooden Puzzle Cube
I'm Joost Nusselder, the founder of Tools Doctor, content marketer, and dad. I love trying out new equipment, and together with my team I've been creating in-depth blog articles since 2016 to help loyal readers with tools & crafting tips.