I love creating free content full of tips for my readers, you. I don't accept paid sponsorships, my opinion is my own, but if you find my recommendations helpful and you end up buying something you like through one of my links, I could earn a commission at no extra cost to you.
Learn more
Electrician tool belts are a waistband joined with pockets for supporting the electrician's tools.
Typically, these waistbands are frequently used by an electrician to expose their tools for easy access.
When you are an electrician, you need the best electrician tool belt to ensure that you can work safely.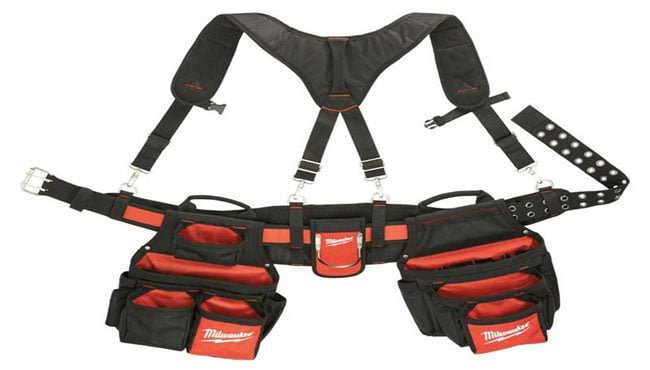 There are a wide variety of features that you can seek out in a modern electrician's tool belt.
| Toolbelt | Images |
| --- | --- |
| Overall best Electrician Tool Belt: Occidental Leather 5590 | |
| Best cheap Electrician's Tool Belt: CLC Custom Leathercraft  | |
| Best combo electrician's tool belt for under $150: Gatorback B240 | |
| Best small Professional Electrician's Pouch: McGuire-Nicholas 526-CC | |
| Electrician's Tool Belt for under $100: TradeGear | |
Buying Guide on Purchasing the Best Electrician Tool Belt
Waist Size
When you're in the market for a new tool belt (here are the top leather choices) for your electrician work, there are a few considerations.
Firstly, if you're just replacing a preexisting product, you can simply measure the old belt from the buckle to the most commonly used hole.
Typically, on leather belts, there will be some warping in the leather at this point.
For those that are buying their first tool belt, you can simply add about four to six inches to the size of electricians work pants that you typically wear.
Doing this will allow the belt to fit more comfortably when weighed down with tools.
This will also account for colder months since you'll be wearing heavier winter clothing and layers during these periods that may require you to have a larger belt.
Belt Size and Flexibility
Similarly to anything, it's crucial that you purchase the electrician tool belt that perfectly fits your needs.
Ideally, it is a great idea to find a product that is adjustable and allows for customization when it comes to the user's size.
For this reason, many belts are flexible; some even work for people with smaller waists around 26 inches, and some scale up so that people with larger 55-inch waists can use the products comfortably.
This is an ideal situation for anyone that needs shareable belts for their workers.
With these types, not only will your workers be covered, but they will also have a bit of wiggle room when it comes to wearing the belt with extra equipment or warmer clothes.
Materials
The type of material that the belt is made out of is going to be one of the determining factors when it comes to its durability.
Of course, there are other factors like the quality of the stitch and the padding that is on the belt, but overall, the material is well worth considering.
Typically, there are three types of material that these belts can be crafted from, which include:
1. Leather
This is the most common choice among electricians, and it tends to be the most comfortable option as well.
The biggest downside of a leather belt is that t is not water-resistant, so it can quickly wear or degrade as time passes.
2. Polyester
This is a type of material that is synthetic, so it is going to cost less to manufacture than authentic leather.
It is typically going to be resistant to water, but it can become uncomfortable and stick to your skin on hot summer days.
3. Nylon
This is a very durable material as well. It is a semi-waterproof option, but if you are constantly working in moist conditions, the fibers can swell up, which can make them fit a bit uncomfortable.
Comfort Level and Fitness
If you are not wearing a comfortable tool belt, you are likely to remove it so that it does not hinder your work.
Typically, you will want to find a belt that has a good amount of padding so that it does not rub you the wrong way while you are working.
You also may find that padding like this will help to increase the breathability of the belt, which will keep perspiration to a minimum.
If you feel the weight of the belt on your hips and your back, you can always opt for a belt that comes with suspenders so that the weight is more evenly distributed.
This allows you to loosen the belt buckle a bit so that it does not dig into your body when you move.
Remember, most tool belts are not going to be comfortable right away, but if you break them in for a few weeks, you will notice a big improvement in the level of comfort that you are experiencing.
Customization and Capability
Consider the amount pocket and hooks that you need for the tools that you use the most, and then, see if you can find one that fits your needs.
Some tool belts can also be customized, which means that you can add or remove pockets with ease.
If you tend to work on different jobs that require different sets of tools, this may be an option worth considering.
Carrying Options
When it comes to tool belts, one thing that you might notice is that they can often be fairly heavy. For this reason, taking them off and putting them off can be a bit of a strain.
As a result of this, some belts are designed with handles – these handles make sliding them onto your body much easier, and with them, you won't have to lift the belt by its pouches.
Additionally, some belts also fit differently – some are just pouches that attach to a preexisting belt, and some have suspenders.
When it comes to the free-floating pouches, these can be very convenient, especially if you don't need a lot of tools for the job and they fit on most belts.
For those belts that are designed with suspenders, these become much easier to carry. This is because there are multiple points of support (usually the shoulders and the waistline).
As you might expect, the carrying options that you select will work for varying situations. For this reason, it's a good idea to consider your type of work before you make a choice.
Best Electrician Tool Belt Reviewed
Overall best Electrician Tool Belt: Occidental Leather 5590
The Occidental 5590 is designed with electricians in mind. As a result of smart design, it has a very accessible design that places hand tools in easy reach.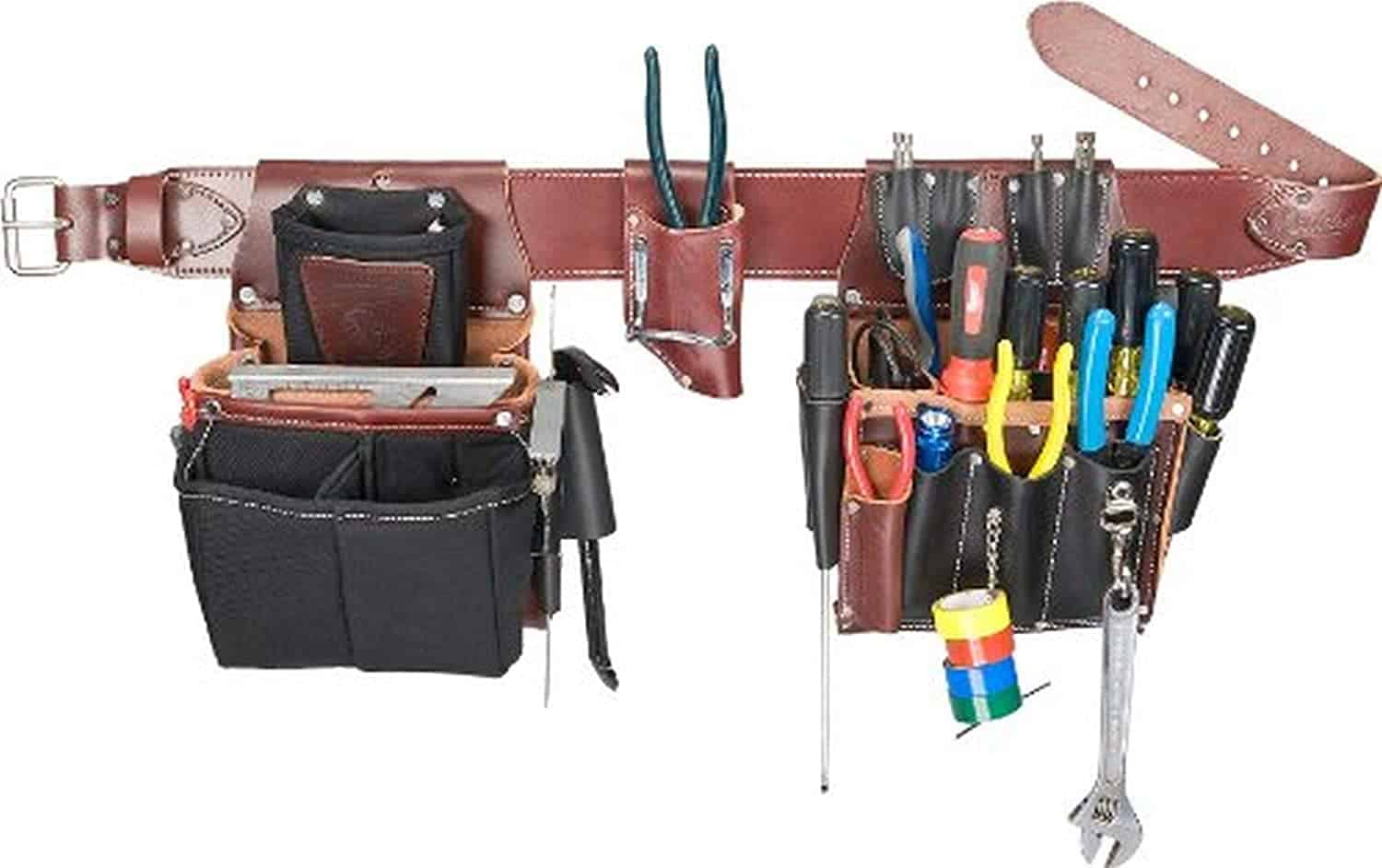 The majority of tools are stored on the left side of the belt, which can be great for those with a dominant left hand, and the pockets here are made to be spill-proof.
In all, the belt has about a dozen compartments for your tools, and in addition to these, there is also ample straps and clips that you can use for various other tools.
On the right side, you'll find several larger pockets for power tools and larger instruments, and each pocket is reinforced for durability.
In fact, you can even configure where you want each tool to be, which is great for an electrician that has a tool organization system.
As with most Occidental products, this tool belt is crafted of leather, which provides excellent durability.
Here you can see an unboxing of the gear:
The belt itself is designed to be incredibly adjustable so that just about any electrician can use it comfortably.
Craftsmanship is clearly at the center of the design philosophy of this commercial electrician's belt; it is just very well put together.
The leather is sturdy, the stitching is strong, and each of the pockets is reinforced.
Pros:
It is effortless to find and reach your tools with this belt.
Despite its durable construction, this is a belt that's very lightweight.
Over time, the leather will mold to the shape of your tools.
Cons:
Check the latest prices and availability here
Best cheap Electrician's Tool Belt: CLC Custom Leathercraft
This product provides a truly comfortable experience where the weight of the tools is evenly distributed across the body.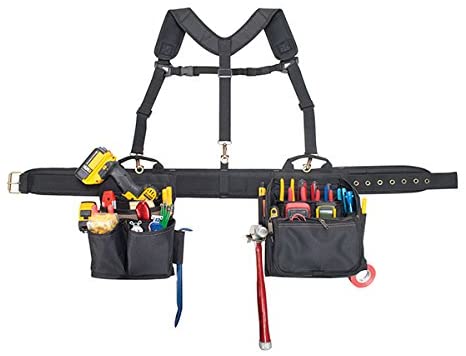 As a result, the experience of climbing up and down is less fatiguing, and when you're less fatigued, you're able to work safer.
The product itself is constructed of leather and also has plenty of padded sections that help make carrying your tools from place to place easier.
Like other tool belts, this product has a two-zone design that lets you carry your tools on your left and right.
This is a spill-proof product; it's explicitly designed to keep your tools in place so that you don't lose them while you're up high.
For the smaller components, the belt also has a few zippered compartments that will keep your stuff nice and organized.
Custom Leathercraft has also included a specialized drill pocket that will provide storage for your cordless drills and their bits.
The entire product is secured via a series of very strong steel buckles, and like most Custom Leathercraft products, the material of this product is very durable and rip-resistant, even the pockets.
Of all of the features, most electricians will appreciate how weight is so easily distributed with this product. Throughout the day, most will experience reduced fatigue.
Pros:
The buckles on this product are very strong and will last years.
The suspenders are padded for extra comfort.
This product includes a drill pocket.
The zippered pockets provide extra security.
Cons:
It can run a bit too big for some electricians.
Best combo electrician's tool belt for under $150: Gatorback B240
With a name like Gatorback, you can expect the products from this company to be very durable and able to withstand the worksite.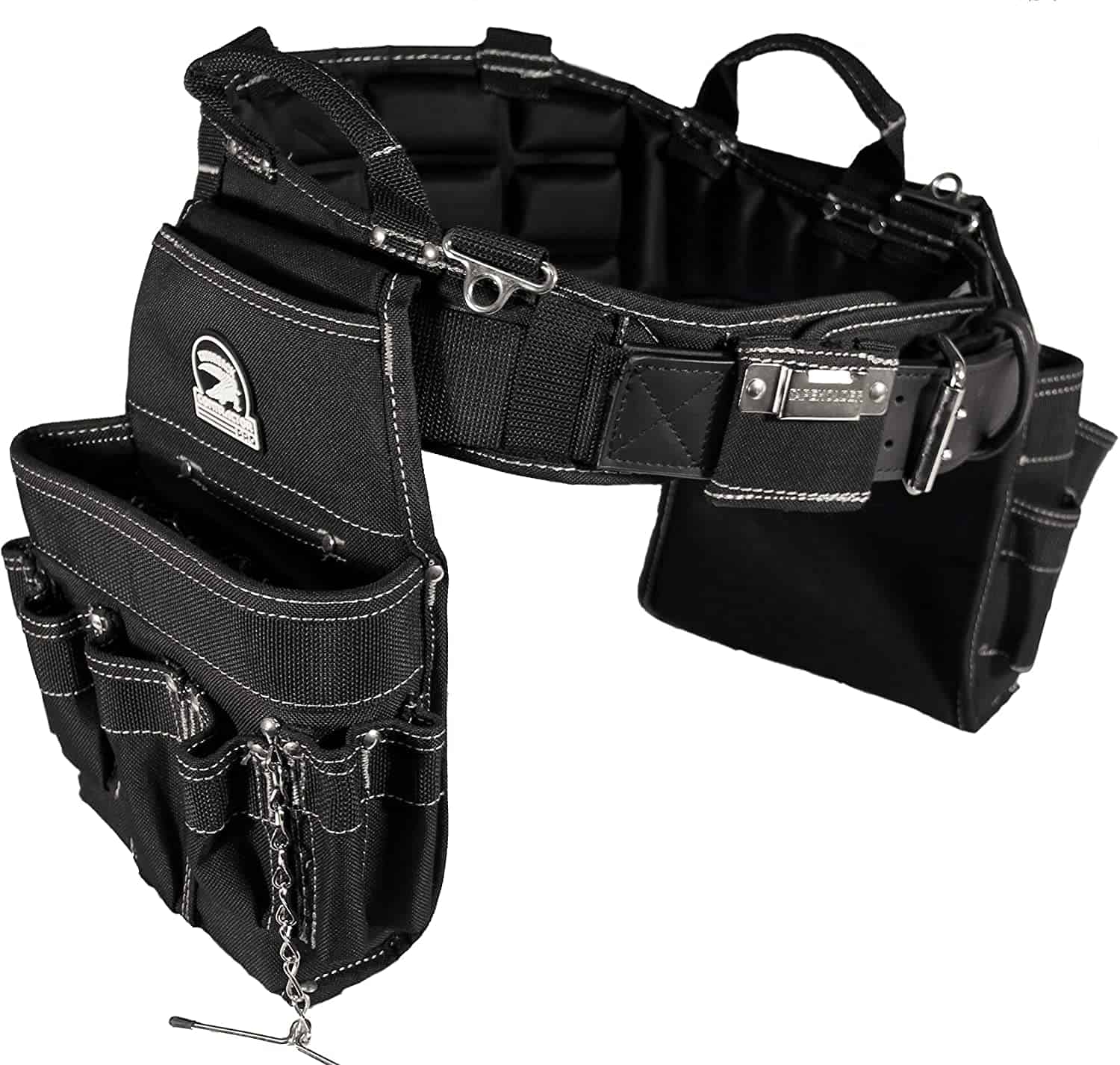 This electrician's combo product is especially tough, which is perfect for those that have to climb, crawl, and shimmy through tight workspaces.
This particular work belt isn't just strong, it's also comfortable, which is very beneficial for those electricians that work long hours.
One of the first things that many will notice is the ventilated padding; this product was designed to not make the owner extra sweaty during work.
In fact, this additional airflow will also help the wearer stay cooler because excess moisture will be wicked away.
The pads themselves are also made of memory foam, so the longer you wear this belt, the more it will attune to your shape.​
This is another product that incorporates handles. This is perfect for those that have bogged-down belts; it'll be easier to put them on and take them off.
Each of the large pockets is also lined with plastic so that there will be no sagging as you work.
While this isn't a leather belt, Gatorback used 1250 denier Dura Tek nylon for this product, which is incredibly tough.
Additionally, this lightweight nylon is secured via rivets so that you can depend on its construction.
Pros:
The belt is very adjustable – just about every size will be accommodated.
This is a particularly durable work belt.
The handles make putting on and taking off the belt very easy.
The pouches are lined with plastic for extra durability and reduced sagginess.
Cons:
The Velcro on this product is somewhat thin.
Best small Professional Electrician's Pouch: McGuire-Nicholas 526-CC
This particular tool pouch falls into the "tool bags" category, and it works well for just about any electrician's professional needs.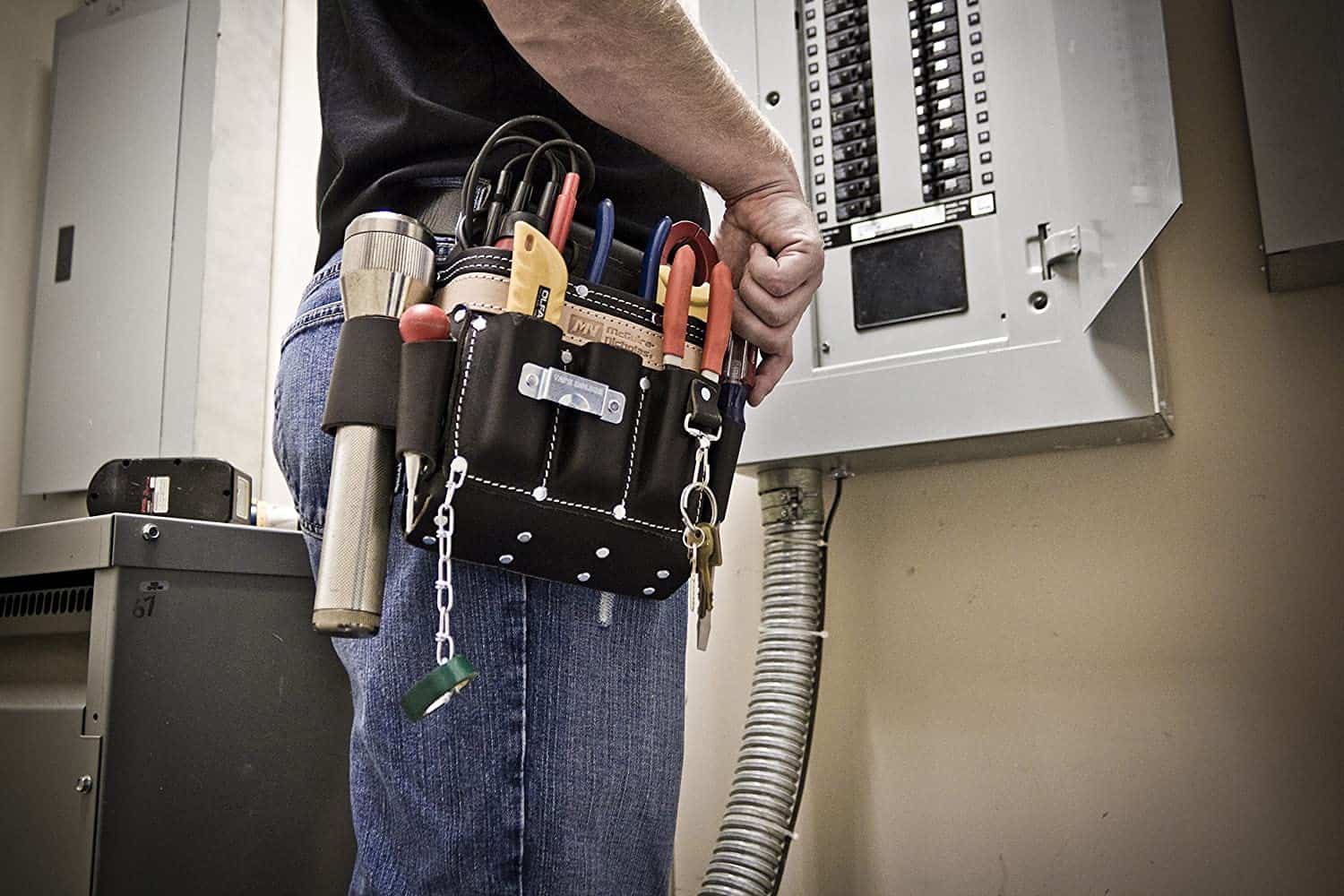 This is primarily due to the fact that this product features space for a wide variety of tools including, different types of hammers, tape measures, electrician's tape, and keys.
The pouch also has a dedicated loop for most standard flashlights, which is advantageous in areas with no power or in nighttime environments.
There is even a chain tape clip with a T-shape, which can be very secure for holding any extra tape or tape measures.
When it comes to construction, this is a very sturdy and durable pouch. It is made of tough leather, and it has some very high-quality stitching that is very hard to fray or come loose.
In addition, many of the joints and creases are riveted for an extra-secure functionality.
This electrician tool pouch fits neatly on a preexisting belt, so it is perfectly reasonable for an electrician to opt to use two.
This provides a high amount of pouches, and since they attach to a standard belt that can be more than three inches thick, these pouches can be very convenient when out in the field.
Unlike most leather pouches used by electricians, this product has an all-black design, which is a stylistic choice that may not be for everyone.
Additionally, the product is somewhat stiff and will need to be broken in.
Pros:
This is a very durable product that has plenty of pockets.
The stitching and rivets really help keep the pouch secure.
This is an all-leather product.
Cons:
 If you're working on a scissor lift, the pouch's clip can get in the way.
Electrician's Tool Belt for under $100: TradeGear
Comfort is crucial when you're out there working as an electrician, and a tool belt should have a few features to help minimize the fatigue that carrying tools can bring.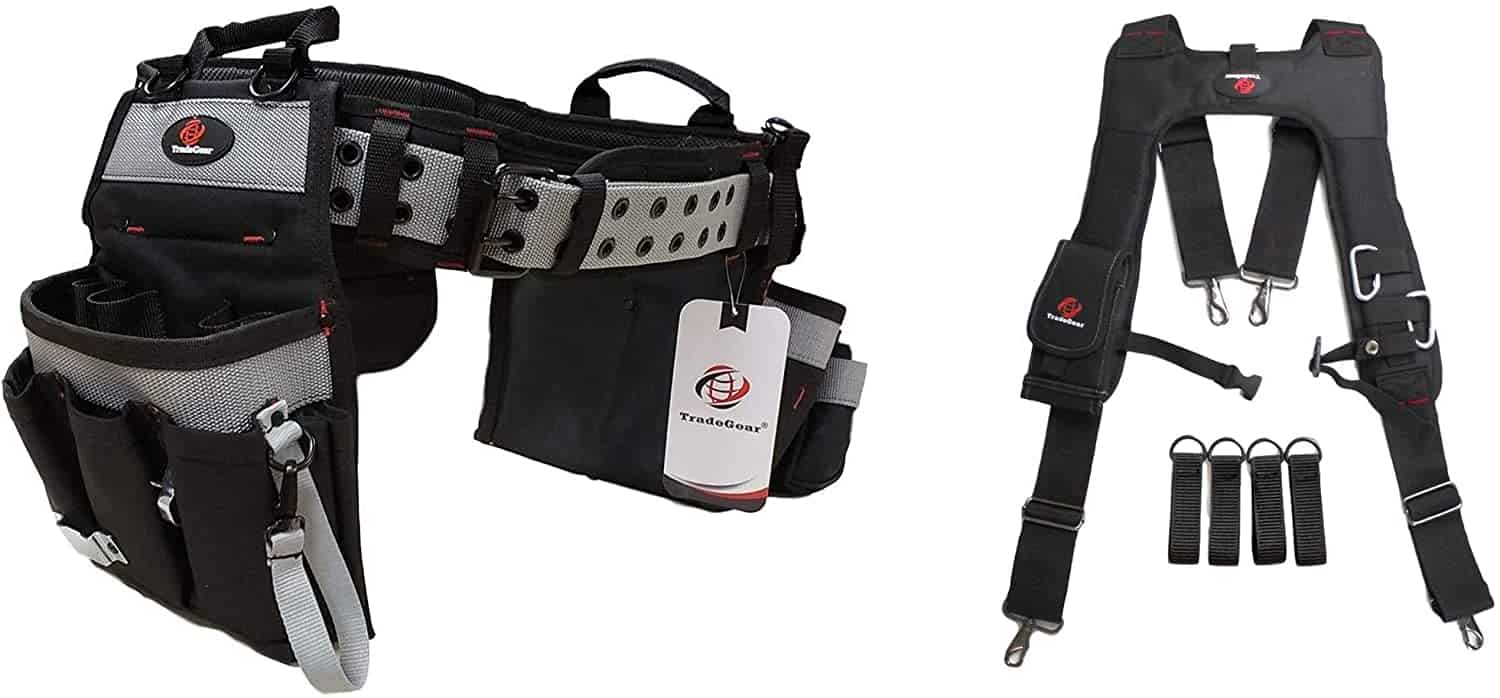 This product, which is manufactured by TradeGear, is a tool belt that has a cushioned area along its inside.
This inside area is fitted with memory foam, and it is designed to allow air to flow freely so that perspiration is wicked away.
In all, this product has 27 pockets for your various tools and work materials, and each pocket is reinforced for durability.
The two largest pockets are sturdy and spacious; they should fit just about any class of electrician tools.
The entire product is crafted out of 1250 DuraTek nylon, which is some of the most robust nylon on the market.
In addition to this, the belt also is rivet-reinforced and has ultra-strong Bar-Tak stitching to ensure longevity.
It is not uncommon for an electrician's tool belt to be very heavy, which means that taking the belt off and putting it on can be strenuous.
One of the perfect features of this particular tool belt is the inclusion of two very sturdy handles – with them, you can easily lift the belt without straining your back.
Pros:
The handles make this a very easy to remove and put on the tool belt.
The material is especially durable; the high denier nylon will last for years.
The pockets are reinforced with nylon webbing.
Cons:
There isn't a screw gun pouch.
You can buy it here from Amazon
How do you Organize a Tool Belt?
Toolbelts let you carry all your electrical tools on your waist while you are at work.
Rather than carrying pliers, wire strippers, or power drills in your hand while climbing a ladder, tool belts have separate pockets for every tool.
These belts make your electrical repair and installation much easier, especially when climbing a pole or roof. Electricians should own tool belts that are specifically assembled for electrical tools.
In this way, each of your electrical tools will be fitted on its designed housing. You will not have to turn around in order to find the right tool for your specific task while you are at work.
If you organize your tool belt properly, everything will be within your reach at any given moment. Organizing your tools will spare your time for the intended activity and avoid unnecessary frustrations.
Purchase the best tool belt for electricians with several compartments designed to support your electrical tools. Make sure that the fasteners will hold your tools tight to avoid minor accidents.
The frequently used tools should be placed on the side favored by your dominant hand – which can be your right hand. Suppose you are a left-handed electrician, you can put these tools on your left-hand side.
The tools that will support you should be placed on the left-hand side. Measuring tools and labeling machines need to be placed on this side so that you can access them with ease.
Make sure that each tool is fitted on its pocket attached on the grommet. Do not force a tool on a space that is not matching its size. Some of the belts are designed with flexible pouches that can be adjusted to accept any tool.
Reduce the weight of your tool belt by hanging only the most important tools you need for the job. You may keep the tools for the next task on the toolbox. A heavy tool belt is risky to your life.
Spread the tools equally on the sides of your belt to avoid imbalance that can cause a tear and wear. Rotate the belt to fit your waist, and fasten it properly. Make sure that you are not feeling pain from any point.
Make sure that the risky tools such as needle-nose pliers, Wire strippers (like these), and other sharp electrical tools are covered to avoid the injuries.
Turn the belt for speed and relief. Reversing the grommet pockets to face your back lets you bend comfortably especially when you are on the ladder.
To work conveniently, you will continuously adjust your belt depending on your position when handing a task.
What's the right way to wear a tool belt?
When you are putting on your tool belt, it is vital that you do it correctly so that you can get the most out of it. It is designed to help you complete your daily tasks.
So if it is sagging too much or it needs to be continuously adjusted, it can slow you down and make it more difficult for you to complete the job that you are trying to complete.
The first thing that you need to remember when you are putting on the belt is to remove all of the tools from the pockets.
If you leave tools in the belt, it could be heavier on one side, which will weight it down. This could make it more difficult to adjust the belt, and it could even make it impossible to buckle it properly.
Once your belt is positioned on your body, you can start placing your tools in it.
Always make sure that you place the tools that you use the most on your dominant side so that you can easily grab it and use it without switching hands.
This makes it easy to do things such as tighten a screw or cut a wire without wasting too much time. Tools that you use less should be located on the other side of the belt.
One of the most important things to consider is the size of the belt. If you have a belt that is too big or too small for your body, it is likely to cause discomfort.
If you can find an adjustable belt, you will find that you can get a much comfortable fit, especially if you take the time to put the belt on properly before you begin working each day.
How to Maintain Your Tool Belt To Last Longer
Use scabbards or sheaths to cover sharp tools like axes, knives, saws, hatchets, and other piercing tools to prevent damage on the tool belt.
Also, you should not suspend it on hooks or other prickly objects mounted on the wall because this might cause scratches on the bag.
You should spread tools equally on your tool bag to avoid weight imbalance that may cause the tear. When you stand straight, your tool should be aligned with your body down to the spine. This is an indicator that tools are hanged appropriately.
If the belt is heavier than usual, remove some tools to reduce the weight. Only carry the tools you are going to use, this bag is not a store for your tools. Suppose you are climbing a ladder, hang only the essential tools. Heavy tools are dangerous even unto your life. Make sure the tools are properly held on the grommets to avoid failing.
Use special conditioner to clean your belt so as to prevent crevices. This cleaning should be done on a regular basis, perhaps after every month. You may also use cold water to wash your tool bag – hot water can weaken the bag and reduce its lifespan. Again, you should not leave your tool belt on sunlight for a long time since this might form mild-dew on your leather.
If you reside in harsh weather conditions with prolonged rainfall; you should opt for waterproof belts that will endure cold weather.
Most importantly, keep your belt away from chemicals as the reaction might weaken the pockets.
Toolbelt Safety Tips
As with any profession, safety is a concern that you must be aware of so that you can continue to work without injury or pain.
As an electrician, there is always a concern about getting electrocuted while you are working on hot wires, but there are other concerns that you must be aware of as well.
You may not consider a tool belt a safety hazard, but choosing the wrong belt may present one. Here are some safety tips that can help you choose the right tool belt so that you never get injured on the job:
Don't choose a belt with large buckles
Of course, a tool belt is going to have a few belts and straps to help you keep your belt in position, but when you have large buckles, you risk the chance that the belt buckle will get in the way while you are working.
This means that when you bend down or reach to get a tool off of the floor, you may find that the buckle pokes into your skin. If this uncomfortable rubbing or poking of the skin occurs frequently, you may find that it will begin to wear after a while, which can cause your skin to peel, causing a wound that will only bring you more discomfort.
Wearing a tool belt is going to add more weight to your body while you are working,
so if you find that your back is aching or it is beginning to be uncomfortable after bending up and down all day, you may want to consider whether or not your tool belt has enough back support.
Each year, more than one million individuals will injure their back on the job, so it is crucial that you protect yourself from back injuries that could keep you from working for years.
If your tool belt is not capable of providing you with adequate back support, consider using a separate back brace while you work.
Consider a padded tool belt for added comfort
If your tool belt does not have adequate padding, it can dig into your skin or simply rub you the wrong way as you work,
so you want to make sure that you have enough padding to be comfortable for a full eight-hour shift.​
If you have padded suspenders attached to the tool belt, you can even distribute the weight of your tools more so that you are not uncomfortable as you work.
Don't carry tools that you will not need
Tools can be heavy, especially if you are carrying an excess of tools that you do not need to use on the job.
Consider which tools you will need for the day, and only put those in your belt. The rest can be kept in your toolbox where you can quickly go and get them if you need.
Final Thoughts about Purchasing the Best Electrician Tool Belts
In conclusion, it is important to consider which tool belts features are fit for you.
You should purchase the best electrician tool belt that will support the design and weight of your electrical tools.
However, failure to organize your tool belt may result in some injuries, death, and can even interfere with the lifespan of your belt.
This is why we've guided you to make your decision easier.​
I'm Joost Nusselder, the founder of Tools Doctor, content marketer, and dad. I love trying out new equipment, and together with my team I've been creating in-depth blog articles since 2016 to help loyal readers with tools & crafting tips.