I love creating free content full of tips for my readers, you. I don't accept paid sponsorships, my opinion is my own, but if you find my recommendations helpful and you end up buying something you like through one of my links, I could earn a commission at no extra cost to you.
Learn more
Cutting metal is not an easy job. In a modern industry like ours, you can't really get anywhere without having to rely on electric band saws. You can consider them to be the optimal solution to increasing your workflow.
With that being said, there are loads of different options on the market for you to try out, leaving you somewhat confused.
Fortunately, you're in luck as we reviewed some band saws and came up with a list of the five best horizontal band saw for metal cutting on the market!
Benefits of Horizontal Band Saw
Before we can delve into the benefits of using a horizontal band saw, we should first familiarize ourselves with how the saw works.
In layman's terms, a band saw is a sawing machine that utilizes a saw blade to cut through materials. A horizontal band saw essentially uses a flat saw blade to cut materials.
At a glance, a horizontal saw differs from standard saws where the standard ones use a circular blade.
Uniform Cutting
The advantage of the horizontal blade comes here where you can use the horizontal saw to cut along the material uniformly while having even distribution of tooth load.
Irregular Cutting Angles
Because the saw uses a horizontal blade, it allows you to make irregular cuts at any angle you want. You could even make peculiar cutting shapes like zigzag or jigsaws.
Because of these benefits, a horizontal band saw is an excellent tool for cutting metal in a uniform and even manner.
5 Best Horizontal Band Saw for Metal Cutting
To make things easier for you, we compiled all five of the saw reviews and put them in a list so that you can check out their pros and cons at your leisure.
1. WEN Benchtop Band Saw
Most horizontal band saws you will see on the market will have a bench-like design. This design incorporates the mounted aspect of a workbench with a flexible sawing machine. You can just put it on any flat surface you want and get to work.
For a design like this, our top recommendation would be the benchtop band saw by WEN. In terms of durability and utility, it is one of the best band saws you will ever use in your metalworking career.
For starters, the whole saw has a metal design, with the blade having a beveled edge. This beveled edge allows you to cut metal materials like Aluminum, copper, brass, etc., at angles ranging from 0 to 60 degrees.
Because of this aggressive blade design, it can easily cut through all kinds of metal materials in no time. You can also adjust the speed of the blade to cut anywhere between 125 fpm to 260 fpm.
With a saw blade like this, you can cut into 5 inches of metal without the edge breaking in any way.
This allows for greater versatility, giving the saw the strength it needs to plow through a wide variety of metals.
If you are someone who travels a lot, you will be overjoyed to know that you can take this saw anywhere you want due to the foldable design.
Pros
Beveled edge allowing 60-degree cutting angles
Manually adjustable speed
Greater versatility with materials
Can cut to 5 inches in depth
Compact folding design for portability
Cons
Poor knob quality
Frustrating latch design
Verdict
If you want a horizontal band saw that allows you to cut a wide range of metal materials in no time, the benchtop band saw by WEN is one of the top options you can consider with no hesitation. Check prices here
2. RIKON Horizontal Band Saw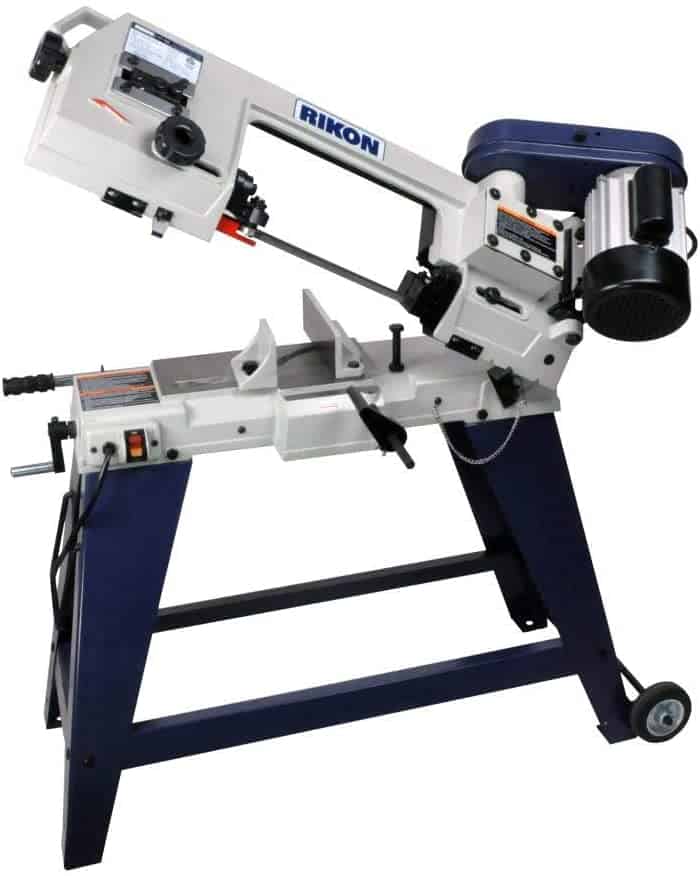 When you try out a horizontal band saw, you'll find that you require a flat surface that is sturdy enough to resist the vibrations of the saw. Without a surface like a table or work desk, you can't really operate a horizontal band saw without horribly injuring yourself in some way.
However, the horizontal band saw by RIKON defies all of those caveats by boasting a design that solves the problem. For you see, this band saw has its own carrying system and flat surface that allows you to work without anything else.
Firstly, this horizontal band saw has a design like any other band saw of the type. It works like a stapler where you can move the saw at a 90-degree angle and cut through metal.
You can also use the built-in vise clamps to make irregular cuts and shapes however you want.
Even so, the main attraction of this band saw is the four legs you'll see at your first look at the machine. It utilizes those legs to provide the machine with a standing position, allowing you to use it without requiring a work desk.
This type of design also allows for transportation wheels that make the job of transporting the saw easier.
As for other features, the saw has an auto-off safety switch that can turn off the saw in an instant.
Pros
Fully rotational band saw
Vise clamps for irregular cutting angles
Quadruple metal legs for versatile operation
Auto-off switch for excellent safety
Wheels allowing easy transportation
Cons
No portable power source
Heavier than most saws
Verdict
If your projects require you to move a lot and you can't afford to pay for a garage, then this band saw by RIKON is your best friend as it provides a work desk for you to cut your metals on. Check prices here
3. Grizzly Industrial HP Band Saw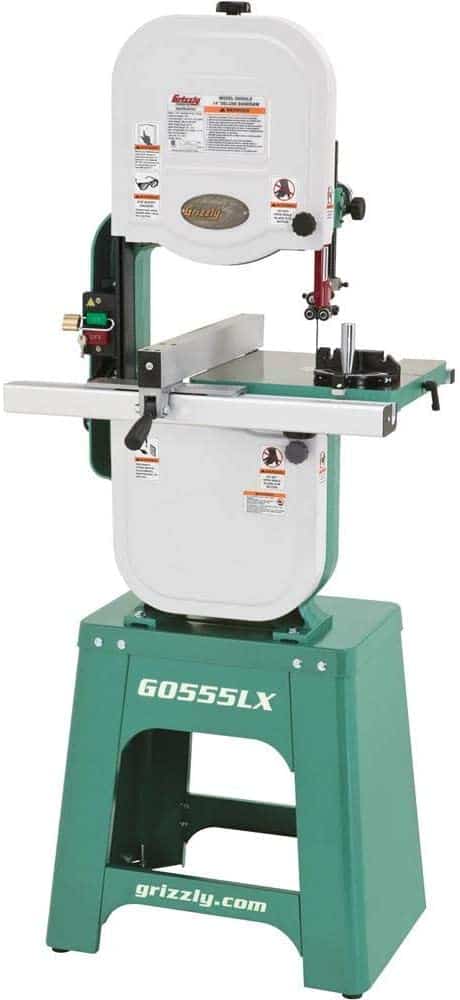 Portability isn't something you consider when you're looking at heavy machinery like metal cutting bandsaws. In most cases, you don't even get to shift your saw from one place to another, let alone transport it.
However, Grizzly Industrial has a solution to that problem. The HP band saw is one of the most portable pieces of machinery you will ever own, with its small form factor and transportation features.
Taking a quick look at the machine, you'll notice that it has a familiar design with its rotating horizontal saw blade and 1 HP single-phase motor.
That being said, you shouldn't underestimate this motor as it delivers up to 235 fpm of rotational power to the saw, allowing you to cut metal materials very quickly.
You can also manually adjust the speed of the saw to account for rather thinner materials like Aluminum or Copper.
There is an automatic shut-off system that can shut the bandsaw off in case there is a problem within the motor or the band.
If you want even more safety, you'll find that this machine has hydraulic feed controls that prevent the stick-slip effect while you are cutting through rigid materials like steel or stone.
Apart from the transportation wheels and clamps, the saw also supports portable batteries, lending to its fame of having a small form factor and excellent transportation ability.
Pros
Rotation saw blade with powerful motor
Manually adjustable saw speed
Hydraulic feed controls for better safety
Automatic shut-off system
Portable battery support
Cons
Hefty in weight
Poor clamping system
Verdict
Portable machinery is rare, as most of them require the necessary parts to operate at much higher capabilities. Be that as it may, the HP bandsaw by Grizzly Industrial is one of the best options when it comes to portable sawing machines. Check prices here
4. KAKA Industrial Metal Cutting Band Saw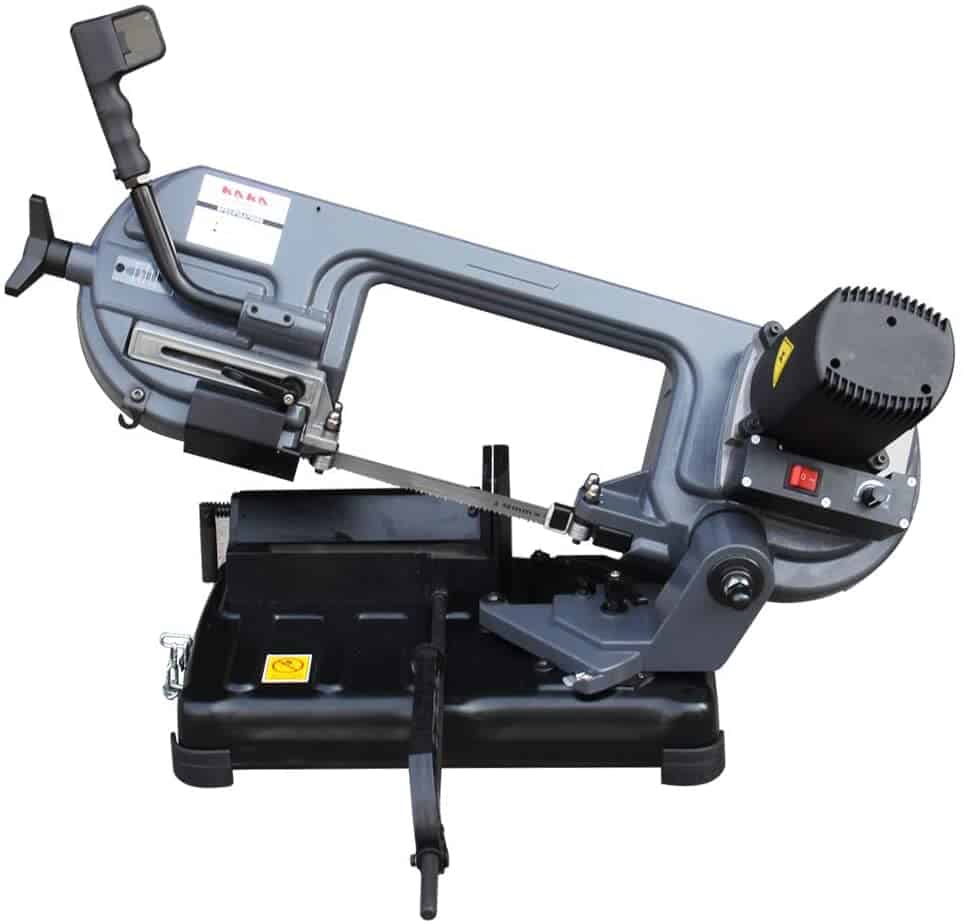 Sometimes, the simple principle of "the stronger, the better" applies to a job like cutting through metal materials. For tough materials, you won't go far with a puny circular blade or an underpowered saw blade.
If you want to cut through rigid materials without straining yourself, you should try out the band saw by KAKA Industrial. Out of all the bandsaws we reviewed, this one had the most power in it.
At first, we can note down all of the technical aspects of the machine. For the motor, it has a 1.5 HP motor that you can rewire to 230 volts almost effortlessly.
The hydraulic feeds allow the machine to tune in at a perfect feed rate without fail. With a micro-adjustable feed rate, you are guaranteed to get a long blade life and better positioning of your materials.
Even the hydraulic cylinder offers you maximal control over the saw while being perfectly aligned with the metal.
With the quick-clamp vise, you can easily rotate the saw up to 45 degrees, allowing you to cut metal at irregular angles and peculiar shapes. The saw also has a coolant that cools off the machine when the blade is kept running for too long.
As for the portability aspect of this band saw, you get movable wheels that help you transport the machine to any place you want without requiring the help of a truck.
Pros
Powerful motor for high-speed operation
Can be rewired for a higher power output
Manually adjustable blade speed
45 degree quick clamps
Easy transportation system
Cons
No battery power source
Blade can kick off on thin materials
Verdict
Overall, the bandsaw by KAKA Industrial is the best horizontal band saw you can get if you're working on very rigid materials like steel or raw ores. Check prices here
5. Prolinemax Horizontal Band Saw
We know we have been talking about horizontal band saws that allow you to cut through metal materials very easily. But, versatility can play a big role when you're working on a project as many materials of different types are at play.
It might be that you are someone who is working on a project like that. In that case, we wholeheartedly recommend the horizontal band saw by Prolinemax for its superior versatility that is unmatched in the market.
For starters, this horizontal band saw a 4 HP motor that can rotate at 1700 RPM without breaking a sweat. Since you want to work on different materials, the saw offers three cutting speeds that allow you to cut different materials.
As an example, you can use the medium-speed setting to cut materials like plastic or glass without breaking them in any way.
As for other features, you get a scale that allows you to keep the materials steady in the mitering vise. Since the motor works at a low power output, its noise generation is significantly reduced compared to other horizontal band saws.
Normally, you cannot transport a band saw without employing a truck to the job. But, this band saw has the weight of a hundred pounds, allowing you to easily transport it on the back of your old car or bicycle.
Pros
4 HP Motor with 1700 RPM speed
Three adjustable cutting speeds
Superior versatility compared to other machines
Sturdy scale for mitering vise
Zero or low noise operation
Cons
Poor switch quality
Low power output
Verdict
There are many kinds of bandsaws out there, but in terms of sheer qualities like versatility, low noise generation, mitering vise, high-speed motor, the bandsaw by Prolinemax ultimately takes our top spot and, should you find it appealing, yours too.
Frequently Asked Questions
What is a horizontal band saw?
A horizontal band saw is a sawing machine that allows for greater versatility and movement when cutting through rigid materials like metal.
Horizontal or Circular – which band saw type is the best?
In terms of power output, circular bandsaws take the cake as they can put out more power on a circular blade. However, horizontal band saws allow for greater freedom in shaping your metal materials.
Should I wear gloves when I use a horizontal band saw?
Safety is an important factor that you must consider at all times. So, yes, you should wear gloves and other protective gear while using a horizontal band saw.
What is blade tension?
Blade tension is a phenomenon that describes how tight a saw blade is for a band sawing machine. It is applicable for all kinds of sawing machines as long as it has a saw blade.
Why is my bandsaw not cutting straight?
It is the case of the band that rotates the motor has displacing itself, allowing deviations in the cutting line of the saw.
Final Words
In general, working with metal requires precision, appropriate power, and above all, utmost reliability. Hence, horizontal band saws are perfect for the job.
Hopefully, we have helped you choose with our guide on five of the best horizontal band saw for metal cutting on the market.
I'm Joost Nusselder, the founder of Tools Doctor, content marketer, and dad. I love trying out new equipment, and together with my team I've been creating in-depth blog articles since 2016 to help loyal readers with tools & crafting tips.