I love creating free content full of tips for my readers, you. I don't accept paid sponsorships, my opinion is my own, but if you find my recommendations helpful and you end up buying something you like through one of my links, I could earn a commission at no extra cost to you.
Learn more
The world is going through a crazy wave of DIY lovers and enthusiasts. People are getting up from their couch and going to their little private workshop to work with wood, metal, or anything else.
With the increase in handy people, the demand for helpful tools is increasing too, and for that, you need the best carpenter's tool belt.
A tool belt allows you to keep your tools organized in a neat way that is easily accessible to you.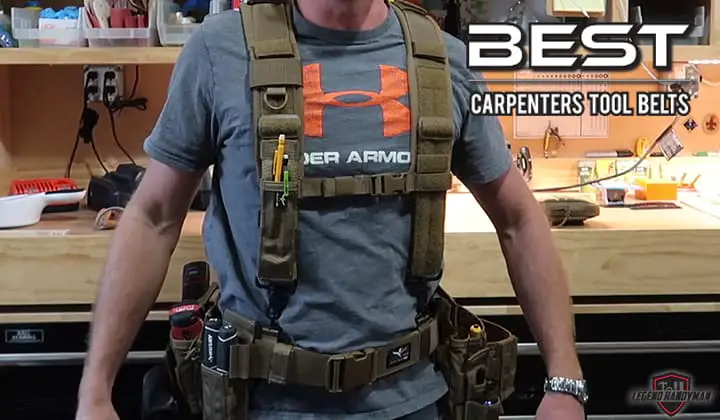 Are you one of those who like to take care of their own business instead of going to a professional? If the answer is yes, then you probably felt the need for your own carpenter's tool belt at some point.
Why You Need a Carpenter's Tool Belt?
Are you a guy who is handy with tools? Do you take care of all your woodworking needs yourself? Do you like to dabble in the art of carpentry from time to time?
You do not need to be a professional to say yes to these questions. Woodworking is an art form that is coveted by many people and admired by all.
A tool belt is exceptionally adept at keeping your tools in check when you are working. You need to be quick and reactive.
With easy access to all your devices, you can work much more effectively. Additionally, you do not have to worry about losing them if you place the tools securely in your belt.
Furthermore, you can better take care of your tools when you are using a belt. When they are in your pocket or maybe a box, they tend to hit each other, causing all sorts of dents and scratches.
There is also a chance of losing them or dropping them on the floor, which can damage your equipment.
A carpenter's tool belt takes care of all these issues without putting too much pressure on you. It allows you to focus on your work without worrying about the well-being of your gears.
Best Carpenter's Tool Belt Review
Here is a list of 8 best rated carpenter's tool belts that will allow you to work efficiently without worrying about losing any of your gears.
DEWALT DG5617 20-Pocket Pro Combo Apron Tool Belt
It is hard to make a list of useful accessories for work without having the name of DeWalt in it. This company is dedicated to providing services for workers and handymen by creating high-quality yet low-cost devices. Their DG5617 is another example of the premium grade of product that we have come to expect from them.
This tool belt comes with 20 pockets and sleeves of different sizes. You can store anything like nails, tools, or work parts in the various compartments of this work apron.
Additionally, it comes with a built-in cell phone holder. The padded yoke-style suspenders of the unit distribute the weight of the tool belt evenly so that you do not feel too heavy even when carrying a significant number of gears.
The padded belt of breathable mesh, along with the double-tongue roller buckle of this belt makes it very comfortable. Furthermore, the stability of the strap allows you to carry it with ease without feeling the weight of your devices.
You would most likely be wearing it for a long time. So, the comfort of the belt is of paramount importance. Also, you do not need to worry about the apron fitting you as the size requirement is very flexible.
This tool belt easily can fit waists of 29 inches to 46 inches. With a reasonable price tag, this is one of the most solid purchases you can make when shopping for a tool belt.
Pros
20 pockets with nine main pockets
Suspenders with extra pockets for even weight distribution
Padded, breathable mesh belt design
Flexible waist size
Cons
Cell phone holder does not support all models
CLC Custom Leathercraft I427X Heavy Duty Contractor-Grade Tool belt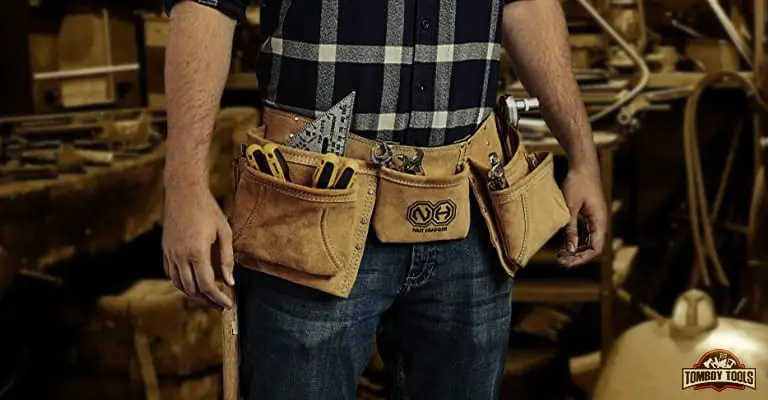 The heavy-duty tool belt by CLC is every DIY'ers dream. It is cheap, well-made and comes with enough pockets to satisfy even the most finicky of workers. This belt is made from contractor-grade suede leather. It has two pockets in the front to make access even more accessible.
This belt comes with a total of 12 pockets split up as four main pockets and eight smaller, secondary ones. The main pocket is meant for all of your nails and tools while you can store little things like pencils or pliers in the secondary pockets.
Additionally, you get a center pocket for holding your tape measure and a dedicated hammer holder loop. The easy compartmentalization of your equipment means that you do not have to be worried about running out of space. It also features a square holder made from leather.
With a 2-inch poly web belt, this belt can fit most waist sizes easily. It fits sizes of 29 to 46 inches comfortably. The buckle is made from metal but feels more like high-quality plastic. This belt gives you high accessibility and utility. You rarely have to leave your devices in a box anymore.
Pros
12 main pockets with four primary and eight secondary ones
Contractor grade suede leather
2-Inch Poly web belt
Flexible waist size
Cons
Buckle feels like plastic
Occidental Leather 9850 Adjust-to-Fit Fat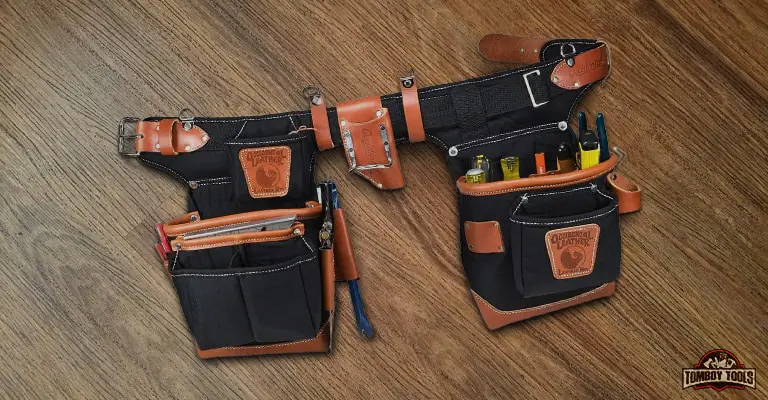 Occidental Leather is a company that focuses entirely on developing tool belts of the highest quality. They gained their fame due to the superior design and unwavering commitment to creating high-grade products that meet your every requirement. The 9850-tool belt is an example of the excellence that this company promises.
This product comes with a total of 24 pockets and pouches of different sizes to hold your tools and work parts. It also features a Fat Lip bag design that is 10 inches deep.
The bag is made of nylon and its reinforced leather bottom and corners allow it to be durable and resist tearing. A hammer (of many types) holder loop is located at the center of the belt, allowing easy access any time you need it.
In addition, the product comes in a sleek and compact design with a beautiful combination of orange and black. There are reliable chains in the pockets to keep small things in place.
It features a unique leather fat lip that keeps the bag accessible at all times. The tool belt along with the pocket, is made of fully grained leather, rugged industrial-grade nylon, and high-density neoprene, making it significantly durable.
Due to the "adjust-to-fit" system, you do not have to worry about the fit that comes with this product. It can accommodate a full range of adjustment for the waist of sizes 32 inches to 41 inches comfortably.
Additionally, it comes pre-installed with D-rings for easy use with suspension systems. You do not get any extra weight with the unit as it weighs only five pounds. This product is made to provide you with the highest amount of productivity possible.
Pros
Long lasting and durable
Chains in the pockets to keep things in place
Resists tearing
High number of pockets
Cons
Dickies Work Gear – 4-Piece Carpenter's Rig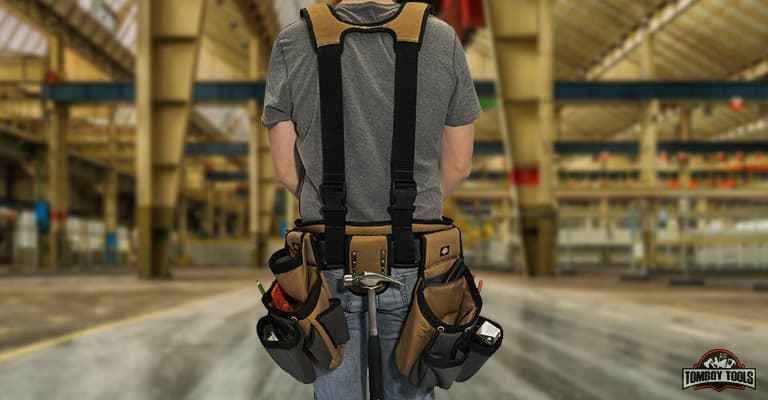 Dickies Work Gear is another company that caters to the people who are looking for high-grade tool belts or tool holders without spending a lot of money. This company has developed a lot of goodwill over the years because of its cost-effective products. They prove that you can find the right quality products even if your budget limits you.
The four-piece carpenter's rig is an affordable tool belt that comes complete with suspenders to get you started instantly. It has suspenders that are adjustable from the front side and distribute the weight evenly when you are carrying heavy tools.
Furthermore, they are gel-padded and built with moisture-wicking mesh to keep you fresh and stress-free. This one has two storages in the left and right sides with a different number of pockets to accommodate all your accessories.
The left storage pouch comes with three pockets with a wide opening, three additional pockets for small tools and two tool loops for pliers or other equipment. The right side comes with a total of 7 pockets strategically placed to contain anything you want.
Additionally, you get a hammer loop holder in the center of the belt and an elastic phone holder on the suspender of the product. You will never have to worry about space with this tool belt.
The tool holder comes with a moisture-wicking, 5-inch mesh-backed waist belt. It is adjustable to provide waist sizes of 32 to 50 inches a comfortable fit.
Finally, the heavy-duty, rip-resistant canvas gives the product massive durability. On top of that, the belt also features a durable double-tongue, steel roller buckle that keeps it secure and fit.
Pros
Strategic placement of pockets
High-quality of design
Durable leather coating
Affordable and lightweight
Cons
Does not fit smaller waists
Bucket Boss 2 Bag Tool Belt in Brown, 50200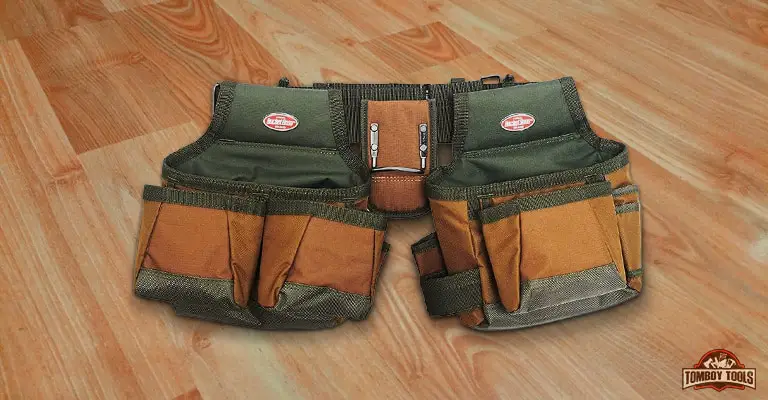 Established in 1987, Bucket Boss is a well-known and beloved name in the industry of the working people. Their tool belts and organizers have made a name for the company because of its low price and high utility. Since its conception, the company has created over 100 different products to organize and carry your tools with you effectively.
When looking for the best tool belts in the market, this product pops up everywhere and for good reasons. This tool belt has practically no weight of its own because of its 600 Denier poly ripstop construction.
It includes a super adjustable infinity bet and thick steel grommets. The pouches have reinforced barrel-bottoms that give you the extra capacity, and you can reposition it according to your needs.
The 50200 Bucket Boss comes with a total of 12 pockets that can hold all of your small tools and nails. Additionally, you get two large pouches for holding more substantial tools.
You can move the bags around the belt for easy access to your specific requirements. This product also comes with two hammer holders instead of one. The first hammer loop is made of steel, and the other one comes with heavy web material.
This belt is made keeping the needs of earnest workers. Whether you are a DIY expert or a professional worker, you will find this product to be useful. Its beautiful brown color gives it a leathered look, but in fact, it is of polyester construction.
Don't let that fool you, though; this belt can survive anything you throw at it. With this product, you get everything you need to get started on your next project.
Pros
Adjustable pouches that can be repositioned
Flexible waist sizes up to 52 inches
Sturdy and durable 600 Denier polyester construction
Double hammer loop
Cons
Zipper in the bags are not high-quality
Style n Craft 98434 17 Pocket Top Grain 4 Piece Pro-Framers Combo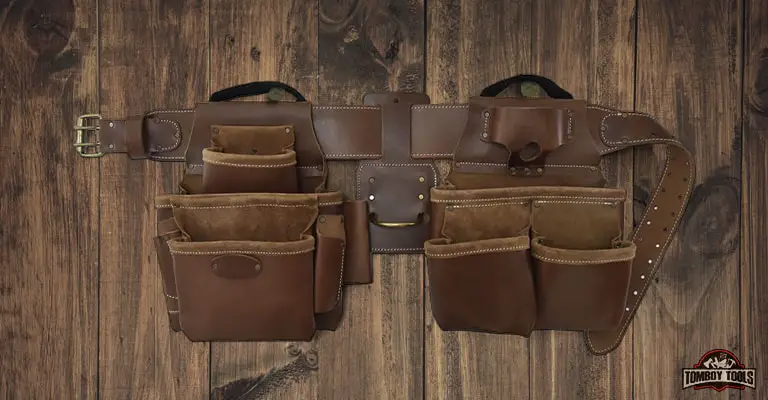 It is a relatively new company based in the USA, which started its journey in 2007. Style n Craft specializes in the production of high-quality work gears and leather accessories in a budget. This company takes pride in its strict quality control to provide a top-grade product to the consumers.
The Pro-Framers Combo 98434 comes packed with a lot of excellent features to make it a handy tool belt for any professional or recreational framers.
Due to the top-grain oiled leather construction and heavy-duty structure; this product is sturdy and durable. Add that with the heavy-duty nylon thread and contrast stitching, you get a belt that will not fail you anytime soon.
This product comes with a total of 17 pockets conveniently placed in a double pouch design. The right-side main pouch contains six internal pockets right below the tape holder where you can keep small tools like nails, pencils, or knives.
You also get a tape holder, a combination square, and a pry bar holder with this tool belt. There are two smaller pockets for holding your pencils on the outside. If that was not enough, you also get a metal hammer holder loop on the center rear side of the belt.
The product comes in a dark tan color that gives it a vintage yet elegant look. All the hardware comes in an antique finish. For some added safety, it comes with rivets with caps. It's the best framing tool bag indeed.
Last but not least, the heavy leather belt is 3 inches wide and tapered, along with a double prong roller buckle made of metal. It fits a flexible number of waist sizes from 34 to 46 inches. If you have a larger waist size, you can buy a secondary belt from the manufacturer made of the same materials.
Pros
Durable leather construction
Has lots of space for all your tools
Double pouch design makes the unit versatile
Replaceable belt
Cons
Takes some time to break-in
Gatorback Professional Carpenter's Tool Belt Combo w/Air-Channel Pro Comfort
This high-utility tool belt by Gatorback is just the thing to help you get started on your next DIY project. It gives you an airy and comfortable feel which makes it the perfect companion for people who sweat a lot when at work.
It comes in 5 different waist measurements allowing you to choose the perfect one for you. The sizes are quite flexible, so you do not need to worry about the fit.
This product is roomy with a total of thirteen different storage pockets. With a beautiful blend of small and large pouches, you have more than enough space to house tools and equipment of every size.
The right side comes with seven pockets and a metal hammer loop. Additionally, the left side contains four pockets and incorporates a speed square pocket. It also has two extra slots.
Furthermore, the belt is made with sturdy DuraTek 1250 fabric, which accounts for its premium durability. Consequently, the bar-tack stitching, high-density web-core, and metal rivets add to the exceptional longevity of the product.
The padding of the tool belt is air-ventilated, and the fabric is made breathable. This feature prevents sweating and moisture accumulation giving you the perfect work condition.
After picking up this tool belt, you will immediately notice the top-notch quality that sets it apart from the competitors. The Pro Comfort Back Support Belt with ventilation prevents you from feeling the heavy weight of your tools. All I can say is that the manufacturers gave long thoughts towards the comfort of the workers.
Pros
Massive storage options
Multiple size options
Ventilated Pro Comfort Back Support Belt
Lightweight
Cons
Velcro is not long-lasting
GlossyEnd 11 Pocket Brown and Black Heavy-Duty Construction Tool Belt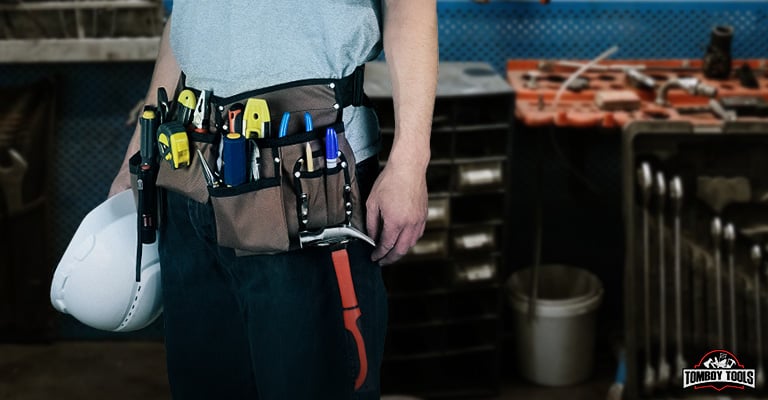 This minimalistic and straightforward tool belt gained massive popularity because of its excellent performance and functionality. It is affordable, comfortable, and does what it is supposed to do. What else do you need?
It comes with 11 pockets in total and two steel hammer loops. The five main pockets are suitable for holding your tools while there are six smaller pockets for fitting your pencils, pliers or other small equipment.
This belt does not go overboard when it comes to pockets, featuring just the perfect amount you practically need. Made with heavy-duty 600D polyester and reinforced with a rustproof rivet, this product can tackle any abuse with relative ease.
You do not have to worry about tearing or ripping of the fabric. Furthermore, the belt comes with ventilated padding to keep you feeling fresh and sweat-free.
The belt is two inches wide with a quick-release buckle for fast equipping. You can adjust the strap to waist sizes of 33 to 52 inches. So, you get a wide range of fitting options available to you.
Pros
Durable and well-made
High-quality fabric
Practical storage
Affordable
Cons
Things to Consider Before Buying a Carpenter's Tool Belt
Now that you know which the best carpenter's tool belts are, you need to know what features to look for when buying one.
In this section of the guide, we will take a look at all the factors that you should consider before purchasing a work apron for yourself.
Fit
You should approach buying a tool belt as if you are purchasing a new set of cloth. It means that before looking at anything else; you need to know if it fits you perfectly.
The belt cannot be so loose that it hangs around at one side. On the other hand, if it is too tight, you will feel suffocated when wearing it for a long time.
You need to spend some time and check your waist size to make sure that you find the perfect fit.
Comfort
Woodworking jobs take a long time to complete. Toolbelt become essential of woodworking. Depending on how long you work for, you would likely be wearing your belt for several hours at a stretch.
For this reason, you must find one that is convenient to wear for a long time. Just because it fits you properly does not mean that it is comfortable to use.
It is also worth checking whether you like the feel of the material. Some tool belts feature breathable mesh that allows for a moderate amount of airflow.
You also need to make sure that the belt does not dig into your skin. Even if it might cost a bit more, your comfort is worth the extra few bucks.
Durability
The tool belt that you commit to must be sturdy and durable. Keep in mind that you will be using it to store materials like nails or screws with sharp ends.
If the belt is not able to withstand this issue, there is no point in getting it. You need a product that can survive all the pokes and prodding caused by these objects.
The materials used in the construction of the belt need to be such that they are not susceptible to ripping or slashing. Some materials rated highly by the professionals in this regard are leather and nylon.
Weight
Weight is an essential factor to consider when it comes to a product like a tool belt. You do not want the belt to add any extra pressure when it is empty.
If it feels heavy before putting any tool in it, imagine how heavy it will feel once you start carrying your equipment in it.
Number of Pockets
Spend some time to consider how many pockets you might need. Just because it comes with a high number of pockets does not automatically make it better.
Getting a belt with way more pockets than you need will make it feel unbalanced. So, it depends on your specifications, and your purchase should reflect that requirement.
Maintaining Your Tool Belt
To ensure the longevity of your tool belt, you should always take care of them. You should clean it after every use and check for any rips or tears. The following steps might help you in this regard.
Firstly, empty all of the pockets and turn them inside out.
Get rid of all the dirt that gets stuck in the lining.
Scrub the entire surface and interior of the pouches with a dry rag.
Use a slightly damp microfiber rag and clean the whole surface of the belt.
Be sure to reach all the corners. If the cloth dries up, re-soak it and wipe until clean.
Continue with the above steps until the tool belt is entirely clean. Word of caution – do not use soap and water when you are cleaning a leather belt.
Soap can get rid of the natural wax and oils in the leather. In this case, use a damp cloth and wipe thoroughly.
After you finish the cleaning process, you should hang it in a dry place. It might take a couple of hours so it might be best to leave it overnight to be safe. Do not bother wrapping it in paper towels or clothes.
It is better to take the time to clean up your tools. If you are using a leather tool belt, apply some leather conditioner and sealant to prevent it from cracking after it dries.
Frequently Asked Questions
Q; What are tool belts made of?
Ans: Different belts come with different materials. Some prevalent ones are leather, synthetic fabric, nylon, and suede. Here we talked about the leather tool belts.
Q: Are suspenders necessary for tool belts?
Ans: Yes, they give you support and also help you balance out the extra weight.
Q: What is the most durable type of tool belt?
Ans: Tool belts made of leather are known to have the most durability.
Q: How often should I clean my tool belt?
Ans: Do it as often as you can. If you cannot clean it after every use, at least clean it once every 3-4 days of use.
Q: How to soften leather tool belts?
Ans: There are many ways to soften your leather tool belt. The easiest way is to use rubbing alcohol on a cotton ball and wiping the surface of the belt.
Final Words
Tool belts are an indispensable tool for any carpenter. It helps you organize and manage your inventory better and saves a lot of hassle while working. You do not have to make short trips back and forth from your toolbox every few minutes.
For anyone looking to get into this line of work, it is worth investing in a beautiful tool belt. The products in our review are picked carefully to satisfy anyone whether you are just starting or a veteran.
We hope this guide was informative and helped to find the best carpenter's tool belt for you.
I'm Joost Nusselder, the founder of Tools Doctor, content marketer, and dad. I love trying out new equipment, and together with my team I've been creating in-depth blog articles since 2016 to help loyal readers with tools & crafting tips.