I love creating free content full of tips for my readers, you. I don't accept paid sponsorships, my opinion is my own, but if you find my recommendations helpful and you end up buying something you like through one of my links, I could earn a commission at no extra cost to you.
Learn more
Nothing is more devastating than ruining an excellent piece of wood while trying to trim it with the wrong blade. It costs you both time and effort and makes your job more complicated than it already is. And contrary to popular belief, the better quality or bigger gullet doesn't always mean a better trimming.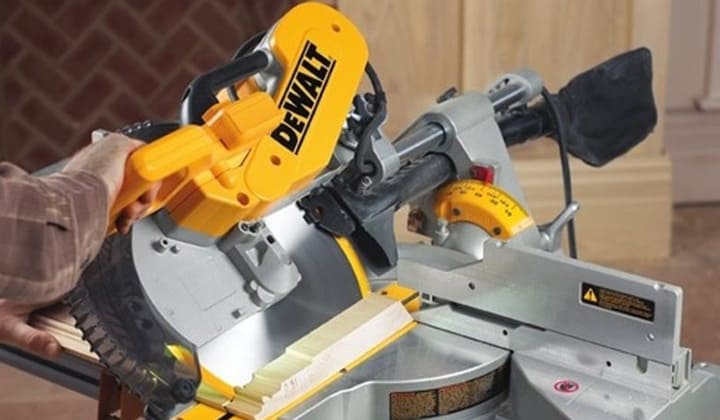 Being in the woodshop for over 14 years has taught me quite a lot, and I thought it's high time I shared some of that with you guys. So, if you're wondering what the best miter saw blade for trim is, here's a list of the top 5 according to my experience.
Let's get into details.
Benefits of Miter Saw Blade for Trimming
Those of you who've worked with both MDF and natural woods will know that there are many benefits to using miter blades for minor cuts. To name a few, I pointed out the following:
Amazing Blade Life
No matter if you're a one-person army or running a full-time business with others, these blades will last you a long time. They don't get blunt quickly, and once they do, you can get them resharpened.
Worth Resharpening
If your blade keeps getting dull every other month, there's little to no point in spending cash on sharpening them. I mean, getting a new edge will probably cost less long term. But the miter blades have proved to be investments worth sharpening. I usually need to sharpen mine once a year, and that's it.
Great for the Price
Few things are more satisfying than getting a good deal on power tools. And although these blades may seem a bit expensive, their industrial-grade performance will blow you away and make you wonder – why aren't they selling these for more?
Minimum Deflection and Wobble
The great thing about high-quality blades is that they tend to have minimum deflection and wobble. They're heavier and built with better material, making them the perfect blade for beginners and pros. The less wobbly the edge, the more precision of each cut you get.
Top 5 Best Miter Saw Blade for Trim
I've come across quite a few blades that outshone the rest in various terms throughout the years. Now let's discuss my favorites out of all those.
1. DEWALT 12-Inch Miter Saw Blade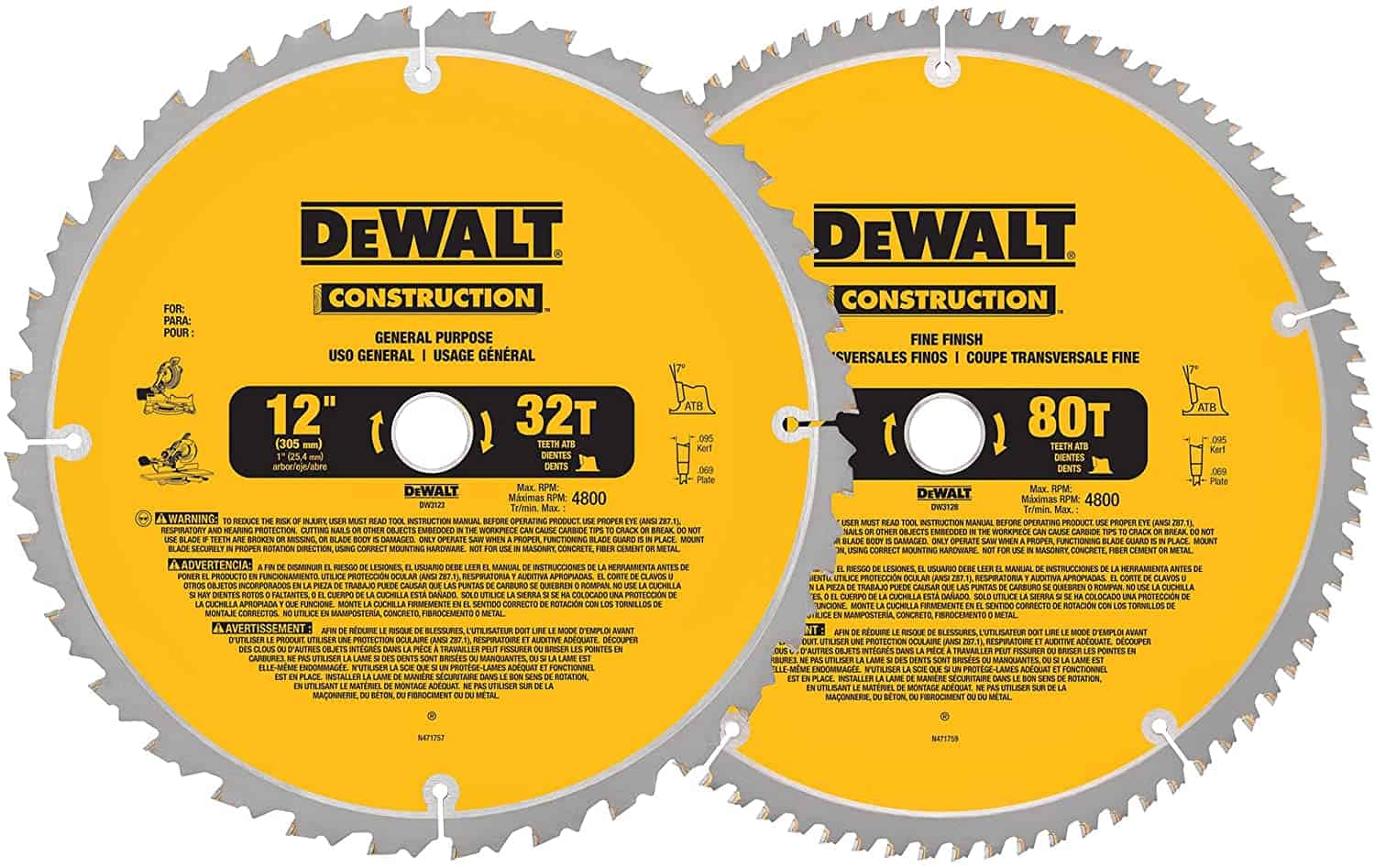 Starting off with one of my personal favorites, let's talk about the Dewalt 12-inch miter blade. The reason why it's an old-time favorite of mine is because of this product's impeccable quality and fantastic build. The tungsten carbide used in these blades easily lasts for months, and sharpening it over the years is well worth every penny.
In the pack, there's one tool with 80 teeth and another with 32. The thin kerf combined with the high teeth count makes the former the perfect trimming tool for any pro or newbie. What's more, is that this tool has been designed to provide an ultra-fine finish. So, you won't have to worry about any inaccuracy in cuts.
Both of these products feature a design with a wedge shoulder. That means there's more steel behind each blade's tip to ensure you get the ultimate precision.
And if you're worried about vibrations making your hand lose its steadiness, settling for this set will be your best bet. Thanks to the computerized balance plate installed, the vibrations are reduced while cutting, and the results are even more polished.
Pros 
Features a reduced vibration mechanism
Outstanding sharpness and precision due to high-quality material
Wedge shoulder design prevents breakage in wood
The pack includes two blades with teeth count variation for versatile use
Budget-friendly price point
Cons
It makes a lot of noise when the saw is turned on but not cutting anything
The 80 teeth blade is excellent for laminate and MDF but doesn't suit other types of woods
Verdict
This equipment is an evident bang for the buck if you're not a professional but someone who needs a lot of home carpentry done. It's a solid deal and great for simple wood projects for the hobbyist on a budget. Check the latest prices here
2. Makita A-93681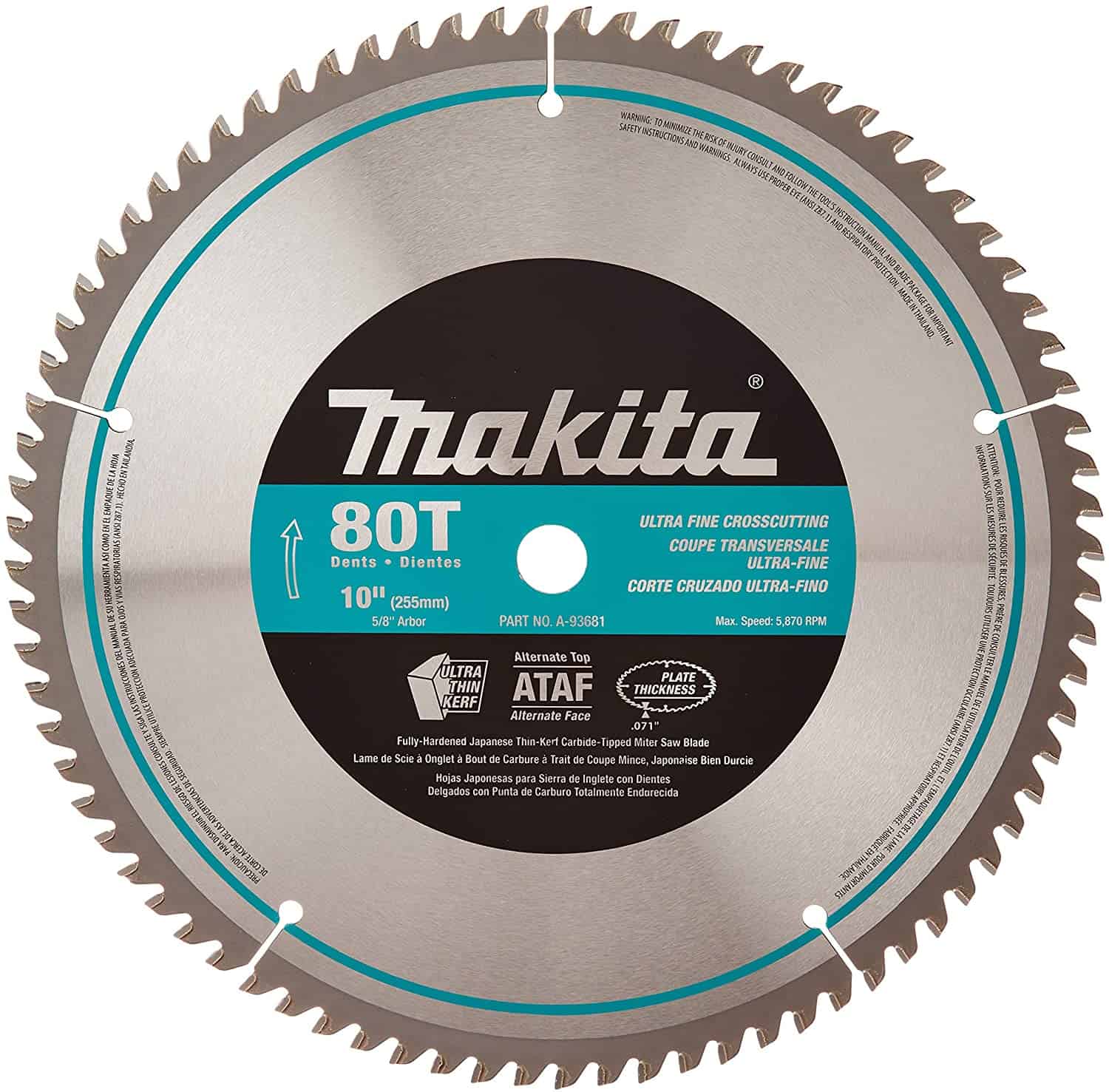 Taking the second spot on this list is this micro-polished product from Makita. It's one that I recommend anyone and everyone starting out with their woodshop and carpentry ventures.
This is because it's designed to suit any wood you throw at it. From thin plywoods and softwoods to the harder ones, they can cut through them with no problem.
I used this blade for over two years, and it still stood firm despite quite the rough usage. So, rest assured that your product will be long-lasting. The kerf on this is ultra-thin -0.91 inches, to be precise. It complements the 5° hook angle really well, making the blade perfect for fine crosscuts.
Moreover, the carbide steel used to make this product has been fully hardened and hand-tensioned superbly well. You'll notice the positive difference in their cuts due to this. Thanks to its Japanese style design, it leads to minimum loss of material while cutting and prolongs the life of each blade.
Pros 
The ultra-thin kerf allows smooth cuts with lesser drag on the motor
Very durable and quiet in function
Has an ATAF tooth design for delicate trimming on thin workpieces
Minimum blowouts and dust
Well suited to cut almost all types of wood
Cons
Sometimes when cutting too hard or with inadequate work holding, the paint from the blade rubs off on the workpiece
For angle and miter cuts, it may need resharpening after a while to cut as straight as it did initially
Verdict
This item will be an excellent purchase for those like me who want to save their money and get a quality product. The fact that it can cut as smoothly and quickly as the high-end Freud blades that cost double the price of this is a feat in itself. Check prices and availability here
3. DEWALT- DW7116PT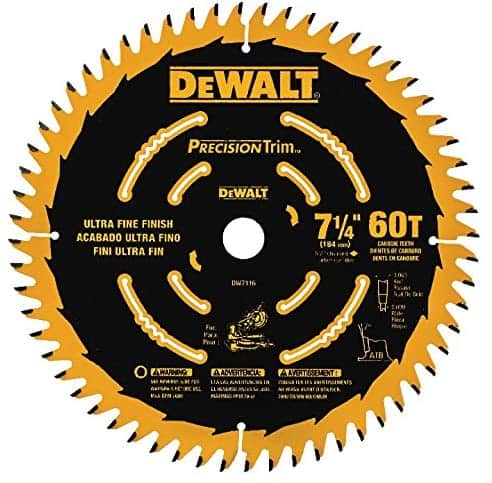 Another cutting tool that's greatly optimized for trimming is the DW7116PT from Dewalt. It's a given that the woodcutting products from this brand will deliver a banger performance.
And this particular blade designed for the specific purposes of trimming, pre-fabrication as well as molding works is no different. It's a top-notch item you must have in your shop to take your work to the next level.
This tool has been specially built to fit cordless miter saws. It weighs 0.6 pounds and has dimensions of 8.5 x 0.5 x 9.75 inches. The edges are ultra-sharp with carbide tips that get the job done with the tiniest tear out.
This 60 tooth blade provides enough smoothness that you'll notice almost no tearing or splinters on the workpiece even when using it incorrectly.
When working on projects that require a polished look, this tool is still a go-to for me. Unlike the previous product, this one's made in China and comes at a very budget-friendly price.
However, that does not compromise its performance level. The only issue I have with this is that it tends to deflect when I try to fine-tune pre-cut 2x stock pieces.
Pros
Very reasonable price
Great design and sharpness
Cuts pieces with minimum tear-out
It makes clean and perfect cuts on softwood and thin stock
A thin profile allows you to handle it easily
Cons
Although it doesn't usually deflect, you'll notice a slight wobble and deflection when working with pieces that are 2x times thinner than usual
It will not work well with corded miter saws
Verdict
Not everyone values precision in every project. Some prefer to get the job done as soon as possible. This product will be perfect for the latter group since you can work quickly and still have minimal tears. Check prices here
4. DEWALT- 96 Tooth (DW7296PT)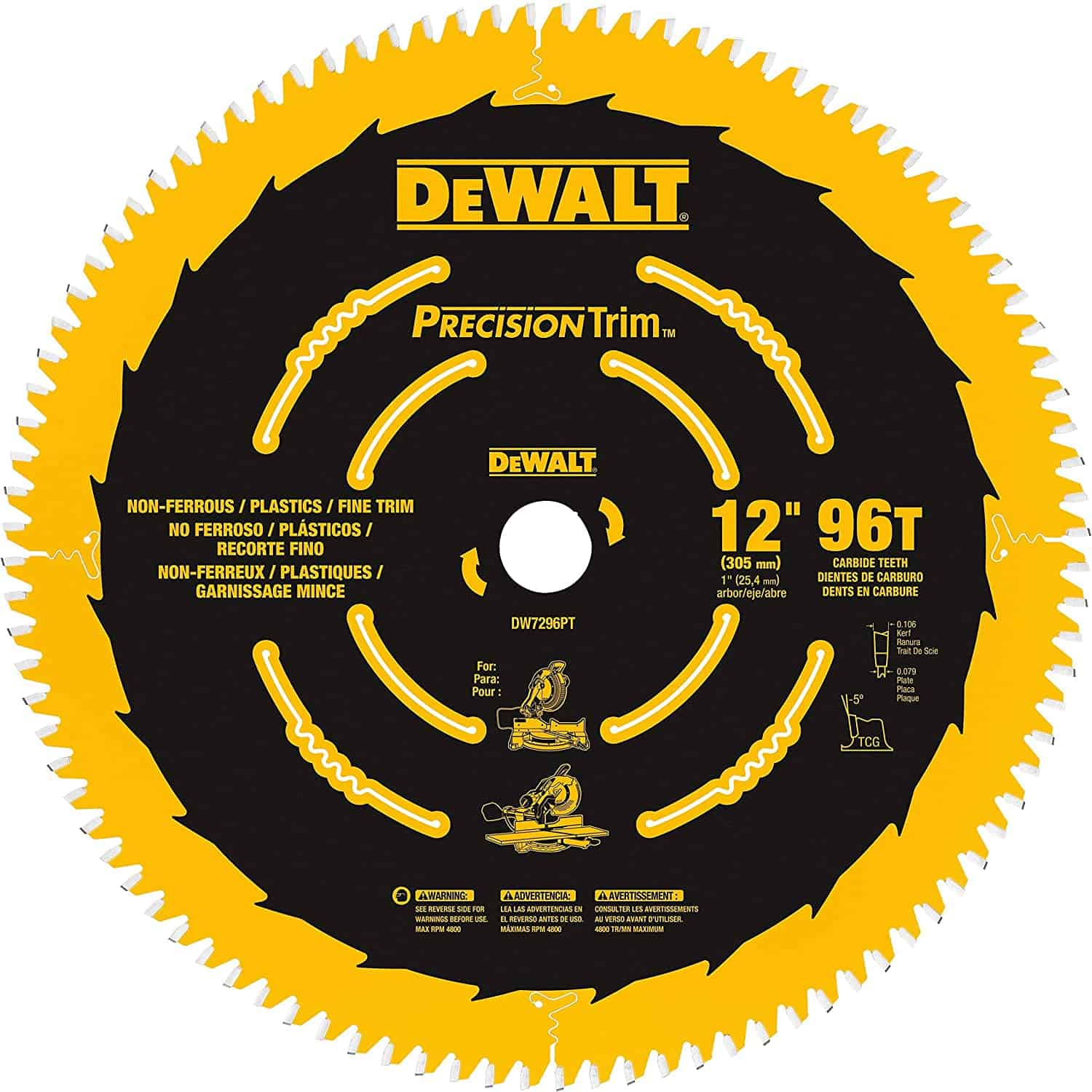 Moving on to a more mid-range product, I'd like to draw your attention to this gem of a woodwork tool called DW7296PT. It will be the perfect blade for those of you who frequently work with various materials besides wood.
Since it's an ATB crosscutting blade made of premium quality carbide, it smoothly cuts through hardwoods, laminate, PVC, veneer, and even sheets of aluminum. So, if you're looking for versatility, this one is what you'll need.
Admittedly, my grip isn't the daintiest, and my hands tend not to be as precise as I want them to be. That's why I've always appreciated when brands make an effort to make their cutting tools more balanced in weight and vibration-proof.
And while this trim blade isn't totally vibration-proof, it's got exclusive dampening slots built-in that reduce vibrations and wobbliness overall.
The balanced body design with the tough coating finish reduces friction, gum, and heat damage to the material, making the sharpness last longer. And as long as you watch the speed of the feed and don't reduce the rate of your blade's downward progression too often, it will last you a long time with ease.
Pros 
Suitable for cutting a variety of materials besides wood
It has a high tooth count (96T) that's great for precision
Less vibration and minimum deflection due to a laser-cut balanced body
Longer blade life due to a tough outer coating
Super easy to use due to its lightweight
Cons 
The blade is prone to excessive chatter, which ruins the mirror-finishing of cuts
It is a bit pricey
Verdict
When it comes to ensuring a sound output in your workbench, it's only fair to spend a few extra bucks for quality gear. This blade leans more on the premium side, so spending a bit to get your hands on it will be well worth it. Check prices and availability here
5. COMOWARE Circular Miter Saw Blade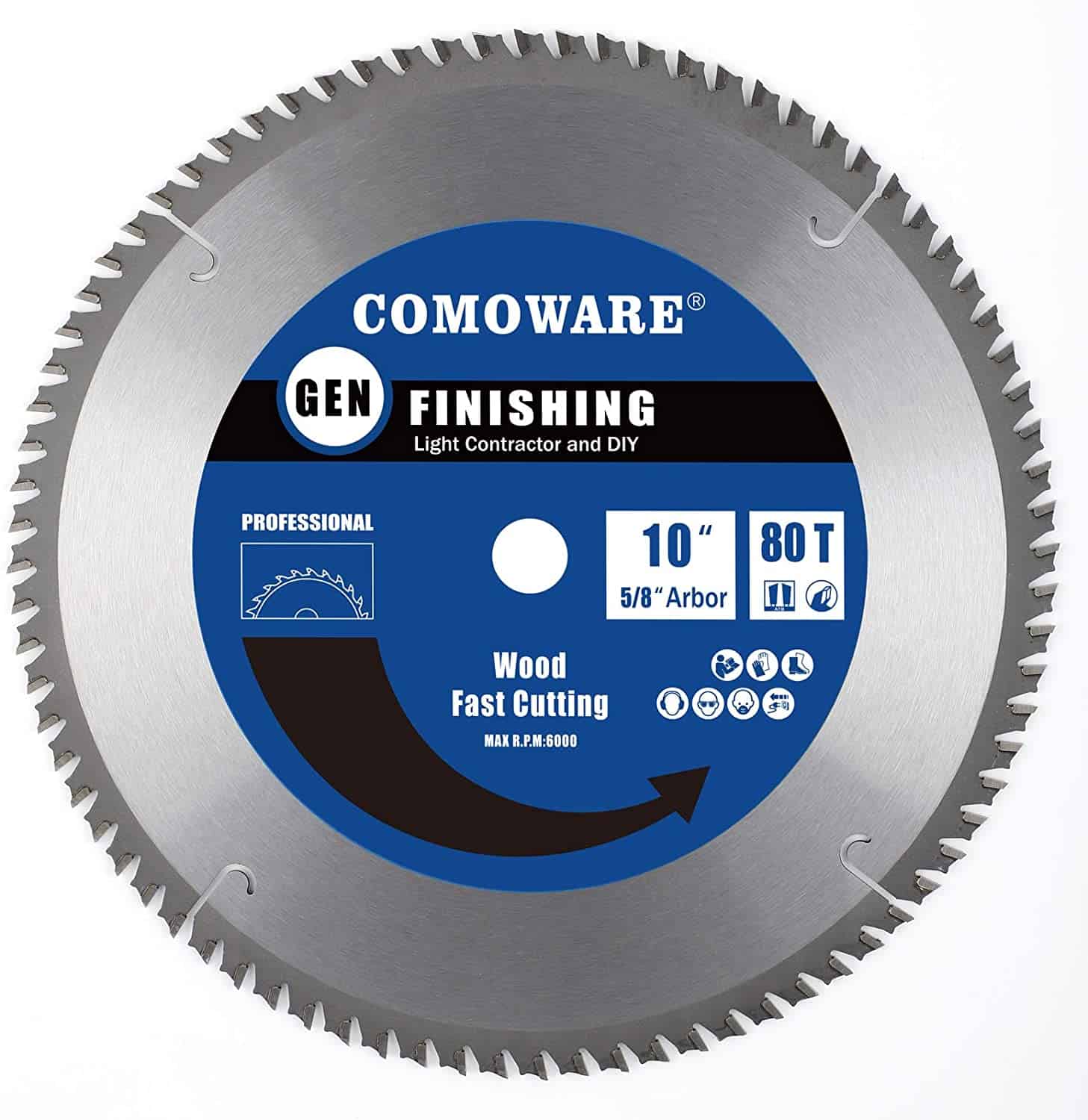 Lastly, I'd like to talk about a blade that has consistently been on my favorite's list for a long time. It's probably the best value for your money out of all the ones I've mentioned so far. From manufacturing quality to excellence in performance, this is one tool that will not disappoint. Let me explain why in a bit more detail.
This Comoware 10-inch blade with 80 teeth has been designed for both natural and engineered wood. It's got a premium tip, anti-vibration design, and was made from VC1 tungsten carbide.
Because of this high-quality build, it's one of those blades that stay sharp for an unbelievably long time. And even if you do need to get it sharpened a few times, its large tooth design ensures that the damage to its material is minimal.
Speaking of which, have you ever tried removing residual chips from the narrow gullets? Not only is it time-consuming to properly clean and maintain those types of tools, but it's also dangerous.
Since this one has more significant gaps between its teeth, there's less hassle with chip removal. You also get reduced heat dissipation making the tool life last longer.
Pros 
It has a ⅝" diamond arbor that is suitable for machines with both diamond or round holes
Due to the ATB style, it cuts faster than other tools
Thanks to larger teeth space, you can maintain it easily
Design that's meant for reduced heat dissipation
Expansion slots are laser cut which allows expansion and contraction to take place without ruining the tool's body tension
Cons 
It doesn't work well as a "Flat Top Grind" tool, which makes it tricky to cut box joints
The size of 9 to ¾" may not fit certain miter saws, but a table saw (which you can find here) will be needed
Frequently Asked Questions
How many teeth do miter saw blades for a trim? 
When you have the goal of trimming your workpiece, it's best to use a precision saw. The perfect miter blade should have 60-80 or even 100 teeth to get this job done.
What is the difference between a circular saw blade and a Miter saw blade?
The main difference is in the cutting position. In the case of a circular saw blade, you work the blade against the wood in a straight path. For the latter, it gets dropped on the wood piece from above.
What blade should I use in my miter saw? 
For your precious miter saw to work to its full potential, it's best to use a crosscutting blade.
Which side of the miter saw blade is better for cutting?
When plunge-cutting any narrow workpiece, make sure to have your blade's "show" side faced upward.
When to sharpen a miter saw blade? 
It would be best to get the blade sharpened when – the wood isn't going through as smoothly. There's excessive chipping. It has a slightly rounded edge.
What is the best saw blade to cut trim? 
For trimming, it's safe to say that crosscut blades are the better option since these have more teeth. Combination blades would go in second place.
Final Words
Even the most skilled craftsman will mess up working with the wrong tools. And if perfection is your goal, take my advice and invest in the best miter saw blade for trim to make your woodwork stand out from others. After all, nothing screams "perfection" more than a good clean cut edge and polished trimming.
Also read: these are the best miter saw blades for a smooth edge cut
I'm Joost Nusselder, the founder of Tools Doctor, content marketer, and dad. I love trying out new equipment, and together with my team I've been creating in-depth blog articles since 2016 to help loyal readers with tools & crafting tips.