I love creating free content full of tips for my readers, you. I don't accept paid sponsorships, my opinion is my own, but if you find my recommendations helpful and you end up buying something you like through one of my links, I could earn a commission at no extra cost to you.
Learn more
We've come a long way from tidying our rooms as teens to cleaning up our workstations. But hey, these things don't need to be as tedious or annoying as before. Thanks to the latest technology, things have gotten pretty easy to deal with for us woodwork lovers and professionals.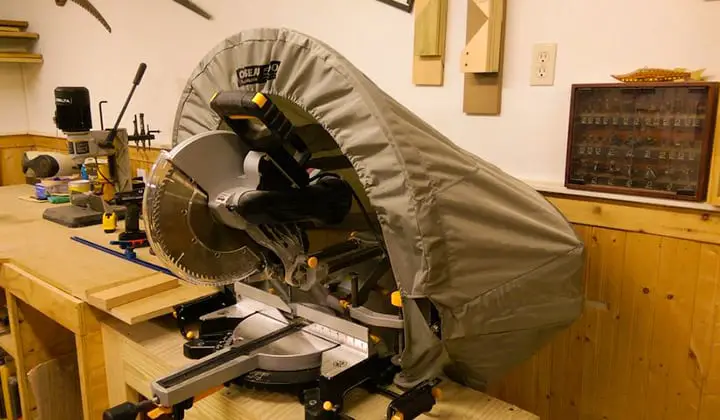 Gone are the days when your woodshop would be a breeding ground for asthma attacks and dust allergies. With the best miter saw dust collection up your sleeve, you can keep your station looking sparkly clean like the first day you set it up. And here are a few of my personal favorite saws to get the job done.
Just read on to find out.
5 Best Miter Saw Dust Collection Review
I'm well aware that not everyone has the same setup. That's why you can check out these reviews first to see what options there are and what fits your carpentry style best.
1. BOSCH Power Tools GCM12SD with Dust Collection Bag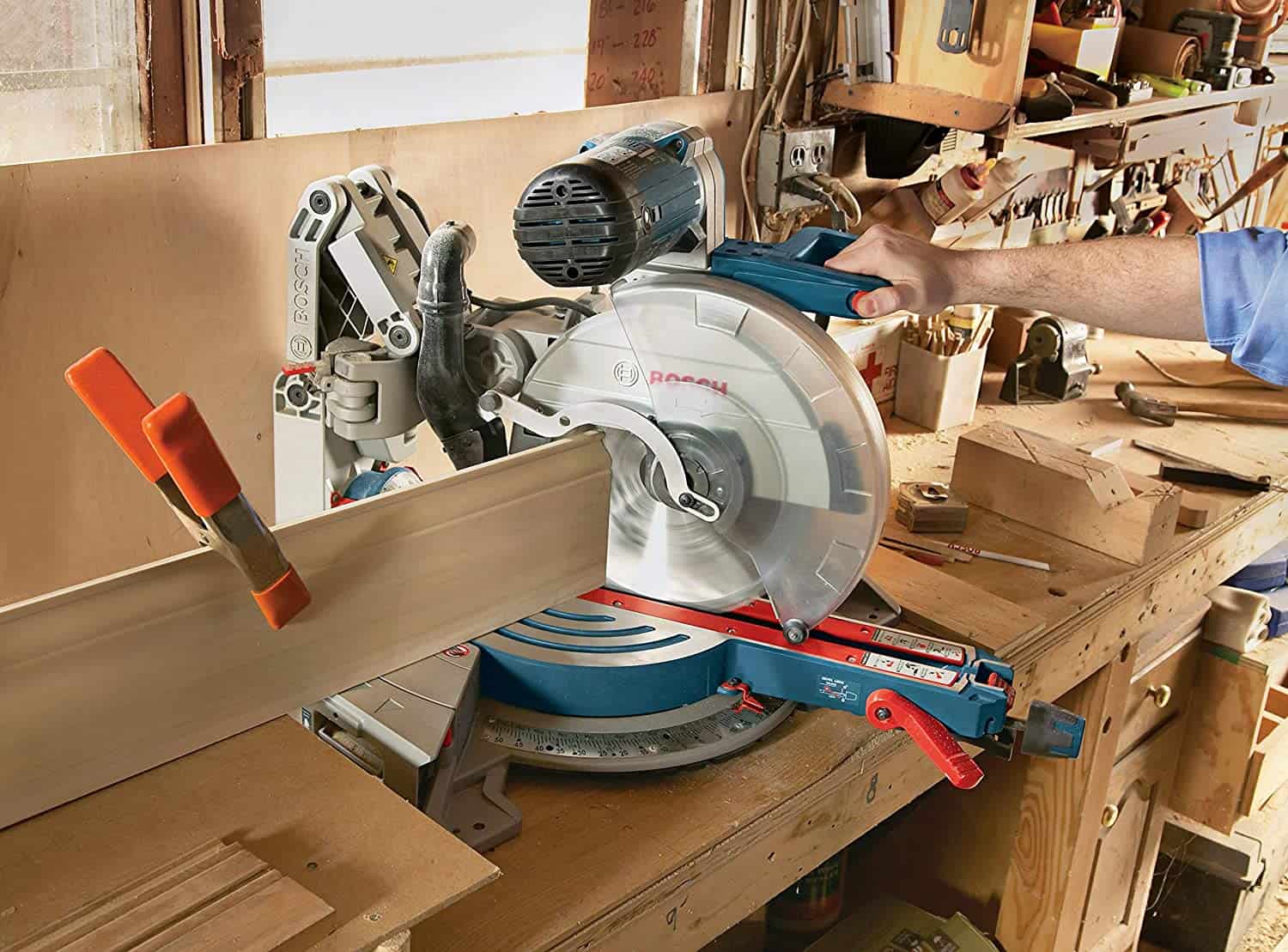 Where do I begin with this one? My GCM12SD has been a trusted companion in the woodshop for over a decade, and it's still going strong. It was only fair I'd put this at the top of the list.
Considering that I got mine when I could barely afford a high-end woodworking tool, I've never regretted a penny spent on this excellent product.
Thanks to its axial-glide system, this Bosch cutting saw stays smooth in the movement for what seems like forever. The slide mechanism works like brand new even after many heavy projects.
Unlike the usual sliding compound saws, the dust doesn't end up gumming up the mechanics. The design includes either a rubber or plastic elbow that connects to a dust collection pouch.
Since I got mine years ago, it had a rubber elbow that I needed to adapt to a hose for dust collection. It was simple to do with a reducer I got from Woodcraft, and voila – it fit the shop vac hose perfectly.
But the new ones having plastic elbows may mean you'll need to check which hose fits when getting the saw itself. Just make sure to check the size beforehand, and you'll be good to go.
Pros 
It has an excellent sliding mechanism that keeps the movement smooth
Very well made and durable
Dust collection system pairs perfectly with a shop vacuum
The stands can be folded for proper storage
Compared to other high-end gear saws, it is much quieter and friendly to the ears
Cons
Just like most other high-end gears, it's expensive
The saw blade that it comes with loses its sharpness very quickly
Verdict
Anyone who doesn't want to waste time in the woodshop but wants to do some clean work should get this product ASAP. It's smooth, fast, and most of all, it doesn't gunk up over the years due to the superior dust control system. If you can afford it, go for it! Check prices here
2. Rousseau 5000 Dust Solution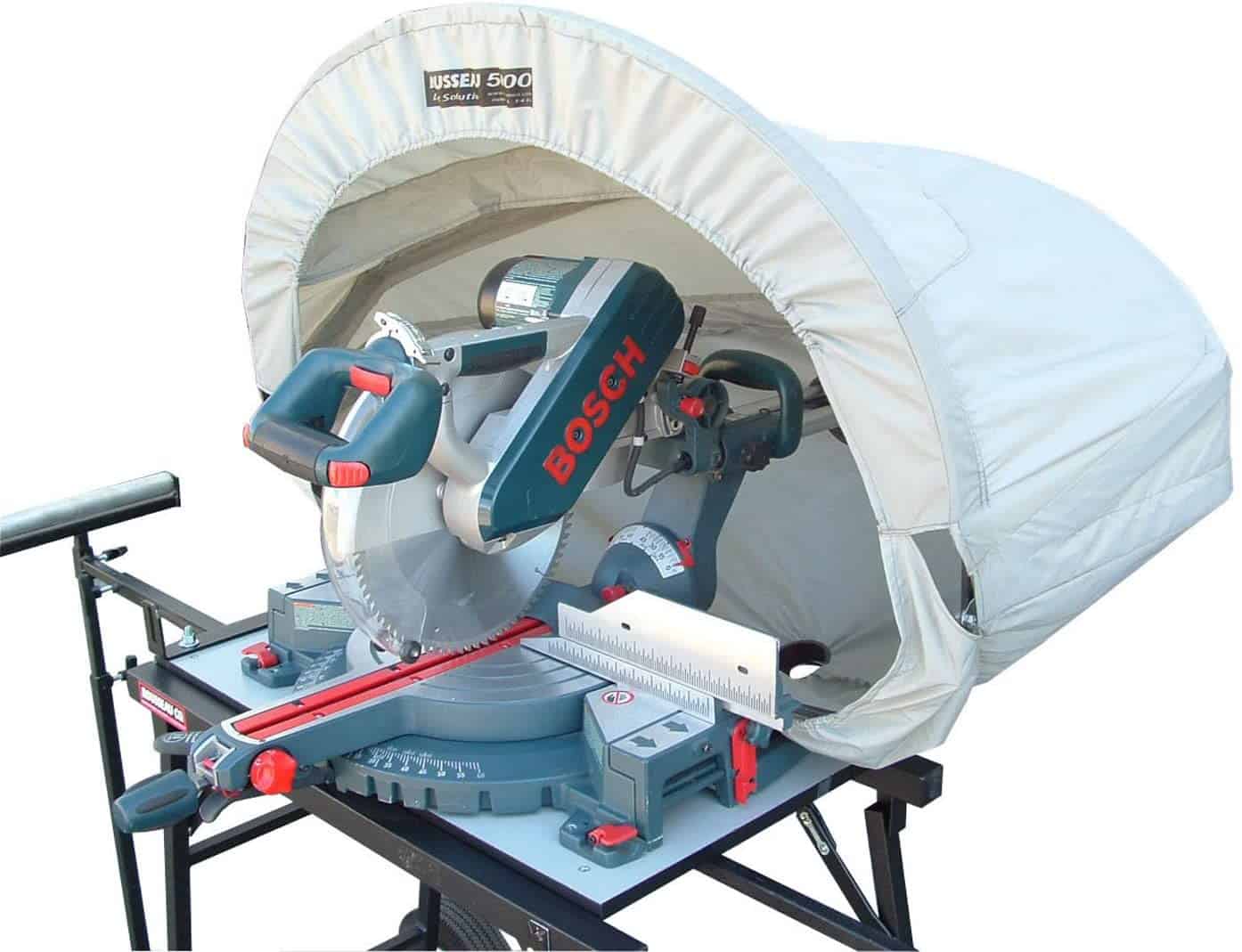 Passionate about carpentry, but dust allergy getting in your way? Then this following product will pique your interest. The Rousseau 5000 is a saw specifically designed to deal with fine dust and handle residual particles generated from the woodwork.
Forget about hours of clean up you can do it every other day and still have a spotless station.
The best thing about this product is that irrespective of whether you've got a Dewalt or a Ridgid, this product has been designed to fit almost all available miter saws.
But keep in mind that it's not the best pair-up with a gliding saw due to the lack of room at the back of those types of equipment. The hood itself has a robust construction since it's been made in the USA.
What's more, is that the hose in this is 4″ in length, and the hood manages to capture even the finest of dust, directing it to the vacuum port. I've tried using it with my shop vac, and it works perfectly.
As for storage, storing this one away is easy as pie, thanks to the foldability of the hood. It conveniently turns into a heavy-duty carrying bag for storage and portability when needed, and you don't have to worry about dust escaping either.
Pros 
It fits all miter saws well
The hood is foldable and can be used as a carrying bag for transportation
Outstanding construction and durability
Efficient design allows sawdust to slide down to the vacuum port easily
Reduces irritants and allergens in the woodshop drastically
Cons
The instructions for installation aren't beneficial
It's pretty expensive
Verdict
If you're looking for a quick hands-free fix to the dust problem, then getting this product will surely help you out. I've personally loved having this around when working with MDF wood that tends to produce finer particles than other types. Check prices here
3. Bylot 5000-L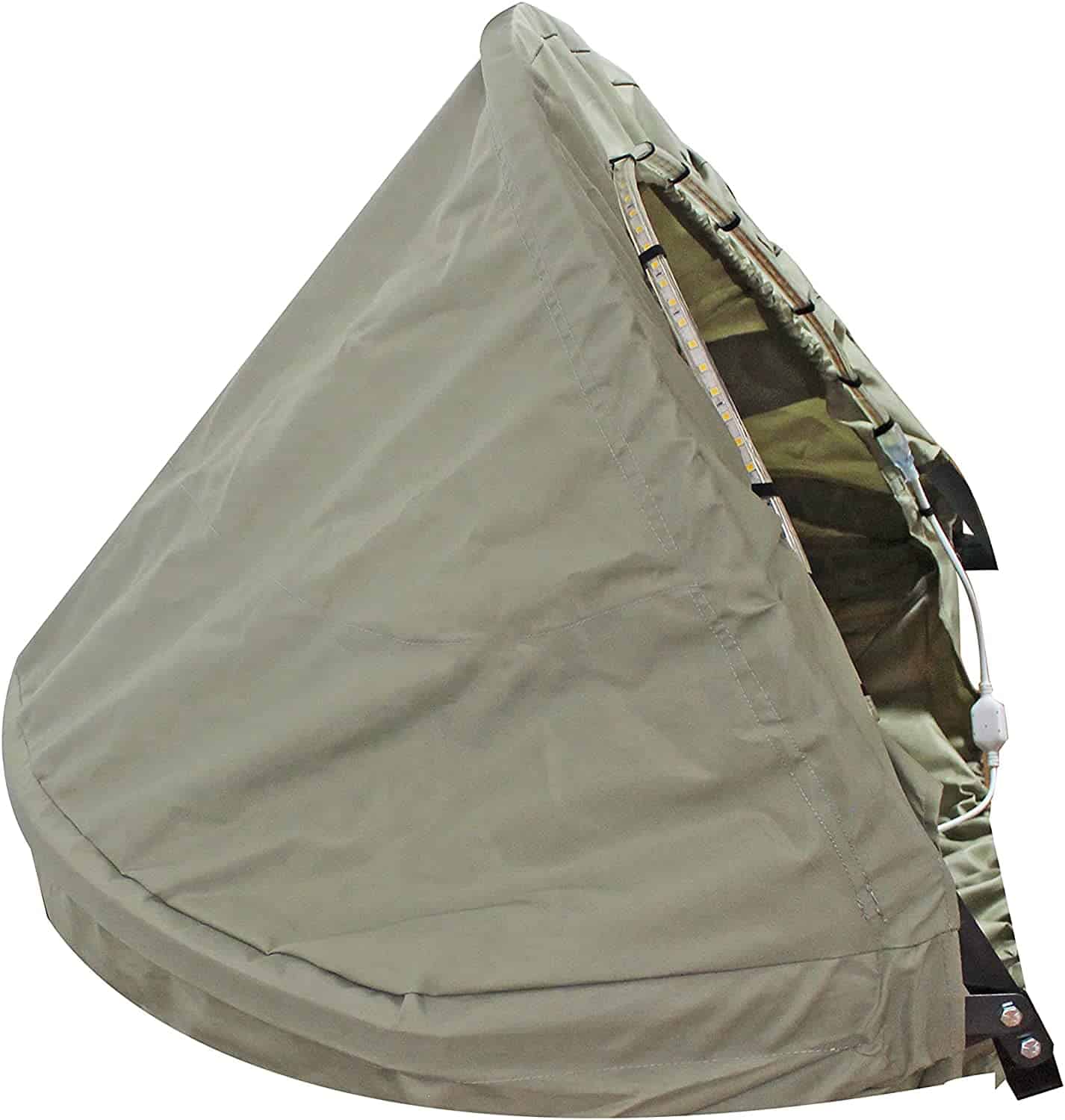 The Bylot 5000-L is yet another hood that's worthy of recognition when it comes to controlling sawdust and wood shavings. This equipment is the perfect attachment for any miter saw as long as it's 10 inches in size.
This is an obvious fan favorite with a depth that can easily accommodate a good sliding saw, keeping ample room at the back.
One thing that I absolutely love about using this particular hood is the LED lighting it has. The light lines up the inside, and it's honestly a blessing for the people with eyesight issues like myself.
It helps make cuts more accurately and safely while also providing a sufficient vision of how much dust is filling the hood up.
The diameter of the vacuum port from the outside is 4 inches. While folded, the dimensions are 24 x 20 x 2.4 inches, and unfolding increases the space to 36 x 30 x 30 inches in width, height, and depth.
Like I said before, this allows saws to have a lot of room at the back even after attachment. You'll be able to catch more than 80% of dust produced while working, thanks to its sheer size.
Pros 
It is very roomy and large
Has LED lighting on the inside allowing better vision and precision
This device collects 80% dust quickly
Suitable to attach with almost any miter saw that's 10-12 inches
Reasonable price point considering the size and universal fit
Cons
You may find it confusing to install due to unclear instructions
It smells a bit odd out of the packaging
Verdict
I'd recommend getting this one if you're used to using a variety of saws within the mentioned size range and have a knack for installing things without help. The hood is big enough to hold a lot of residues, and for the price, it's a decent investment. Check prices here
4. B3D Miter Saw Vacuum Adapter Dust Collection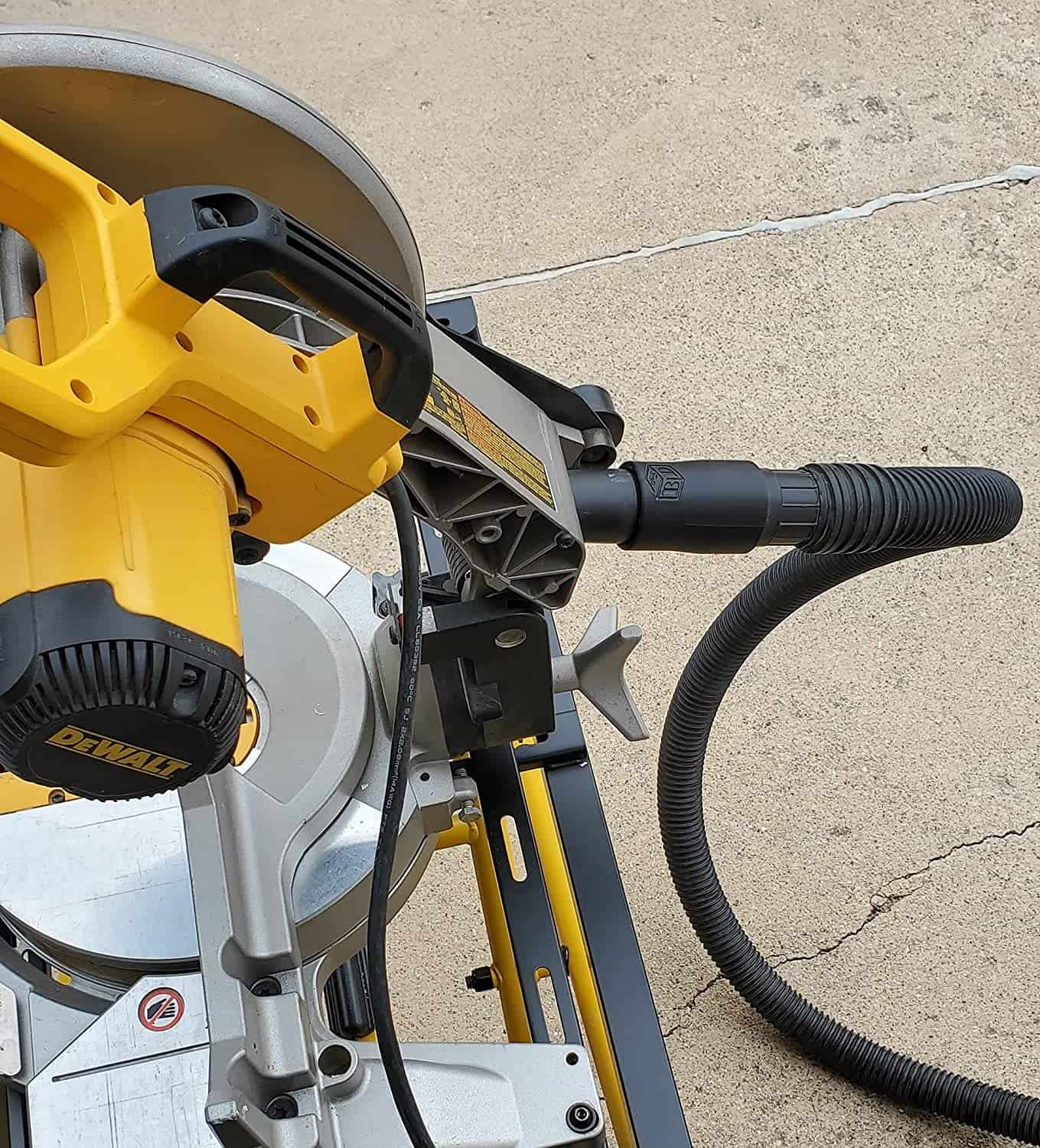 The following product will be a fantastic catch for those who already own a fancy shop vacuum. The price is highly affordable, and it's the perfect accessory to ensure a clean environment in your workplace.
That's right- it's an adapter from B3D that can fit a variety of saw models from the DWS713, DWS715 to DHS790, or DWS779.
The company included a specified list of the ones it's guaranteed to fit, so if you see your one listed, go ahead and grab this adapter now. It's a definite game-changer since having this will let you connect your vacuum hose easily to any dust collection bag or pouch.
The adapter can fit a vacuum hose of 1-7 / 8," and its dimensions are 4 x 4 x 2 inches. And since it comes in black color, it won't look odd when fitted to most devices.
The inside diameter of this adapter from the saw connecting side is 1.650 inches, and that of the vacuum's side is 1.78 inches. Due to the construction material being carbon fiber PETG, this is very durable and sturdy.
However, you'll need to consider that it won't be flexible like rubber; instead, the fit will be snug on both ends.
Pros
Built with high-quality carbon fiber PETG making it durable
Compatible with both shop vacuums and dry vacuums
It doesn't come loose but fits snug with all the listed saw models
The color looks nice and cohesive with any equipment
Extremely reasonable price
Cons
Not flexible like rubber adapters
It may not fit saws that aren't listed
Verdict
For me, this is a go-to adapter since I use many of the models the company listed out. And it holds up without any breakage for the longest time — definitely a good buy. Check prices here
5. CRAFTSMAN CMXEMAR120
This final product isn't just an adapter or a dust hood; it's an entire bevel folding compound saw from Craftsman. Now, don't get me wrong – I'm not trying to make you get a piece of whole new equipment for just one purpose.
But if you've got the budget and would instead upgrade your collection with something versatile in use, then this will be worth considering.
The CMXEMAR120 is a beast of a machine that is 15.0 Amp powerful and has a 4500 RPM ball bearing motor. The blade included with this conveniently has 60 teeth; that's just the correct number for ripping and crosscutting.
You'll get a support base, a miter saw, a blade with a wrench, a material clamp, and most importantly- a dust bag in this set.
To make full-sized cuts, it's obvious you need a high-powered tool like this one. But what they don't mention is the heaps of sawdust left in its wake and the annoying mess you have to clean up afterward.
That is why I'm suggesting this product here- it reduces this hassle tenfold. Thanks to the built-in dust port of 2-½ inches and the included dust bag, connecting it to a vacuum is all you've got to do to manage wood dust.
Pros
It's powerful but doesn't take up much space, thanks to the folding mechanism
Dust collection port of 2 inches is built-in
Includes a dust bag with the package
The powerful motor allows cutting dimensional lumber with ease
Has built-in electric brakes to stop safely and quickly
Cons
It's quite expensive
Since this is an entire machine, justifying getting it for only dust collection is questionable
Verdict
This product's quality was not the least on the list. It's one of the best products I've used, even on commissioned works. Given its lightweight, portability, and versatility of design, I'd get this again in a heartbeat.
Frequently Asked Questions
How do I improve miter saw dust collection?
To improve your saw's dust collection, you can do the following:
If the opening is small, use a separate hose for each port (1 ½").
Open up the downdraft behind the saw for a few seconds to draw in particles that got past the ports.
Widen the existing port opening to increase airflow.
Why does the table saw create so much dust?
Some dust is a natural byproduct of woodworking, but when it's all over the place, it's probably because your saw blade and fence aren't aligned right. When your blade isn't perfectly parallel to the miter slots, it results in more dust.
How do you control dust in a woodshop?
There are several ways to do so. First, use a high-quality mask for your own safety. Second, install an air filtration system or a dust collector (like one of these top choices) on your saw. You can even use shop vacuums for the best results.
Can you use a dust collector as a vacuum?
While it is possible to use some dust collection systems for vacuum cleaning the home, it's not the best idea. Due to the variation in dust type, it usually doesn't work as well as it would inside a woodshop.
How does a dust collector work?
These systems work by drawing in dust particles from the air via a filter that catches and separates the matter. Then it releases purified air back into the environment, keeping your workplace in optimal condition.
Final Words
With the world still recovering from a disease that targets your lungs, it's important to take serious measures to boost air quality in your workspace. And if you think so too, go ahead and invest in the latest and best miter saw dust collection technology right now.
I'm Joost Nusselder, the founder of Tools Doctor, content marketer, and dad. I love trying out new equipment, and together with my team I've been creating in-depth blog articles since 2016 to help loyal readers with tools & crafting tips.