I love creating free content full of tips for my readers, you. I don't accept paid sponsorships, my opinion is my own, but if you find my recommendations helpful and you end up buying something you like through one of my links, I could earn a commission at no extra cost to you.
Learn more
You'll get to be in contact with a high voltage only once. So, better make that count. A non-contact voltage tester reduces the odds of that happening. For those folks who're still in the dark about what's so special about it, it can tell the presence of volts without getting anywhere near any conductor.
Apart from the fact that you can keep one of these in your pocket 24/7, there's always a bunch of add-on features. But can something this small have much of a deciding factor, should you be spontaneous about it? No, there's always one that'll add a lot more value to your toolbox than the rest. Here's how you'll decipher which one's the best non-contact voltage test for you.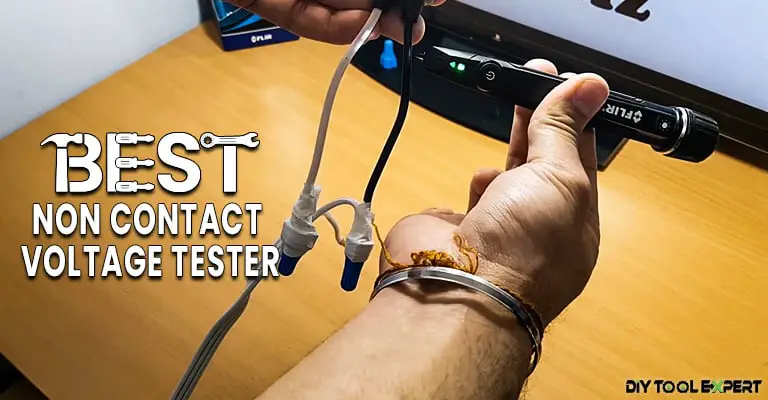 Non-Contact Voltage Tester buying guide
You need to know about what features you should be looking for if you are new in seeing non-contact voltage testers. Having a clear knowledge about these facts is essential to differentiate what should be good for you.
Build Quality
Voltage testers are usually not that rigid rather are most of the time very fragile. It is a small tool doing you a huge task. Having a nice body construction is a must otherwise it would malfunction in just a drop from your hands. The resistant plastic body will do you great as it will resist the natural falls from your hands.
Design
Compactness & design are among the things you should see first when observing a voltage tester. You can do the same task with a multimeter but it would be annoying to carry such a heavy device in your hands all the time.
A voltage tester should be in an appropriate length to fit in your pockets to carry around easily. 6 inches or around is the length you should hit at. A clip at the end is a nice feature to attach it to your pockets so you don't lose it.
Indicators
This is an important factor to keep in mind while working with a voltage tester. Most testers usually have an LED light that glows in the presence of voltage. But sometimes while working under the sunlight might make seeing the LED a rough job.
That's why some testers come with a beeping noise that easily helps you to determine whether or not there is a voltage present at the system. Look for both these indicators in testers unless the budget exceeds much.
Range of operation
Most Voltage testers are designed to work in AC systems. But the range fluctuates from manufacturer to manufacturer. But a standard non-contact voltage tester should easily detect voltages from 90v to 1000V.
But some advanced testers can determine even lower to 12V by increasing the sensitivity of the device. This makes it more prone to detect voltages in multiple circuits. This feature is very much important but keeps track of the sensitivity level too.
Safety Certification
Safety certification of these non-contact voltage testers comes in the form of CAT level protection. These certifications indicate how safe these testers are to operate. It has a range from I to IV, IV level being the highest of protection.
There is a voltage number at the end of these levels. These indicate the maximum voltage the tester can withstand.
Battery Option & indication
This is not something to worry about actually. Most testers operate on AAA batteries. But the thing that adds to other features is the low-level battery indication. A low-level battery indicator allows you to take necessary steps while working in the field with your buddy.
Built-in Flashlight
Like the battery option, this is also a feature that adds up to the other feature. The built-in flash comes in very handy if you are working in dark environments. The built-in flashlight allows you to see the circuits carefully & where you are operating.
Best Non Contact Voltage Testers reviewed
Here are a few top non-contact voltage testers with all their features described in an orderly fashion, you may also find what their demerits at the end. Let's get down to studying them, shall we?
1. Fluke 1AC-A1-II VoltAlertT Non-Contact Voltage Tester
Pros
Fluke has become a household name for high-quality electric gears. It is constructed of quality plastic material for its body in a combination of grey & yellow. This sleek designed tool has a length of fewer than 6 inches, so you easily store it in your pockets.
The Voltage tester has a very easy operating maneuver; you just need to touch the tip to the socket or circuit you want to test. The dual voltage alert system will be activated as the tip will glow red & there will be a beep sound in the presence of any voltage. CAT IV 1000 V ratings make it safer to use.
Volbeat technology & periodic self-testing reassures you that the device is working fine.  The primary tester has an impressive range of measurements of 90 volts to 1000 volts. Models for 20 to 90 volts AC circuits detection are also available. Fluke even gives a 2-year warranty on the item.
Cons
You have to get used to using the fluke, or else you may stumble on some false positives. The unit overall drop is also not so safe. Be careful not to slip it from your hands or pockets.
2. Klein Tools NCVT-2 Non-Contact Voltage Tester
Pros
If you have tons of electric gear, then you ought to find one Klein tool. The construction of the Klein NCVT-2 is polycarbonate plastic resin with a pocket clip for hanging in the pockets. The build quality is spot on as it can withstand a drop of 6 feet.
The product is slightly longer than 7 inches & thicker than the previous fluke multimeter. Upon detection of voltage, the tip of the tester will illuminate Bright green LEDs to let you know. You can easily test in your entertainment system, communication devices, gadgets & other electric systems. CAT IV 1000 V provides the protection you need in this field.
This tool features automatic dual-range testing of low voltages 12 – 48 AC & standard voltages ranging from 48 to 1000V. Either green or other distinct tones will give you an indication of low or standard voltages.  It also has an Auto Power off feature allowing it to preserve its dual batteries for longer life.
Cons
The tester has been reported to be very sensitive in the presence of more than one circuit, which is basically everywhere. The compactness of the tool is also low as you will have a hard time carrying it in your pocket.
3. Sperry Instruments STK001 Non-Contact Voltage Tester
Pros
Here we have a versatile non-contact Voltage tester from Sperry. The tester is constructed from 250 lb crush rated of resistant ABS with the rubber grips of the body for you to have a perfect grip. It is very much durable & can cause no harm at a drop of 6.6 feet. And the GFCI outlet tester is a package of dreams that come true for electricians.
Bright colored Neon LED lights are present at a 360 angle just above the tip for a clear visual aid. Not only would the LED lights be of detection, but the audible beeping will also warn you too. It has a protection rating of CAT Rating III & IV for your safety.
The non-contact voltage detection range of the tester is 50 to 1000 volts. The sensitivity dial of the tester can be adjusted according to your needs. It even has a built-in battery checker allowing you to check batteries. You can easily check voltages without the need of contacting any live wires.
Cons
Because of the sensitivity it provides, the tool does have a hard time in the presence of multiple circuits. It would pick voltages from all around the bundle.
4. Tacklife Non-Contact Voltage Tester with Adjustable Sensitivity
Pros
Tacklife has designed its non-contact voltage tester with as much user compatibility as possible. The body construction of the voltage tester is made from resistant ABS. The body consists of two other buttons of on/off & a flashlight, the main feature of the body is the HD LED display.
The indicating mechanism is very unique. As the sensor at the tip of the tester gets close to a live wire, LED illuminates red & the beeping of the tester gets fast-paced. On the other side with the presence of a null wire testing, the tester gets slow pace & the LED turns green. The display also indicated the battery level of the tester.
The NCV probes sensitivity can be adjusted according to two different ranges of measurement 12 – 1000V & 48 – 1000V. The tester has a Certification of CAT.III 1000V and CAT.IV 600V protection. It also holds a flashlight right at the tip while you are working in the dark comes in handy. Automatic shutdown after 3 minutes really saves a lot of battery life that also extends the life cycle of the battery.
Cons
The instruction manual of such a multi-functional tester should be very precise. Rather it was not clear about how to use it. The buttons also seem to come off after some time.
No products found.
5. Neoteck Non-Contact Voltage Tester 12-1000V AC Voltage Detector Pen
Pros
Neoteck has developed its Voltage detector in an insulating plastic body of just over 6.4 inches. The body is accompanied by two buttons of on/off & a flashlight option. It also has a display to indicate the battery level of the tester.
Users can easily determine the existence of voltage within the range of 12v to 1000v. The indicators for the voltage are the LED lights that flash & the beepers. The tester is extremely safe to use as it is no contact & also it has a protection rating of CAT III600V certification.
The distinction between null wire indication & live wire indication is different in LED indicators & beeping too. The emergency flashlight features come in very handy in case of any blackouts during working. It is an ideal home voltage tester appliance that can be used by everyone easily.
Cons
Durability is a serious issue for this tester. Many have reported that it malfunctions after being dropped from the hand. The sensitivity is also too damn high as it detects voltage in minor places.
6. Milwaukee 2202-20 Voltage Detector with LED Light
Pros
Milwaukee is a trusted brand delivering its best on its contact voltage tester. With a mixture of red & black, the body of the tester is built with plastic. It is quite durable because of the build quality. The tester is almost 6 inches long with a black tip at the end to detect voltage.
It has a green LED showing the working operation of the tester. In the presence of voltage, there is an extra red LED light that indicates its presence. They're also the presence of a beeping sounds that ultimately gets more intense as it gets closer to a live wire.
The operational measurement of the tester is 50V to 1000V. It also has a flashlight feature so that you don't have any problems working in dark environments. Milwaukee has also ensured the safety certification of this tester so that you can work without any worries.
Cons
The on/off function of the tester has an issue. Sometimes its seen that it can't be turned off. The beeper also has the same issue coming with it.
7. Southwire Advanced AC Non-Contact Voltage Tester Pen
Pros
Southwire non-contact voltage tester is an ideal company if you are working in the outdoor field works. The build quality of the tester is so great that it will resist a drop from 6 feet. It is also IP67 rated, meaning that it is almost resistant to water.
It has the capability to check voltages from 12V to 1000V. it has a dual sensitivity that allows it to detect such low voltages. The green LED signifies that the tester is working fine & If in the presence of voltage, the red LED is lit up & the beeper sounds.
Powerful rear flash helps you in working when there is no light to help you with. The thinner probe in front of the tester allows it to be used in confined sources to examine. The lower battery indication of the tool is interesting as it beeps three times & then the LED just goes off.
Cons
False reading has been an issue the Southwire has been dealing with. The audible buzzer that buzzes at the presence of voltage is really low. You can barely hear the buzzer.
FAQ
Here are some frequently asked questions and their answers.
Are non-contact voltage testers reliable?
Non-contact voltage testers (also known as inductance testers) are probably the safest testers around, and they're certainly the easiest to use. … You can get a reading simply by sticking the tip of the tester into an outlet slot or even touching the outside of a wire or electrical cable.
Is there a non-contact DC voltage detector?
Mcgavin the inventor of the world famous Modiewark AC Non-Contact Voltage Detector ,has successfully Developed a tester that will identify DC Power without touch. Point the tester at a power source and it will pick up 50 volts DC to 5000 volts +. There are two models currently available.
What is non-contact voltage tester?
A non-contact voltage tester or detector is an electrical tester that helps to detect the presence of voltage. Voltage presence is useful information to have when troubleshooting or working on a failed asset.
Can a voltage tester shock you?
If the multimeter is set to read voltage, it will have a very high-resistance, so if everything is working correctly touching the other lead will not shock you. If you have one lead in hot, yes, touching the other lead would complete the circuit and shock you.
Can you use a multimeter as a voltage tester?
One of many electrical tools for checking batteries and power supplies, a multimeter makes it easy to test DC voltage. Step 1: Plug your multimeter probes into the jacks labeled common and DC voltage. Use the black plug for common and the red plug for DC voltage. Step 2: Adjust your multimeter to measure DC voltage.
How do you test if a wire is live without a tester?
For example, get a light bulb and socket, and attach a couple of wires to it. Then touch one to neutral or ground and one to the wire-under-test. If the lamp lights, it is live. If the lamp doesn't light, then test the lamp on a known live wire (like a wall socket) to make sure it actually lights.
How can you tell if a wire is DC current?
If you want to detect an electric *current* then one way is to attempt to detect the magnetic field produced by the current. If the current is AC, or time varying, a clamp on current meter would be the perfect tool. Unfortunately if the current is DC, a clamp on meter won't work.
How do you test if a wire is live?
To test for a live electrical wire either a non-contact voltage tester or a digital multimeter is used. A non-contact voltage tester is the safest way for testing live wires, performed by placing the machine near the wire.
How do you use a cheap voltage tester?
Shove the tip into the slots of a receptacle that's live, hold it near a plugged-in lamp cord or hold it against a light bulb that's on. With most testers, you'll see a series of flashes and hear continuous chirps that indicate voltage.
What is the difference between a multimeter and a voltage tester?
If you need to measure voltage, then you a voltmeter is sufficient, but if you want to measure voltage and other things such as resistance and current, then you are going to have to go with a multimeter. The most significant difference in both devices is going to be whether you buy a digital or analog version.
What is the easiest multimeter to use?
Our top pick, the Fluke 115 Compact True-RMS Digital Multimeter, has the features of a pro model, but it's easy to use, even for beginners. A multimeter is the primary tool for checking when something electrical isn't working properly. It measures voltage, resistance, or current in wiring circuits.
How much is a PAT tester?
The costs of Portable Appliance Testing can vary, but a smart rule of thumb to use when thinking about contacting a professional PAT Testing firm is that they will charge somewhere between £1 and £2 per appliance that will be tested.
Q: What does the CAT level indicate?
Ans: CAT level is a safety indication of the tester to the user. You may notice a voltage beside the CAT level. This is an indication of how much maximum voltage can the tester withstand. The higher the CAT level indicates the higher it is compatible with energy transients.
In a scale of I to IV, CAT level IV is the safest a voltage tester can provide protection for its users.
Q: How does a Voltage Tester work?
Ans: You may notice the tip of every voltage tester that is sort of a small point type. This is a sort of metal when connected or is near an electric circuit that will pass current inside the small circuit of the tester. The whole circuit is parallel so that the inside is safe from a large amount of the main current.
The voltage indicator will light up when the circuit is in the presence of voltage.
Q: Can a Multimeter do the job of a non-contact voltage detector?
Ans: Yes, it is possible to determine the existence of voltage using a Multimeter. But it will give you a hard time as you have to first adjust the Multimeter to the desired ranges. A multimeter (like some of these) is also not that compact to carry around when doing a job as an electrician. At best you can go for a clamp meter.
Non-contact voltage indicators do the detection of voltage with the safety of the user as most of the time it has a higher testing range.
Q: Is having a higher sensitivity level for voltage detection a good feature?
Ans: Not necessarily having a higher sensitivity in these matters is a good thing. You may already know that voltage is everywhere around us, even in our bodies. We just don't feel anything. There are so many live circuits around us. So if the sensitivity of the tester is high then it will give out indications at every circuit.
This will confuse you as you have to work with only the one existing in front of you. This may confuse technicians a lot, some voltage testers even detect the voltage in our bodies.
Q: How to differentiate between a live wire & a null wire?
Ans: Usually, most non-contact voltage testers can differentiate between love or null wires. There are different signals & indications to determine them. You have to read the manual carefully to see what the live & null wire indications are.
Conclusion
All the featured non-contact voltage testers are fabulous as their manufacturers have cut you some slack to make up your decision. In this line of production, nobody is far behind from one another. If one manufacturer brings a new feature, then the others will apply it the very next day.
If we were in your shoes, then Klein Tools NCVT-2 would be the tool to go for. With the level of voltage detection, it gives to its users & dual indicators make it worthwhile. The Tacklife has its digital LED display adding to its feature & the Fluke with its professional-level approach are behind Klein.
You have to see through all the features you would need to get the best non-contact voltage tester. Understanding your needs first is the key for you. Every manufacturer tries its best to provide you all the features you would want.
I'm Joost Nusselder, the founder of Tools Doctor, content marketer, and dad. I love trying out new equipment, and together with my team I've been creating in-depth blog articles since 2016 to help loyal readers with tools & crafting tips.