I love creating free content full of tips for my readers, you. I don't accept paid sponsorships, my opinion is my own, but if you find my recommendations helpful and you end up buying something you like through one of my links, I could earn a commission at no extra cost to you.
Learn more
If you work with electrical wiring, whether as a professional electrician or a DIYer, you will know how important it is to test for the presence of live voltage.
This is usually done using a simple, but essential tool called a voltage tester. It allows you to check for power, quickly, easily, and safely.
If you work with electrical wiring, in any capacity, this is a tool you cannot afford to be without.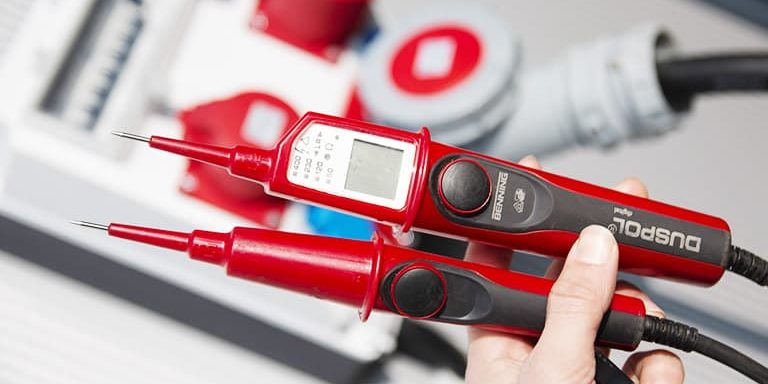 Some testers are multi-functional and can perform a range of common electrical tests, while some test only for a single function.
Before you purchase a voltage tester, it is important to know the different types that are available and the functions that each one offers.
If you simply need to test a wire for power, a pen tester is all you need but if you work regularly with large electrical projects, a multimeter might be worth investing in.
After researching the various voltage testers, reading the reviews and the feedback from users, the tester that came out top in my opinion, is the KAIWEETS Non-Contact Voltage Tester with Dual Range AC 12V-1000V/48V-1000V. It is safe, offers dual range detection, is durable, and comes in at a very competitive price.
But as mentioned, other options are available. Check the table to see what voltage meter might be best for your needs.
What is a voltage tester?
The most basic use for a voltage tester is to find out whether current is flowing through a circuit. Similarly, it can be used to make sure that no current is flowing before an electrician starts work on the circuit.
The primary function of a voltage tester is to protect the user from accidental electric shock.
A voltage tester can determine whether the circuit is grounded properly and whether it is receiving adequate voltage.
Some multi-functional testers can be used to check voltage levels in both AC and DC circuits, to test for amperage, continuity, short circuits and open circuits, polarity, and more.
Buyer's guide: how to choose the best voltage tester
So what makes a voltage tester a good voltage tester? There are several features you want to look out for.
Type/design
There are three basic types of voltage testers:
pen testers
outlet testers
multimeters
Pen testers
Pen testers are roughly the size and shape of a thick pen. They are usually non-contact voltage testers.
To operate, simply turn it on and touch the wire in question. You can also place the tip inside an outlet to test for voltage.
Outlet testers
Outlet testers are about the size of an electrical plug and work by plugging directly into an outlet.
They can test for voltage (and usually polarity, to check that the outlet is wired correctly), though they're unable to test circuits outside of an outlet.
Multimeters
Multimeters with voltage testers are larger than pen and outlet testers, but they offer many more features.
They have grooves or hooks to surround a wire and detect voltage, as well as leads (the wires and points connected to the tester) for testing contacts like outlets and terminals.
Specifically looking for a multimeter? I've reviewed the best multimeters for electricians here
Functionality
Most testers have only one function which is to detect and roughly measure voltage. These single-function voltage testers are adequate for DIY homeowners
Other types of voltage testers have additional features and functions and are multi-purpose tools.
Some pen testers have built-in features like flashlights, measuring lasers and infrared thermometers. Some outlet testers can alert you as to whether the outlet's wiring is faulty.
Multi-meters can test for AC and DC voltage as well as resistance, amperage and more.
Compatibility
Pen and outlet testers are excellent for testing electricity within the home, including switches, outlets, and fixtures, but they are unable to check a vehicle's electrical system.
Many pen testers also have limited voltage working ranges—such as 90 to 1,000V—and may not be able to detect low voltages.
When carrying out electronic device repairs (computers, drones, or televisions, for example) or working on a vehicle, it is best to use a multimeter with a built-in voltage tester.
A multimeter can switch between alternating and direct current as well as test for resistance and amperage.
Longevity/battery life
For long-term use and durability, choose a voltage tester from one of the trusted manufacturers in the electrical tools industry.
These companies specialize in creating electrical tools for pros, and their products offer good quality.
Battery life is another consideration. The better voltage testers have automatic shutoff functions.
If they don't detect voltage within a certain amount of time (usually around 15 minutes), the tester will automatically shut off to prolong battery life.
Also read: How to Monitor Electricity Usage at Home
Best voltage testers reviewed
Keeping all that in mind, let's look at some of the best voltage testers on the market.
Best overall voltage tester: KAIWEETS Non-Contact with Dual Range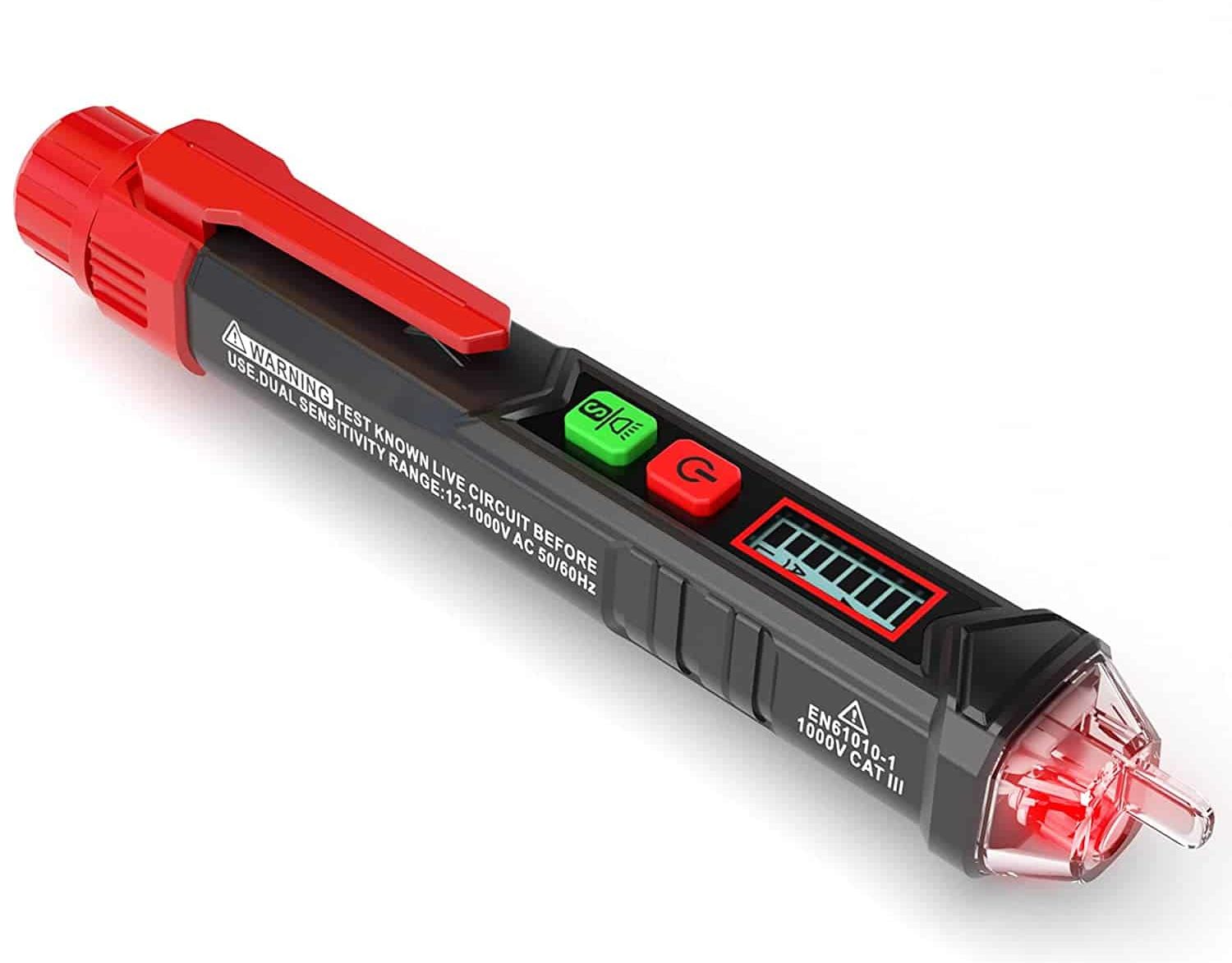 The Kaiweets non-contact voltage tester has all the desirable features that an electrician or DIYer could want in a tester.
It is extremely safe to use, it offers dual range detection, it is small and portable, and it is offered at a very competitive price.
With safety a prime consideration, this tester sends out multiple alarms through both sound and light.
It offers dual range detection and can detect standard as well as low voltage, for more sensitive and flexible measurements. The NCV sensor automatically recognizes the voltage and displays it on the bar graph.
It is compact in design, the size and shape of a large pen, and has a pen hook so that it can be carried clipped to a pocket.
Other features include a bright LED flashlight, for working in dimly lit areas and a low power indicator to show when the battery voltage is below 2.5V.
To prolong battery life, it automatically switches the power off after three minutes without operation or signal protection.
Features
Multiple alarms, using sound and light
Offers standard as well as low voltage detection
Compact pen-shaped design with pen clip
LED flashlight
Automatic power-off switch, to prolong battery life
Most versatile voltage tester for wide application: Klein Tools NCVT-2 Dual Range Non-Contact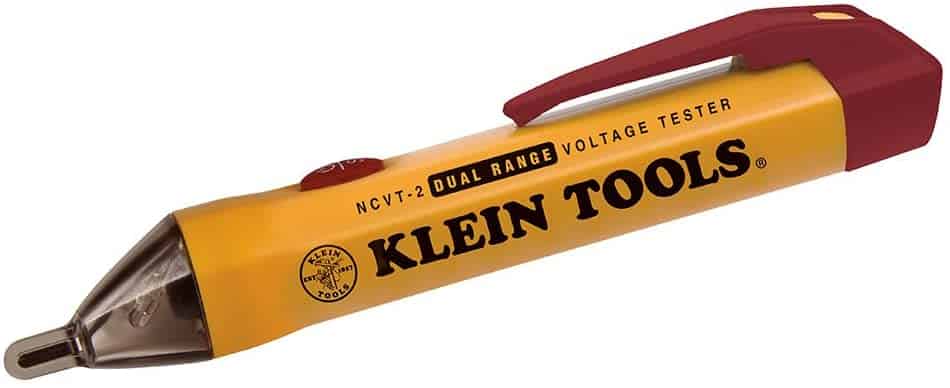 "Designed by electricians, for electricians", is how Klein Tools describes this voltage tester. It offers all the features that a professional would demand from this device.
A great feature offered by this Klein Tools tester is the ability to automatically detect and indicate both low voltage (12 – 48V AC) and standard voltage (48- 1000V AC).
This makes it an extremely useful tester for a broad range of applications.
It offers non-contact detection of standard voltage in cables, cords, circuit breakers, lighting fixtures, switches, and wires and detection of low voltage in security, entertainment devices, and irrigation systems.
The light flashes red and two distinct warning tones sound when either low or standard voltage is detected.
Lightweight, compact design, made of durable polycarbonate plastic resin, with a convenient pocket clip.
A high-intensity bright green LED indicates that the tester is working and also functions as a work light.
Offers an automatic power-off feature that conserves and extends battery life.
Features
Low voltage (12-48V AC) and standard voltage (48-1000V AC) detection
Lightweight, compact design with a convenient pocket clip
High intensity bright green light indicates the tester is working, also useful to illuminate the workspace
Automatic power-off feature to conserve battery life
Safest voltage tester: Klein Tools NCVT-6 Non-Contact 12 – 1000V AC Pen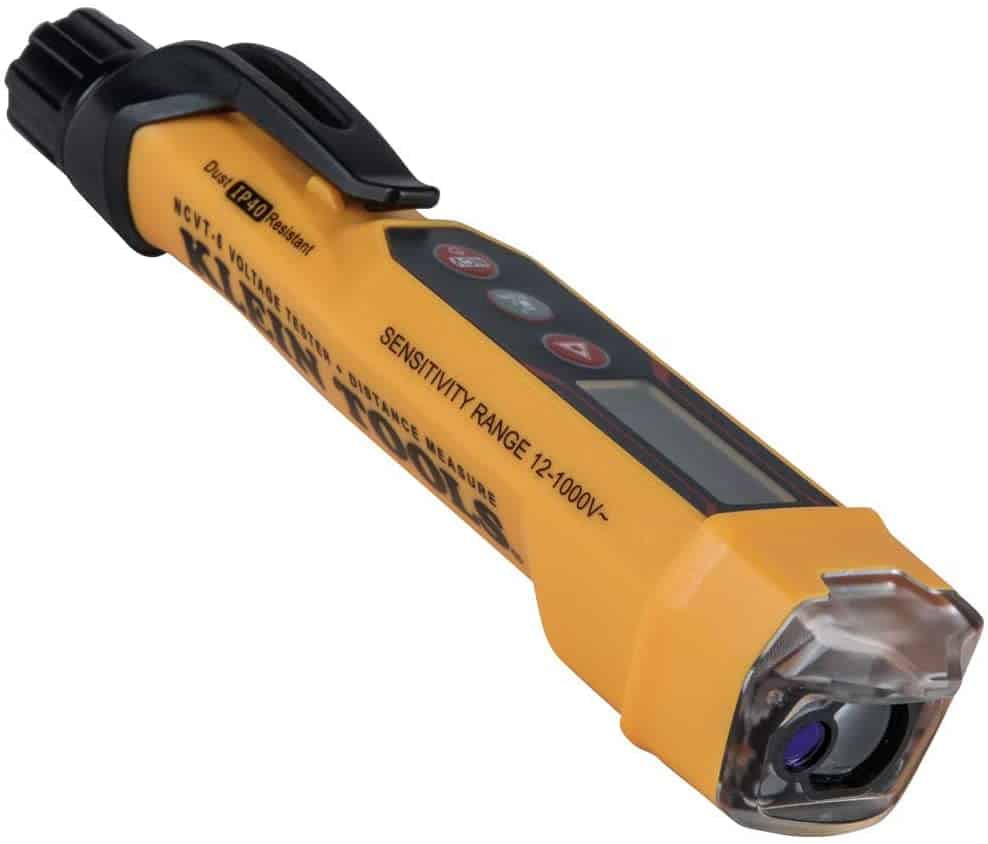 If safety is your primary concern, then this voltage tester is the one to consider.
The standout feature of this Klein Tools NCVT-6 non-contact tester is the unique laser distance meter, which has a range of up to 66 feet (20 meters).
This makes it the perfect tool for accurately locating live wires from a safe distance.
The laser meter can measure distance in meters, inches with decimals, inches with fractions, feet with decimals, or feet with fractions.
A simple press of a button allows inter-change between laser distance measurement and voltage detection
The tester can detect AC voltage from 12 to 1000V. It delivers simultaneous visual and audible voltage indicators when AC voltage is detected.
The buzzer beeps at a greater frequency the higher the voltage that is sensed or the closer to the voltage source.
Offers a high visibility display for easy viewing in low light conditions.
This is not a particularly robust tool and does not stand up to rough handling or being dropped.
Features
Features a laser distance meter with a range of up to 20 meters
Ideal for locating live wires at a safe distance
Can detect AC voltage from 12 to 1000V
Has visual and audible voltage indicators
High visibility display for easy viewing in dim lighting
Heavier on the pocket and not as robust as some other testers
Best no-frills voltage tester: Milwaukee 2202-20 Voltage Detector with LED Light

You just need to get the job done! No frills, no extras, no additional costs.
The Milwaukee 2202-20 Voltage Detector with LED light is a great tool that is reasonably priced and works effectively.
Its strength lies in the fact that it does everything it needs to without the frills and without costing a fortune. It's powered by a couple of AAA batteries and is small and light enough to store in a pocket or electricians tool belt.
The Milwaukee 2202-20 Voltage Detector is ideal for the occasional DIYer or homeowner who just needs to get a job done safely.
It is easy to use, easy to handle, and extremely durable. Push the button on the back of the tool for about a second and the LED light turns on and the detector beeps twice to let you know it's ready for use.
When it is close to an outlet it will light up from green to red and begin emitting a rapid sequence of beeps to indicate the presence of voltage.
The 2202-20 can detect voltages between 50 and 1000V AC and it is rated CAT IV 1000V. The built-in bright LED work light is a very useful additional feature for working in dimly-lit conditions.
The body of the tool is made from Milwaukee's standard ABS plastic, in the traditional red and black colors.
Inside the tip is the metal probe which allows for easy checking of power outlets without having to reach for probes or having to worry about making contact with the actual outlet leads
After 3 minutes of inactivity, the 2202-20 will turn itself off, saving the battery. You can also turn off the detector by pressing the button on the rear of the tool for about a second
Features
Detects voltages between 50 and 1000V AC
Rated CAT IV 1000V
Built-in LED light for working in low light conditions
Made of ABS, highly durable plastic
Red and black color makes it easy to locate in the workplace
Automatic power-off feature
Best voltage tester combo pack: Fluke T5-1000 1000-Volt Electrical Tester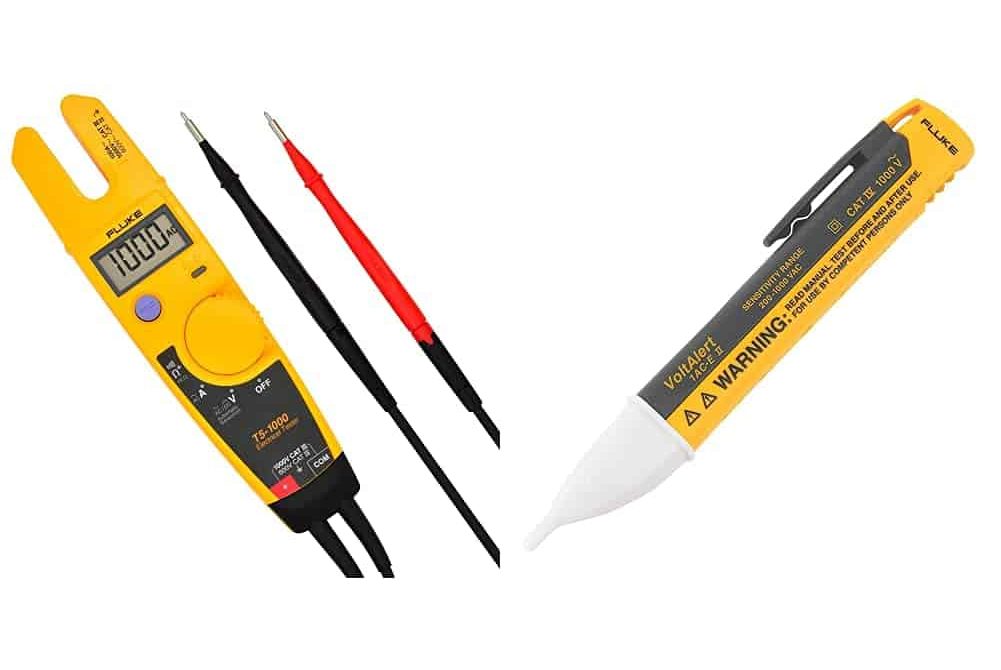 The Fluke T5-1000 electrical tester enables you to check voltage, continuity, and current using a single compact tool. With the T5, all you have to do is select volts, ohms, or current and the tester does the rest.
The open jaw current allows you to check current up to 100 amps without breaking the circuit.
A great feature is the storage space in the back where the test leads stow away neatly and safely, making it easy to carry the tester in your tool pouch.
The detachable 4mm SlimReach test probes are customized for national electrical standards and can take accessories such as clips and specialty probes.
The Fluke T5 has a bandwidth of 66 Hz. It offers voltage measuring ranges of: AC 690 V and DC 6,12,24,50,110,240,415,660V.
The automatic off-switch feature helps to conserve battery life. This is a tough tool designed to last and to withstand a 10-foot drop.
The optional H5 holster lets you clip the T5-1000 onto your belt.
Features
Neat probe storage for detachable test probes
SlimReach test probes can take optional accessories
Open jaw current allows you to check current up to 100 amps without breaking the circuit
Automatic off-switch for conserving battery power
Rugged tester, designed to withstand a 10-foot drop
Optional H5 holster lets you clip the T5-100 onto your belt
Best voltage tester for working in tight spaces: Amprobe PY-1A Voltage Tester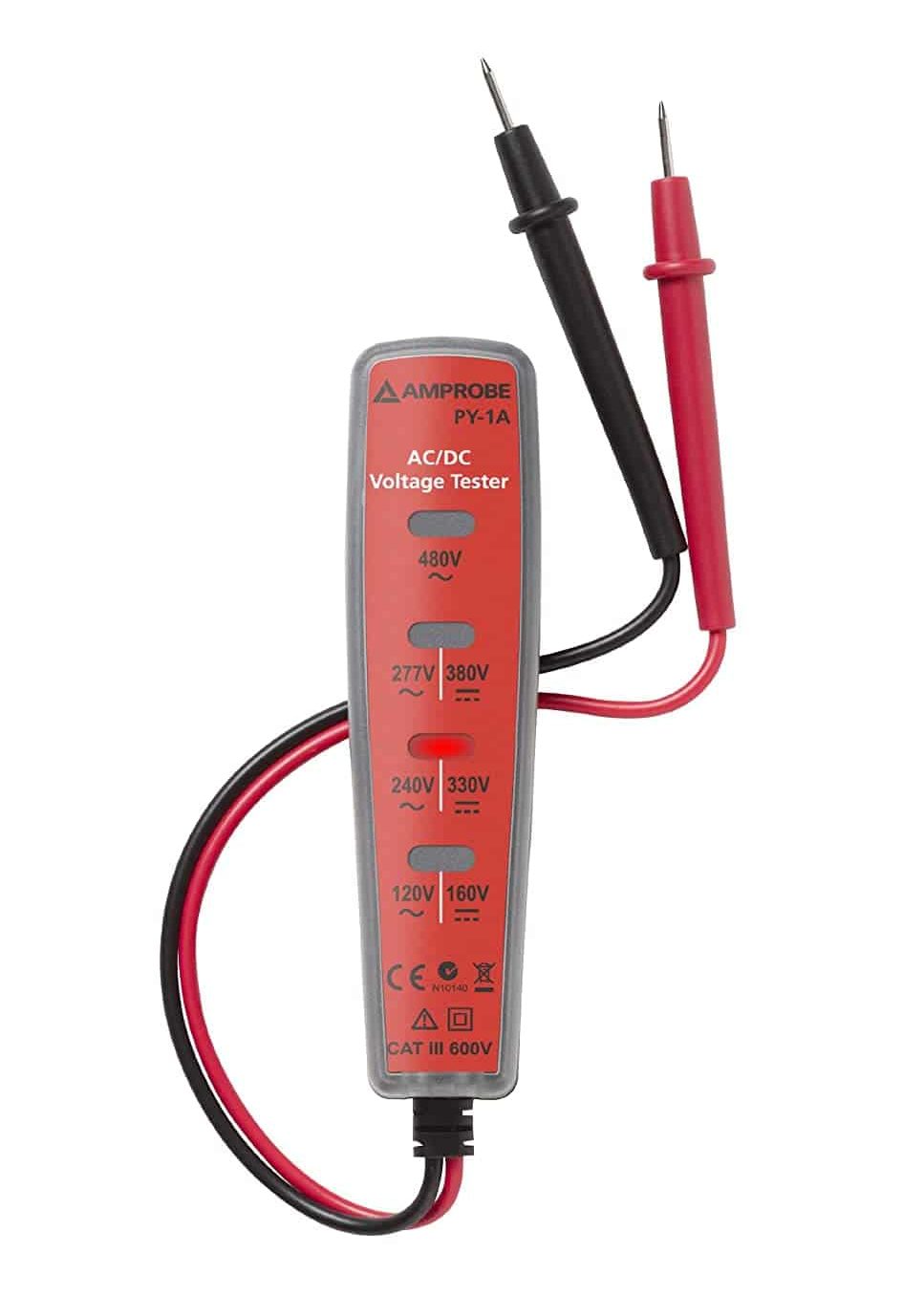 If you often need to work in tight spaces, this is the voltage tester to consider.
The standout feature of the Amprobe PY-1A is the extra-long test probes which make working in hard-to-reach spaces so much easier.
The built-in probe holder holds one probe steady for one-handed testing. The probes can be snapped back into the back of the unit for convenient and safe storage.
Using the two integrated test leads the unit automatically displays the detected AC or DC voltage from, appliances, computers, wire cables, circuit breakers, junction boxes, and other electrical circuits.
It measures AC voltage up to 480V and DC voltage up to 600V. Bright neon lights make it easy to read, even in sunlit conditions.
Designed specifically for indoor use, this compact, pocket-sized tester is robust and user-friendly.
It is a quality product that offers excellent value for money and is ideal for both residential and commercial use.
Features
Extra-long test probes for working in tight spaces
Built-in probe holder for one-handed testing
Probes are stored in back of the unit
Robust and easy to use
Excellent value for money
Comes with a user manual
Best voltage tester for professionals & large projects: Fluke 101 Digital Multimeter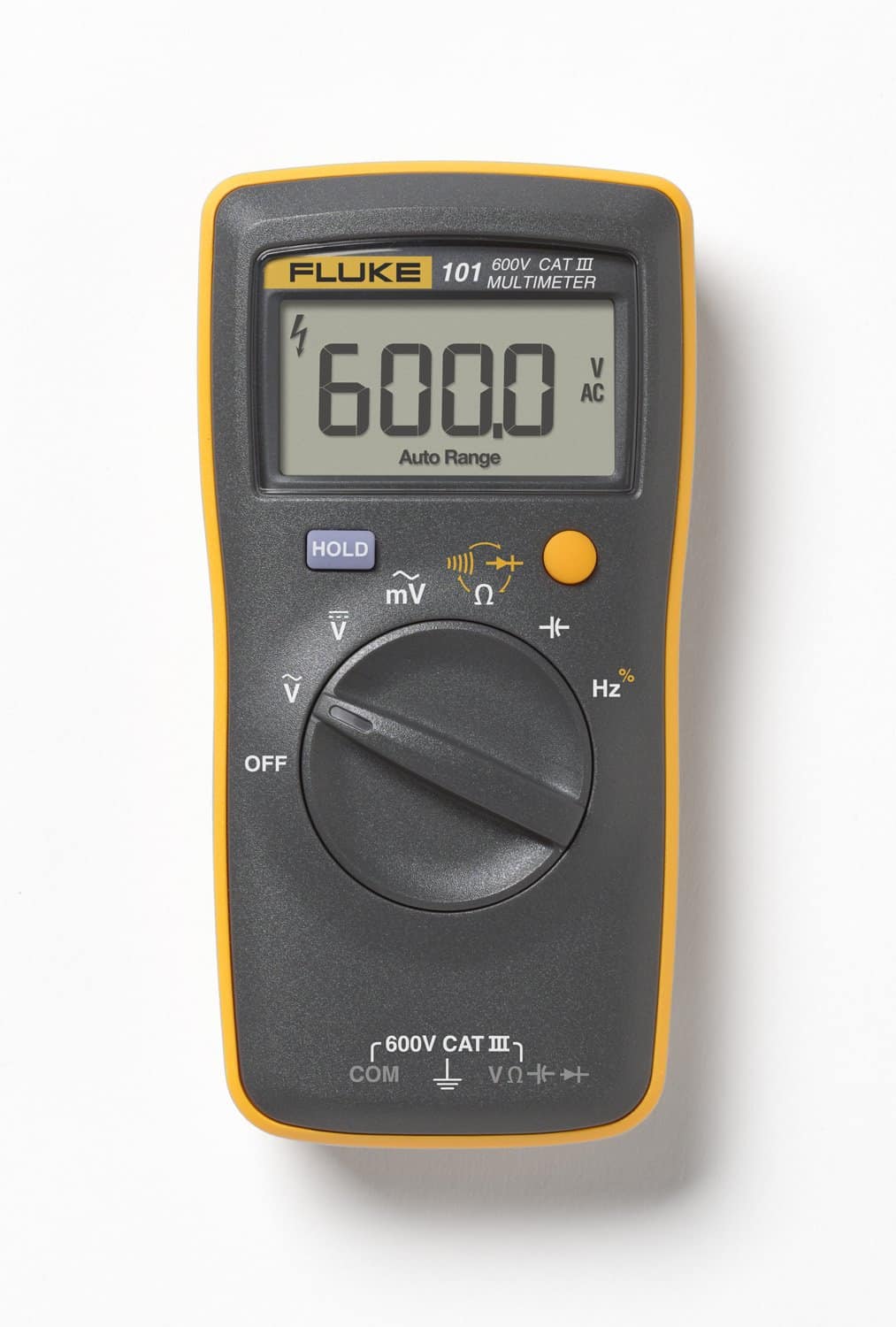 Small, simple, and safe. These are the keywords to describe the Fluke 101 Digital Multimeter.
When making repairs to computers, drones, and televisions or working on the electronics of a vehicle, it is often a better and safer option to use a multimeter with a built-in voltage tester.
A multimeter has multiple applications and can switch between alternating and direct current as well as test for resistance and amperage.
The Fluke 101 digital multimeter is a professional grade yet affordable tester that offers reliable measurements for commercial electricians, auto electricians, and air conditioning technicians.
This small, lightweight multimeter is designed for one-handed use. It fits comfortably into one hand but is rugged enough to withstand daily use. It is CAT III 600V safety rated
Features
Basic DC accuracy 0.5 percent
CAT III 600 V safety rated
Diode and continuity test with buzzer
Small lightweight design for one-handed use
Frequently Asked Questions (FAQs)
Is a voltage tester the same as a multimeter?
No, voltage testers and multimeters are not the same, though some multimeters feature voltage testers. Voltage testers indicate only the presence of voltage.
A multimeter on the other hand can also detect current, resistance, frequency, and capacitance.
You can use a multimeter as a voltage tester, but a voltage tester cannot detect more than voltage.
Are voltage testers accurate?
These devices are not 100% accurate, but they do a pretty good job. You simply hold the tip near a suspected circuit, and it'll tell you if there's current or not.
How do you test wires with a voltage tester?
To use a voltage tester, touch one probe to one wire or connection and the other probe to the opposite wire or connection.
If the component is receiving electricity, the light in the housing will glow. If the light doesn't glow, the trouble is at this point.
Do voltage testers need calibration?
Only equipment that "measures" requires calibration. A voltage "indicator" does not measure, it "indicates", thus does not require calibration.
Can I distinguish between high and low voltage with a voltage tester?
Yes, you can distinguish the levels of the voltage from the indicating LED lights and also from the sound alarm.
Takeaway
Now that you are aware of the different types of voltage testers that are on the market and their various applications, you are better equipped to select the right tester for your purposes – always bearing in mind the type of electronic equipment you will be working with.
I'm Joost Nusselder, the founder of Tools Doctor, content marketer, and dad. I love trying out new equipment, and together with my team I've been creating in-depth blog articles since 2016 to help loyal readers with tools & crafting tips.