I love creating free content full of tips for my readers, you. I don't accept paid sponsorships, my opinion is my own, but if you find my recommendations helpful and you end up buying something you like through one of my links, I could earn a commission at no extra cost to you.
Learn more
A plumber is as good as his collection of tools. Being a plumber you'll have to deal with the most diversity of problems. One moment you're fixing the complexities and on the very next you're fixing a water heater line. Being in the most unpredictable of professions you're required to keep a boxful of tools.
Well, these look more or less like a travel bag. Why don't I get a travel bag from a dollar store? First, those are not designed to keep your tools in place. You're better off carrying a sack. With the best plumbing toolbox, you can reach for that tool with your eyes closed.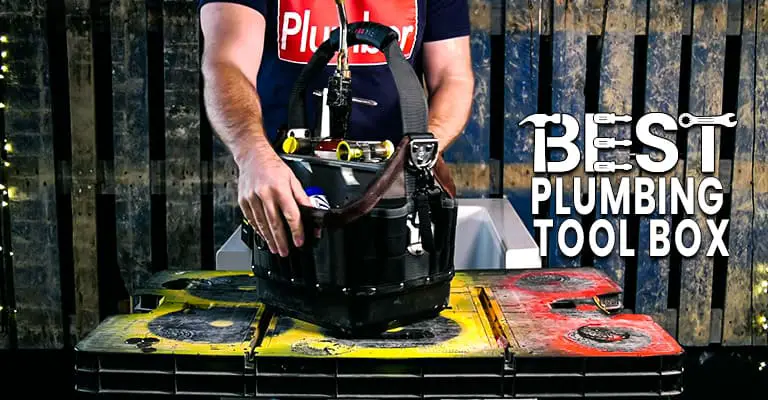 Plumbing Tool Box buying guide
Even if you think you know what you want, bear with us in this section. This way you'll know what you would've missed out.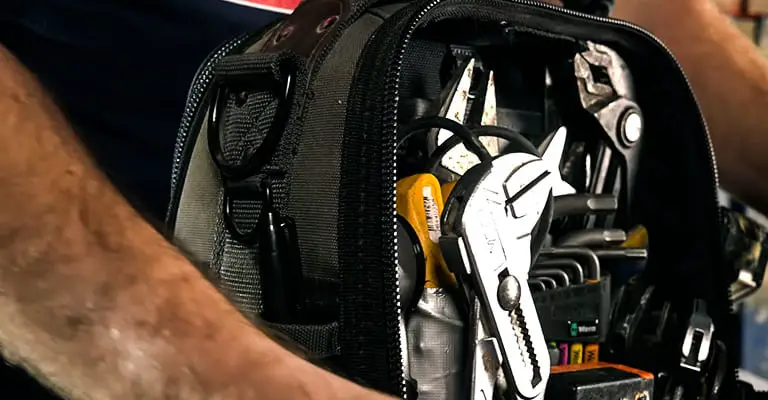 Materials
Unlike other toolboxes, plumbing toolboxes are made of a variety of materials including plastic, wood, structural foam, metal or fabric. Structural foam is stiff enough due to the high stiffness to weight ratio it has. Polypropylene resin plastic is an ideal choice since plumbing deals a lot with water and they are resistant enough.
Metal toolboxes should have thick paint to tackle rust as most plumbing boxes aren't stainless. Those made of fabric are more or less tote but are hardy enough to carry a good number of tools and easier to mend.
Size
If your toolbox is small, you can't put all the tools there or maybe you need to skip putting the larger tools. So make sure your toolbox is large enough to put all of your tools organized properly.
The width and height of plumbing toolboxes are usually close enough and 8 to 12 inches is an ideal size to carry with. But the length should surpass both and be within a range of 15 to 20 inches.
Weight
Most rigid plumbing boxes weigh around 7 to 11 lbs. But sticking around 7 lbs is the wiser option for both metal and rugged plastic ones. If the box is heavier than that, you won't be able to carry it for long when it is loaded with your tools.
Fabric ones don't push much greater than 2 pounds but are less likely to maintain shape and durability if pointy and slender tools are more. Again wheels on boxes make them chunkier.
Compartments
Most of the toolboxes on the market have different compartments and trays so that you can store your tools in an organized way. The number of pockets and chambers should increase if you need a larger box to accommodate innumerable small tools.
Totes usually appear with a greater number of pockets. If you could afford stackable boxes, go for them because they help greatly as the number of plumbing tools in the market is growing endlessly. Some boxes open exposing their trays and chambers when they are lifted and do the opposite when lowered. This is great storage for fast workers.
Mobility
Some of the toolboxes on the market are equipped with wheels for mobility as you can't carry heavy toolboxes everywhere, making things easier for you. So it's a better choice to buy a toolbox with wheels even though it is costly than normal boxes. As it involves no lifting, you can stuff a lot of pliers and wrenches in them.
Instruction
Not all the toolboxes on the market are the same, different producers provide different kinds of products with different features. Some are more complex than other boxes. Or maybe your kid needs the instruction to use it when you are not around. So it's better to have an instruction guide with the product you are buying.
Handle
To aid plumbing works the handle of your toolboxes should be protruding out of the box or tote that you choose. Such tasks include a lot of haste and the handle is the part that bears most contact and force.
So, whatever the material of the body, handle is highly recommended to be of metal and especially steel. Bimetal collisionless steel is a great option, otherwise painted. Though expecting much aestheticism and ergonomics isn't valid here, a rubber or strong foam grip is nice to have.
Best Plumbing Tool Boxes reviewed
Let's do a risk analysis on each of the plumb toolboxes that's popularly claimed to be the best in today's market. Would you miss out on anything if you buy the one you're about to buy? Let's find out.
1. DEWALT Tool Box
Positive Factors
DEWALT manufactures more than 6 types of toolboxes and carts at average prices to carry your tools around easily. The volume of the toolbox is large to help to carry large tools. The top organizer of this box has fixed dividers so that you can organize different kinds of tools along with large tools at the bottom.
For easy and comfortable lifting, a bi-material handle is attached to the top of each unit. For durability and longer life, the box has rust resistance metal latches. This tool features units that can stack on top of each other that are connected with durable side latches. The boxes interlock with each other perfectly.
You will get a limited lifetime warranty with the toolbox from the manufacturer. The total weight of the box is less than 7 pounds, so it's not that hard to carry. The product dimensions are around 17 inches in length, 12 and 13 inches in width and height. Not only that, you can also easily store this black and yellow colored toolbox anywhere for its standard dimensions.
Negative Factors
No instruction is provided with this toolbox.
Detailed info about the product material isn't provided.
2. McGuire-Nicholas Collapsible Tote
Positive Factors
McGuire-Nicholas company offers you a collapsible tote bag to use as a tool carrying bag or storage or any other purposes at the lowest price on this list. The length of this tote bag is 15 inches, 7.5 inches in width, and 9.8 inches in height making it easy to carry your small and big tools.
There are 14 exterior pockets in various sizes to carry more tools e.g. a couple of extra plumb bobs and keep them organized. The interior of the tote has also 14 webbed loops to accommodate different tools. The handle of the tool is made with tubular steel and a sturdy foam pad is added with it for comfortable lifting.
You can buy 1 to 4 packs of the collapsible tote at an affordable price. The weight of the tote is around 2 pounds, so this is so easy to carry for anyone.
And as the name says, it is collapsible, so you can collapse it and store anywhere easily when you are not using the bag. Finally, the tapered pocket design offers more room for more tools.
Negative Factors
Not water-resistant and can't keep your tools safe like toolboxes.
You won't be able to carry large tools with this tote.
No warranty or instruction or info about the bag material is provided with this product.
3. Keter Rolling Tool Box
Positive Factors
Keter manufacturers boon you with so many fascinating features with its toolbox that needs zero maintenance. This weatherproof box is made from polypropylene resin plastic, so the box will never rust, rot or dent and it is also easy to clean.
The box or the drawers can handle up to 66 pounds which means you can carry almost all of your tools.
One of the best features of this toolbox is its security system which also ensures stability during travel by its central locking system. The bottom divider of the box offers deep storage space for larger tools while there is an integrated organizer with 2 size removable bins on the lid for organization purposes.
An instruction video of this tool is provided on the website. The weight of the toolbox is 13 pounds, but that will never be a big problem for you. You can still move the box easily as there are rubber wheels provided for mobility.
At the same time, an extendable handle for ease when you roll the box. You can store it anywhere easily or use it for other purposes if needed.
Negative Factors
No warranty is provided with this toolbox.
It is the most expensive one compared to others on this list.
4. Stanley Structural Foam Toolbox
Positive Factors
Stanley manufacturer offers a heavy-duty professional toolbox that is made with structural foam which is durable, versatile and secure. Structural foam in this tool consists of thermoplastic resin and flake mica. This combination increases structural durability and helps you to transfer tools organized and protected.
For the ultimate protection of the equipment inside, a watertight seal is provided all around the box. There are integrated v-grooves on the top lid which are suitable for pipes and lumber in place for cutting. The product is water-resistant, so you don't need to worry about electrical equipment to carry in bad weather.
To carry heavy loads, ergonomic hand lifting recesses are incorporated in the body of the toolbox. This toolbox is extra-large that allows the storage of large tools along with smaller ones. It also has large metal rust-proof latches with padlock eyes. The portable half tray also allows room for large items.
Negative Factors
No instruction is provided and the product is not always available on the market or online.
The weight of the item is around 11 pounds, so it is not suitable to carry for everyone when loaded with tools.
5. Faithfull Metal Cantilever Tool Box
Positive Factors
Faithfull company provides you toolboxes of two different sizes just at average prices, one is 40 cm or 16 inches and another one is 49 cm or 19 inches in length. The red-colored stylish toolbox is rigidly constructed to carry your plumbing tools anytime anywhere easily.
You can use a padlock at the lid of the closed box for security purposes. The tubular steel carry handle of this toolbox opens and closes the box as the product is lifted or lowered. This toolbox has 5 different trays or compartments so that you can organize all your tools easily.
As the weight of the product is only 7 pounds, it's easy to use and transfer your tools. Both the height and width of this tool are around 8 inches providing plenty of spaces for your equipment. The toolbox displays its contents when open while the trays are extremely compact in the closed position.
Negative Factors
Any instruction and exact info about the materials aren't provided with the toolbox.
You won't get any warranty with this product.
The handle isn't padded for comfort.
FAQs
Here are some frequently asked questions and their answers.
Do plumbers wear tool belts?
Tool belts are for carpenters not plumbers.
Why are Snap On tool chests so expensive?
People pay big bucks for Snap On boxes for a couple reasons… they are high quality, which costs money. They are bigger, which costs more money. They have Snap On on them, which costs even more money. They are hauled around on a truck for 6 months, which costs even more money.
Are snap on boxes worth the money?
Yes, they're more expensive, but IMO, they're worth it for someone who is a tool / garage junkie (like myself). I will say the new boxes, other than the new casters and roller bearing drawers aren't built like they used to be.
Why is snap on tools so expensive?
The extra cost is due to much more R+D and MUCH better engineering of the Tools and other stuff. That makes it cost a little more. Then they use better steel's to make a stronger tool.
What pliers do plumbers use?
Plumbers will often use tongue-and-groove pliers for just about everything. But a good rule of thumb is that for any fitting with a nut on it or a hex head, use a wrench. If you're going to use pliers on a hex-shaped fitting, bolt, or nut, at least use a pair that has a V-notch in the jaws to accommodate the hex shape.
What do plumbers use to unclog drains?
An auger — also known as a plumbing snake — or flat sewer rod can clear blockages deep in drain lines. Chemical drain cleaners contain a high concentration of lye, bleach or sulfuric acid to soften and break up clogs.
What tools do plumbers use to unclog drains?
Drain Augers or Snakes
The standard drain cleaner tool plumbers use to demolish obstructions in pipes is a motorized drain auger, also known as a drain snake. An auger consists of a long, flexible coil of metal that works similar to a corkscrew. The end of the auger goes down the drain until it reaches the clog.
How many types of holding tools are there in plumbing?
Mostly, two types of wrenches are used—adjustable and non-adjustable. These are useful particularly in case of odd-sized nuts and bolts. These tools hold a pipe and pipe fittings for screwing or unscrewing.
Is Blue Point as good as snap on?
Blue Point is a lower-end tool brand of Snap-On. They are made with the Snap-On specifications but different finish. … Blue Point tools do not have a Snap-On name on them. They are the second in quality from Snap-On.
What tools are better than snap on?
Stahlwille, Gedore and Koken are snap on level quality and don't cost nearly as much. Wright is good stuff. Expensive but not as expensive as snap on. As well as Proto.
What is the most expensive Snap On Tool?
Description. The most expensive Snap-On Toolbox is the massive EPIQ Series Bed Liner Top Roll Cab with Power Drawer. It is the most expensive model made by Snap-On at just under $30,000.
What is the markup on Snap On Tool Boxes?
about 50%
If you buy several grand worth of tools off his truck every year for a few years, he still isn't likely to give you a discount on Snap-On made tools, although he might cut you a break on Snap-On branded tools. Their markup is usually about 50% believe it or not.
Are truck tool boxes worth it?
You might experience "sticker shock" the first time you start shopping for truck tool boxes. They can be a little expensive. However, think of the cost of replacing your tools due to theft, loss or damage and you can see the investment is well worth it. A high-quality tool box will last a lifetime.
Q: What is a plumbing toolbox?
Ans: A plumbing toolbox is a box that can store your plumbing tools like wrenches, screwdrivers, etc. organized properly and securely.
Q: What is the best way to organize tools in a toolbox?
Ans: You should keep the heavy and large tools at the bottom portion of the toolbox, sharp items such as saw hanging on the sidewalls of the box and small tools on the top compartments.
Conclusion
After finishing reading the buying guide and product review section stated before, you shouldn't have any problem finding the best plumbing toolbox that matches all of your requirements regardless of being a newbie or a pro.
Yet if you don't have the time to look that up and want our advice, we are here to help you out to find the best toolbox. Among all the toolboxes on this list, we like to recommend you buy the toolbox from the Keter manufacturer.
The product from this company boons you with features like durability, mobility, and protection. You may think this product is kind of expensive, but you know that you need to spend money to have a better item, right?
But if you don't wanna spend much money but are still looking for a durable toolbox, then you should go for the average priced product from the DEWALT manufacturer, as the product is sturdy and large though it's not mobile.
And if you don't wanna use toolbox professionally, you can buy the tote from McGuire-Nicholas company as it's the cheapest item.
I'm Joost Nusselder, the founder of Tools Doctor, content marketer, and dad. I love trying out new equipment, and together with my team I've been creating in-depth blog articles since 2016 to help loyal readers with tools & crafting tips.