I love creating free content full of tips for my readers, you. I don't accept paid sponsorships, my opinion is my own, but if you find my recommendations helpful and you end up buying something you like through one of my links, I could earn a commission at no extra cost to you.
Learn more
We must admit, reciprocating saws are pretty amazing. They are highly versatile and allow us to work with multiple projects flawlessly. But over time, the stock blade lost its magic. It did not want to cut metal workpieces properly.
That is when we precisely decided to opt for one of the best reciprocating saw blades for metal. However, our first purchase was a failure. It did not even withstand a medium-thickness metal.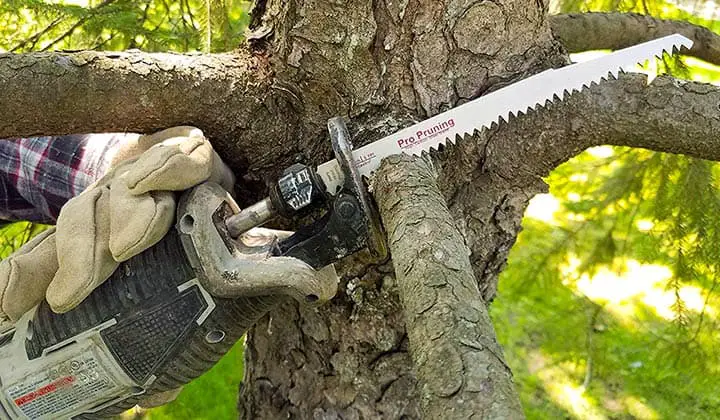 But we were pretty determined. So, we went ahead and tested the promising options. And after comparing them head to head, we did manage to seclude seven options that are suitable for metal, which we will go through in this article.
7 Best Reciprocating Saw Blades for Metal
We have spent countless hours researching promising options. Then, we decided to test about 15 of them finally. And from all of them, these are the ones that seemed worthy to us:
DEWALT DW4856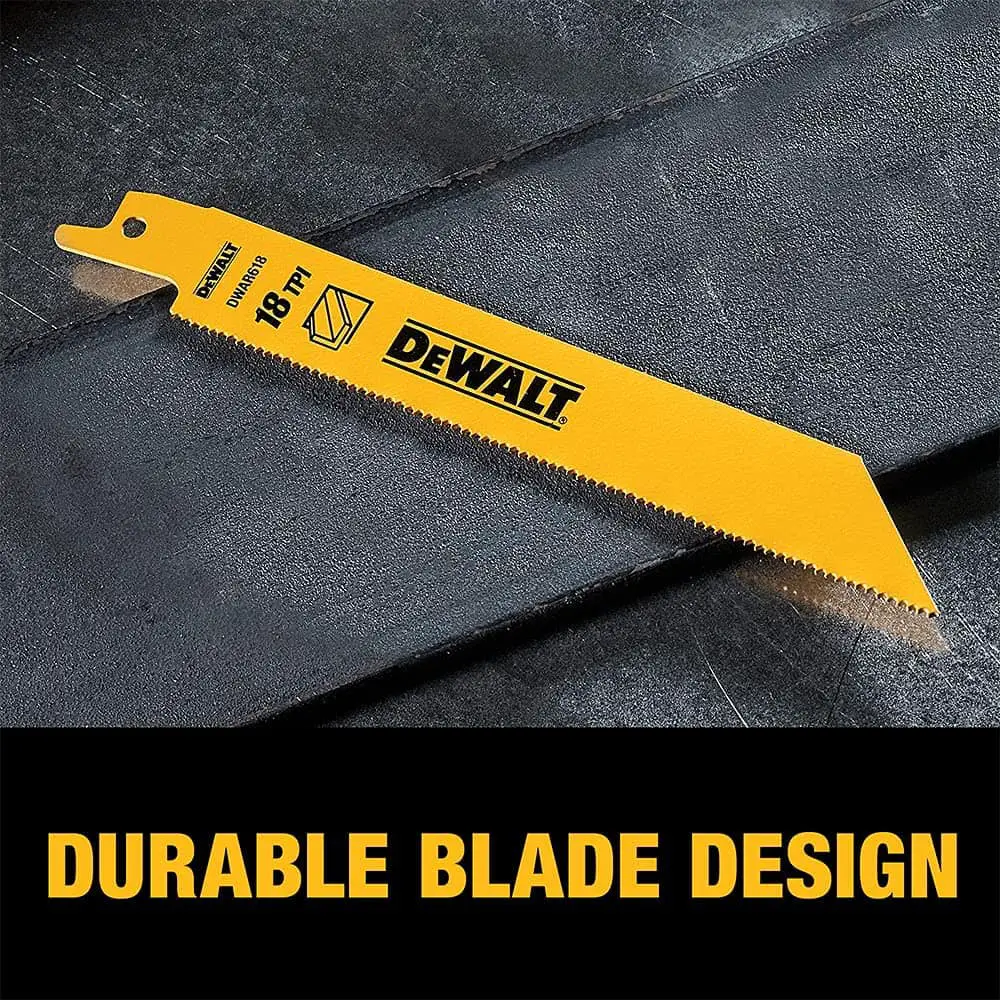 The manufacturer Dewalt is well-known for offering high-quality and high-performance power tools in the market. But did you know that they are offering high-quality saw blades as well? Well, this set is one of them.
When it comes to durability, these blades are among the very top positions. These utilize a bi-metal construction, which will offer more flexibility. That means it will not bend that easily. The construction will also increase the lifespan of the edge. In other words, the teeth will not get dull quickly.
These blades also utilize patented tooth forms. That will optimize the chip removal effect and allow you to make cuts on the metal workpieces efficiently. The forms will also enhance the lifespan of the tooth and make them more durable. They will be less prone to breaking and bending.
Facing difficulties in cutting straight with a reciprocating saw is a common issue. Due to the thick and tall blade profile, the cuts that these blades will offer will be straight. Even if the metal workpieces are thick and heavy, the cuts will be smooth and precise. The profile of the blades also enhances the overall durability a little bit further.
On that note, the package will include six blades. All of them are six inches and will be from 5/8 to 24 TPI. You will also receive a carrying case with the package.
Pros
Exceptionally durable
Can retain the edges for a long amount of time
It has a thick and tall blade profile
Ships in a set of six
Utilizes patented tooth forms
Cons
The paint is not that durable
It might be a bit short for some demanding projects
The set includes six blades that are six inches long. They are built with durable materials and have a long lifespan. Check prices here
WORKPRO 32-piece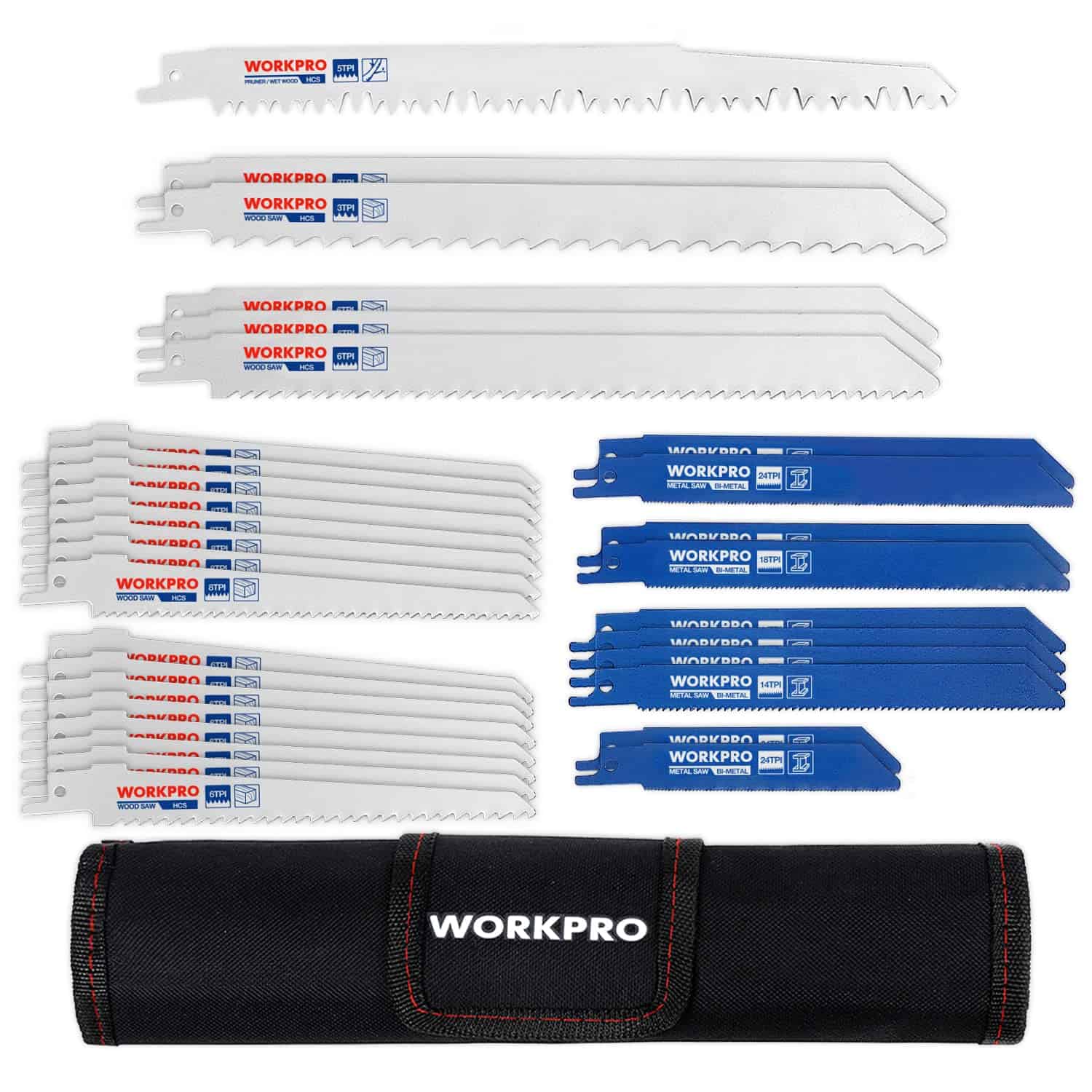 Work with loads of metal projects? Require more than what a six and eight-piece set has to offer? Well, in that case, you need to take a look at what WORKPRO has to offer here.
The set includes a total of 32 pieces of blades. There are eight different sets of blades. They range from 4 inches thin metal blades with 24 TPI to 9 inches pruner wet saw blades with 5 TPI. The number of blades you will get from this set will be more than enough to carry out multiple projects.
Most of the blades sports the construction of bi-material. They are well capable of handling heavy metal workpieces. Due to how capable the edges are, working with the workpieces up to 8mm thick will feel like a piece of cake. They can even handle pipes with 100 mm diameter pretty easily.
On the other hand, the other blades feature the construction of CR-V steel. This construction makes the units exceptionally durable and makes them capable of working with heavy wooden pieces. And the steel is highly flexible, which means that the blades will not permanently bend or break off that easily.
You will receive a blade organizer with the package. That will make it easier to store the blades in an organized manner. It will also make carrying the blades an easy task.
Pros
It comes in a set of 32
The package includes eight different sets
Exceptionally durable
Flexible and resistant to bending
Bundles with a blade organizer
Cons
The blades for wooden workpieces
Some of the blades do not have that sharp edges
The package comes in a set of 32 pieces. Each one of them has a higher overall durability level. Check prices here
Milwaukee Electric Tool 49-22-1129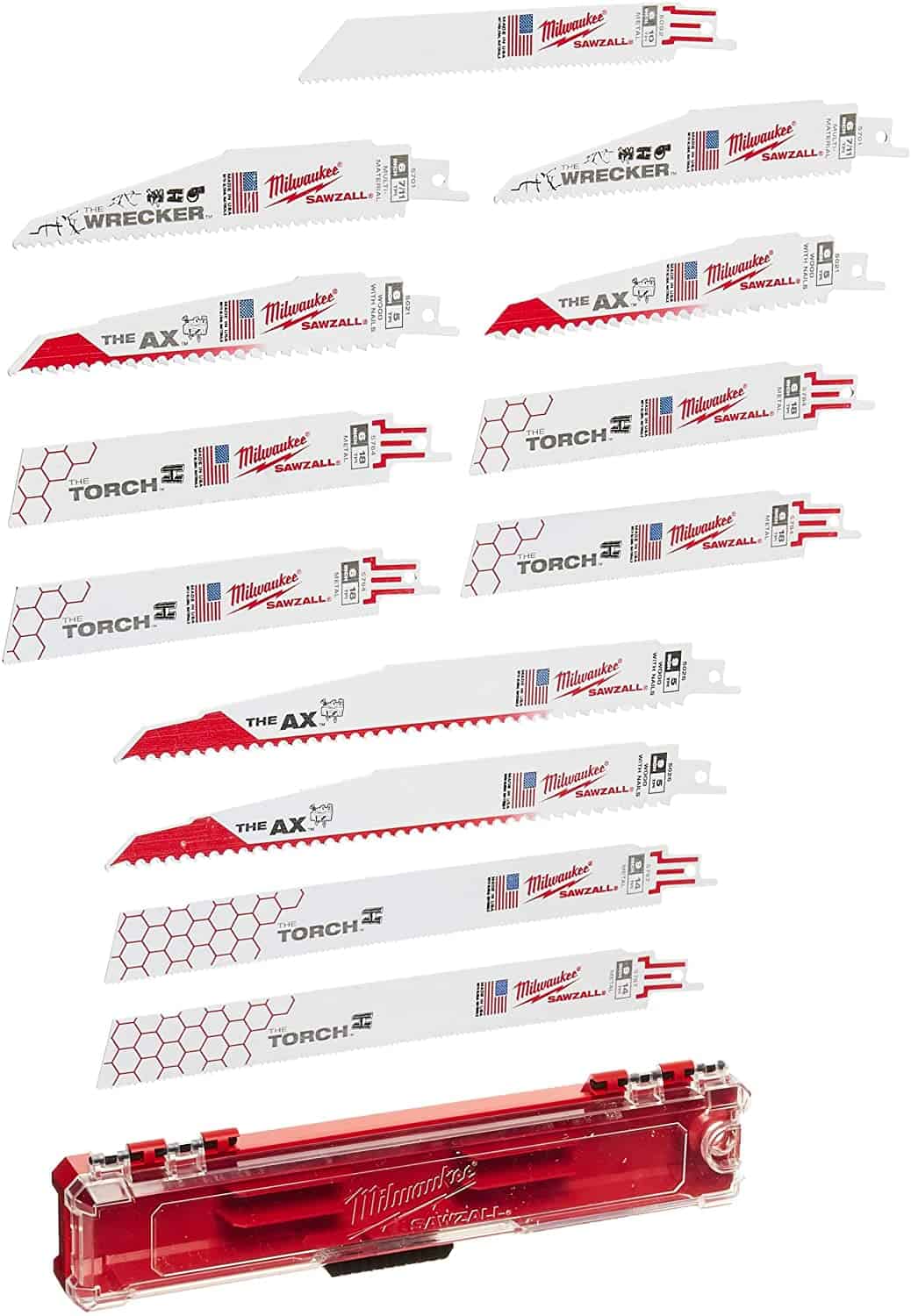 Want a set of blades that will enable you to remodel the projects with ease? Check out what Milwaukee has to offer here!
The set includes 12 blades. Some of them are 0.042 inches thick, while the rest of them is 0.062 inches thick. This thickness makes them ideal for extreme applications. You will be capable of handling the heavy metal workpieces without facing any issues at all.
Each of the blades has a 1-inch extra height. This added height will increase the overall strength. The units are exceptionally durable. They are well capable of withstanding higher loads. Due to their flexible nature, they will not bend permanently either.
These have the perfect width as well. The width allows them to fit in tight places easily. That means you will not face any trouble in terms of handling relatively small workpieces. Also, each of the units has proper labeling on them, which will make it easier to organize and store them properly.
You will also receive a box. That will make the task of carrying the units around easy. The case is exceptionally durable as well. It is capable of handling the extreme loads of intense job sites.
Pros
Includes 12 blades
The units are exceptionally thick
Exceptionally durable
Has the perfect width
Bundles with a case
Cons
It might ship with missing blades
The edge is not retained correctly
The set includes 12 different blades. And the thickness and the width of each of the units are perfect, which makes them exceptionally durable. You can expect to get extended use out of them. The package also includes a durable carrying case. Check prices here
DEWALT DW4890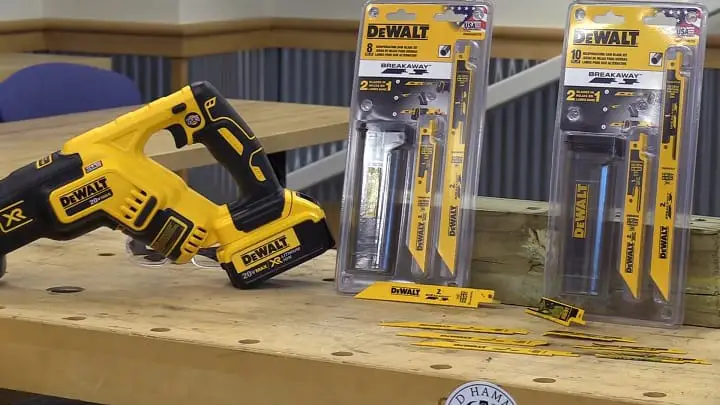 Another stellar set from Dewalt is this one. Just like the previous set that we have looked at, this one is offering a load for the money.
The manufacturer has opted for high-quality materials for the overall construction. These units are of eight percent cobalt and reinforced raw materials. The reinforced nature of the teeth will ensure that they last for an extended amount of time without showing any signs of damages.
These blades are exceptionally flexible too. This flexible nature will ensure that they do not permanently bend when you are working with heavier metals. The package bundles with a rugged storage case too. That will make transportation and storage a breeze. You can keep them organized without struggling one bit.
On that note, the set includes fifteen blades. There are three types available in this set, which makes the whole package exceptionally versatile. There are five 6 TPI, 14 TPI, and 18 TPI blades. The ones with a higher TPI count are for metal, while the 6 TPI is for wood. And the wooden blade performs exceptionally well too.
As the units feature a specialized design, these will easily go through an intense amount of loads. And as they are six inches long, they will be compatible with most of the reciprocating saws.
Pros
Made of high-quality materials
Highly durable
Has a higher flexibility level
Can withstand higher loads
Includes three types of blades
Cons
Some of the packages might ship with a damaged case
The wooden blade gets a bit dull after a couple of use
The manufacturer Dewalt has managed to impress us again with this set. You will receive a total of 15 different blades with the package. It even bundles with a carrying case that makes storage and transportation easy tasks.
Luckyway 28-Piece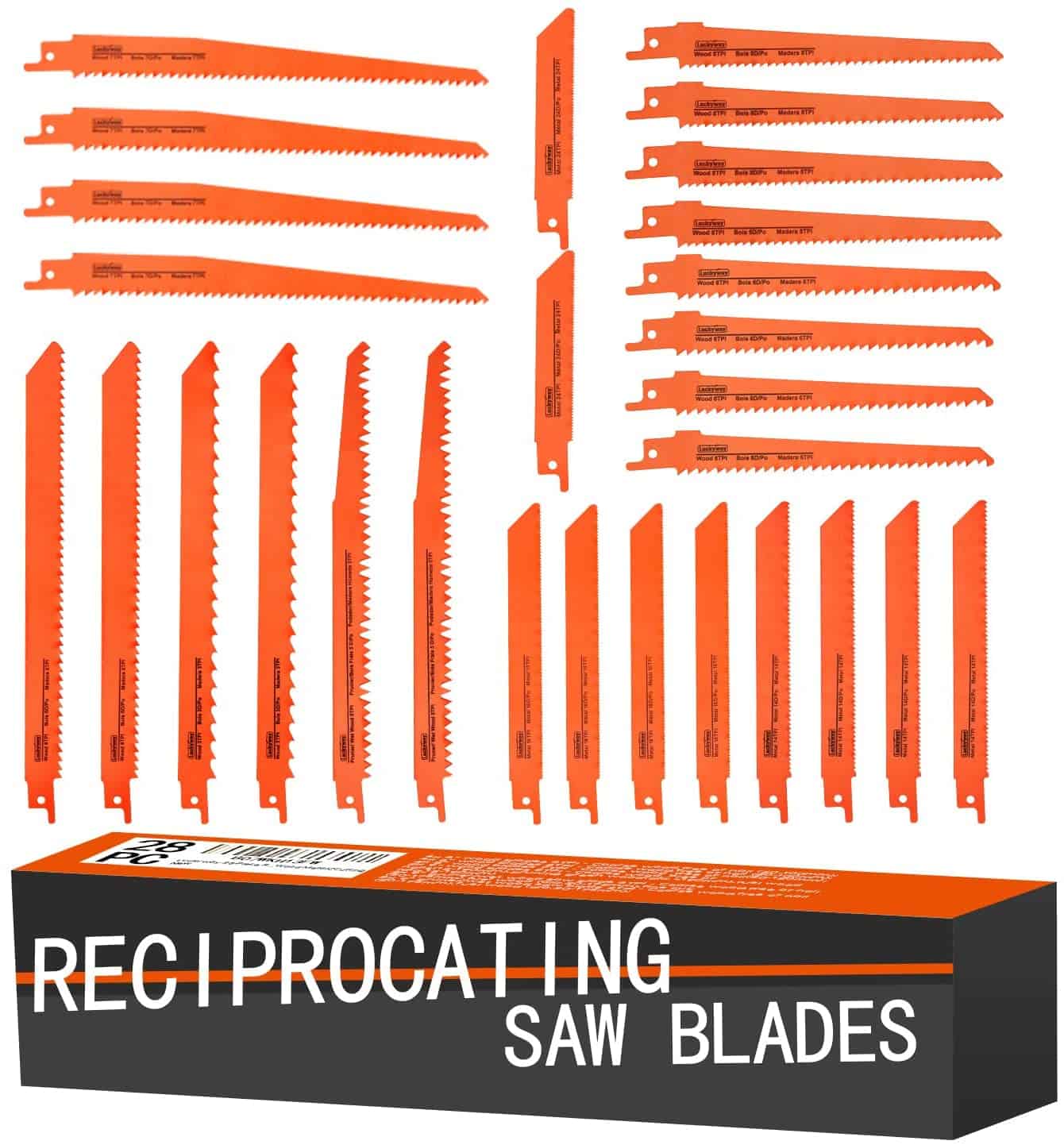 While there are plenty of saw blades out there, there are only a couple that features high-quality and long-lasting build quality at the same time. And this set from Luckyway is one of them.
You will receive 28 pieces of blades with the package. There are thin, thick, and medium-thickness units included with the package. And each set has a different TPI rating, which makes the whole bundle highly versatile. You can use them for various remodeling applications.
Due to the overall design of the units, they will be compatible with most of the reciprocating saws. We have tested them with the saws from major brands, and we found no issues in terms of compatibility. As the edges of the units are exceptionally sharp, these will cut the workpieces quickly as well.
When it comes to the build quality, these are at the very top positions of the list. The manufacture has opted for high-quality carbon steel and high-speed steel for the overall construction of the units. Some of them even feature the construction of bi-metal, which makes them achieve a higher durability level.
The units are highly flexible too. This flexible nature will ensure that they do not bend that easily when you are putting them under an intense load. These will last longer, cut quickly, and offer smooth cuts on metal.
Pros
Includes a total of 28 pieces of blades
Exceptionally versatile
Highly compatible
Constructed of high-quality materials
Has a proper design for dealing with heavy loads
Cons
Some of the units are too short
The amount of kickback is a bit high
This package includes 28 different blades. Each set has a varying thickness. That makes the whole package versatile. Also, the build quality of the units is top-notch. Check prices here
Janchi Heavy Duty
One of the things that most of the offerings out there lacks is compatibility. The design of them is not ideal for most of the available saws. However, that is not the case for this package that Janchi is offering.
This package includes ten units in total. Each of them is 6 inches in size and has a 14 TPI rating. That makes all of them ideal for metal workpieces. So, you will not have any extra blades you do not require lying around if you purchase this set. And they are compatible with almost all of the available saws.
The brand did not skimp one bit when it came to the overall construction. They have utilized high-quality bi-metal, which is stronger than the regular HSS that most other units are made of. This material composition enhances the lifespan to up to 50 percent. So, you can expect to get extended use out of these.
As the body of the units is flexible, they will be highly resistant to shattering. Even the height of the units is perfect, which makes them resist breaking. And the flexible nature will ensure that you can work with the workpiece without facing any troubles.
These also have exceptionally sharp edges. Due to how sharp they are, you will be able to cut through thick metal pieces quickly. They can also go through solid pipes that are from 10 mm to 100 mm.
Pros
Bundles with ten units
The blades are 6 inches in size
Compatible with almost all of the available saws
It has a long-lasting construction
Resistant to shattering and breaking
Cons
The locking mechanism is a bit hard to work with
It gets dull relatively quick
The package includes ten units that are 6 inches in size. They have a TPI rating of 14 and are capable of handling thick metal workpieces. Also, these are resistant to shattering and breaking.
Best for thick metal: EZARC Carbide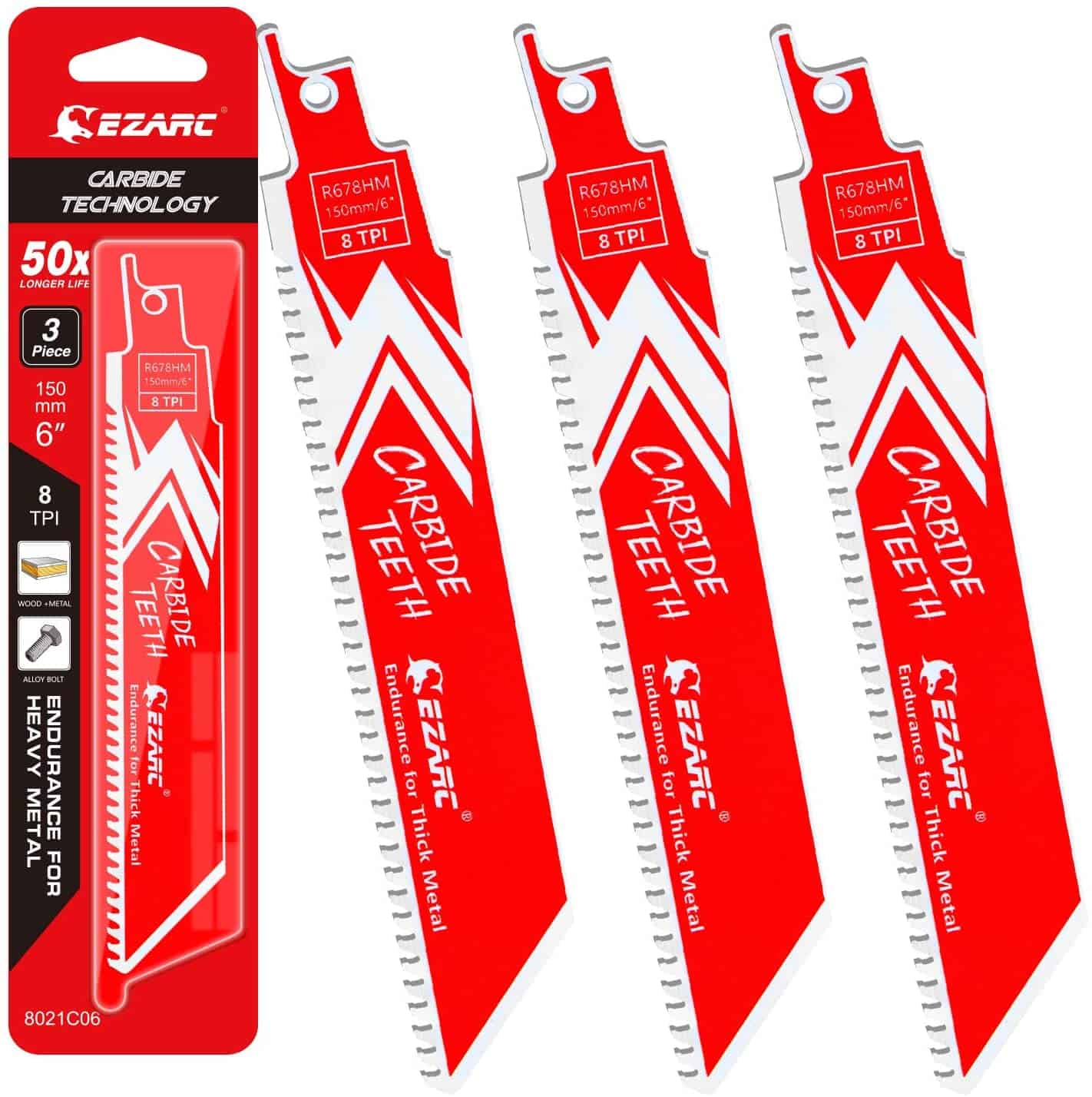 Are you looking for a set that includes blades of varying lengths? Well, if that is the case for you, you need to consider what EZARC is offering here.
The package includes an assorted length of blades. You will find units that are from six inches to nine inches. And there are a total of 10 pieces in this package. Due to the varying lengths, the package will be suitable for different metal and wooden projects.
On that note, the blades are highly compatible. They will work exceptionally well with the major saws. Also, the units have an extremely sharp edge. That amount of sharpness will offer you the ability to go through multiple metal projects in a short amount of time.
These blades are highly durable as well. The overall construction is of high-quality bi-metal. There is 8 percent cobalt too. That will increase the overall lifespan and make these last for a prolonged amount of time. These will show no instability or integrity issues when working with demanding workpieces.
You will also receive a carrying case with the package. That will make the task of carrying the units around and storing them more manageable. As they have proper labeling on them, keeping them organized will not be an issue either.
Pros
Made of durable bi-metal
It contains 8 percent cobalt
The blades can cut metals sharp and quick
Exceptionally durable
Bundles with a carrying case
Cons
Some of the units are a bit dull out of the package
The case is not that durable
The manufacturer offers ten pieces of well-performing blades in this package. They all are of high-quality material and have sharp edges. Also, you will receive a carrying case that will make storing and transportation tasks easy. Check prices here
Deferent Type of Reciprocating Saw Blades for Metal Cutting
We can classify the types into two. One is according to the molecular composition, and another is based on the usage. And we will briefly describe the classes and the sub-types in this segment.
Based on Molecular Composition
When it comes to molecular composition, there are six kinds available. They are:
Carbon Steel
These units are pretty affordable and are highly accessible. They have a wide use case and are highly flexible. You will achieve more than enough amount of mobility to make effortless cuts on the workpieces with these. But carbon steel is comparatively less durable.
Speed Steel
The thing that makes these stand out the most is heat resistivity. Speed steel can withstand a higher amount of heat, making the speed steel units perfect for prolonged cutting. Also, these are comparatively more durable than carbon steel.
Bi-Metal
As you might have guessed, these are a combination of two types of metal. One is carbon steel, and the other is speed steel. This combination makes them achieve a higher flexibility level. Also, these have a praiseworthy durability level, which will make them last for an extended amount of time.
Carbide-Tipped
This type is a variant of bi-metal. But instead of carbon and speed steel, these will utilize a mix of carbon and tungsten or titanium. The teeth part will be of carbide. And due to having carbide, they will be resistant to impact and heat.
Carbide Grit
Unlike the carbide-tipped, the carbide grits are of tungsten. There are no teeth on these. Instead, they will utilize an abrasive strip. The sharpness of the edge is up to mark, and they are highly durable as well.
Diamond Tipped
The diamond-tipped blades will also have an abrasive strip. However, due to the overall construction, these excel in terms of offering a clean and smooth cut. They can even go through dense materials pretty quickly.
According to Usage
If we consider the usage, the metal saw blades are three types. They are:
For Cutting Copper Pipe
These will have fine teeth. The TPI count will be reasonably high too. And due to having a higher TPI count, these can go through pipes exceptionally well. The cuts are generally smooth and clean.
For Cutting Cast Iron
Usually, the diamond-tipped blades are the right pick for this case. The teeth count needs to be 18 or higher. And the abrasive strip will make it easier to work with this material.
Also read: can you cut metal with a reciprocating saw?
For Cutting Aluminum
Aluminum generally demands fine-toothed blades. However, the teeth count does not need to be that high. Six TPI will be more than enough for this type of workload.
Frequently Asked Questions
Are reciprocating saws suitable for cutting metal?
That will depend on whether you have paired them up with a proper blade or not. If you are using a blade for cutting wood, the saw will not perform that well.
Which type of blade do I need to cut hardened steel?
When it comes to hardened steel, we would recommend using carbide-tipped ones. Those will be capable of going through denser materials. Also, the cuts that they will offer will be clean and smooth.
Which metals are hardest to cut?
The higher the density of the metal, the harder it will be to cut. And if you were to consider the metals that are harder to cut, tungsten is at the very top of the list. It is followed by chromium, steel, and titanium.
Is it possible to cut tungsten carbide rings?
Tungsten is the hardest metal on earth. And the density of tungsten carbide rings is exceptionally high. That makes them the hardest to cut through. So, you can not easily cut tungsten carbide rings.
Are sets of reciprocating saw blades for metal worth it?
The sets that come with different length of blades and blades of various TPI is undoubtedly worth it. They are versatile, and you can use them for multiple projects.
Final Words
Working with metal pieces has become easier after getting one of the best reciprocating saw blades for metal. Now, we can get accurate, clean, and smooth cuts on our projects. And we hope that we were able to make getting one more manageable for you as well.
Also read: these are the best reciprocal saw blades we've reviewed
I'm Joost Nusselder, the founder of Tools Doctor, content marketer, and dad. I love trying out new equipment, and together with my team I've been creating in-depth blog articles since 2016 to help loyal readers with tools & crafting tips.