I love creating free content full of tips for my readers, you. I don't accept paid sponsorships, my opinion is my own, but if you find my recommendations helpful and you end up buying something you like through one of my links, I could earn a commission at no extra cost to you.
Learn more
Joining sheet metals has been a tough nut to crack. Welding is always an option but it's a lot of hassle and very much time-consuming. Besides, it takes a lot of time to get good at welding. So, the age-old riveting technique is the go-to option for many projects. The hassle of riveting has been nullified by the like of these tools below.
With the best rivet nut tools like these, the entire process comes to a press of a button. These rivet nuts can hold onto quite the weight if you want to screw something to this. Settling anything other than the excellent might just cost you the sheet you're working on. Let's not take the chances when it's just a couple of dollars.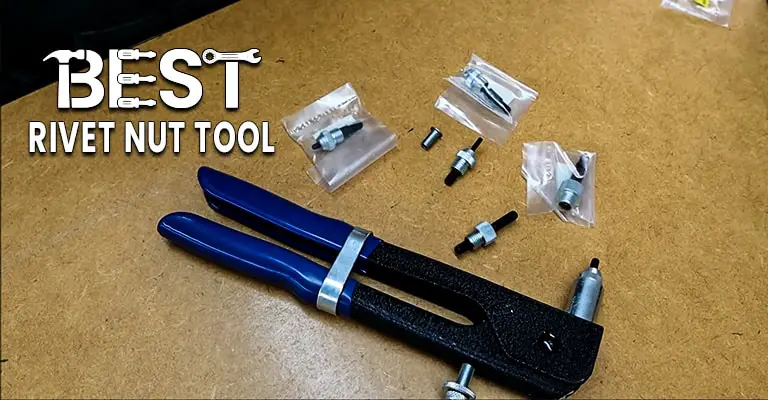 Rivet Nut Tool buying guide
The rivet nut tool is behind the tough strength of riveted connections. If you fail to select a good rivet gun, it may jeopardize the basic structure of your workpiece. Here are some of the main concerns listed below that make high-quality rivet nut tools.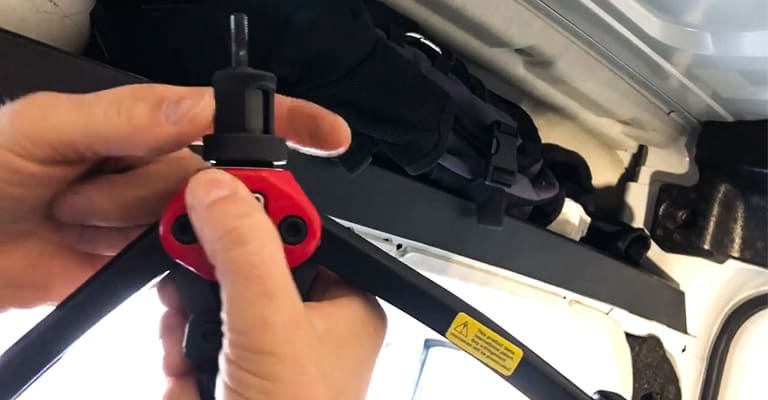 Types of Rivet Nut Tools
There are four types of rivet guns you need to know about for identifying which type you are purchasing.
Hand Rivet Gun
Hand powered POP rivet guns complete its tasks with a normal lever and squeeze facility. Hand-operated rivets are usually the cheapest, they offer a variety of rivets and generally made of steel with cushioned handles. It's good for occasional use, but it is tiresome for long period riveting.
Heavy-Duty Lever Riveter
Heavy-duty rivets work with a wider range of rivet sizes. They are more heavy-duty, easy to use, reduce the energy required for work, and also come with a collection bottle to collect the mandrels after installation. It can be used in many job areas and installation is very simple. But the cost is slightly higher.
Air Rivet Gun
Air rivet gun or pneumatic riveters are a great choice unless cost is considered. Such rivet nut tools puff off the air under compression to drive the rivets out. You just need to put the rivet, get it into the prepared hole, and press the trigger. As the whole procedure takes place in the wink of an eye, they are best for a heavy load of tasks.
Cordless Battery Riveting Tool
Electric riveters are another solution other than pneumatic ones to reduce fatigue and cover a multitude of riveting at job sites. These rivet guns come with pre-installed batteries yet in a compact and lightweight form. Though recharging may drive a bit of annoyance, keeping an extra standby battery deals smooth.
Materials
Usually, the rivet guns are made of metals, but the type of metals varies. It's basically three in number- aluminum, steel, and copper. Iron is also found to be used. Iron rivets are durable but heavier than steel. Rivet nuts are made of aluminum and steel.
Aluminum Rivets
Aluminum rivets are the lightest. In spite of their lightweight, they are very strong, durable, and capable of resisting natural corrosions. You will feel comfortable with this rivet in hand even working for long hours. They are ideal for permanent fastener applications.
Steel Rivets
Steel rivets are rugged, efficient, and an option for a wide range of permanent fastener applications. They are comparatively simple tools, composed of a shaft and with heads of different styles at one end.
Copper Rivets
Copper rivets are known as rustproof, sturdy rivets. They are capable of holding together many metals and permanent fastener applications. Such metal bodies include natural antimicrobial properties and excellent conductivity.
Size
Versatile rivet guns are compatible with almost all rivet sizes. For working in hard-to-reach places, size and strength both are needed to be considered equally. Professional-sized rivet guns are suitable for large projects. Rivet guns usually come in a wide range of sizes from 3/14'' to 6/18''.
Riveter size to metal thickness
The length of the rivet is needed to be as same as the thickness of both objects you are fastening. It should be 1.5 times the diameter of the rivet's stem. For example, if you're using a ½ inch diameter rivet to fasten two one-inch wide plates, the rivet has to be 2-3/4-inch long.
Handles
Handles of the rivet guns affect your comfort and adaptability. Ones that offer rubber or cushioned grip are considered as the most comfortable ones, especially for long period tasks. Steel handles are more durable but it'll bother you in continuous hour work. Note that air rivet guns don't need handles.
Compatibility
Rivets come in a broad range of sizes as mentioned and so it's very important for the tool to be compatible. All rivet guns don't support different sized rivets. Some guns may not provide nose pieces. The rivet guns that support most of the rivet sizes are more suitable for a large area of riveting opportunities.
Durability
Whether you're an occasional user or an everyday worker, you have to check on the durability of the rivet guns. For small works, soft metal rivets will work well. But for large applications, rivets of aluminum, steel, or iron are best.
Best Rivet Nut Tools reviewed
If you are a metal worker or just a frequent user, a river nut should always be in your pocket. There are many rivet nuts available in the market that may create confusion for you. We've listed some of the best rivet nuts below to help you find the desired one.
1. Astro Pneumatic Tool 1442 13″ Hand Rivet Nut
Amenities
Astro 1442 Rivet Nut is an exclusive, affordable, and basic tool. It is appropriate for multiple applications whether it's bicycles, body panels, or farewell additions. This tool is designed to cut back on sweat with its torque articulations.
The design is known as 'Toolless Quick-Change Head Which allows for simple changing of mandrels and nose pieces by hand. You can insert a variety of sizes of river nuts with this tool. It's never needed to be disassembled. You can install mandrel by hand without any extra requirements.
The particular spring-loaded inner hex sleeve automatically latches the rotation of the mandrel. Dual 13-inches handles act the same way as a bolt cutter. These short double composite hinges take leverage to its maximal amount. It has a heavy-duty construction that is excellent not only for vehicle modifications but also for off-road.
The quality of this tool concedes it to use aluminum and stainless steel rivet nuts. It includes six interchangeable nose piece sets and the interchange is based on various metric sizes such as M5, M6, M8, etc. and also on SAE 10-24, 1/4-20, and 5/16-18. Each of the sizes is provided with 10 pieces.
It is a great tool that will survive most of your household, workshop, and automotive needs. This tool will help in easy river nuts settings and perfect for working in complicated areas.
Drawbacks
You need to lubricate the tool before use.
2. TEKTON 6555 Rivet Gun with 40-Piece Rivets
Amenities
Tekton 6555 Rivet Nut is applicable for a wide range of works as it comes with a 40 set of rivets. It is a cordless rivet gun that is highly inexpensive. It is designed for simple use and installation is also very efficient. The rivet nuts are made of heavy-duty, rust-free aluminum.
It has a robust steel construction. It also has a black wrinkle finish. So, the tool is durable if used properly. It is also provided with an exclusive tip change wrench. This wrench and additional heads are possible to be stored in the handle of the rivet tool so that they can be accessed effortlessly whenever needed.
The non-slip handles provide the maximal leverage. They are cushioned to deliver supplementary comfort. As designed, it doesn't slip even when the hand is exuded. Thus, the lightweight tool is safe to use. It is widely used for any kind of ductwork, constructions, and auto body applications to save time and energy.
Drawbacks
It is not suitable for steel rivets.
3. Stanley MR100CG Contractor Grade Riveter
Amenities
Stanley MR100CG Riveter is highly suitable for handling heavy-duty applications. You can use it even in the most engaged construction areas like marine applications. It has a die-cast metal construction. The product is colored in bright yellow that makes it easy to locate from far or messed up positions.
It is a very straightforward tool. A long handle is provided with it. The handle makes the tool easy to squeeze and comfort. It also delivers good torque. There's a hook on the handle. This additional feature assures that it stays close while transported. It works for stainless steel rivets.
The body of the rivet is very rugged and durable. The head is made of aluminum yet it's a lightweight tool. It features a helpful removable ejector spring. It sets steel and aluminum rivets of 1/8″, 3/32″, 5/32″ and 3/16'' diameter and stainless steel rivets of 1/8″ and 5/32″ diameter. This tool comes with a lifetime warranty.
Drawbacks
It is a heavy tool.
The tool is not that suitable for casual cases.
The aluminum head is not very durable and strong.
4. Dorman 743-100 Rivet Gun
Amenities
Dorman 743-100 Rivet Gun is known for its simplicity and instant works. It is mostly suitable for work at home and is easily used by beginner users. It has a strong construction made from quality materials and it comes at an affordable price.
It fits different sizes of rivets. The product includes extended handles that deliver good torque and makes the process of rivet driving easier. The gentle squeezing action assures your effortless management. This model works on its very first draw.
It comes with every possible feature that makes your riveting clear. On that note, users are supplied with a certain rivet starter kit to find their path. It makes sure that you can match the perfect rivets for the tool without hassling. An exclusive storage bottle is also provided with the tool.
The rivet nuts are small enough to get lost. This problem is solved with this storage bottle. You can store the rivets all in one place. This also enables connecting rivets without any mistake through the handle. It is known as an extremely long-lasting tool. It comes with a lifetime warranty.
Drawbacks
The tool is unable to manage large rivets.
5.Marson 39000 HP-2 Professional Hand Riveter
Amenities
Marson 39000 Hand Riveter has a robust and quality structure. It's built with strong aluminum. It's not only a lightweight tool but also durable. Many will find this a winning combination. It has a unique square shoulder fulcrum pin made from cold-formed steel that is heat-treated.
This feature has the ability to prevent pin rotation to ensure the safety of the users against hole expansion or even immature tool failure. It is provided with high-quality cushion molded vinyl grips on the handle. These grips make it very comfortable to use. This is perfect to complete large tasks without fatigue.
The upper handle is made of rugged carbon steel. This rivet gun is quite fast and efficient in its work. You'll get everything at your fingertips for making superb quality joints. Because of being a compact rivet gun, it's suitable to fit in tough spaces. It is designed to undertake any angle effortlessly.
Drawbacks
Rivets are not provided with the gun.
Rivet shafts are supposed to get stuck.
6.Astro 1426 1/4-Inch Heavy-Duty Hand Riveter
Amenities
This Astro 1426 Heavy-duty hand riveter can solve your rivet problems and works with its primary yet exclusive features. With a weight of 5 pounds, it's considered a lightweight product but it has a rugged construction. It's a rust-free durable rivet gun.
It includes extra-long handles. It helps single users and delivers excellent torque. This feature will provide you superb leverages. Besides, it's a very straightforward tool to go for. It is very simple to install different types of rivets to it.
This product comes with 5 distinct sizes of nosepieces. They are 1/8-inch, 5/32-inch, 3/16-inch, 7/32-inch, and 1/4-inch. It has a length of 20-3/4 inches. It is very comfortable to do tasks with it. The package brings a plastic container for the waist. It helps to store the mandrels.
The used mandrels are gathered in this container for security and ease of dismissal. It has a full metal body. It works perfectly to pop the stainless steel and steel rivet nuts. With all the advantages, it's also an affordable tool.
Drawbacks
Popping aluminum rivets are challenging with this tool.
It creates problems while pulling the stem through the shank.
FAQ
Here are some frequently asked questions and their answers.
Can You Use a Normal Rivet Gun for Rivnuts?
can I use a regular rivet tool? Not exactly. If you have a rivet gun that has the proper insert dies to accommodate the rivnuts then you can. Otherwise you will have to purchase a rivet gun that contains the rivnut inserts that you choose to use.
How Strong Is a Rivet Nut?
A 1/4-20 Plusnut is rated for 1215 lbs of pull out force in sheet steel. That's probably as strong as a nut and washer from beneath.
Can You Install Rivets Without a Rivet Gun?
To install rivet nuts without a tool, you will still need more than just your bare hands. You will also need a bolt that 1) has its own nut, and 2) can fit into the rivet nut. You should also have a washer or larger bushing that can fit around the bolt fairly tight.
What Is a Rivet Nut Used For?
Also known as blind threaded inserts, rivet nuts provide strong fastening threads in thin panels. The fasteners were originally developed decades ago by B.F. Goodrich to attach rubber de-icing boots to airplane wings. Today, rivet nuts are found in a variety of products.
How Do You Remove Rivet Nuts?
Two things I would try:
Use a dremel or small hacksaw to create a channel in the bolt head to allow you to put a flat head screwdriver on it to stop the bolt from turning as you remove the nut.
Drill it out.
What Is a Rivet Nut Tool?
Rivet nuts are internally threaded fasteners inserted into brittle or thin materials that are not suitable for hole tapping. … They mate with screws and bolts, and require access to only one side of the material for proper installation.
How Do You Use a Hammer Rivet?
Can You Use Rivnuts in Plastic?
Rivnuts should be ok if you get the correct ones for the thickness of the plastic. Rivnuts are available in different lengths of crush area; some are serrated to give extra grip. Will probably spin if they corrode though!
Q: How to remove a rivet if it's driven wrong?
Ans: You can remove a rivet with a grinder and drill by crushing off as large an amount of the wrongly placed rivet as possible using the grinder and grinding wheel. You need to do it carefully. It is also possible to remove rivets with a chisel. Besides, to get rid of the problem, you can purchase the specialized rivet remove tool.
Q: Will it be a problem if I reuse rivets or nosepieces?
Ans: Yes, it's a problem. You can never use a rivet or nosepiece if it's used once. Rivets or nosepieces get damaged after utilizing it the first time.
Q: Is it possible to tighten the rivet even more?
Ans: No, it's not possible. You can't tighten a rivet more. They are meant to be fixed tight when they are placed. You may see some people try to tighten their rivets with hammers. But actually, it affects the stability of the rivet over periods. If you use the exact sized rivets, it'll automatically serve the rightest purpose.
Q: What should I do to fix my jammed rivet gun?
Ans: If you use too strong or too weak rivets for your rivet gun, it'll get jammed. It's always better to go for the right amount or size. However, to prevent this problem from happening again, you should try removing the rivet with a plier. Then ensure that you're using the right type of rivet for your gun.
Final Words
Many times people fail to do the perfect riveting. It's not always because you're doing something wrong, it may be because you're struggling over the wrong tool. If you want to feel confident and get amazing results with your riveting projects, it's high time you chose the best rivet nut tool for you.
Astro Pneumatic Tool 1442 Rivet Nut will be a good option if you're looking for a nut strong and sturdy enough to do large applications. It's also very compatible, has quick change head features, and offers maximum leverage. The Dorman 743-100 Rivet Gun is preferable if you're looking for an easy and straightforward tool to do household work at price and fast management.
However, it's up to you which type of tool will be suitable for your work. Focus on the size, compatibility, type of material more than anything to get the basic advantages properly. Hopefully, this article will help you with the aspects and take you to your best tool.